9 Habits to Adopt  Before Your Wedding
Proactively tackle wedding stress with these healthy tips before you start wedding planning.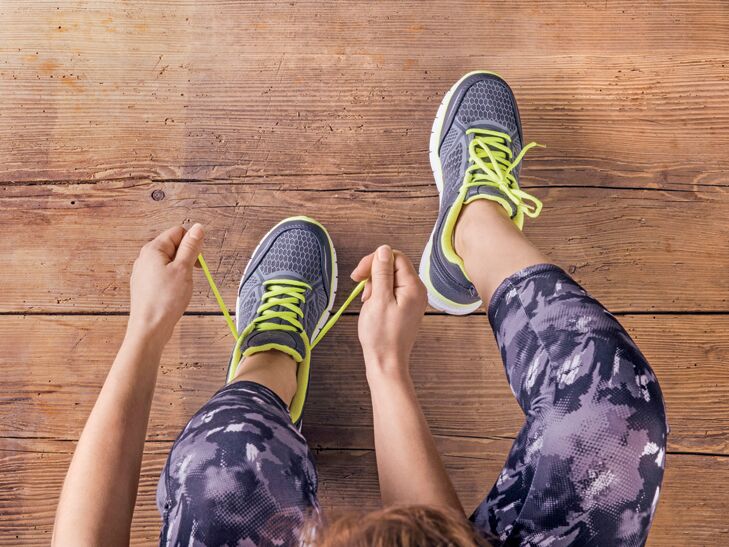 GETTY IMAGES
Ready to start planning your dream day? Of course you are! But first, take a deep breath and begin your journey to looking and feeling your best pre- and postwedding by adopting these healthy habits, from a positive body image to practicing meditation.
1. Talk It Out
Planning a wedding is the time where you and your partner need to bring your A+ communication skills to the table. "There are many things en route to getting married that, if left unresolved, can create resentment and anger that will spoil the celebration," says Jane Greer, PhD, New York–based marriage therapist. By developing good communication habits early on, you learn how to address problems directly and openly.
2. Boost Your Body Image
Real talk: A positive body image outweighs any wedding diet that could be harmful in the long run. That said, if you want to create a healthy fitness plan that matches your personal goals, make sure to do it smartly. "Your wedding day should never be a day you look back on and think how you extreme-dieted or overexercised," says Tracy Anderson, fitness expert. "Make your health and connection to your body the priority."
3. Pack in Enough Zzz's
Whether you go to bed early or stay up late, the most important thing is the time you wake up. "I recommend that everyone gets up at the same time every day," says Michael Breus, PhD, a board-certified sleep specialist. "This sets your biological rhythm and helps you fall asleep quickly." Not to mention, it creates a clear and healthy mind, which will help you manage any wedding- or work-related responsibilities.
4. Love Your Locks
Before you meet with your day-of hairstylist, have a consistent hair plan in place to ensure your bridal hair will look exactly like you want it to. "The last thing you want is a cut that doesn't look the way you envisioned it, highlights that don't work with your skin tone or a conditioning treatment that leaves your hair greasy," says Samantha Lawrence, owner of Chromatique Salon in Bellevue, Washington. Using a high-quality shampoo, conditioner and hair mask (Lawrence recommends Oribe's Gold Lust line) will give your locks the luxe treatment, as will regular trims to prevent split ends.
5. Keep Your Focus With Meditation
"Practice meditation to stay present and fully enjoy each moment," says Jane Ehrman, mind/body medicine specialist and owner of Images of Wellness LLC. There are no rules for where and when to do it—just taking 10 minutes a day to focus on your breathing (called mindfulness meditation) can make positive changes and improve your concentration when it comes to wedding-related stress. "Meditation is called a practice because it's not going to be perfect every time," Ehrman says. "It teaches you to focus on one thing, be patient with yourself and get out of your own head." When you're focused and calm, you don't run the risk of missing those special wedding day moments you want to remember.
6. Get That Glow
Finding the perfect skin care products before your nuptials shouldn't be just a one-time trip to a beauty counter. Make an appointment with your dermatologist early in your engagement (six months is reasonable) to achieve that bridal glow. "You don't want to wait until the last minute if you're dealing with acne, enlarged pores or sensitive skin," says Michele S. Green, MD, board-certified dermatologist. "Make sure you have enough time for several treatments if need be."
7. Get Comfortable Asking for Help
Whether you have a wedding planner or not, it's important to realize that it's perfectly okay to ask for help leading up to your wedding day. You may have a type A personality, but enlisting the help of friends and family can make the process easier and more meaningful. Your loved ones will likely be thrilled to give their opinions and help out, so don't be afraid to speak up. Besides, keeping your mental health in check is more important than making DIY invitations alone at 3 a.m.!
8. Keep Your Nails Ring-Selfie Ready
"Lots of brides start picking at cuticles when they get stressed," says Deborah Lippmann, celebrity manicurist and nail polish designer. To resist the urge, she suggests getting weekly manicures with polish. And for can't-stop-won't-stop nail biters, keep a grooming kit with a file and buffer in your bag.
9. Remove These Three Ds From Your Vocabulary
Looking and feeling your best while planning shouldn't have to involve crash dieting, detoxing and depriving yourself of certain food groups. "Wedding planning is stressful enough already, and you don't want your eating habits to add to it," says Amy Gannon, M.Ed., RD, LD, and program manager of eCoaching at the Wellness Institute at Cleveland Clinic in Ohio. "Taking a healthy, balanced approach to eating doesn't have to mean changing up your diet all at once, because then it's hard to keep it up. Start slowly and stick to specific goals, like incorporating more whole grains one week and adding in a vegetable to every meal the next." Lean protein sources, fruits, whole grains and starchy vegetables are your best bets for feeling satisfied, not to mention keeping your energy up.
How to start practicing meditation before your wedding day, here.
Need tips on how to de-stress while planning? Right here.