Thrilling and Romantic Helicopter Proposals We Can't Stop Talking About
Take your love to the sky with these unique proposal ideas.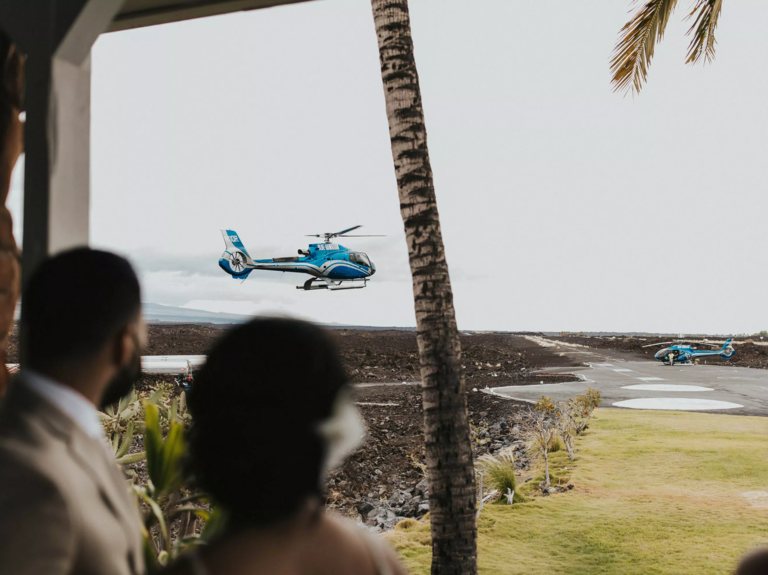 Photo: Two Tides Photography
Asking the love of your life to marry you can be a big moment, so it's no wonder many want to ensure the proposal is just as memorable. If you want to take your love to the skies, then how about a helicopter proposal? This will surely give you and your S.O. a extraordinary experience that'll set the tone for your exciting life together. You can even find a wide range of vendors to help with your proposal through The Knot Vendor Marketplace, from proposal planners to photographers who can immortalize the moment. Let's take a look at some of our favorite helicopter proposal ideas and what you need to know ahead of time.
In this story:
Eight Helicopter Proposal Ideas
Looking for some inspo for this exciting venture? We spoke with aviation expert Lori Burch from Scenic Helicopters, a helicopter tour company with a presence in Gatlinburg, TN, and Asheville, NC, about how to plan the perfect helicopter proposal. Consider this when you're planning your big moment: "We offer an in-air proposal (we record in the cabin and the headset audio). Although you can't take a knee in the helicopter, Scenic Helicopters always make sure to get an "on one knee" photo in front of the helicopter." (Just make sure to hire a proposal photographer to capture this moment.) And check out some of our favorite spots and ideas for popping the question.
Lovely Helicopter Proposal in NYC
Many classic romantic movies were set in the Big Apple, so why not take a tour, from a vendor like HeliFlite, of the sky of New York landmarks and sights? You can even pick a special spot to land, like somewhere with a lovely view of the city skyline. Burch also says, "Some of my favorite proposals have been at off-site landings. We fly the guests to a remote area for a picnic, and the proposal takes place on the ground."
Daring Chicago Helicopter Proposal
Whether you're a visitor or a native, Chicago is one city that everyone can enjoy. Take your love on a tour of the skyscrapers, pier and lake before popping the question. You two can even walk down the pier afterward to celebrate or grab a slice of classic Chicago pizza.
Gorgeous Grand Canyon Helicopter Ride
Take a tour of the Grand Canyon from up above with a helicopter proposal. Any time of day or year is perfect for a view of this stunning site. How about a tour, from Grand Canyon Helicopters or Maverick Helicopters, right before sunset so you can get the perfect pictures? This is another great spot to add a picnic when you land or a special sign for your partner.
Bird's Eye View of Your Love Story
Want to make your proposal unique to you? Then consider hiring a helicopter to take you and your partner to and from the special spots around your city. Maybe you can start with the location of where you first met to where you had your first date. This attention to detail will surely have them swooning long before you get down on one knee.
Breathtaking Beach Helicopter Ride
Beach lovers, this one's for you. Take a ride around your favorite beach to view the sun, sand and sea. You can even ask to land on a special part of the beach, perhaps somewhere you vacationed in the past that holds special memories for you.
Sky-High San Francisco Helicopter Tour
There are so many lovely landmarks around San Francisco to see on foot, but how about a bird's eye view? Pass the Golden Gate Bridge, the Twin Peaks and more during your journey. Consider some special places around the city to ask your S.O. to marry you and celebrate after with a fine dining experience downtown.
Romantic Monte-Carlo Helicopter Proposal
You don't have to stay stateside to enjoy a helicopter tour for your big moment. Monte Carlo is a city full of good luck and great views. Show your future spouse around the shoreline and architecture during your ride for your international proposal. You can even spend the rest of your stay at one of their luxury resorts and stop by the casinos.
Majestic Mountain Helicopter Ride
"Ain't no mountain high enough" when you take a helicopter ride for your proposal. With so many mountain ranges around the world to choose from, you can't go wrong with a sky-high view. Just bundle up for this excursion and get ready for romance and exciting sights.
Tips For Planning An Unforgettable Helicopter Proposal
Planning this exciting new step in your life should be fun, but we also understand how it can be overwhelming at first. That's why we spoke with Burch about her favorite tips and tricks for making this moment truly unforgettable.
Coordinate With The Helicopter Company
"Be sure to let the company know you are planning to propose. Talk to the staff ahead of time, and ask for a subtle signal so that you can be sure to make the moment perfect." This will help things run more smoothly, according to Burch.
Check the Weather Ahead of Time
Though you can't control the weather, knowing what one location's environment is typically like can be helpful. Burch adds, "Have a backup date and flexible schedule on the planned date due to weather." If you need to wait for a little rain to pass to pop the question, then the moment will totally be worth it.
Consider Your Partner's Vision
Has your S.O. always wanted to fly in a helicopter? Be sure to double-check. Burch says, "It is best to make sure your partner is okay with a helicopter tour. No fear of heights or phobia of flying."
Write a Proposal Letter
Helicopter can be a bit noisy, and sometimes nerves can take over in the moment. But don't fret because Burch has tips for that, too: "For someone who is a bit shy or not a big talker, I always recommend writing a note, and then we can hover over a 'Will you marry me?' banner."