If a Pro Photographer Isn't in Your Budget, Here's How to Get the Best Honeymoon Photos Ever
These 10 tips come straight from the pros, so study up and take notes.
Every couple wants honeymoon photos that both stand the test of time and look *chef's kiss* on their Instagram grid. Because what's more special than being able to share your newlywed adventure with loved ones for years to come? But taking the right shots at the right moments along the way is easier said than done—especially if you only have a phone camera or want to unplug and chill out for most of your trip.
This is exactly what inspired bespoke travel planning company Black Tomato and editorial wedding photographer Christian Oth to team up and create Jetsetters, a unique service that merges luxe travel and professional photography for honeymooners. Clients consult with Christian Oth Studio on the look and feel of their shots, then work with a personal travel expert at Black Tomato who finds picturesque destinations and handles all the logistics. The end result is a personalized, professional-quality photo album of all your memories. Sounds pretty amazing right?
But let's honest, not everyone can splurge on a wedding photographer and a honeymoon photographer—so we tapped the experts themselves, Black Tomato cofounder Tom Marchant and celeb photographer Christian Oth, for their best honeymoon travel and photo advice any couple can follow. Here's how to capture honeymoon shots like a pro (even if you're traveling without one).
Act natural.
"I remember my parents' honeymoon pictures and always love being able to see them on that beach in Tahiti at that time in their lives," Oth says. "You should photograph yourselves doing fun activities, like going out to the local market to shop. Make the photos seem natural by focusing on being yourselves, rather than focusing on posing."
Capture the feeling of each locale.
"Many honeymoons happen in exotic locations, so make sure to capture all that's great about the destination you chose: the beaches, the food, the boat excursions and so on. All of those local details will make for the most memorable photographs," Oth says.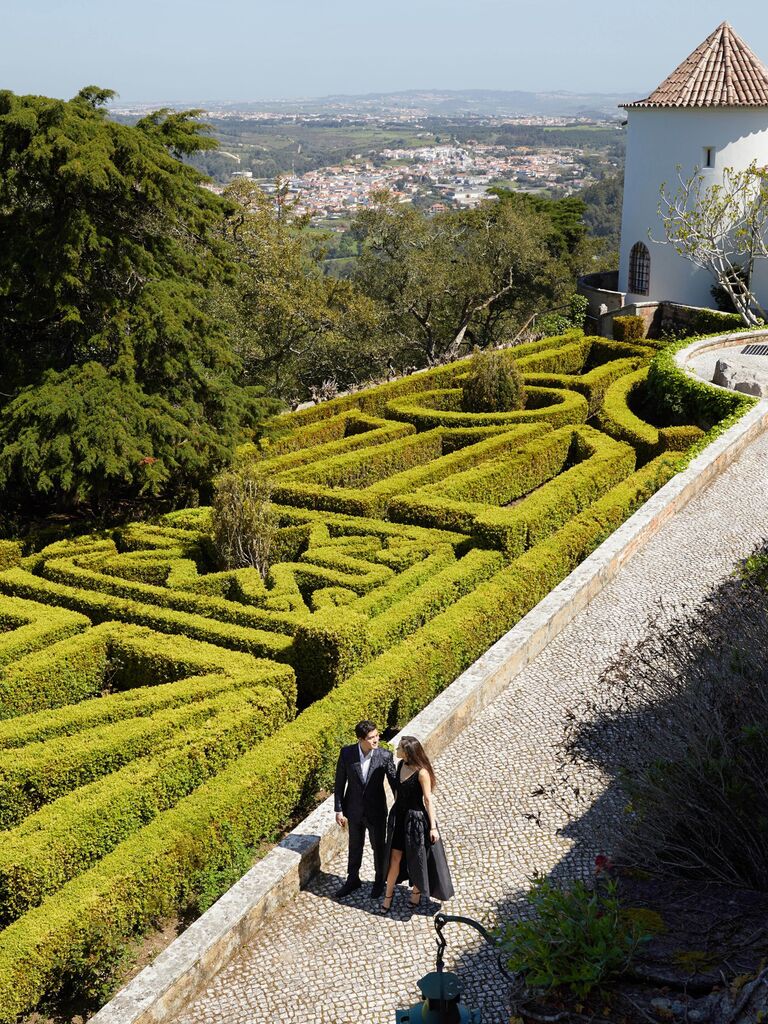 Try more than one destination.
"A lot of honeymoons we plan for clients combine a range of different destinations and contrasting experiences," Marchant says. "Combining two destinations, such as a safari trip in Tanzania or Kenya and then a few days of private island beach time allows honeymooners to take a range of amazing pictures in contrasting landscapes."
Find a good balance between taking enough photos and being in the moment.
Of course you want to capture as many amazing scenes as possible, but don't forget to soak in the experience, enjoy each other's company and just be. "Allow yourself to take a few shots and then step back to take it all in," Marchant says. "On a safari honeymoon this is especially key. All too often guests snap away at wildlife sightings and only see the what's going on through the lens. Once you've taken a couple of pictures, spend time observing wildlife interactions or amazing views so you can connect with what's going on in front of you."
Ask questions.
Speaking of looking up from your phone, don't be afraid to talk to the locals or your tour guide. "I finding face-to-face interactions the best way to uncover a destination," Marchant says. "Asking questions helps you to understand what really makes a place tick." You may stumble upon a breathtaking view—and get an insanely gorgeous photo out of it—all thanks that local café owner who recommended an under-the-radar hiking trail.
Set designated phone and/or camera time.
"To make sure you're present and mindful in a destination and each other's company, limit the amount time you spend on your phones each day—maybe keep them on airplane mode so you're not tempted to be too distracted from the amazing location you're in. This will enable you to take photos, but only upload them to social media at certain points in the day," Marchant says. Your time together is precious, and it'll fly, so put your screens away to make the most of it.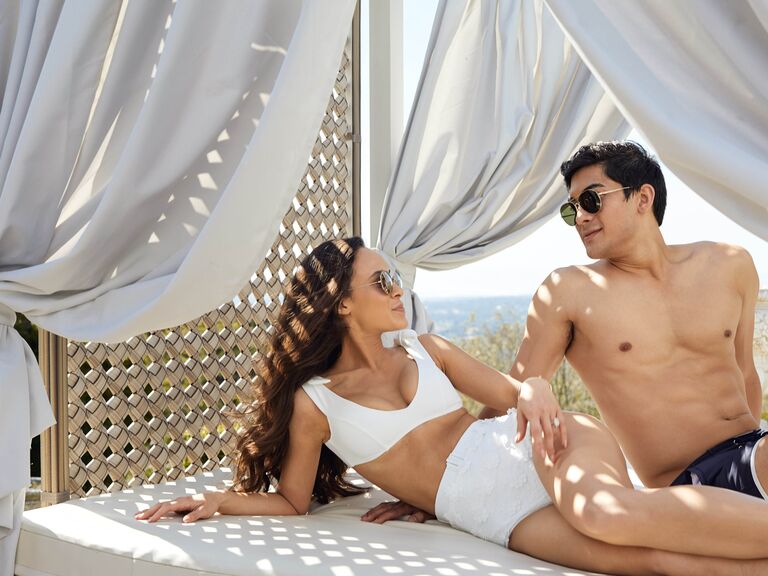 Use the camera you have to the fullest, and learn a few photography basics.
As a renowned professional shooter, Oth naturally recommends using a DSLR camera for the absolute best shots. But for those honeymooners with only an iPhone and an eager eye, definitely take advantage of the iPhone's portrait mode. In fact, one perk of using a phone camera instead of DSLR camera is being able to see photos as you take them, so you can tweak and adjust the frame to your liking in real time. When taking photos, keep these basics in mind: Don't tilt the camera, follow the Rule of Thirds, don't let a horizontal line go through someone's head and make sure no poles or trees are coming out of anyone's head. You can handle that, right?
Plan ahead and avoid crowds.
Nothing beats an impromptu photo op (which you obviously can't plan), but there are ways to map out photogenic moments in advance. "Really look at your itinerary with your travel planner and your other half to identify where and when you want to capture pictures on your trip," Marchant says. "For example, if you're planning on going to a well-known iconic sight, such as Iguazu falls or Christ the Redeemer statue in Brazil, go when there won't be too many other people there to make the most of your camera time and get the best pictures."
For photos by the water, shoot at noon or sunset.
For the best seaside shots, know how to maximize the blue of the water and the natural light—it really does make a difference. "Your honeymoon photographs should be captured all day long, but in particular, shoot down into the water at noon—that's when the water is brightest and most attractive. For beautiful beach shots, aim for golden hour [right around sunset] to capture the best light," Oth says.
Take different types of shots.
Have you ever looked at a couple's honeymoon photos that were all off-kilter selfies or landscape photos without the couple in sight? Don't be like them. "I always recommend a good mix of landscape or scenic shots and photos of you," Marchant says. "You also might want to take pictures with people you meet along the way (if they're happy to oblige), whether that's a great guide you had or an amazing street food chef. When you get home, you'll have the perfect mix of images to include in a photo book or digital album so that you can remember the trip for years down the line."