Actors Kelly Kruger and Darin Brooks Had a Gorgeous Wedding in Hawaii
CBS's 'The Bold and the Beautiful' costars Kelly Kruger and Darin Brooks married in a dreamy outdoor ceremony by the Pacific. Read the exclusive details here!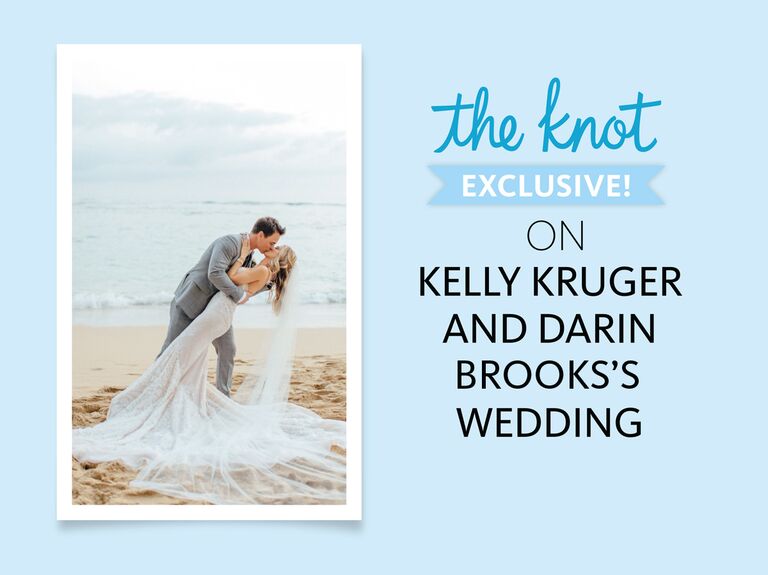 Aria Studios, LLC
Actor Kelly Kruger married her longtime boyfriend and CBS's The Bold and the Beautiful costar, Darin Brooks, on March 21 in a stunning French–inspired wedding at the Halekulani Hotel in Oahu, Hawaii. Kruger and Brooks, who also costar in the 2016 film Blue Mountain State: The Rise of Thadland, first met while filming the original Blue Mountain State TV series. They began dating in 2010 and got engaged in Paris in 2014. "The first trip we ever took together was in Paris, and we got engaged there as well years later, so Paris means a lot to us," Kruger says. And with the help of Steven Boyle of Steven Boyle Design, their day was flawlessly infused with touches of French country style. They also worked closely with head caterer at the hotel, Joel Nishimoto, to plan an authentic and delicious Hawaiian menu, a nod to Brooks's Honolulu heritage.
Kruger looked breathtaking at the ceremony in a strapless, blush Inbal Dror wedding dress embellished with delicate pearls, then stunned again in a different gown for the reception: a sexy and elegant custom masterpiece by Berta Bridal. "When I saw her, I started to get all choked up," Brooks says about seeing his bride walking down the aisle. "She was absolutely stunning. Her dress—that she'd been talking about non-stop, but couldn't show me—was gorgeous and she looked absolutely perfect in it!"
Kruger and Brooks wed in a traditional Jewish ceremony surrounded by loved ones on the lawn before heading inside for an evening of incredible dishes, heartfelt speeches—and a Grease show tune throw down!
See all the beautiful details from their wedding here:
"The Halekulani is one of the most beautiful hotels we've ever been to. The service is impeccable and unlike any we've ever experienced!" Kruger says of their tropical venue. The couple wed beneath a traditional Jewish Chuppah, softened with pastel blooms and surrounded by stunning palm trees. "We also had a wedding coordinator, a family friend Michelle Schreiner, who was extremely helpful making sure everything ran smoothly," Brooks adds.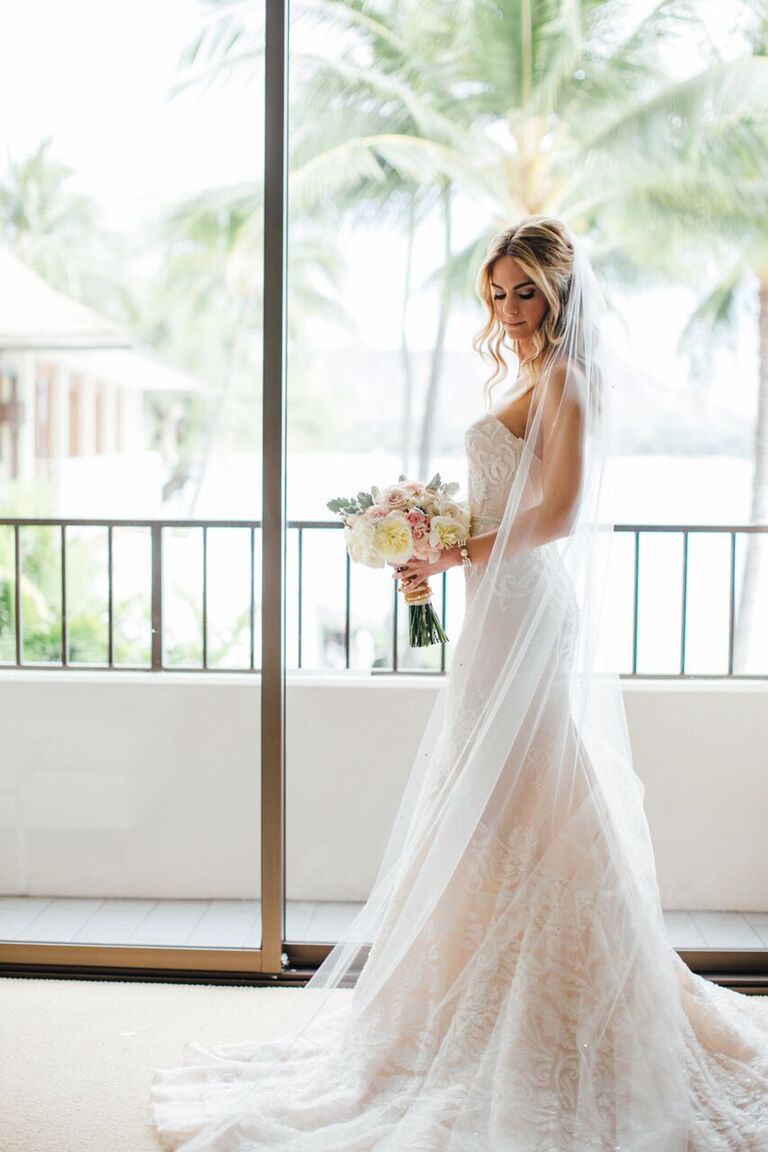 "The lace, pearl beading and all the intricate details [of my wedding dress] were mind blowing. I honestly have never felt more beautiful than I did that day. It truly was a princess moment for me," Kruger says of her Inbal Dror gown.
"When I saw my bouquet I literally could not stop looking at it. I got so emotional, it was beautiful! I carried it by hand on the plane home so I could keep it," Kruger says. The bride held a bouquet of pastel garden roses and lamb's ear for the ceremony.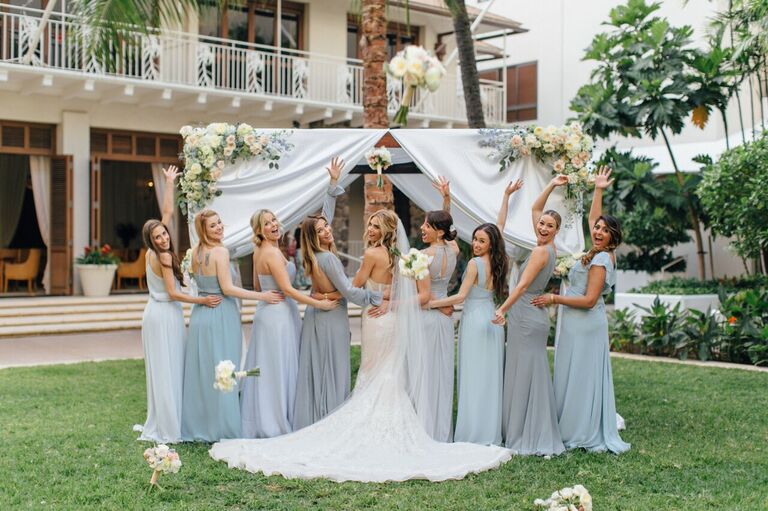 "My mom, my mother-in-law and my Bridal party were seriously the best," says Kruger. "I couldn't have gotten through it without them!"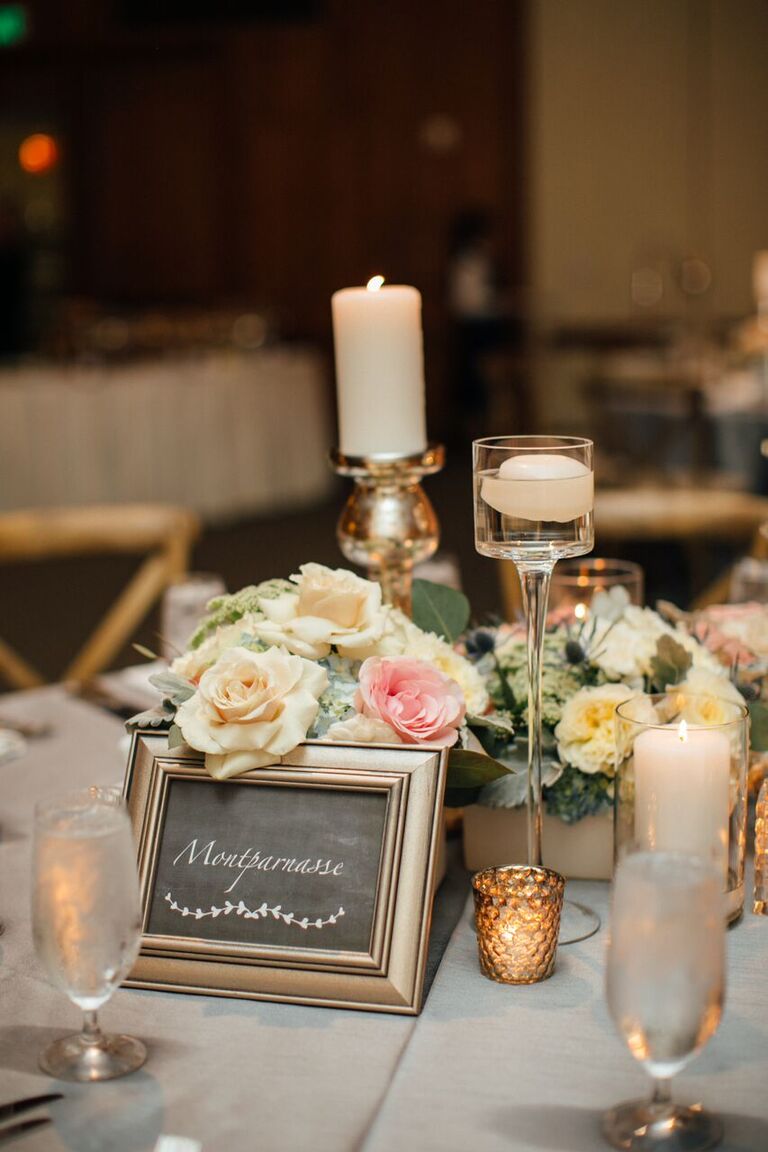 Kruger and Brooks worked with Steven Boyle to create a French-inspired event. "The first time we went to Monet's country house we fell in love with it—the pastel colors of the flowers, the rustic chairs and chalkboard frames. Steven and his team surpassed all of our expectations on our day. Everything was so beautiful and such an incredible representation of us as a couple."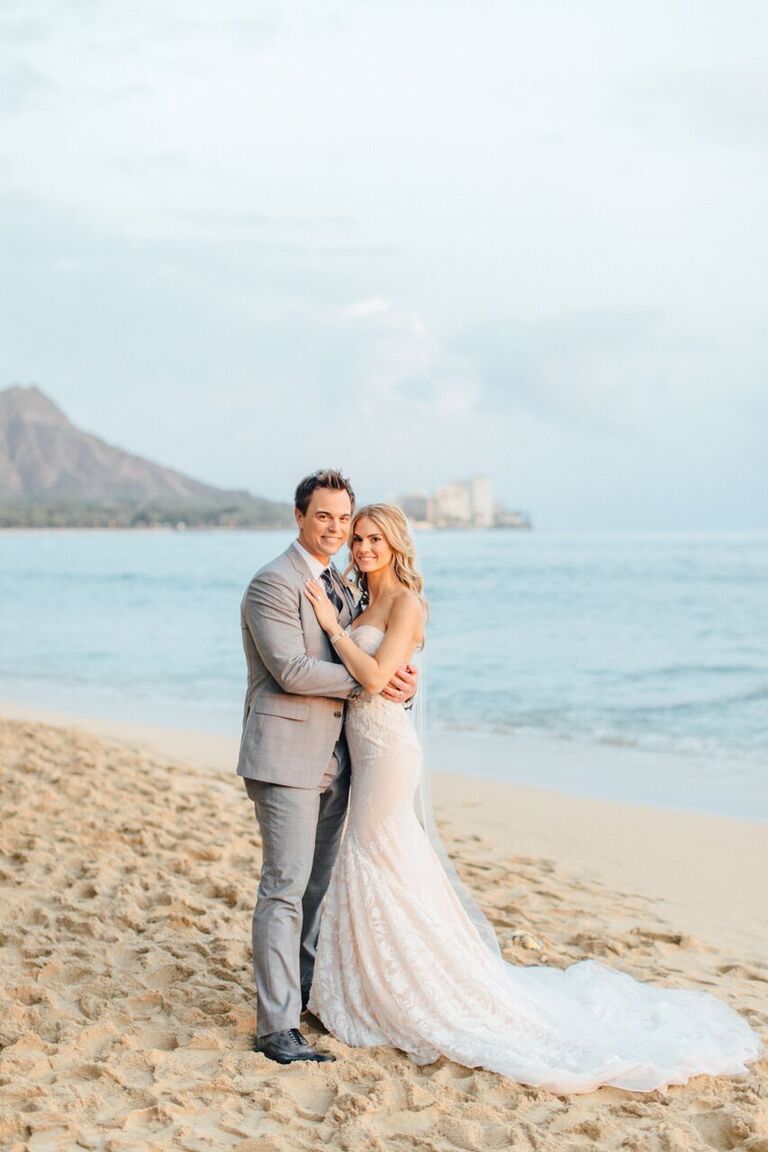 "The entire day felt surreal," says Kruger. "It was such an emotional roller coaster. Having all of our family and friends together in one place to celebrate our love was incredibly special and emotional. But I have to say the moment I saw Darin when I walked down the aisle, it was a feeling I will never forget. We both started crying and it was like we were the only two people there."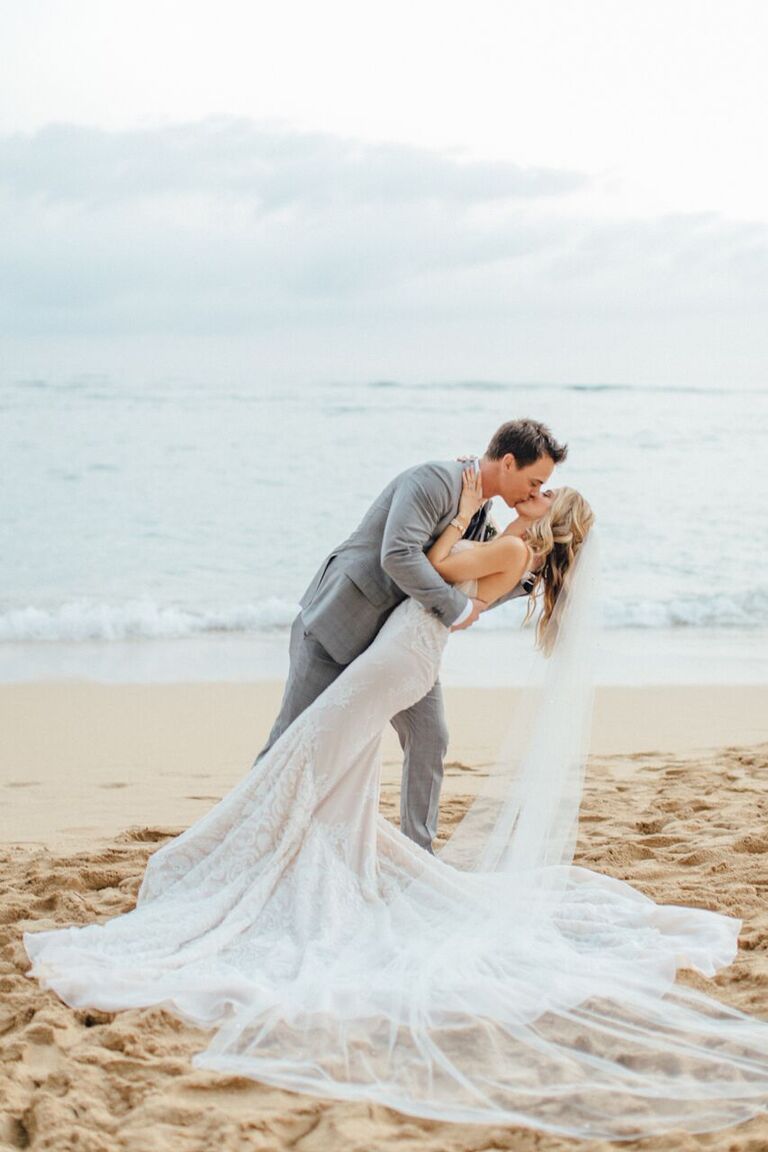 And Kruger's final bit of wedding wisdom: "[E]njoy every moment and remember what it's all about: you and your fiancé. Let go of the small stuff you can't control, and soak in every moment from the first day of planning to the end of the night because it flies by!"
Congratulations to the happy couple!