What My Mom Taught Me About Building a Better Marriage
Rule No. 1: Don't skip date night!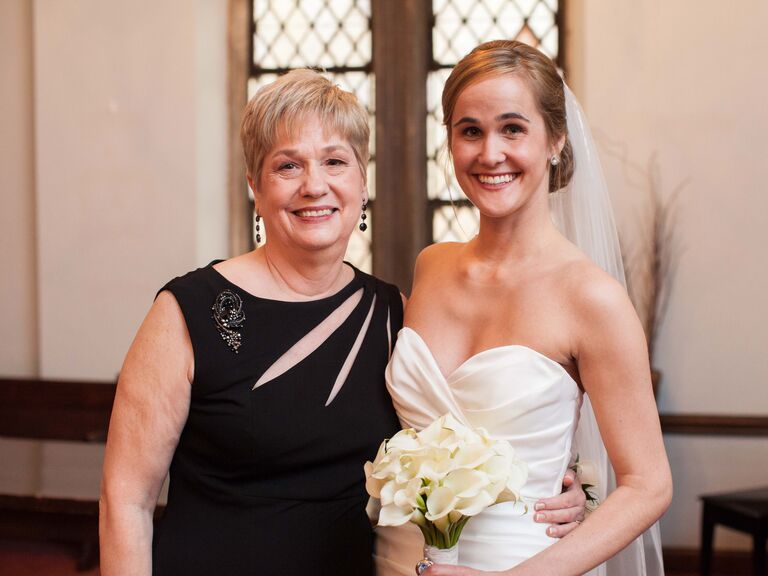 Carretto Studio

They say mom knows best—and for Kristen Maxwell Cooper, executive editor of The Knot, that old proverb definitely rings true. The two have always been close, and even though her mother, Pam, lives back in her hometown of St. Louis, they talk a couple of times a week by phone, and email almost every day. "My mom sends emails with these great subject lines like 'Terrific Tuesday' that put a smile on my face," Kristen says. "Sometimes they're nothing more than a silly quote about drinking wine, but they're the best." Beyond those essential wine drinking quotes, Kristen's also picked up some important lessons from her mom when it comes to marriage. "I was just a toddler when she started dating my stepdad, so I had the rare opportunity to be in my parents' wedding," Kristen says. Watching their rock-solid relationship over the years helped shape her views on marriage, from what to look for in a partner to how to keep the connection alive.
Don't Forget About What Comes After the Wedding
"I remember my mom always saying that if you're getting engaged, it's more important to consider the marriage than the wedding—even though the wedding seems like the fun part! Because the wedding lasts a day, but the marriage is for the rest of your life. That bit of advice definitely made an impact on me before I got engaged. It made me really consider whom I wanted to be my partner in life so that when I actually got to the point where I was getting engaged, I was certain about the marriage and the wedding."
Make Time for Date Night
"Before my parents got married (when I was 5), they went out almost every Saturday night. Friday was kids' night—we'd usually play games or watch movies together—and Saturday was date night. And that didn't change even after the wedding; they still went out every Saturday night, either to dinner, the movies or out with friends while we had fun with the babysitter. As an adult, I admire that even though my mom was an extremely attentive, supportive and all-around awesome mom to three kids, she still made the time to be a wife too. I hope it's something I never forget when I have kids."
Protect Your Marriage
"The biggest lessons I've learned from my mom are that your marriage is sacred and it's something that you need to constantly work on and protect. Her and my stepdad have always been a team and show a united front. They constantly lift each other up; I've never seen them put each other down. It's something my husband and I have discussed and take seriously when it comes to our marriage as well. We work hard to be seen as a team—that gets through challenges together and celebrates life's awesome moments together too."