4 Wedding Reception Seating Mistakes Your Guests Don't Want You to Make
These may not be obvious seating tips, but your guests will definitely take note.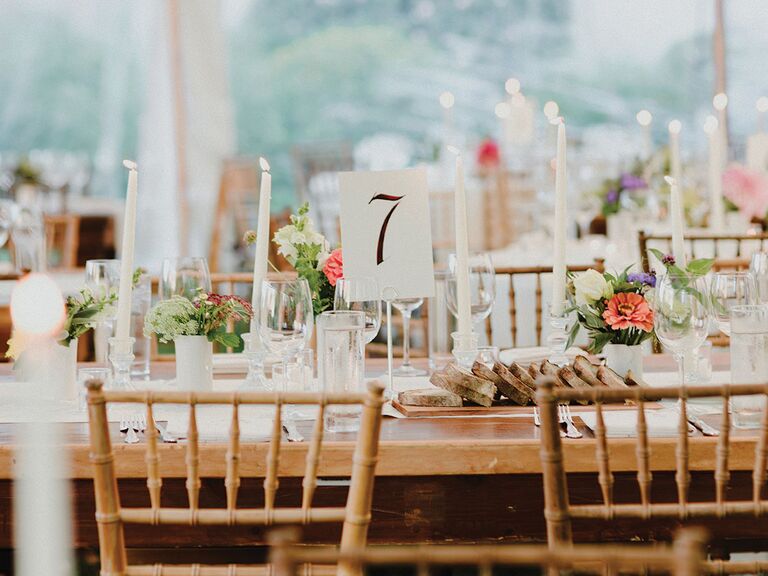 Lev Kuperman Photography
Your guest list likely took a while to put together—getting the perfect number and mix of people is no small feat. Similarly, your seating arrangements should have the same amount of thought put into them to create that certain alchemy at your wedding reception. Let's face it—you want to see all of your guests having fun at their tables, not silently poking at their chicken. Here are our top seating mistakes not to make.
1. Seating twentysomething-aged relatives at the kids' table.
Sitting at the kids' table is literally all fun and games until you're old enough to vote. After that, it's not so hilarious anymore when Uncle Phil comes over and makes a predictable, corny kids' table joke a few weeks after you just celebrated your 25th birthday. Do your high school, college and twentysomething-aged family members a solid and treat them like adults (they'll love you for it) by either interspersing them at tables with their families or seating everyone who can legally drink together. Make the cut-off age for the kids' table extremely distinct—think: coloring books, crayons and toys at each place setting—and everyone will be happy. Trust us: You don't want a scenario where your 5-year-old cousin could accidentally mistake a vodka soda for a glass of water!
2. Not seating families together.
At a certain age, you definitely don't want to sit with mom and dad. But if you're inviting families with adult children and everyone is flying in from a separate location, it's a good idea to seat them together. While your wedding is firstly a celebration of you as a couple, it can also serve as a mini family reunion for those that don't often get to see each other too often. If you know the family in question is a tight-knit group, don't hesitate about putting them all at the same table so everyone can catch up.
3. Seating guests with people they don't know in order to make new friends.
We all know the funny saying "no new friends" (when you've got all the good friends you need and don't have room in your life or interest in making new, forced ones) but this especially rings true at a wedding. When all of your nearest and dearest are coming to celebrate you, this isn't the time to mix it up with the seating chart and try to make new friendships happen. Between the bachelor and bachelorette parties, showers, the rehearsal dinner and the after-party, your guests will have plenty of time to meet one another and forge new friendships if they so choose. Face it—do you really want your core college buddies to get split up on the off chance they'll make an everlasting bond with your cousins who live in another country? They'll definitely be bummed if they're not all seated together, just like you'd be—especially if they hardly get to see each other. And how awkward is an almost-silent table?
4. Not having escort cards at all.
For laid-back couples, you may think skipping seating arrangements is the way to go. Your guests can choose to sit where they want, they don't feel forced to sit with people they'd rather not, and it won't feel stuffy at all—right? Not so fast. Here's a little secret: At weddings, people actually like to be told what to do. Nobody wants to be the guest who missteps or makes a faux pas, so when the first guest has made their way through the buffet line, they might have a slight panic attack when faced with rows of empty tables. First of all, no matter how casual it is, they just won't know where to sit or what tables should be saved for immediate family (even if you've made it clear that you don't care). They'll probably stand at the end of the buffet table for a minute or two weighing their options, and then create a bottleneck once other people are ready to sit too and scope out the situation. And then you'll have a bunch of guests holding plates while awkwardly shuffling around. They don't want to be rude and exclude half of their party, accidentally offend someone or make anyone feel left out. So unless your wedding is both extremely casual and 25 guests or under, you should absolutely create a seating chart with escort cards—it won't come off as too fancy at all. Your guests will like knowing exactly where they're supposed to be, and that you took the time and effort to place them with people they'll enjoy sitting with.
How to seat your wedding reception guests, here.
Wedding reception seating etiquette, here.