Everything You Need to Know About Planning a Second Wedding
Celebrate your second marriage in style.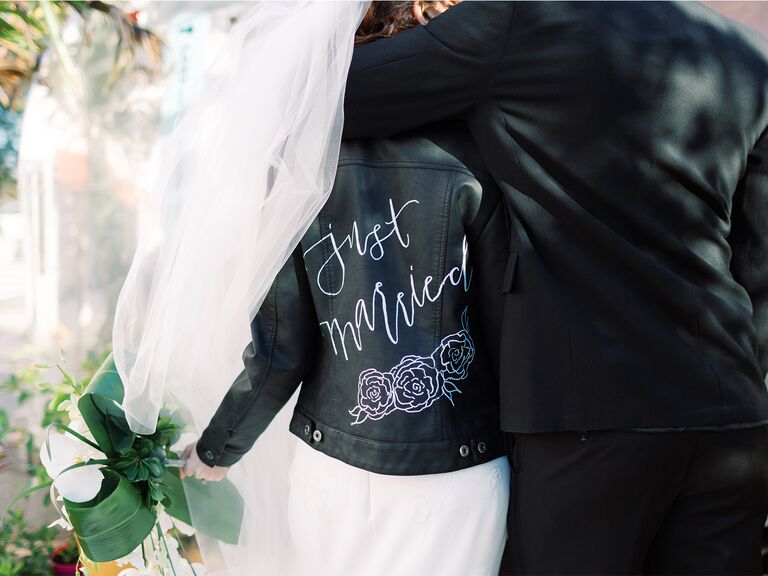 Kir2Ben

Most people don't expect to find themselves planning a second marriage. There's the whole "you only get married once" adage, but according to The Knot's new Real Wedding Study, 11 percent of respondents were hosting their second (or third or fourth…) wedding.
When a first marriage doesn't work out, most consider themselves extremely lucky to find love with someone new—and that love should certainly be celebrated! That's why wedding planners thoroughly enjoy planning a couple's second wedding. "When couples plan their second wedding, they tend to have more of a desire to create something that feels really truly unique to them, and to have the wedding they really want," says Jamie Chang, owner and destination wedding planner at Mango Muse Events in Los Altos, California. "Because you have knowledge of what your wedding was like the first time, you're more aware of what can go wrong and what really matters to you, so you tend to be more focused as you know what you want."
If this is your second marriage, here are some important second wedding ideas experts recommend for the planning process.
Spend Time Selecting the Right Attire
Chances are that you went more traditional for the first wedding with a white gown (or tux), so you might be tempted to switch things up this wedding. While you certainly can do the same for this wedding (there is nothing wrong with wearing white for a second marriage), Chang explains that your second wedding presents a new opportunity to choose something different—be it a different style gown or maybe a pants suit instead. "The most important thing to remember is to choose something that you feel comfortable in and that makes you feel good and beautiful," she adds.
Create Your Own Ceremony
Often with second weddings, brides are not "given away" by their families, as they traditionally are in a first wedding, explains Kate Reavey, owner of Chicago Vintage Weddings."Ceremony processionals tend to be more understated," she says. "What I find is that couples prefer to carve out a fresh direction for their second wedding ceremony so it feels entirely different from the type of ceremony and wording they used the first time around."
Consider Writing Your Own Vows
With your first wedding, you may have opted out of writing your own vows, but you may feel differently this time. Maybe it's because your current soon-to-be spouse and your connection to this person just means so much more to you—or because you wished you had written your vows the first time. Similarly to first weddings, Chang recommends that the words you choose for the wedding itself, your vows and even your pronouncement reflect your relationship and values. "With second marriages, in particular, it's good to acknowledge what's so special about this person and this relationship," she says. "This is when personal vows or a story told by the officiant can really help to share that love."
Be Choosy With Your Invitations
One of the more sensitive pieces about planning a second wedding, according to Chang, are the invitations. "As you are typically older when getting married for the second time (or third, fourth, etc...), you want to make sure your invites reflect the wedding you're having," she says. "That means not including your parents on the invitation as typically they won't be paying for the wedding." She recommends that you choose invitations that are truly coming from you and your partner and give guests the 411 they need to know about what kind of an event it will be (black tie, casual, etc.).
Decide Whether or Not You're Accepting Gifts
Gift etiquette can be a more sensitive area of planning a second wedding. "As you've been married before and had a wedding, you also likely got gifts once already," says Chang. "At least a portion of the guests will be similar to your first wedding, so asking for gifts for a second marriage can be a little tricky." If you prefer to leave it up to your guests, you don't have to make a mention of gifts on the invitation—simply let your guests give whatever they feel is right. But if you do want to tell guests "no gifts" or opt for a charity donation, be sure to include it on your invitation
Incorporate Children If Either of You Are Parents
"Blending families can be tricky, so it's important to make your kids feel as if they are being treated respectfully and given choices," says Reavey. "Age-appropriate roles should be assigned—such as junior bridesmaid or maid of honor (with limited responsibility), for example—for older children." Whatever you do, be sure to ask your children which roles and responsibilities they feel most comfortable with. "Some may wish to stand with you or to give a reading, while others are shy and prefer to stay behind the scenes a little more," adds Reavey.