What You Can Expect All Your Guests to Do at Your Wedding
The numbers are in, and we know how many guests will post about your wedding on social media.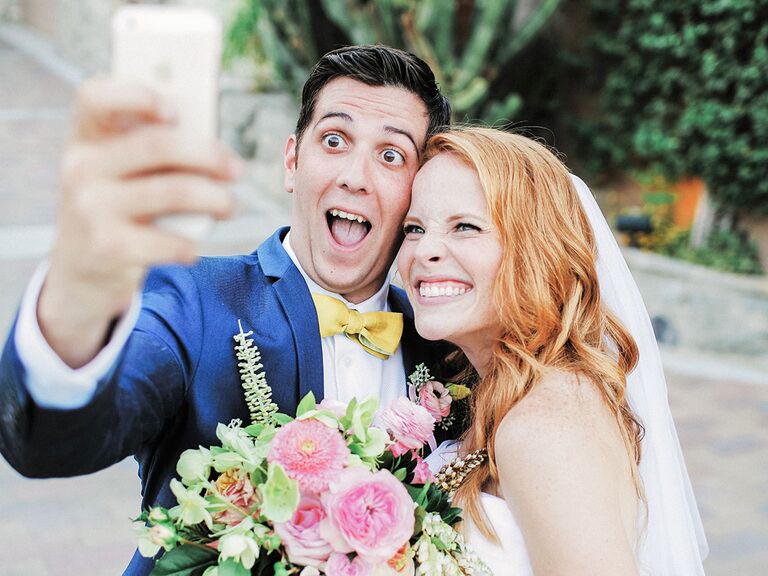 Gideon Photography
We just released The Knot Social Media Survey 2016, which offers insight into how couples and their guests are using social media sites like Pinterest, Facebook and Instagram throughout the entire wedding process, from planning to the honeymoon. One of the most ubiquitous findings shows that wedding guests are extremely active on social at their friend's or family member's wedding: 90 percent of millennial wedding guests (ages 18 to 24) and 61 percent of guests ages 35 to 50 will post about their loved one's wedding on social media. So that's why coming up with the perfect wedding hashtag is so important—all their wedding-related posts are tagged in one place.
But while snap-happy guests aren't giving up social sharing anytime soon, to-be-weds themselves seem to have a different approach to social media on their wedding day. Seventy-four percent of couples claimed they wanted to be disconnected from social at their celebration, and only 27 percent said they actually did share something online at some point during the festivities. But of those who decided to hit "post" on the day of, 30 percent asked their photographers to share their professional photos instead of just smartphone or personal camera snaps (but 30 percent of brides ask to see and approve of their pro's shots before they're shared anywhere publicly—no one wants an accidentally embarrassing moment going viral!).
And after the wedding? Well, that's a whole other story. Seventy percent of new spouses post about their wedding day within 24 hours of getting married, and 70 percent of couples proudly post on Instagram and Facebook during their honeymoon—no doubt showing off their fabulous, romantic postnuptial adventures.