Taylor Swift Is Officially Winning Wedding Season (Are You Surprised?)
What three things does T. Swift love more than her cats? Her fans, her friends -- and weddings, obviously!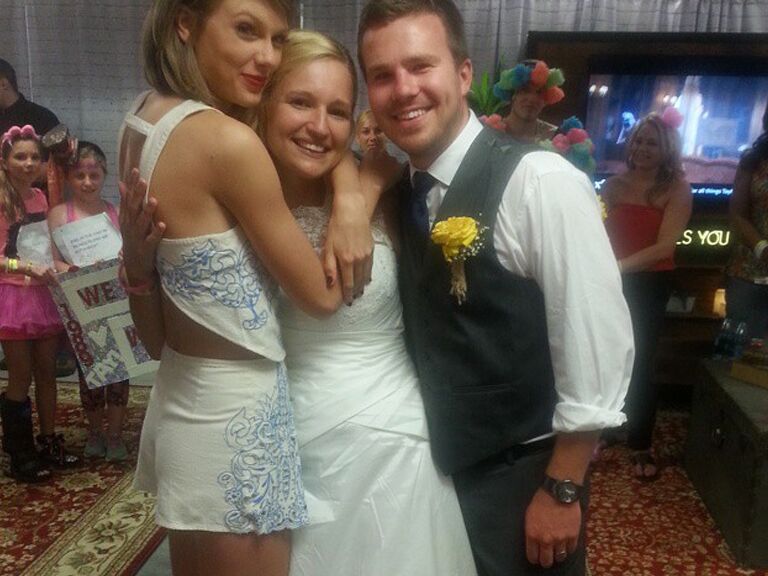 Instagram.com/ktswift1122
If Taylor Swift wasn't already insanely busy doing this little thing called the 1989 World Tour, we'd swear she was a wedding planner. Or a wedding fairy godmother, really. Last year, she surprised a fan at her bridal shower, but it looks like Tay's really upping her bridal game in 2015. First of all, one of Swift's many BFFS, Brit Maack (whom Taylor has actually known since she was four-years-old) asked her to be her maid of honor with a sweet note and a throwback photo.
And since Swift takes every one of her duties seriously, she took Maack wedding dress shopping at one of their favorite designer's showrooms: Reem Acra.
The two visited the Reem Acra showroom in New York City in late May, and Swift was not messing around when they went.
"I've never been a maid of honor before," Swift tells People. "This is my first time, and it's really, really important to me because this is my best friend, who I've known since I was born. And she's marrying someone I've known since I was 4... Reem does the most amazing bridal designs, and Britany and I were looking through Vogue, and she pointed to this one gown, and I was like, 'I wonder if we could go to the showroom…'"
Well, when you're Taylor Swift and happen to be the best maid of honor in the world, things usually have a tendency to fall into place. "And sure enough, it was the best day ever. It was so amazing."
Judging from the #nailedit hashtag, we can't wait to see Maack's sure-to-be gorgeous gown -- and Swift's maid of honor dress!
But Swift was far from done with wedding season. Two mega-fans, Katy Harris and Chris Eisenman, decided to put every other Swifty to shame by getting married right before her concert in Philadephia on Friday, June 12.
Katy wrote on Instagram:
"Some of you may have seen on facebook that Chris and I plan to get married in 3 days at the #1989tourphilly Taylor Swift Concert #06122015 --- We originally planned a a whole wedding for 12-13-14 ( Taylor's 25th birthday! ) We had reasons why we had to put it off. Meanwhile, I've had a gown hanging in my closet!! And as I was making our homemade outfits for Taylor (as I have done every two years when she comes to town) a joke about wearing my gown to the concert turned into us driving to Philly to get a marriage license and planning a ceremony outside of Lincoln Financial Field right before walking into the concert in our tux and gown!"
They even came fully prepared with Mr. and Mrs. mason jars that they toasted with in the parking lot! Cuuuute.
But of course, T. Swift did them one better and invited them backstage to hang for an hour -- and even gave them a signed wedding card (click over to see TMZ's photo).
We're betting that they definitely danced to "You Are In Love" later that night -- and can't wait to see what wedding magic Swift conjures up next!