8 Wedding-Worthy Museums and Galleries
Showcase your love of science, art or design and say "I do" at one of these stunning Minnesota spaces.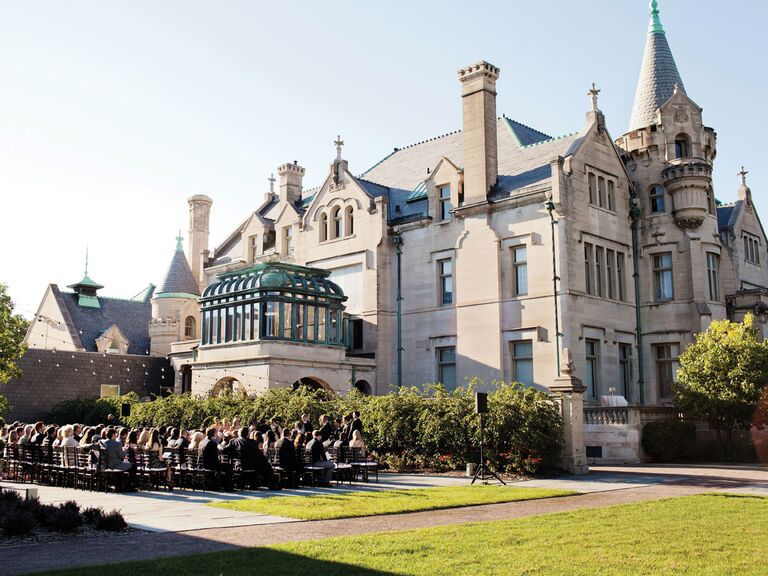 Photogen Inc

American Swedish Institute
2600 Park Ave., Minneapolis; (612) 870-3368; The American Swedish Institute
You don't have to be Scandinavian to appreciate the streamlined blend of classic and modern at the American Swedish Institute, located just 10 minutes south of downtown Minneapolis. The venue features three distinct spaces to celebrate, whether it's an intimate affair of 30 or a grander soiree for 250: the three-story, turn-of-the-century Turnblad Mansion; the Nordic-inspired Nelson Cultural Center, with a contemporary outdoor courtyard; or outside on the lawn in front of the Swedish castle, complete with turrets and detailed exterior stone carvings.
Rochester Art Center
40 Civic Center Drive SE, Rochester; (507) 282-8629; RochesterArtCenter.org
The Rochester Art Center is an open, lightfilled, modern venue perfect for an elegant wedding. The space features floor-toceiling windows in the Mayo Clinic Grand Lobby and Wells Fargo Atrium, which overlooks the Zumbro River and Mayo Memorial Park's walking paths along the river. The ever-changing gallery upstairs showcases contemporary art and holds up to 240 guests. It's also a great location for making your grand entrance—the glasswalled staircase in the room is a one-of-akind way to descend to the main space as a newly married couple.
Historic Union Depot
506 W. Michigan St., Duluth; (218) 727-8025; Historic Union Depot
Couples with an appreciation for architecture, history and vintage trains will adore the depot, situated on the edge of Lake Superior. The stately building, designed in an elaborate French Norman– style with dramatic castle-like towers, reflects the design of grand railroad stations from the late 1800s. Rent out the train depot so guests can explore the Railroad Museum before the ceremony, then move to the Great Hall. With its 88-foot vaulted ceilings, arched windows and two original brick fireplaces, it's the perfect ambience for a reception with up to 250 guests.
Weisman Art Museum
333 E. River Pkwy., Minneapolis; (612) 625-9494; Weisman Art Museum
Designed by world-renowned architect Frank Gehry, the sculpture-like structure offers a unique industrial aesthetic thanks to stainless steel and brick elements woven in a sloping shape that provides soaring ceilings and natural light. Hold an intimate ceremony in one of the smaller galleries, then invite up to 150 for a seated dinner in the Dolly Fiterman Riverview Gallery, with views of the Mississippi.
The Rourke Art Gallery and Museum
521 Main Ave., Moorhead; (218) 236-8861; TheRourke.org
Not only does The Rourke Art Gallery and Museum house a permanent collection of more than 5,000 works of art, it's also housed in a building listed on the National Register of Historic Places. Host your wedding with up to 100 guests in the former Federal Post Office, which features an impressive marble staircase, hidden bank vault and intricate wood details. After a ceremony inside on the main floor, move outside to the courtyard for signature cocktails and dancing.
Great Lakes Aquarium
353 Harbor Drive, Duluth; (218) 740-3474; GLAquarium.org
Have your wedding at the Great Lakes Aquarium and scenic Lake Superior is right outside your door. There's space for indoor and outdoor ceremonies, with capacity for up to 160 guests for a seated dinner, plus the freedom to explore the exhibit halls after-hours. Special details include a head table seated directly in front of the Baptism River exhibit, with local fish swimming by, and a sparkling 24-foot water wall serving as a backdrop for your first dance.
Science Museum of Minnesota
120 W. Kellogg Blvd., Saint Paul; (651) 221-9444; Science Museum of Minnesota
Located on the Mississippi River, the Science Museum of Minnesota features floor-to-ceiling windows, excellent acoustics and fun "extras" (think: musical stairs and free museum passes) all within a modern, elegant space. When weather permits, up to 300 guests can mingle on the outside terrace overlooking the river and twinkling lights of downtown, then dance inside until midnight. The process is simplified with one contact for the venue, which includes food and drinks by Lancer Catering and a wedding cake from Buttercream in Saint Paul. Plus, covered parking is available, and a number of hotels for accommodations are within walking distance.
Minnesota History Center
345 W. Kellogg Blvd., Saint Paul; (651) 259-3000; Minnesota History Center
A contemporary design with possibly the best view of the State Capitol building, especially dramatic when illuminated at night, the History Center offers a stunning backdrop for your large guest list. The sophisticated space, which seats up to 450, features marble, granite and limestone architectural details, a sky mural and a vintage plane hanging from the ceiling of the Great Hall Rotunda. Insider tip: Serve cocktails on the outdoor terrace and enjoy a panorama of the Saint Paul skyline and Cathedral.