These 20 Unique Save-the-Dates Will Stand Out in Any Mail Stack
Cards are cute, but these creative and fun choices have a way of making guests RSVP yes right away.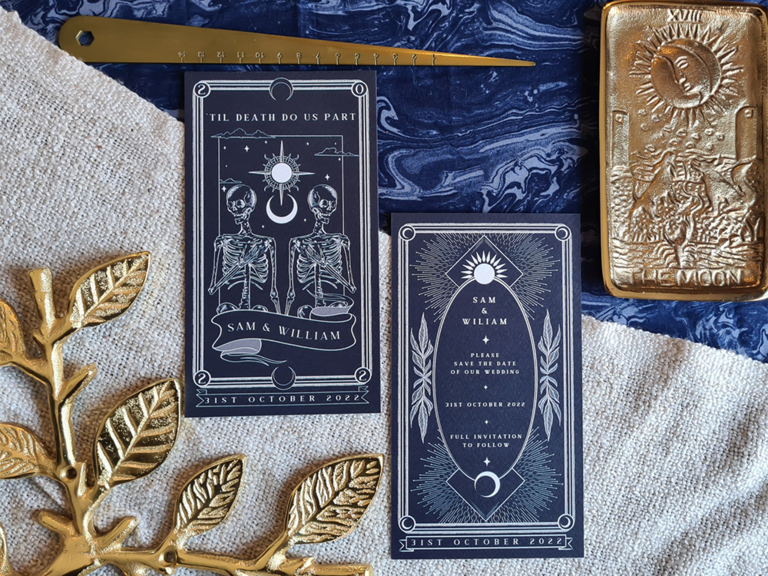 We have included third party products to help you navigate and enjoy life's biggest moments. Purchases made through links on this page may earn us a commission.
The wedding planning game has changed big time over the last decade, but there is still one tradition we will always get behind: sending out save-the-dates. You'll want your favorite people there to witness your vows, so a "We're getting hitched" heads-up ahead of your event is paramount. If you can do it with a unique save-the-date that catches their eye and keeps your date top-of-mind for the next several months, then you'll be in a great position to get those RSVPs locked-in even before the official wedding invitations go out.
We've encountered so many cool save-the-date ideas over the years, but we get especially excited when we see couples hinting at their upcoming nuptials with creative, out-of-the-box wedding stationery. From meaningful magnets to stage-setting miniature books and mood-boosting scratch-offs to spellbinding tarot cards, unique alternatives to the traditional save-the-date offer the ideal teaser for your eventual best day ever.
Ahead, check out 21 standout ways to tell your wedding guests you have a date and you hope they'll make it. We've even included a few of our own extra special save-the-date designs from The Knot Invitations. Everything is a little bit unconventional but a whole lot of fun—if you thought "fridge-worthy" was the only goal, think again. Mark our words: Jaws will drop.
Panopixx Floral Save-the-Date Magnet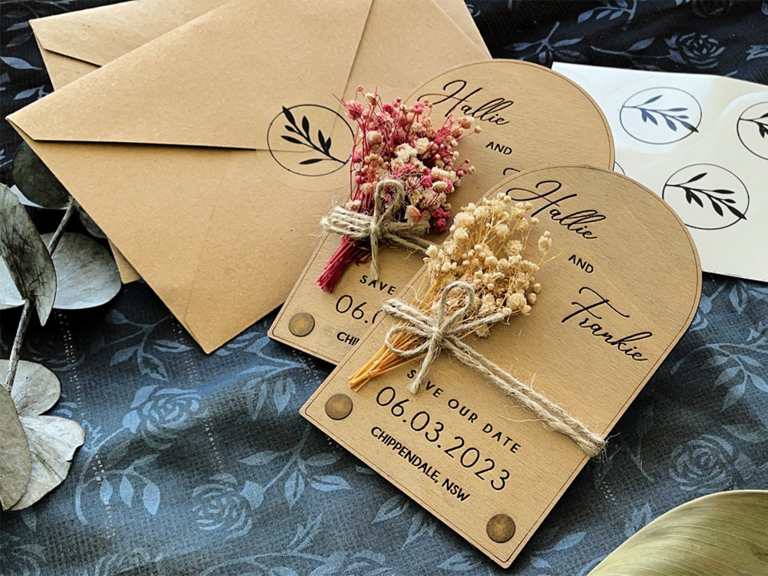 Does anything say rustic or boho wedding theme better than dried flowers? These save-the-dates feature an arched wooden placard with a sprig of real dried flowers. Everything is joined with twine, making for the perfect Southwestern or desert-boho touch.
Good News Company Save-the-Date Custom Quail Eggs With Notes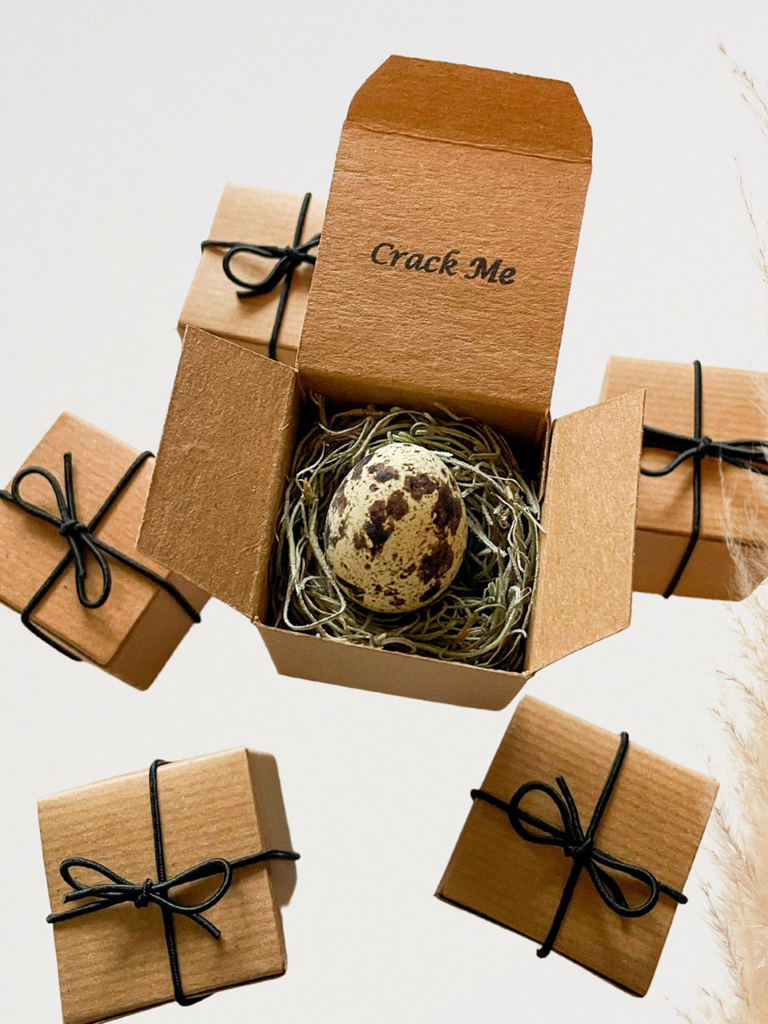 Speaking of rural reminders, how about delivering a quail egg with a custom message inside? We'll go out on a limb and say that your wedding guests will get such a kick out of the "Crack Me" instructions, they won't want to put it down. As soon as it's "hatched," they'll get the news you're getting hitched.
The Knot Retro Watercolor Save-the-Date Cards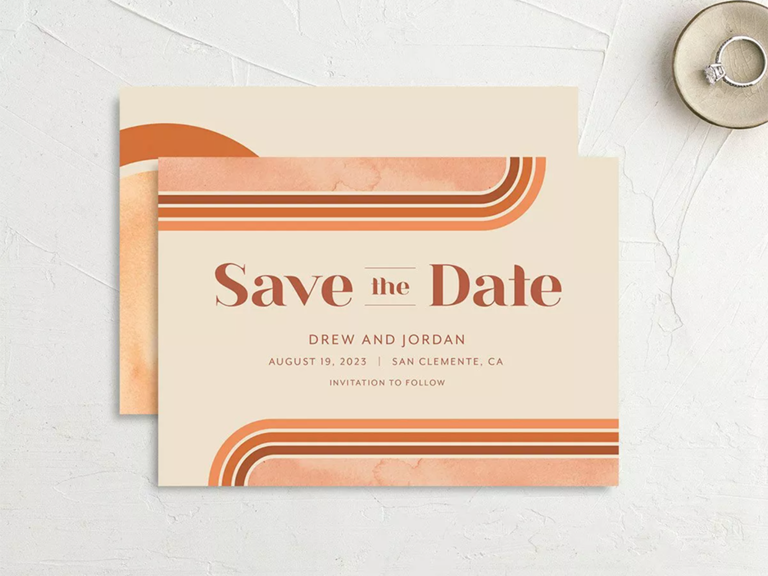 When save-the-dates first entered the chat a few decades ago, they included little more than the who, what, when and where of your event. That's why this retro-inspired iteration is so unique—it throws back to the simpler days when the mere phrase "Save the Date" was the hero. This one pairs modern fonts with graphic arches in earthy tones and the groovy, rainbow effect is straight out of the '70s.
Keiana Hill Paper Co Modern Save-the-Date Magnet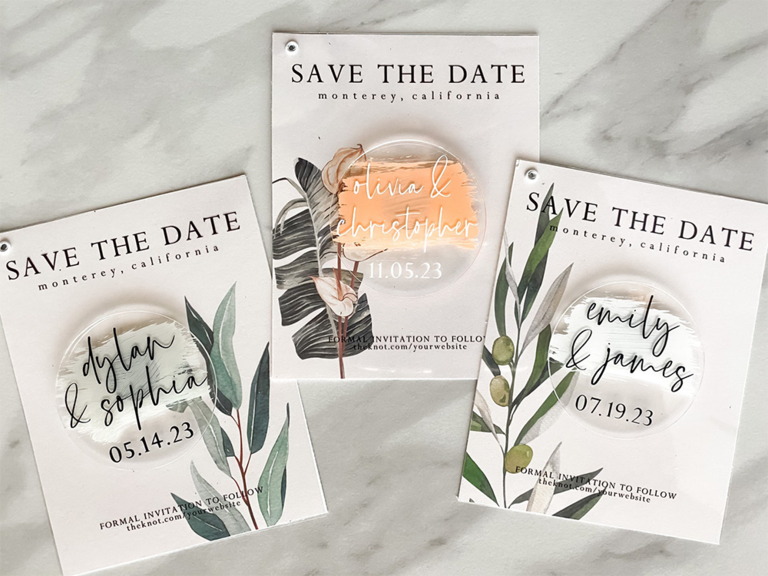 It's true, save-the-date magnets aren't exactly groundbreaking, but they are a lot more likely to end up on your loved ones' refrigerators (and in their subconsciousness). The fact that these are made of minimal, modern acrylic makes them even more worthy of fridge space. You can choose a paint color to match your wedding palette, as well as a floral illustration on the cardstock (from a selection of an olive branch, palm leaf, eucalyptus branch or magnolia branch) to vibe with your venue's surroundings.
Wedding Lux Wood Engraved Personalised Hanging Tag
Will you be sending your custom save-the-date out during the holiday season? If so, you can surprise your loved ones with a new keepsake ornament to hang on their trees. Pick from a selection of materials—including wood, clear acrylic, rose gold mirror canvas and more—then let the Etsy seller know whether you want a hole at the top or not. The laser-cut pieces are permanently engraved, so they will never scratch or fade, which means you'll also have a wonderful heirloom for years to come.
The Knot Vintage Library Save-the-Date Cards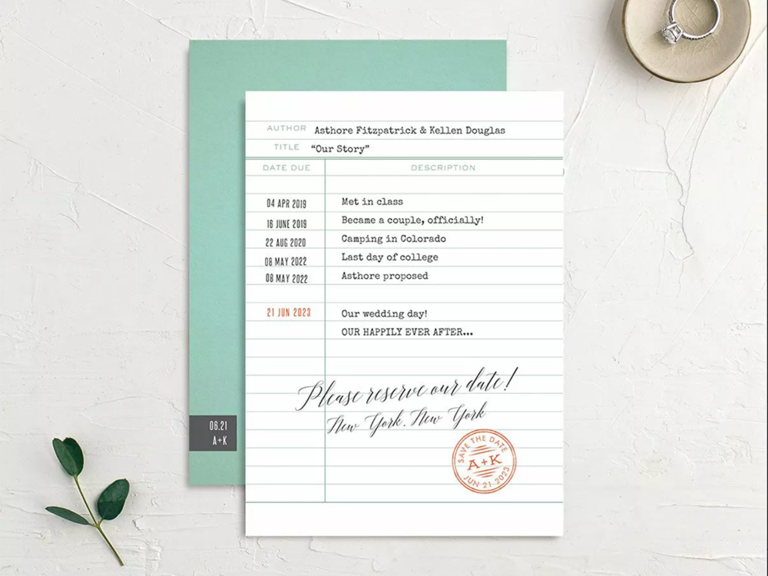 Your epic love story is definitely a read your wedding guests will want to check out. This vintage library card—boasting a splash of muted color and a custom label—is the perfect place to pay tribute to some of your big milestones before the ultimat one (marriage, duh!) comes to pass. Bonus: There's also a change-the-date edition, if you've had to postpone or reschedule your celebration in the midst of COVID-19 considerations.
Devon Design Co. Custom Pet Sketch Save-the-Date Cards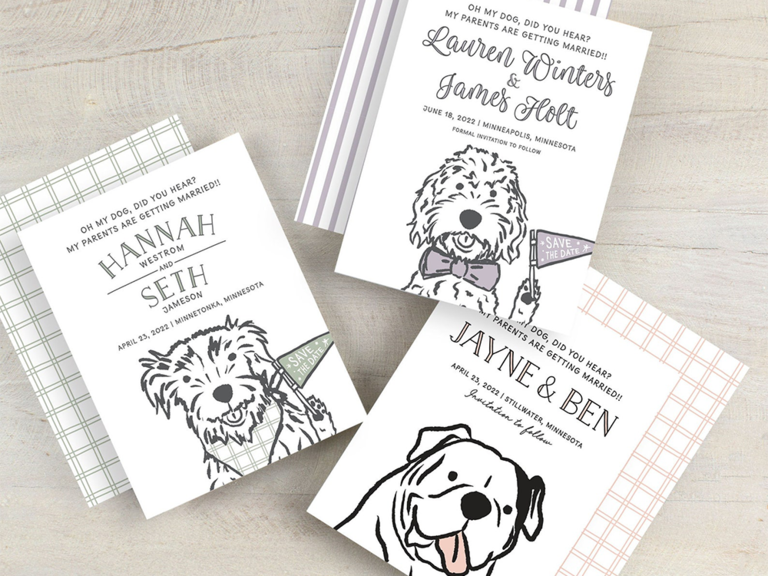 Even if you don't have much figured out about your wedding theme yet, you can bow-wow your guests with a playful sketch of your favorite fur baby. Personalize the wedding cards with your wedding colors, a pattern (dots, plaid, stripe or botanical) for the back and your own wording—you can even add a bow tie or bandana to your pet for a fun accent.
Bird House 197 Unique Tarot Card Save-the-Date 'Til Death Do Us Part'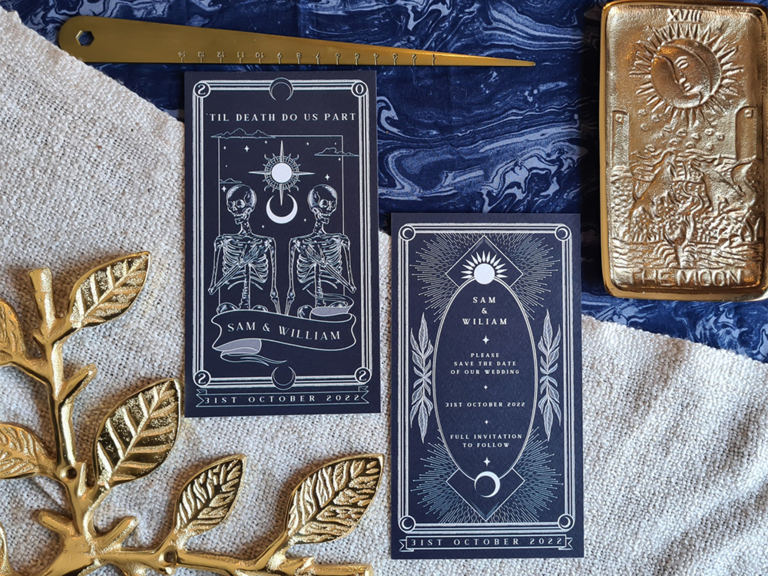 Okay, so we're not official clairvoyants, but we'd venture a guess that these tarot card-inspired save-the-dates put a "destined for greatness" charge out into the universe. When ordering, make sure to specify your names, wedding date and any extra information you'd like to call out when your guests read their cards. You can even nod to your save-the-dates come the main event by having a tarot reader make the rounds during cocktail hour.
Raspberry Creative Bookmark Save-the-Date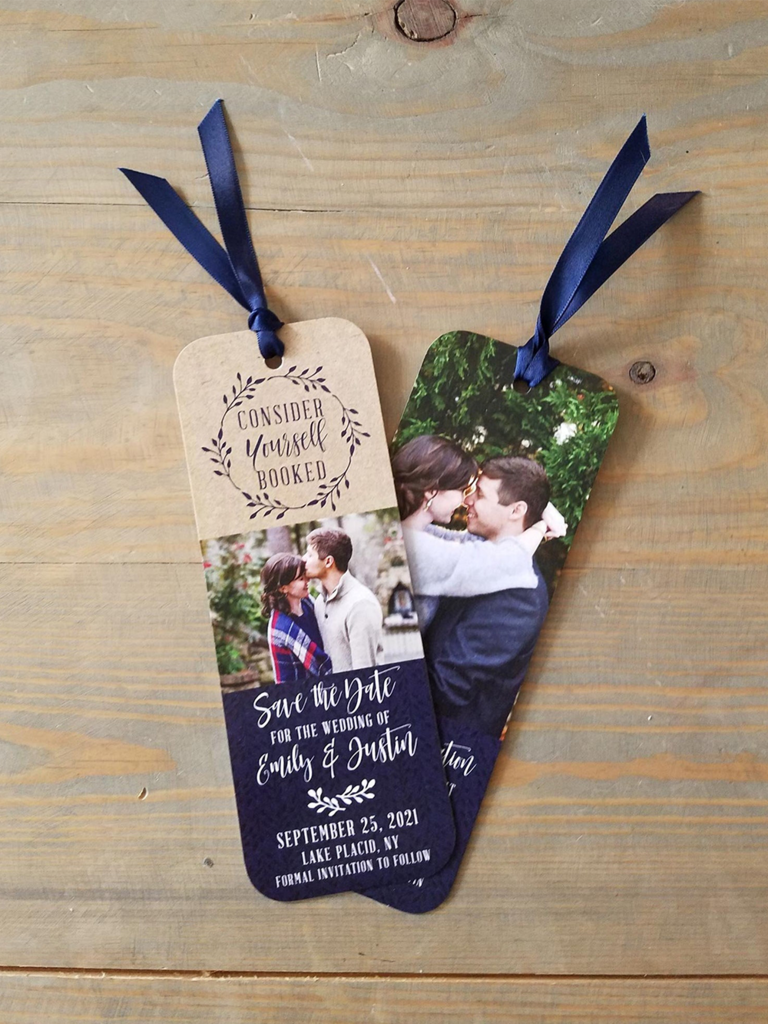 Did your meet-cute happen somewhere literary-themed, like your college's library? Or did you and your partner fall head-over-heels over a shared love of the classics? With this save-the-date bookmark, your guests can keep tabs on their favorite book and think of your future "I do"s each time they open it. The designs are completely customizable down to the choice of ribbon threaded through the top—opt for single- or double-sided save-the-dates to include as many wedding day details as you'd like.
Marabou Design Visage Minibook Save-the-Date Cards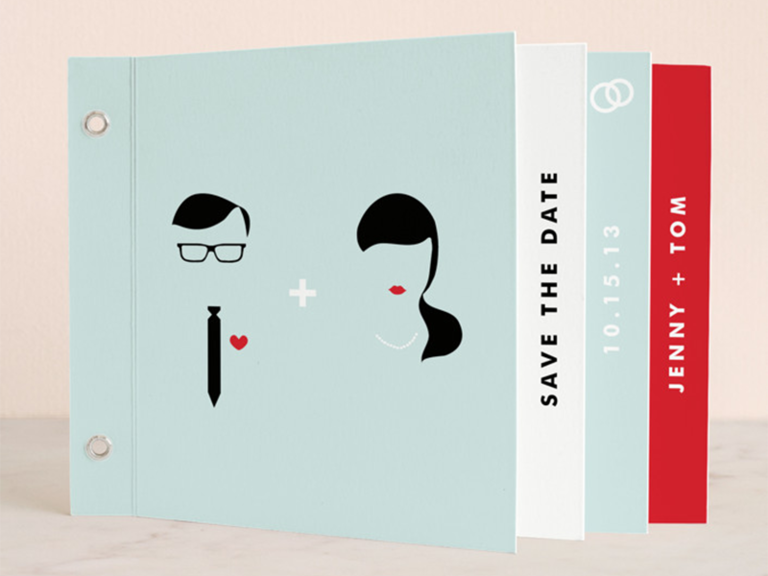 The Clark Kent vibes are coming in hot with these silhouette-stamped booklets. If you'll be getting married in a metro area or at an edgy, industrial venue, these dynamic save-the-dates are kind of perfect. All of the pages are bound together with brass grommets for a touch of class. As you personalize the template with your images and text, it will feel like you are authoring your own storybook of love to send to all your friends and family.
JP Stationery Colorful Mexican Fiesta Papel Picado Save-the-Date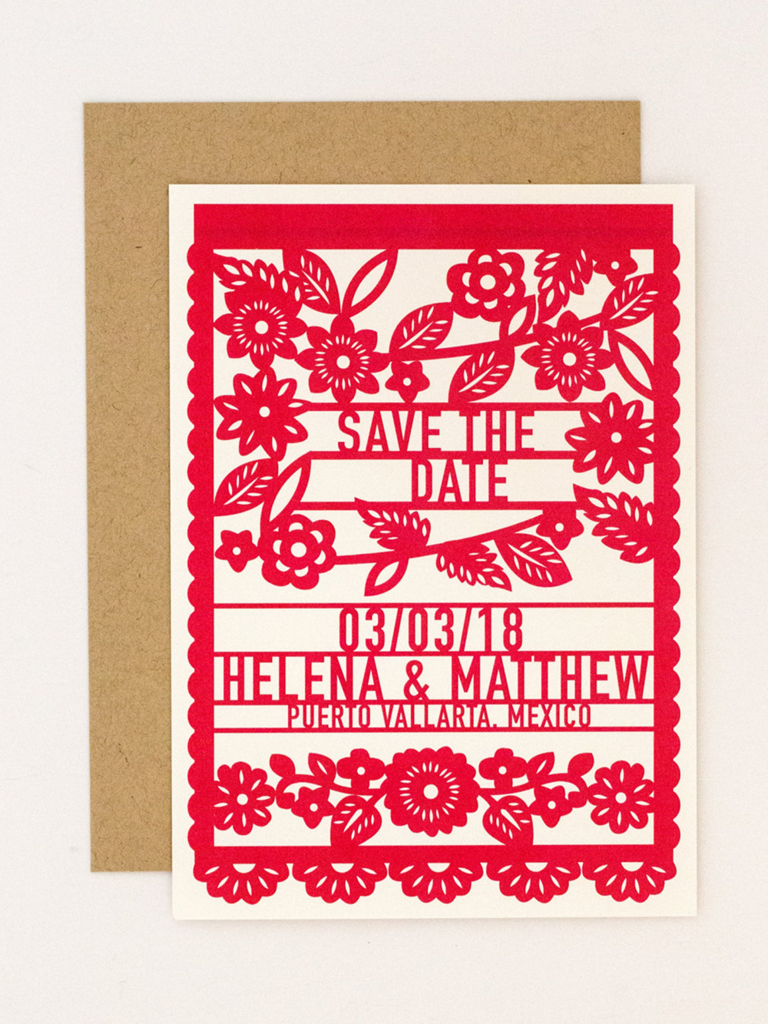 Bright, bold colors aren't for everyone, but if your nuptials are happening somewhere as vibrant as Puerto Vallarta or Zihuatanejo, then you might want to amp up the playfulness. This colorful pattern-rich suite features a fresh papel picado print, perfect for a destination wedding or cultural celebration. The design is printed onto premium card stock, with the wording and color alterations yours to personalize.
theTbird Wooden Rainbow Plane Save-the-Date Magnets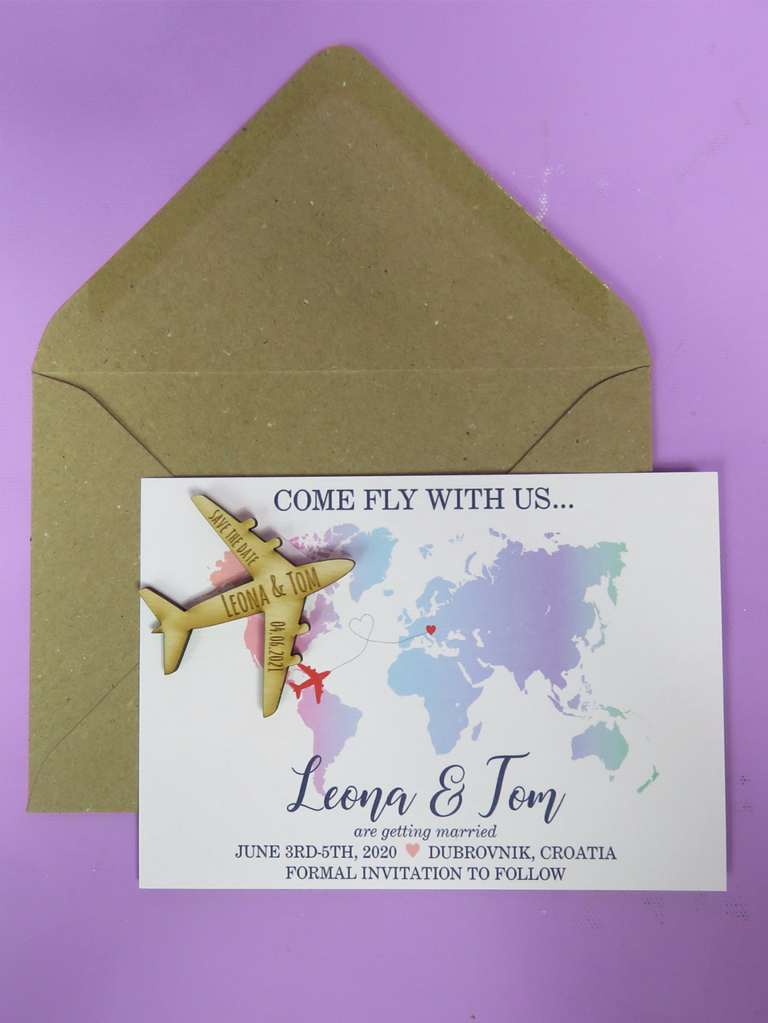 Guests might already have an inkling about your aisle intentions abroad just by reading "Come Fly With Us," but they'll adore the rest of the context clues, too. You can purchase the wooden plane magnet alone or bundle it with a backing card (available in white or ivory) and kraft envelope. Take note of the heart—you can have it moved to your destination country as a sweet nod to your romantic wedding locale.
Artifact Uprising Pronounced Save-the-Date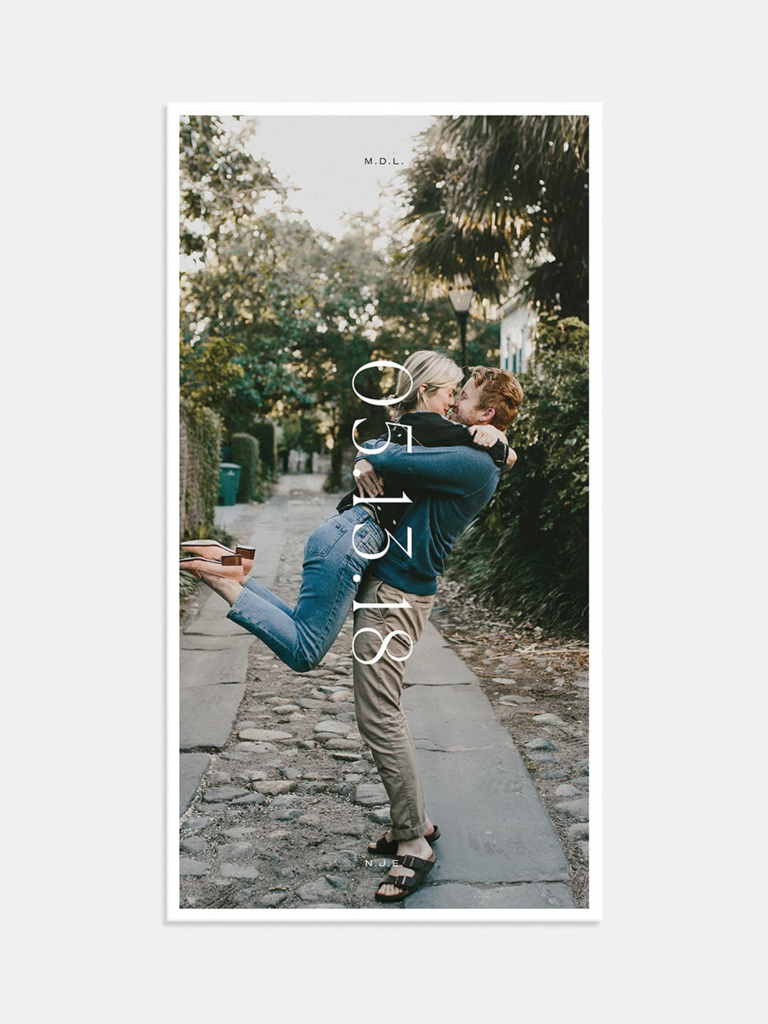 Sending a polaroid with your wedding date Sharpie'd on the bottom is a vibe for sure, but we happen to love this elevated version a whole lot more. The vertical film strip orientation lends itself to a beautiful portrait of the two of you together and all the blank space on the backside can accommodate some fine-tip Sharpie personalization if you so choose.
Onderkast Studio Custom Letterpress Paper Coasters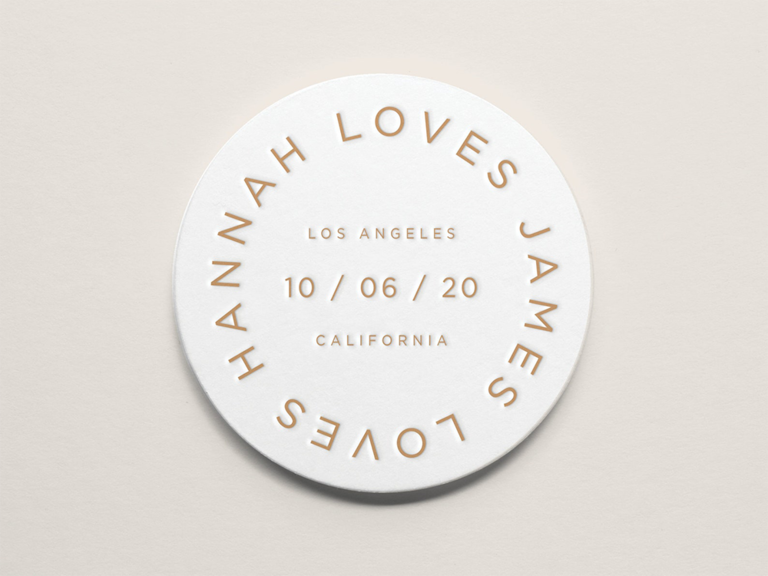 You'll be exchanging wedding rings soon enough, so why not go with a similar symbol for everlasting love? These 4-inch circular coasters feature your wedding date and destination, along with your names in a repeating fashion, "Hannah loves James loves Hannah" (switched out for your names, of course)—all in luxe, plush letterpress. Be sure to ask the seller if you can add on A2 envelopes to avoid extra postage usually tacked onto mailing 4.25-inch square envelopes. It's an additional expense, but well worth it.
Letter + Leather Luggage Tags Personalized Wedding Save-the-Dates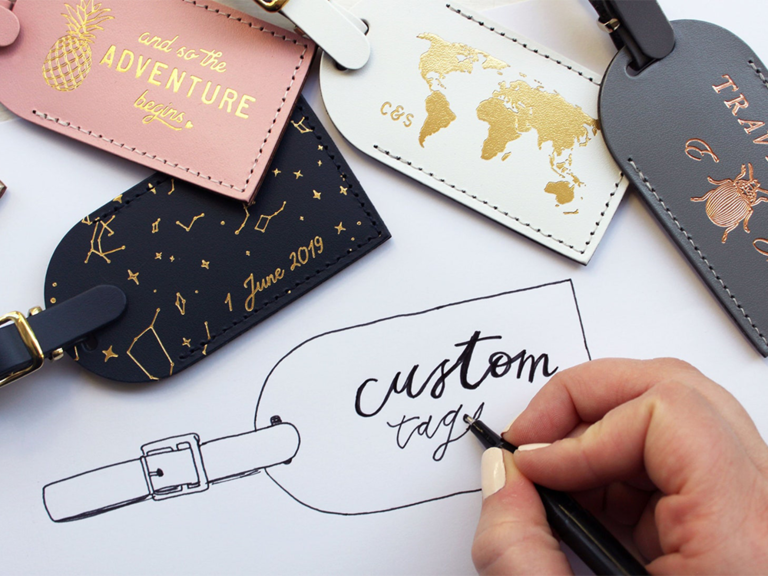 Add your custom wedding day details to one of these wanderlust-inspiring luggage tag designs for a save-the-date that is as unique as your love story. This level of customization isn't cheap—there's a $50 flat-rate fee for the creation of a bespoke design, as well as the cost of making a unique die to stamp your tailored tags—but if your budget allows, the look will have your guests packing their bags ASAP.
The Invite Shack Tinder Save-the-Date We Swiped Right Cards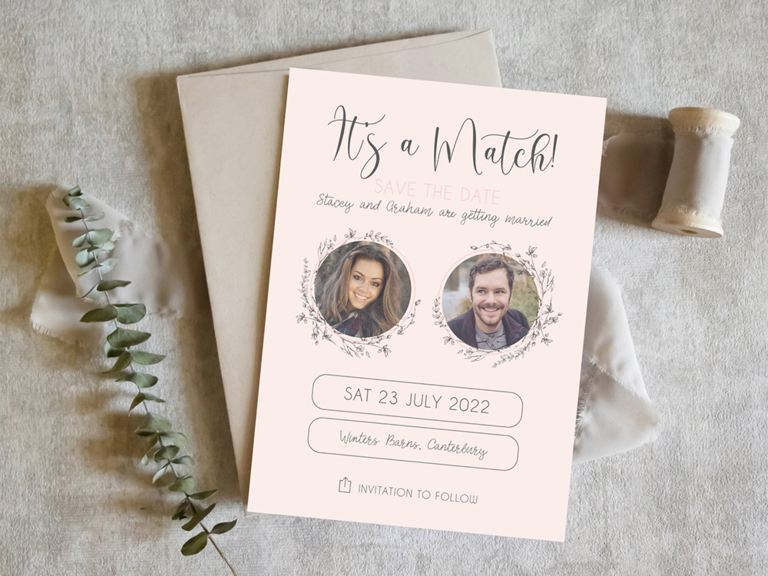 Even going with a funny save-the-date will make your "I do" debut a little more unique. If your origin story started with a right swipe, lean into that iconic matching moment with your stationery. This template takes its cues from Tinder, positioning your two photos in those signature circles with a calligraphed "It's a Match" marquee above. We love the nod to your digital beginnings, even if the pink and gray color palette is tweaked just a bit.
Stacey Meacham Highlighter Minibook Save-the-Date Cards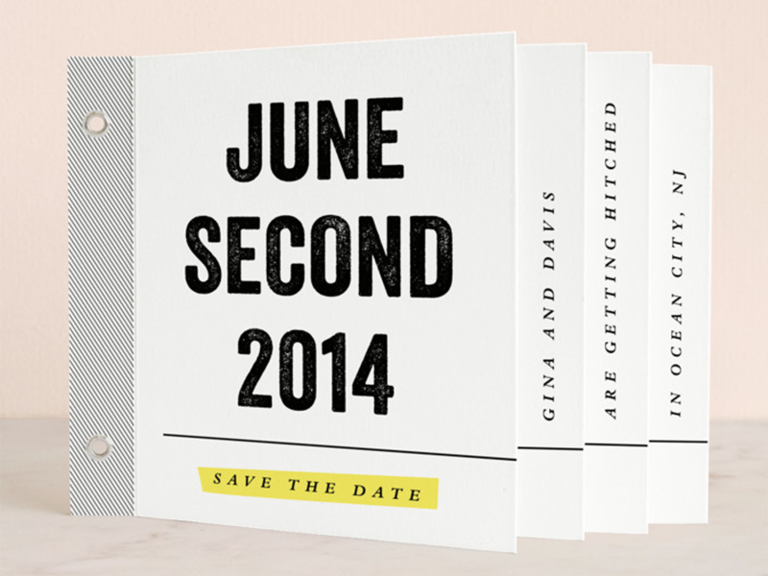 If you want to bring attention to some very important details, you highlight them, right? That's exactly what this flipbook does—in cheery sunshine yellow, of course. This unique card format is perfect for sharing ample information about destination weddings and cultural weddings with multiple events, since the design includes six pages. As your guests turn each page of the mailer, they can peruse engagement photos and get a clear picture of how you first met, details on your wedding venue, travel tips and any other important bits of information you wish them to make note of.
Orange Box Gifts Unique Save-the-Date Candle Gift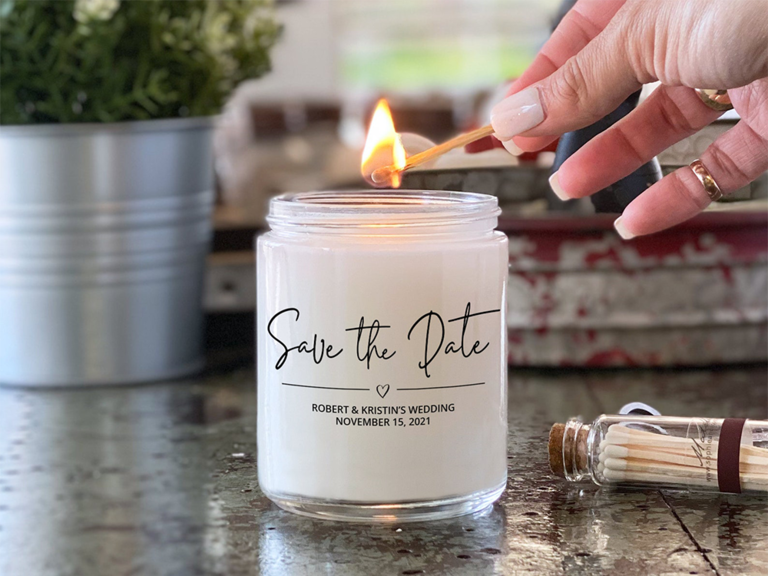 Not every save-the-date has to be mailed, especially if you plan on having a small microwedding. Consider giving out these candles at your engagement party or even during a casual get-together with your closest friends and family. The save-the-date messaging is particularly prominent and, with the addition of your names and event date, your favorite people will have an easy reminder about your future nuptuials every time they light it up.
Panopixx Rustic Wooden Save-the-Date Magnet With Kraft Envelope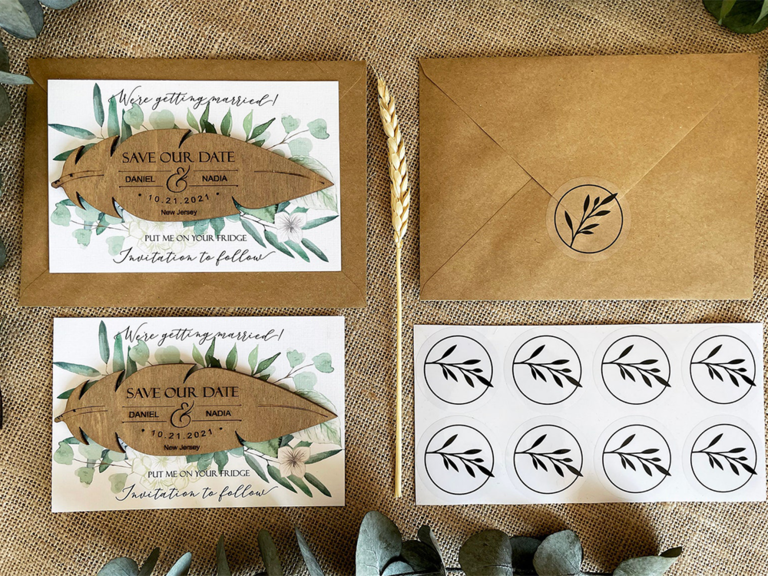 Is it a feather or is it a leaf? Either way, these wooden save-the-dates—with complementary kraft envelopes and greenery sprig sealing stickers—epitomize the rustic revelry to come. The birch wood composition is resilient and durable, while the laser-engraved etching is clean and crisp. Your guests will be thrilled to add it to their refrigerators.
Allincork Unique Save-the-Date Wine Corks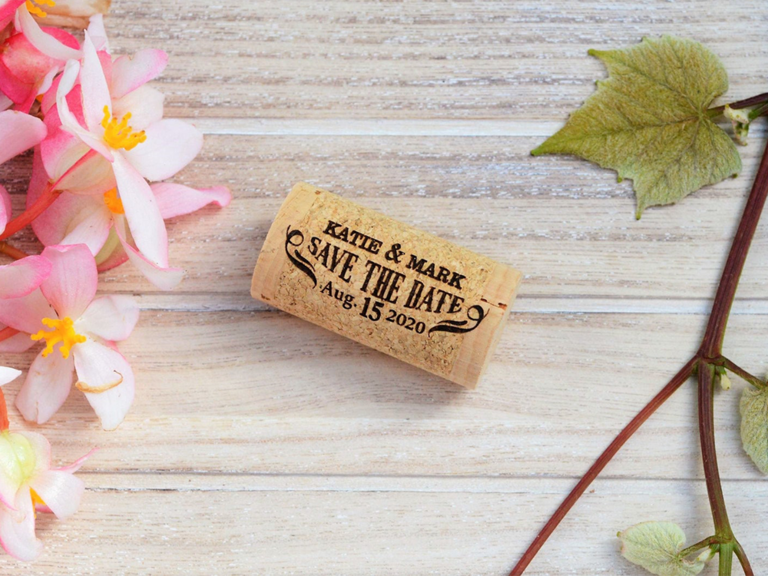 You can absolutely send a traditional save-the-date invitation for your vineyard wedding, but if the details can appear on a cork, that's even better. Just a word of caution before completing your purchase: Ask the seller what to do about envelopes and the best backing for the cork, since it's a rather unconventional mailer.