Here's How To Throw an "I Do" Barbecue
Eat, drink and be married!
A barbecue always brings people together for delicious food in a fun, relaxed atmosphere—so it only makes sense that this theme would work perfectly for your wedding too. Comfort food, backyard bashes and food trucks are more popular than ever for wedding receptions. From lawn games to homemade pie, here are 17 ways to inspire your own barbeque-themed wedding.
1. Rib Roast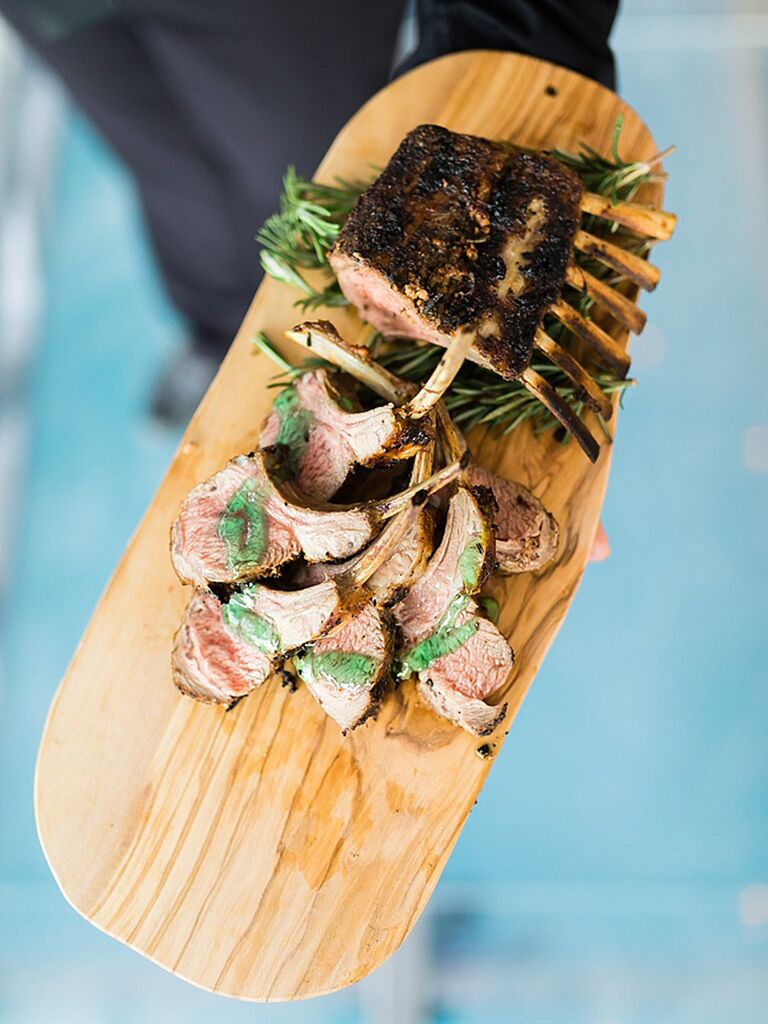 Cue mouth watering.
From: An Intimate Waterfront Wedding at a Private Residence in Jupiter, Florida
2. Family Recipes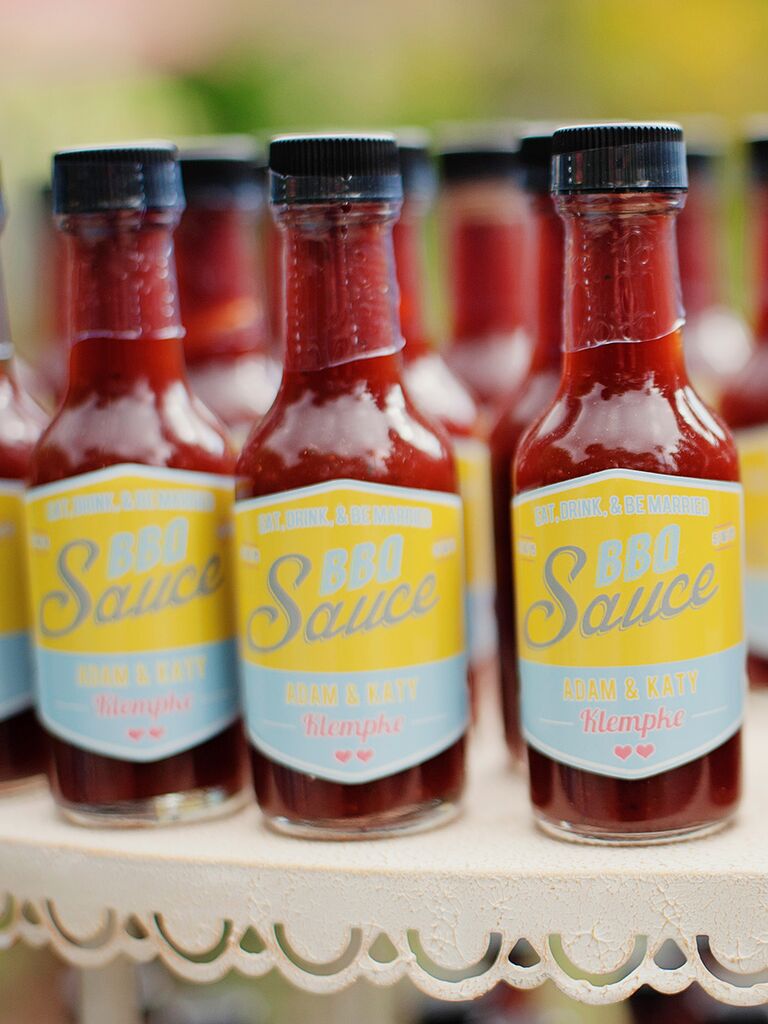 Does Aunt Debbie have a signature dish that's irresistible to the whole family? Package it up. It works as a favor or welcome gift (and a delicious addition to the reception food).
From: A Vintage, Garden-Inspired Wedding at Bissell House in South Pasadena, California
3. Fried Favorites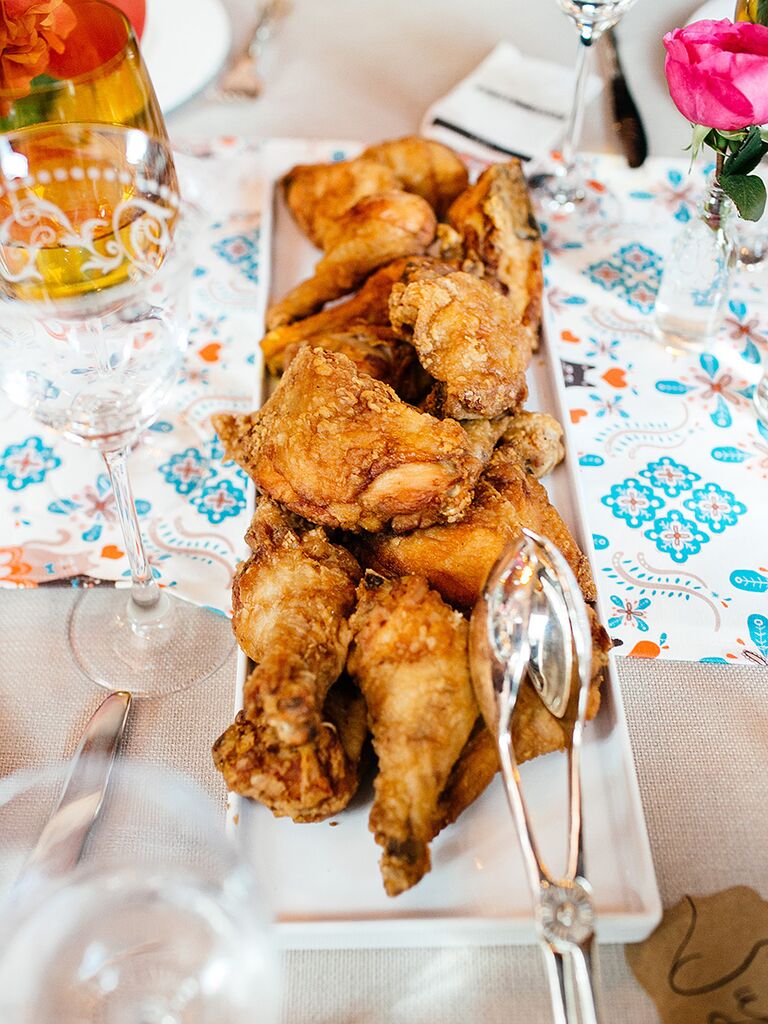 Fried pickles, bacon baskets and chicken are barbecue necessities.
From: A Green Building Wedding in Brooklyn, New York
4. Cute Koozies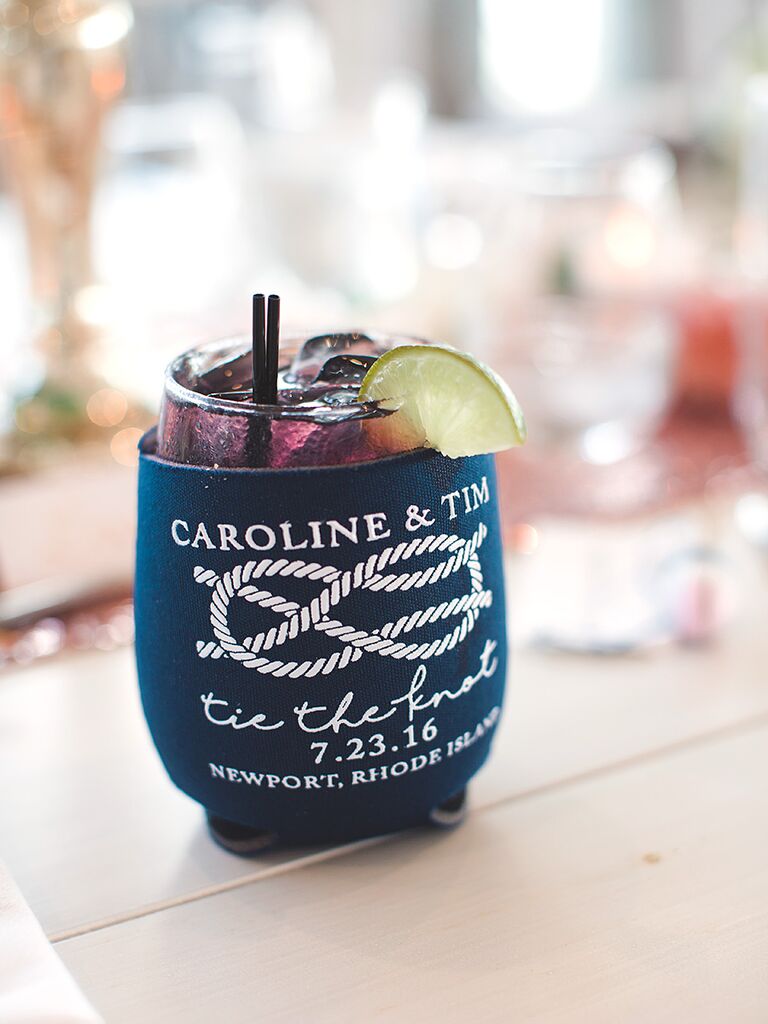 Since your guests will probably have a drink in their hands all night, a koozie to hold it in is a cute touch.
From: A Modern Nautical Wedding at Newport Beach House in Middletown, Rhode Island
5. Bite-Sized Eats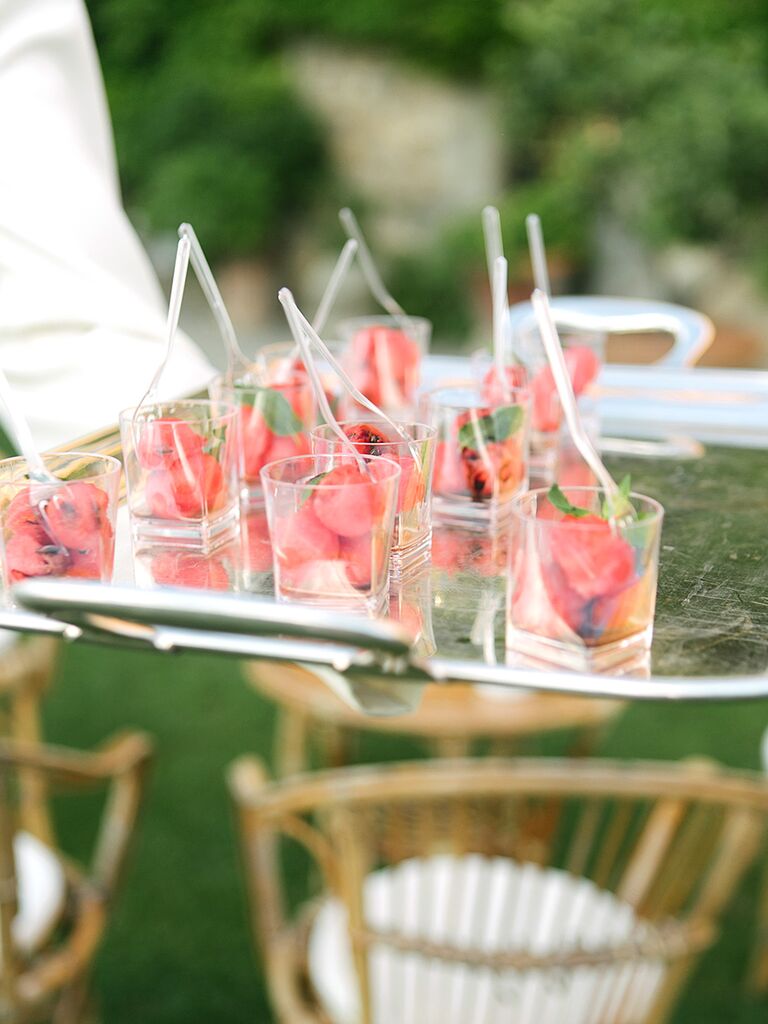 There's only one thing better than bite sized appetizers, and that's anything on a skewer or in a cup for easy eating.
From: An Elegant Tuscan Wedding at Castello di Vincigliata in Florence, Italy
6. Cinnamon Buns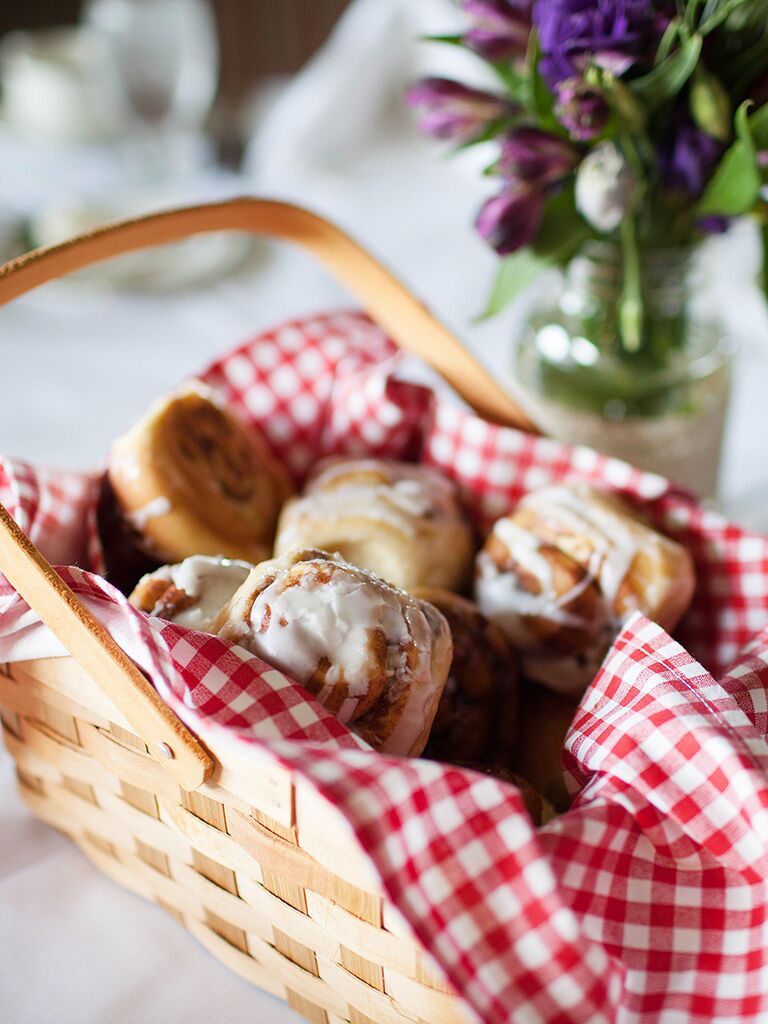 Serve some classic sweet treats, like cinnamon buns in a picnic basket and gingham pattern cloth.
From: A Charming, Brunch-Themed Wedding at the Town and Country Club in St. Paul, Minnesota
7. Homemade Pie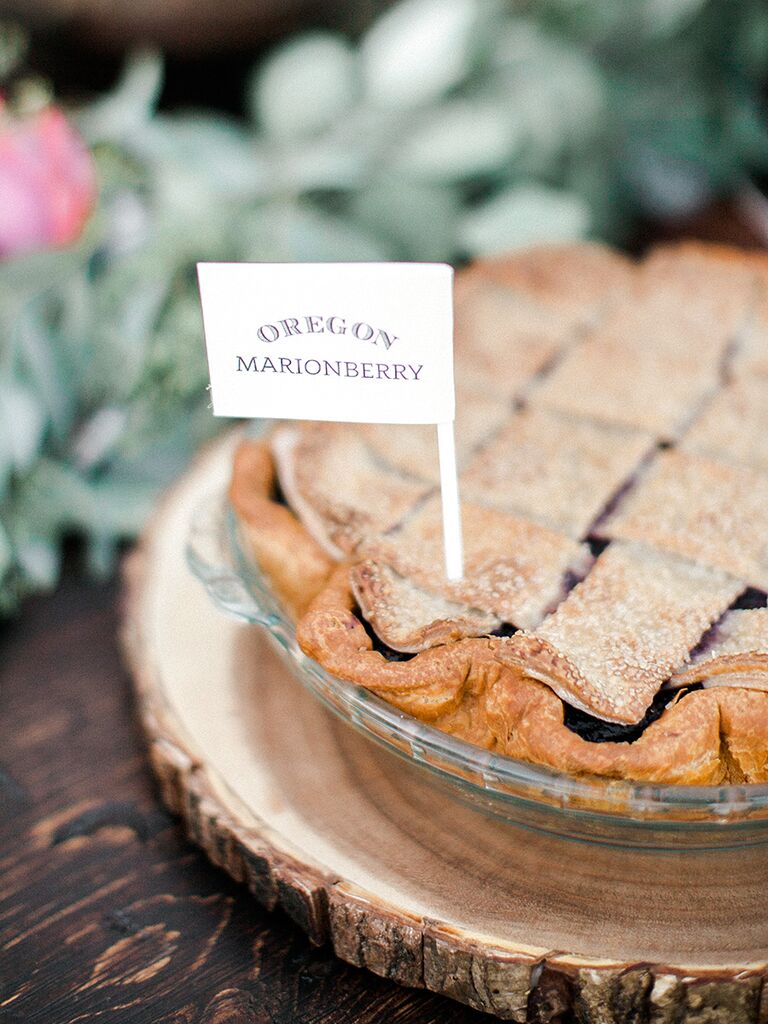 Pies are barbecue necessities, so go ahead and opt for a pie station.
8. Condiment Wall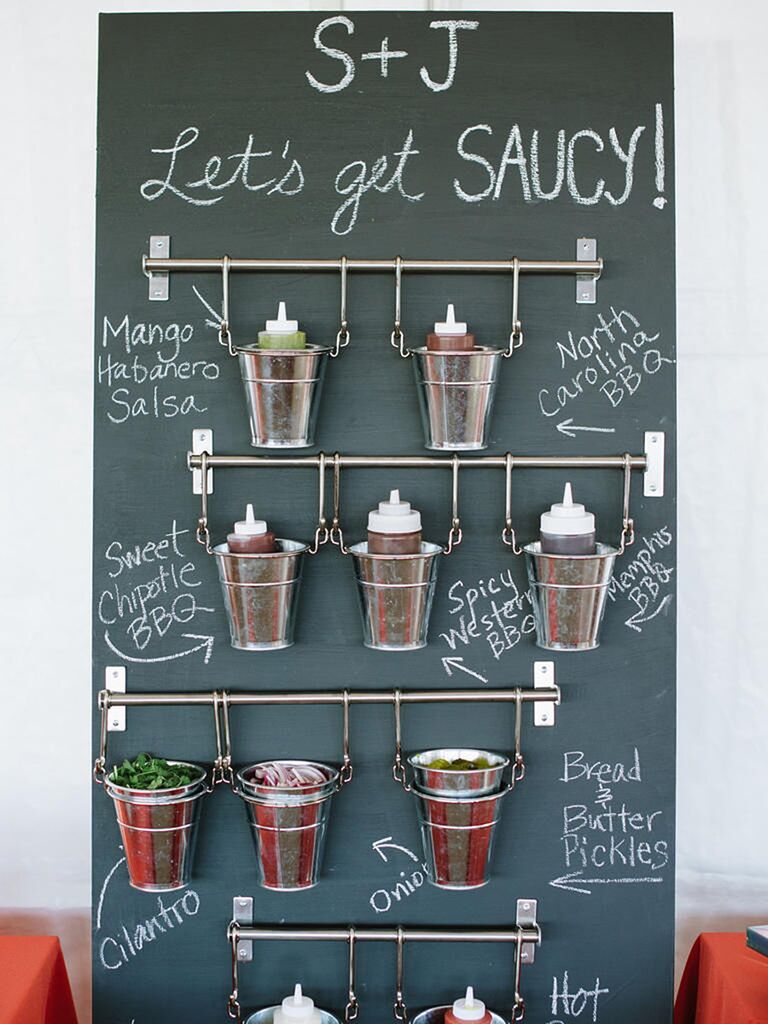 Yes to salsa, pickles and sweet and spicy sauces—especially if they're on a fun display wall. (This is an easy DIY!)
From: A Nautical Vintage Wedding in Edgewater, MD
9. Dip, Dip Hooray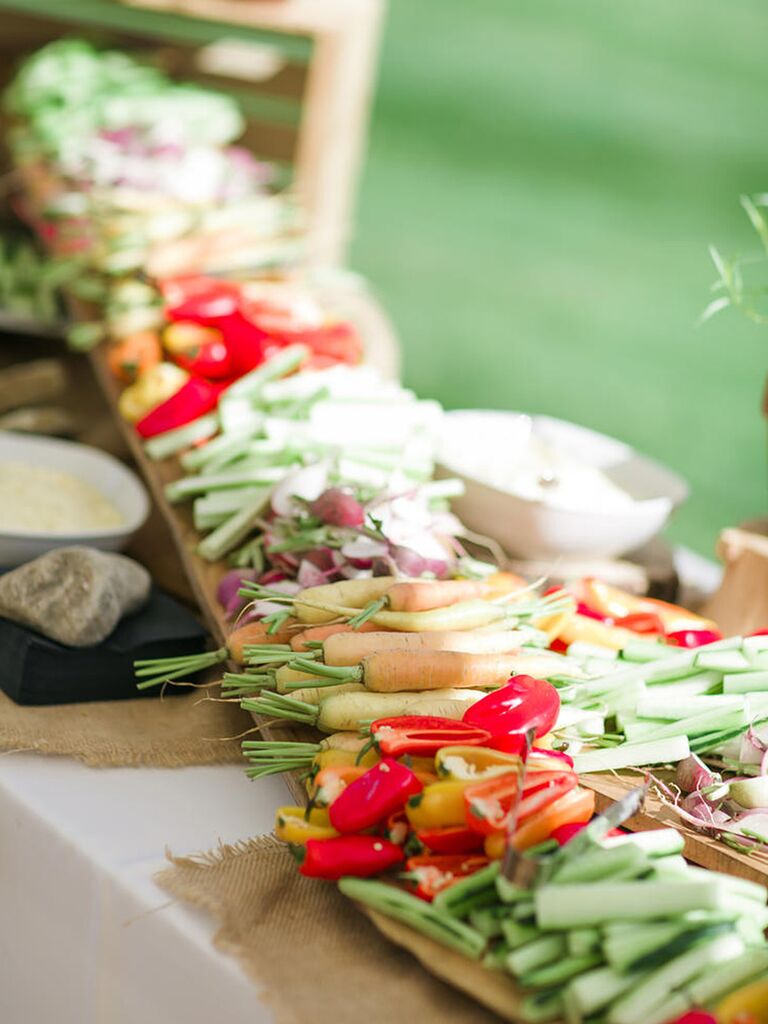 How many different veggies can you combine with dip? The limit does not exist.
10. Ceremony Supplies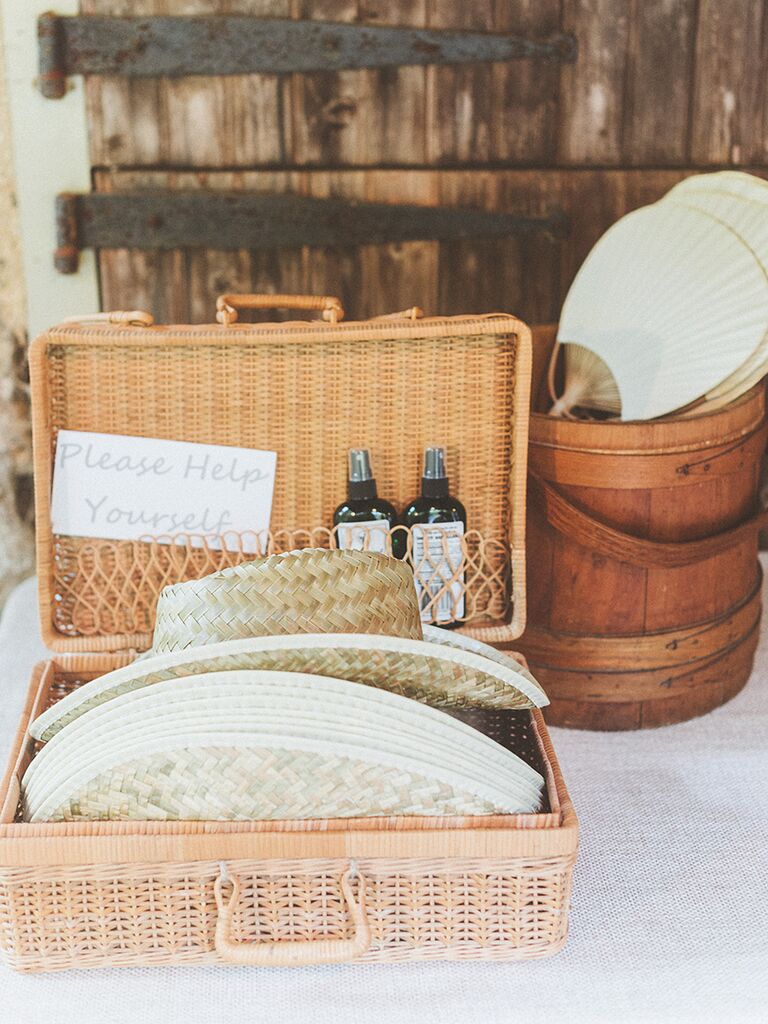 For outdoor ceremonies, anticipate your guests' needs. Help them beat the heat (and fit your theme) with brimmed hats, or prevent them from bug bites with bug spray.
11. Rustic Table Numbers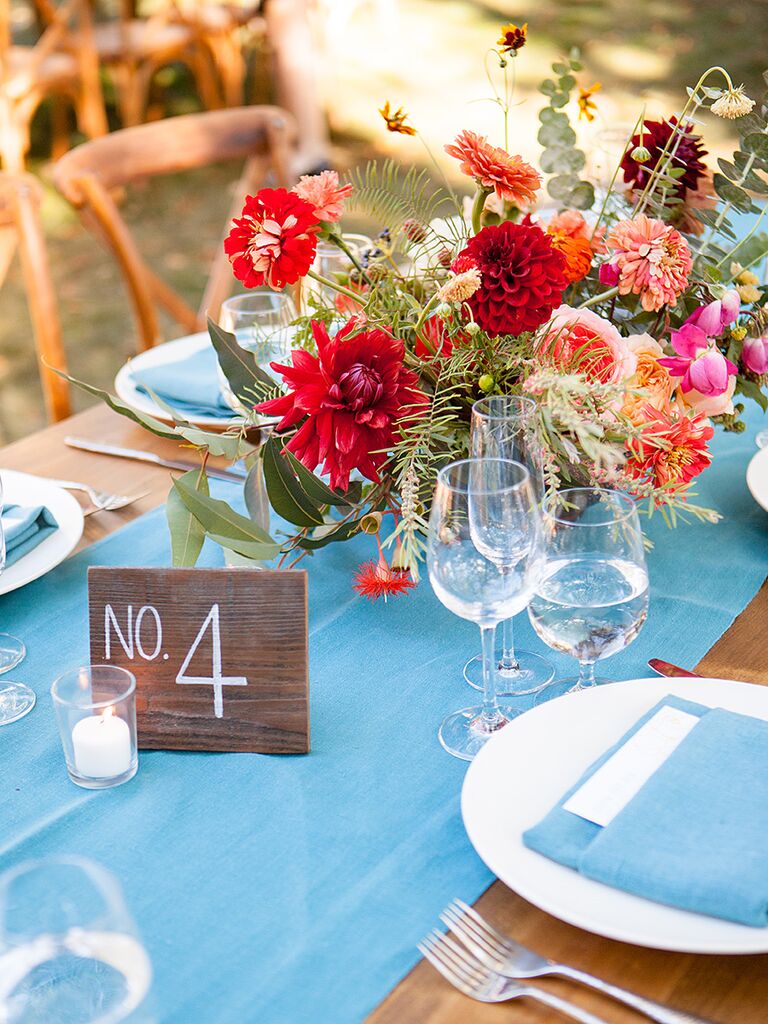 Wooden plaques make perfect DIY-able table numbers, and bright florals pop against wooden textures.
12. Love You Like XO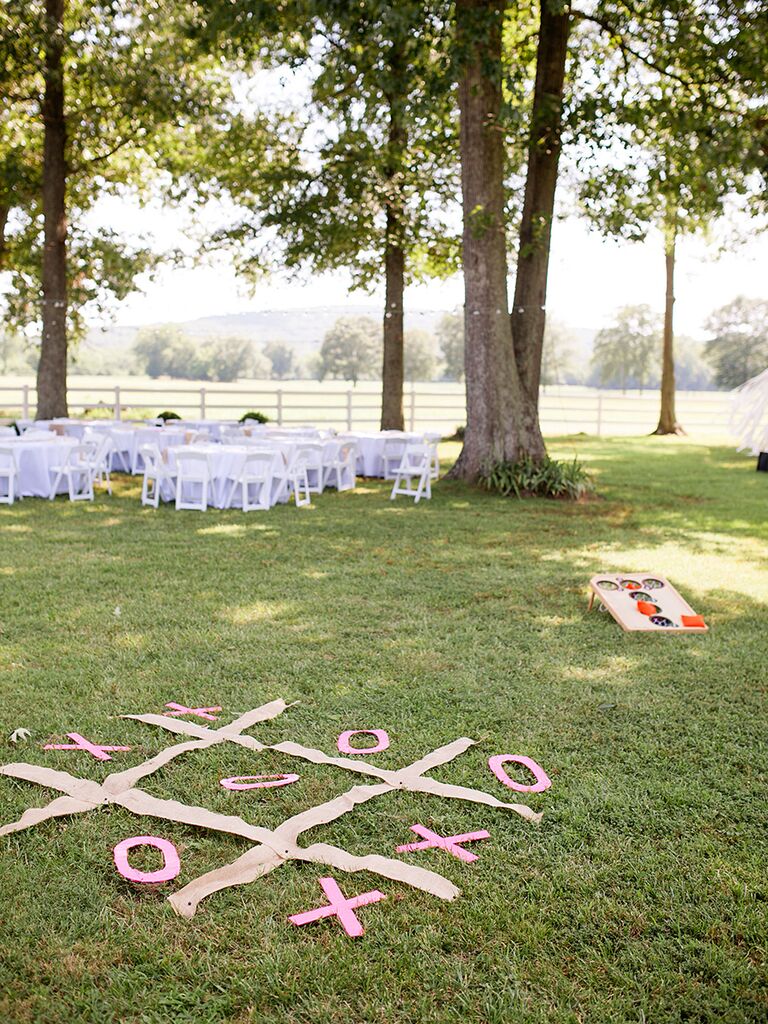 Outdoor games go hand-in-hand with barbecues. Make it kid friendly too and opt for a classic, like tic tac toe.
From: An At-Home, Rustic, DIY Wedding in Woodville, Alabama
13. Good to the Bone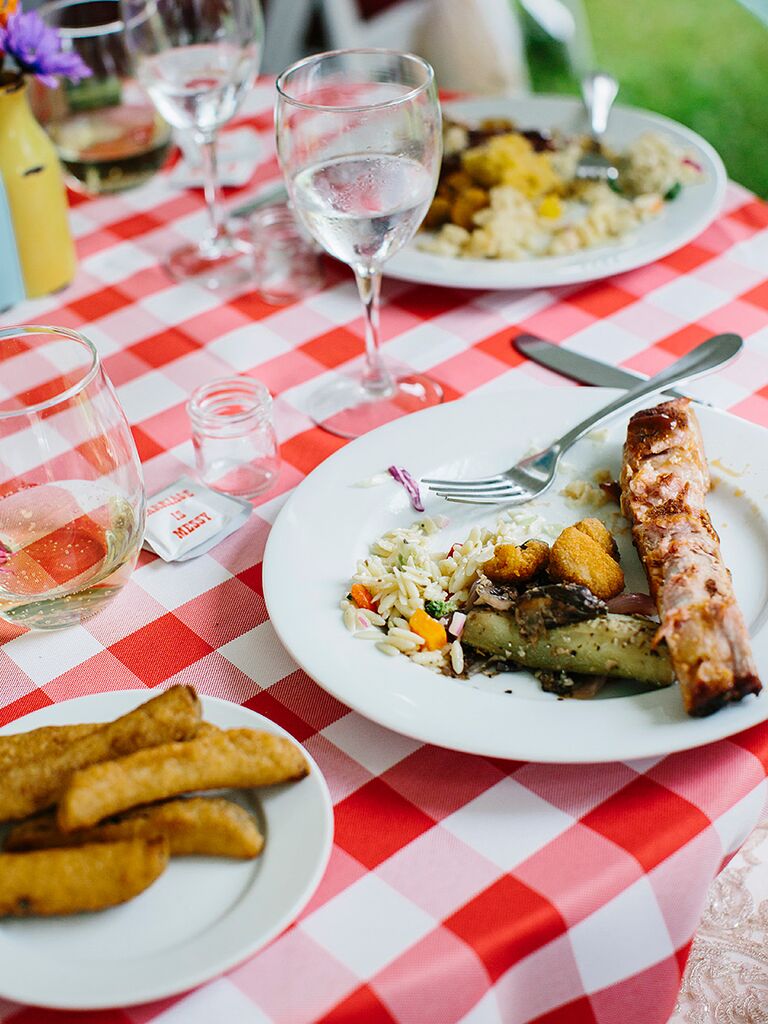 Seriously, you can't have enough delicious barbecue-inspired food. Think ribs, grilled veggies and pasta salad. Red gingham table linens tie everything together for a true rustic vibe.
From:
14. American Pride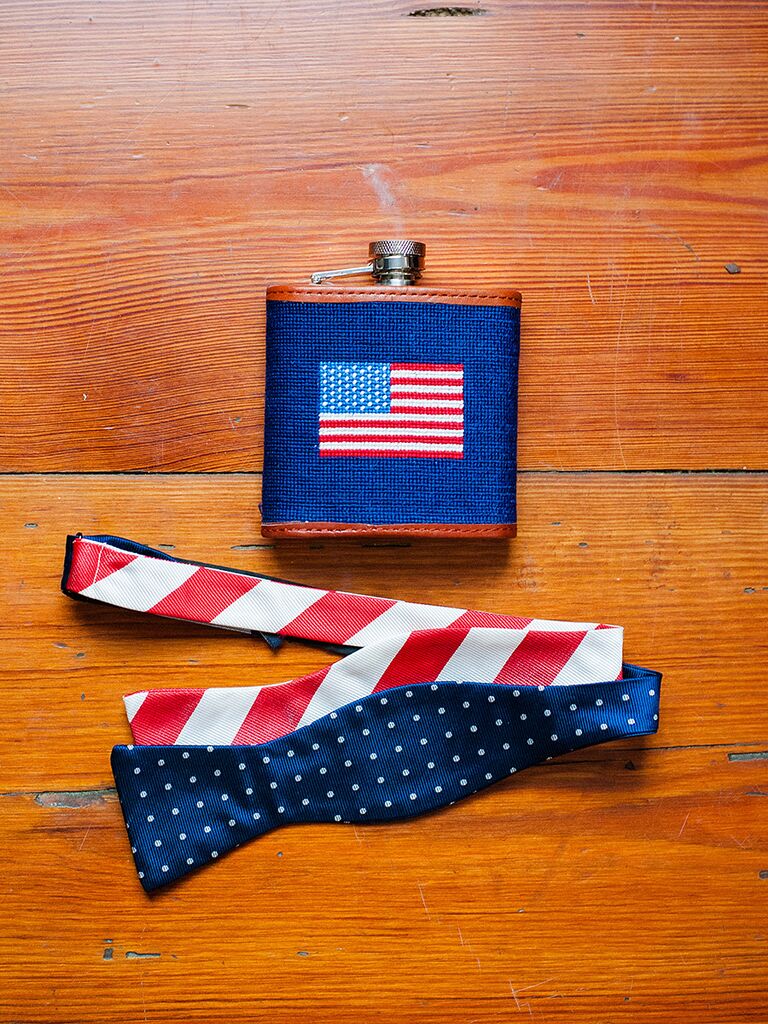 Surprise your partner and his groomsmen with flasks or flag-patterned bow ties and even patriotic socks.
From:
15. Matching Mugs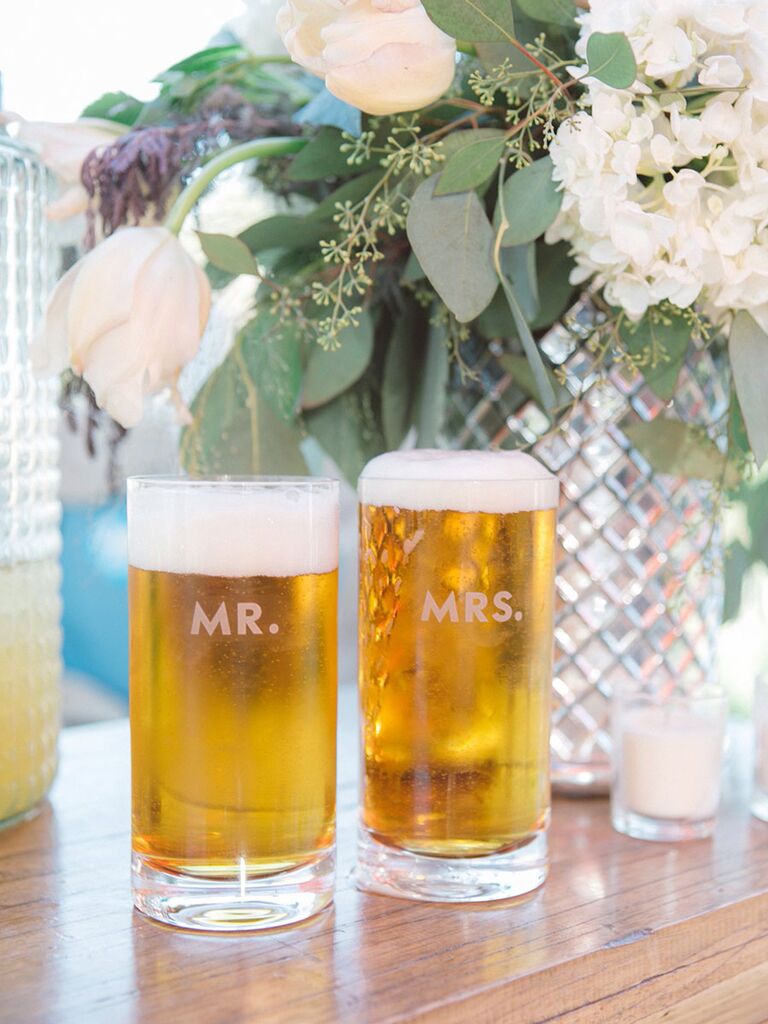 Beer is a barbecue must-have. Make sure to invest in signature his-and hers-mugs. Cheers!
From: A Rustic, Romantic Ranch Wedding at Red Tail Ranch in Ojai, California
16. Lawn Games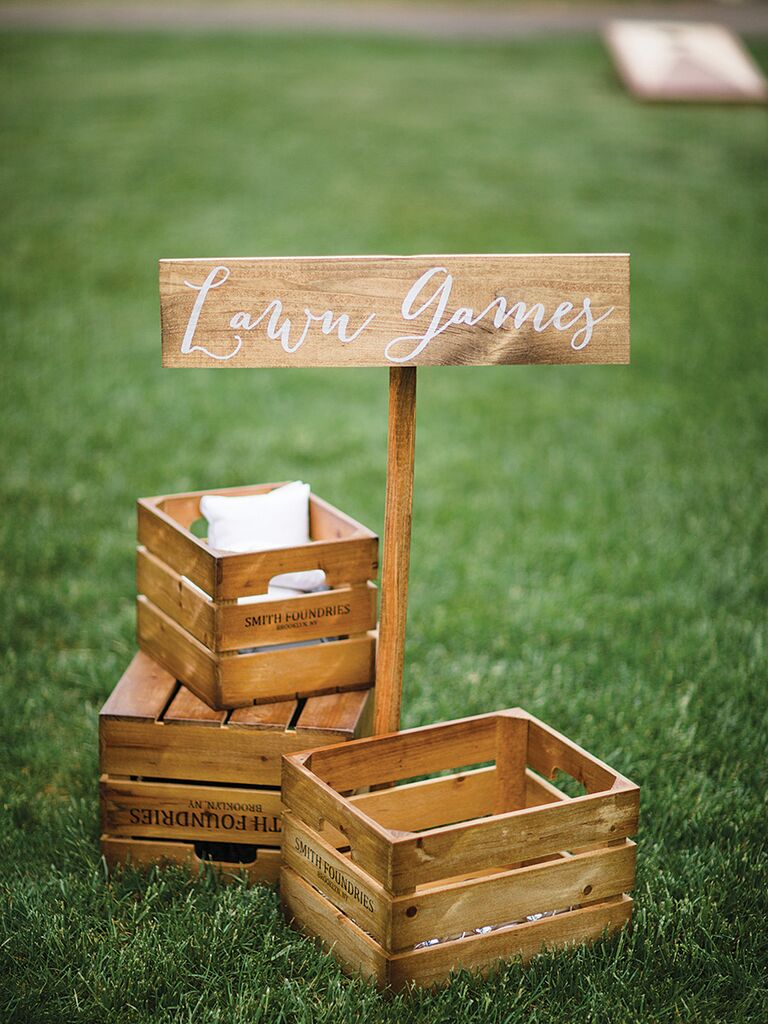 You might have tons of kids at your wedding. If that's the case, make sure they're entertained so the adults can enjoy themselves too! Lawn games are a perfect solution—think Croquet, corn hole and life-sized Jenga.
From:
17. Throwback Snacks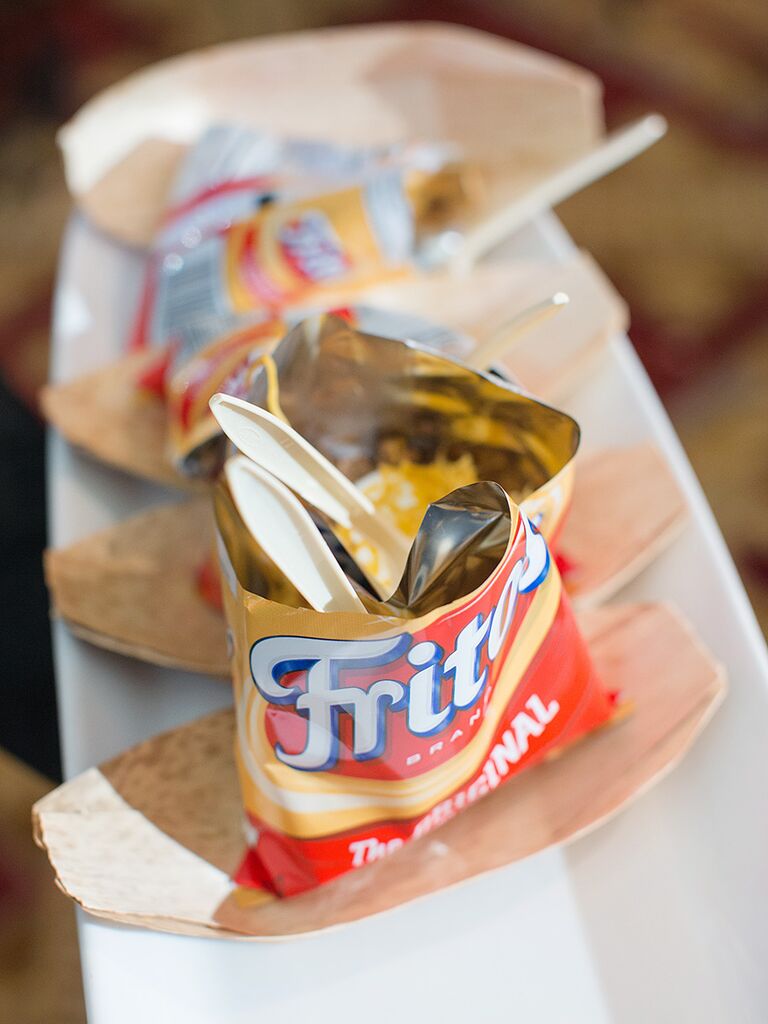 Bring this oldie but goodie snack to your wedding menu, perfect for a touch of nostalgia and deliciousness.
From: