27 Cool and Classic Wedding Cake Stands for Every Style
You've picked out the perfect wedding cake—now it's time to find the perfect wedding cake stand.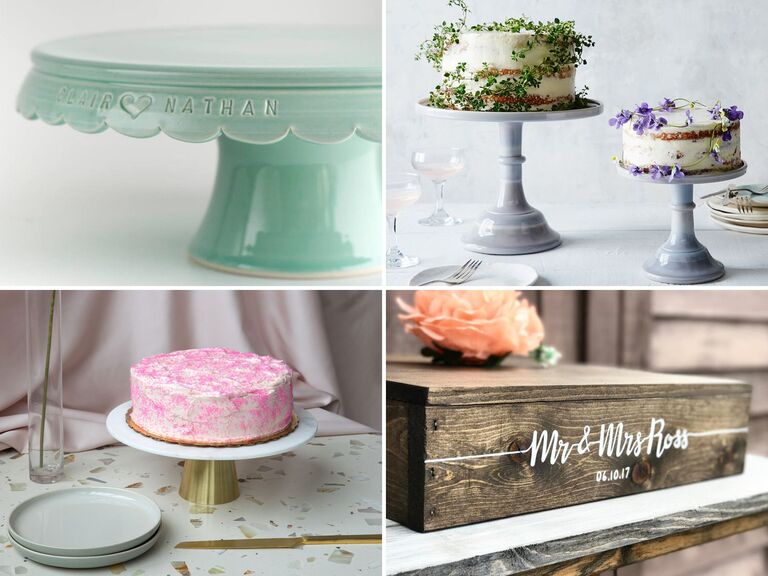 We have included third party products to help you navigate and enjoy life's biggest moments. Purchases made through links on this page may earn us a commission.
It's never too early to start shopping for a wedding cake stand that'll instantly elevate your dessert (and your aesthetic). While deciding on a cake is undoubtedly one of the most fun parts of wedding planning (hello, tastings!), it's only half the battle. The other half is setting up a beautiful dessert table that works with your wedding style.
To help you out, we've compiled a list of our favorite wedding cake stand ideas for every kind of celebration, whether you're planning an enchanting woodland wedding or an elegant ballroom event. We've got ideas for every kind of confection, no matter the size, shape, color or overall design.
Once you've found the one you love, double-check with your baker that your cake works with that particular pedestal. Finally, don't forget to pair it with a stylish serving set (especially if you're doing a traditional cake cutting).
1. Monogram Pedestal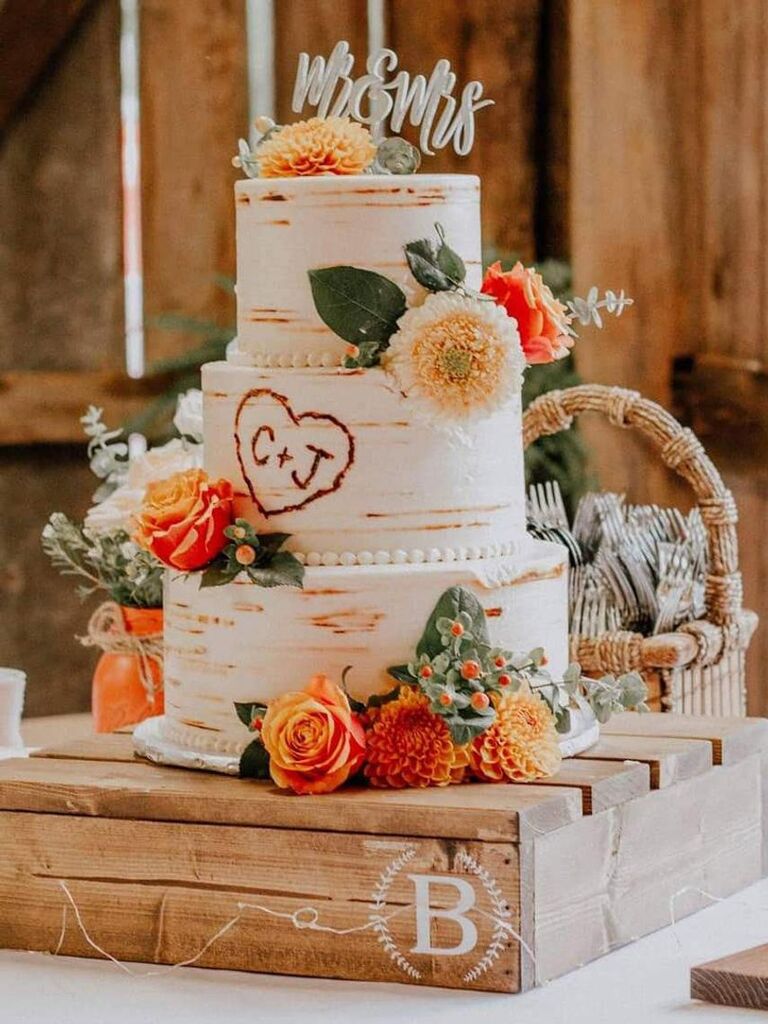 Just imagine how gorgeous this rustic cake stand will look as the centerpiece of your dessert table. With a chic wooden finish, it's basically made for a barn wedding. Try adding some fresh blooms and chalkboard signage to complete the look. Oh, and if one of you plans on changing your name, don't forget to add your soon-to-be shared initial!
Bella Chick Designs rustic wedding cake stand, from $35, Etsy.com
2. Timeless Display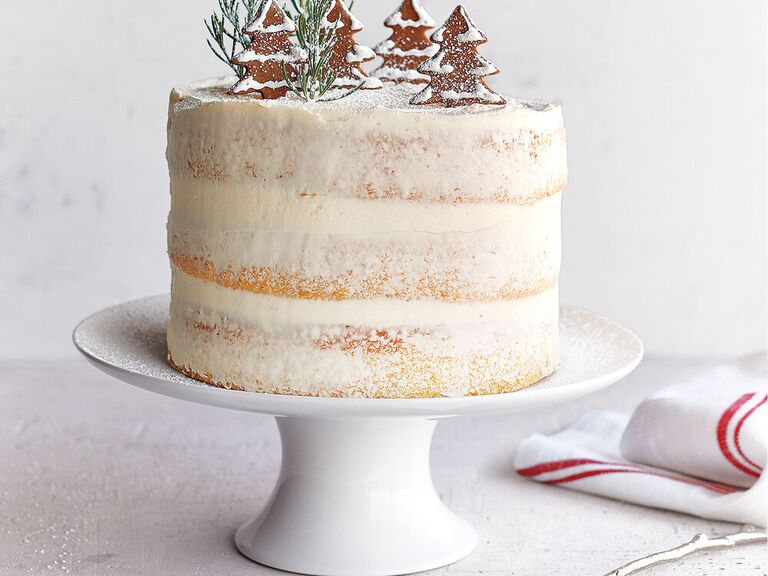 If your aesthetic is all things clean and classic, you can't go wrong with an understated cake display stand in the perfect shade of wedding white. The icing on the cake? You can easily use it again for future celebrations.
Sur la Table 12.5" porcelain cake stand, $40, SurlaTable.com
3. Colorful Stand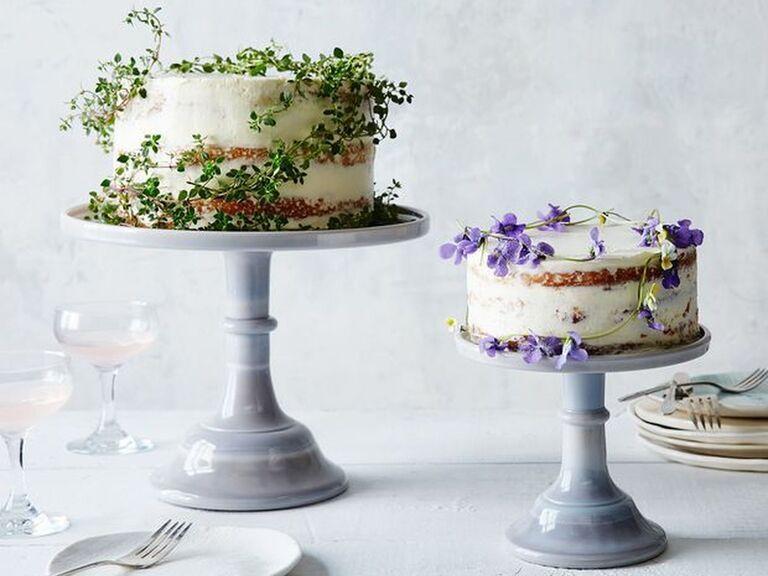 If it's a tall wedding cake stand you're after, get ready to check off your list. These glass pedestals come in a range of pretty pastel shades that'll fit right in at a dreamy, romantic celebration.
Mosser Glass glass cake stand, from $44, Food52.com
4. Floating Layers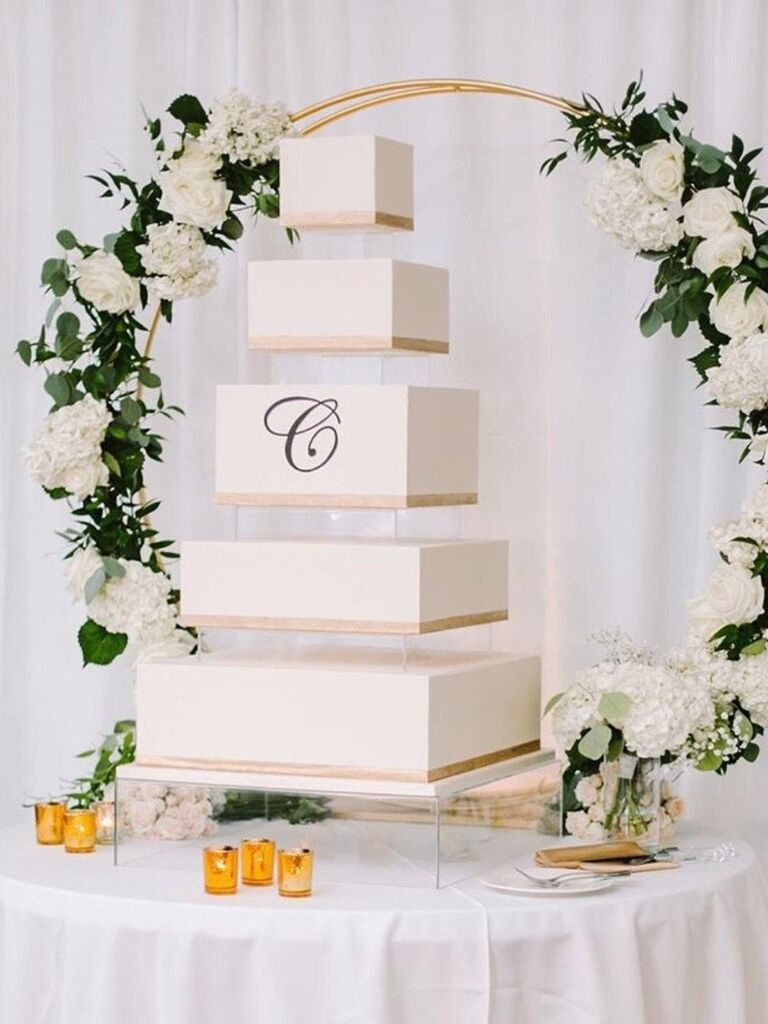 Use this modern cake stand as a base or as a riser between layers—the choice is yours. The clear acrylic material offers a clean and classy finish that almost makes each tier look like it's floating. It'll look extra stunning paired with an elegant white wedding cake.
Window Wonderz clear acrylic square wedding cake risers, from $65, Etsy.com
5. Something Blue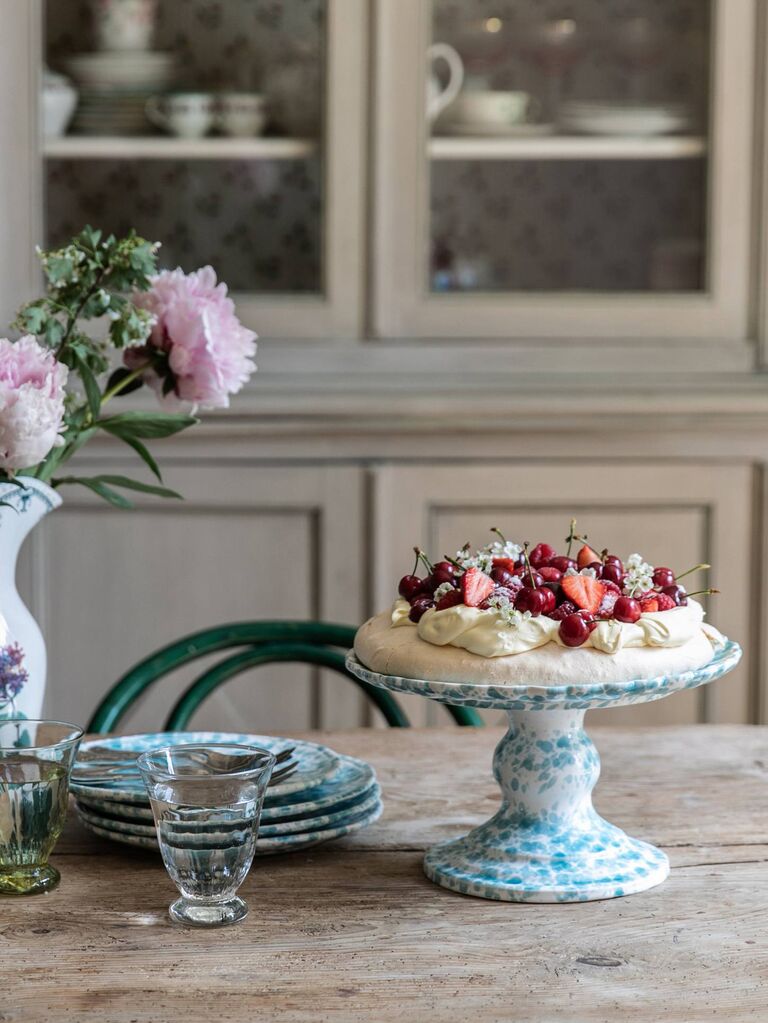 Looking for wedding cake stands for a country wedding? This hand-painted earthenware option is oh-so charming. It'll hold a 10" cake, but if that's too small, you can still use it to zhuzh up your dessert table. Just stack it with cupcakes, donuts or another sweet treat.
Skye McAlpine splatter cake stand, $118, Anthropologie.com
6. Geometric Design
There are so many unique wedding cake stands out there to choose from. We love the idea of this tall, triangular pedestal for a chic, industrial-style event. The best part? You won't need a dessert station to showcase your cake, which means more space for dancing!
BrambleSky triangle geometric cake stand, from $72, Etsy.com
7. Ornate Trim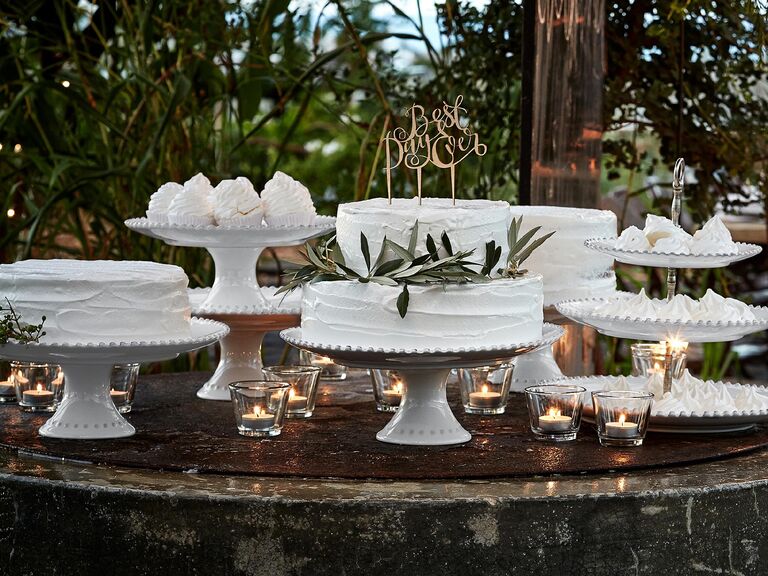 The decorative pearl trim on this serveware will add an elegant touch to any kind of celebration. It's also the type of fancy cake stand you can totally reuse. Choose between an 11- or 13-inch diameter depending on the size of your showstopper.
Costa Nova pearl cake stand in White, from $89, Frontgate.com
8. Hand-Painted Personalization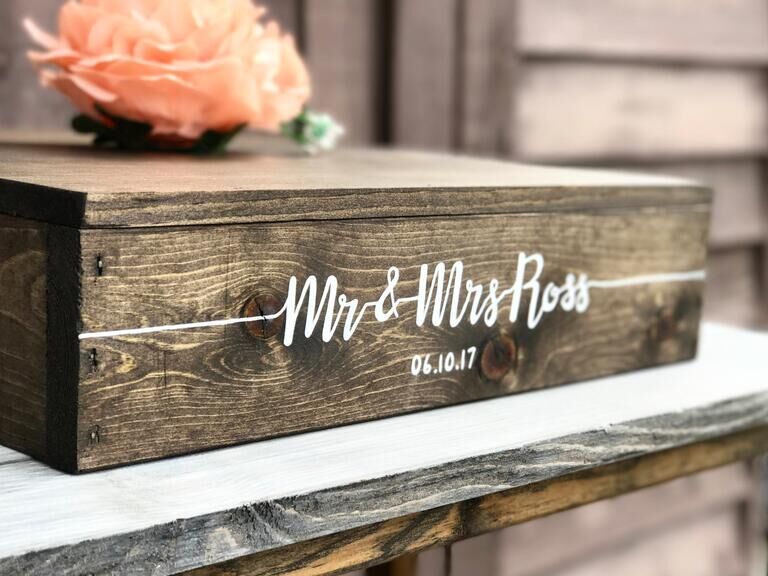 Get this wooden wedding cake stand calligraphed with you and your future spouse's names. You can also have it customized with the stain and wording color of your choice—because if there's ever a time to splurge on personalized details, it's your big day. Check out the Etsy seller's page for different size options.
Copley & Pine 20" x 20" rustic wedding cake stand, $98, Etsy.com
9. Chic Style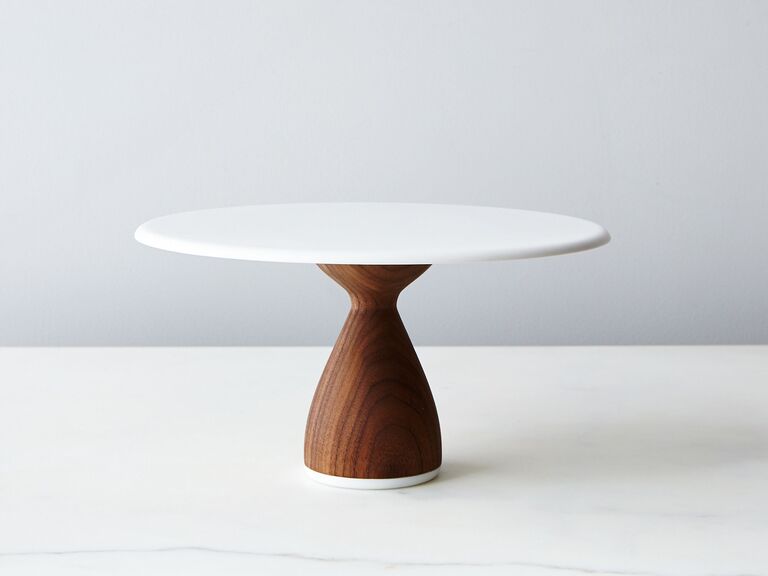 The best cake stand is the one that reflects your wedding style and theme. The natural walnut base of this unique pedestal gives a nod to nature, while the understated white plate brings a clean, contemporary touch. We picture it at an elevated outdoor event such as a backyard reception or garden party. Bonus: The stand is weighted, so the more tiers the merrier!
AHeirloom walnut cake stand, $70, Food52.com
10. Contemporary Base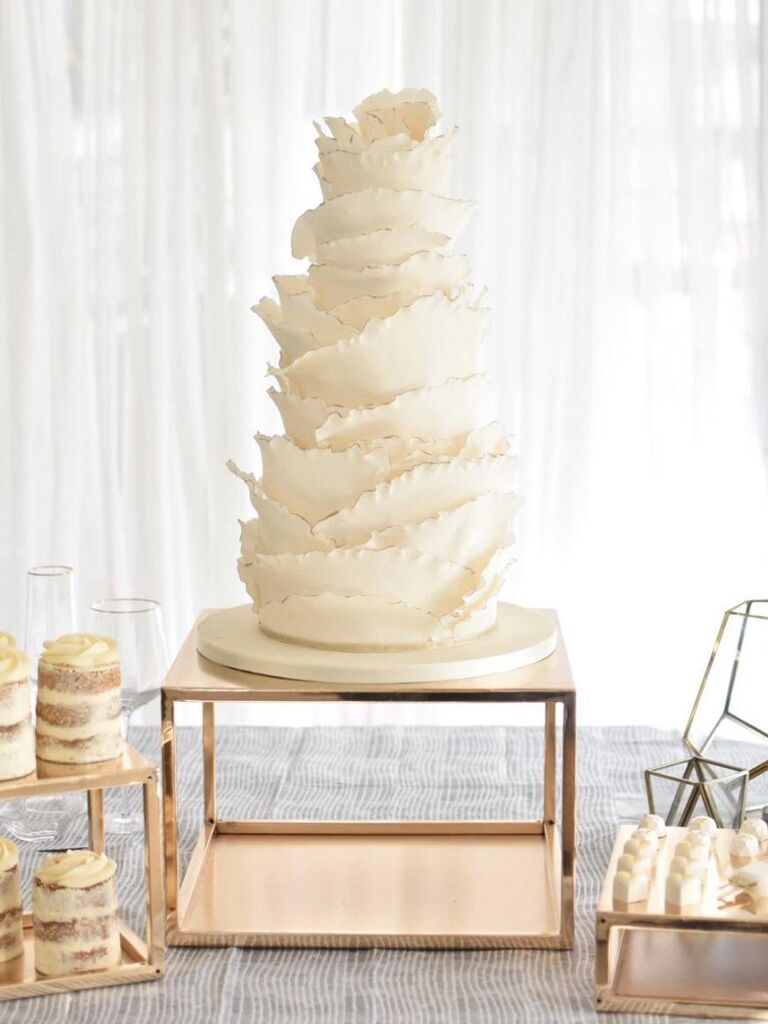 Level up your dessert station with this ultra-modern square wedding cake stand. The shiny gold finish looks effortlessly glamorous, and since it's made out of steel, you can rest assured even the heaviest of cakes is safe.
Prop Options square metallic gold plinth, $108, Etsy.com
11. Regal Riser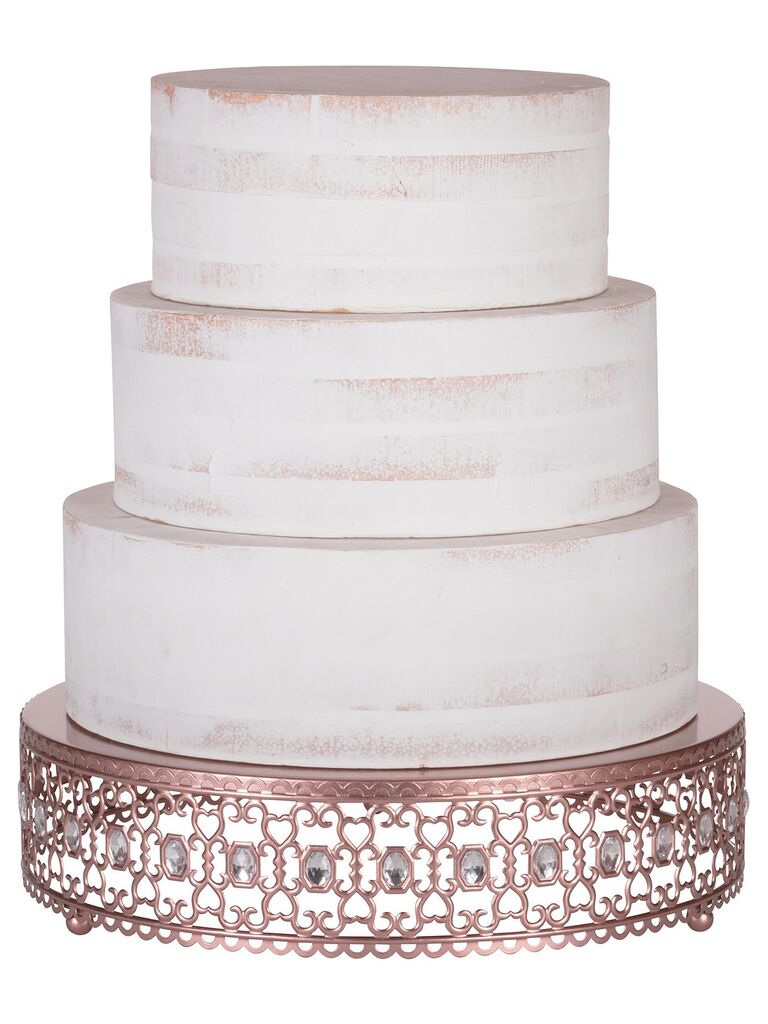 Planning a fairytale wedding? We're obsessed with the ornate details of this majestic pink wedding cake stand. With intricate detailing and rhinestone gems, the rose gold plateau reminds us of a monarch's crown.
Amalfi Gemma 16" metal wedding cake stand, $203, Macys.com
12. Pastel Glass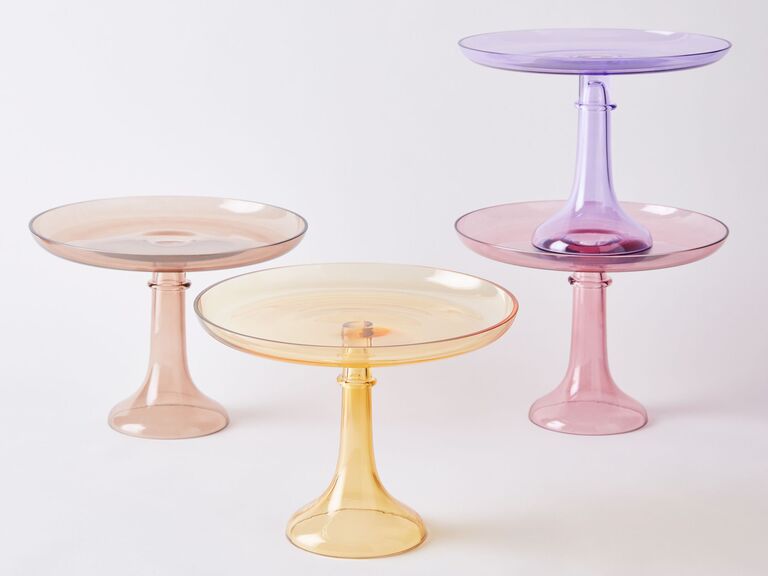 These beautifully unique glass cake stands come in a choice of four delicate pastel hues that'll bring a subtle pop of color to the table. The only downside is having to choose just one!
Estelle Colored Glass hand-blown color glass cake stand, $225, Food52.com
13. Precious Pewter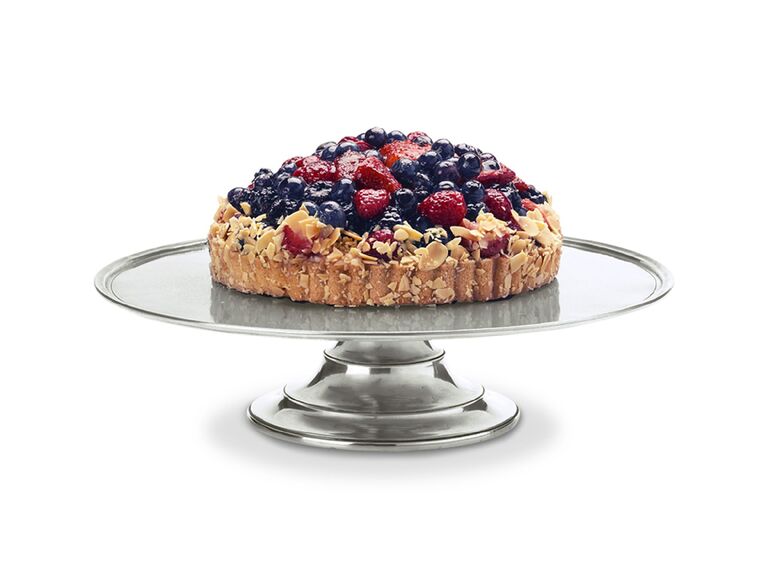 This metal cake stand will look right at home at a castle wedding, whether it's stacked with a tall, tiered cake or used for a delicious cupcake display.
MATCH pewter cake stand, $470, WestonTable.com
14. Barely-There Spacer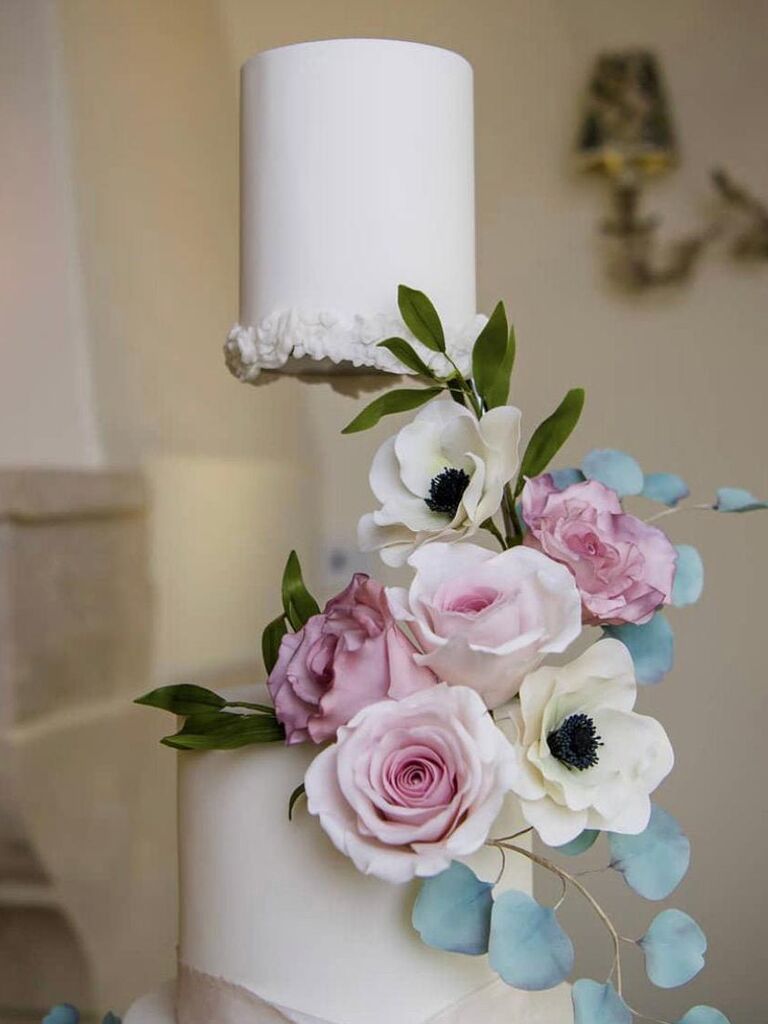 Hidden beneath the decorative flowers on this beautiful dessert is a sturdy metal spacer that, when covered, gives the illusion of floating tiers. Talk about an elegant wedding cake stand!
Prop Options floating cake spacer, from $84, Etsy.com
15. Engraved Board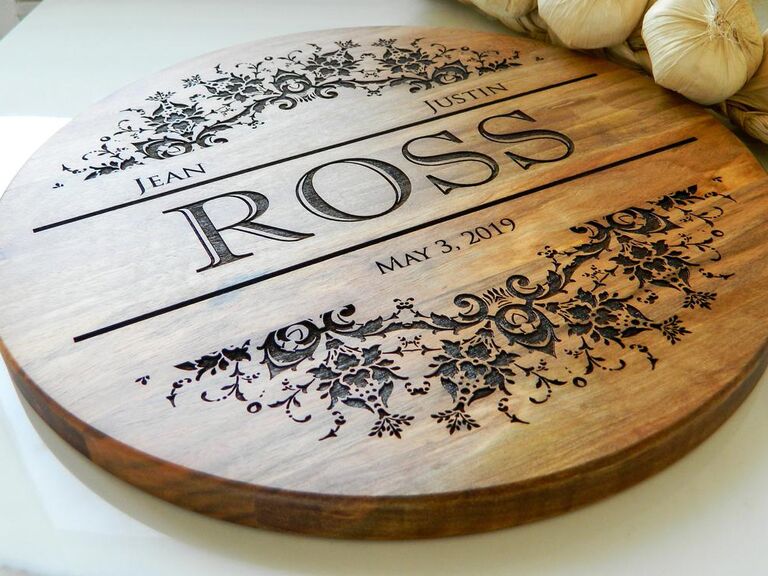 Who knew a cake board could look so graceful? Have the wooden base personalized with your names and the date alongside a pretty engraving inspired by floral lace. It's one of the most beautiful cake stands we've seen, and it'll make for a lovely keepsake for years to come.
Personalized Gift Box rustic wedding cake stand, from $39, Etsy.com
16. Classic Tiers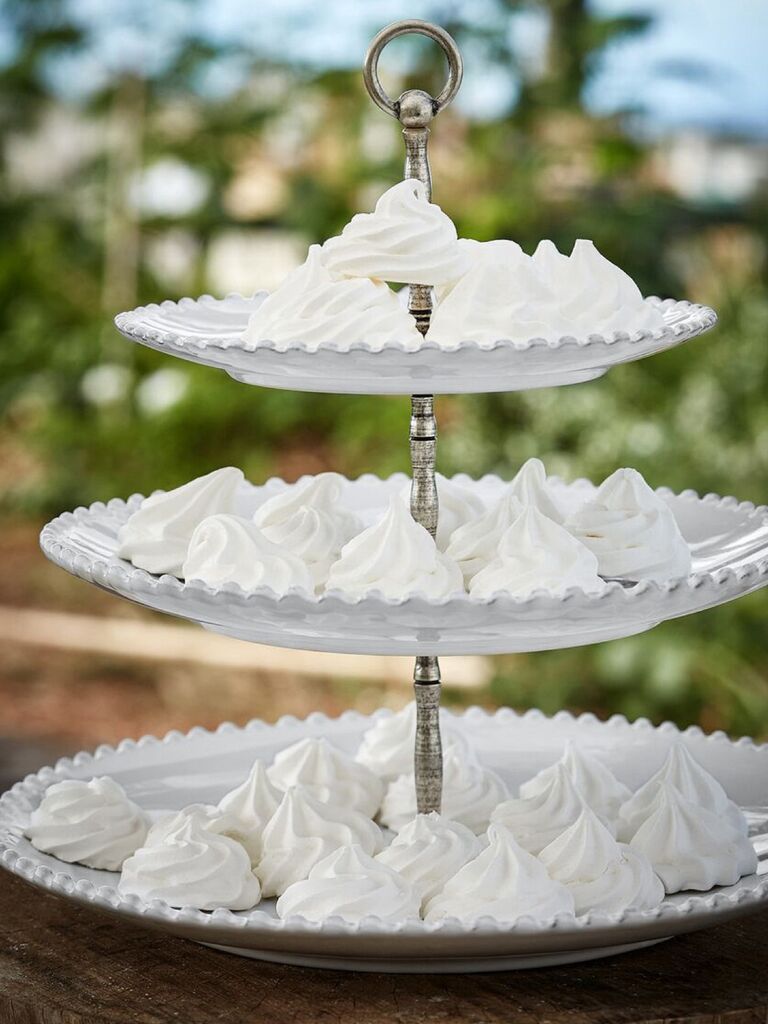 Whether you're planning an elaborate spread or you want to ditch the traditional cake altogether, this tiered wedding cupcake stand will bring a refined touch to your dessert display.
Costa Nova pearl three-tier centerpiece, $196, Nordstrom.com
17. Metallic Risers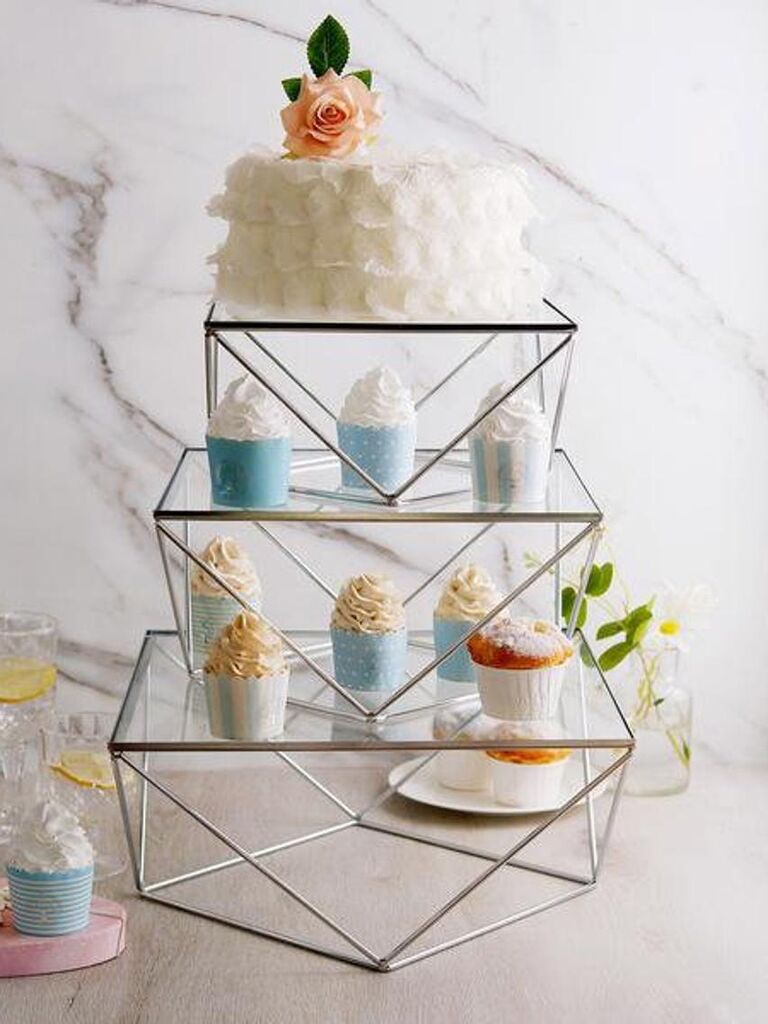 Here's another cool geometric option for soonlyweds going for a fresh, modern vibe. Choose between a silver or rose gold finish depending on your color palette—either way, it'll feel refreshingly glam.
Pam Party Creations metal geometric cake stand, $80 for a set of 3, Etsy.com
18. Heirloom-Worthy Crystal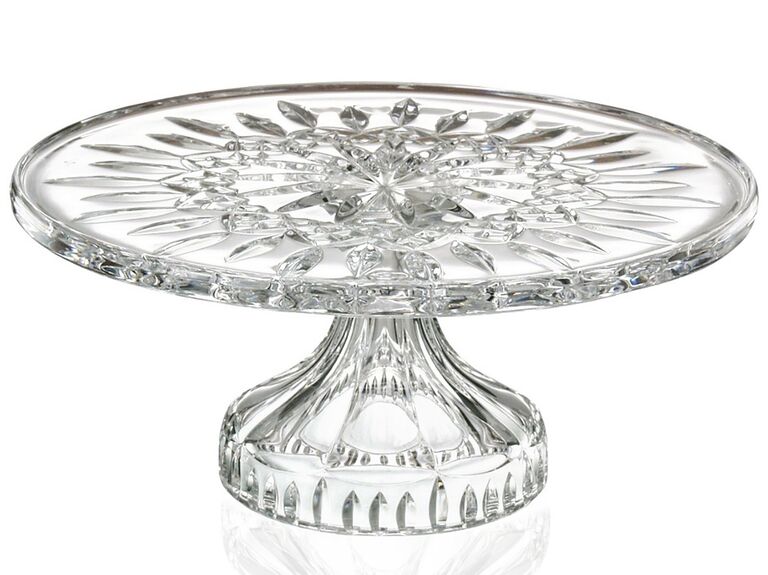 While this crystal cake plate might be a little on the pricey side, it doubles as a meaningful souvenir (and a gorgeous piece of home decor). The beautifully cut glass makes an elegant statement.
Waterford Lismore footed cake plate, $240, Macys.com
19. Showstopping Chandelier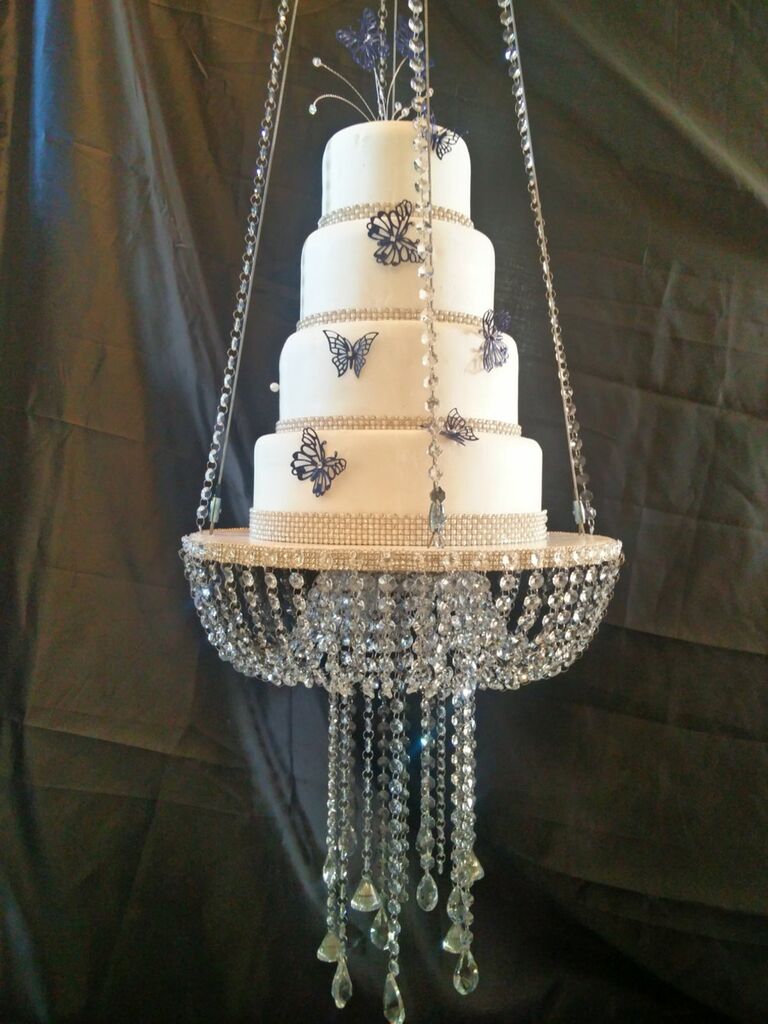 If you consider your wedding day an opportunity to really wow, here's an unexpected idea bound to turn heads: a suspended wedding cake. This glamorous hanging cake stand is covered with crystals and also comes in three luxe color options: rose gold, gold or silver. But just a heads up: You'll really have to collaborate with your baker on executing this wedding cake display.
Crystal Wedding UK suspended cake swing, from $188, Etsy.com
20. Minimalist Marble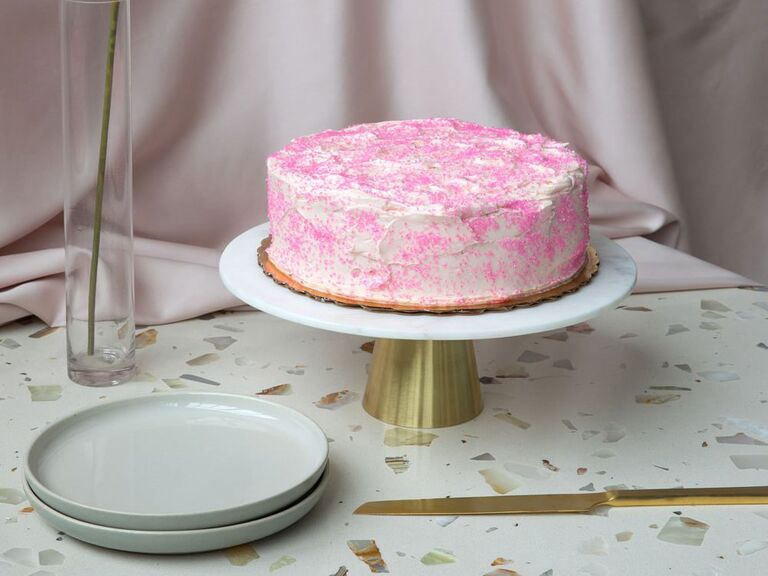 If you've decided on a white and gold color palette for your special day, this affordable wedding cake stand is right on theme. Elegant and modern, it'll look the part without taking too much attention away from the real star of the show: the cake.
West Elm marble and brass cake stand, $40, WestElm.com
21. Vintage Inspired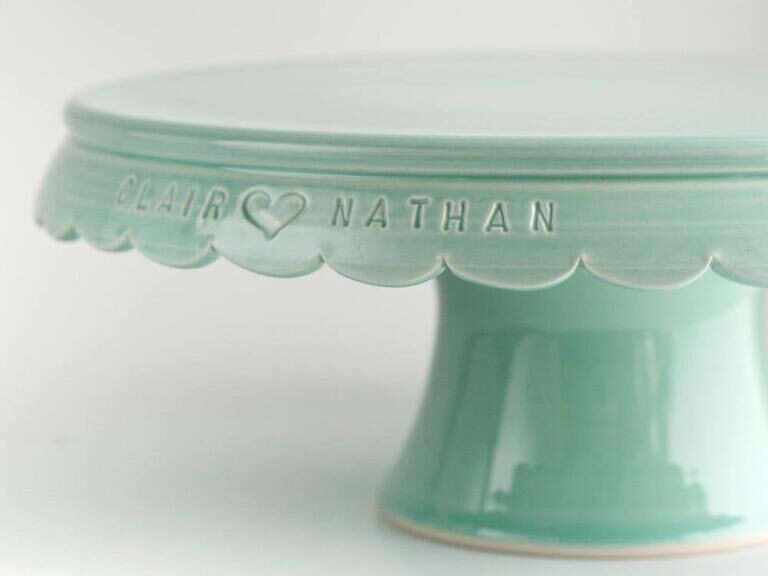 How's this for personalized pottery? This cute cake stand (which comes in a rainbow of pretty colors) works well for a casual, sentimental celebration. Choose between a 10- or 12-inch version of the wedding cake holder to suit your needs.
Jeanette Zeis custom vintage-inspired wedding cake stand, from $178, Etsy.com
22. Rustic Elegance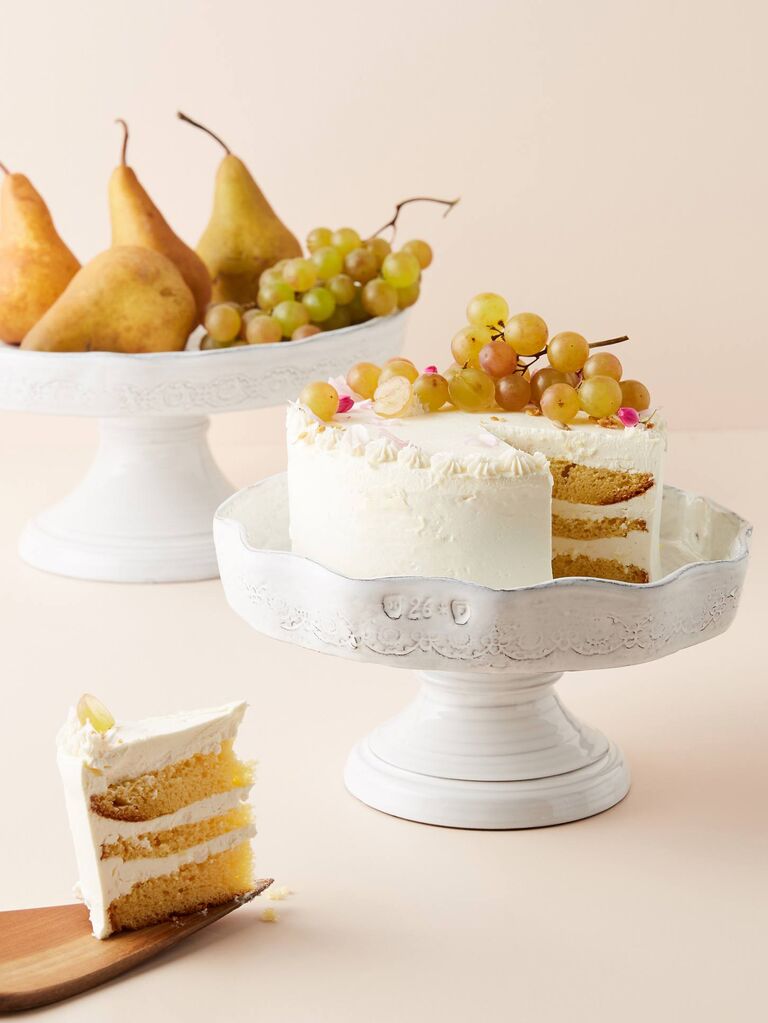 On the hunt for shabby-chic wedding cake stand ideas? The weathered effect on this dainty display stand adds a subtle, rustic touch that'll go really well with a naked or semi-naked cake.
Anthropologie Glenna cake stand, from $58, Anthropologie.com
23. Opulent Pedestal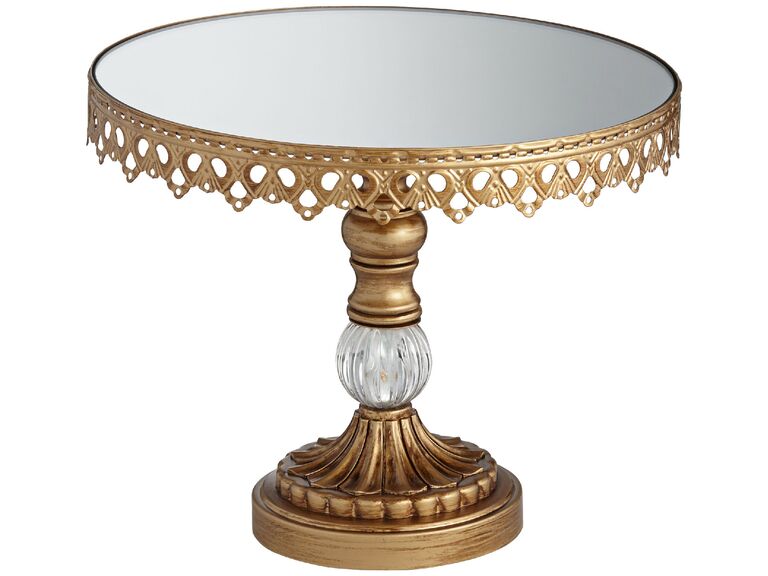 Or, if you're planning a vintage affair, opt for this antique-inspired dessert stand. Ornate details and an unusual mirrored plate will bring a unique element to your wedding decor.
Dahlia Studios antique gold cake stand for wedding, $25, Walmart.com
24. Glamorous Crystals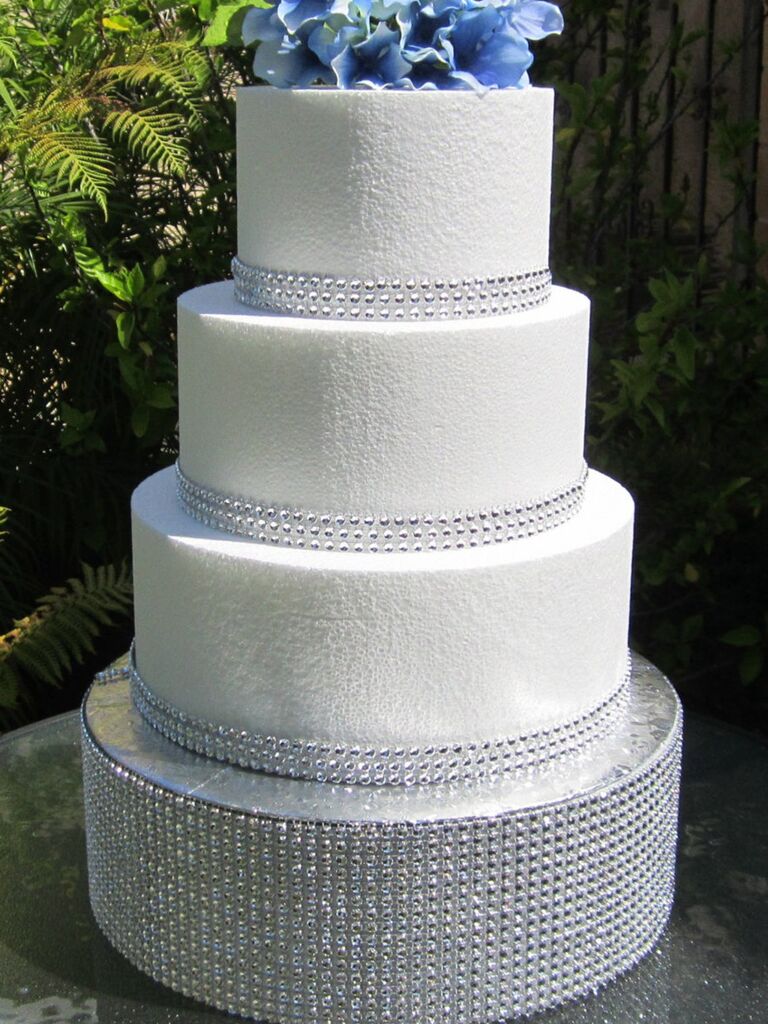 Have you ever seen a more eye-catching display than this sparkly crystal wedding cake stand? The thick base and 14-inch diameter is more than capable of supporting a multiple-tier cake, and the bling adds a nice celebratory touch.
Classy Cake Stands 14" round or square silver wedding cake stand, $40, Etsy.com
25. Charming Dome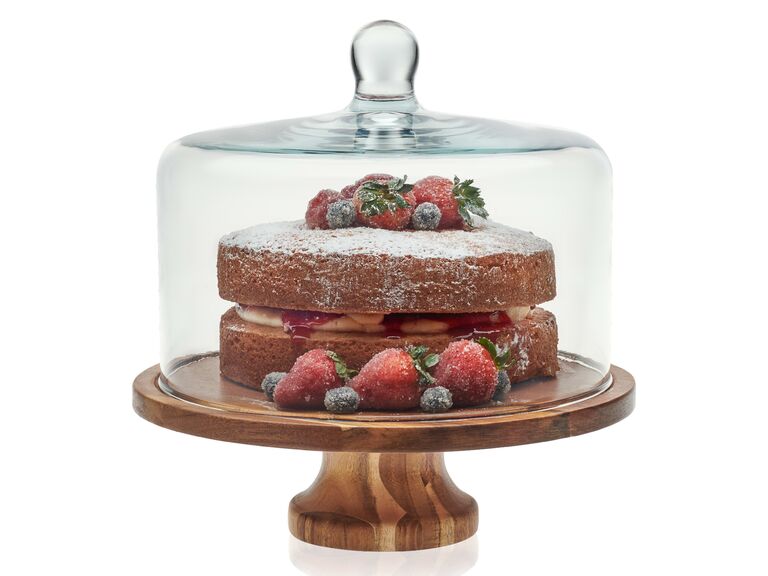 There's just something so enchanting about a cake stand with a glass dome. This fresh take on the timeless trend features a natural wood base in a sleek, modern design. Keep in mind that the dome won't fit over taller cakes, but it's perfect for single-tier creations or other desserts.
Libbey acacia footed round wood cake stand with dome, $55, Walmart.com
26. Floral Embossing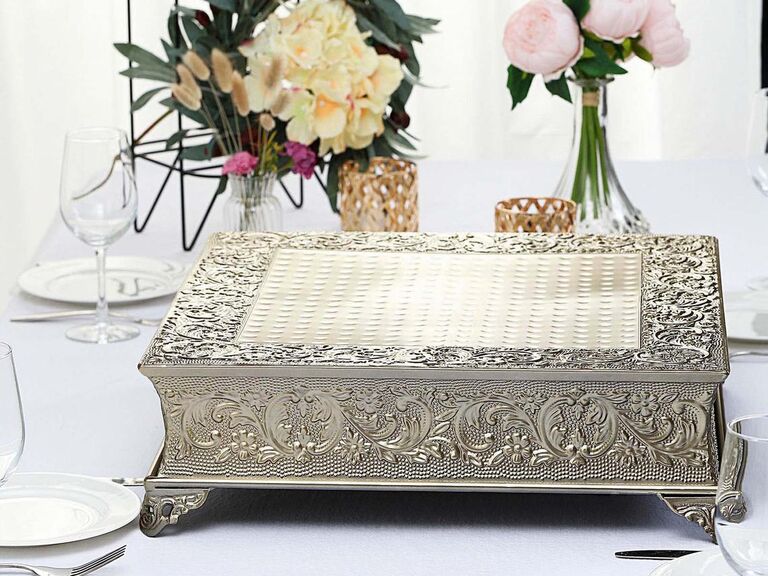 This intricate square cake stand is equal parts practical and ornamental. Made of metal and 18 inches in size, it can easily support large cakes. Plus, the gold-plated embossing looks simply stunning.
Efavormart Boutique 18" embossed square gold wedding cake stand, $57, Etsy.com
27. Nature Themed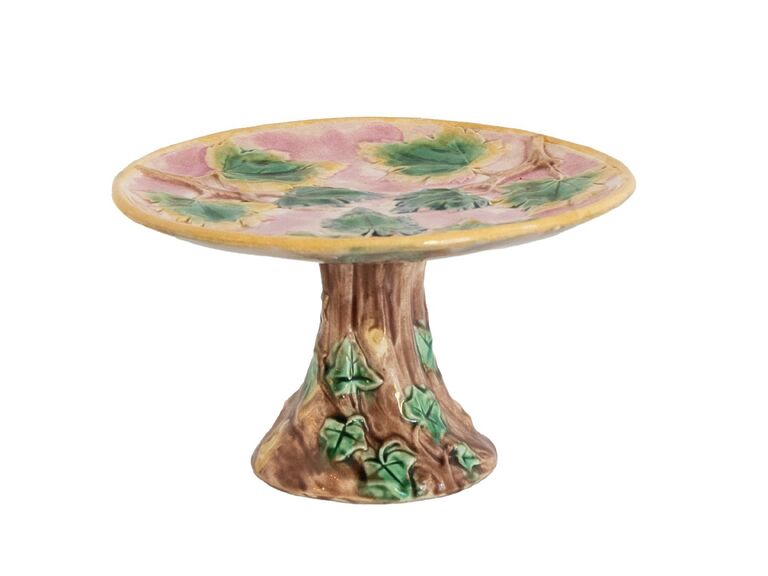 While finding something to support your cake might seem like a small detail, a unique cake stand can add a lot of character to your reception venue. If you're planning an enchanted garden or woodland wedding, this vintage-style wedding cake pedestal will effortlessly bring the theme to life on your dessert table.
George Jones majolica cake stand, $335, WestonTable.com