If You Want a Romantic Wedding, Look at These Pastel Color Scheme Ideas
It's all about delicate pastels.
If you're brainstorming romantic wedding ideas, think elaborate florals, a sweeping gown and elegant décor. As for your color scheme? Think pastels. Pastels blend together to create a delicate, cohesive color scheme that complements a romantic wedding theme, from your favors to your flower crown. Here, we've rounded up 20 beautiful pastel wedding elements to make for an ultra romantic event.
1. Slate Blue Shades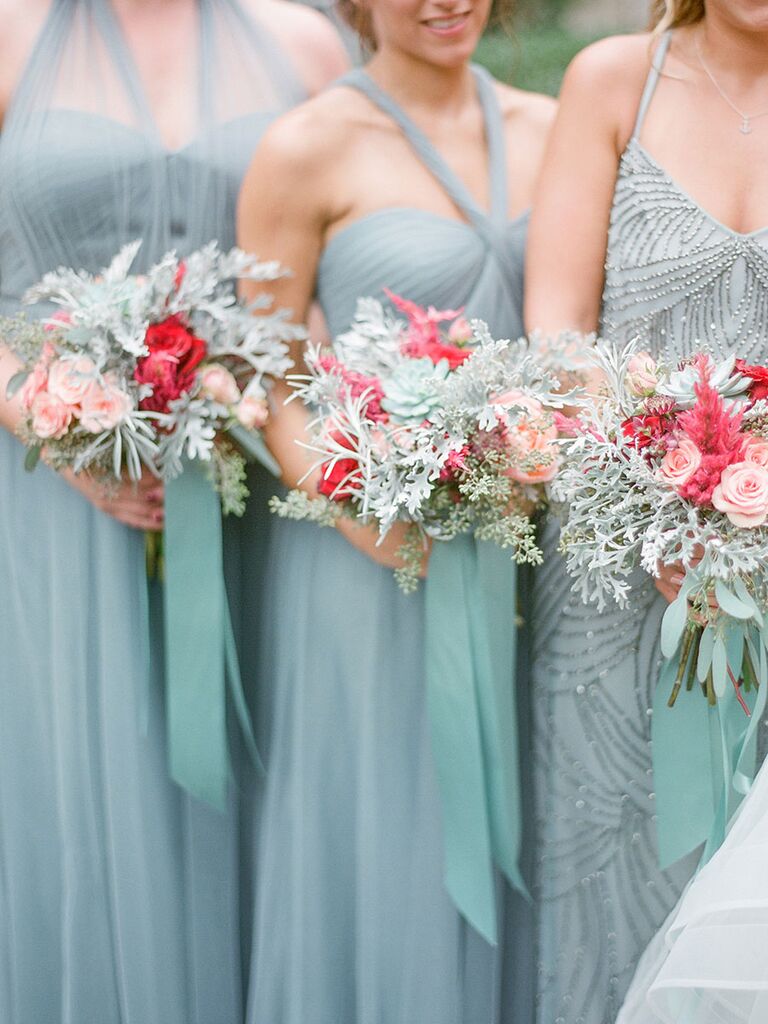 This unique shade of blue was incorporated into the bridesmaid dresses and the bouquet ribbons. It's a perfect pastel hue that lets other accent shades pop.
From: A Whimsical Autumn Wedding at Lord Thompson Manor in Thompson, Connecticut
2. Garden Charm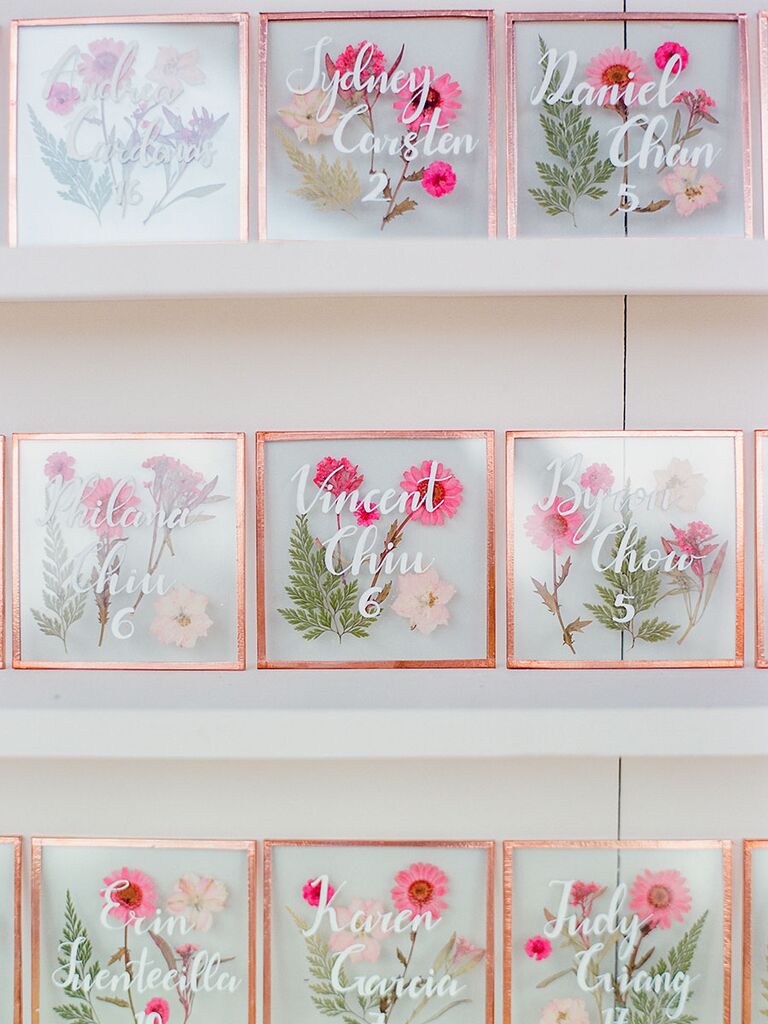 Even if pastels are your main color palette, you can work in other hues too. Mix and match with bold shades of hot pink, then add greenery for a romantic look.
From: A Floral-Inspired Barn Wedding at Chandelier Grove in Tomball, Texas
3. Cascading Confection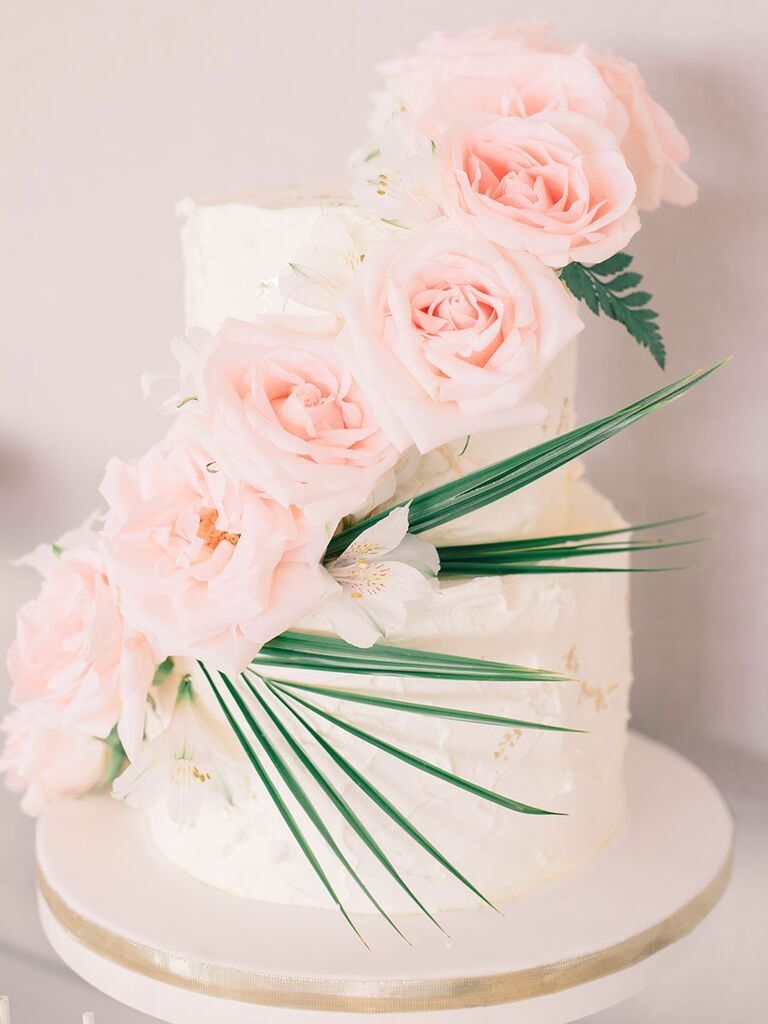 Pale pink roses, lilies and ferns gracefully cascade down this stunning sugar masterpiece.
From: An Elegant, Contemporary Wedding at Le Belvedere in Wakefield, Quebec
4. French Macarons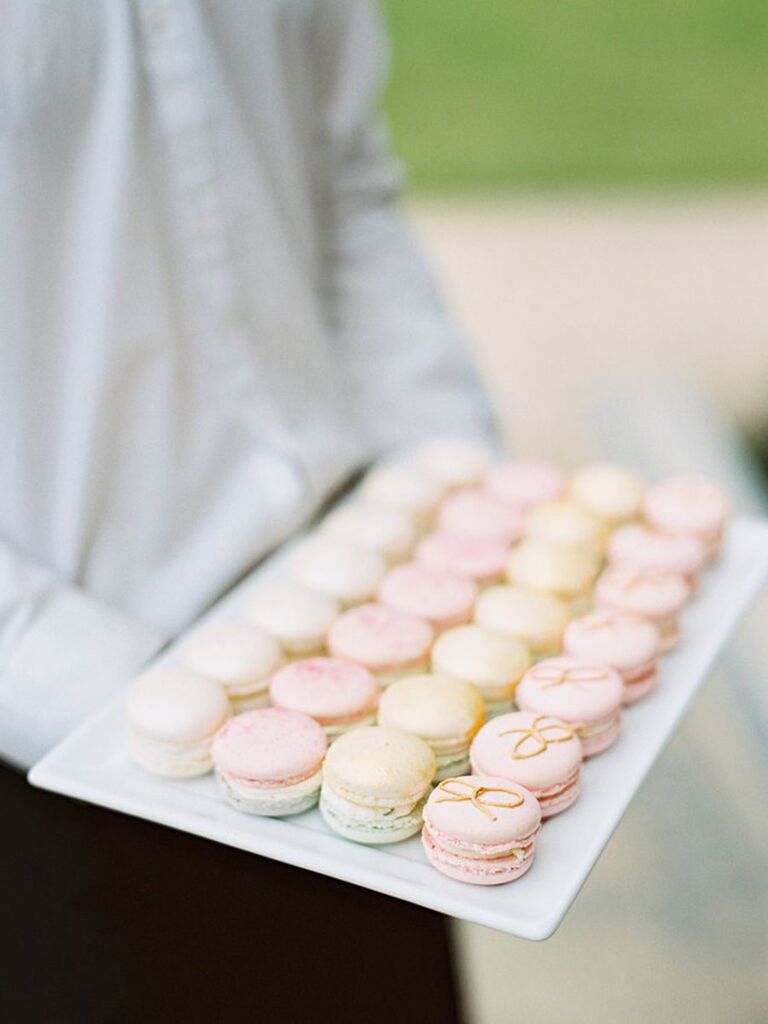 Ask your baker to tailor your treats to match your theme, like these pastel and gold French macarons.
5. Play With Details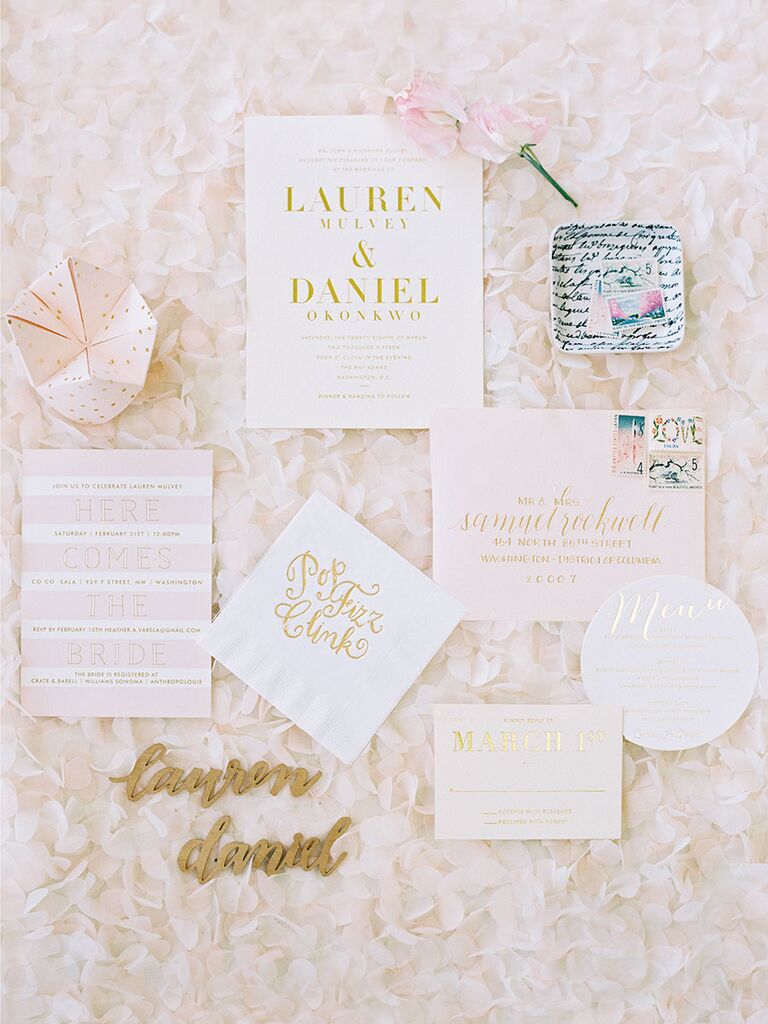 To balance out blush tones, add a pop ofmetallics and patterns like stripes or polka-dots.
From: A Chic Metallic Wedding at the Hay-Adams in Washington, DC
6. Rustic Glam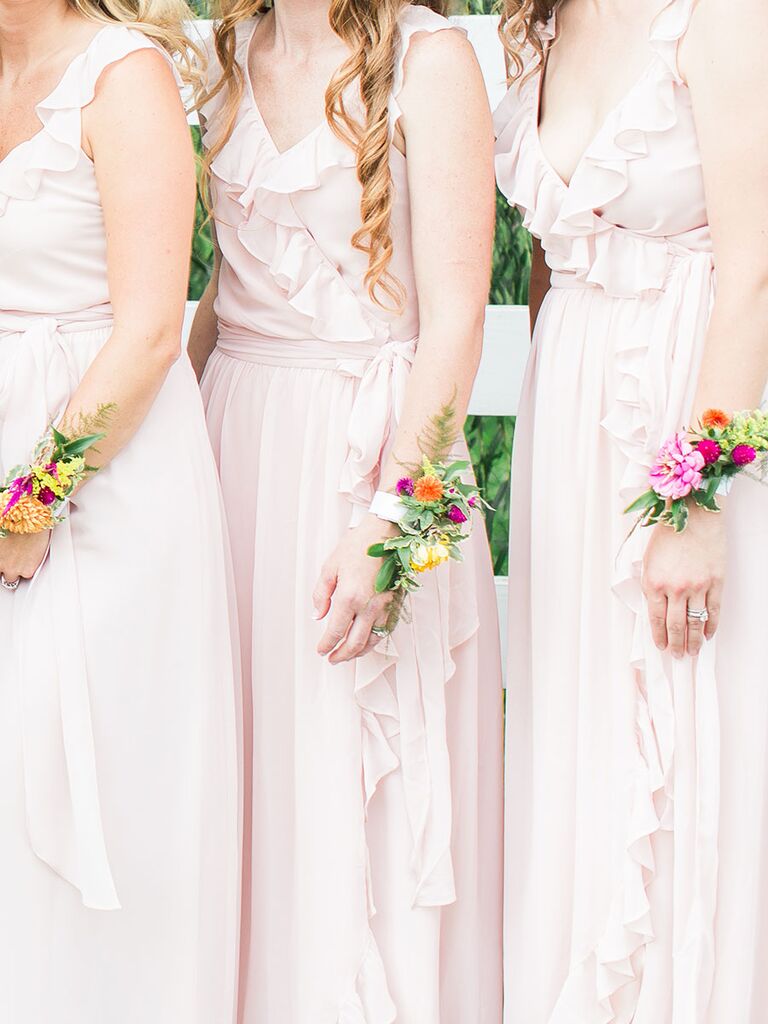 Think ruffles and bold wildflowers to compliment feminine floor-length pastel gowns.
From: A Bohemian Barn Wedding at Rodale Institute in Kutztown, Pennsylvania
7. Lush Florals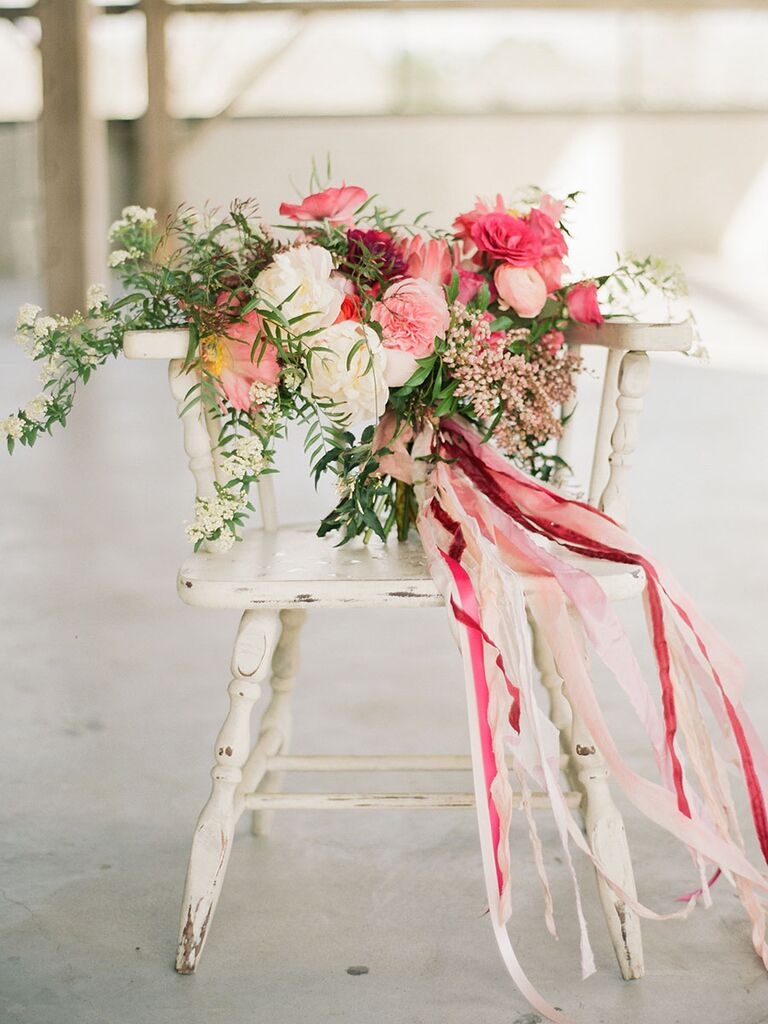 Oversize bouquets are the epitome of romance. The bigger, the better!
From: A Floral-Inspired Barn Wedding at Chandelier Grove in Tomball, Texas
8. Dark and Light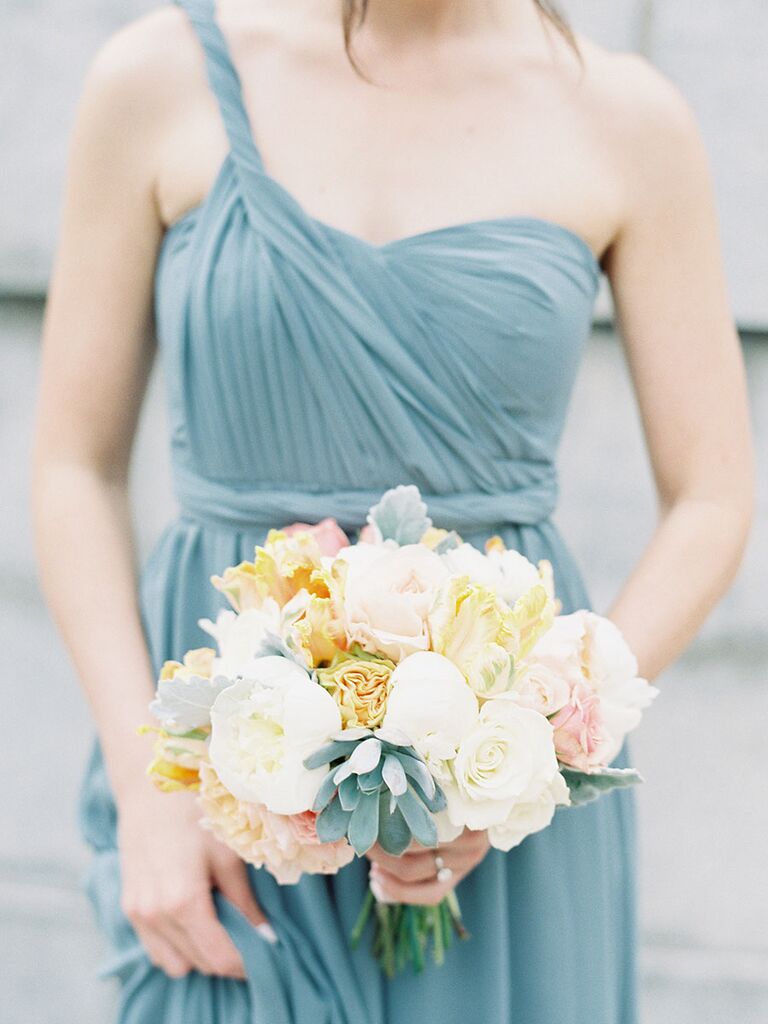 A dark dress paired with fresh and bright florals creates a gorgeous contrasting look. This bride chose bridesmaid gowns that match the shade of greenery in their bouquets.
9. Enchanted Petals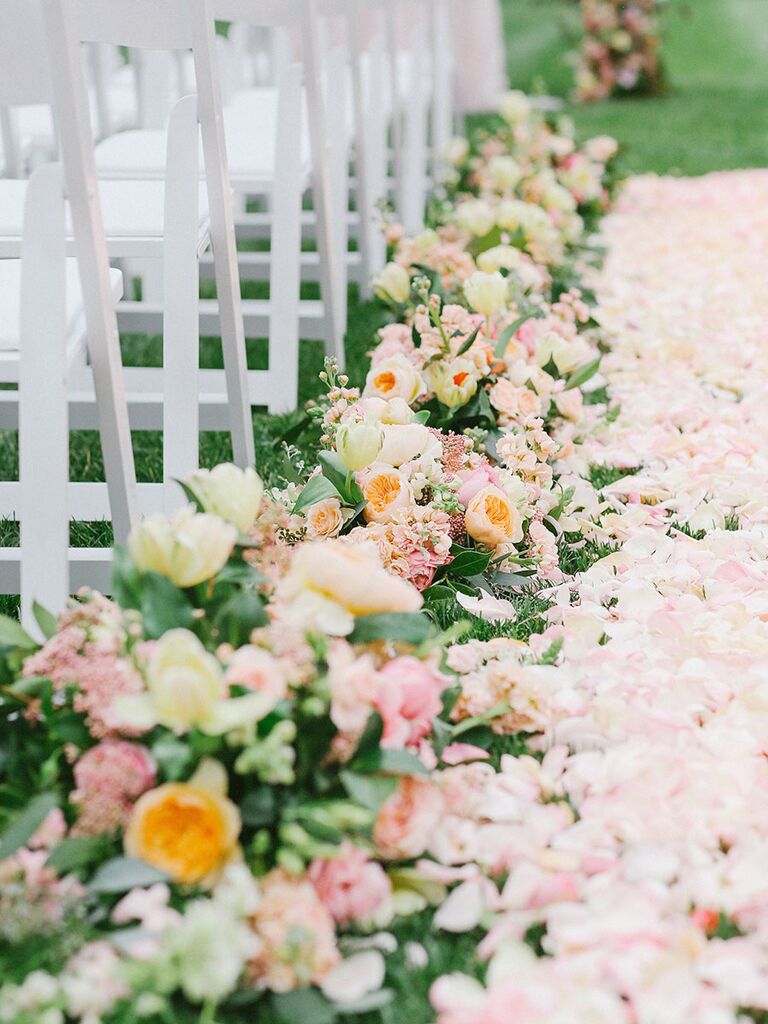 For a straight-from-a-storybook look, sprinkle your ceremony aisle with loose flower petals in different shades of pastels.
From: A Biltmore Estate Wedding in Asheville, North Carolina
10. Contrasting Colors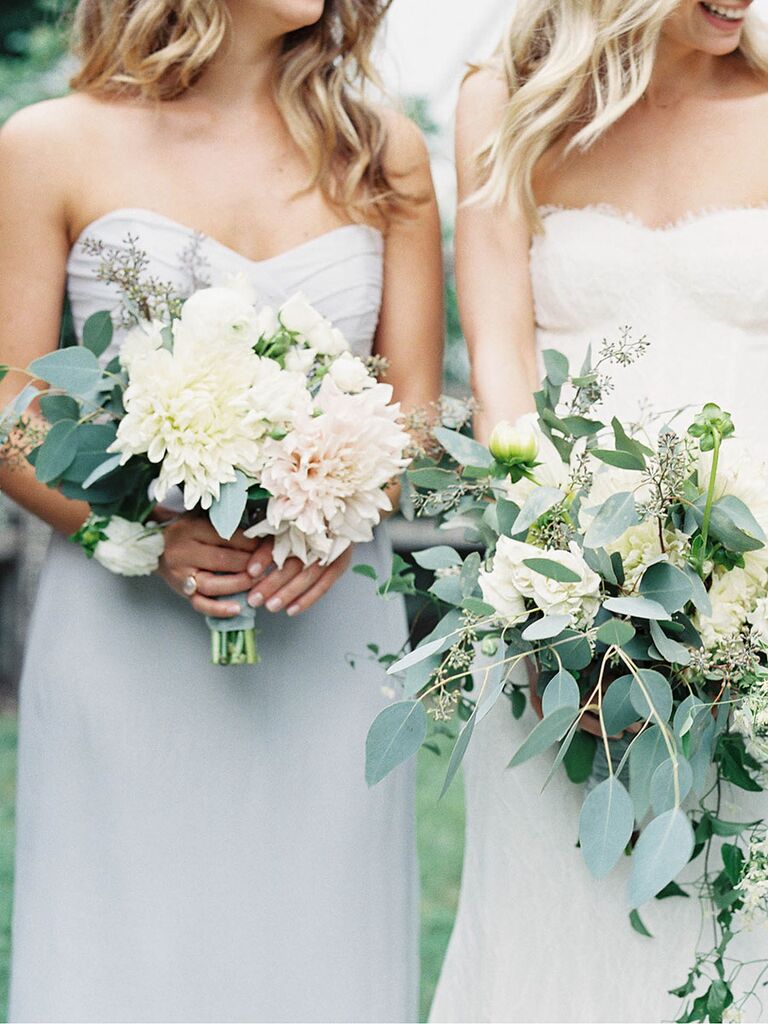 Soft gray chiffon bridesmaid gowns against arrangements of ranunculus, garden roses, dahlias and eucalyptus look stunning.
From: An Elegant Wedding at Ram's Head Inn in Shelter Island Heights, New York
11. Silk Flower Crown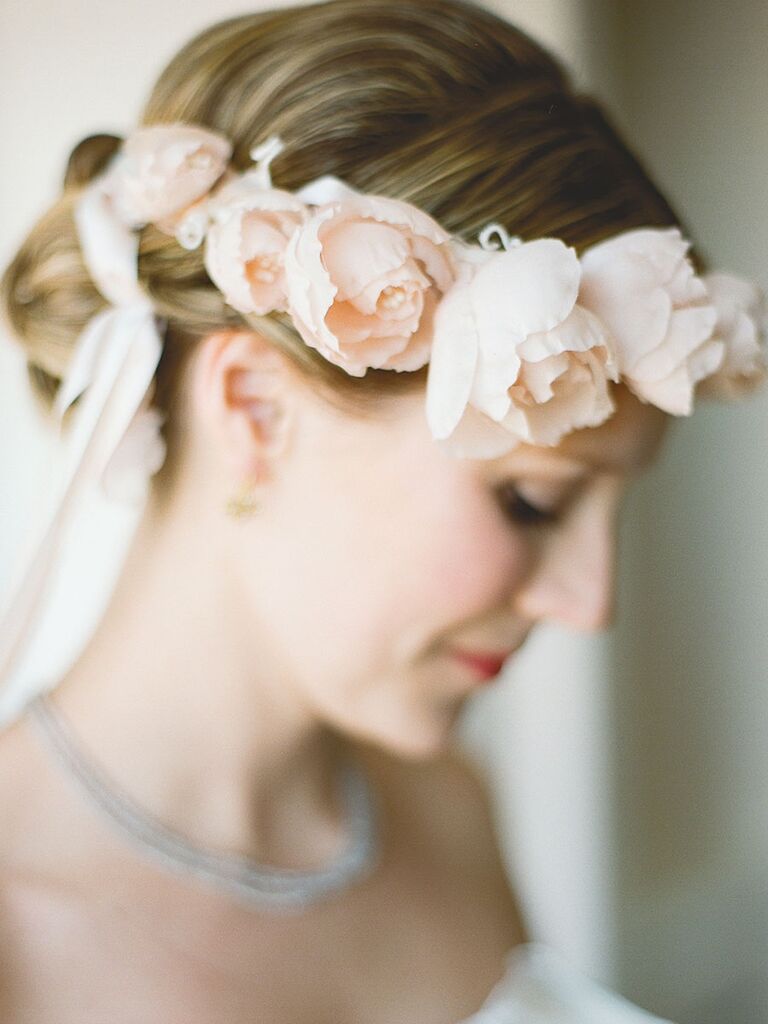 A flower crown will perfectly compliment a feminine, whimsical wedding. Finish it with streaming silk ribbons that drape down your back.
From: A Rustic Wedding at Walker Art Center in Minneapolis, Minnesota
12. Glamour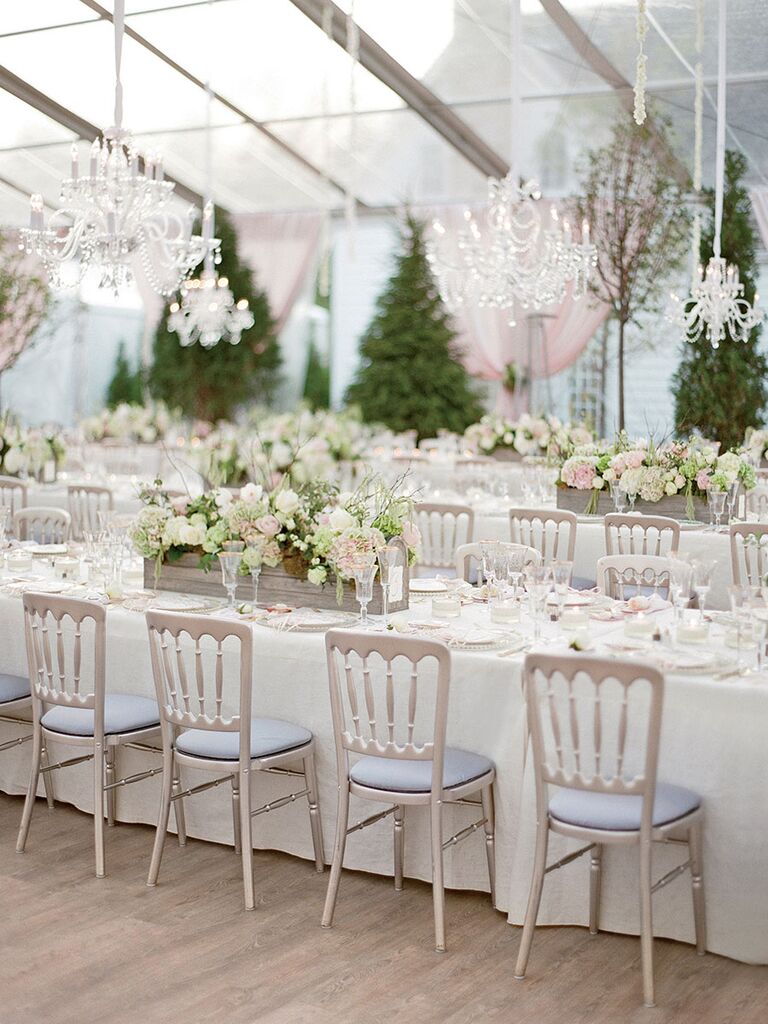 It doesn't get much more romantic than a combination of chandeliers, lush floral arrangements and glamorous gold details.
From: A Classic Wedding at a Private Residence in Barrington Hills, Illinois
13. Sugar Flowers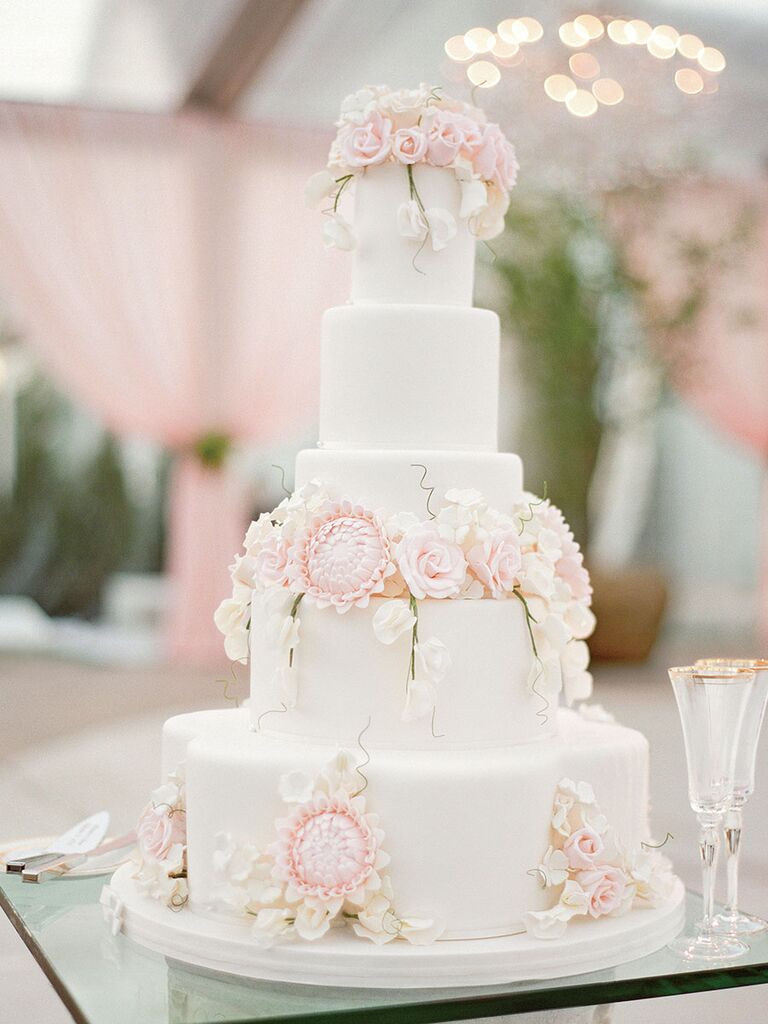 The best part is that the flowers on this cake were exact replicas of the blooms used in the bride's bouquet.
From: A Classic Wedding at a Private Residence in Barrington Hills, Illinois
14. Artistic Escort Cards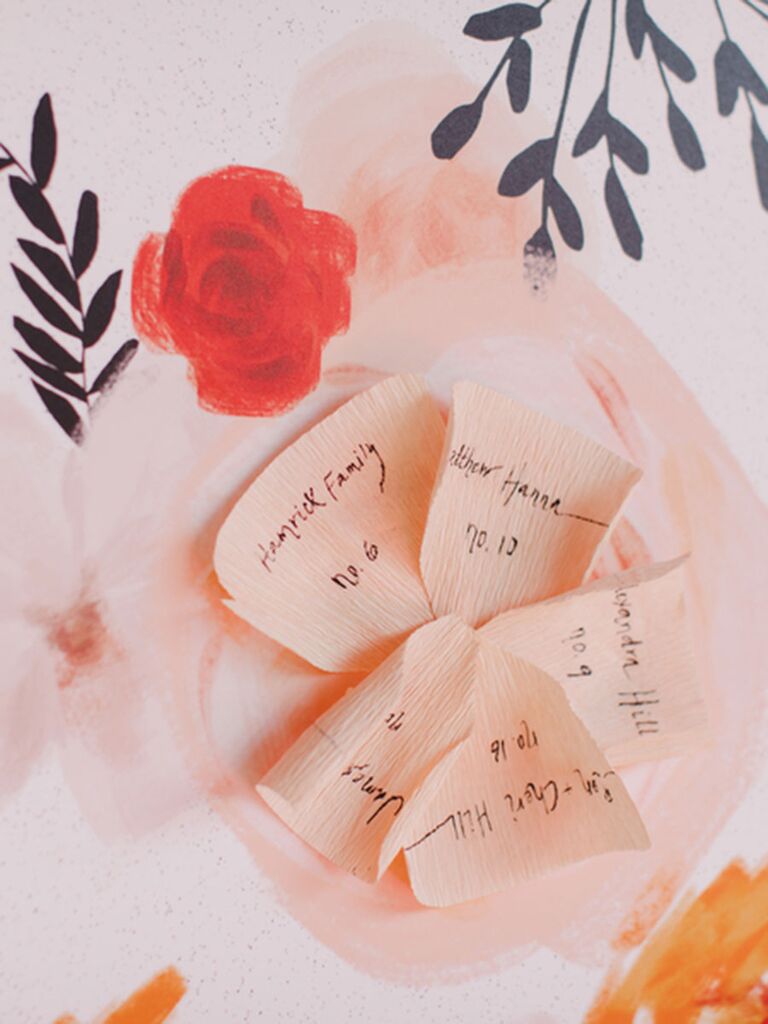 Handwritten names and table numbers on petal-like cards look chic and romantic.
From: A Vibrant, Urban Wedding at Smog Shoppe in Culver City, California
15. Floral Place Settings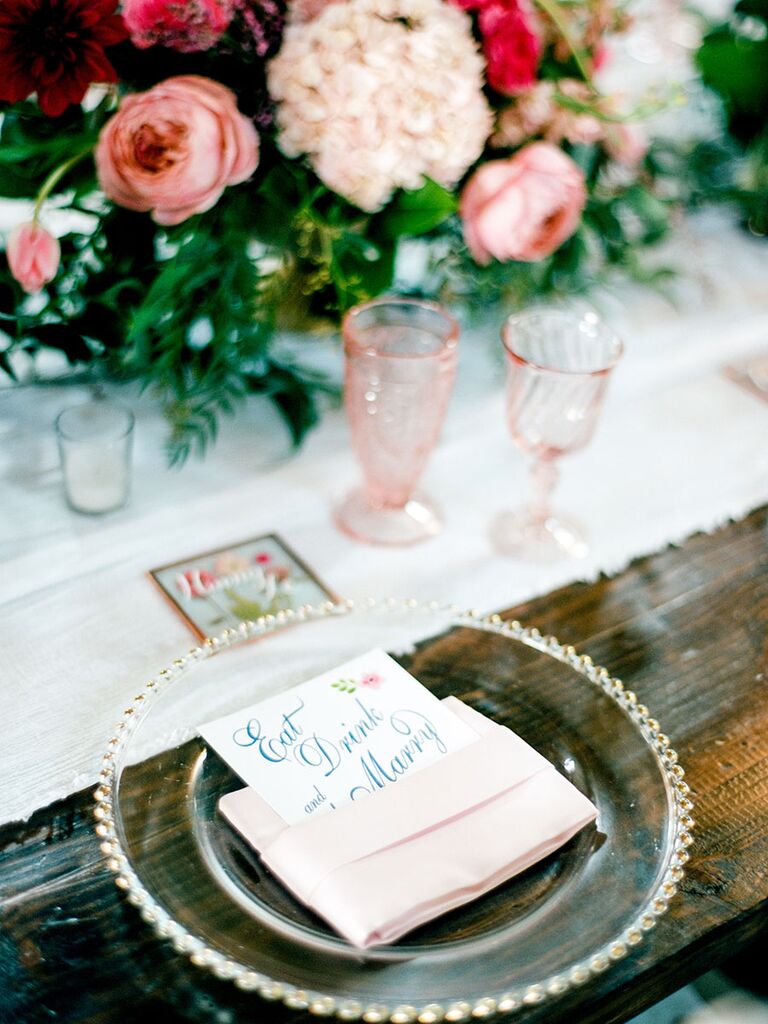 Blush glassware perfectly pairs with the custom hand-pressed floral coaster (that guests got to take home!).
From: A Floral-Inspired Barn Wedding at Chandelier Grove in Tomball, Texas
16. Stunning Centerpiece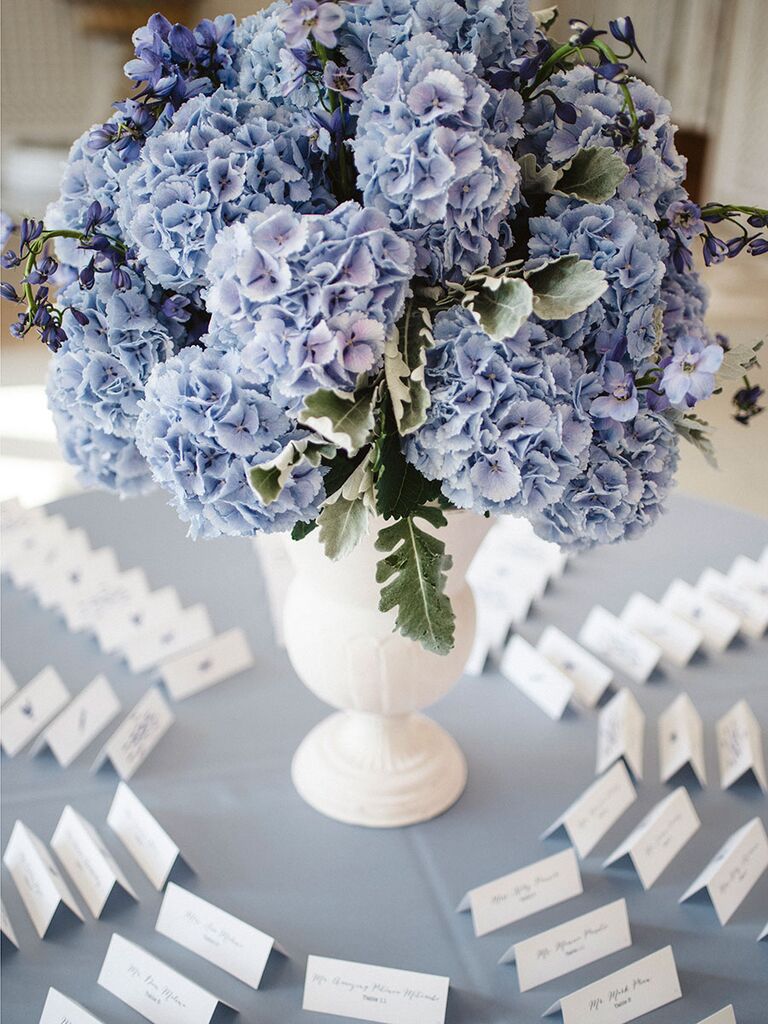 A lush centerpiece, like these periwinkle hydrangeas, add a pop of color to your pastel theme.
From: A White and Blue Garden Wedding at Armour House in Lake Forest, Illinois
17. Watercolor Ceremony Backdrop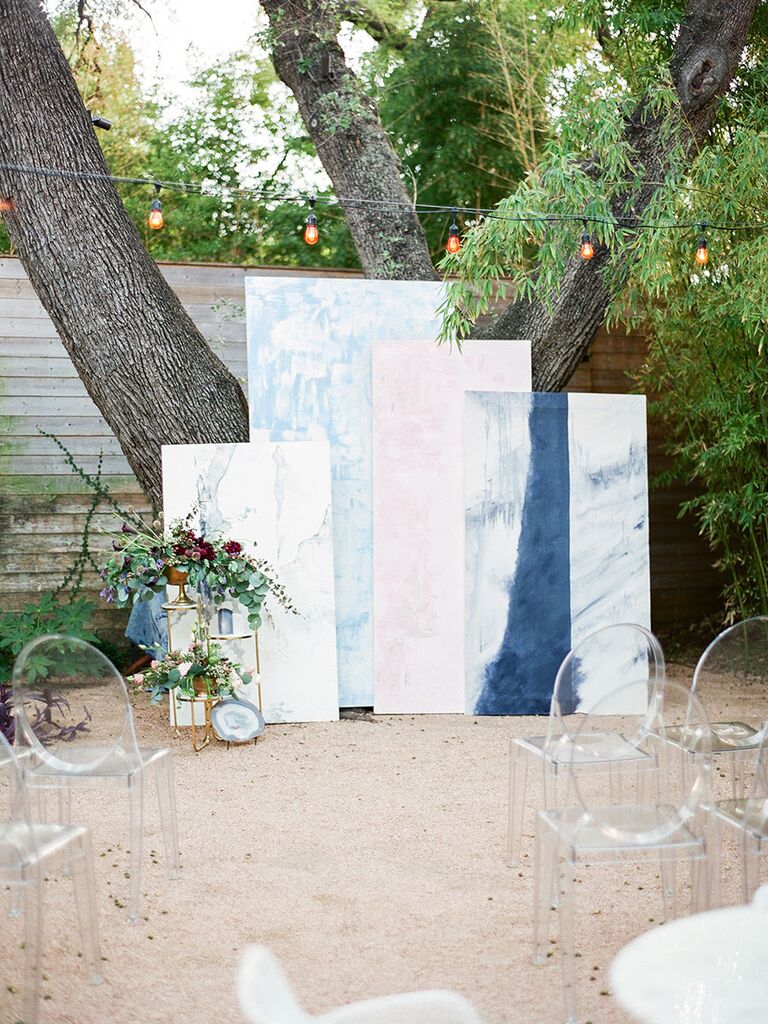 Pale blue agates and geodes look glam against this custom backdrop.
From: An Intimate Courtyard Wedding at Hotel Saint Cecilia in Austin, Texas
18. Floral Garlands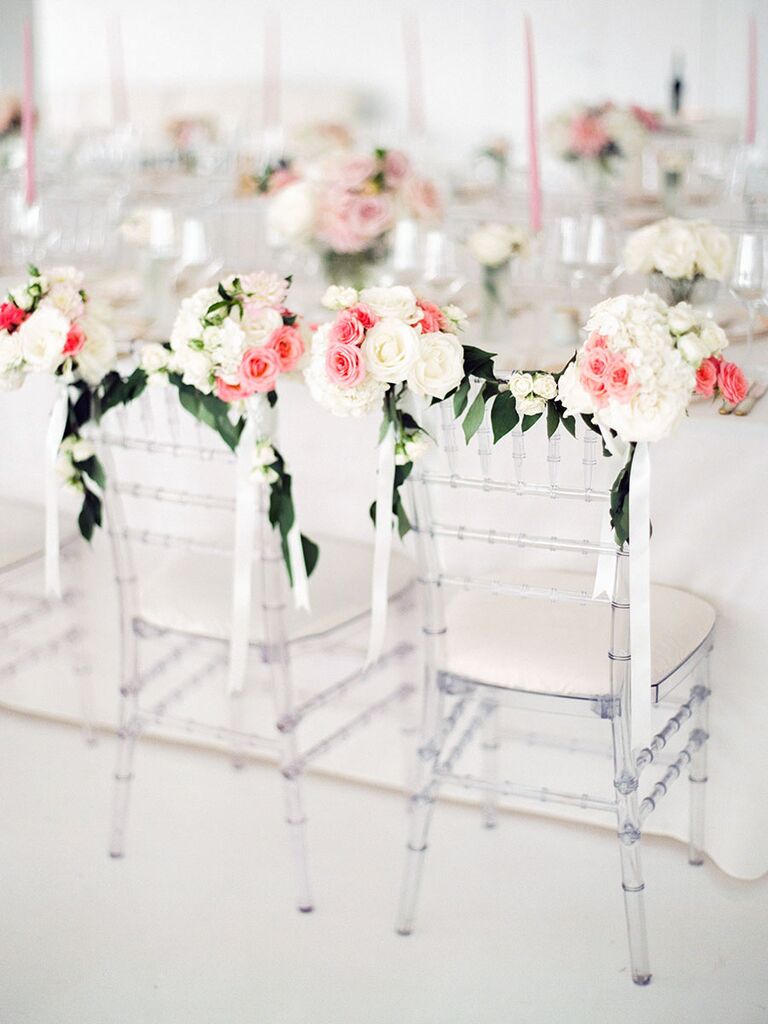 Distinguish your newlywed seats with a garden feel by adding lush garlands to your chairs.
From:A Modern Loft Wedding at Studio 450 in New York, New York
19. Fluffy Flowers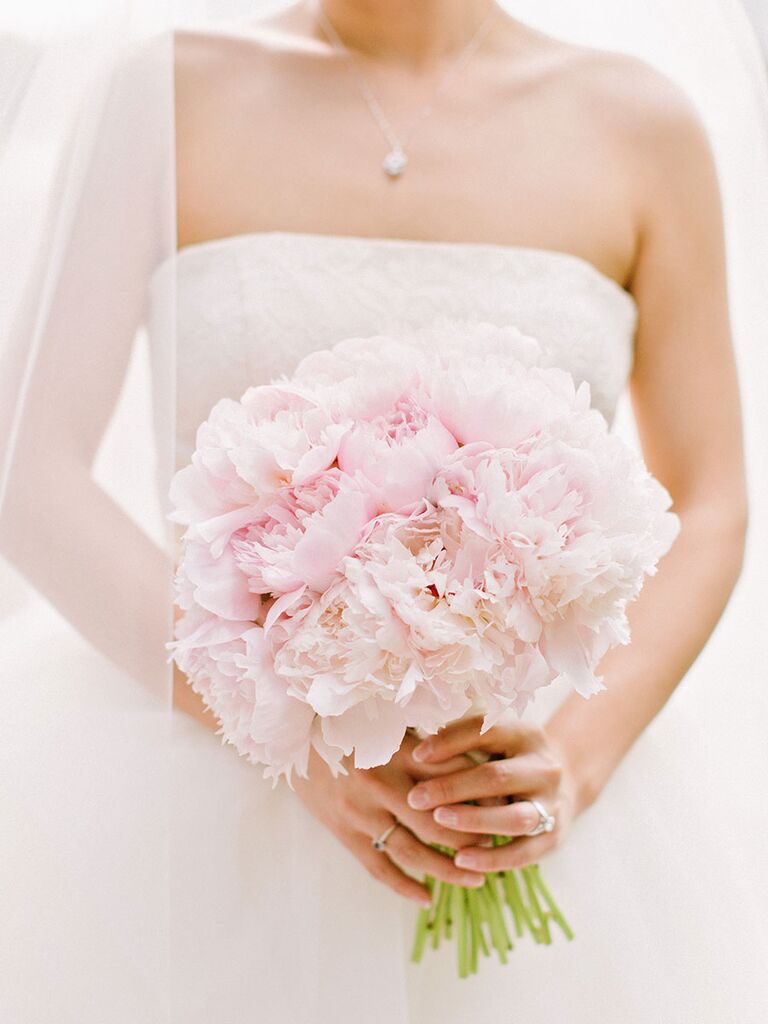 A classic bouquet of blush peonies is as feminine as it gets.
From: A Romantic, Garden-Inspired Wedding at the Piedmont Room in Atlanta, Georgia
20. Whimsical Wonderland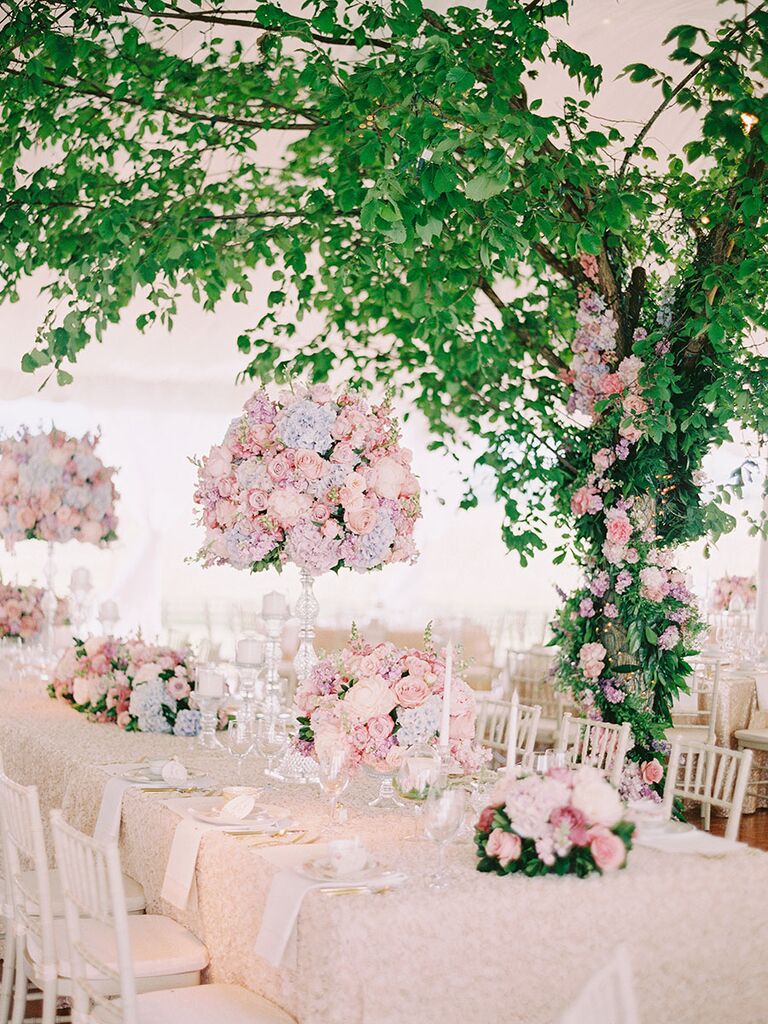 Soft pinks and purples set the romantic tone for this luxe, dreamy wedding.
From: A Romantic, Fairy Tale-Inspired Wedding at a Private Residence in New Market, Virginia