31 Chic Ways to Use Pastel Colors In Your Wedding Decor
Blush is only the beginning.
Wedding trends may come and go, but pastel wedding colors always stand the test of time. There's something about these toned-down colors that makes them feel inherently romantic and delicate, so it's no surprise that couples continue to gravitate to them season after season. And while you might think that pastel color palettes are strictly for spring weddings, there are no rules—and we've got proof that pastels can look beautiful at any time of the year. Check out these 31 beautiful pastel wedding decorations and ideas for more.
In this article:
What Are the Best Pastel Wedding Colors?
You're probably already familiar with some of the most popular pastels, like blush and light blue. Because of their versatility, they continue to stand out as top wedding colors every year—either combined together or used with other accent hues. Blush and light blue are often favored by couples who want a classic color combination other than black and white, since they blend in easily with other timeless details, such as formal dress codes and elegant floral designs.
If you really want to dig into the details, there are several different shades of light pink and light blue to consider. Whisper pink, millennial pink, baby pink and rose quartz pink are often all grouped together as blush, but when you look more closely, they're each slightly different. The same goes for blue wedding colors: baby blue, cornflower blue, ice blue, cerulean, dusty blue and French blue are all variations of one color. Don't worry about matching everything perfectly to one specific shade—we recommend mixing and matching a few of them for a more dimensional, realistic color palette.
Alternatives to pastel pink and blue include pastel purple, butter yellow, pastel coral or peach, and mint and sage greens. Pastel colors are surprisingly easy to pair together, so you won't have to worry about the colors clashing. Pick your favorite two or three pastels to complement your wedding style or use them all for a whimsical, pastel rainbow effect.
What Colors Go Well with Pastels?
Pastel wedding colors and jewel tones are opposites, but they work surprisingly well together. A darker jewel tone can add depth and contrast to its corresponding pastel color—think lilac paired with deep amethyst, blush paired with ruby red or sage green paired with emerald. Because lighter pastel wedding colors are usually associated with spring and summer, adding a jewel tone is an easy way to transition them for fall and winter weddings.
Neutral tones are also easy to incorporate into a pastel wedding palette. White, ivory and beige will amplify the ethereal look of pastels, while darker neutrals, such as chocolate brown, charcoal gray and black can bring a sense of edginess to an airy palette. And if you're looking to add a bit of luxe to your wedding decor, don't forget about metallic accent colors, like silver and gold. You can incorporate metallics through details like centerpiece vessels, glassware and tableware, linens, lighting fixtures and stationery elements, such as calligraphy ink or menu paper.
Pastel Wedding Color Ideas
Now it's time for the fun part: finalizing your color palette and decor details. Here are some ideas we love to kickstart your search for the perfect pastel wedding inspiration.
1. Light Blue Wedding Invitations
Blue invitations are always a classic wedding stationery option, but there are a few ways to add personalization if you want yours to be a little more customized. This suite included a watercolor illustration of Charleston's skyline, along with a custom initialed crest.
2. Blush Wedding Invitations
Boxed wedding invitations will wow your guests as soon as they open the mailbox. This acrylic invitation arrived packaged in its own box for a trendy, contemporary design.
3. Custom Wedding Vow Books
Why would you read your heartfelt wedding vows from your notes app when you can write them down in a handmade vow booklet? These simple paper booklets received a decorative upgrade with light blue ribbons binding them together.
4. Pink Wedding Shoes
Skip the white high heels in favor of blush pink wedding shoes that make a statement on your big day. You'll feel fabulous in a pair of velvet pink stilettos—matching pink fringe earrings and perfume bottle optional but encouraged.
5. Blue Satin High Heels
On the other hand, a pair of satin blue heels is one of our favorite ways to incorporate the 'something blue' tradition into your wedding day.
6. Light Pink Bridesmaid Dresses
Blush bridesmaid dresses are understated and timeless. Give your bridesmaids a little bit of sartorial freedom by allowing them to mix-and-match their own dresses featuring different necklines or silhouettes.
7. Assorted Pastel Bridesmaid Dresses
If you can't choose just one pastel hue for your wedding party attire, choose them all. These bridesmaids look polished and chic in dresses that varied in style and color.
8. Pastel Wedding Bouquet
The bouquet is one of the main details that ties in with your wedding color palette. Luckily, some of the most popular wedding flowers happen to bloom in beautiful pastel tones—including these blue delphinium, pink peonies and purple scabiosa—so you'll have plenty to choose from.
9. Light Yellow Wedding Bouquet
Pale yellow is one of the most underrated pastel wedding colors, but if you're looking for something slightly unexpected, that's part of its appeal. The hue is versatile for spring, summer and fall weddings depending on how you style it. This gorgeous bouquet of butter yellow garden roses, anemones and clematis vines is a lovely choice for a springtime garden party.
10. Blush Rose Wedding Boutonniere
A wedding boutonniere is the finishing touch for any jacket or sport coat. Consider matching yours to the color of your accessories, like this soft pink rose and complementary pocket square.
11. Pink Wedding Suit Jacket
If you feel like standing out with your wedding day attire, add a pop of color to your look by swapping the classic black or blue suit for something pastel instead. This pink jacket feels fun and fashion-forward, especially paired with the patterned cravat.
12. Pastel Wedding Ceremony Aisle Marker
Give your wedding venue a garden-inspired look by adding floral aisle markers to the ceremony space. Pastel stems including delphinium, roses, dahlias and limonium were used for this wildflower-style design.
13. Blue and Pink Wedding Ceremony Arch
Pink, purple and blue hydrangeas all blended together to create an ombré effect around this stunning wedding arch. Hydrangeas are in-season for summer weddings, so depending on when you're getting married, you can swap the flowers out for other in-season blooms.
14. Pastel Wedding Ceremony Backdrop
You don't need dozens of flowers to create a photo-worthy wedding ceremony backdrop. This setup was designed with rectangular panels covered in abstract pink and blue brushstrokes, with clear ghost chairs adding to the contemporary, artsy theme.
15. Light Green Butterfly Decorative Accent
Not only did these decorative butterflies tap into the pastel rainbow color palette of this wedding, but they also brought a hint of whimsy to ordinary chairs.
16. Pink Rose Petal Ceremony Aisle Marker
For a classic fairytale-inspired look, sprinkle loose rose petals along your ceremony aisle. Simple white candles also fit with the elegant vibe.
17. Pastel Wedding Floral Arrangements
How pretty are these arrangements? Incorporate all of your favorite pastel wedding colors into centerpieces or other floral accents, like these altar arrangements with purple sweet peas, pink peonies, white orchids and soft green dusty miller. Rectangular acrylic stands brought a modern element to the display.
18. Blue Patterned Table Linens
Adding printed tablecloths is one way to quickly elevate your wedding reception decor. The pattern will become the main focal point of each table, so we recommend keeping the centerpieces and other accents more understated to avoid a visual clash.
19. Dried Lavender Wedding Favors
Don't know what to choose as unique wedding favors? Bundles of dried lavender can be used as escort cards or place cards, then displayed in guests' homes after the wedding.
20. Light Blue and Gold Wedding Escort Cards
We love this chic color palette for a winter wedding. Gold wax seal stamps accented the dusty blue escort cards, which featured guests' names written in matching gold calligraphy.
21. Hydrangea Wedding Escort Card Display
This simple, elegant wedding escort card display features beautiful blue hydrangeas and delphinium surrounded by tented escort cards. If blue isn't part of your wedding palette, no problem—you can easily recreate a similar look with different blooms (just don't forget the matching tablecloth!).
22. Pastel-Colored Wedding Lounge
Creating a lounge area is a great way to provide space for your wedding guests to mingle when they're not in their seats or on the dance floor. Work with a wedding planner or event rental company to find love seats, chairs, rugs and other decorative items in pastel shades to match your wedding theme.
23. Pale Pink Throw Pillows
Woven pink throw pillows add a sense of coziness to a boho themed wedding. Use them in your wedding lounge or add pillows to your sweetheart chairs for extra comfort when you (finally) take your seats at dinner.
24. Wedding Tablescape with Blue Taper Candles
Taper candles are a small but easy way to bring color into your reception tablescapes. These white and blue gradient candles would look just as pretty even if they weren't lit.
25. Sage Green Wedding Place Setting
While some pastels, like lilac purple and yellow, tend to be more suited for spring weddings, soft green tones are perfect for an autumn wedding. For the fall season, finish your place settings with sage green dinner plates, menus with gold wax seal stamps and sprigs of fresh eucalyptus.
26. Tall Pink Rose Wedding Centerpieces
Tall wedding centerpieces evoke a sense of grandeur at the reception. Set atop glass pedestal stands, these pastel arrangements of roses and hydrangeas are perfect for a classic garden wedding.
27. Pastel Wedding Flower Installation
Get creative with your venue's existing fixtures and details when you're planning your wedding decor. A banister or fireplace mantel can be dressed up with flowers and wild greenery for a lovely English garden-style effect.
28. Light Purple Glassware
Colored glassware is another way to subtly infuse pastels into your wedding tablescapes. These purple goblets stand out against the ivory tablecloth while tying in with the blush napkin and lavender bundle.
29. Honey-Infused Signature Wedding Drink
When choosing your wedding cocktail, think about your favorite drink and how it might be adapted to match a pastel wedding color combo. A few examples: serve brut rosé instead of regular champagne if pink is part of your color palette, add lavender simple syrup if you love the color purple, or create a honey and lemon juice cocktail with a yellow hue.
30. Purple Macarons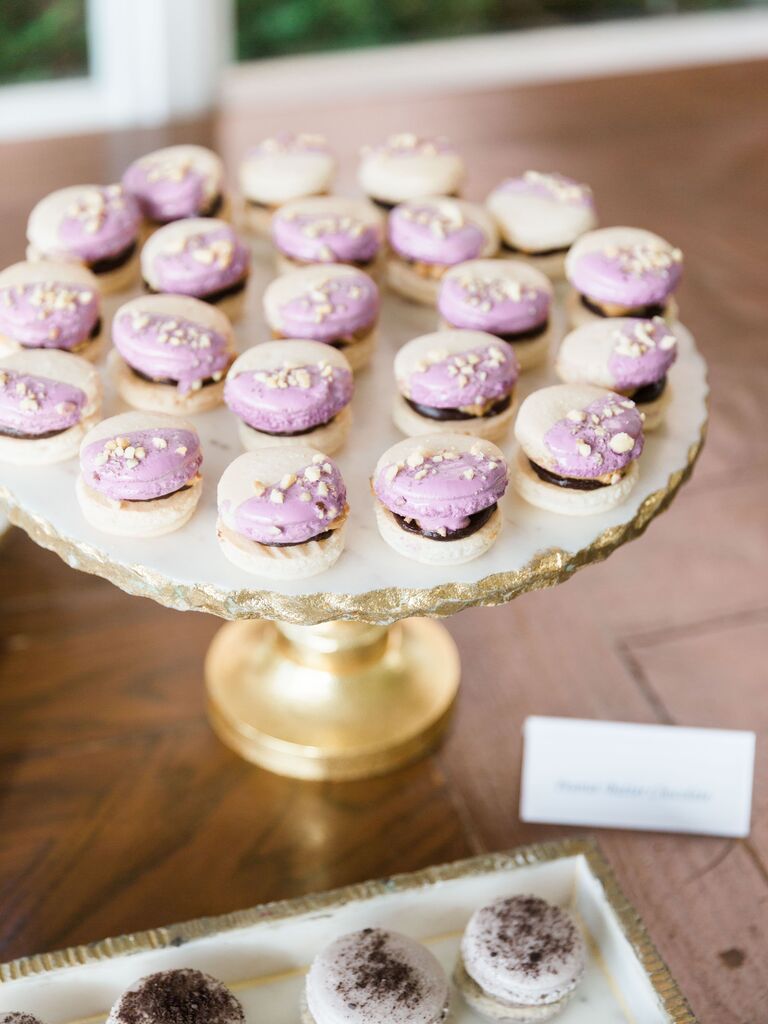 Sweets like macarons, cookies and cupcakes can all be customized to match a pastel wedding color palette. Trust us—a color-coordinated dessert table will look amazing in detail photos.
31. Buttercream Wedding Cake with Pastel Flowers
Whether you prefer fondant or buttercream, decorating your wedding cake with flowers is always a good move. This pretty buttercream confection is simple and sweet, with clusters of purple, yellow and peach flowers placed throughout.