5 Unique Wedding Customs and Traditions From Around the Globe
Lion dances, troll-repellant bouquets, henna tattoos—here are some of the coolest wedding traditions from all over the world.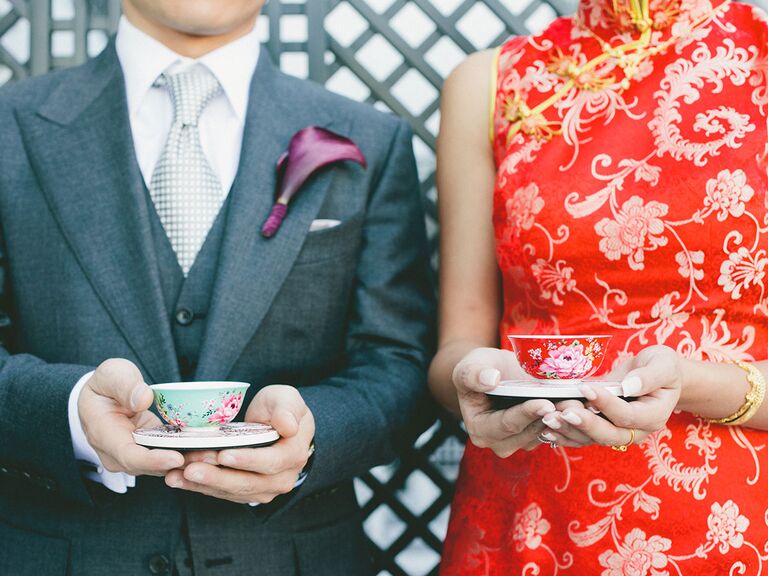 onelove photography
Wedding Traditions in Italy
When
In bygone Italy, wedding festivities kicked off in the morning, ideally on a Sunday. Regional Italian folklore dictated that couples should never marry (or leave for their honeymoon) on a Friday or Tuesday, or they'd be bound to have loads of bad luck, while Saturdays were reserved for widows getting hitched to husband number two.
Attire
In addition to a white gown, the bride would cover her face with a veil as protection from unruly spirits and as a symbol of her chastity. Meanwhile, the groom did his part to repel spirits by holding a piece of iron (preferably a small one, we hope) in his pocket. The night before their wedding, Italian brides wore green as it was meant to bring good luck. Revive the tradition yourself by pinning on an emerald brooch or tying a green sash around your rehearsal dinner dress.
Activities
Italian brides and grooms made their way to the chapel on foot. In some regions, it was considered bad luck for the groom to turn around once he stepped foot outside his house on his wedding day. A group of friends would accompany him to the ceremony, just in case he forgot anything and needed someone to run back for it. After the wedding ceremony, the couple would shatter a vase—the number of broken pieces represented the number of years they'd be happily married, so naturally they had to do their best to smash it. Villagers might also set up a log for the newlyweds to saw through with a double-handed saw, representing how they would work together in their new partnership.
Food
Even hundreds of years ago, food was an essential part of an Italian wedding. Courses of antipasti, calamari, pasta, fish, pork and more were accompanied by a liqueur or wine. Guests could always count on having some wanda, bow ties of fried dough dipped in powdered sugar that symbolized good luck. Even the confetti was edible. Sugar-covered almonds (or Jordan almonds, as we know them), which represent the bitter and sweet parts of life, served as both a treat and something to toss at the newlyweds as they made their exit.
Music
The bride and groom would lead their guests in a jaunty circular jig called the tarantella. Legend has it this springy dance could save victims from poisonous tarantula bites.
Added Perk
The bride carries a satin bag (la borsa) at the reception for guests to place envelopes of money in, a tradition called the buste. Some wear it around their necks for male guests to drop in money in exchange for a dance.
Wedding Traditions in China
When
Chinese couples consulted an astrologer or fortune-teller to find a favorable date derived from their birth dates.
Attire
For centuries, Chinese brides wore the traditional qipao, a bright-red silk dress with intricate gold embroidery. These loose, high-necked, long-sleeve gowns fell all the way to the ground—revealing only the bride's head, hands and toes. At the reception, the bride would often change gowns several times throughout the night to display the opulence of her family.
Activities
On the morning of the wedding, the groom and groomsmen would make their way to the bride's home where the bridesmaids would give the groom a hard time by forcing him to negotiate his way into the house (with money). Once the groom made a satisfying enough offer and was deemed worthy of entering the house, he could join the bride's parents for tea (served by the bride) as a parting ritual.
Food
Weddings are a great excuse for families to flaunt their wealth, and serving a 10- to 12-course banquet is common at a Chinese wedding. Shark fin soup was once a staple delicacy, which, at upward of $100 a bowl today could drain anyone's bank account quickly. Due to the environmental implications, many couples are skipping shark and splurging on other menu items like fine French wine.
Music
At more elaborate weddings, the couple and their guests would enjoy a performance called the lion dance in which performers dressed as powerful felines swayed to the beat of drums, gongs and cymbals to scare away evil spirits.
Added Perk
After the wedding feast, friends and family would follow the couple into their bedroom, making as much noise as possible and taunting them—all in good fun, of course. Guests tried to stay in the room for as long as they could before the privacy-starved couple kicked them out.
Wedding Traditions in Mexico
When
A summer evening.
Attire
The bridal attire would vary depending on the region, from simple white cotton to a colorfully embroidered huipil. Spanish-inspired mantilla veils were common as well. She might also wear a blue slip or sew three ribbons (one yellow, one blue and one red) into her undergarments to symbolize food, money and passion in the years to come. The groom would usually wear a lightly colored guayabera, a loose-fitting shirt perfectly suited for the Mexican sun.
Activities
During the ceremony, the groom would give his bride 13 gold coins, called arras, which symbolized Christ and his apostles. Following the vows, the priest would wrap a lazo, or lasso (a large rosary, rope or a band of flowers), in a figure eight around the couple's necks to represent their eternal unity.
Food
Spicy rice, beans and tortillas. The traditional Mexican wedding cake is made with nuts and dried fruit and soaked in rum.
Music
A mariachi band (with at least two violins, two trumpets, one Spanish guitar, one vihuela and one guitarron) would provide the day's music. La Marcha—a dance similar in appearance to an elaborate game of follow the leader—would serve as the couple's reception entrance. Two lines, each led by a family elder, would weave around the room, eventually meeting to form a bridge with their arms before breaking apart to form a circle around the bride and groom for their first dance.
Added Perk
Bridal attendants called madrinas (godmothers) helped the bride by making the plans, arranging bouquets and keeping a general handle on the day's events. It would also be their responsibility to guide the bride throughout her married life.
Wedding Traditions in Sweden
When
With almost 20 hours of sunlight each day, summer was considered prime wedding season.
Attire
A crown of myrtle leaves on the bride's head represented virginity, while a gold coin from her father in her right shoe and a silver one from her mother in her left shoe guaranteed she would never go without.
Activities
In some regions, brides and bridesmaids also carried bouquets of fragrant weeds to ward off trolls (seriously!). The couple would also enter the church together, and the first to step foot over the threshold was said to become the relationship's leader.
Food
The traditional Swedish smorgasbord lasted for three days and included inlagd sill (pickled herring), lingonsylt (lingonberry jam) and kottbullar (Swedish meatballs).
Music
Throughout dinner, the guests would sing love songs and, eventually, rowdy folk songs accompanied by a fiddle. Every guest was welcome to give a speech or toast in honor of the couple.
Added Perk
A Swedish bride received not two, but three gold rings from her future husband. One was for her engagement, and on her wedding day, she'd receive two more: one for marriage and one for pregnancy.
Wedding Traditions in Morocco
When
Historically, Moroccans celebrated weddings on Sundays in the fall at the end of the harvest, when there was plenty of food to feast on.
Attire
Clothing varied greatly by region, but what all Moroccan wedding apparel shared was color—and lots of it. As in other cultures, different hues held meaning, for example, yellow was worn to scare away evil and green was to bring good luck. In preparation for the day, the bride and her attendants, or negafa, would have a henna party, receiving temporary tattoos on their hands and feet, with the bride's being the most intricate, of course.
Activities
A traditional Moroccan wedding lasted up to seven days, with separate parties for the men and women. The first three days were spent preparing, partying and beautifying the bride. On the fourth, the couple was married. On the fifth and sixth days, the celebrations raged on. Finally, on the seventh day, the parties combined and the bride was placed on a cushion and held aloft in front of friends and family. The men would hoist the groom onto their shoulders, and the new couple would be carried off to a special room to consummate their marriage.
Food
Fish and chicken, ancient symbols of fertility, were often served. Guests savored tagine—a chicken, beef and lamb stew mixed with almonds, apricots, onions and other spices—alongside heaping piles of couscous.
Music
The bride and groom were ushered into the reception with a lively wedding march called the zaffa, complete with music, dancing and even flaming swords. Guests would dance all night to the sound of drums, tambourines and a string instrument called a zither.
Added Perk
Although the festivities were probably pretty exhausting, Moroccan brides were treated to some serious pampering too—namely, massages and milk baths to purify themselves for the weeklong celebration.