37 Indian Wedding Mandap Ideas for Hindu and Jain Ceremonies
Get inspired by these eye-catching ceremony structures.
It's common to have an altar structure of some kind incorporated into wedding ceremony design to highlight the couple of honor and demarcate the vow exchange spot, regardless of the style or religious connection present at the event. Many couples participating in non-religious wedding ceremonies choose to include floral arches while Jewish to-be-weds traditionally tie the knot beneath a chuppah. Meanwhile, those celebrating Hindu wedding ceremonies frequently make the decision to include a mandap as part of the wedding ceremony design. We've rounded up some of our favorite mandap designs below to inspire you while wedding planning.
In This Story:
Mandap Frequently Asked Questions
What is a mandap?
"A mandap is a structure used in Hindu and Jain ceremonies that consists of four posts that symbolize earth, air, water and fire," says Jen Avey, VP of marketing for Destination Weddings Travel Group. "These elements represent energy and symbolize spirituality. The structure must be covered, and in the modern-day, it is adorned with beautiful fabrics and florals. The difference between a mandap and an arch is the simple fact that the mandap is covered and holds a small sacred fire in the center of the structure. An arch may be used for the couple to do their prayers, but they have to be seated under a mandap for the rituals to begin. A Hindu wedding ceremony is very sacred and spiritual; every ritual the priest performs symbolizes something. The most important aspect of a mandap is the fact that a religious ceremony will be conducted so that no shoes can be worn under the structure. Anyone entering the mandap should take off their shoes, so the couple needs to communicate this to their wedding party (especially those who aren't familiar with Hindu traditions) during the rehearsal."
How is a mandap different from an arch?
"A mandap is a covered structure with four pillars used as an area to host a Hindu or Jain wedding," says JoAnn Gregoli, Owner of Elegant Occasions by JoAnn Gregoil. "The four pillars symbolize the four parents who have worked hard to raise their children, indicating they are the pillars of strength for the family. It is typically adorned with floral decorations and is set upon a raised stage so guests can witness the vows. The concept and history of the mandap came from the Hindus who believed that any sacred ritual had to be performed within the four walls of their home. It was a sign of prosperity and wealth. The four pillars also signify the four important aspects of human life–Dharma, Artha, Kama, and Moksha. The husband and wife swear to uphold in their life together. Meanwhile, an arch is usually a two-pole structure that is adorned with flowers. It can be wooden, or metal and typically, the couple and officiant stand in front of an arch; an arch does not have the depth for people to stand inside of the area."
Simple Decoration Ideas for Wedding Mandaps
These pared-down mandap designs are proof that you don't have to be over-the-top to make a strong, and beautiful, visual impact.
1. Wood Mandap With Marigolds at Indian Wedding in Michigan
This couple took a less-is-more approach to their mandap decor, opting to only add minimal marigold garlands to the space.
2. Indian Wedding Mandap With Sunflowers
Since sunflowers have such a commanding visual presence, this couple didn't need to add too many blooms in order for them to make a big impact. Get inspired by even more sunflower wedding ideas here.
3. Mandap Design With Pink Flowers
Pink blooms added whimsy to this otherwise neutral mandap.
4. Rustic-Meets-Boho Wedding Decor for South Asian Nuptials
Ghost chairs and white carnation garlands brought a modern bohemian touch to this Indian wedding ceremony.
Glam and Ornate Mandaps for Hindu Weddings
If you're tying the knot in a ballroom or at a swanky rooftop overlooking the Los Angeles skyline, consider leaning into a maximalist vibe with an ornate mandap for your Indian wedding ceremony.
Find your kind of venue
From barns to ballrooms, discover reception venues that feel like you.
5. Red-and-Gold Mandap Decorations
This vibrant ceremony setup was all about red, orange and gold.
6. Pink Mandap for Glam Big Day
Instead of a square mandap, this couple's four corners met in a circle at the top of the pink structure.
7. Mandap With Garland of Orchids for Beautiful Wedding in Florida
An ornate border gave this tent a palace-inspired look.
8. Purple-and-Gold Mandap Decor
Gold pillars lining the aisle mirrored the gilded mandap at the front of the ceremony space.
9. Glam Mandap on White Wedding Stage
While this look was all about neutrals, there was nothing one-note about it.
Rustic Wedding Mandap Ideas
If you're tying the knot in the woods or at a mountain lodge, consider a wood mandap with rustic accents. For even more rustic wedding ideas, take a peek at this inspiration.
10. Mandap Decor for Beautiful Wedding in the Mountains
A pine frame was the base of this mandap for a wedding ceremony in the mountains of Virginia.
11. Birch Indian Wedding Mandap With Linen Draping
Birch logs, decorated with white draping, anchored the altar area for this Indian wedding.
12. Wood Mandap With Red Linen Draping
Vibrant draping added a nice juxtaposition to this mandap made of dark brown logs.
13. Wood Mandap With White Wedding Stage
Dramatic floral accents transformed this simple wood pergola into a stunning mandap for this South Asian wedding ceremony.
14. Wood Mandap With Floral Accents and Rug
A rug on the mandap's platform added a homey feel to this setup.
15. Birch Mandap Draped With Orange Marigolds
Garlands of yellow and orange marigolds swayed beautifully in the wind at this ceremony.
Wedding Ceremony Mandaps With Greenery
One thing that's tricky about using flowers in major wedding installations is that not all blooms are hearty enough to withstand the sun which is why greenery can be a great option for decorating your ceremony space.
16. Greenery and Pampas Grass Mandap Decorations
Pampas grass added a boho feel to this wedding design.
17. Mandap at California Wedding Covered in Greenery and Hydrangea Blooms
For this wedding south of Los Angeles in Dana Point, the couple chose a lush look consisting of white hydrangea blooms and ample greenery when it came to their mandap wedding decorations.
18. Mandap Covered in Loose Greenery Vines
Aspen logs, a nod to the wedding's Colorado locale, were dressed up in greenery in this mandap design.
19. Natural Mandap With Hops Accents for New York Wedding
Beer lovers, consider using hops to decorate your ceremony space as this couple did.
20. Petite Green Wedding Mandap
While most mandaps are fairly large so the couple and their parents can all fit inside, these to-be-weds went with a small structure for their nuptials.
Floral Mandap Wedding Decoration Inspiration
While it's common to decorate mandaps with marigold garlands, the options are limitless when it comes to adding floral accents to your design. Save your favorite ideas from below to share with your florist and other wedding decorators to bring your dream wedding mandap to life. Additionally, since the mandap is just the first design element of the wedding day, consider incorporating the same blooms into your reception centerpieces for a truly cohesive big day look.
21. Blush Draping Atop Romantic Floral Mandap
Blush fabric complemented the lush blooms seen on this couple's mandap structure.
22. Floral Mandap on Red Wedding Stage
Mandaps are generally set atop a stage so guests can see what's happening, however, the stage doesn't have to be an afterthought. This duo chose a red stage to blend with this bright mandap.
23. Orange Floral Mandap Beneath Chandelier
Orange marigolds looked right at home in front of the venue's brown brick wall.
24. Marigold-Covered Mandap at Pre-Wedding Mehendi in Hawaii
For this tropical affair, the to-be-weds chose a color palette with bright yellows and blues to complement the locale.
Modern Mandaps for Hindu Wedding Ceremonies
If a traditional fabric or floral mandap doesn't quite fit with your wedding aesthetic, connect with your wedding planner to brainstorm a unique option that honors your heritage while celebrating the creative direction of your nuptials. Working in tandem with your vendors who possess years of experience will ensure the end result knocks it out of the park.
25. Mandap Under String Lights in Atrium of Wedding Venue
While a mandap on its own adds an anchoring presence to a wedding ceremony, string lights and chairs organized in a circle further drew guests' attention to the center of the ceremony space.
26. Mandap With Peacock Chairs and Wicker Chandeliers
Rattan peacock chairs and a cluster of wicker chandeliers brought a positively-boho feel to this wedding ceremony.
27. Modern Mandap With Hanging Floral Installation
The couple's venue itself served as their mandap. The beams in the space served as the four corners of their mandap while flowers hanging overhead added a little something extra.
Mandap Wedding Ideas With Fabric Draping
It's easy to see why many couples choose to add cloth to their mandap decor—there's something incredibly dreamy about fabric draping. Plus, the romantic feel of draping will look amazing in wedding photos.
28. Mandap With Dramatic Red Draping
To blend the mandap with the rest of the ceremony space, draping extended out from the structure and hung above guests' seats.
29. Lavender Draping on Mandap
Draping in a soft lavender hue gave a romantic feel to this structure.
30. Blush-and-Gold Beachfront Mandap
This pink-centric mandap is giving us major fairy tale vibes.
31. Mandap With Draping and Chandelier Accents
For wedding venues with statement architectural elements, like chandeliers, consider working those into your wedding decor plans for a seamless ceremony setup.
32. Fabric Mandap on Open-Air Terrace
Since this ceremony venue was already so eye-catching, the couple kept their mandap minimal with elegant draping.
33. Glam Mandap With Yellow-and-Pink Fabric
This ceremony featured bright fabric and a flower petal aisle design.
34. Fabric Mandap With Greenery Garland Border
To add a little something extra to their white fabric mandap, this couple had their florist hang greenery garland along the edge of the drapes.
35. Bright Pink Floral Mandap With Linen Draping
For an outdoor summertime wedding, bright colors are always a great idea.
36. Boho Fabric Mandap for Michigan Wedding
Monstera leaves gave this neutral mandap a modern, boho feel.
37. Yellow Mandap for Ceremony in the Round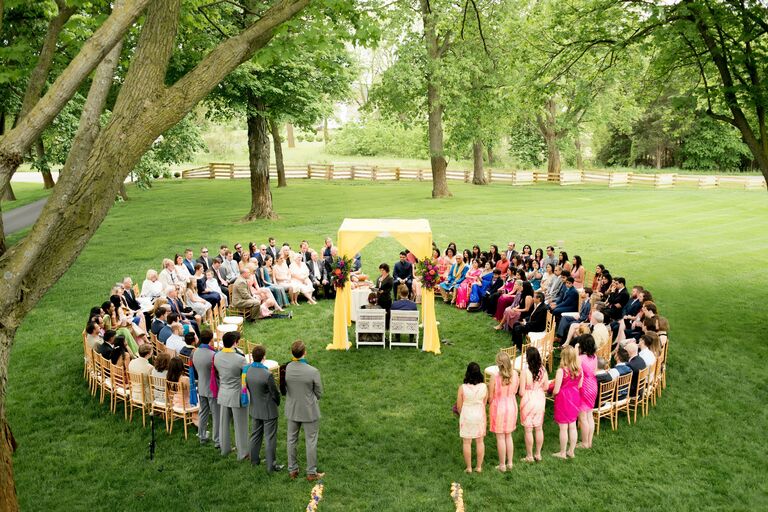 Bright yellow fabric helped this structure stand out from the surrounding greenery.