21 Questions to Ask a Wedding Florist, According to The Knot Ones to Watch
These pros are in the know.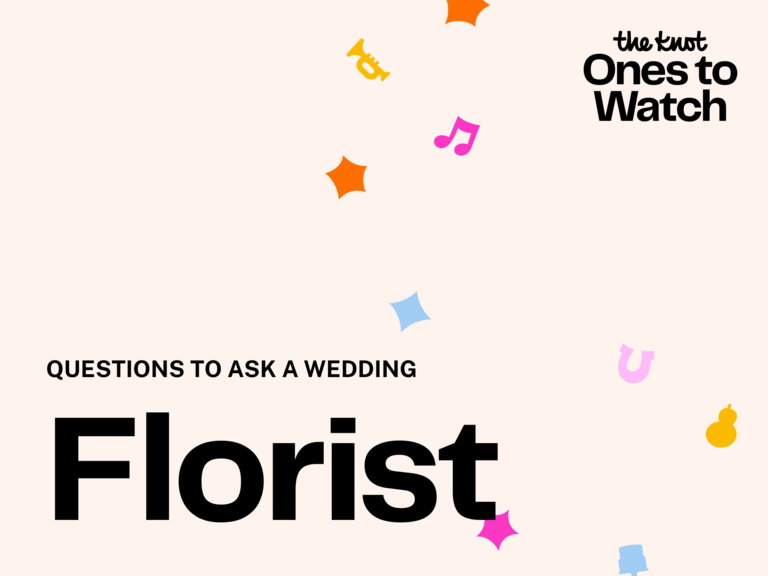 Did you know there are some questions to ask a wedding florist before booking? We're taking a look at a few key queries you should be aware of when it comes to working with professional floral designers. From bouquets and centerpieces to boutonnieres and installations, flowers have the power to greatly enhance the ambience and vibe of your wedding, which is why it's paramount that you tap the right pro for the task. To bring your vision to life, you'll need a great wedding florist who is skilled, creative, professional and aligned with your wedding budget.
Once you've gather a list of potential florists who pique your interest, the next step is to interview them to figure out which one will be the best fit for your big day. Don't know which questions to ask prospective wedding florists? We spoke with four wedding florists who are The Knot Ones to Watch 2023 honorees to get their expert insights on the matter.
In this story:
Meet Our Ones to Watch Experts
Wedding flower experts and business owners Erice McNeff, Kaytee Stice, Kiara Hancock and Shean Strong of weigh in which their thoughts on questions to ask a professional wedding florist.
Strong notes that beyond interviewing a wedding florist, "it's very important to make sure you are asking your vendor team the correct questions." Keep scrolling for the 21 key questions to ask a florist for a wedding.
Wedding Floral Designer Questions About Background and Company Ethos
To start, you want to get to really know a prospective wedding florist. You can do that by asking questions of a wedding florist related to their background and what motivates them in business.
1. Why do you do what you do?
Hancock encourages couples to ask this question to get to know pros better and understand what informs their approach to design. Similarly, Stice says that "florists are artists using flowers as their medium. When you hire a floral designer, you are asking them to create something that does not currently exist. In a collaborative effort, your florist will beautifully merge service and artistry. You not only need to connect with the florist on their artistry but to also trust they will bring your vision to life despite any logistical challenges."
2. How do you address diversity on your team?
The florist you're meeting with won't be the only person bringing your wedding designs together. They employ a team, plus work with suppliers to make sure your arrangements are delivered as planned. But since couples aren't part of the behind-the-scenes process, Hancock encourages couples to ask directly how a prospective floral designer fosters diversity on their team.
3. How long have you been a floral designer?
As with any wedding vendor, you want a florist who knows their stuff and has the skills necessary to execute what you're envisioning for your big day. Ideally, the florist should have ample experience creating florals for events, particularly bouquets and wedding floral decor. Ask not only how long they've been a floral designer, but also how many weddings they've done.
Remember that the number of years a florist has under their belt may be different from how long they've owned their business. A new-to-business floral designer isn't necessarily cause for concern—inquire about work they've done for other brands and how they gained experience before venturing into business for themselves.
4. Do you employ any sustainability practices in your business?
It's wise to pose some sustainability questions to your wedding florist. Hancock suggests couples ask whether sustainable practices, such as composting or avoiding floral foam, are used by the vendor.
5. What is your superpower?
Not only is this a good question to ask your wedding florist, but it's also a fun ice-breaker. Ask a prospective florist what sets them apart from everyone else. What makes them uniquely wonderful?
Wedding Floral Designer Questions About Inspiration
Once you understand the florist holistically, you can drill into inspirations questions. Get a sense of their approach to floral design as an art form.
6. How would you describe your aesthetic?
Although floral designers will typically accommodate various styles and design aesthetics, you'll be more confident going with a particular florist if their overall style and vibe matches your own.
Pro tip: Before the interview, take The Knot Style Quiz to understand the overall aesthetic you want for the wedding. From there, jot down a few words the specifically describe the floral design you want for the wedding (moody, classic, vibrant, etc.) and see if these descriptors match the way the florist describes their work.
7. Can we see photos of your past work with real weddings?
Don't just take the florist's word about their style. Ask to see photos of weddings they've designed florals for or real-life samples of their work. If you really want to do your due diligence, you can read reviews from past couples or ask for references you can contact directly for feedback on the wedding florist's services.
Stice notes that it's especially important to ask for examples from real weddings, as opposed to just styled shoots. "It is important to visually see how your floral designer can bring together an event from start to finish. Seeing a portfolio of work showcasing full wedding weekends will help you piece together a vision for your event and will allow you to see the true scope of work for the level of investment."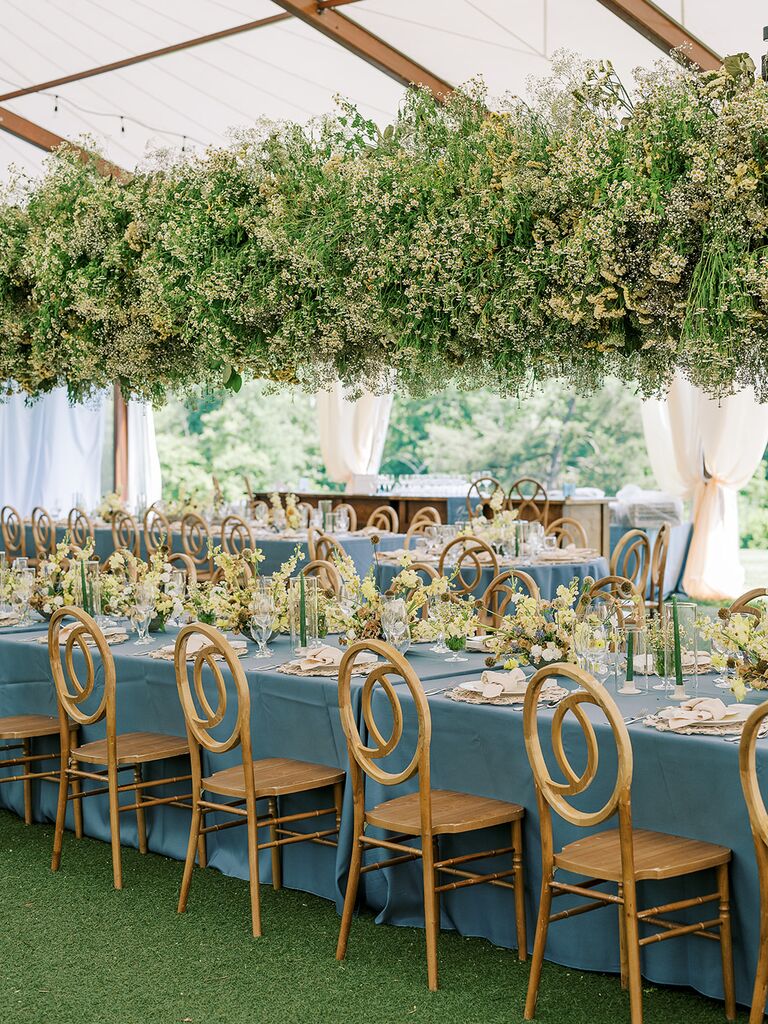 Wedding Floral Designer Questions About Personalization
As a follow-up to the inspiration questions to ask a wedding florist, it's critical that you get a sense of how they will make your wedding unique and authentic to you. Beyond creating beautiful work, can they create a concept that showcases your love story?
8. How will you ensure your designs represent us as a couple?
Every pro we spoke with emphasized the importance of asking a wedding florist about the design process and personalization. McNeff shared that couples can ask "What does your design process look like? How will you work with us to understand and bring our vision to life?"
Similarly, Strong encourages to-be-weds to look beyond a florist's general expertise and see how they'll fit with your specific vibe and priorities. "You can ask how the design will represent you as a bride and more importantly—as the person you are. What do they need to know about you to pull this design together and make it feel like a space that is indicative of you and your partner? Discuss what the designer wants to see done in the space and how that can translate into your investment."
Strong goes on to note that "sure you can ask 'have you worked at this venue before?' But that's not the question you really want to ask. You want to know what has been done in this space and how your designer can make this day unique to you. It's important for your designer to get to know you, but it also helps if you get to know them and how their mind works."
Stice offers similar advice and explains that she discusses creating story-driven designs with her couples. Her team wants to do more than create beautiful flowers, they want to form a narrative through design that harkens back to the couple.
"Our team excels at creating ingredient-focused floral designs that are committed to telling your story," says Stice. "We strive through our artistry to evoke emotion through our arrangements that will create a one-of-a-kind experience. Through color, aesthetics, and movement our work is innovative and features the natural carefree personality of flowers. We celebrate movement and texture while highlighting each bloom's set of characteristics."
Stice goes on to share that "a past couple of ours fell in love while hiking through the mountains in Colorado. It was a personal and meaningful place and memory for them. For their ceremony, we designed and created a meadow field in which they said their vows and got married. We used flowers that grew naturally in Colorado which paid homage to their love story. Another couple of ours is getting married in an art museum. Both the bride and groom value art in its many forms. All of our installations are taking on a unique freestyle form that will fit in naturally with the other pieces of art in the museum. This floral design is a reflection of their interests and personality."
9. How do I balance my wedding flowers to look current and also stand the test of time?
Everyone wants a wedding that feels current and of-the-moment while also being timeless and enduring. Stice suggests couples ask about how their floral designer plans to strike that balance.
10. What flowers do you recommend for our wedding? How does seasonality affect my wedding design?
McNeff encourages couples to inquire about the flowers a designer plans to use. She suggested couples ask how their preferences will be taken into consideration.
Talented florists can accommodate any and all floral ideas. However, it's best to differ to the professionals when it comes to specific recommendations for your wedding based on the venue, season, theme and wedding color scheme.
Hancock explains that this is also the time to voice if there is a specific flower you simply have to have for the wedding. The floral designer will be able to let you know if that flower will be available on your wedding day.
11. Do you have decor suggestions to complement my florals? Do you provide other decorative items?
In addition to wedding flowers, some florists also provide other decorative items for the wedding day, such as vases, table runners, backdrops, mirrors, lanterns and candleholders. It's often easier to have the florist take care of all those additional items. If they do have them, ask what they cost. If they don't offer them as part of their service, they might be able to recommend someone who does. You can also ask if they have advice regarding other decor to go with the florals—such as non-floral accent objects, linens and table settings—to ensure a cohesive look.
Wedding Floral Designer Questions About Budget
Budget is a topic you can't skip over when it comes to what to ask a wedding florist. You want to gain an understanding of how much you should earmark for florals.
12. How do you suggest we maximize our budget?
This is one of the most important questions to ask a wedding florist. A good florist can advise you and your partner on how to make the most out of your floral budget. For instance, flowers that are out of season on your wedding date might be more expensive, and the florist can suggest something similar that can help maximize your budget while achieving a similar look. Be upfront about what you're budgeting and be open to their suggestions.
13. What are your rates? What is not included in your pricing?
When it comes to what to ask your wedding florist about budget, both McNeff and Hancock emphasize the importance of specificity. McNeff encourages to-be-weds to ask if a mock-up is included in a vendor's pricing proposals. Meanwhile, Hancock encourages engaged couples to ask a wedding florist what isn't included in their pricing. "People focus on what is included but sometimes knowing what you don't get is even more valuable."
Getting into the details, such as pricing, fees and refund policy, is essential. Ask how they charge (package, flat fee, per item, etc.) and if they require a minimum floral budget. Also, ask about additional costs—which can quickly add up—such as delivery fees, setup fees and breakdown fees. If they offer packages, be clear on what is included and not included in the quoted price.
If you want additional services, such as fresh flowers added to your wedding cake or preserving the bridal bouquet after the wedding, this is a good time to bring it up. Ask if this is a service they offer, and if so, what the additional cost would be.
Wedding Floral Designer Questions About Logistics
Now it's time for questions about the nuts and bolts of the wedding. Ask the wedding florist questions about all the minutiae from availability to communication style and everything in between.
14. Are you available on our wedding date?
This seems like an obvious question to ask your wedding florist, but it's still incredibly important. While discussing availability, it's also good to ask a prospective floral designer how soon you need to finalize the booking.
15. What is your communication style? What is the best way to reach you?
Going into the process, you want to set expectations about how lines of communication will operate. Hancock encourages couples to inquire about methods of communication early on so that nothing slips through the cracks throughout.
It is also important to clarify who will be handling communication with other stakeholders, such as the venue. Will the floral designer be in touch with the venue regarding their policies or is that something you, or your wedding planner will handle?
16. What are the day-of logistics?
Covering the logistics is not as fun as discussing the flower designs themselves, but it's equally as important. Both McNeff and Hancock stress the importance of asking a wedding florist questions related to the day-of logistics. Specifically, Hancock encourages to-be-weds to ask how big of a team the florist will have on hand to complete the wedding. She also urges couples to inquire about how much set-up time the vendor will need at the venue. Meanwhile, McNeff encourages engaged couples to inquire about whether the company charges of labor, delivery and strike at the end of the night.
17. Do you require a full-service planning team in order to book with you? If so, what's your process when working with a full-service wedding planner and designer?
Stice encourages couples to ask wedding florists if they require a planner. For Stice and her team, they value working with planners to ensure the best possible result for clients. "We work very closely with planners to ensure our events transport our couple to a specific place or memory that is important to them," says Stice. "We truly enjoy partnering with planners and designers who are focused on story-driven events and who are interested in creating a unique experience for both the client and their guests. By attending and facilitating site visits, virtual design and production calls, and building seamless logistical day-of plans; we are able to work in tandem with the planning team to build and create an unforgettable event that guests will remember for years to come."
18. What is your travel policy?
By the time you're meeting with a floral designer, you may already have a venue locked in. However, if you don't and you're considering a destination wedding, it's important to inquire about how the floral design company handles travel and associated fees.
19. Can my guests take the table arrangements home?
You might be wondering what happens to the flower arrangements at the end of the night. Hancock encourages couples to ask whether guests would be allowed to depart the wedding with the table arrangements.
20. What do your cancellation or rescheduling policies look like?
Especially in light of COVID-19, it's critical that you understand what policy the pro has in place in the event that you have to postpone. Will you owe a fee? Is the deposit non-refundable? These are all questions to ask the florist for your wedding.
21. How many events do you do in one weekend?
Ask how many (if any) other events they'll be servicing that day. If they have multiple events on the same day, it's usually not a huge deal, but it's good to double-check and ensure they have the bandwidth to handle everything.