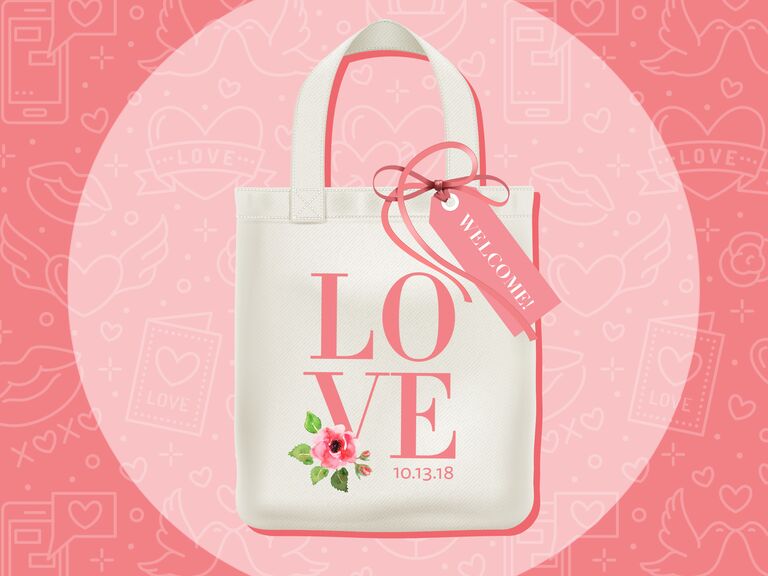 Is there anyone who doesn't love a goodie bag? Picture it: Your out-of-town guests arrive at the hotel tired and hungry after a long journey. But at check-in, they're surprised by a sweet tote bag full of gifts. Score! It's basically like Christmas morning. Okay, maybe that's a slight exaggeration, but we're still willing to bet they'd be pretty psyched to receive some thoughtful treats and handy items. So what should you put in your wedding welcome bag? Read on for some fun ideas you can put your own unique spin on to make sure your friends and family feel the love.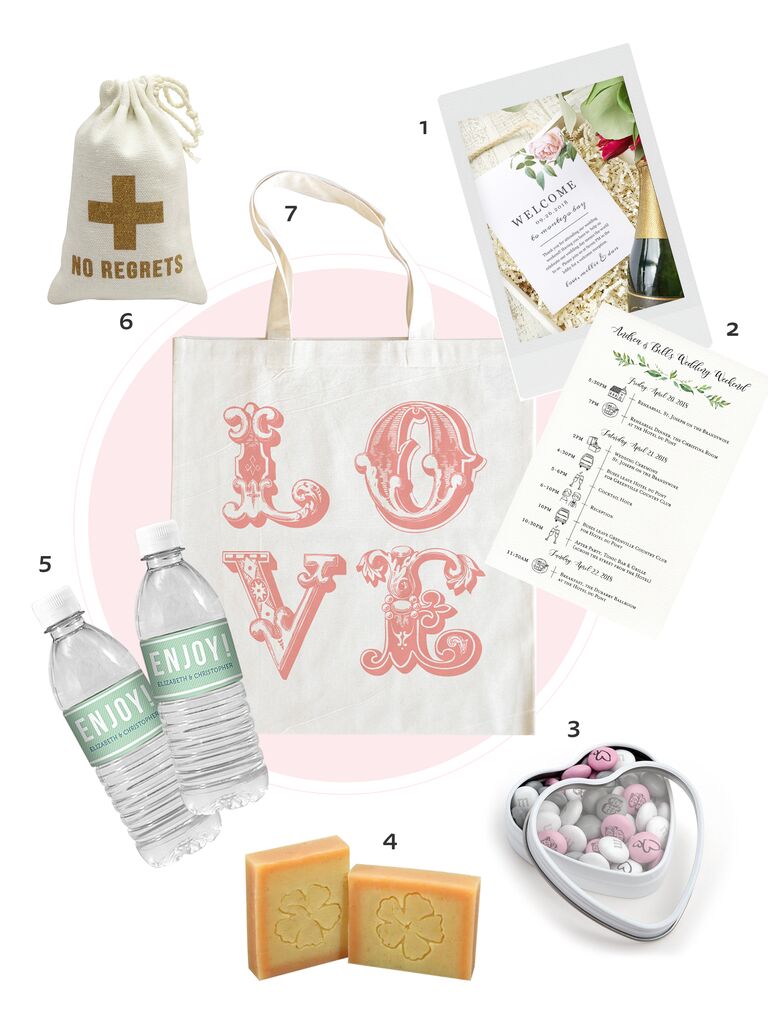 1. A Heartfelt Note
It may seem old-fashioned, but grandma was onto something when she insisted you always send a thank-you. Your guests have traveled near and far to be with you on your wedding day, so show your appreciation with a little message from the two of you mentioning how excited you are to celebrate with them by your side. For a little extra flair, choose stationery that matches your wedding theme, or if you're hosting a destination wedding, you can even use a postcard.
Swell and Grand printable wedding welcome bag letter, $8 for template download, Etsy.com
2. A Helpful Schedule
Once your guests check in, it's crucial to let them know where they'll need to be and when (you don't want Uncle Moe missing the shuttle to the reception!). Sure, you probably already included this in your invitations and on your wedding website, but take our advice—an extra printout is a must. Be sure to mention any important transportation details and other events you might have planned, like a morning-after brunch.
Design Your Love wedding timeline printable, $20 for template download, Etsy.com
3. A Sweet Treat
With all the awesome activities you have planned, you'll want your guests to keep their energy high—and what better way than with a sugar fix? Stay one step ahead by offering something sweet for your guests to munch on while they're at the hotel. Our pick: My M&M'S. You can custom order everyone's favorite candy-coated chocolate in 25 different colors, so even your snacks can match your wedding palette. They also offer a ton of packaging options, from heart-shaped tins to colorful bags, which you can DIY or order prepacked. Bonus: Ever wondered what your lovely faces would look like printed on a candy-coated shell? Now you can find out!
My M&M'S wedding heart favor tins with custom candies, from $4, MyMMs.com
4. A Local Touch
Whether your wedding is miles away from home or in your own backyard, why not give your guests a regional favorite to welcome them to town? This can be anything from a locally made candle to a salty snack they couldn't find anywhere else. If you're hosting in your hometown, feature something you loved from your childhood, or if it's a destination wedding, consider a handicraft made by a local artisan or a must-try food the area is known for.
Hawaiian Bath & Body ginger lemongrass natural soap, from $3, HawaiianBathBody.com
5. A Little Hydration (or Libation)
This is kind of like that If You Give a Mouse a Cookie story from your childhood: If you give a guest a snack, they're going to want something to drink. Now, there are two schools of thought here—you can either choose something refreshingly hydrating (think: water or flavored seltzer) or…booze. Either one is sure to be appreciated, but why not give both? We recommend including two bottles of water as well as a bottle of local wine, your favorite beer or even two tiny splits of champagne. That way, friends and family can toast to your happiness before they even get to the reception.
The Knot Shop water bottle labels, $1, WeddingShop.TheKnot.com
6. A Morning-After Cure
Chances are, if you're having an open bar at your wedding (or even if you're just planning on dancing 'til dawn), some guests might need a little extra TLC the next morning. Help them out with a handy hangover kit stocked with pain relievers for a headache, bandages for sore and blistered feet, and a travel-size mouthwash to ditch morning breath. Nothing says "we care" quite like helping your guests recover from all the fun they had the night before.
Darling Souvenir hangover kit bags, $15 for set of 10, Amazon.com
7. A Tote to Hold It All
What's a welcome bag without the bag? You'll need a place for guests to stash their stuff, so give them a handy tote they'll actually want to use again. While it's tempting to personalize the bag with your names or monogram, remember that most people would probably prefer to not tote someone else's initials around town. Instead, choose a fun design that can last long after the wedding. Trust us, they'll still think of you every time they grab it to run an errand or hit up the farmers market.
Wedding Chicks block love tote, $10, Shop.WeddingChicks.com
The Knot and My M&M'S present Sweet On You, a sponsored series featuring creative ways to thank your friends and family throughout your wedding journey. For more on how to get personal with customized candy, visit My M&M'S online.