The Best 22nd Anniversary Gift Ideas for Every Couple
Celebrate many happy years of marriage with one of these unique gifts.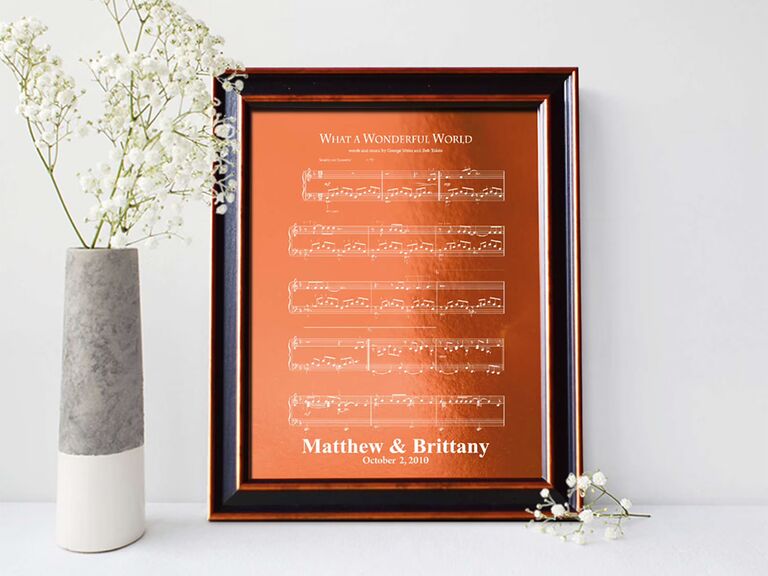 We have included third party products to help you navigate and enjoy life's biggest moments. Purchases made through links on this page may earn us a commission.
If you're celebrating 22 years of marriage, that's 11,563,200 minutes since you said, "I do." To celebrate all you've been through together (and all that's still to come), a great wedding anniversary gift is in order.
A 22nd-year anniversary gift that shows your love after all these years of marriage doesn't need to be fancy (though it certainly can be). The most important thing is that it's chosen with the recipient and their personality in mind. That may mean the perfect gift is something heartfelt and sentimental that will bring a tear to their eye, or it may mean something quirky and fun that will make them smile.
In this article:
What Should You Give as a 22nd Anniversary Gift?
Both the traditional gift and modern gift themes for 22 years of marriage are copper. This gorgeous metal can be found everywhere from jewelry to home decor and more, lending itself to plenty of great gift inspiration.
Unlike some years, there doesn't seem to be a gemstone or flower commonly associated with the 22nd year of marriage, but that's okay. You don't need any theme at all to choose a great 22nd-year anniversary gift for your spouse or to congratulate loved ones in your life.
Our Favorite 22nd Anniversary Gifts
Here, we've rounded up a wide variety of 22nd-anniversary gift ideas. We've included some traditional and modern gifts as well as some alternative ideas. One thing is sure: There's something here to please whoever is on your list.
Gardens Gate Jewelry Custom Copper Cuff Bracelet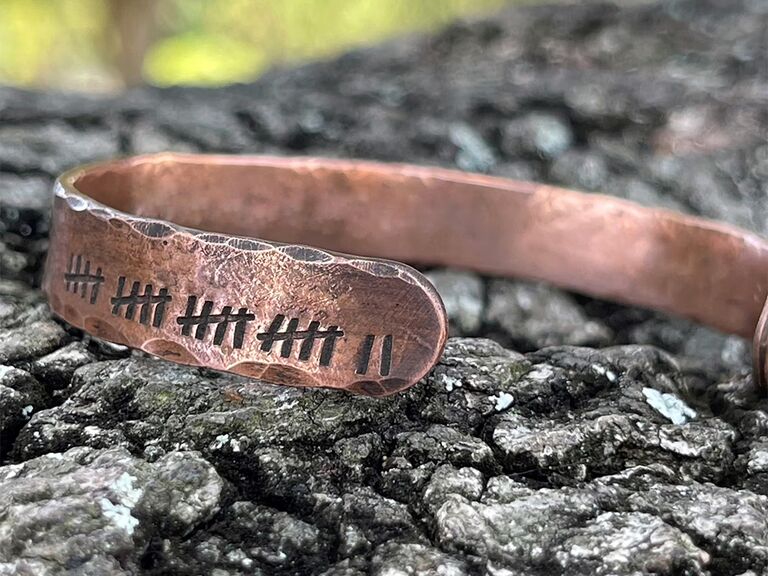 This custom cuff is a meaningful copper gift and a cool addition to any outfit. It features 22 tally marks—one for each of the years you've spent together as a happy couple.
Brooklinen Weighted Throw Blanket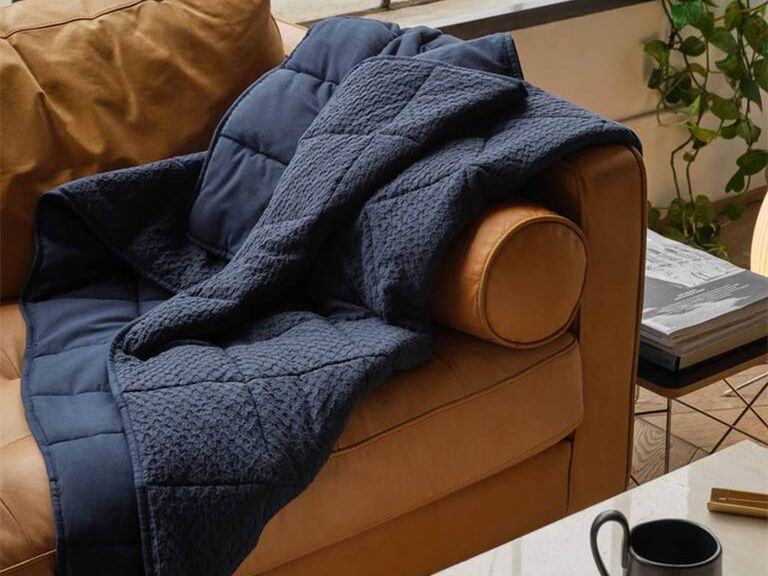 There are blankets, and then there are weighted blankets like this one from Brooklinen. Soft and cozy, it's filled with weighted beads to help relieve stress and encourage better sleep. It comes in four stylish shades.
Bright Cellars Wine Subscription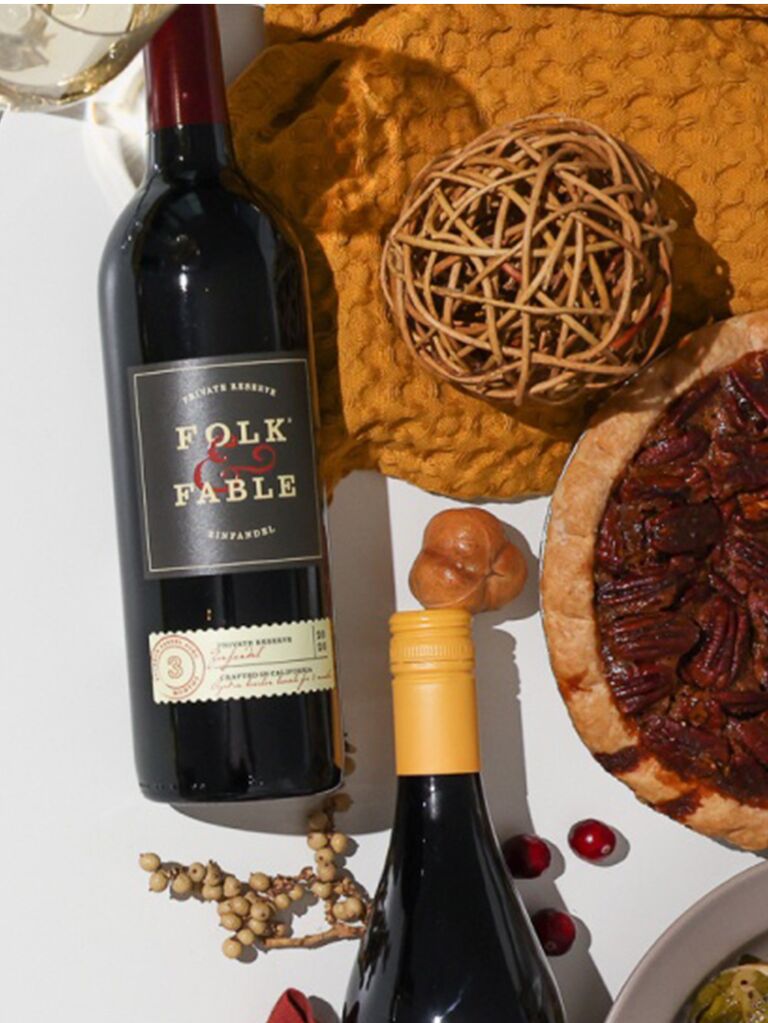 Give the gift that keeps flowing—a wine subscription. Each month, they'll receive six bottles of amazing wine. Choose from one-, two- or three-month subscriptions and hope they share.
Terrain Copper Mugs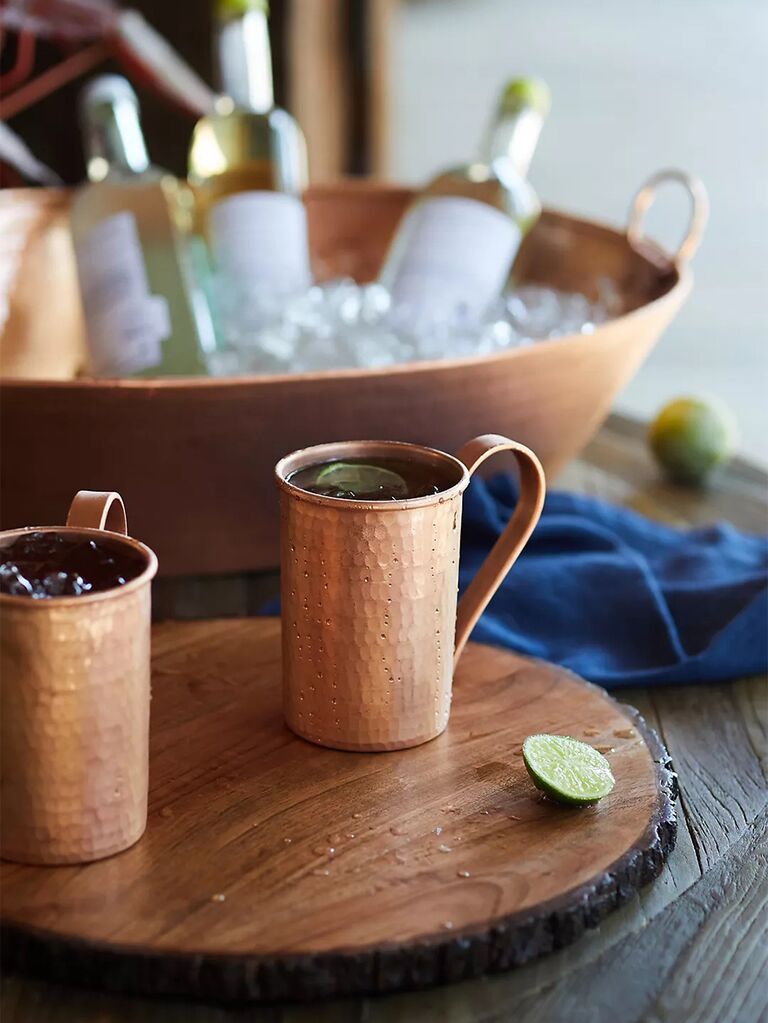 This set of copper mugs is simply marvelous. They are handcrafted, lined with tin and ready for Moscow mules or other cocktail creations.
Jonathan Adler Vice Love Candle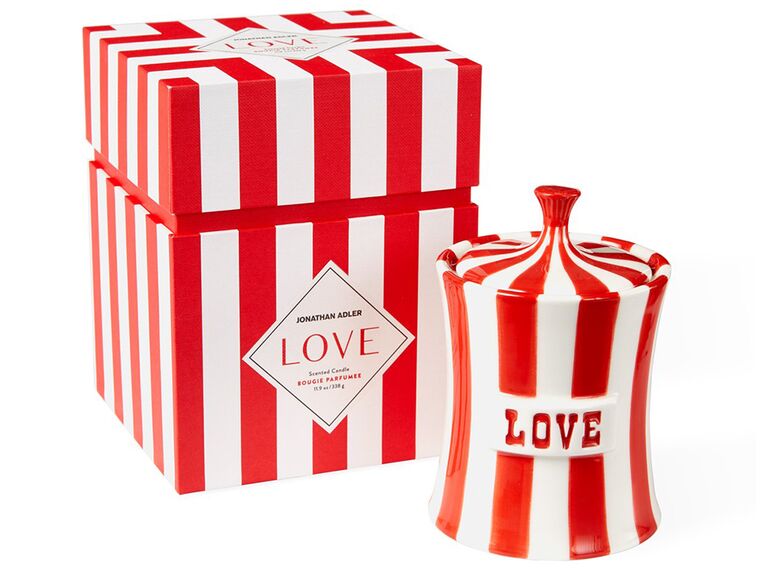 This candle from Jonathan Adler adds a fun pop of personality to any space. It comes in a quirky red-and-white-striped container with a lid they can use long after the candle burns.
Bulova Marine Star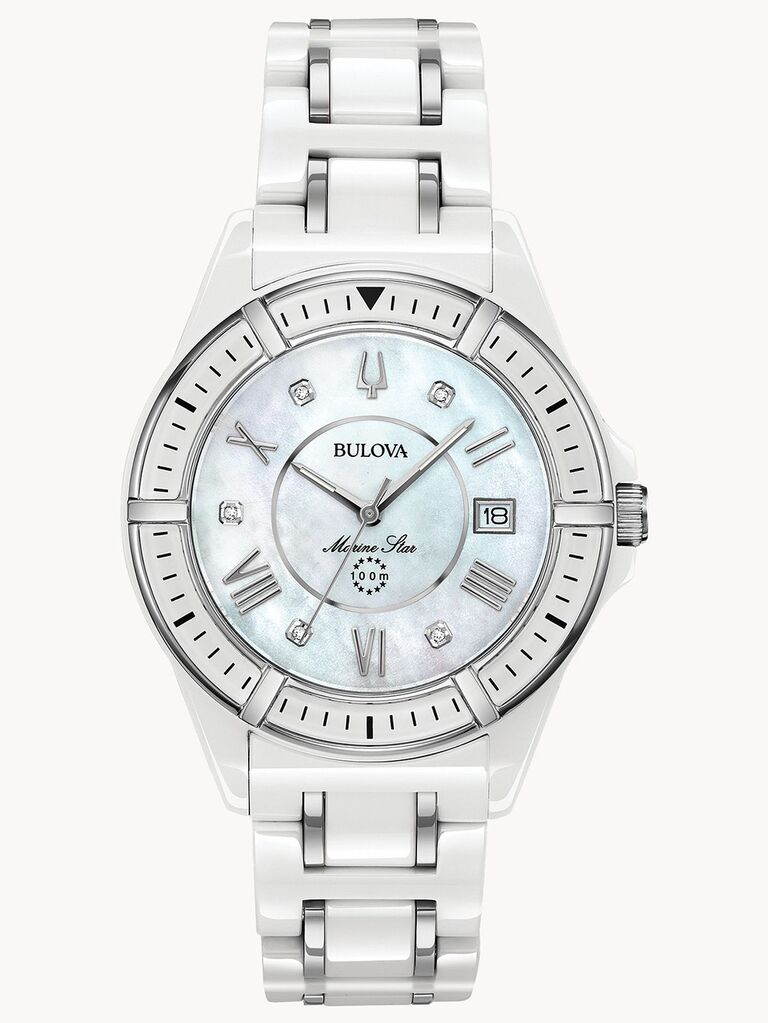 Remind them of all the good times you've had (and the even better ones to come) with a new timepiece. This watch from Bulova has a classy white ceramic band and stainless steel accents. Five diamonds on the face add a bit of bling.
Kaya Collection Kaya Laptop Backpack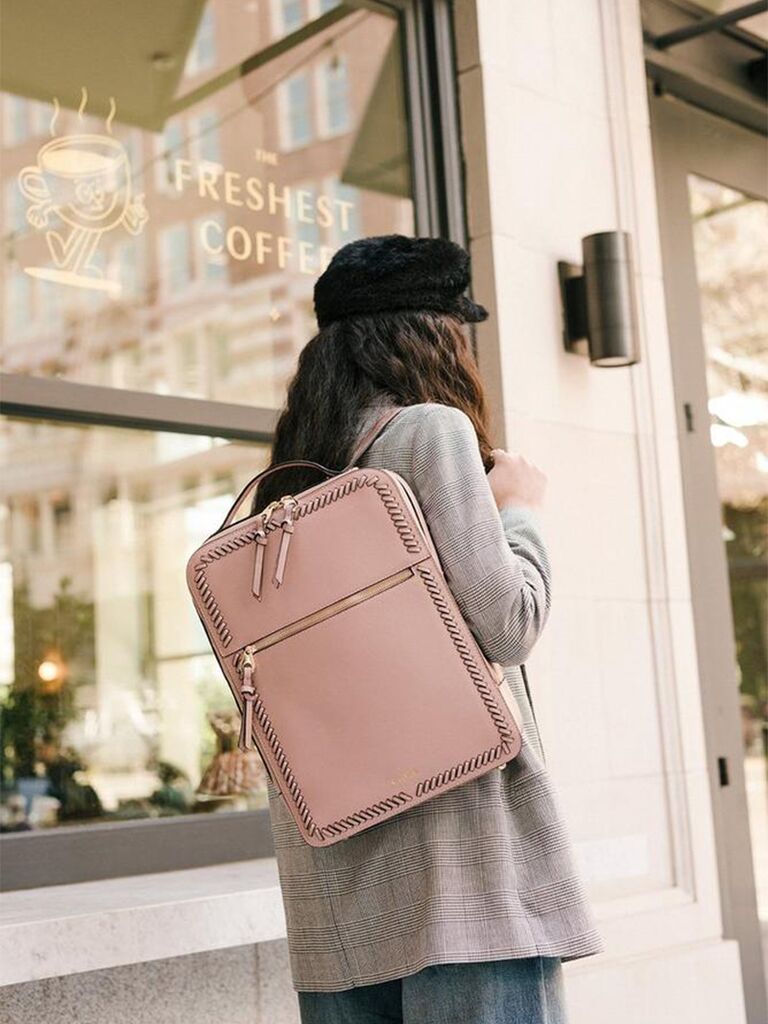 They can carry their computer in style with this fashion-forward backpack made just for laptops. It comes in a ton of colors too, from classics like tan and black to pretty hues like mauve and blush.
Always Fits Every Time You Unload the Dishwasher Anniversary Card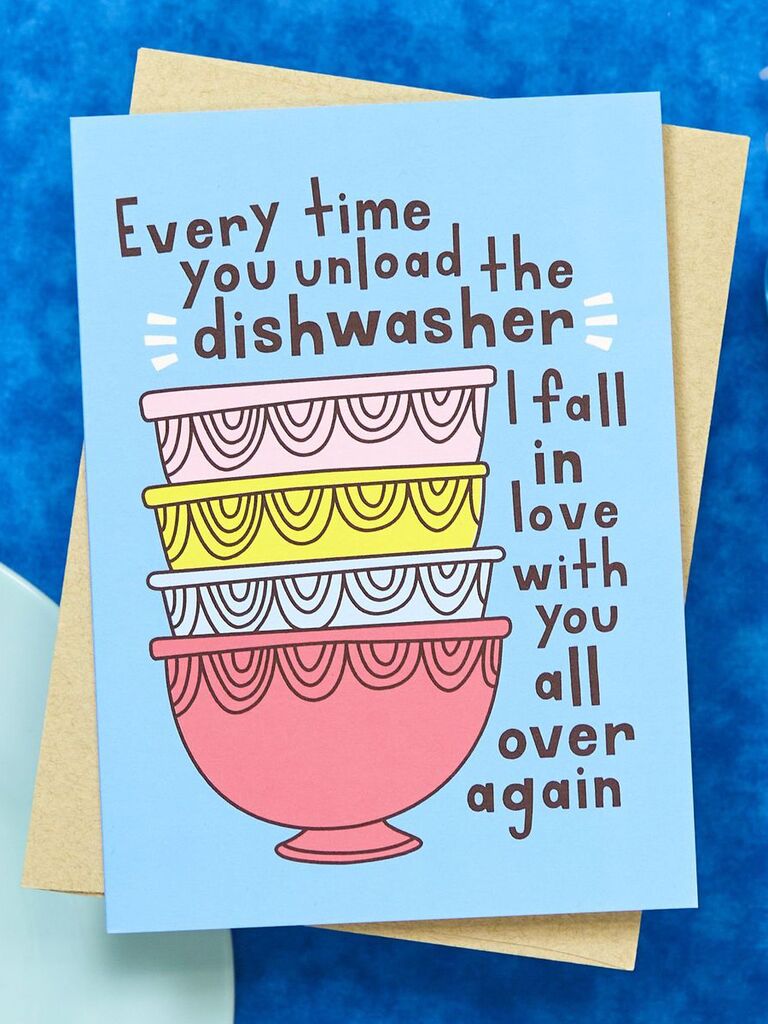 After 22 years together, sometimes a card that gets it right is all you need to give. This one states, "Every time you unload the dishwasher I fall in love with you all over again." Have truer words ever been spoken?
Annoushka Marguerite 18ct Rose Gold Diamond Eternity Ring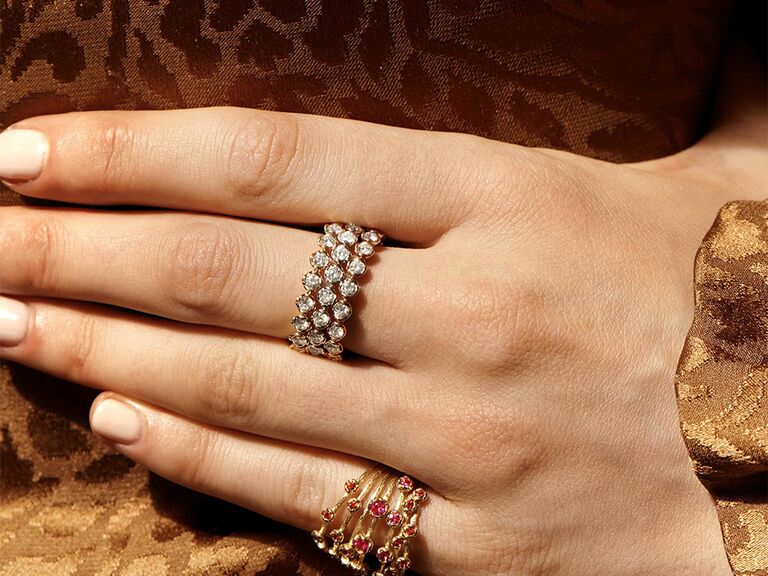 You've been a married couple for nearly an eternity now, so an eternity ring is a fitting wedding anniversary gift for her. This one sparkles with 18 diamonds embedded in a rose-gold setting.
Anthropologie Bright Stripe Throw Blanket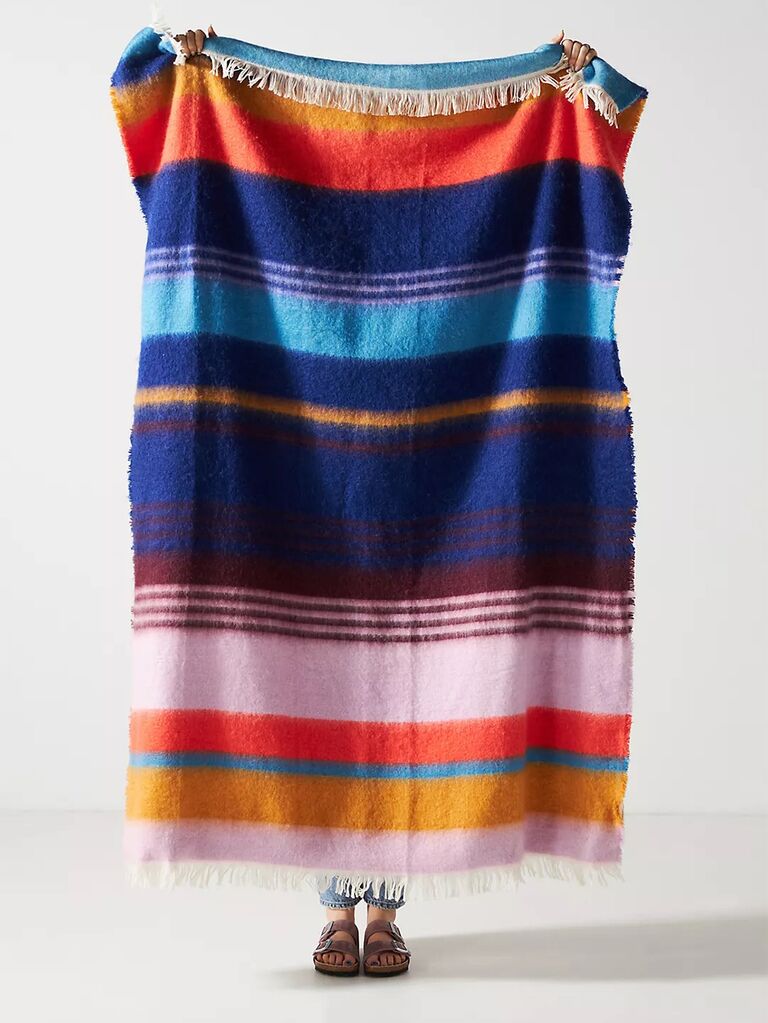 You can snuggle up together under this soft, cozy blanket. The colors are brilliant too, so it's a great way to brighten up a space.
Artifact Uprising Photo-Wrapped Hardcover Book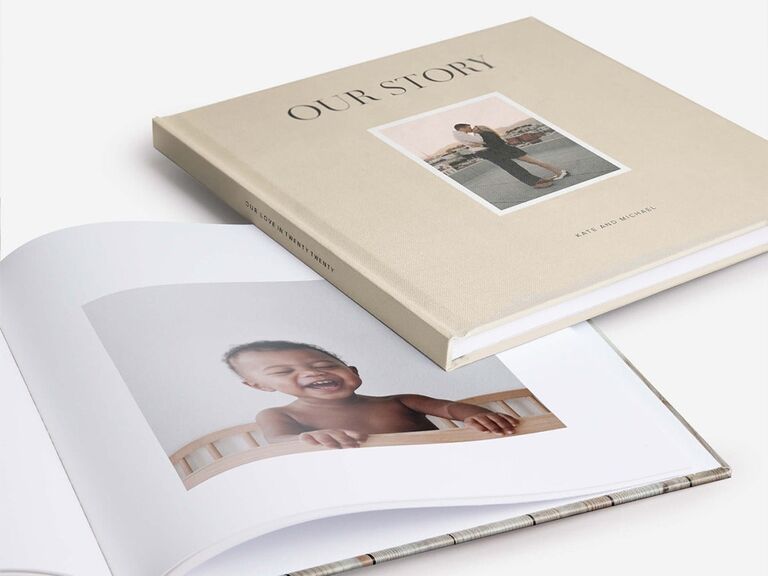 Looking for a special, unique gift? Create a book that stores your favorite memories together. You select the size, photos and other details, and it will be ready to ship in just three business days.
GrowlerWerks Copper 64 oz. uKeg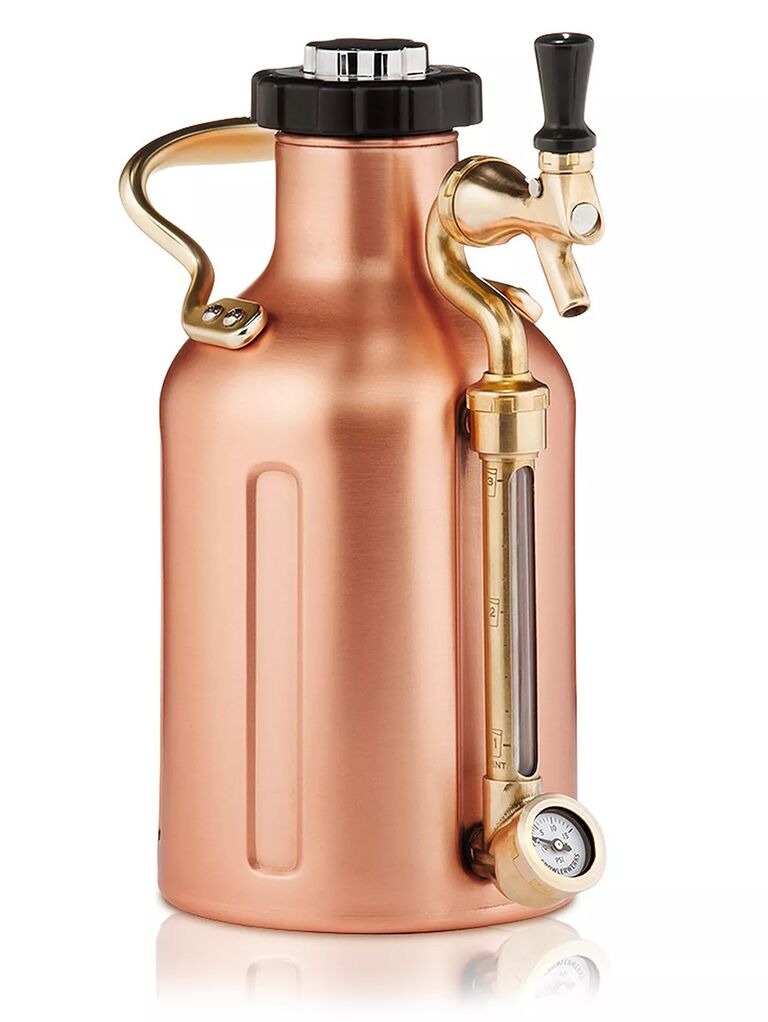 Embrace the traditional theme of copper with this personal keg. It keeps carbonated beverages fresh for up to two weeks and holds 64 ounces of beer or their other favorite drink.
Ethel M Custom Collection Copper Gift Box
This cooper box of chocolates is a sweet and unexpected twist on the traditional theme. You personalize what deliciousness goes inside. With more than 30 chocolate varieties to choose from, you can stock the box with just their favorites.
Cufflinks Inc. Wine & Bottle Cufflinks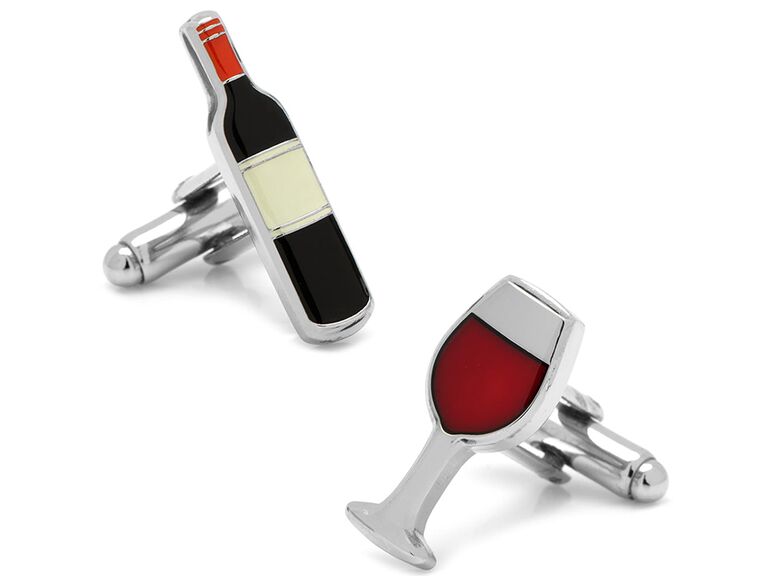 Say cheers to 22 years with these fun cuff links. One features a bottle of wine and the other a wine glass. Perfect for the cuff link aficionado, it's not likely to be something already in their collection.
Frontgate Personalized Photograph Tray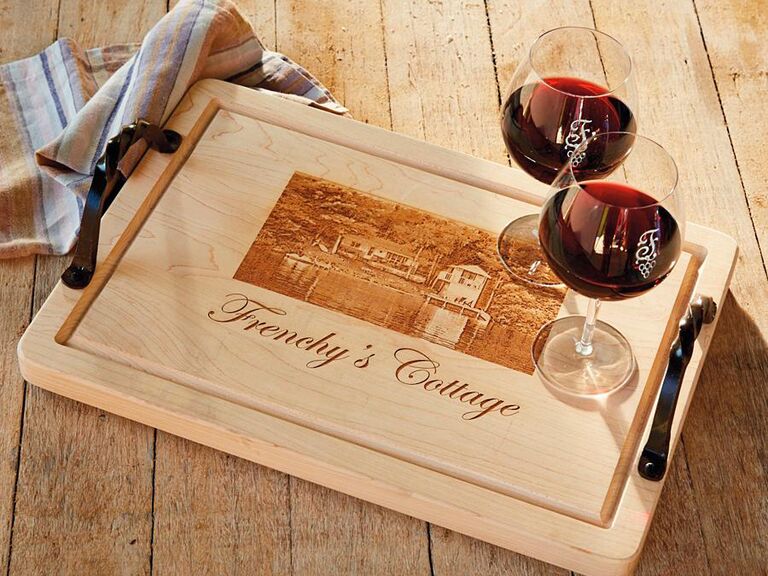 This board is as practical as it is gorgeous. Handcrafted from wood planks salvaged from 19th-century European wood beams, it's a perfect serving piece they'll use on repeat.
Harry & David Vintner's Choice Gourmet Cheese Assortment with Sentinel Cabernet Sauvignon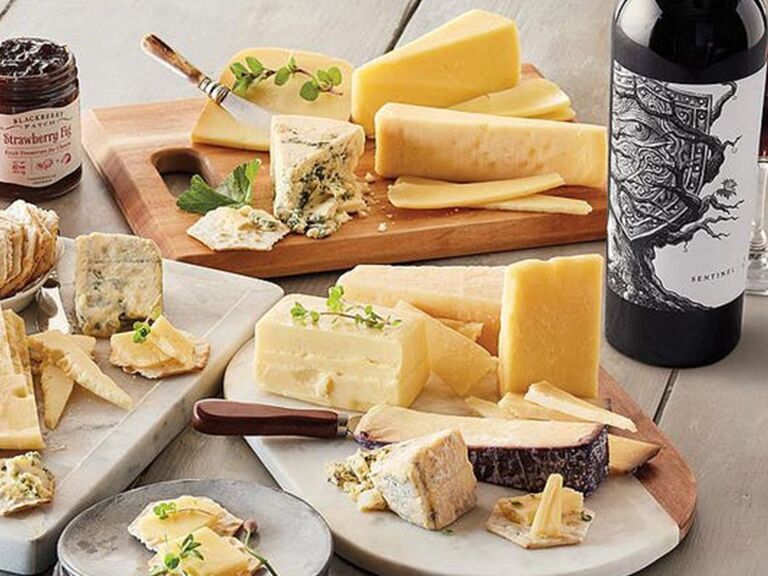 If they say "yes, please" to wine and cheese, they'll love this gift basket. It comes with four different types of cheeses and a bottle of red wine. It's perfect for a picnic, date night or any other fun occasion.
My Way Hourglass Diffuser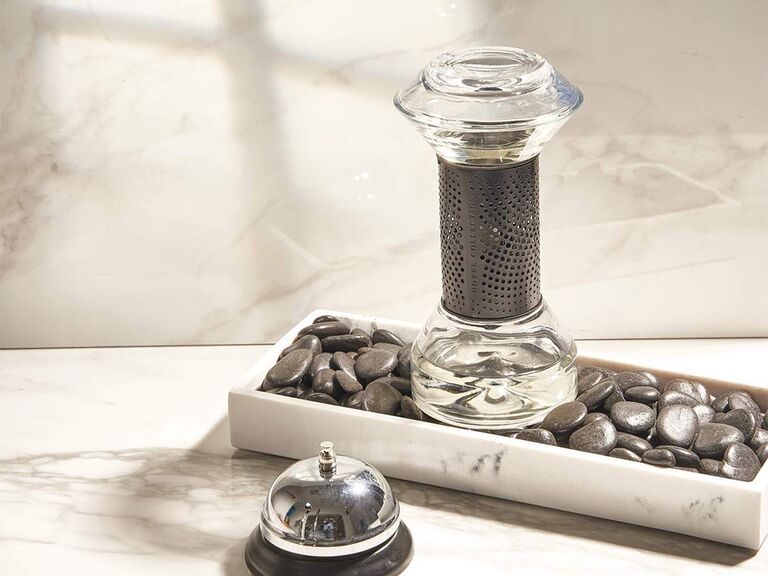 High-end hotels smell like heaven, and this diffuser brings that scent home. Inspired by 1 Hotel in Miami Beach, it comes with oil that contains top notes of leather, cardamom and lemon.
Riedel Crystal of America Vinum Viognier/Chardonnay Value Set - Pay 3, Get 4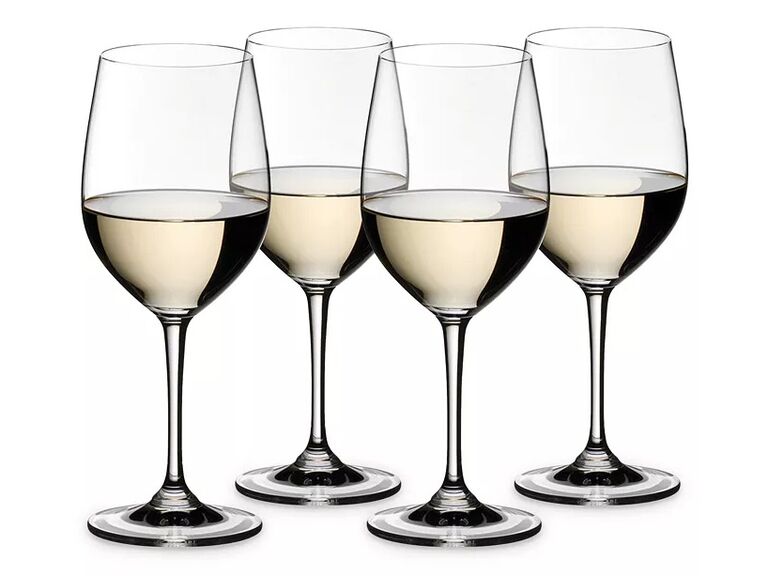 Those who are passionate about wine know how much more enjoyable it is when you sip it from high-quality stemware. This set of four wine glasses is stunning and dishwasher-safe to boot, so you don't have to save them just for special occasions.
Solo Stove Bonfire Fire Pit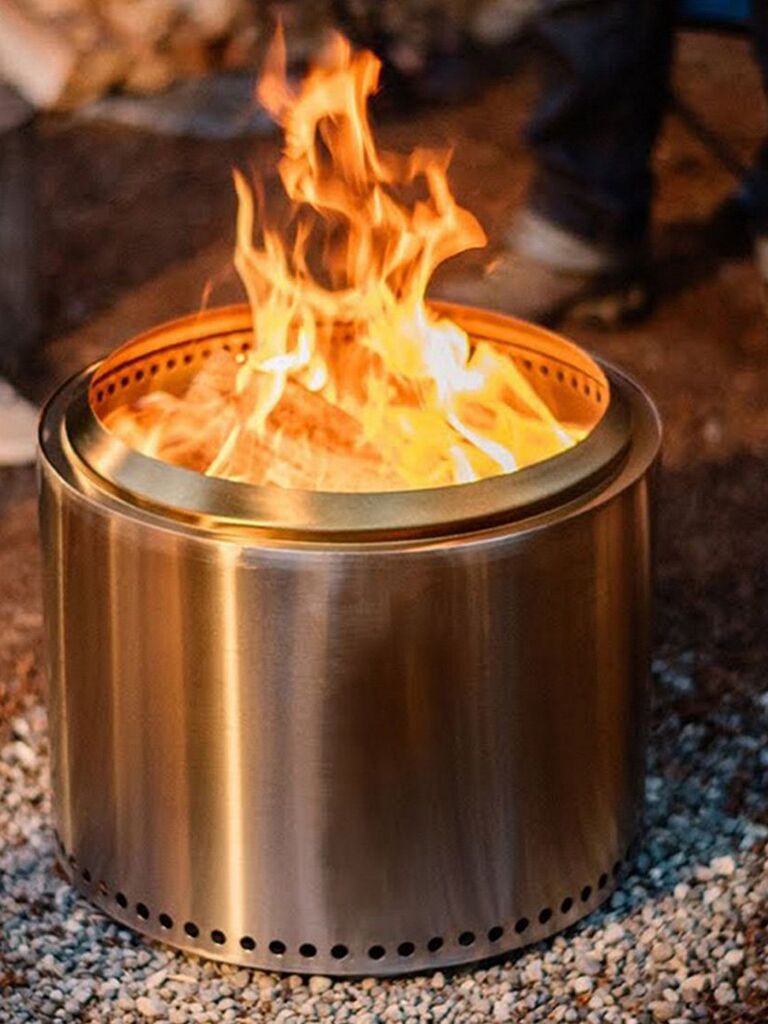 Break out the s'mores fixings, this portable fire pit will heat up your backyard fun. Its low-smoke design means you can gather 'round without worrying about being smoked out.
Mirror Home Gym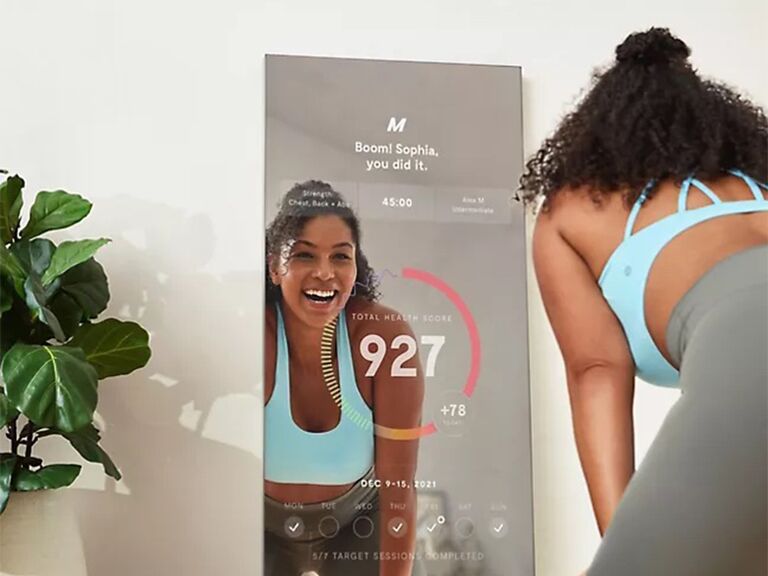 Give them the gift of fitness with the Mirror gym. It lets them take tens of thousands of yoga, boxing, cardio and other on-demand exercise classes from the comfort of their own home.
Brooklyn Burlap 22nd Copper Anniversary Gift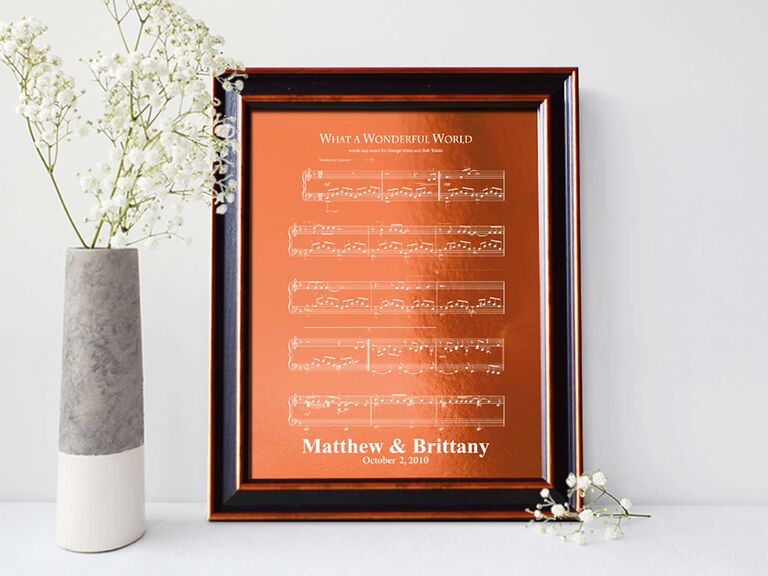 Your song as art is a special way to update any room. The title and music are printed on copper foil, and you can add other personal touches as well.
Stamped With Passion Couples Keychain Set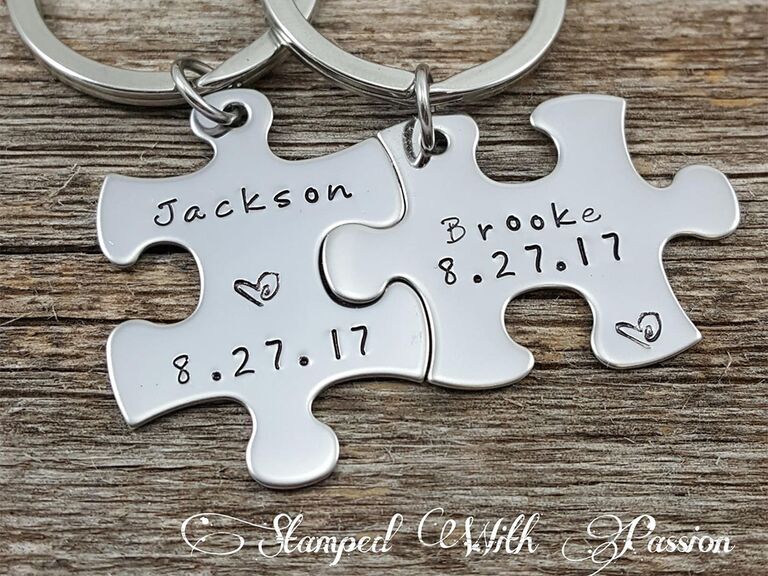 They have the key to your heart, which makes this sentimental set of keychains a sweet anniversary present. Made of stainless steel, the two puzzle pieces can be engraved with your names and wedding date, and they fit together perfectly when you're together.