The Best 22nd Anniversary Gifts That Say "I Love You"
Celebrate 22 years of marriage with one of these copper anniversary gifts.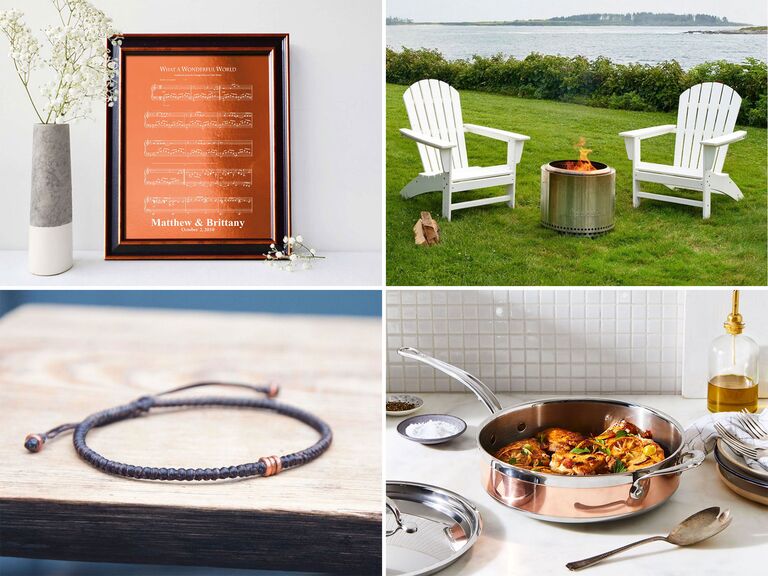 We have included third party products to help you navigate and enjoy life's biggest moments. Purchases made through links on this page may earn us a commission.
Celebrating 22 years of marriage? Huge congrats to you! Honor all you've been through together (and the many wonderful years still to come) with a thoughtful 22nd anniversary gift. If you don't consider yourself a very adept gifter, don't panic—fortunately for you, we have the best gift ideas for such a monumental occasion. Whether you're looking for a traditional gift that nods to one of the 22-year anniversary symbols (learn all about them below) or a unique present chosen with the recipient's personality in mind, there's something on our list for everyone.
In this article:
What Are the 22nd Anniversary's Symbolic Gifts?
Generally, each wedding anniversary is marked by a traditional and a modern gifting material. However, the 22nd anniversary only has a modern gift option: copper. This gorgeous metal symbolizes fortune and beauty, with a high melting point, nodding to a couple's ability to adapt to each other's needs and persevere through tough times. Copper gifts for the 22nd anniversary range from jewelry and kitchenware to stylish home decor, granting you plenty of ideas for your spouse or favorite couple.
Each anniversary can also be associated with a specific flower, gemstone and color. The 22nd wedding anniversary's official gemstone is spinel, which is said to be an optimistic stone that helps bring renewed devotion to a relationship. Spinel gems come in many different colors, each with additional meanings that can lend themselves to a thoughtful gift. The 22nd wedding anniversary color is green, which represents harmony and balance—two states of being you've likely found with your partner after over two decades of marriage. While there is no official 22-year wedding anniversary flower, a beautiful bouquet of your spouse's favorite blooms is still a great gift idea.
All that said, you don't need to follow one of the 22nd anniversary themes to come up with a great 22-year anniversary gift for your husband, wife or the celebrating couple. Shop our list of symbolic and alternative 22nd anniversary gift ideas below to give your loved one(s) special treatment on the big day.
The Best 22nd Anniversary Gifts
Here, we've rounded up a wide variety of 22-year wedding anniversary gift ideas. From the 22nd anniversary's traditional and modern gifts to some sentimental alternatives, one thing is sure: There's something here to please everyone.
Moscow Mule Copper Mugs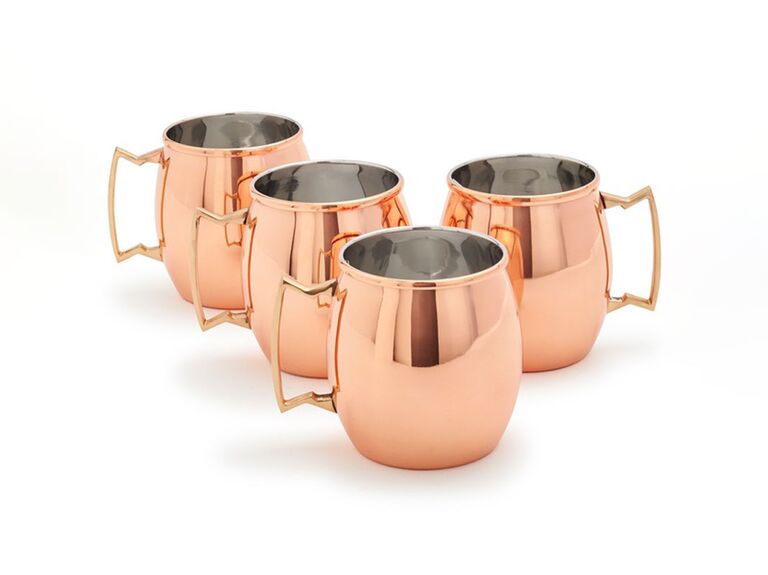 Where there are sleek copper mugs, there are refreshing Moscow mules. These classic cocktail glasses are made from copper-plated stainless steel to keep your drinks extra cold. Make sure to pair them with homemade mule ingredients (Psst, it's just vodka, lime and ginger beer) for a toast-worthy 22-year anniversary gift.
Personalized Penny Art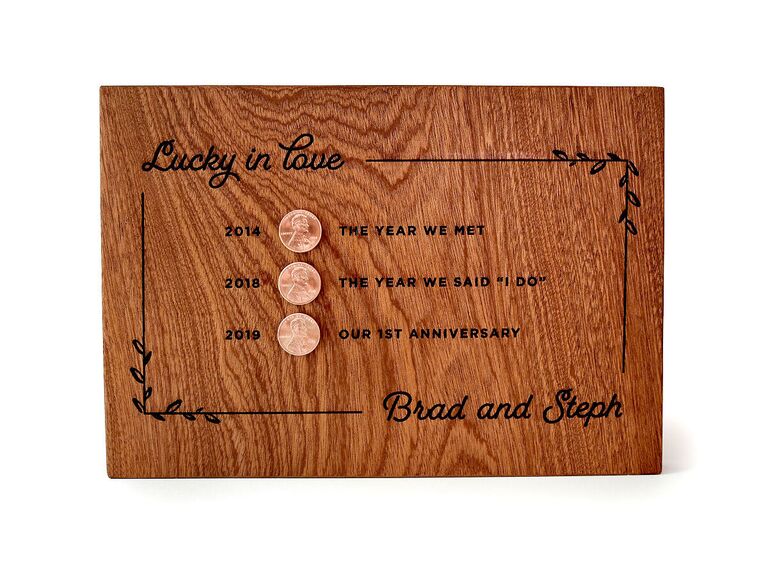 If the first thing you think of when someone says "copper" is a penny, then you're not alone. Incorporate the one-cent coin into your gift with this unique plaque. It displays three special dates from your relationship—like when you met, when you got married and your 22nd anniversary—each beside the year's corresponding penny. Now you can really say you're lucky in love.
Essential Oil Diffuser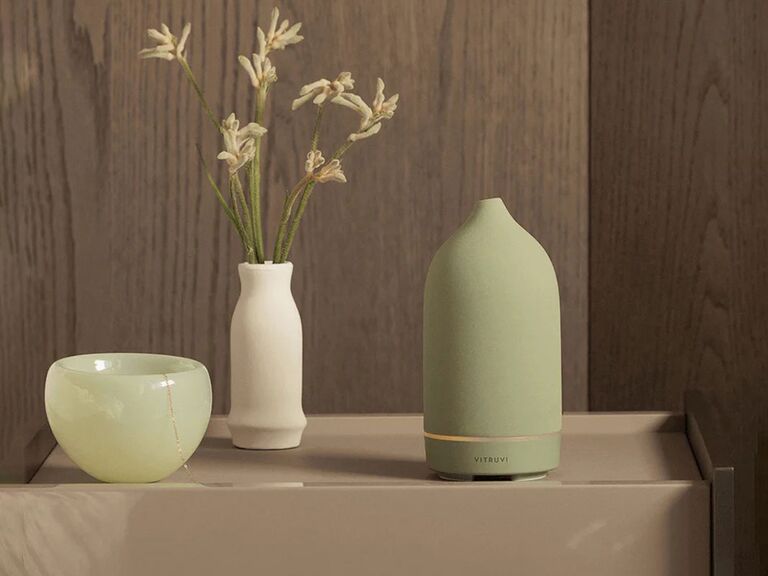 Mmm, ahh! Did you know that scent is strongly associated with memory? Gift your spouse an essential oil diffuser and breathe in a fragrance reminiscent of a special moment in your relationship, like your tropical honeymoon (citrus and eucalyptus) or your annual camping trip (cedarwood). Best of all, this chic stone diffuser from Vitruvi comes in the 22nd wedding anniversary color: green.
Alpaca Wool Blanket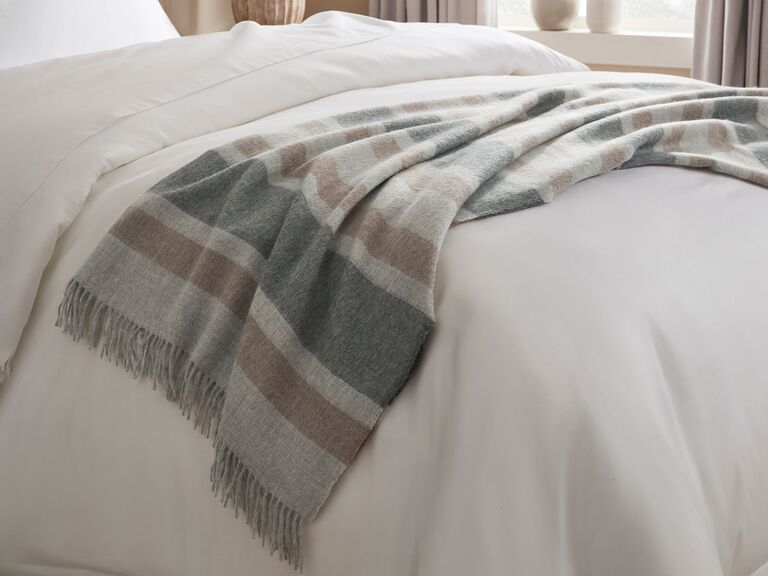 After 22 years together, you don't need to take anyone else's advice on how to have a successful marriage, but if we can offer one suggestion nonetheless, it's this: Never stop cuddling. Ensure the coziest couch snuggles (and the best night's sleep) with this luxuriously soft, humanely-sourced alpaca wool blanket that's worth every penny. The muted stripes and fringe trim make it a classic lightweight throw to add to any room.
Assorted Chocolates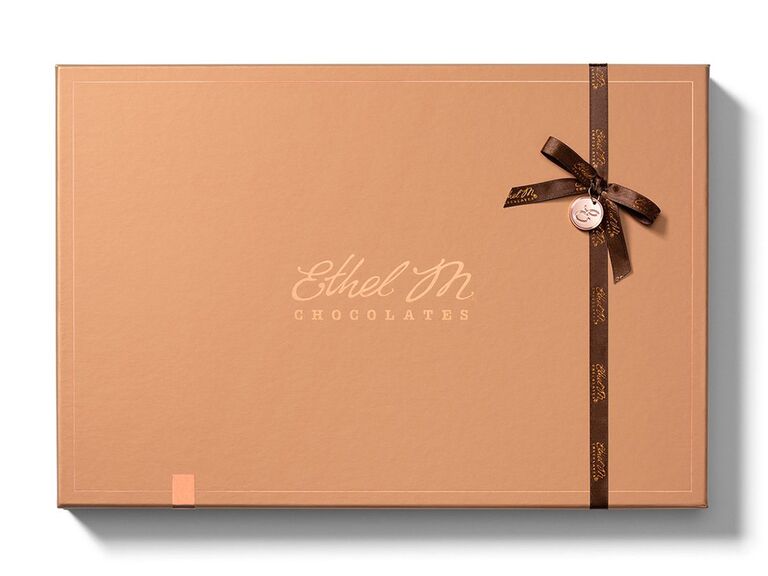 Insert Forrest Gump quote here! This box of assorted chocolates is a sweet (see what we did there) and unexpected twist on the 22-year anniversary gift theme. Just select the copper-colored gift wrapping option, then browse over 40 varieties to customize the box with your spouse's or the couple's favorite flavors.
Monthly Wine Subscription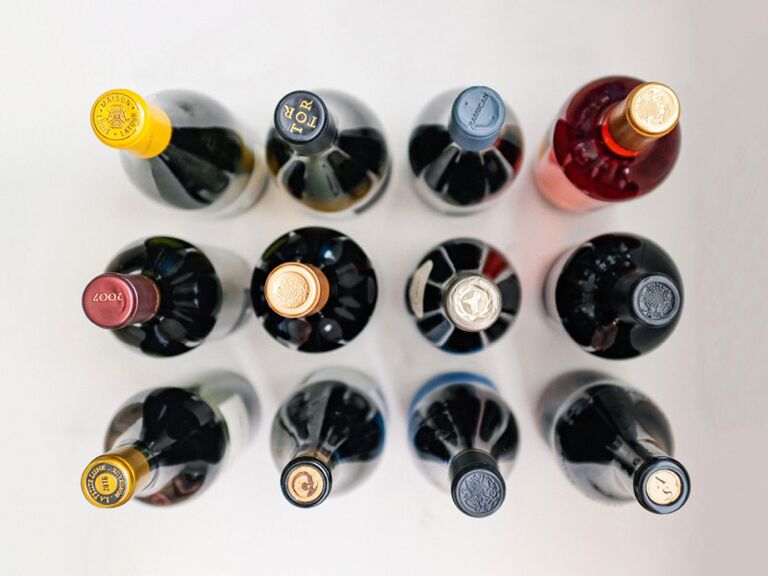 Just like the couple in question, chocolate is even better when paired with wine. Gift the lovebirds a subscription to Wine Access so they can receive a ready-made collection of exclusive, international wines catered to their unique tastes. Every three months, you can have one to six bottles of wine (depending on how often they drink) delivered straight to their door so the anniversary cheers never ends.
Copper Sauté Pan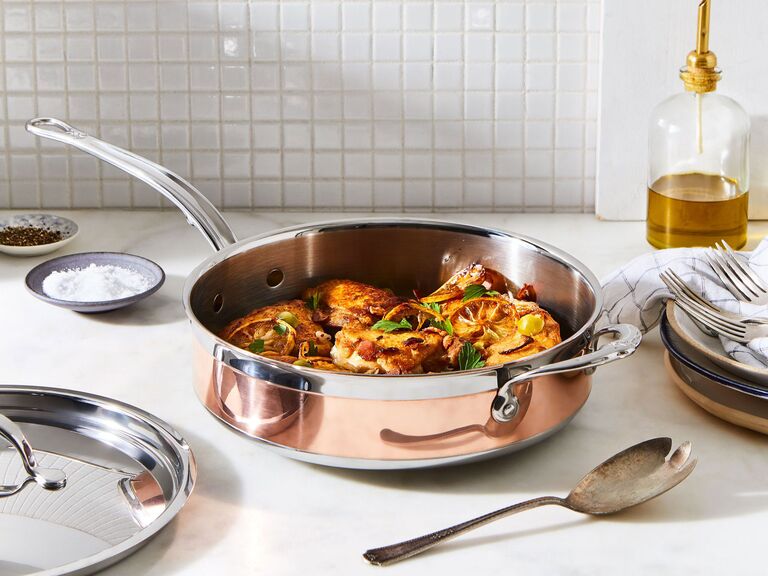 Why choose copper cookware? Well, besides the fact that it looks pretty (and is the 22nd anniversary's modern gift), copper has excellent thermal conduction, meaning it provides quick and even heat distribution—particularly important when cooking temperature-sensitive foods like meat. Your favorite home chef will feel just like a pro with this copper bond induction sauté pan and lid, which is part of a luxe copper cookware collection from Food52. Grab the pots and pans your kitchen needs or gift your spouse the whole set if you're feeling really fancy.
Stylish Laptop Backpack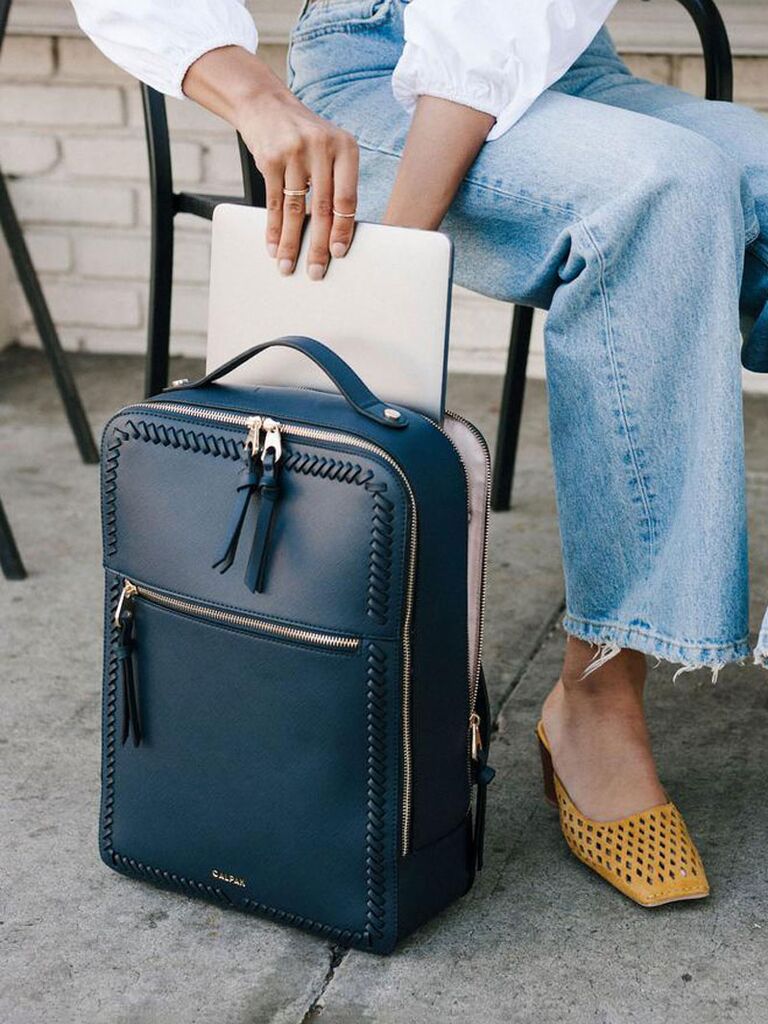 Briefcases are so 2019. Upgrade your spouse's work bag to this stylish, faux leather backpack by CALPAK. It has a 15-inch laptop sleeve in the back and a roomy main compartment with interior pockets in the front. It's even good for business trips (or PTO travel), thanks to the addition of a luggage trolley sleeve and comfortable, adjustable shoulder straps.
Copper Rope Bracelet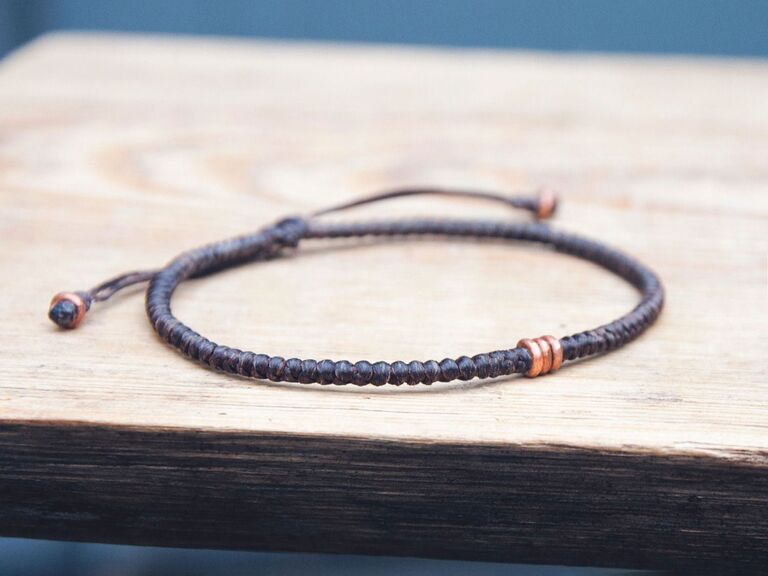 Fun fact: Some ancient cultures believed wearing copper could help alleviate body ailments like arthritis. While there isn't scientific evidence to support this claim, copper jewelry can still be a thoughtful way to wish one well-being. Add a little copper to your spouse's accessory collection with this knotted rope bracelet with a pure copper bead. It's durable and waterproof, making it perfect for everyday wear.
Red Spinel Earrings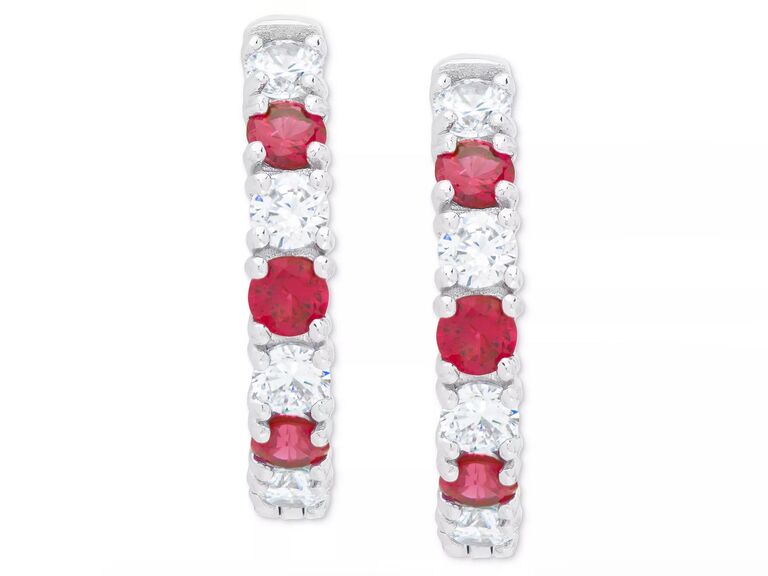 Reaffirm your love for your spouse with these dazzling earrings. While spinel, the 22nd wedding anniversary gemstone, comes in all colors of the rainbow, red spinel is symbolic of love, passion and long-lasting commitment. These hoops pair red spinel with lab-created white sapphires set in sterling silver for regal baubles.
Copper Bell Chime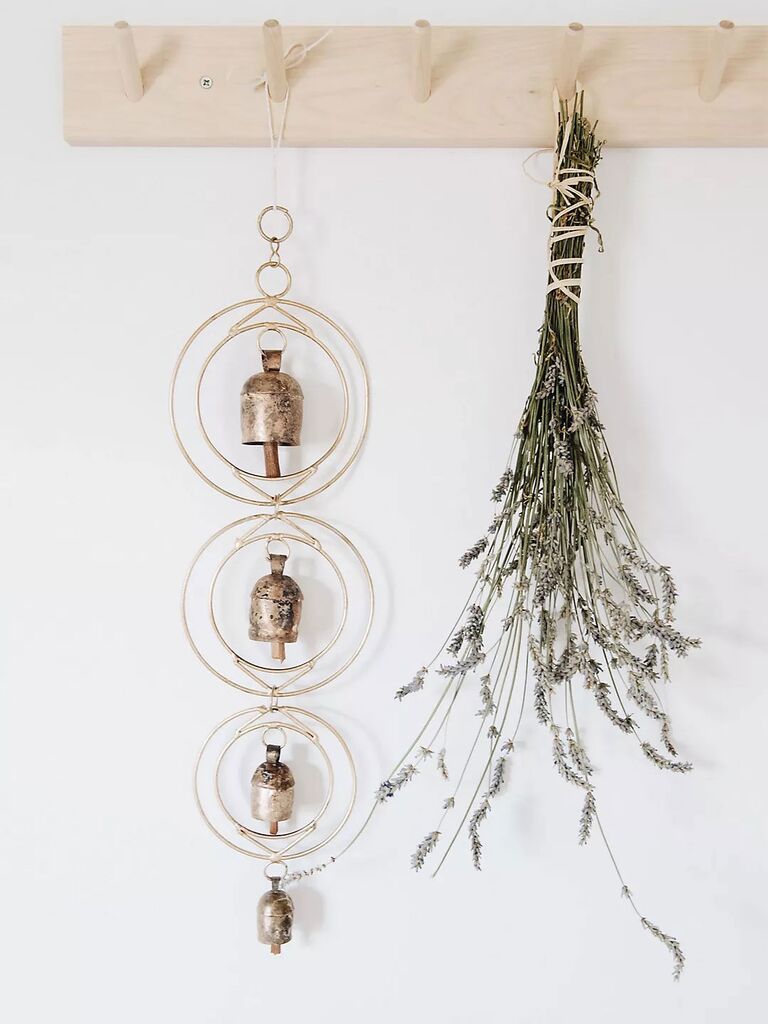 Add a musical touch to your (or the couple's) home with this rustic copper bell chime. They can hang it outdoors to hear the gentle jingle with the wind or indoors for a whimsical touch to their existing decor. It's beautifully crafted by village artisans in partnership with Connected Goods, which provides fair wages and ethical working conditions to rural communities.
Copper Flower Stakes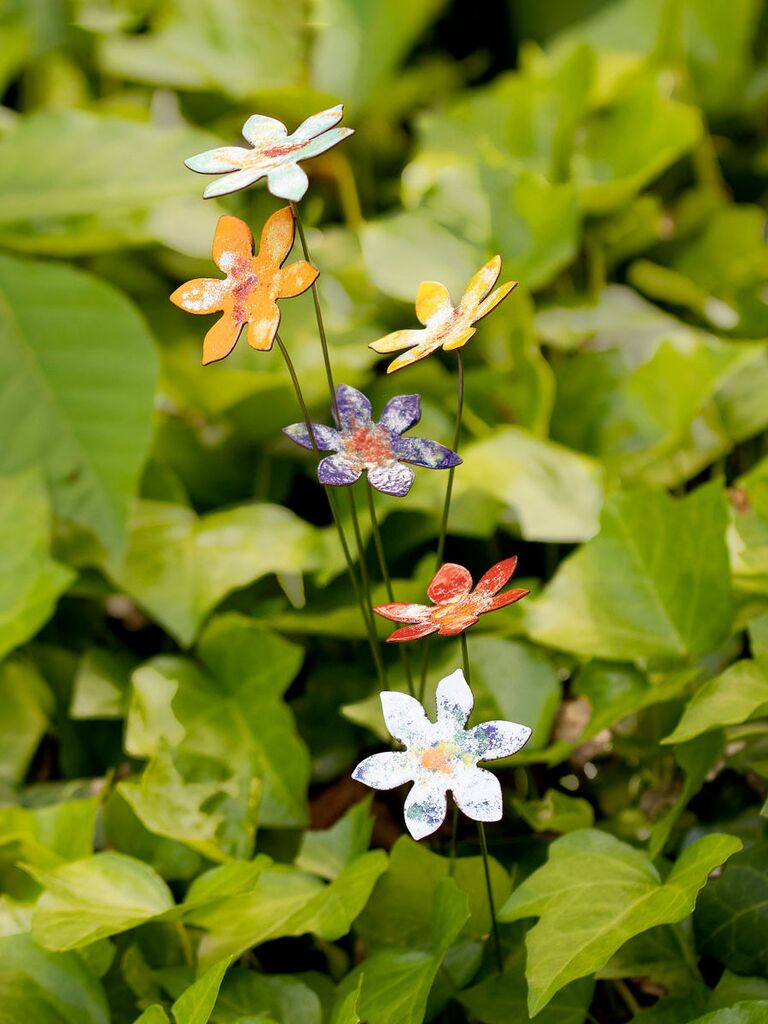 Here's a 22nd anniversary twist on a classic romantic gift; instead of (or alongside) real flowers, surprise your spouse with this bouquet of garden stakes. Each bloom is handmade from copper, then enameled in a different vibrant hue. Even when the backyard is covered with snow, you'll see these colorful blooms sprouting from the ground.
Plush Bathrobe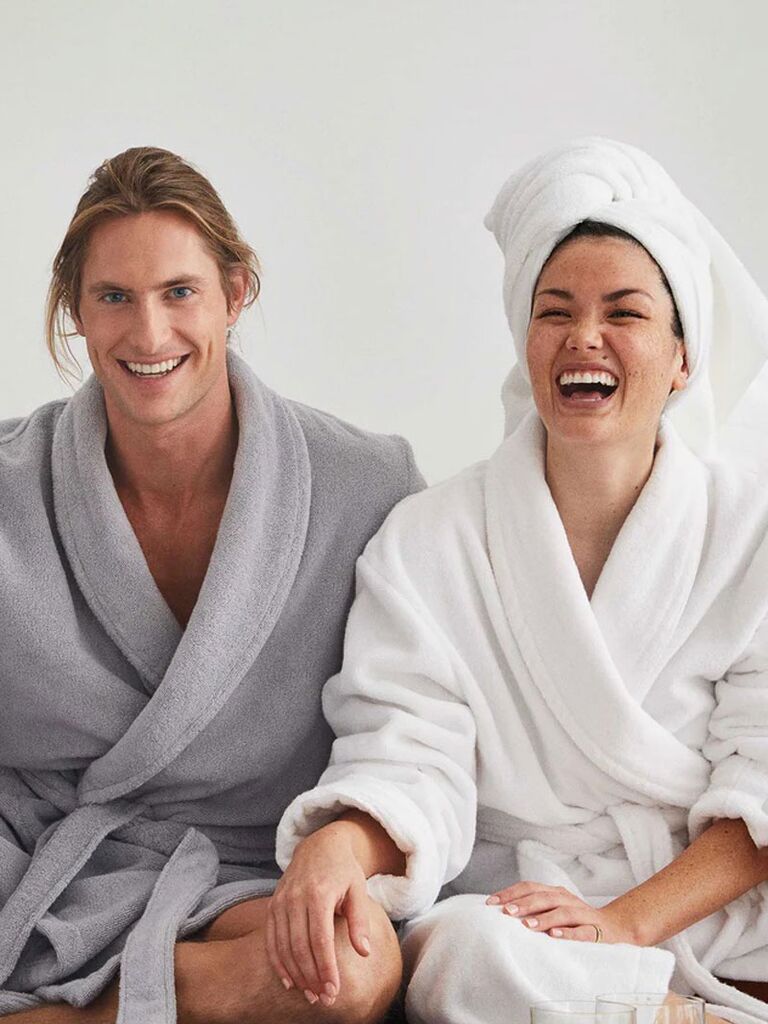 Save on shipping and just order two now—trust us, the second you see how cozy your spouse is in their bathrobe, you'll want one too. These Brooklinen bestsellers are made of 100% long-staple Turkish cotton for softness that can only be compared to a cloud (or ya know, at least what we imagine one would feel like). To really guarantee some R&R, plan a spa retreat at home for you and your spouse to celebrate your 22nd wedding anniversary.
Hardcover Photo Book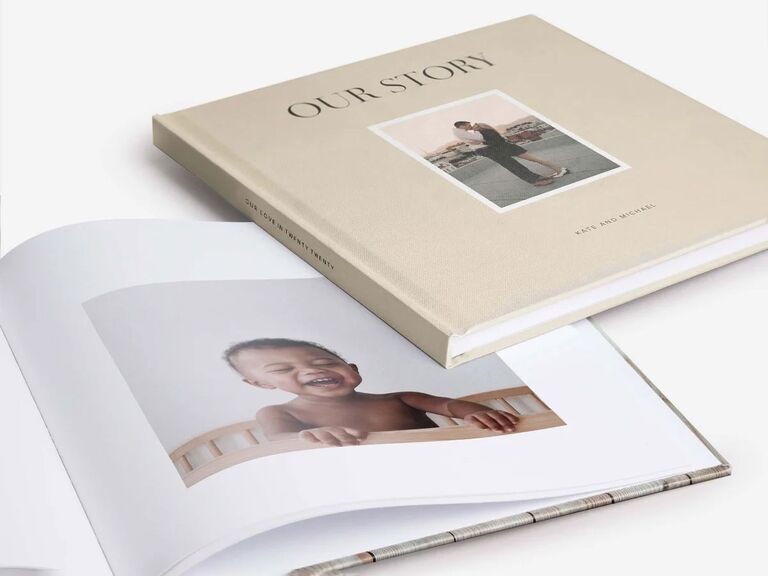 This one takes some legwork, but don't worry, you've got this! Pull your favorite memories from the last 22 years (we know, there's a lot to choose from) and turn them into a hardcover photo book. Make sure to buy a box of tissues, too—this gift tends to spark happy tears.
Custom Copper Cuff Bracelet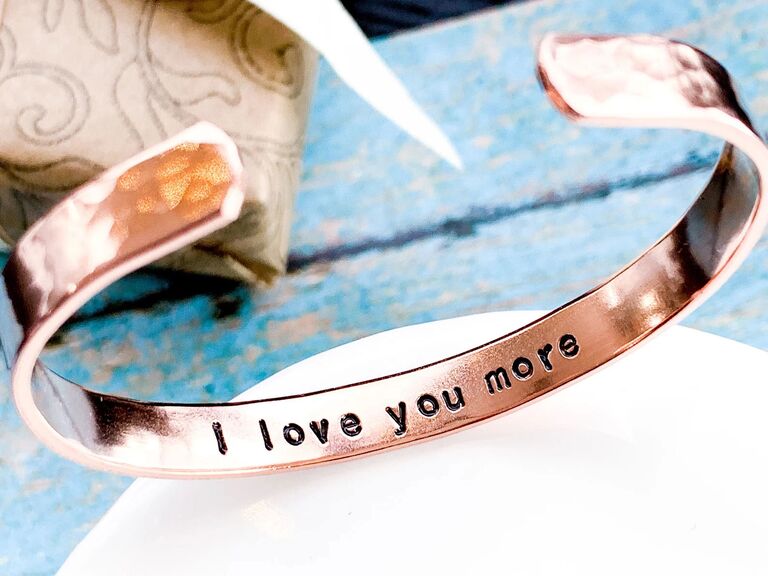 If you're one for grand romantic gestures, you can't get much more sentimental than this custom bronze cuff bracelet. The shiny, adjustable bangle is hammered on the outside and hand-stamped with a personal message on the inside. Keep it short and sweet with the perpetual phrase, "I love you."
Personal Copper Keg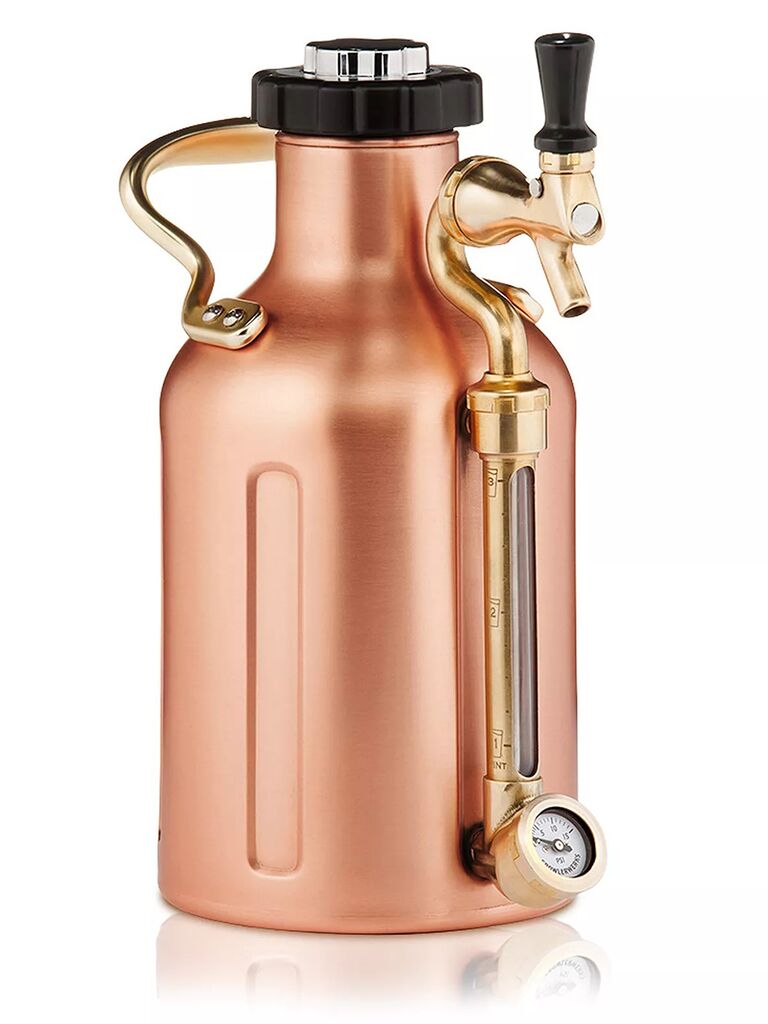 Shopping for a pair of craft beer enthusiasts? Get them a personal keg so they can keep their favorite brews cold for up to 9 hours and fresh for up to two weeks. Pair it with a gift card to their favorite brewery or local liquor store so they can pick up a cold one of their choice to pour into the keg.
Personalized Photograph Tray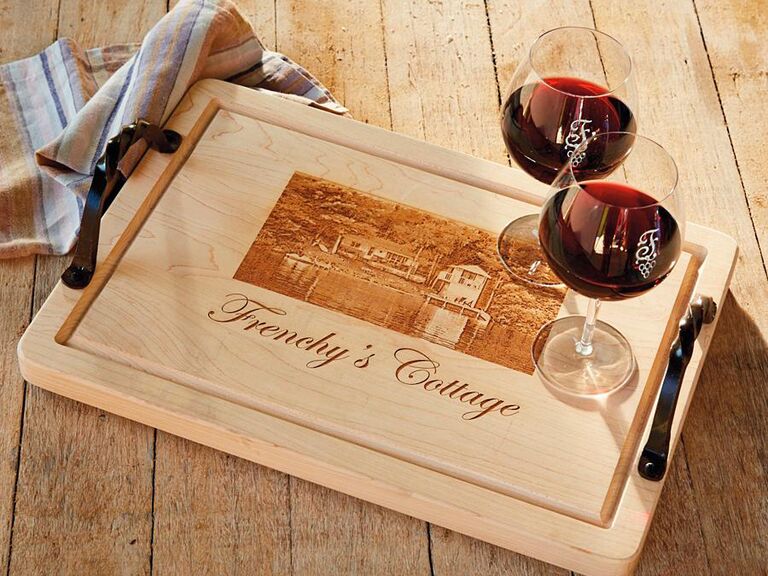 This tray is as practical as it is gorgeous. Handcrafted from wood planks salvaged from 19th-century European wood beams, it's a perfect serving piece they'll use on repeat. Best of all, it's personalized with a meaningful photograph and custom text. Think: Your home and its coordinates or your wedding venue and "I do" date.
Copper-Plated Cooling Racks
Sadly, the heart-shaped chocolate cake pictured above is not included in this copper 22nd anniversary gift—but that doesn't mean you can't bake it! Perfect for the confectionary star in your life, this set of large, non-stick cooling racks boast a copper-plated exterior so they won't chip, rust, warp, or tarnish. Perhaps you can make your anniversary dessert together so they get used right away.
Portable Bonfire Pit
Break out the s'mores fixings, this portable firepit is about to heat up your backyard fun. Its innovative design allows for an efficient burn that produces heat with minimal smoke and ash, so friends and family can gather all around without worrying about being smoked out. It's even portable so you can have a cozy campfire anywhere.
Copper Song Art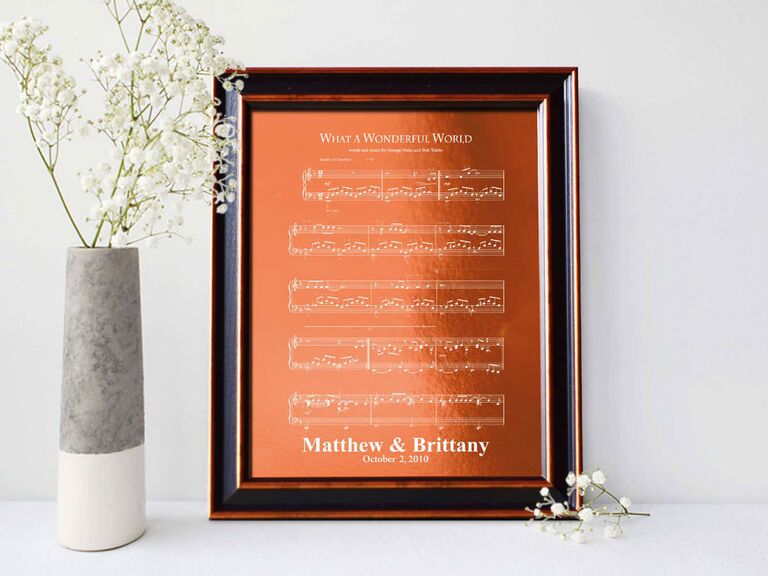 Add a little shimmer to your wall decor with this custom song art. The first page of a tune of your choosing (may we suggest your first dance song at your wedding?) is printed on copper foil cardstock, then displayed in a black or white frame. It's even personalized with your names and anniversary date.
Infused Olive Oils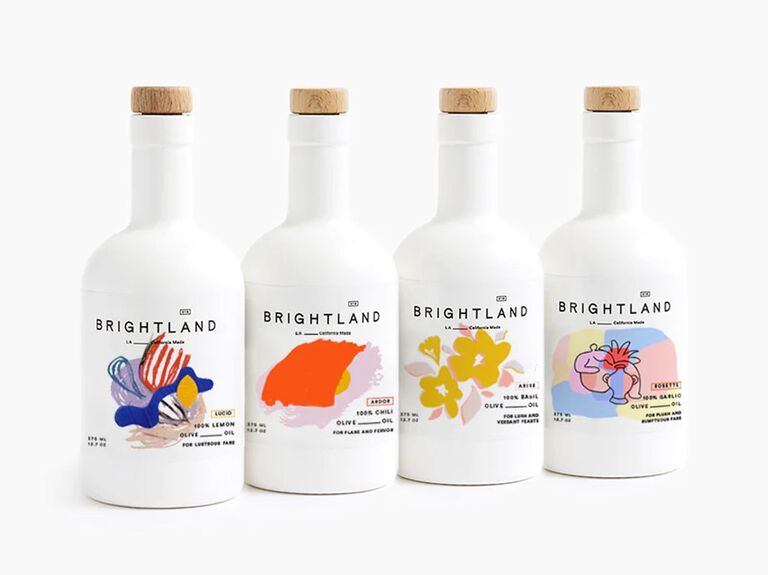 Say "Your oil I need" with a set of infused olive oils. This pack of four from Brightland comes with pepper, garlic, lemon and basil-infused olive oils meant to instantly upgrade any home-cooked dish. As a bonus, each bottle label is uniquely designed by category-changing artists for a beautiful addition to the pantry.
Embossed Copper Art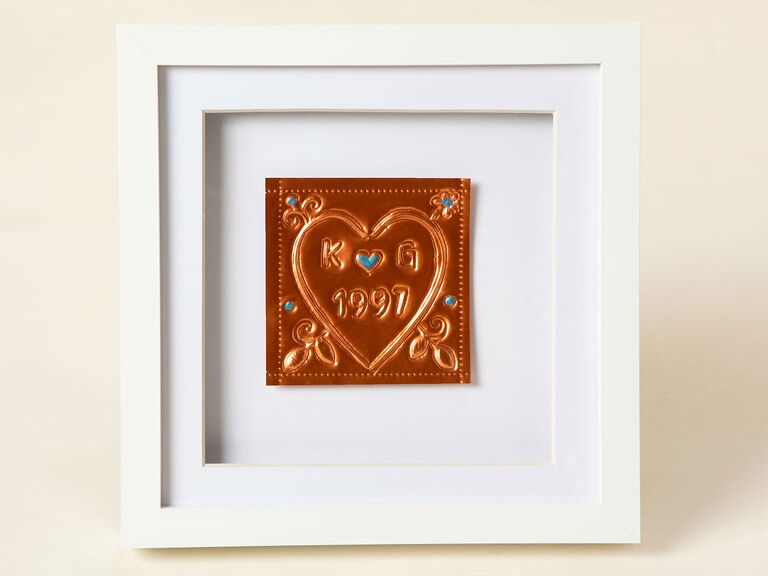 This will be a super-cute addition to their mantel. Copper sheet metal is embossed with the couple's initials and wedding year in a heart, then centered in a shadow box frame. Though it's small, it will definitely be an eye-catching tribute to their love story.