7-Year Anniversary Gift Ideas for Your Spouse or Favorite Couple
Celebrate the copper anniversary with one of these heartfelt presents.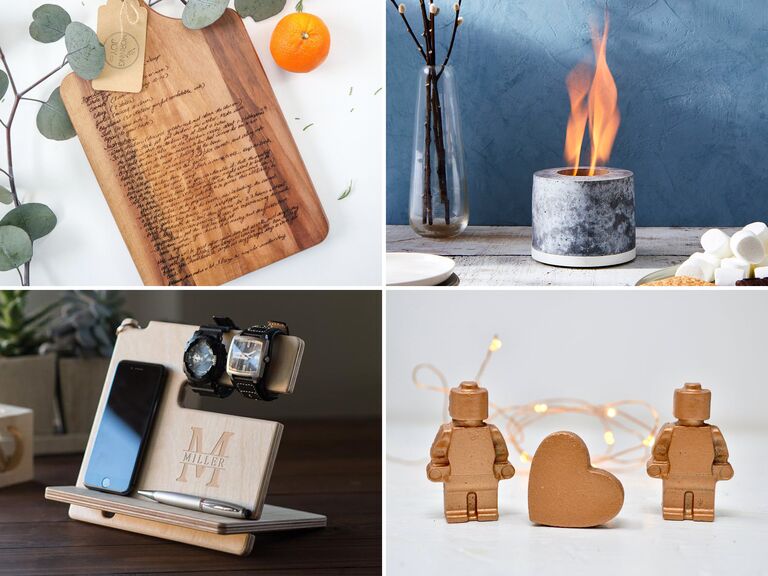 We have included third party products to help you navigate and enjoy life's biggest moments. Purchases made through links on this page may earn us a commission.
Congratulations! Seven years of marriage is a huge accomplishment that deserves to be recognized. This wedding anniversary puts you (or the couple) one year closer to the decade milestone—now it's time to celebrate with a romantic seven-year anniversary gift. We know that "romantic" means something slightly different to everyone, so we've created a one-stop shop for presents that range from unique and creative to classic and practical. These traditional and modern seventh anniversary gifts are right on theme—but if you'd rather break with tradition, that's cool too. We're also sharing some of our favorite alternative picks for spouses and couples alike. Keep reading to find out all you need to know about the traditional seven-year anniversary themes, then shop our list of ideas.
In this article:
What is the seven-year anniversary gift?
Traditional: Copper and Wool
Traditionally, seven years of marriage is represented by copper and wool. (Gifts made of copper and wool?! We know what you're thinking, but don't panic. That's why we've created this handy gift guide.) Copper is known for its durability. According to Greek mythology, the metal attracts love and protects against evil. Wool, on the other hand, symbolizes warmth and comfort. Together, these materials represent your strong and loving relationship after so many years together. Whether you're searching for a wool or copper anniversary gift, we've got inspiration for you right ahead.
Modern: Desk Sets and Stationery
For those out there who prefer something a bit more contemporary, desk sets and stationery have become the modern symbol of this special occasion. They represent the love and pride a couple has for each other's work. If you're unsure, cover all your bases by celebrating your or your favorite lovebirds' copper milestone with a desk accessory made from the long-lasting metal.
Of course, if none of these themes are sparking inspiration, there are a few other symbols associated with seven years of marriage: onyx, freesias and yellow or off-white hues.
Copper and Wool Anniversary Gifts
Wool and copper gifts may not sound like the most exciting ideas at first, but as it turns out, there are tons of creative businesses and artisans out there crafting their wares in these precious materials. Below, find the best traditional seventh anniversary gifts for him, her and them.
Meaningful Sheet Music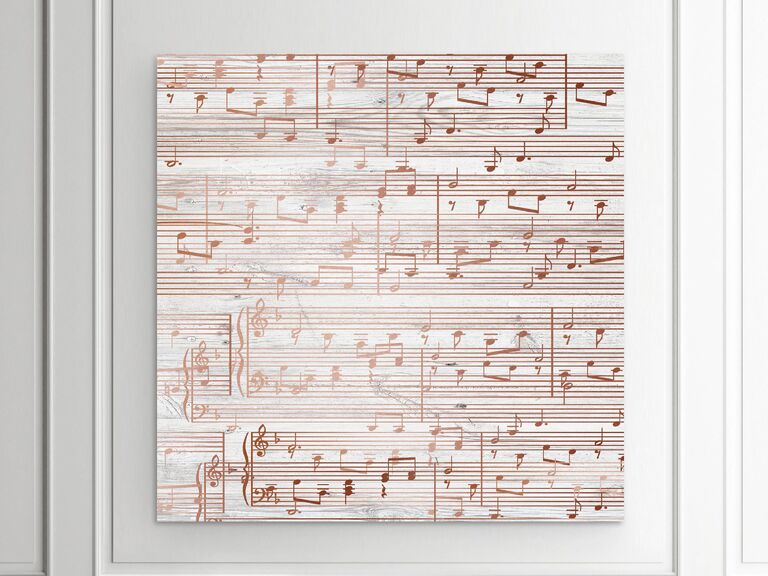 If you've got a special tune that means the world to both of you, have the sheet music printed on canvas in a beautiful copper hue. This special piece of home decor is a sentimental present your spouse will love.
Stylish Wool Jacket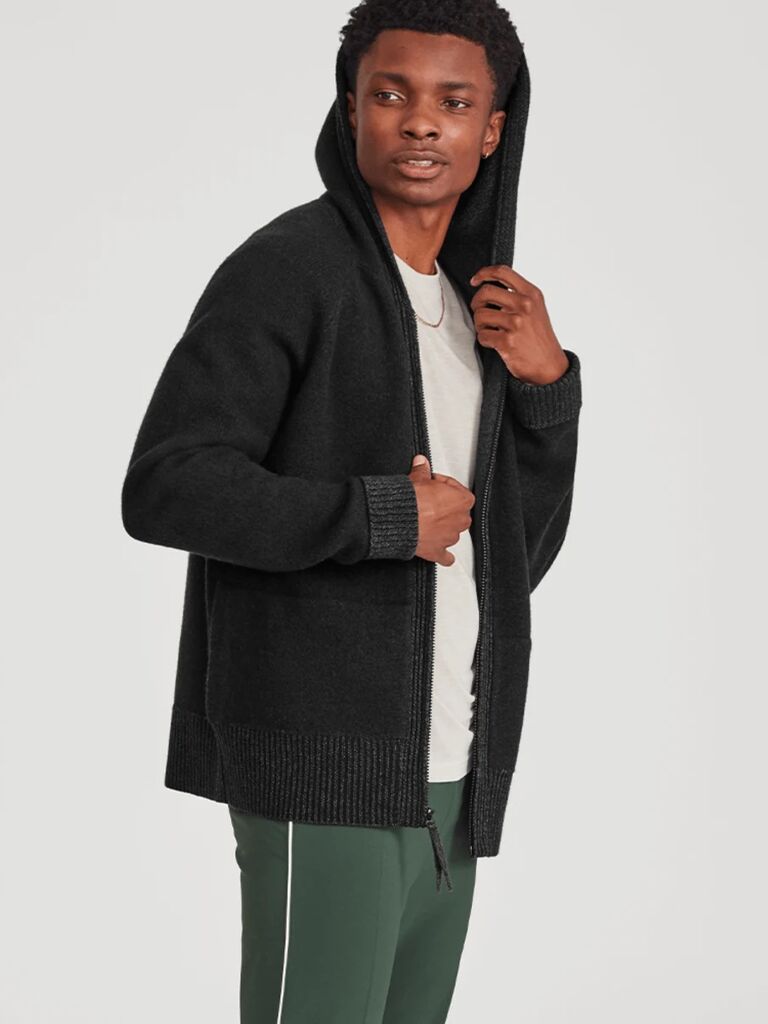 Shopping for wool gifts is an excellent opportunity to upgrade your S.O.'s wardrobe. We love this merino wool hoodie because it effortlessly combines comfort and style. The icing on the cake? This sustainably produced knitwear is completely carbon neutral.
Adorable Concrete Couple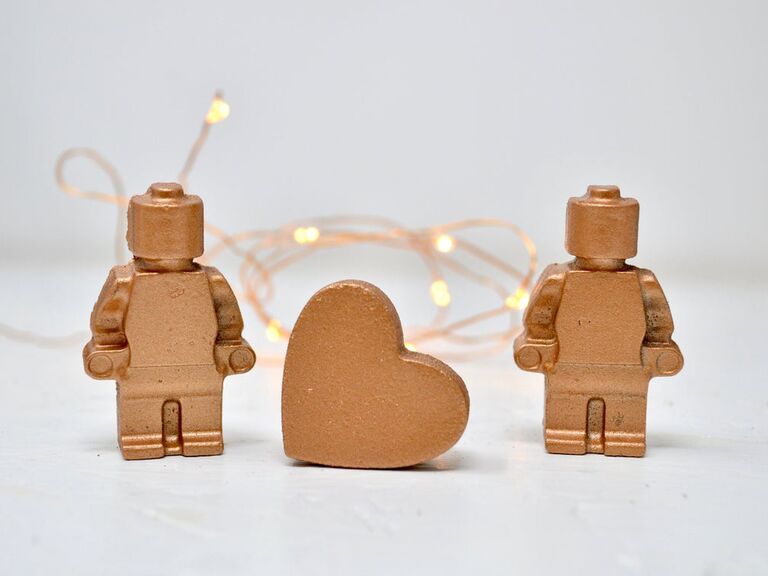 How cute are these little concrete robots? The figurines are painted copper to fit this milestone's special theme. Sweet, sentimental and thoughtful—score.
Cozy Wool Slippers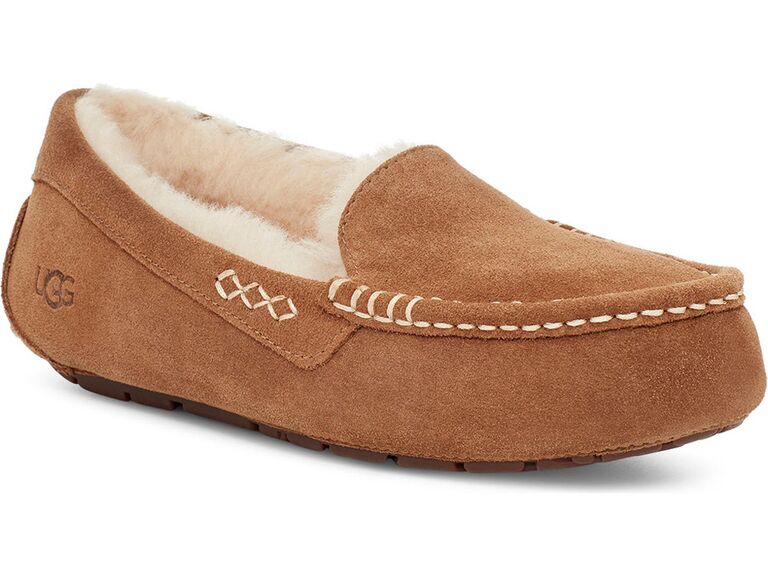 Who said seven-year wedding anniversary gifts can't be practical? Trust us, your spouse will appreciate a snug pair of UGG moccasins (especially if they're working from home right now).
Chic Quartz Studs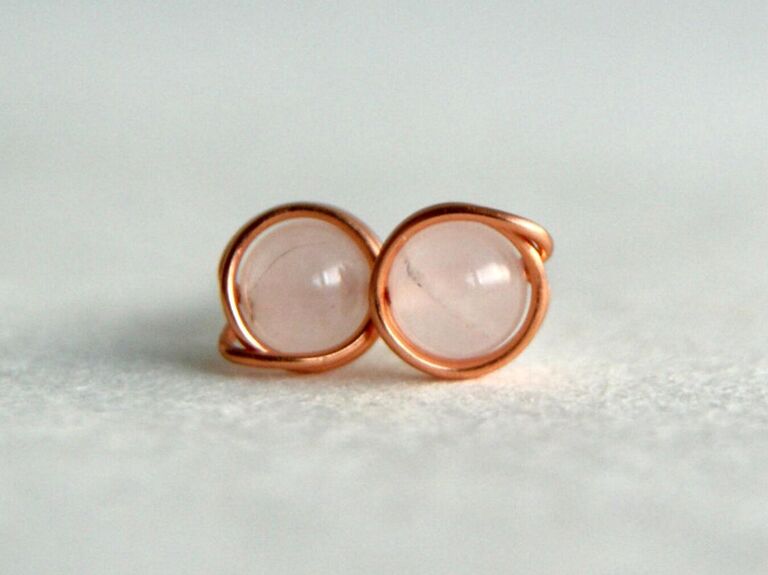 When it comes to jewelry, copper might seem like an unusual choice—but that's what makes it such a unique seventh-year anniversary gift. These sweet little earrings are ideal for everyday wear. The subtle pink of the rose quartz looks beautiful next to the metallic copper wire.
Snug Fleece Sweatshirt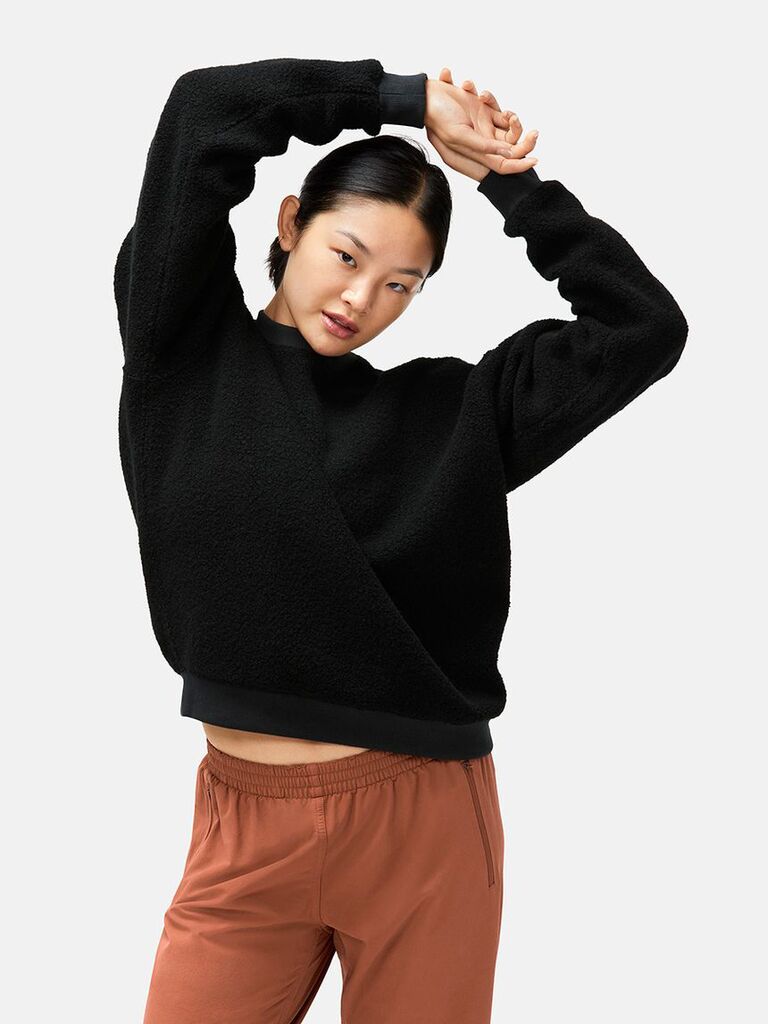 Outdoor Voices is one of our favorite sites to browse for athleisure, and if the brand's super-comfy sweatpants are anything to go by, this fleecy sweatshirt might just be the comfiest top in your partner's wardrobe.

Unusual Cuff Bracelet
Here's another copper wedding anniversary gift for your spouse to add to their jewelry collection. This statement cuff bracelet can be stamped with your initials, wedding date or a heartfelt message like "I love you."
Soft Knitted Blanket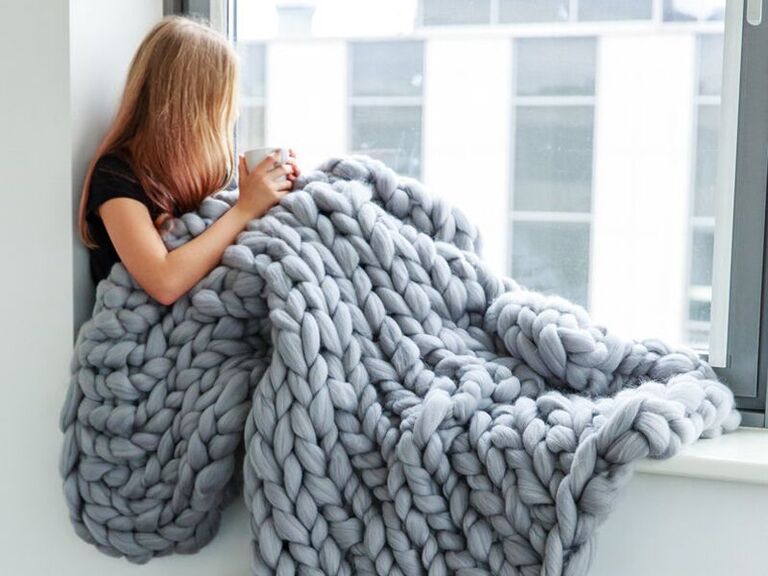 This chunky wool blanket is giving us the warm and fuzzies. It's made of 100% merino wool (making it 100% luxuriously comfy). Better yet, there are dozens of colors to choose from. Why not pick a shade of yellow or off-white in honor of the seven-year anniversary colors?
Sentimental Penny Art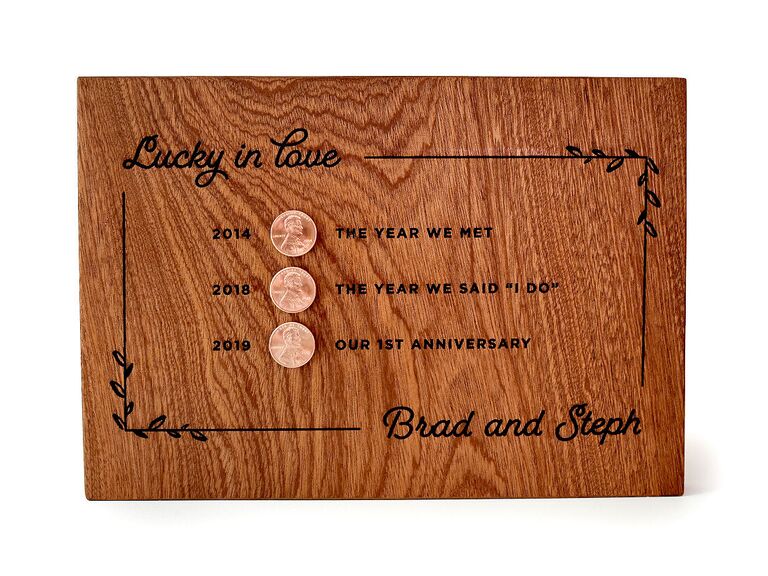 The first thing most of us think of when someone says "copper" is the penny, so why not incorporate that into your present? This unique plaque displays three special dates from your relationship beside the year's corresponding coin.
Smart Wool Slippers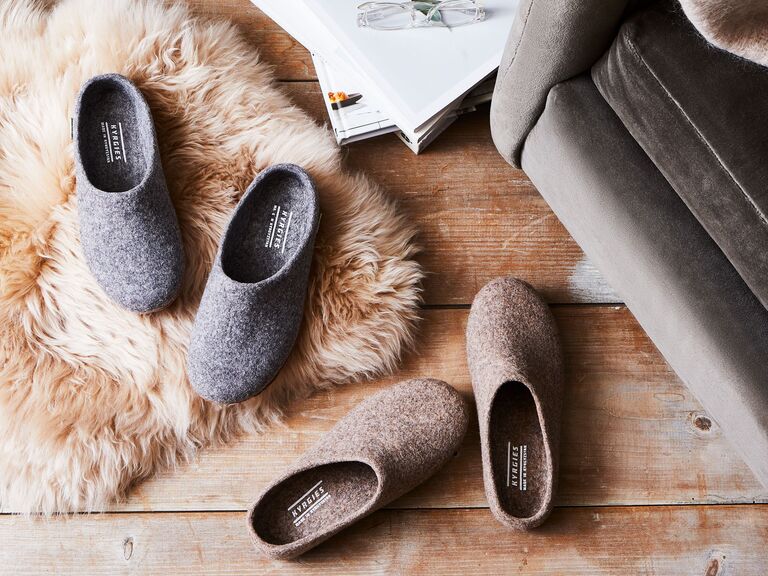 This practical gift idea will have your other half doing their happy dance. Kyrgies house shoes are made out of soft wool felt, which is a breathable, odor-resistant material. The soles also have grips to prevent slipping. Another plus: The wool is sourced from small family-run farms.
Commemorative Money Clip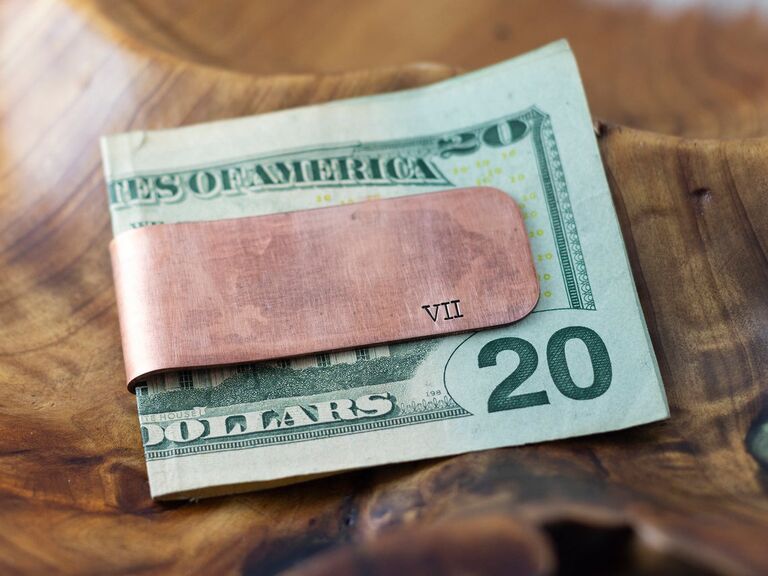 Handmade items make for some of the best seventh wedding anniversary gifts. This durable money clip is made from 18-gauge copper (that's pretty darn strong!). Money clips tend to be less bulky than a wallet which makes them super convenient. Add your S.O.'s initials as a special touch or simply have it stamped with the number seven in Roman numerals.
Personalized Catchall Tray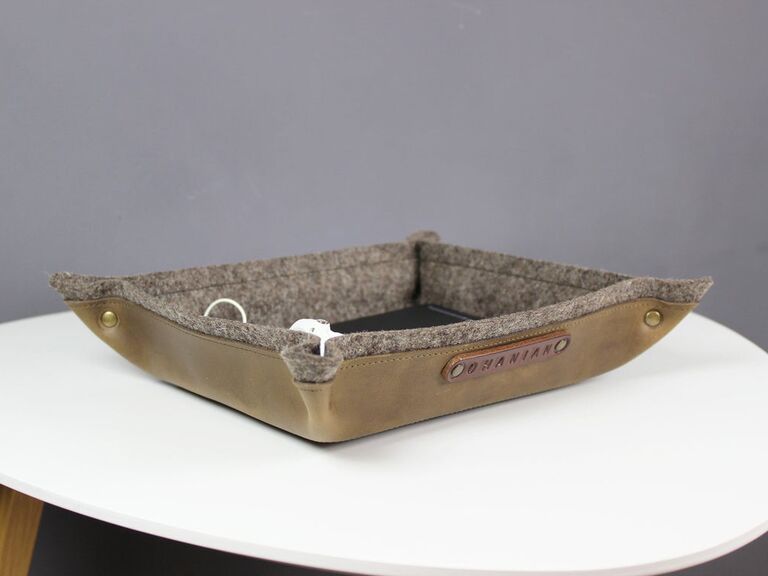 If looking for lost keys takes up a significant chunk of your spouse's time, this wool and leather catchall is an attractive and functional accessory they'll love. It's perfect for storing everything from car keys and loose change to important notes and receipts. Add a leather plate with your partner's name, initials or a meaningful date.
Upgraded Coffee Mug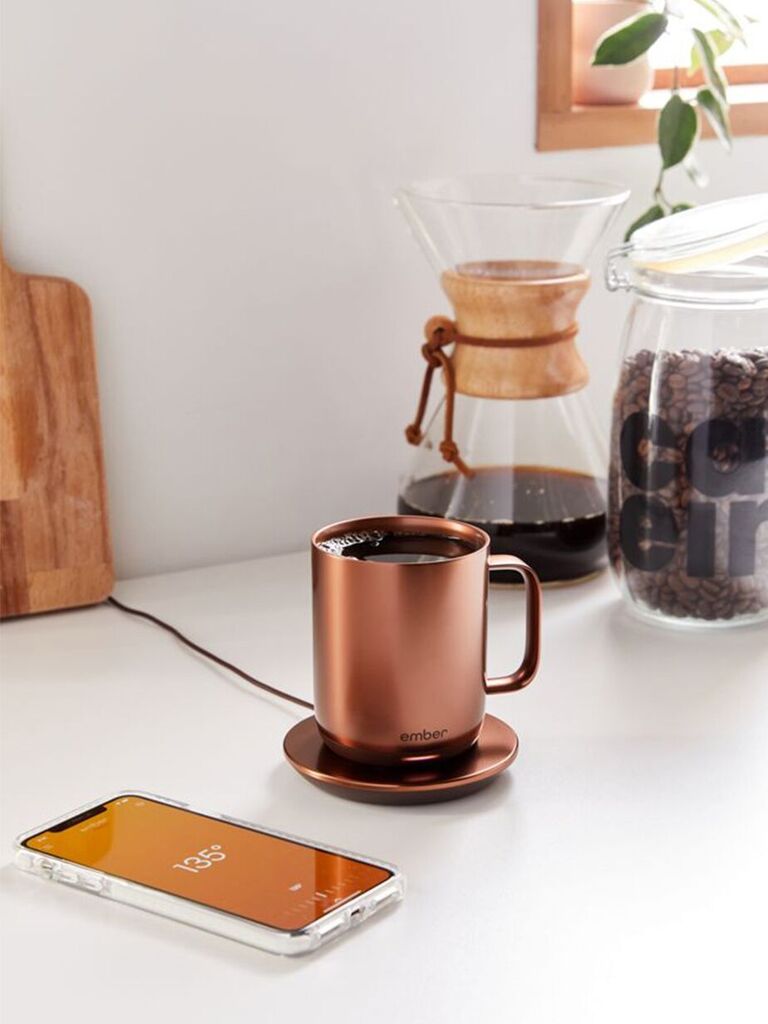 Copper and coffee go together like... well, we don't think there's a saying for that, but how fantastic does this mug look in that shiny metallic hue? Designed to keep tea, coffee or whatever at the ideal temp, it's one of our favorite copper gift ideas for anyone who spends most of their day sitting at a desk. The mug even connects to an app, so your spouse can be alerted when their coffee hits the point of optimal sipability.
Boho Diffuser Keychain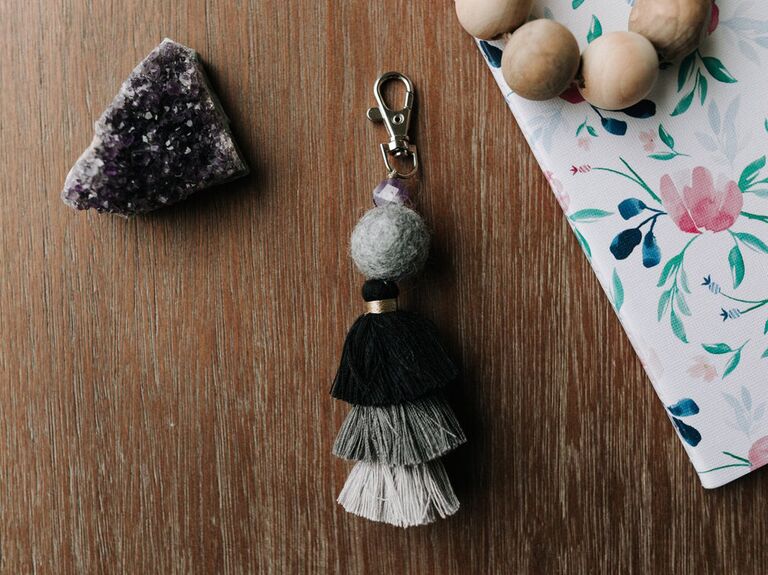 This cute little keychain fits the wool gift theme in a totally unique way. First, your S.O. places a few drops of their favorite essential oil on the wool pom-pom. Then, they clip the accessory to a bag or car keys for stylish aromatherapy on the go.
Decorative Sound Wave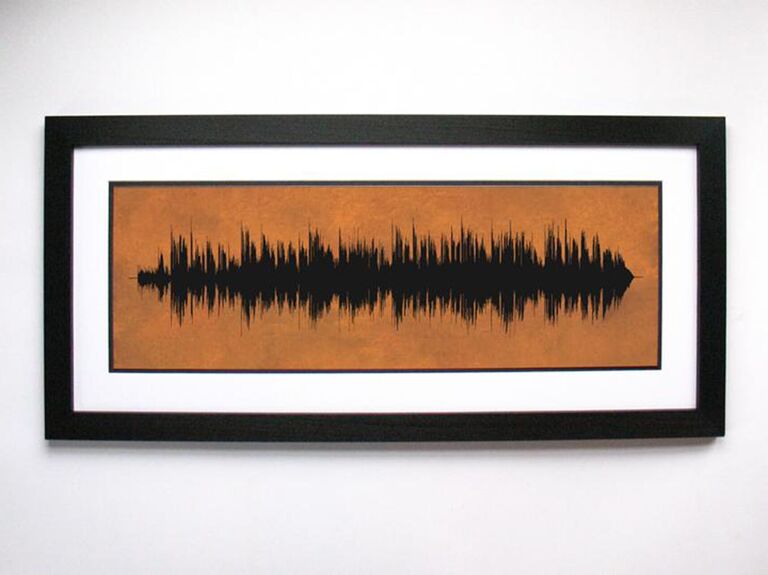 Bring back those special memories by purchasing this copper sound wave art print of one of their wedding songs. This is a copper anniversary gift idea that music lovers are sure to appreciate.
Desk Set and Stationery Anniversary Gifts
Not sold on copper seventh anniversary gift ideas? Try turning to the milestone's modern gifting theme instead. Showing love and respect to one's work is one of the highest acts of kindness we can give. Whether their work is personal to them or this couple is a team in business together, let them know that their talents are valued. Below are our favorite desk set and stationery presents for year seven.
Contemporary Desk Set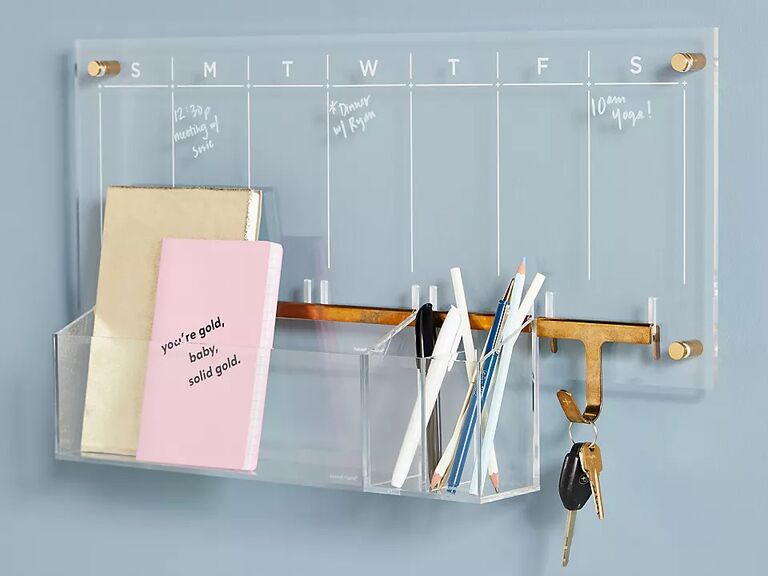 Help them keep track of appointments and store pens, pencils, scissors and all those other little things that show up on their desk. Only, with this wall-mounted present, they're actually off their desk. Three cheers for organization—hip-hip hooray!
Pretty Supplies Box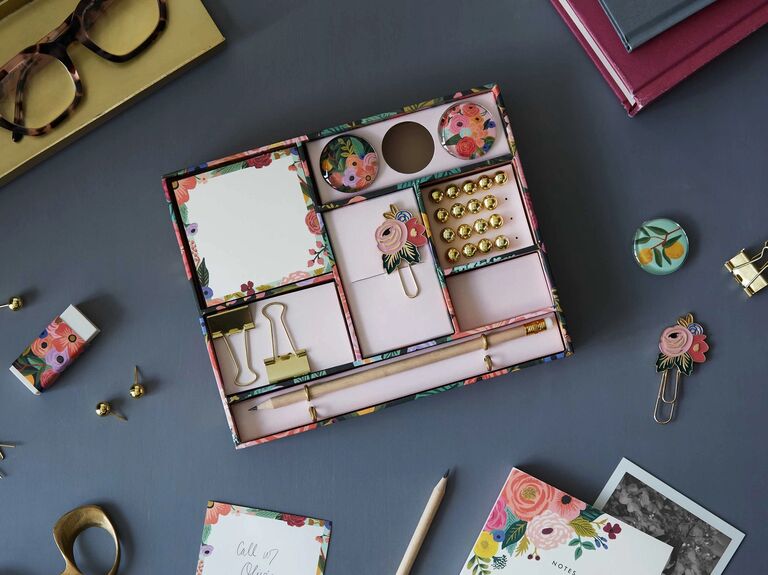 Who says stationery has to be boring? Everything in this tackle box has the most beautiful floral design. It comes fully stocked with all your S.O.'s organization essentials, including pencils, paper clips, a notepad and push pins.

Chic Desktop Calendar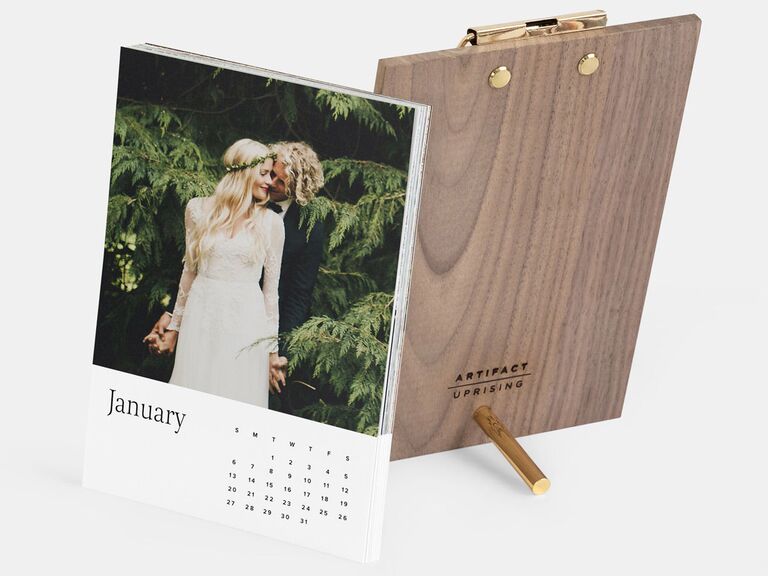 Having a sweet memento of your most cherished memories right on their desk is sure to get your other half through the workday with a smile. This gorgeous walnut calendar has a handy easel for keeping it propped up. Bonus: You can choose which month you want the calendar to start from, so you don't have to wait until the holidays to hand it over.

Custom Valet Station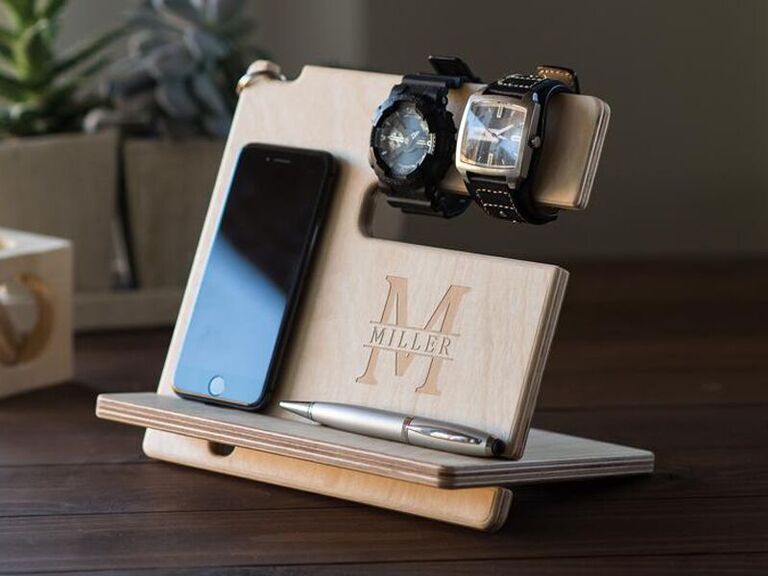 We all have gadgets galore and no place to put them all. This handy desk accessory provides a place for phones, wallets, keys, watches and more. Even better: It can be personalized with a name, date, initial or heartfelt message to sweeten the deal.

Monogram Letterpress Stationery

This stationery is a timeless gift in an age when digital correspondence is all too commonplace. And personalization is always a nice touch when it comes to seven-year anniversary gift ideas for your husband or wife.
Succulent Desk Caddy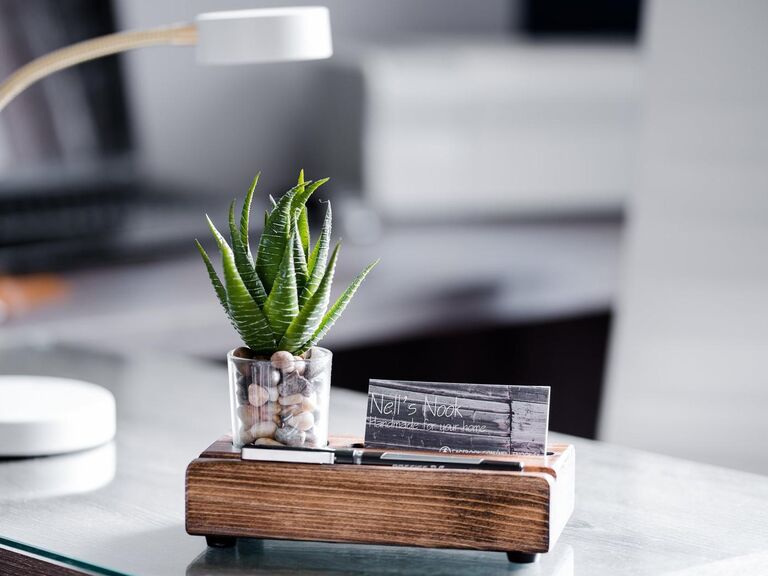 Bring a bit of the outdoors to their office with this wooden card holder. Not only will it keep their business cards in place, it also comes with a faux succulent to add a bit of calm to a busy work day. Choose from a variety of wood finishes and configurations to suit your other half (or the couple's) style.

Sleek Leather Organizer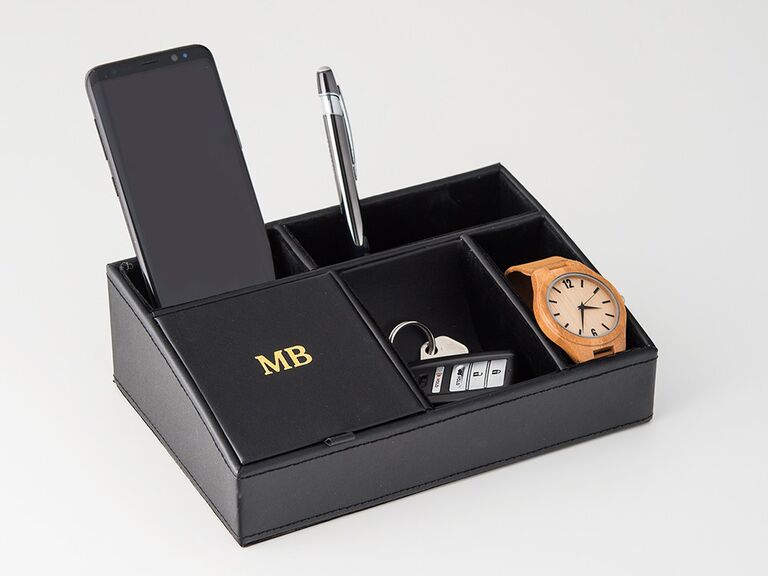 Looking for something on the contemporary side? Try this faux leather desk set with space for your spouse's phone, keys, watch and other necessities. Have the lidded compartment monogrammed with their initials to give a personal touch to their corner of the office.
Modern Mail Holder

There's only one thing more reliable than the mail carrier and that's the fact the mail will get misplaced. This anniversary gift helps organize the home office and keep all the mail in one (very obvious) place.

Personalized Photo Caddy

It's your seven-year anniversary, meaning you've made plenty of lovely memories together since tying the knot. If your other half is always looking for new ways to show off those special moments, this is the desk caddy of their dreams. It can be etched with custom text and favorite photos to bring a smile to their face each time they see it on their desk.
Copper Desk Set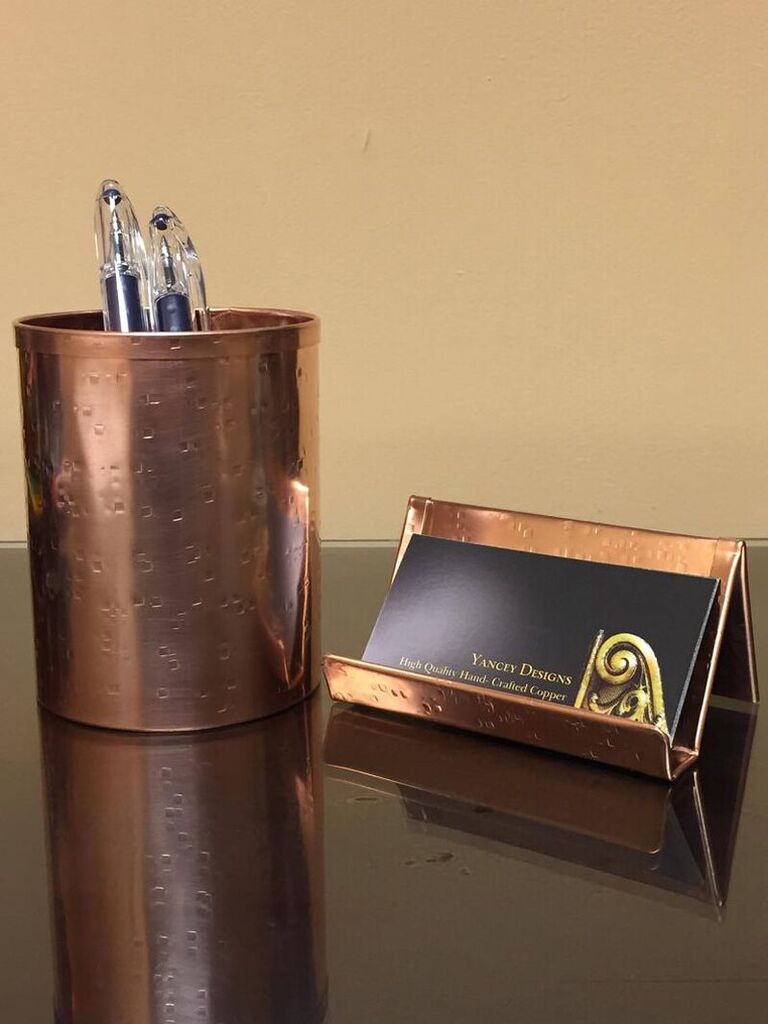 Cover all your bases with this desk set made out of the traditional seven-year anniversary material: copper. This set includes a pen holder and a business card holder that will elevate their office's style and function.
Alternative Seven-Year Anniversary Gifts
Don't worry if you haven't picked out a traditional or modern seven-year anniversary gift. If copper, wool or stationery just don't seem like their kind of thing, that's totally fine. At the end of the day, it's all about finding something the recipient will love. To help you score the perfect gift, we've rounded up a list of creative ideas for your spouse or the couple that range from symbolic to practical. Trust us, we're sure they'll love these alternative picks just as much as we do.
Indoor Smart Garden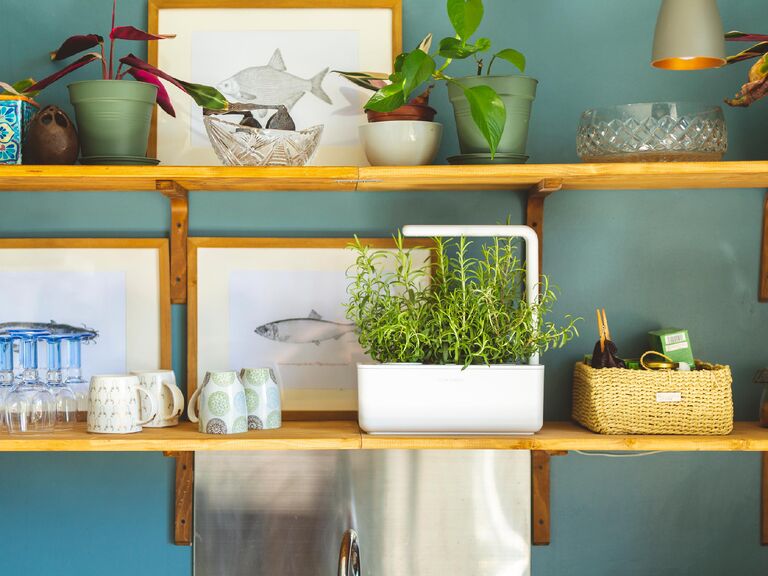 If your spouse or the lovebirds appreciate bright greenery in their home and fresh ingredients in their food, this convenient indoor garden is just the ticket. This sleek device provides automated plant care, from controlling light exposure to providing just the right amount of water.

Luxury Pajama Set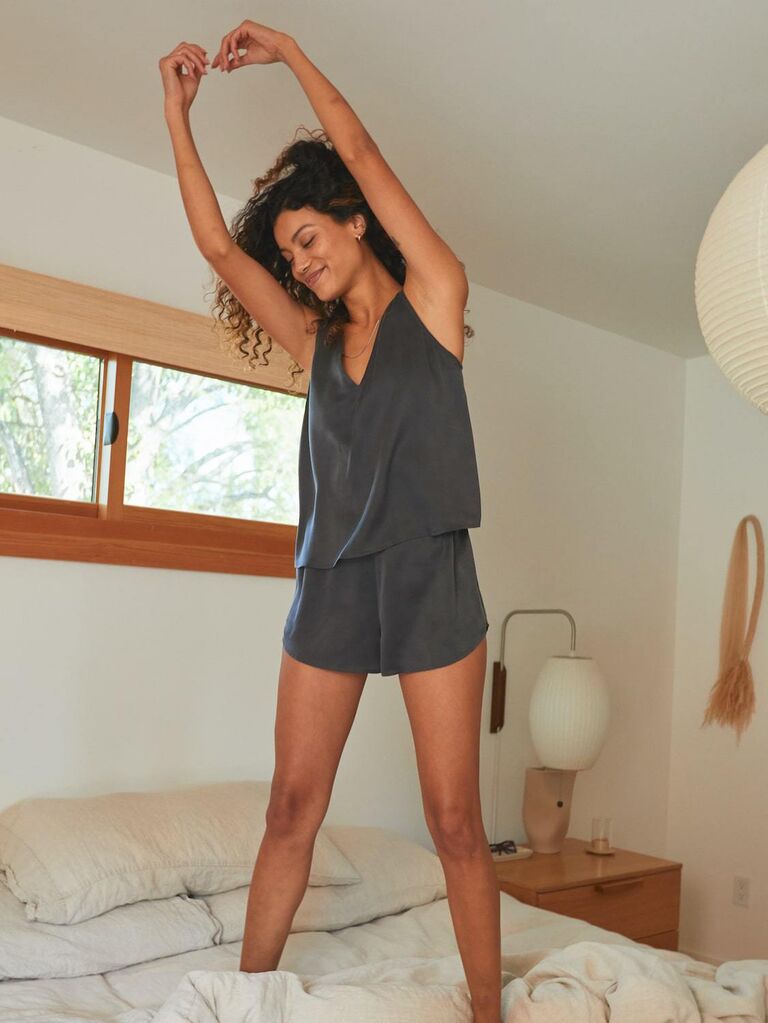 Most of us take loungewear a lot more seriously these days, and if your partner has been searching high and low for the perfect set, consider it found. This luxurious washable silk set is an upgrade of Lunya's original bestselling PJs, featuring a new low-back design with a dainty silk band to prevent the straps from shifting.

Mini Fire Pit
Looking for the ultimate anniversary present for your gadget-obsessed other half? We've got it: a miniature fire pit they can use to make s'mores wherever they go—indoors or out.

Love Knot Earrings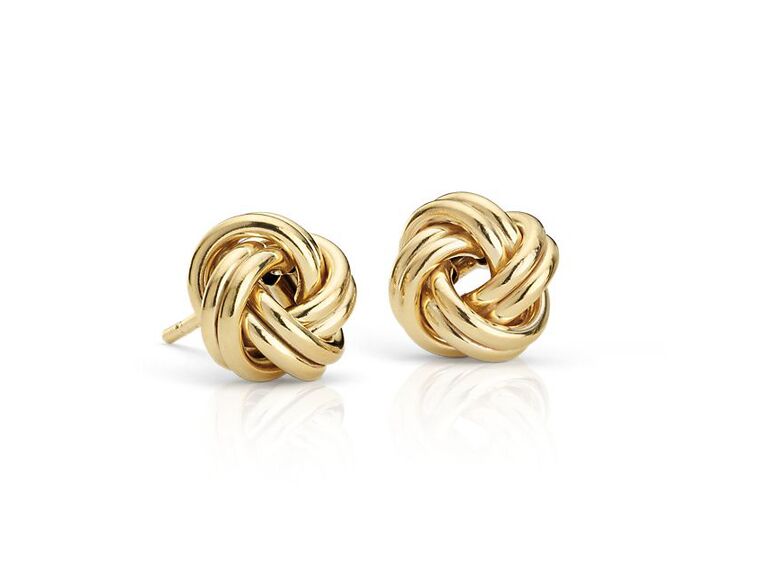 Love knot jewelry is a classic gift that symbolizes a long-lasting, unbreakable bond. These yellow-gold stunners will be a classic addition to your spouse's collection. The studs can be dressed up or down, so they can be worn anytime and anywhere (like your next date night).
Recipe Serving Board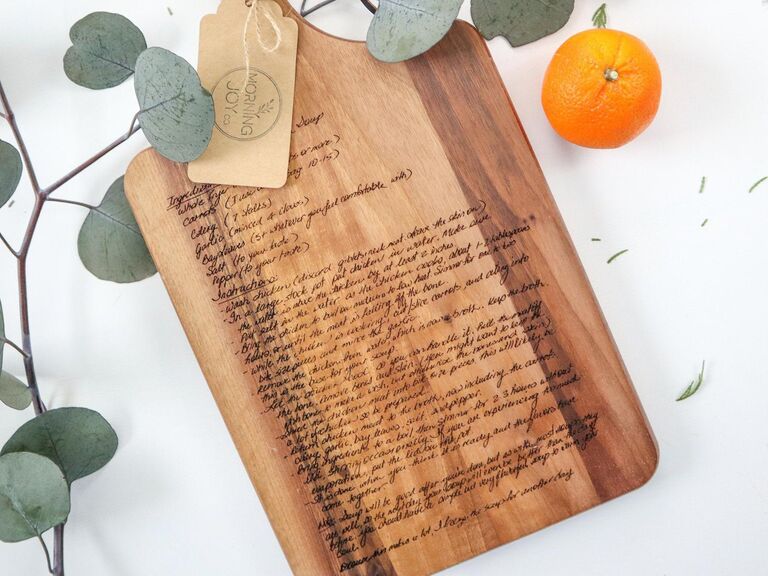 Warning: may cause happy tears. If you're shopping for a cook, you've been lucky enough to enjoy their culinary masterpieces for seven-plus years. This truly special, personalized cutting board commemorates one of your partner's handwritten recipes. It's a super-sweet way to thank them for feeding you good food all these years.
Beautiful Bouquet Delivery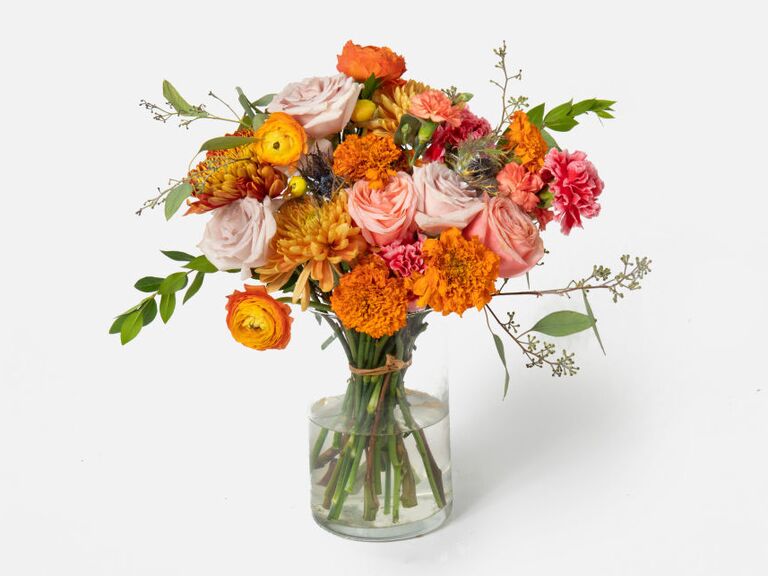 Another symbol associated with seven years of marriage? Freesias. This beautiful bloom represents the incredible trust you and your S.O. have built over the course of your relationship. As well as the seventh wedding anniversary flower, this vibrant bouquet includes colorful marigolds, romantic roses, pretty carnations and more.

Heartfelt Star Map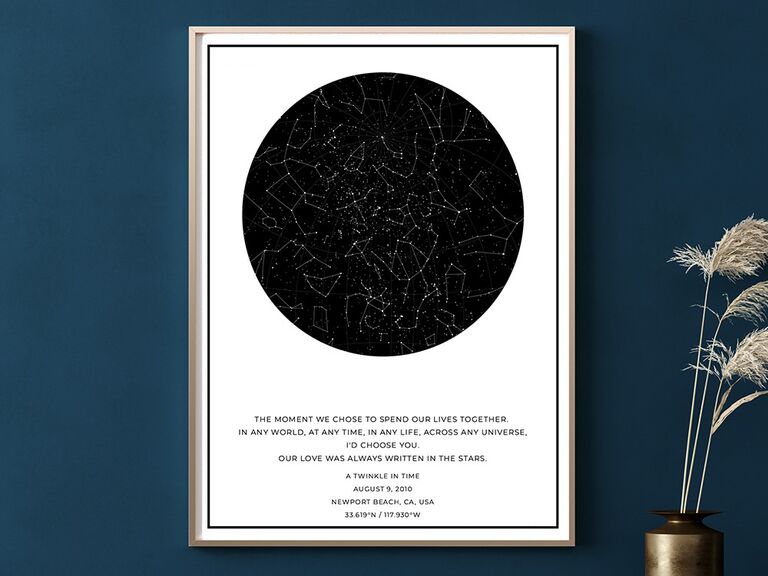 Seven years married and counting… it's safe to say you both deserve something truly special in honor of this amazing accomplishment. Freeze the moment it all started in time with a map of the night sky from the day you exchanged vows. Include a sweet personal message alongside the date, location and coordinates to make it all the more meaningful.
Fancy Watch Subscription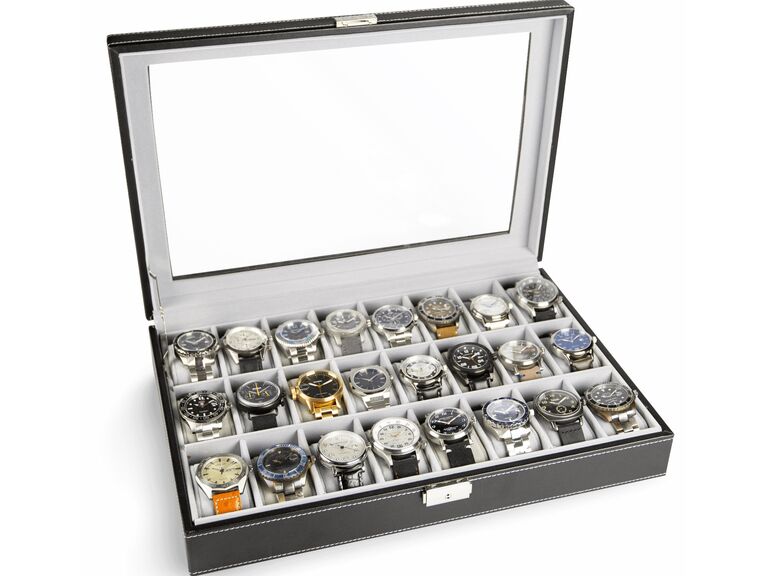 Got a watch aficionado on your hands? Help them switch up their style every month by sending them a gift card for Watch Gang's watch-of-the-month club. Every month, members are sent a fashionable timepiece to add to their collection. There are also different membership tiers to suit different budgets.

Unique Onyx Pendant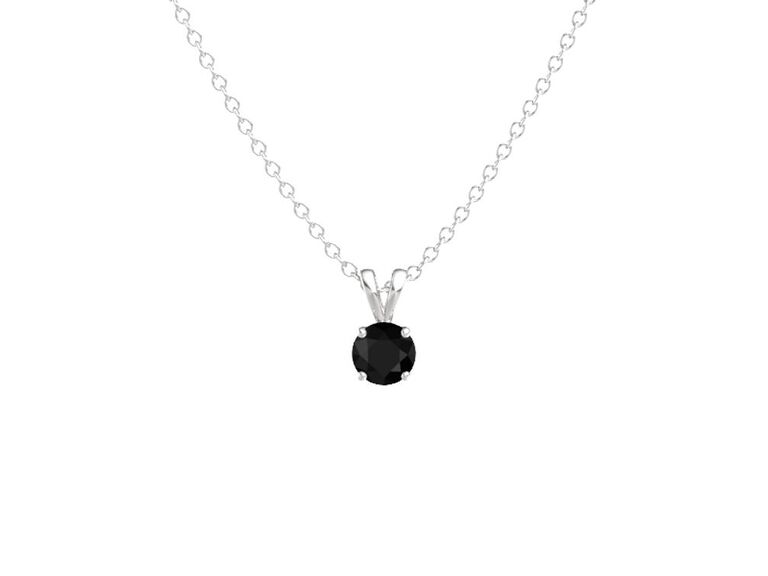 Jewelry is a great gift no matter what, but one way to make it feel even more special this time around is by choosing something with the seventh anniversary stone, onyx. Associated with feelings of protection and security, the gemstone is a fitting emblem of your rock-solid relationship.

Useful Beer Stones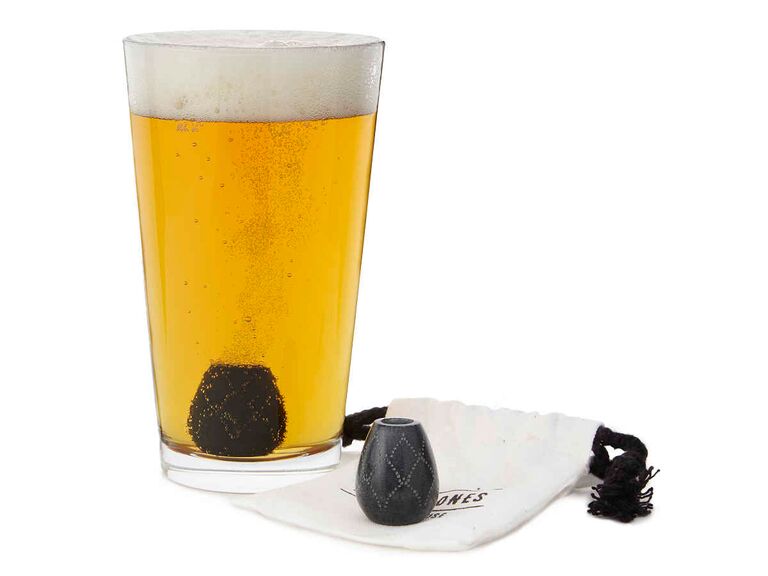 If your spouse loves the fresh taste of beer straight from the tap, these stones will give their brew a bubbly boost right from the bottle. The soapstone nucleators do more than enhance the beer's flavor though. They can be kept in the freezer for a frosty pint that's cold to the last drop. How's that for a creative seven-year anniversary gift?

Romantic Box of Donuts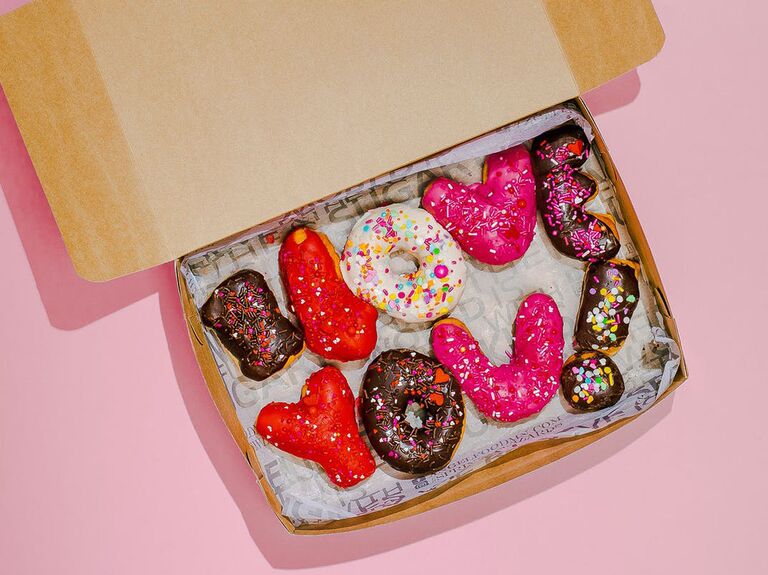 Finding new ways to say "I love you" gets trickier as time goes on. Since you've already picked out six years of anniversary gifts by now, we totally get it if you're running out of ideas. Don't worry, that's what we're here to help with. Anyone with a sweet tooth will appreciate this meaningful message spelled out with donuts.
Thoughtful Bottle of Wine
Wine can be a truly special present for your loved one(s), especially if you know what to look for. Choosing a bottle from the year of the wedding or a meaningful location are both great options. If you're still feeling stuck, check out our handy guide to shopping for wine anniversary gifts.

Rustic Wall Art
We'll say it again, we love personalized gifts, and especially photo gifts. This rustic pallet sign will add a romantic touch to any space, from the living room to the bedroom. Select a picture from a previous milestone, the wedding day or another important occasion for a sweet keepsake.

Luxe Weekend Bag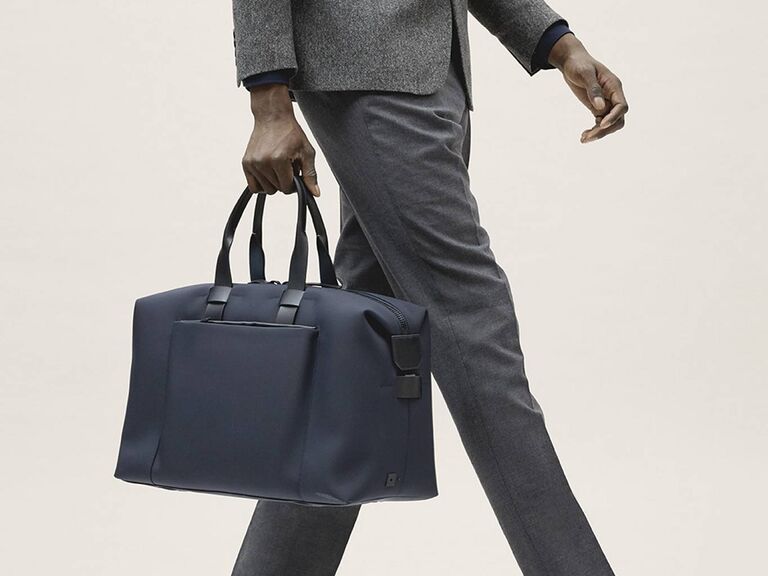 While celebrating your anniversary at home can be just as magical as a spontaneous getaway, we totally get it if you're both itching for a romantic weekend break after spending the last year in quarantine. Gifting your other half a sleek weekender is the perfect way to rekindle their wanderlust. This lightweight travel gear features a few handy compartments and has a waterproof exterior.

Fun Whiskey Kit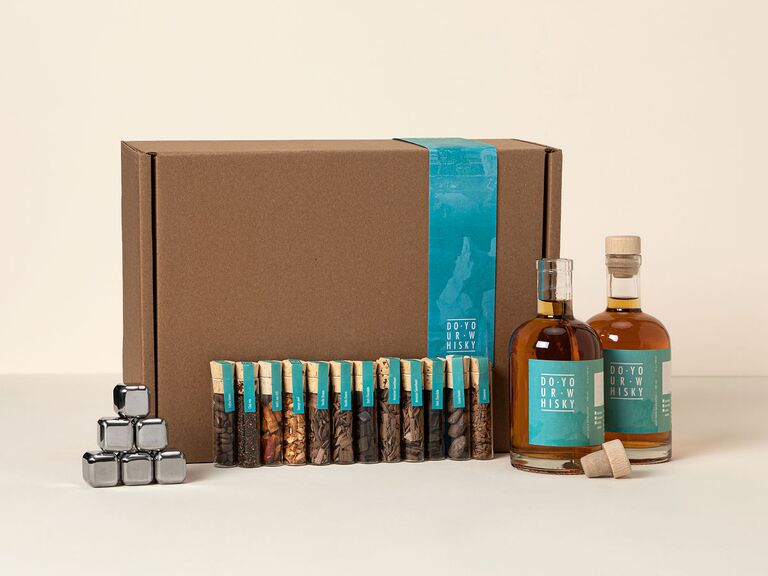 This DIY kit comes with a selection of botanicals and three different flavors of wood chips so your S.O. can create their very own blend of whiskey. The only other thing they'll need to get started is a bottle of liquor (grain-based vodka works a treat). And if they're more of a G&T kind of person, there's a DIY gin kit too.