7-Year Anniversary Gift Ideas for Your Spouse or Favorite Couple
Celebrate seven lucky years of marriage with these heartfelt presents.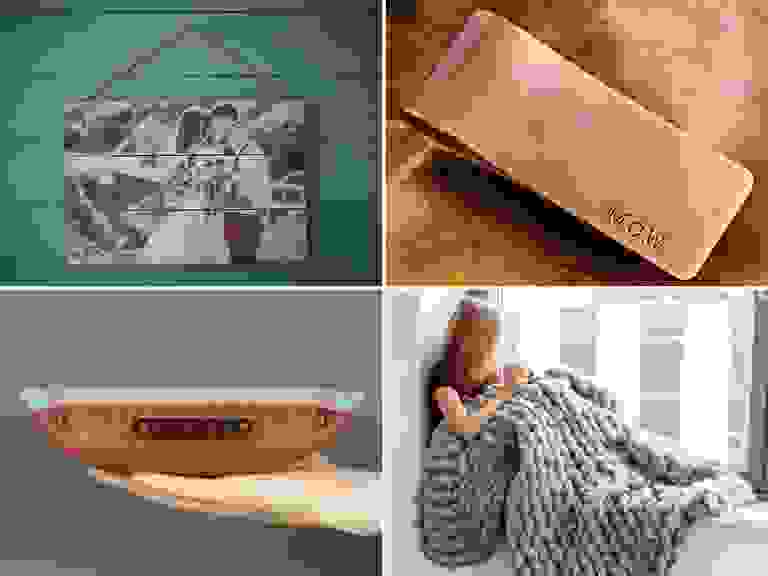 We have included third party products to help you navigate and enjoy life's biggest moments. Purchases made through links on this page may earn us a commission.
Congratulations! Seven years of marriage is a huge accomplishment that deserves to be recognized. This wedding anniversary puts you one year closer to the decade milestone—now it's time to celebrate with a romantic gift. We know that "romantic" means something slightly different to everyone, so we've created a one-stop shop for seven-year anniversary gifts that range from unique and creative to classic and practical. It can be tough finding gifts that fit the traditional anniversary theme, but these handpicked items will leave him, her or them really feeling the love. And if you'd rather break with tradition, not a problem. We've got present ideas for you too! 

What is the seven-year anniversary gift?
Traditional: Copper and Wool
Traditionally, the seventh wedding anniversary is represented by copper and wool. (Copper and wool anniversary gifts?! We know what you're thinking, but don't panic. That's why we've created this handy gift guide.) Copper is seen as a durable metal that, according to Greek mythology, attracts love and protects against evil. Wool, on the other hand, symbolizes warmth and comfort. Together, these materials represent your strong and loving marriage after seven years together. Whether you're searching for a copper gift for your husband, a wool gift for your wife or a classic seven-year anniversary gift for the couple, we've got inspiration for you right ahead.
Modern: Desk Sets and Stationery
For those out there who prefer something a bit more contemporary, desk sets and stationery have become the modern symbol of the seventh anniversary. They represent the love and pride couples have for each other's work. If you're unsure, cover all your bases by celebrating you or your favorite couple's copper anniversary with a desk accessory made from the long-lasting metal.
In this article:
Seven-Year Anniversary Gifts for Her
If copper and wool gifts aren't her style, that's totally okay. We've rounded up a list of seven-year anniversary gifts for your wife that range from symbolic to practical. Trust us, we're sure she'll love these alternative presents just as much as we do!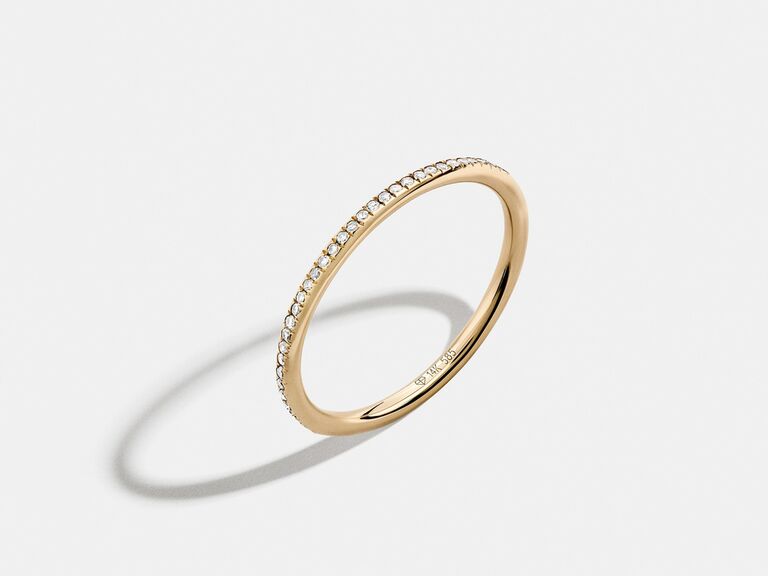 A thin, diamond stacking ring would make a great addition to her everyday jewelry collection—and the perfect anniversary gift for her. This particular find looks gorgeous when layered with other pieces (ahem, a wedding band?) or worn alone. 
BaubleBar Silvia diamond stacking ring, $425, BaubleBar.com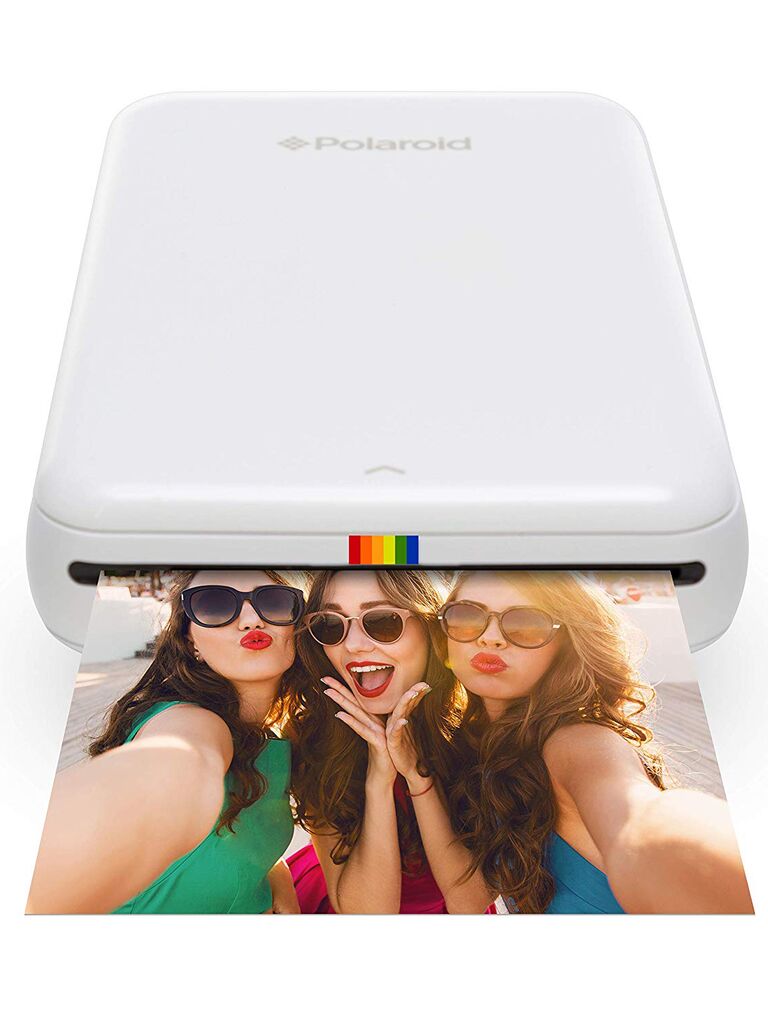 If wool gifts don't necessarily float your boat—or hers—and she's constantly snapping photos like us, she'll love having a miniature printer on hand for instant hard copies of all those sentimental memories. Even better? This modern and unique gift is compatible with most iOS, Android and Bluetooth devices.
Polaroid ZIP wireless mobile photo mini printer, $80, Amazon.com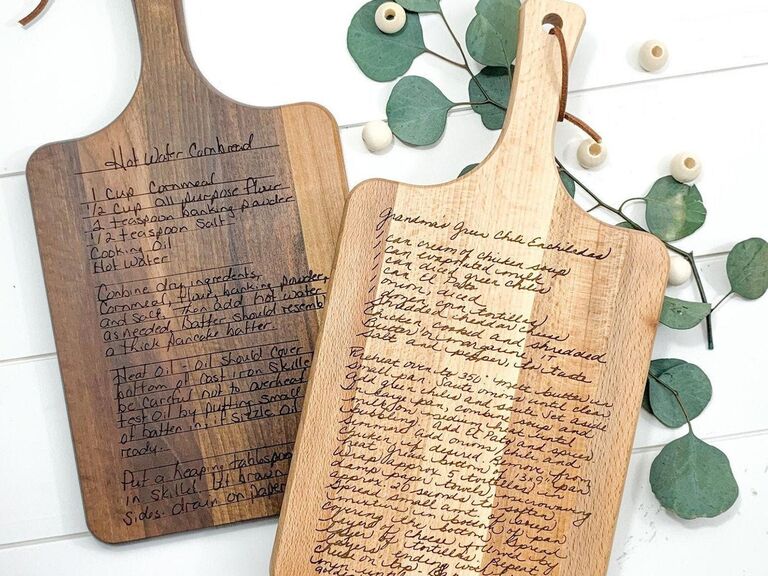 Warning: May cause happy tears. If you're shopping for a cook, you've been lucky enough to enjoy her culinary masterpieces. This truly special, personalized cutting board commemorates one of her handwritten recipes. It's a super-sweet way to thank her for feeding you good food all these years.
Morning Joy Co recipe cutting board, from $59, Etsy.com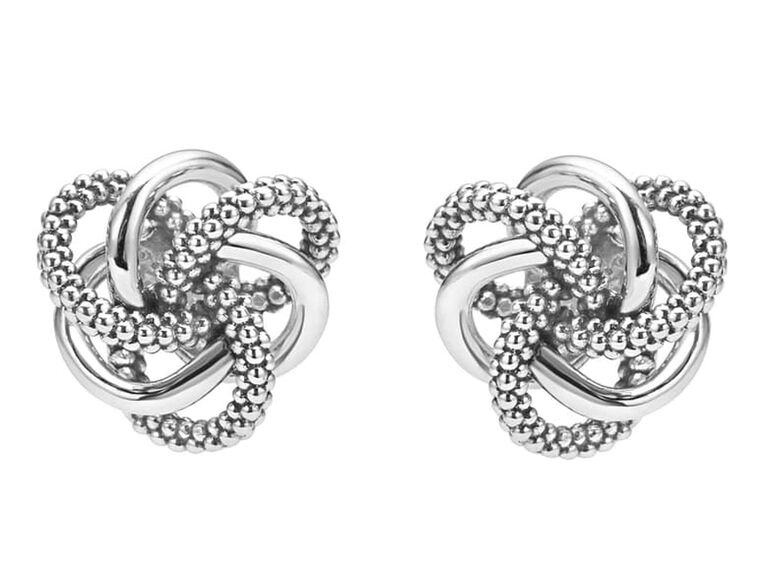 Love knot jewelry is a classic gift that symbolizes a long-lasting, unbreakable bond. These stunners aren't your average earrings though—check out those chic beaded details. She can dress them up or dress them down, so they can be worn anytime and anywhere. Hint: on your next date. 
LAGOS Love Knot sterling silver stud earrings, $225, Nordstrom.com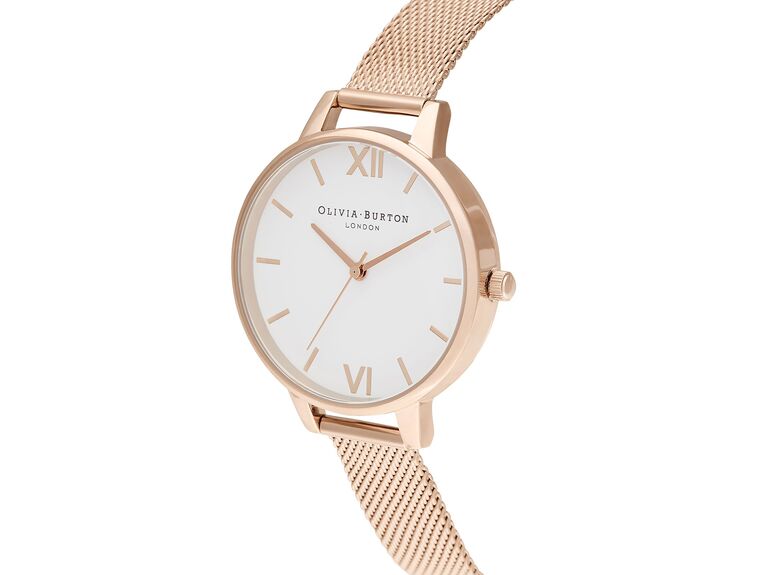 Time flies when you're having fun, right? Celebrate your seventh wedding anniversary by gifting your wife this beautiful timepiece. It's effortlessly elegant, just like her.
Olivia Burton white dial mesh strap watch 34mm, $150, Nordstrom.com
Seven-Year Anniversary Gifts for Him
Sometimes the best anniversary gifts for husbands—and wives, for that matter—are those classic items they can use every day. Other times, you want to get a little more creative. Either way, this list contains our top-pick seventh anniversary gifts for him if you'd rather go the alternative, nontraditional route.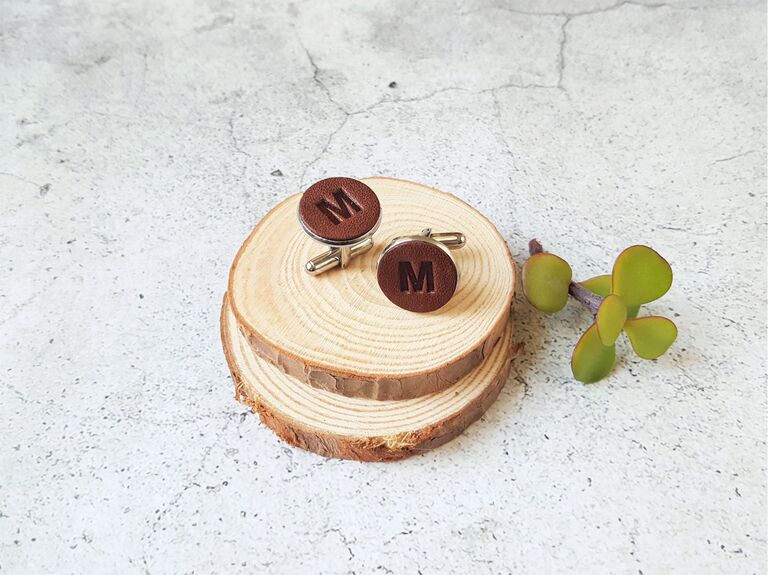 Personalized presents for a seventh wedding anniversary—or any anniversary—are always thoughtful. Besides, if copper cufflinks don't fit his style, we're sure that these leather ones will.
Vantler Leather personalized initial leather cufflinks, $26, Etsy.com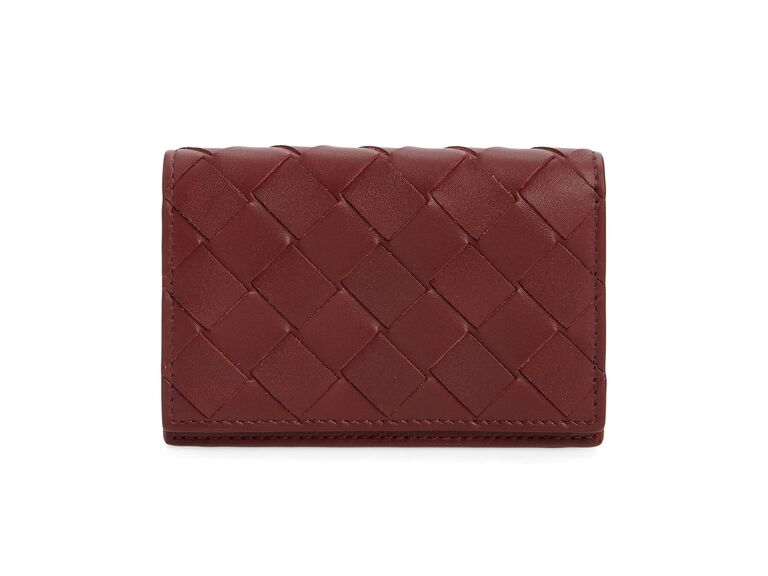 We all know someone who carries around a ripped, torn or weathered wallet. If that's your guy, then maybe it's time for an upgrade. This wallet comes in two colors—our vote is for the deep burgundy color—and features a stylish woven pattern that will add some pizzazz to his pocket. 
Bottega Veneta Intrecciato foldover leather wallet, $370, Nordstrom.com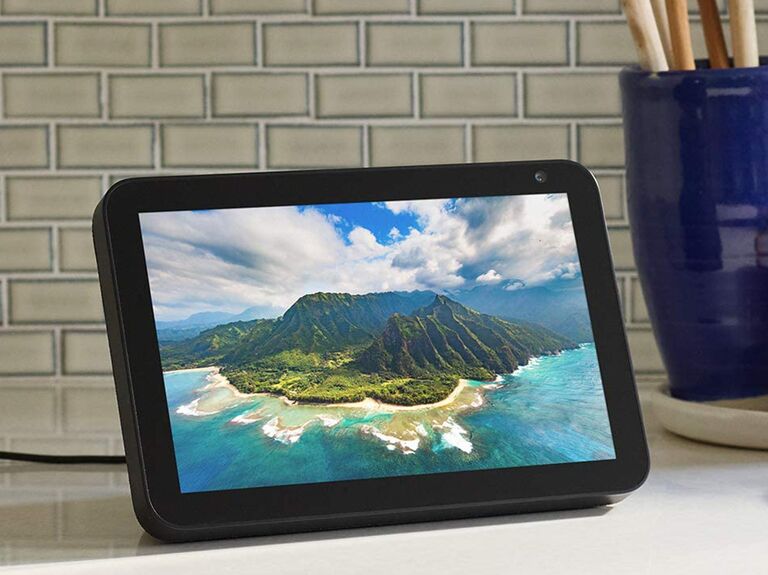 Practical, sweet and sentimental, this seventh anniversary gift is an all-rounder for someone you love. Give him the joy of video chatting with loved ones, looking back at old photos, checking the weather, watching TV shows, tracking down his favorite recipes or...you get it, a lot of other things. 
Amazon Echo Show 8" HD smart display with Alexa, $130, Amazon.com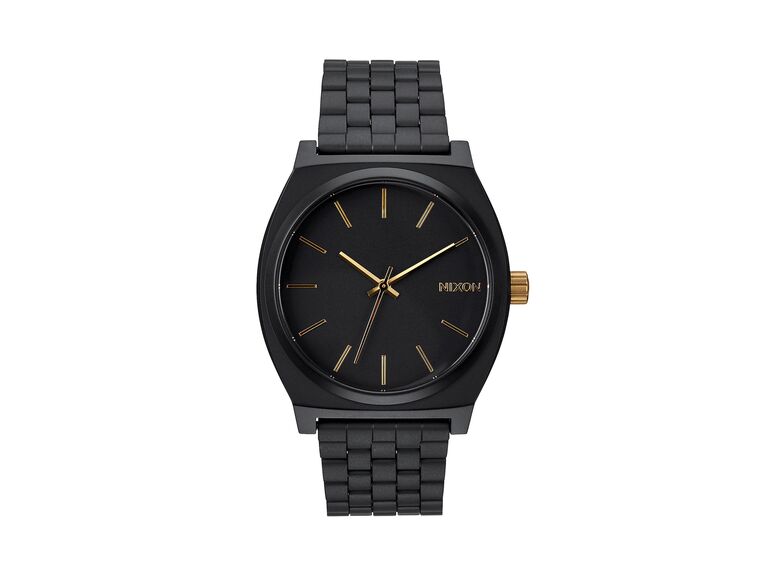 Time is on your side now that you've found this perfectly practical and stylish anniversary gift for your husband—yes, we know we found it for you, but he doesn't need to know that. This classic timepiece is made ultra modern with its gorgeous matte-black finish.
Nixon The Time Teller stainless steel bracelet watch in Matte Black/Gold, $100, Nordstrom.com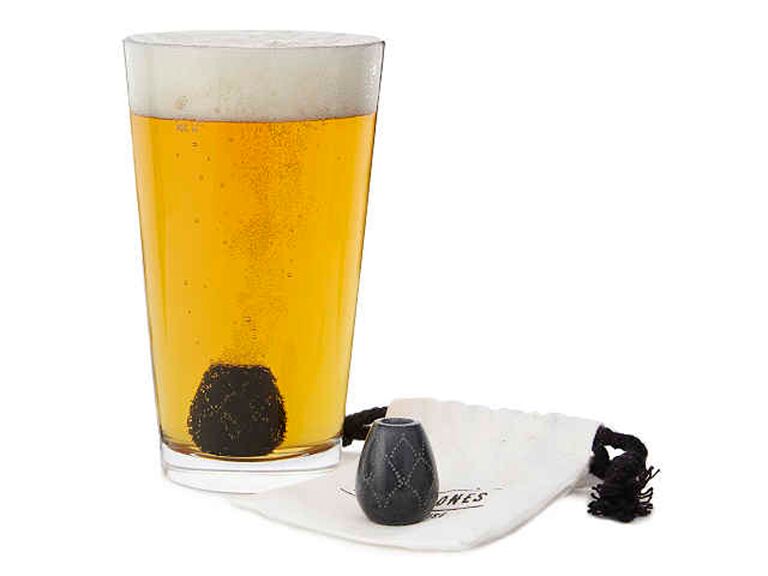 If your husband loves the fresh taste of beer straight from the tap, these stones will give his brew a bubbly boost from his own kitchen in a process called "nucleation." (See? We're learning something here. Very scientific.) These soapstone nucleators do more than enhance his beer's flavor though. They can be kept in the freezer for a frosty pint that's cold to the last drop. How's that for a creative seven-year anniversary gift for him?
Uncommon Goods beer foaming stones, $28, UncommonGoods.com
Seven-Year Anniversary Gifts for Them
If lucky anniversary number seven is around the corner for a couple you know, show them how much you care with one of these meaningful gifts. Not so sure about something copper or wool? The alternative items on this list are just as great for celebrating seven years of marriage.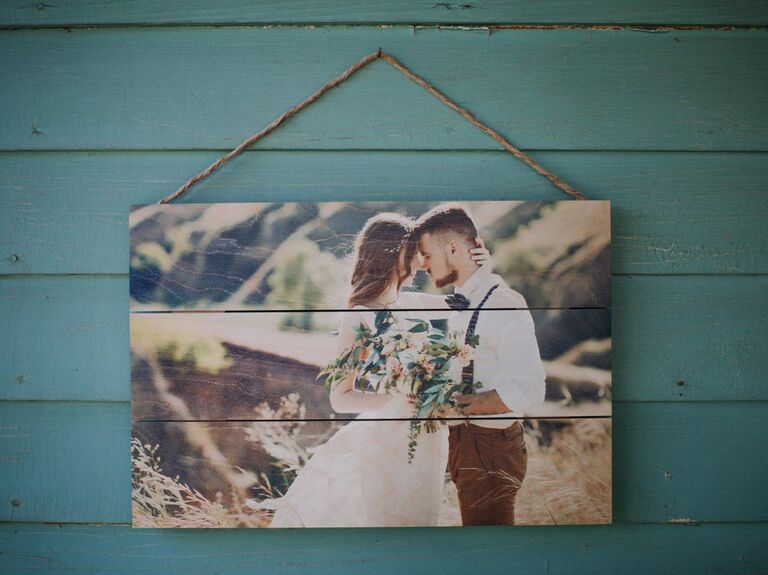 We'll say it again, we love personalized gifts, and especially photo gifts. This rustic pallet sign makes a perfect addition to any room of the home. Select a picture from a previous anniversary, the wedding day or another important occasion to make this gift extra special. 
MyWoodPhoto pallet sign anniversary gift, from $30, Etsy.com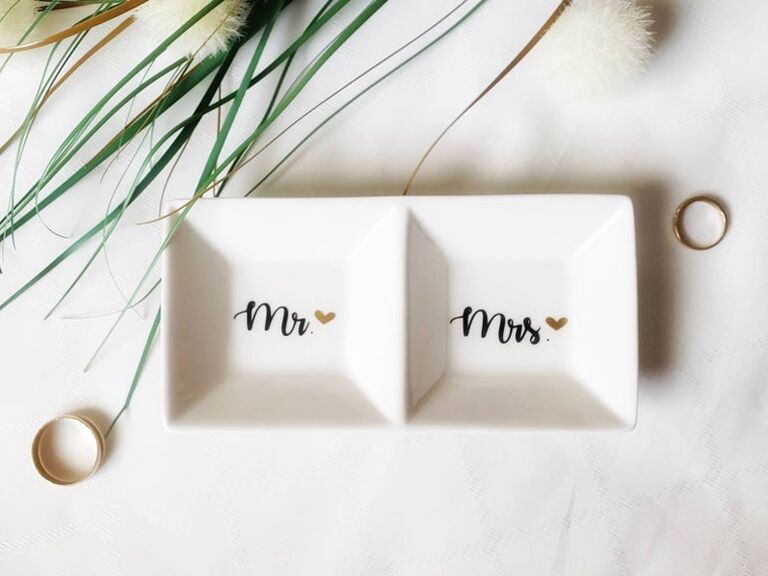 Make sure their wedding rings are always kept in a safe place by gifting them this sweet ring dish. It comes in a variety of colors and font styles to perfectly coordinate with their home's decor. Further personalize this dish with their wedding date or the date that they'll celebrate their seventh anniversary.
Modern Mud personalized ring dish, $42, Etsy.com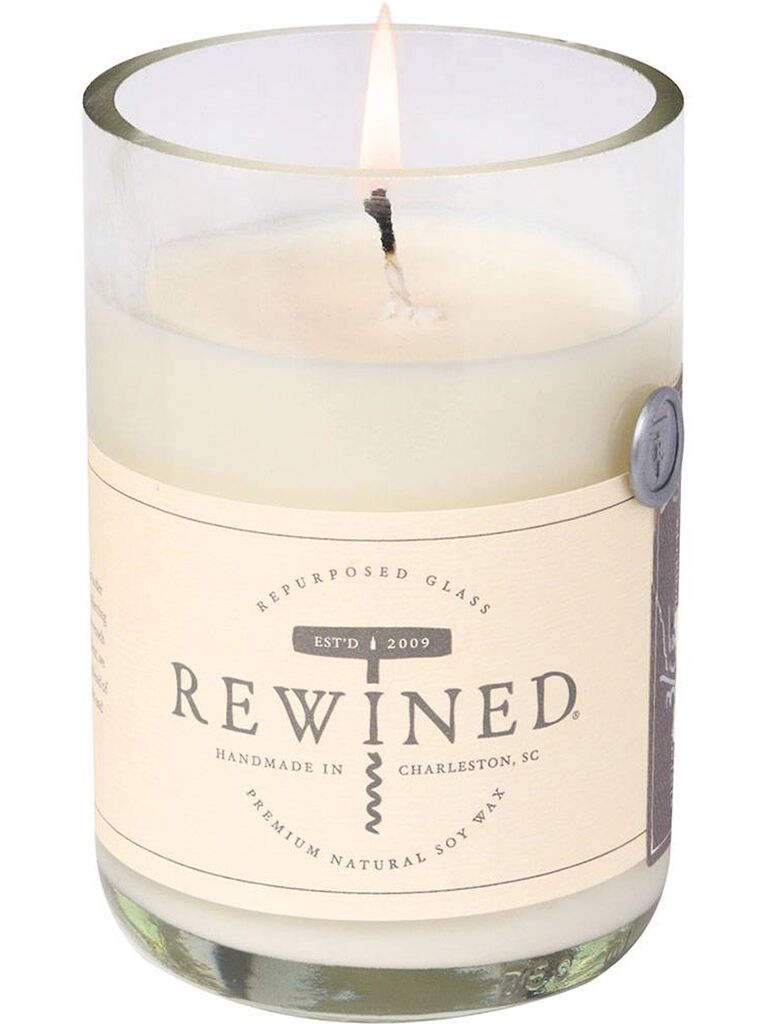 Roses are red, violets are blue—okay, we'll let you finish the rest. This hand-poured soy candle features the luxurious scent of fresh rose petals and fruits and makes the ideal seventh wedding anniversary gift for wine lovers. Why? It's presented in a recycled wine bottle, which is equal parts eco-friendly and attractive.
Rewined Rose candle, $30, PaperSource.com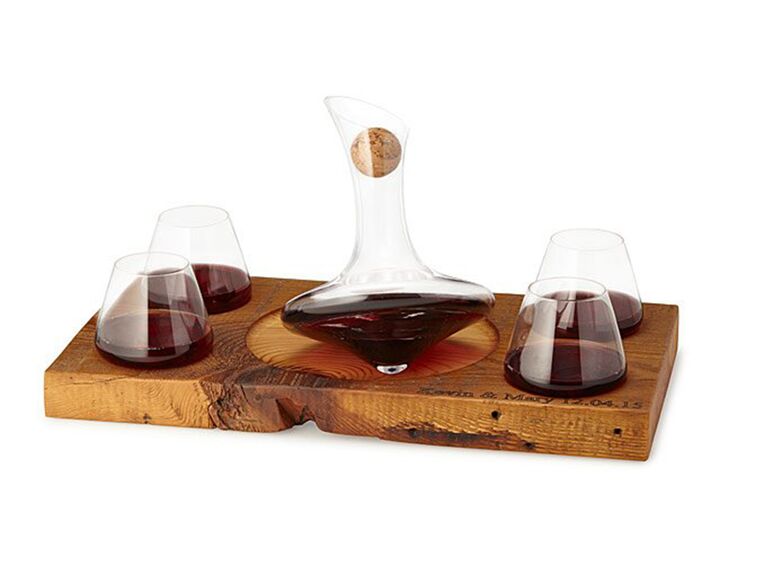 They say form follows function. In this case, that's true and we're so happy about that. This glassware has been designed to aerate their wine and spirits with a twirl as they place it back onto the handcrafted wood stand. It's drinks and a show without ever leaving their living room—and we are here for it.
Patrick Fitzpatrick spinning spirits set, from $220, UncommonGoods.com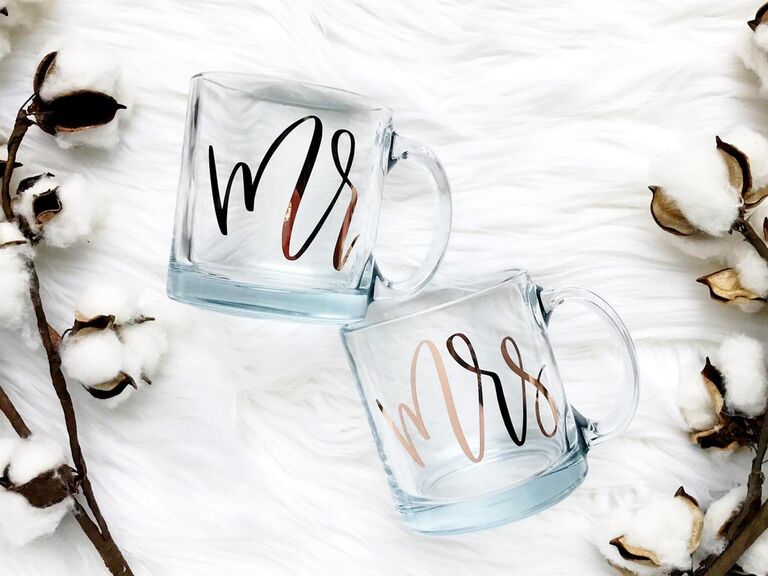 Coffee, tea, a warm cup of mulled wine on a fall evening; all things that go great in these beautiful hand-lettered mugs. Choose from a variety of metallic or matte calligraphy colors for some added personalization.
L. Lynn Lettering Co. Mr. and Mrs. (or Mr. and Mr. or Mrs. and Mrs.) coffee mugs, $26 for a set of 2, Etsy.com
Wool/Copper Anniversary Gifts for Her
Wool and copper gifts may sound pretty traditional at first, but as it turns out, there are tons of creative businesses and artisans out there crafting their wares in these precious materials. Below, find the best wool and copper seventh anniversary gift ideas for her.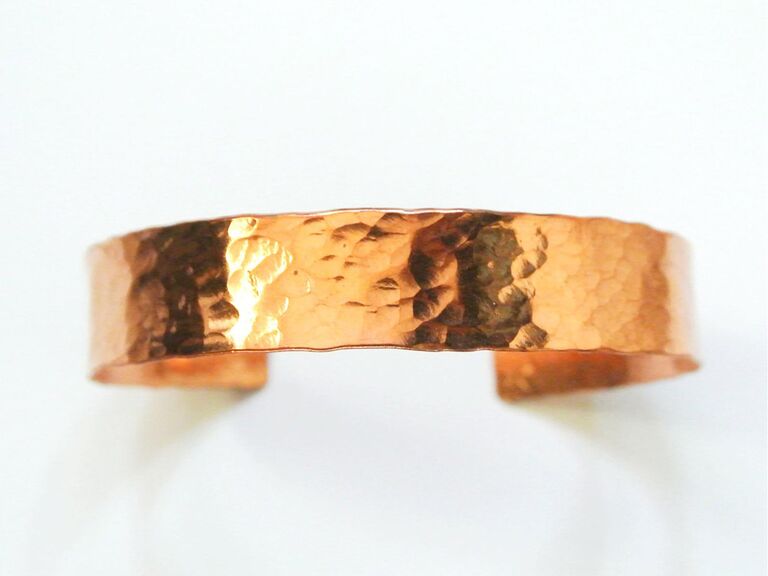 You can almost never go wrong with jewelry—it's true! This chic, copper cuff bracelet is an ideal seventh anniversary gift. Stamped lettering can be added to its interior for a sweet touch that'll earn you some bonus points.
The Pink Locket medium copper cuff bracelet, from $40, Etsy.com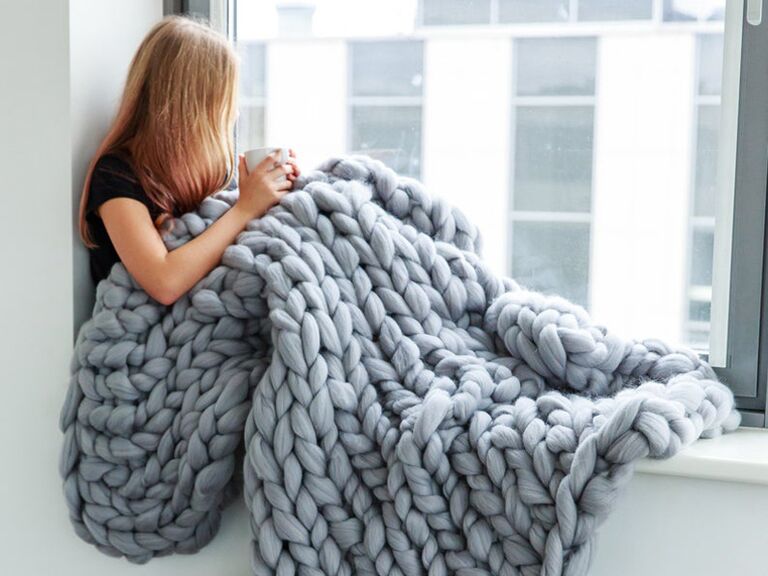 This chunky blanket is giving us the warm and fuzzies. A wool gift like this one is perfect for spending a seventh anniversary in supreme comfort and luxury. Better yet, there are dozens of colors to choose from. (It's official. We're in love.)
Cheery Little Sheep chunky knit twin size blanket, $175, Etsy.com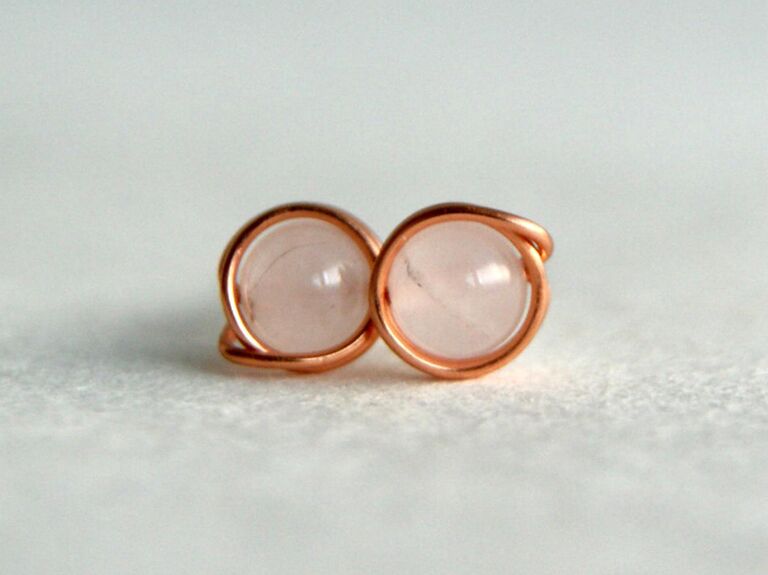 Another copper gift she'll love are these sweet little earrings, ideal for everyday wear. The subtle pink of the rose quartz looks beautiful next to the metallic copper wire.
Lemon Sage Designs rose quartz & copper stud earrings, $15, Etsy.com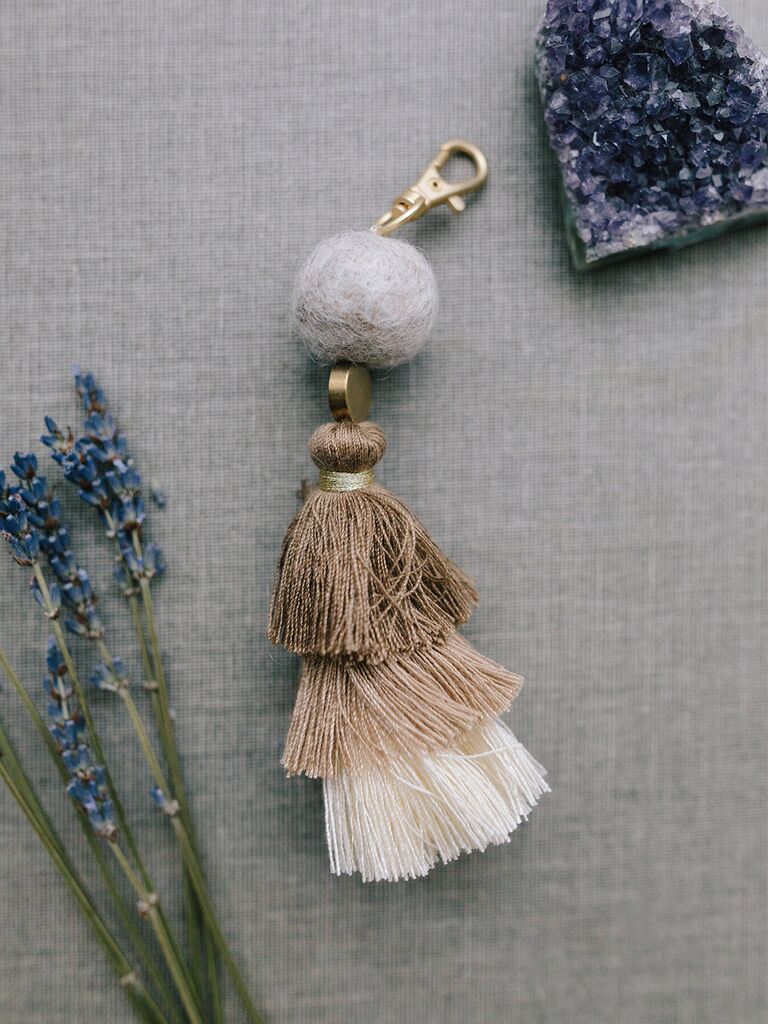 This cute little keychain fits the wool gift theme in a totally unique way. First, she places a few drops of her favorite essential oil (or essential oil blend—hello, lavender and peppermint) on the wool pom-pom. Then, she clips the accessory to a bag or car keys for stylish aromatherapy on the go. This gift will encourage her to get her calm on for a relaxing seventh anniversary. 
Scout Supplies essential oil keychain, $13, Etsy.com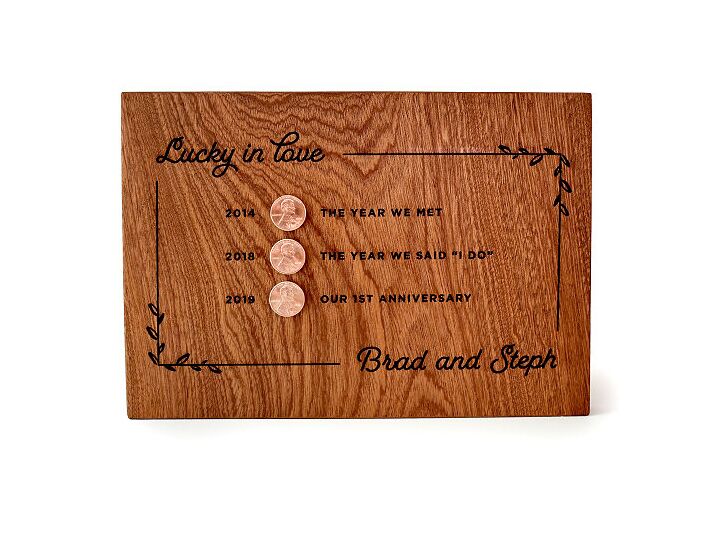 The first thing most of us think of when someone says "copper" is the penny. Now, we aren't here to recommend that you gift your wife a penny—maybe if it's a special penny?—but you should definitely consider this personalized hardwood plaque. Display special dates beside the year's corresponding coin. 
Melyssa, Michele and Christine Kirn Lucky in Love personalized penny art, $115, UncommonGoods.com 
Wool/Copper Anniversary Gifts for Him
Are you searching for the perfect copper anniversary gift for your husband? What about a wool gift? This list contains our MVPs (Most Valuable Presents) for the "him" who happens to be celebrating a seventh wedding anniversary.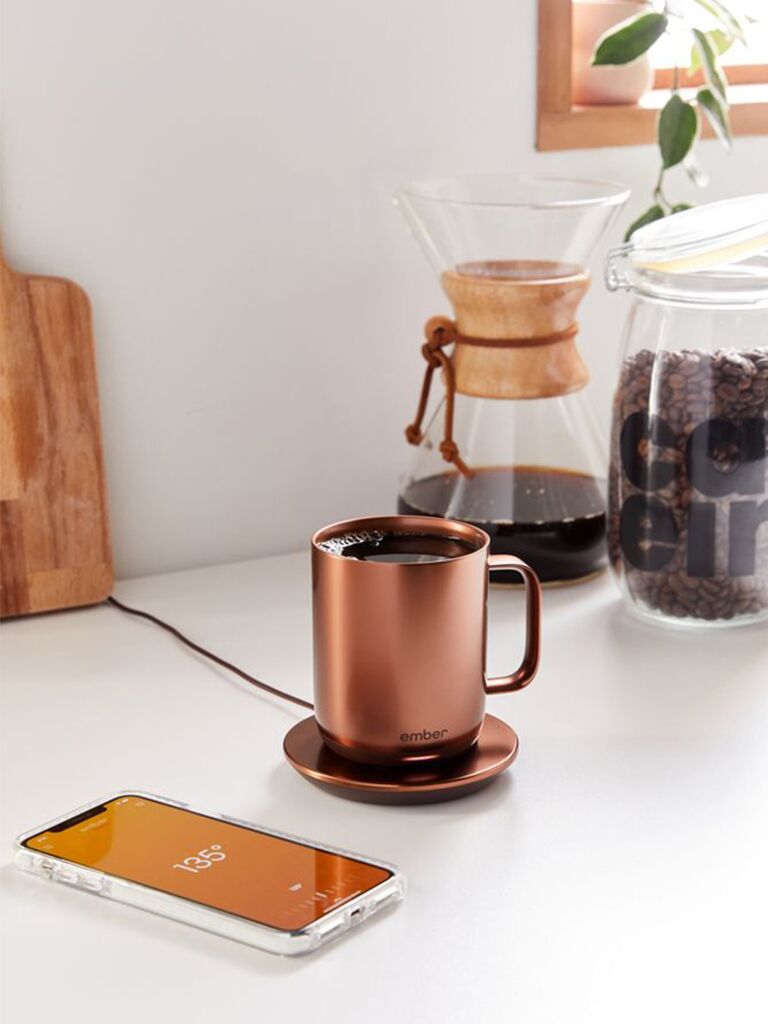 Copper and coffee go together like... well, we don't think there's a saying for that, but this mug looks fantastic in this copper color, doesn't it? The copper anniversary gift is designed to keep his coffee warmed at the ideal temperature. It even connects to an app, so he can be alerted when his coffee hits the point of maximum sipability.
Ember 2 ceramic 10 oz copper mug, $130, UrbanOutfitters.com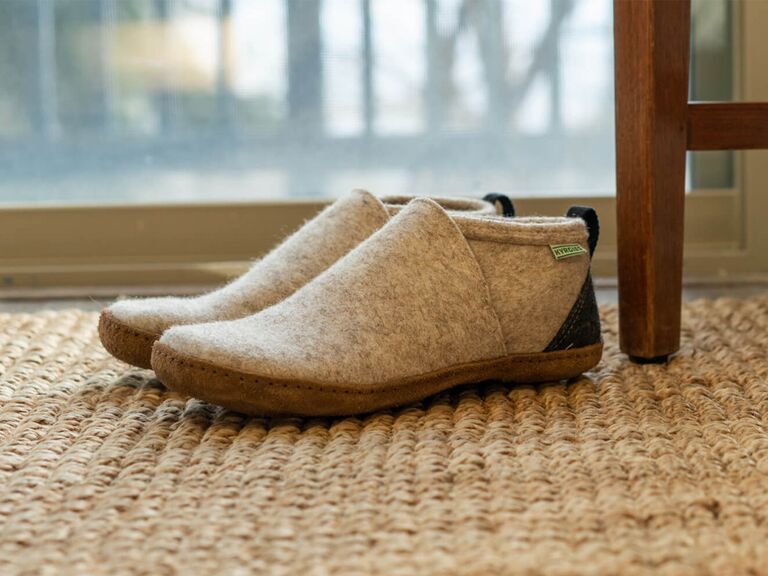 This wool seventh anniversary gift will have him doing his happy dance. The slippers are made from felt with grippy leather soles so his feet will stay cozy and warm. Another plus is that they're crafted using fair-trade practices, so it's a win-win.
Kyrgies mens all natural Tengries felt slippers, $79, Etsy.com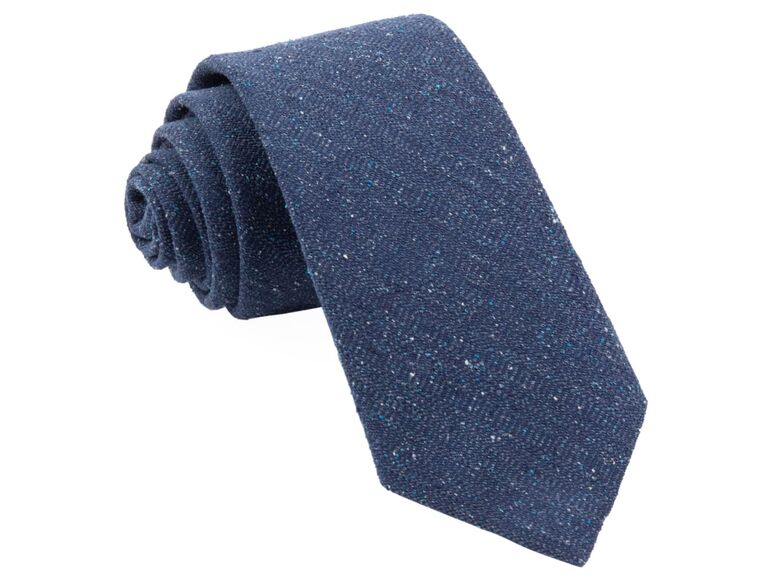 Just because it's a traditional wool anniversary gift doesn't mean that it has to be outdated. This modern wool-blend tie goes everywhere from the office to happy hour with ease. Thumbs up for style and versatility! 
The Tie Bar Bear Lake solid navy tie, $22, TheTieBar.com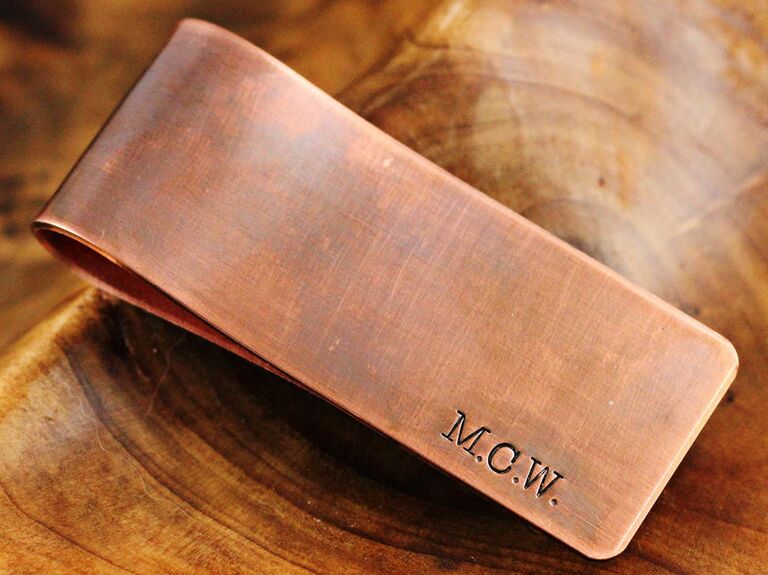 Handmade items are the best. This durable money clip has been made from 18-gauge copper (that's pretty darn strong!). Money clips tend to be less bulky than a wallet which makes them super convenient. Add his initials as a special touch for a practical and meaningful copper anniversary gift.
Woobie Beans custom copper money clip, from $30, Etsy.com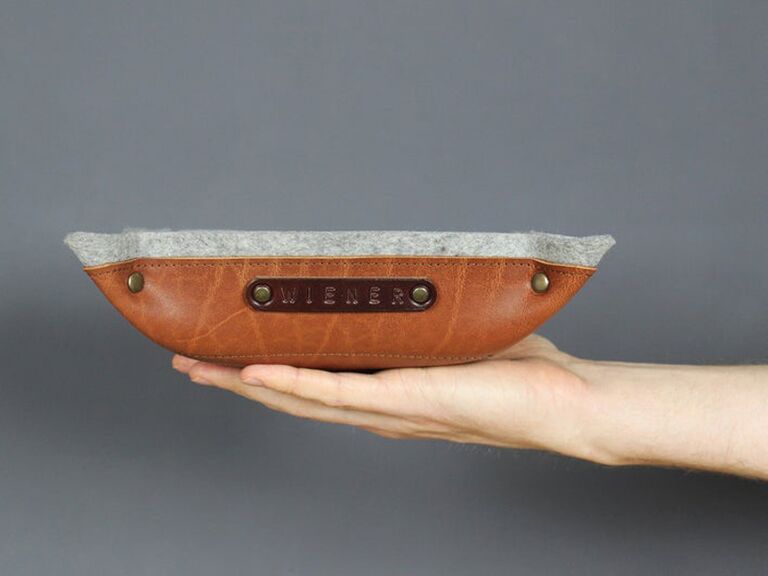 This wool and leather catchall is attractive and functional for holding loose change and car keys to maybe an old receipt or two (we're not here to judge). Add a leather name plate with his name, initials or a date (whatever you fancy) for a winning wool seventh anniversary gift that he'll actually use. Wanna take it to the next level? Throw a few copper pennies into the tray and let's bring this thing full circle.
Frea Atelier leather valet tray, from $32, Etsy.com
Wool/Copper Anniversary Gifts for Them
Going the traditional route and buying a couple nearing their seventh wedding anniversary a gift in copper and wool doesn't have to be boring. There are gifts out there to suit the style and taste of every duo. Follow along for a list of some of our favs.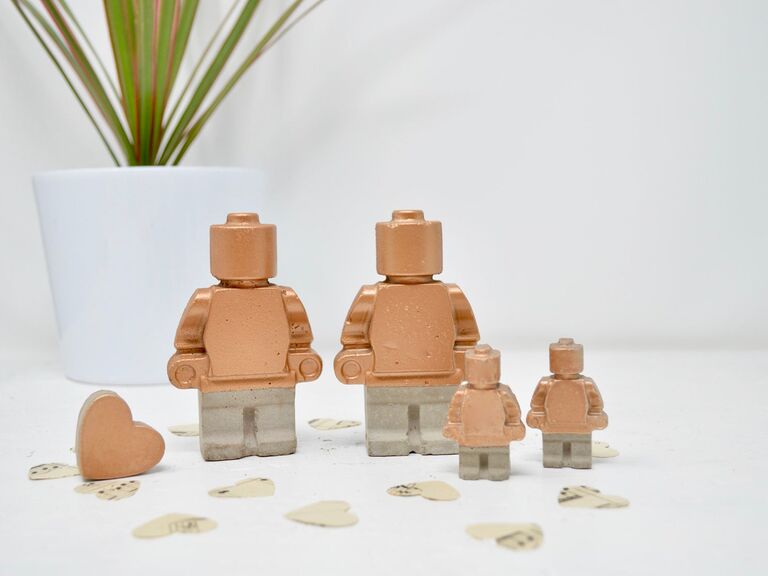 How adorable are these little copper robots?! This gift is ideal for any copper anniversary couple, as they can be purchased as a set of two or you can add small ones for a set that reflects the size of their family. Cute, sentimental and thoughtful—score.
Concrete Robot Store copper concrete family set, from $38, Etsy.com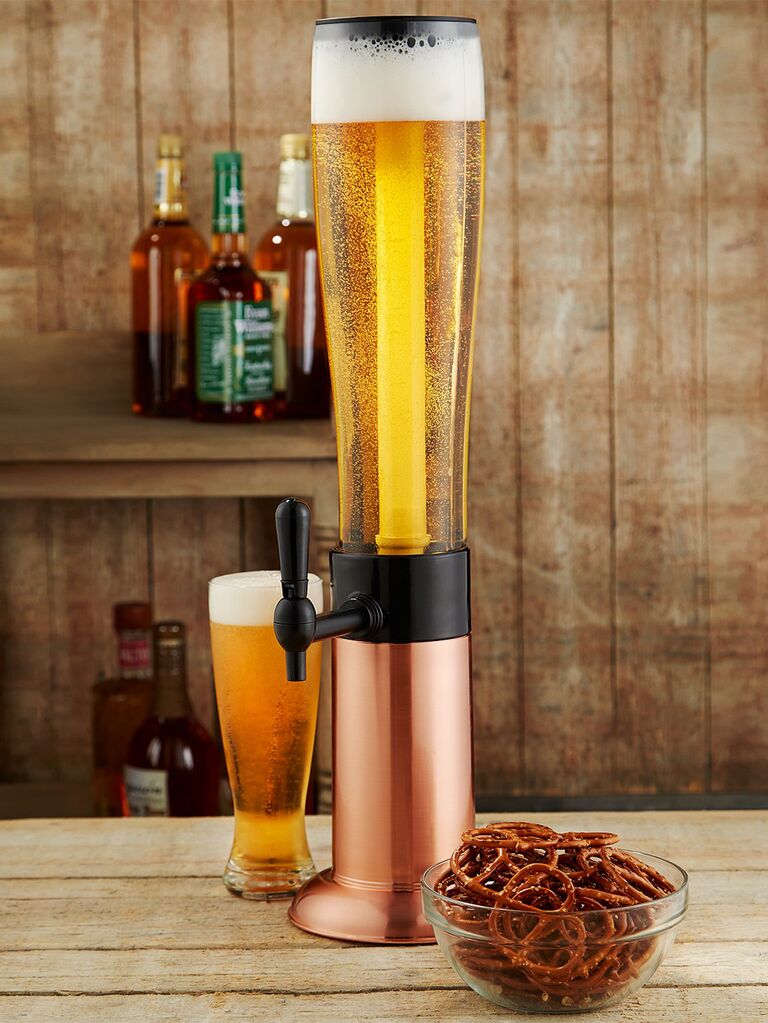 Technically, this is a copper anniversary gift. It's a copper color and honestly? That's enough for us. Not much needs to be said for this tower of gloriousness that's equipped to house a large amount of their favorite beverage. Just be sure they invite you over for the party!
Studio Mercantile 3-qt. beer tower, $100, Macys.com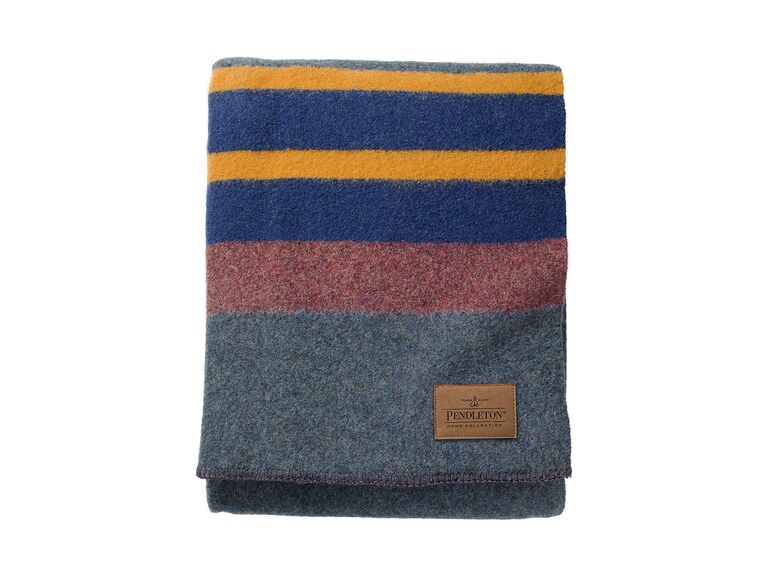 This is for the adventurous couple, or the couple who loves a picnic in the park and even the couple who enjoys keeping warm near a backyard bonfire. This wool seventh anniversary gift has been designed to stand the test of time, just like the perfect pair that you're gifting it to.
Pendleton Yakima camp throw, $234, Amazon.com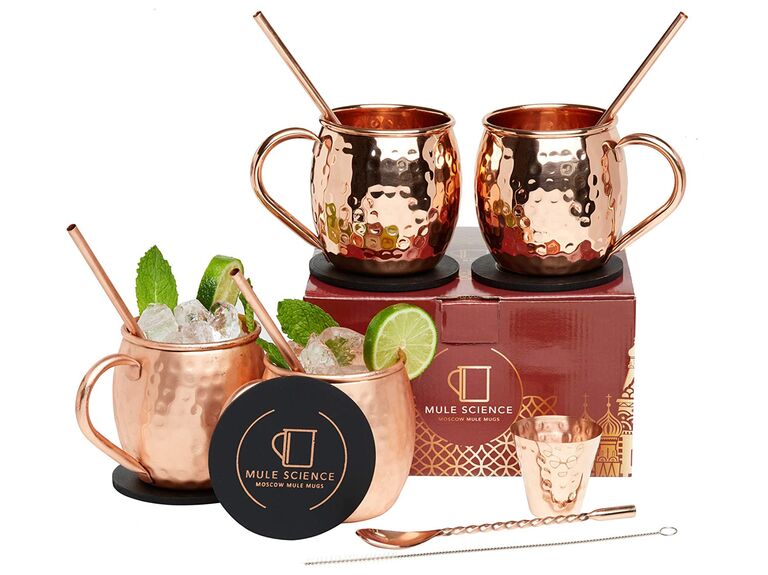 From classic Moscow mules to their own drink concoctions, they'll love serving beverages in these copper mugs. This set of four includes some extras, so they'll have everything they need to begin their seventh anniversary celebrations.
Advanced Mixology Moscow mule copper mugs, $45, Amazon.com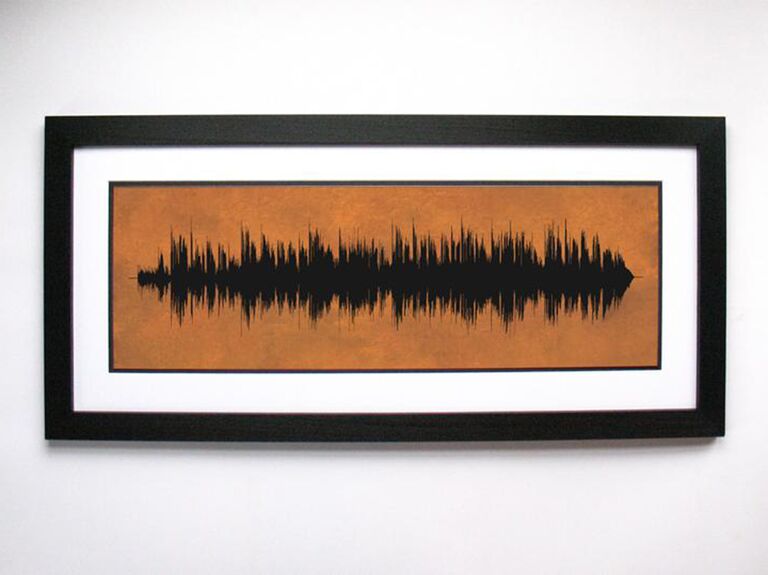 Bring back those special memories by purchasing this copper sound wave wall print of their first dance song (or another song that holds particular significance to the couple). This is a copper wedding anniversary gift that music lovers are sure to appreciate.
Voice and Sound song sound wave, from $59, Etsy.com
Desk Set/Stationery Anniversary Gifts
Showing love and respect to one's work is one of the highest acts of kindness we can give. Whether their work is personal to them or this couple is a team in business together, let them know that their talents are valued. Below are our favorite desk set and stationery anniversary gifts for year seven.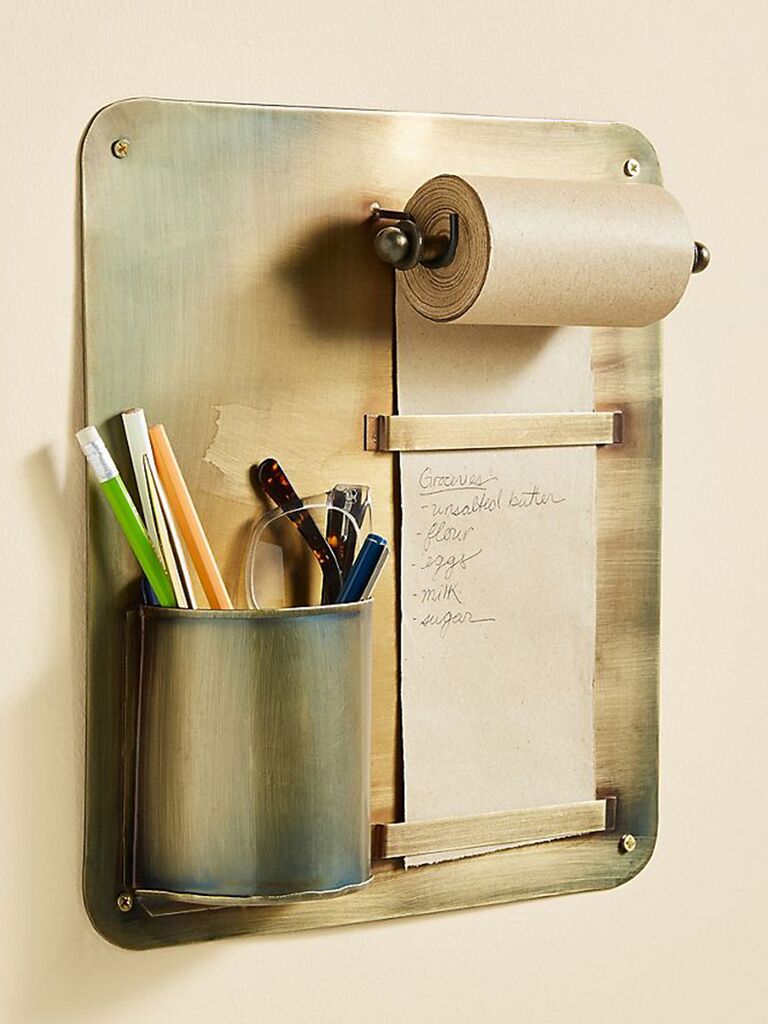 Help them write notes and store pens, pencils, scissors and all those other little things that show up on their desk. Only, with this wall-mounted present, they're actually off  their desk. For this anniversary, give the gift of a tidy workspace. Three cheers for organization! Hip-hip hooray!
Anthropologie wall-mounted scroll and pencil holder, $68, Anthropologie.com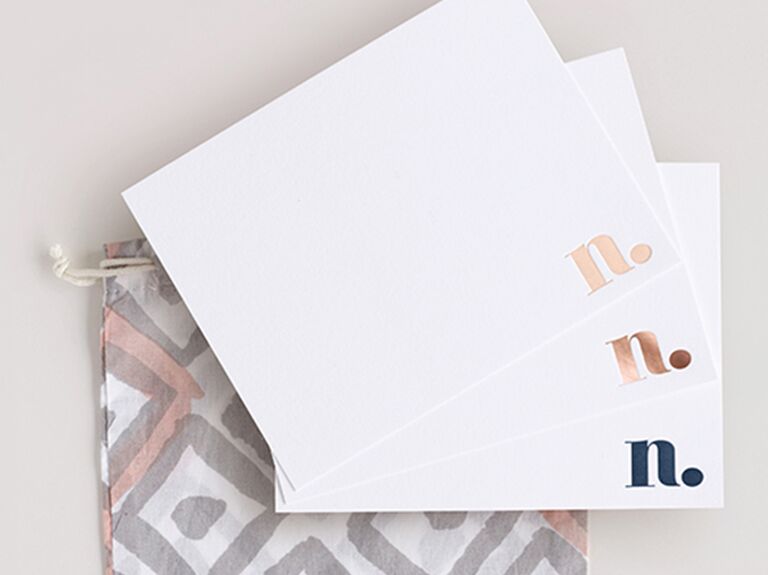 Available in several different designs with a mix of modern colors to choose from, this stationery is a timeless gift in an age when digital correspondence is all too commonplace. This seventh anniversary present is special and beautiful for a husband, a wife or a couple.
Minted Modern Monograms letterpress stationery set, $28 for 20 cards and envelopes, Minted.com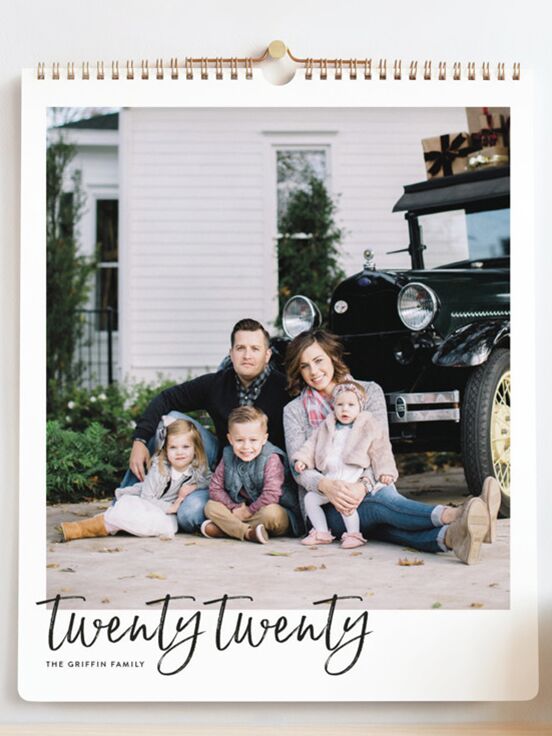 Help them organize their time while adding a bit of personalization to their office space. These cute calendars can feature a favorite couple photo, a beloved pet or the entire family. This is another simple and thoughtful gift for anyone celebrating their seventh anniversary.
Minted Brushed Grand calendar, $39, Minted.com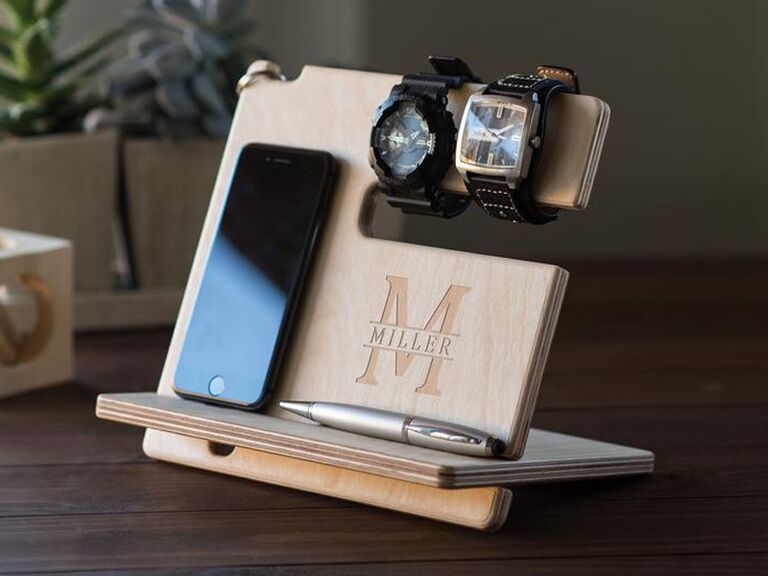 We all have gadgets galore and no place to put them all. This handy docking station provides a place for phones, wallets, keys, watches and more. *Immediately adds to cart.* What's more is that it can be personalized with a name, date, initial or a sweet message.
Etch Craft personalized docking station, $39, Etsy.com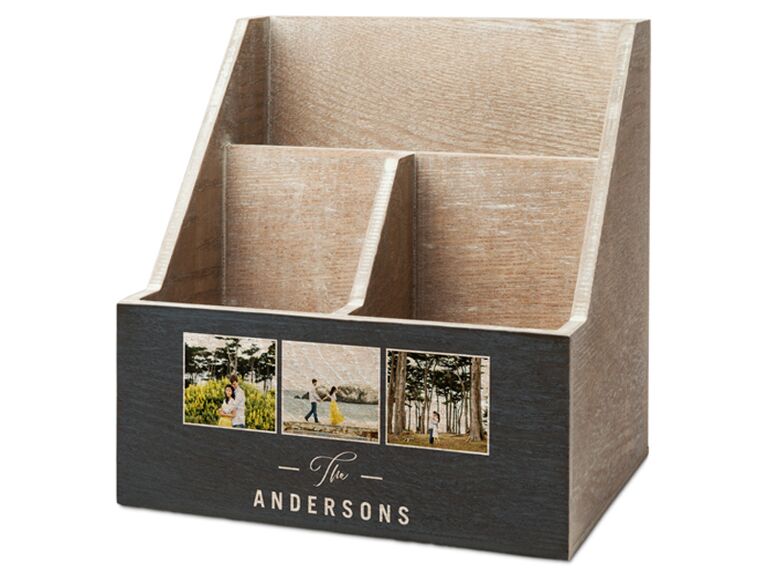 Instead of throwing their important papers in a drawer to forget about, they can keep them at arm's reach with this personalized caddy. It can be etched with custom text and favorite photos to bring a smile to their faces each time they see it on their desk.
Shutterfly modern personalized gallery desk caddy, $50, Shutterfly.com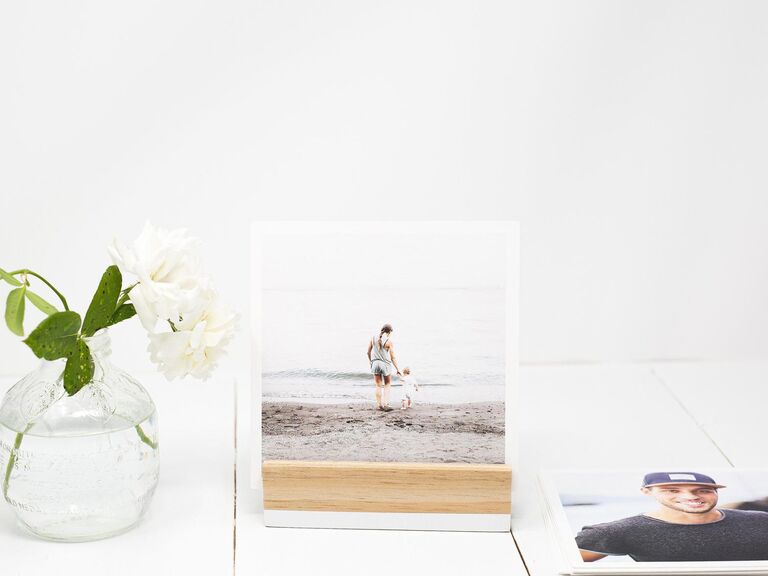 These days, our loved ones spend so much time and effort choosing the perfect photo and a thoughtful design for cards and invitations, and we just hate to throw those away or keep them out of sight. This seventh anniversary gift provides a beautifully designed solution for displaying that special mail and more!
The Heart Department Co. wooden print holder, from $8, Etsy.com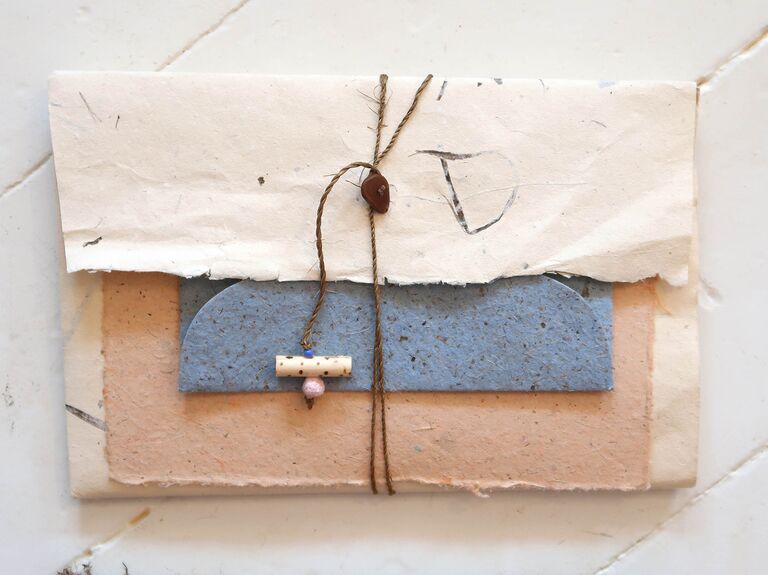 This handcrafted stationery set is giving us all the rustic vibes. This anniversary gift is so special you may have to order two (one for them and one for yourself).
hidden gem stationary card set, $18, hiddengemny.com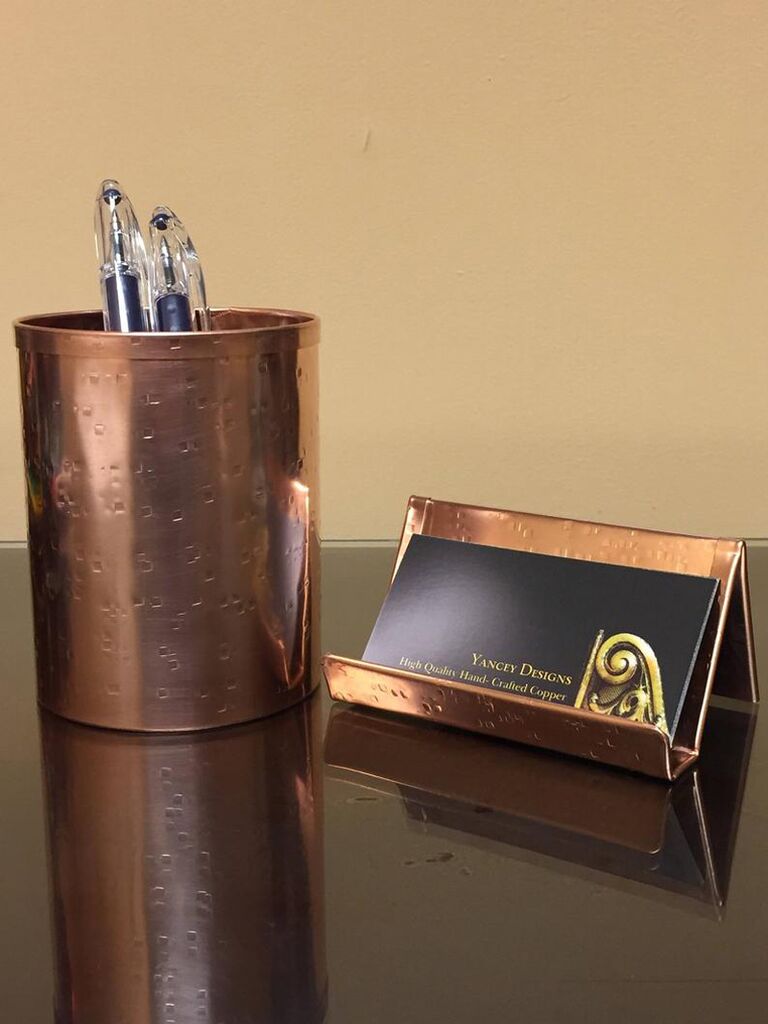 Cover all your bases with this hammered copper desk set, the ideal gift for a loved one who is about to celebrate their seventh year of marriage. This set includes a pen holder and a business card holder that will elevate their office's style and function.
Yancey Designs square-hammered copper desk set, from $43, Etsy.com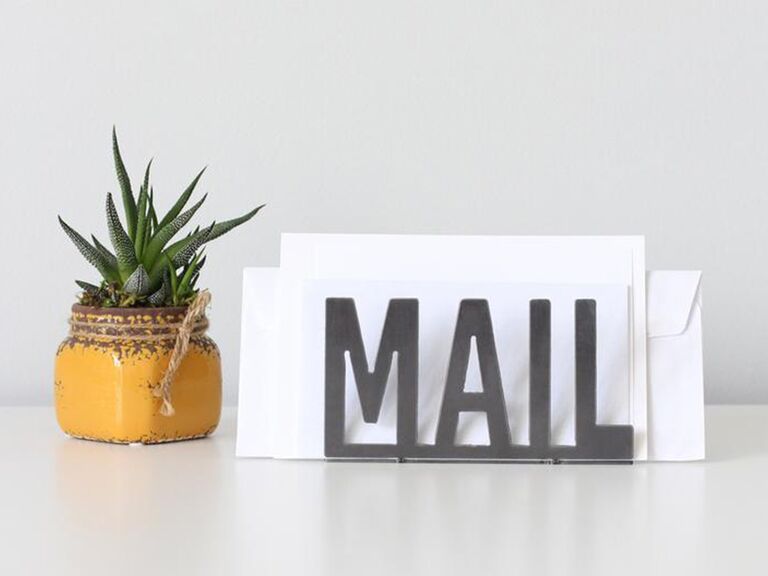 There's only one thing more reliable than the mail carrier and that's the fact the mail will get misplaced. This anniversary gift will help organize the home office and keep all the mail in one (very obvious) place.
Highland Ridge Rustics metal mail organizer, $29, Etsy.com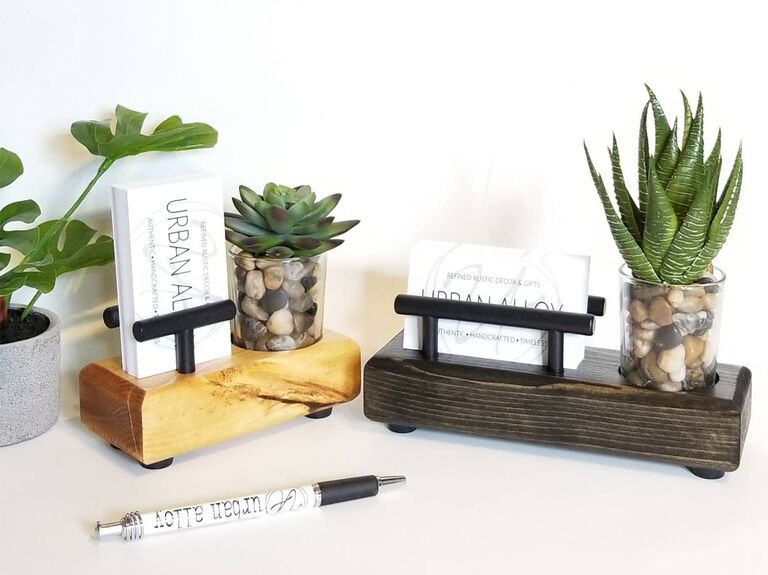 Finally, bring a bit of zen to their office with this wooden card holder. Not only will it keep their business cards in place, it comes with a faux succulent to add a bit of calm to a busy work day (no one else has to know it's not real). Choose from a variety of wood finishes, sizes and configurations for a more personalized touch.
Urban Alloy business card holder, from $41, Etsy.com