The Best 7-Year Anniversary Gift Ideas for Your Spouse
Celebrate seven heavenly years with our top traditional and modern anniversary gifts.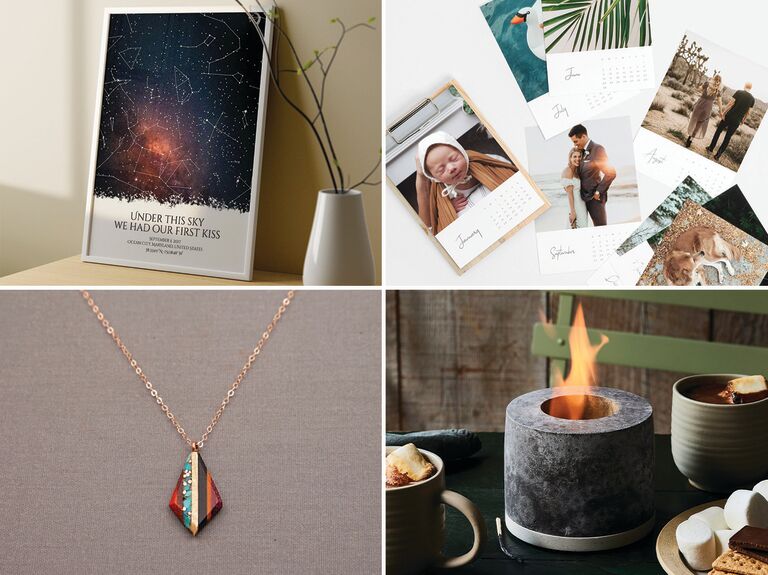 Photo: ArtMemento, Artifact Uprising, Food52, JosiahEidmannStudios
We have included third party products to help you navigate and enjoy life's biggest moments. Purchases made through links on this page may earn us a commission.
Seven years of marriage is a huge accomplishment that deserves to be recognized, and choosing a thoughtful seven-year anniversary gift for your spouse is a perfect way to honor the occasion. From unique gifts as individual as your love story to classic presents that are both pretty and practical, consider us your one-stop shop for seventh wedding anniversary gifts. These traditional and modern anniversary presents are right on theme—but if you'd rather break from tradition, that's okay too. We're also sharing some of our favorite alternative picks to help you think outside the box. Keep reading to find out all you need to know about the traditional seventh year anniversary themes, then shop our list of sure-to-please ideas.
In this article:
Traditional Seven-Year Anniversary Gifts
Traditionally, seven years of marriage is represented by gifts made from copper and wool, two deeply symbolic materials. Copper is strong yet malleable, making it the perfect tribute to a relationship that has grown and changed over time. Wool, on the other hand, is associated with warmth and comfort, like the fuzzies you get from being truly seen in a relationship. Together, these materials symbolize a strong and loving bond between two people who feel secure and happy in their union. While wool and copper anniversary gifts may seem hard to find, we've done the shopping for you, rounding up plenty of memorable and meaningful presents for him, her or them.
Copper Sheet Music Art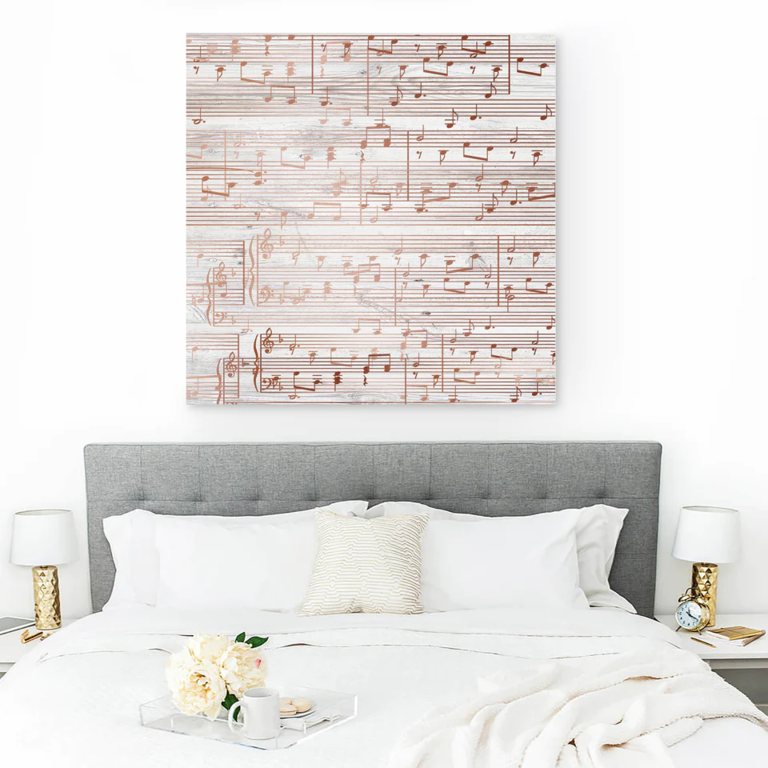 If you've got a special tune that means the world to both of you (like your wedding song or something you enjoy singing along to), have the sheet music printed on canvas in a beautiful copper hue. This special piece of home decor is a romantic seven-year anniversary gift your spouse will love, and it will make an intriguing focal point in your home. Who knows, it may even inspire you to reenact your first dance all over again.
Anniversary Material Keepsake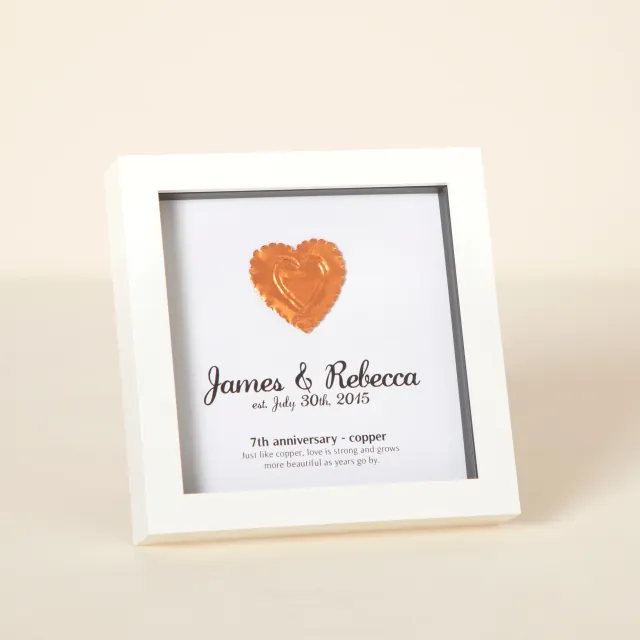 Here's a copper-themed gift that'll appeal to your spouse's sentimental side. The framed keepsake features an embossed copper heart and a short message about the significance of the traditional seven-year anniversary material. Add your names and wedding date to bring an extra layer of meaning to this thoughtful gift.
Recycled Wool Blanket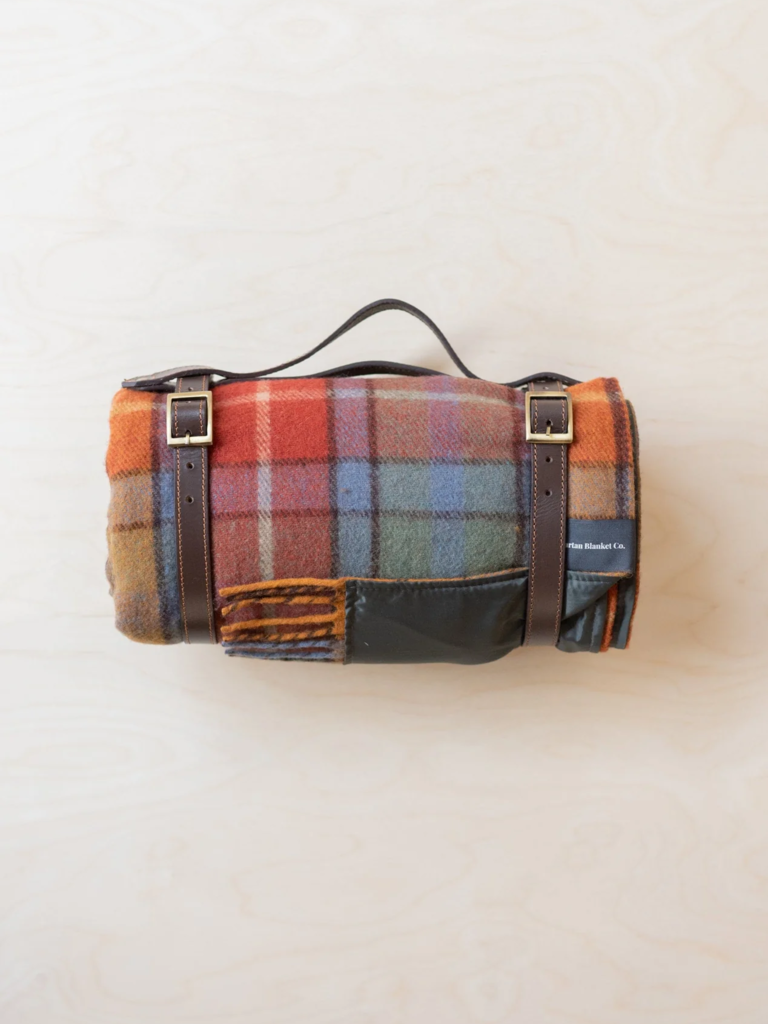 Perk up your picnics with a classic plaid blanket that's sustainably made from 70% recycled wool fibers. It's estimated that each one prevents six garments from reaching landfill, transforming preloved clothing into a plush blanket you'll want to keep forever. Bonus: It comes with a handy picnic carrier strap and can even be embroidered with a monogram for a luxurious finish.
Merino Wool Top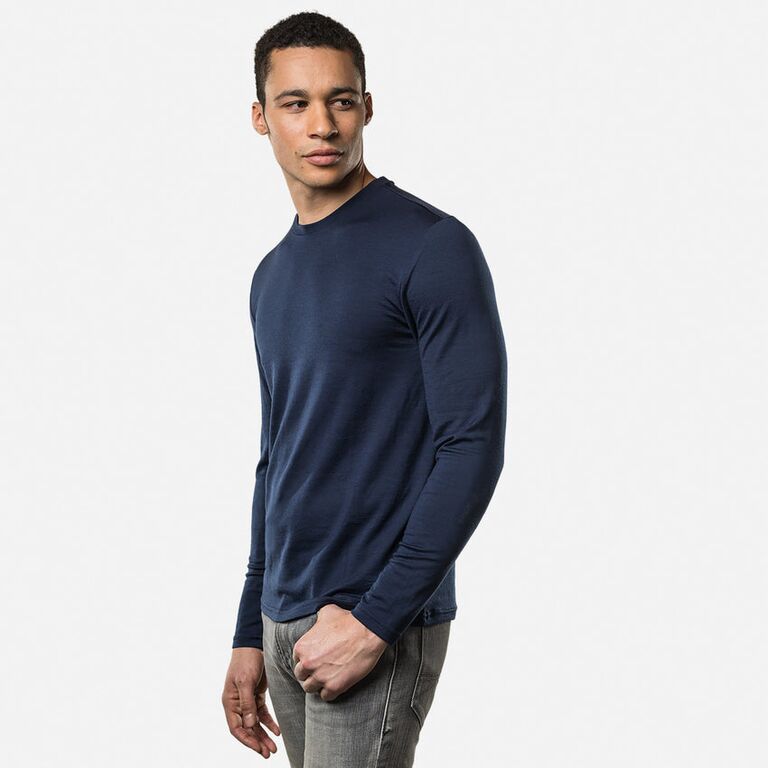 The wool anniversary is an excellent opportunity to upgrade your partner's wardrobe by treating them to something special, like this gorgeous Merino wool crew top. The slim fit effortlessly combines comfort and style, while the breathable fabric regulates temperature and protects against odor-causing bacteria. That means it's no big deal if your spouse wears it around the clock—it can go weeks before needing a wash, making it a more eco-friendly option, too.
Sentimental Penny Art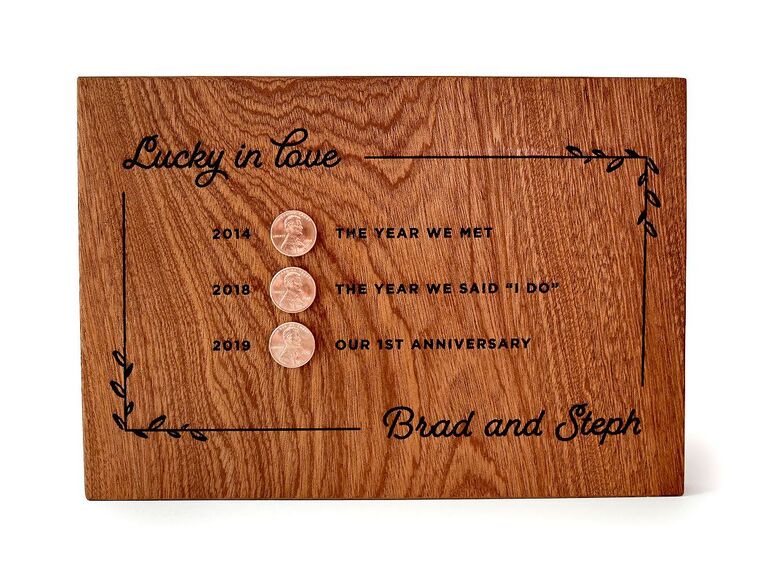 The first thing most of us think of when someone says copper? The penny! This unique plaque displays three special dates from your relationship—like when you met, got married and celebrated your seventh anniversary—each beside the year's corresponding coin. What a fun way to recognize just how lucky you are in love.
Copper Tumblers in Wool Case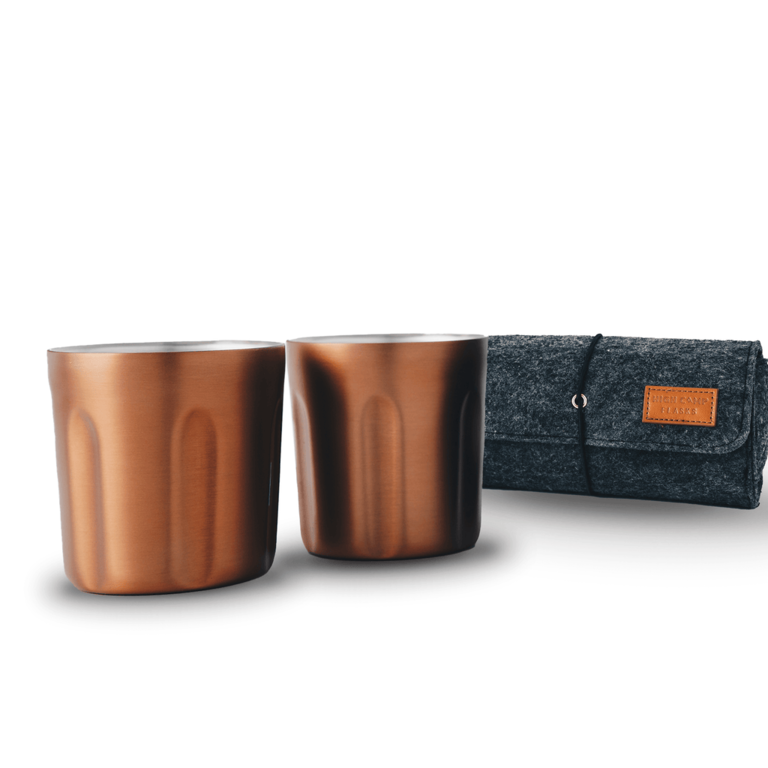 If you're shopping for an outdoorsy spouse or couple, these handy tumblers will add some style to their next camping trip. The copper-toned stainless steel cups come in a wool felt case, combining both of the traditional seventh anniversary gifting materials (you'll get full marks for being super thoughtful here!). Go one step further and pair the set with a bottle of anniversary-worthy wine to make this seven-year anniversary gift extra special.
Copper Fondue Set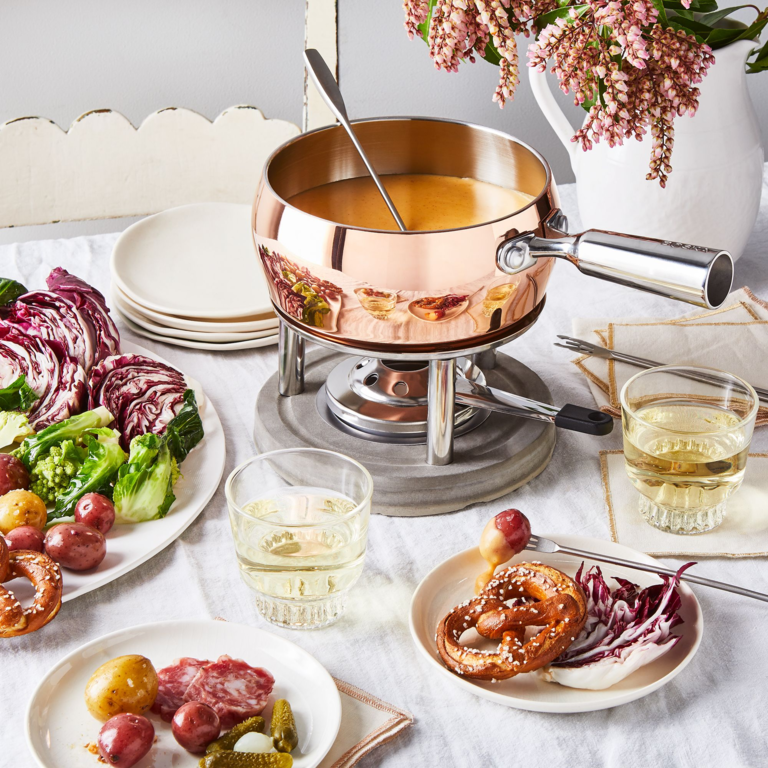 Spoil the cheese enthusiast in your life (while honoring the traditional seven-year anniversary gifting material) with this cute copper fondue set. Because copper is such an excellent conductor of heat, it's the perfect vessel for melting cheese or chocolate at an even temperature, which means no more worrying about burning your favorite foods. This set from Boska includes everything you need to create the perfect at-home fondue date, including a copper pot, concrete base with an integrated burner and four stainless steel forks.
Wool Turtleneck Sweater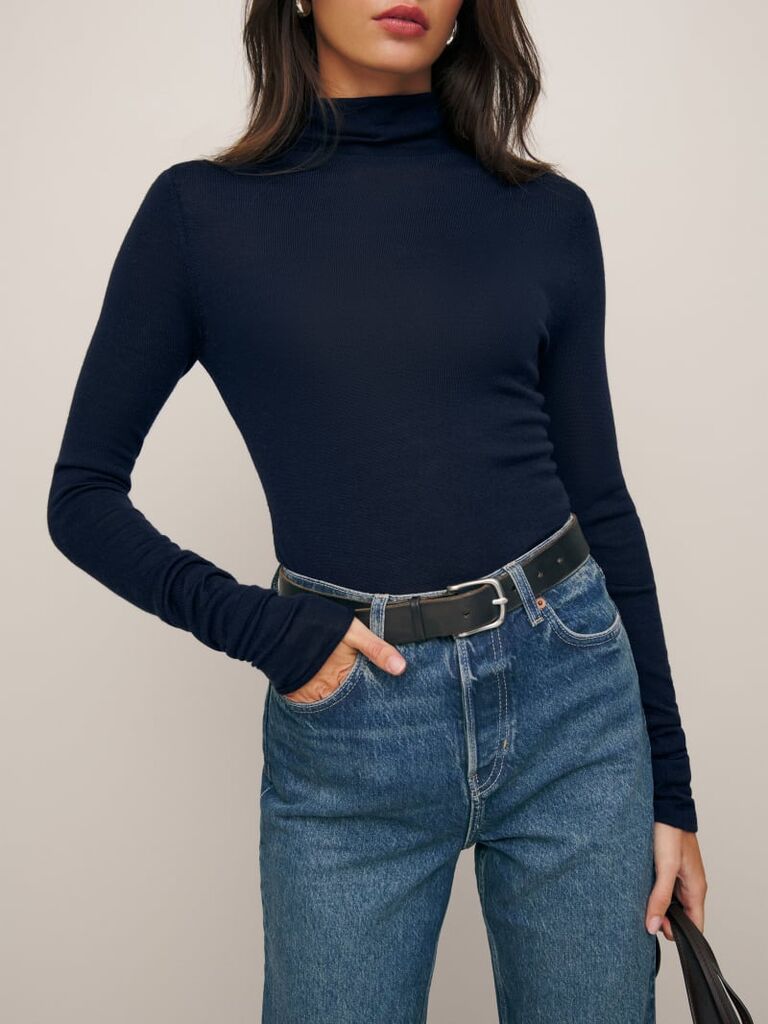 For the spouse who loves to look stylish and feel cozy, it's hard to go wrong with a classic turtleneck sweater. This one is made from 100% wool, sustainably sourced from a regenerative farm that supports eco-friendly practices. It's available in black, navy or gray and is ideal for layering under dresses, tucking into skirts or throwing on with a pair of jeans.
Recycled Copper Necklace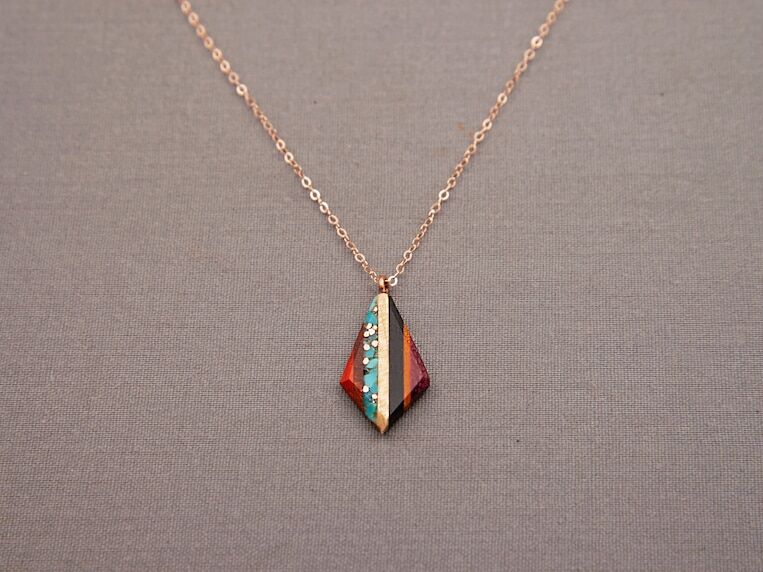 Gifts for the seventh year anniversary come in all shapes and sizes, as this gorgeous pendant necklace clearly shows. It's handcrafted from recycled copper, reclaimed wood and turquoise gemstones, making it a stylish accessory for both day and night. Plus, it pays tribute to the traditional seven-year anniversary theme in a really creative way, which is sure to score you some extra brownie points.
Cozy Wool Socks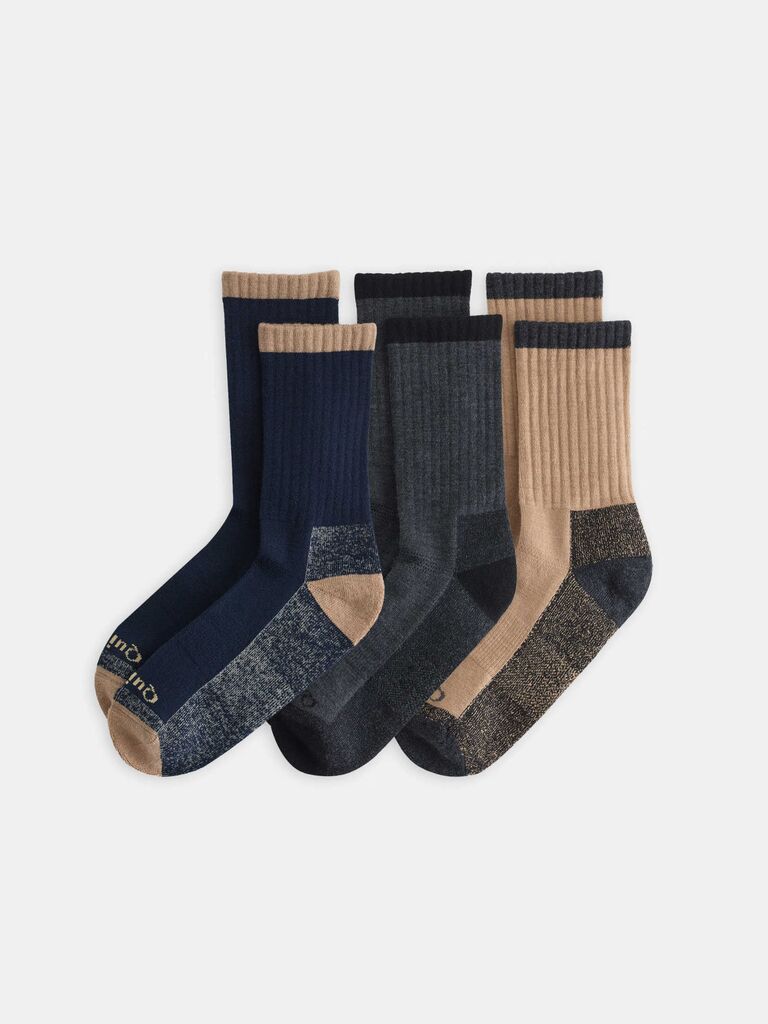 While cold hands are believed to signify a warm heart, we think the same can be said for cold feet. If your partner struggles with icy toes while they're out and about, these cozy wool socks will be a lifesaver. They come in a set of three and are made from a mix of Merino wool and spandex—ideal for outdoor activities like mountain hikes and romantic forest walks. Pick from four color combos to suit your spouse's personal style.
Modern Seven-Year Anniversary Gifts
What is the modern seven-year anniversary gift? There are actually two for this particular milestone: Desk sets and stationery items. These modern alternatives to copper and wool represent the respect a couple has for each other's work and interests. They can be practical (and personal) gifts if your partner works from home or wants to make their office space more inspiring. But it doesn't always have to be about work—stationery gifts can also be a great way to encourage your spouse to take up a new hobby or spend more time doing something they love. With this in mind, we've rounded up our favorite modern anniversary gifts to help you mark year seven in style.
Custom Valet Station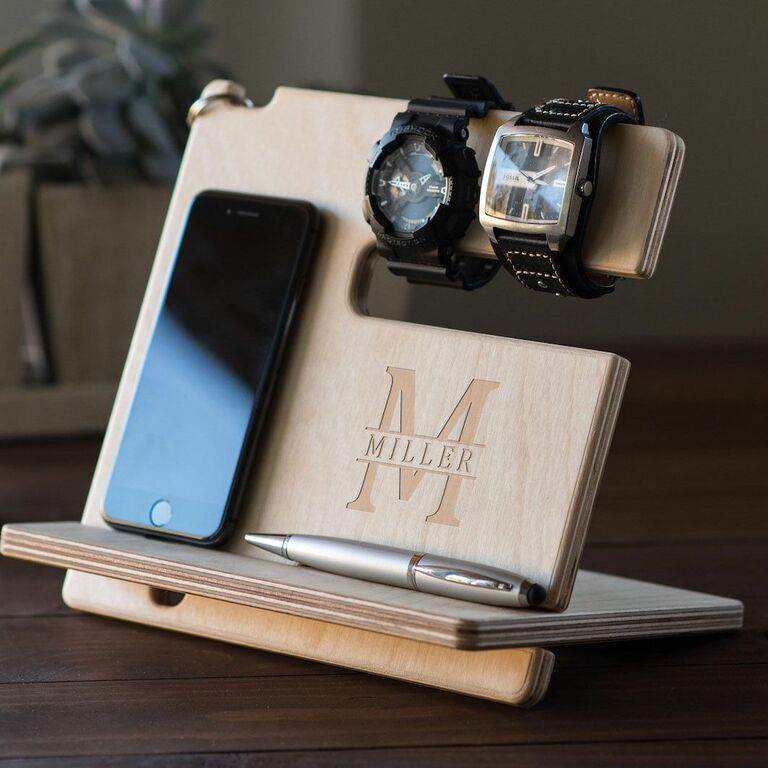 We all have gadgets galore—and no place to put them all. This handy wooden valet solves that problem by providing a place for phones, wallets, keys, watches and more. Have it engraved with your partner's name, initials or a heartfelt message for a personalized anniversary gift they'll actually use. Bonus: It features a handy charging slot on the bottom to power up their phone.
Desktop Photo Calendar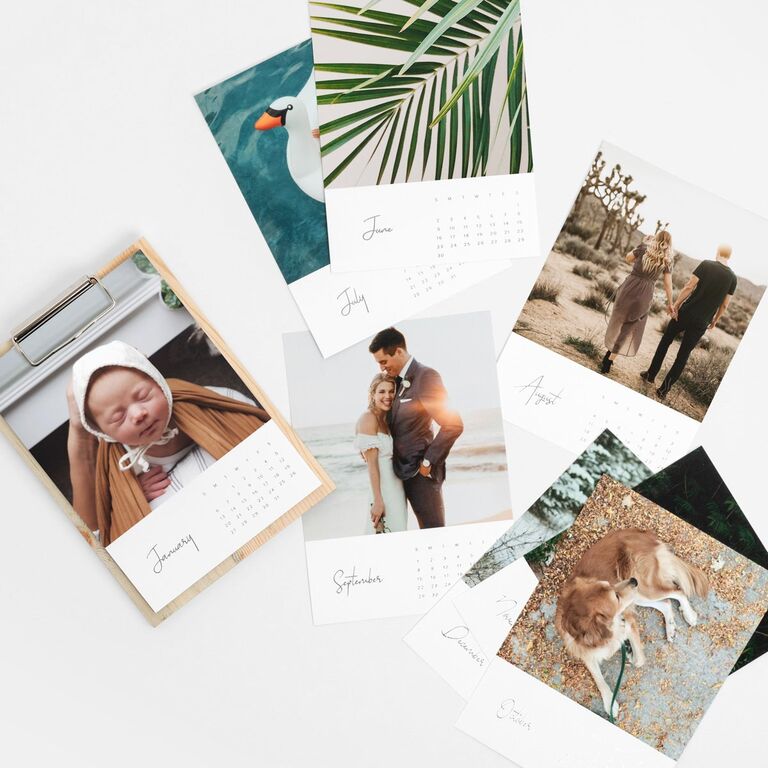 A sweet desk memento of your most cherished memories is sure to get your other half through the workday with a smile. This desktop calendar, made from walnut or pine wood, has a personally selected photo on each month's card. FYI: You can choose which month you want the calendar to start from, allowing you to easily mark the start of a new year in your marriage.
Magnetic Bulletin Board
Help them stay on top of their weekly appointments and upcoming events with a stylish (and practical) bulletin board. This magnetic version is covered in a linen-like fabric that comes in six neutral shades, which will go with most color schemes and, more importantly, won't distract from whatever is pinned on the board. Not only can they use it to display reminders or mood board their upcoming goals for the year, but they can also have fun showing off old fridge magnets collected over the years.
Multi-Functional Pen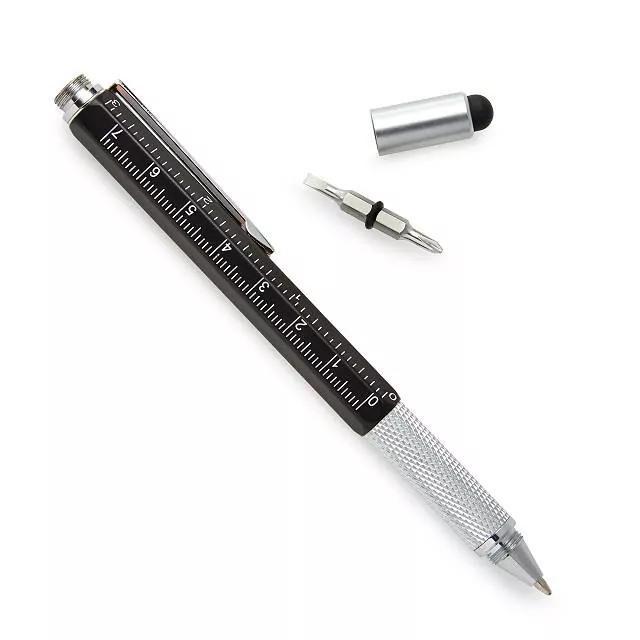 The modern seven-year anniversary theme is the perfect opportunity to surprise your spouse with something practical they'll use every day. This multi-functional pen is a gift that does much more than writing—in fact, it includes an integrated level, screwdriver and ruler, too. But there's even more to love about it, like the handy touch stylus on the end that's perfect for creating digital signatures. Cool, huh?
Handy Laptop Tray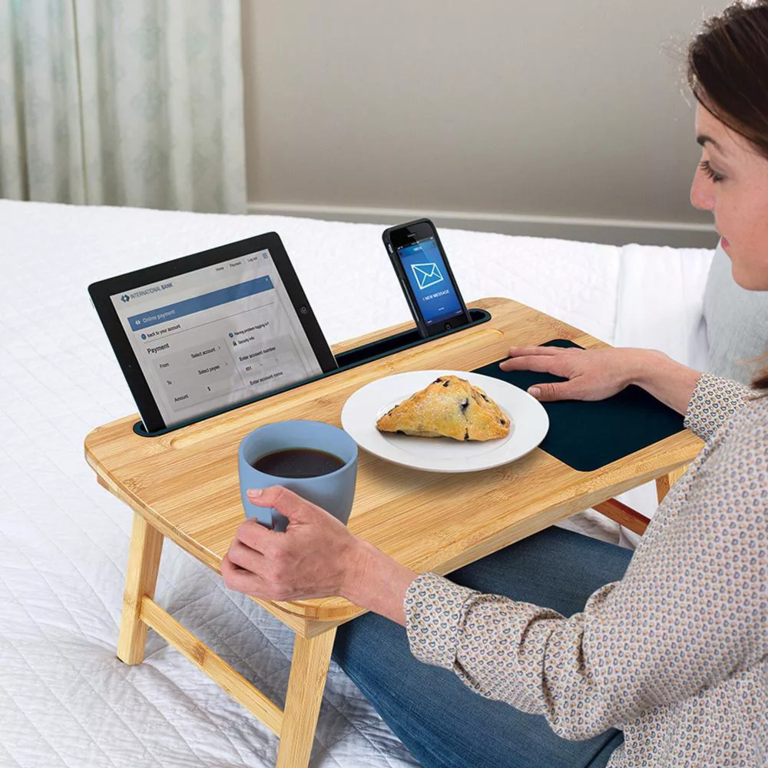 Stretch the desk set theme a little with this portable laptop tray. This practical seven-year anniversary gift will make working from home super easy, allowing your spouse to get stuff done from the comfort of their sofa or bed. Worried it might not seem like a romantic present? Think again! You can also use it to watch a rom-com or binge your favorite series together in bed for a cozy night in.
Personalized Vegan Leather Portfolio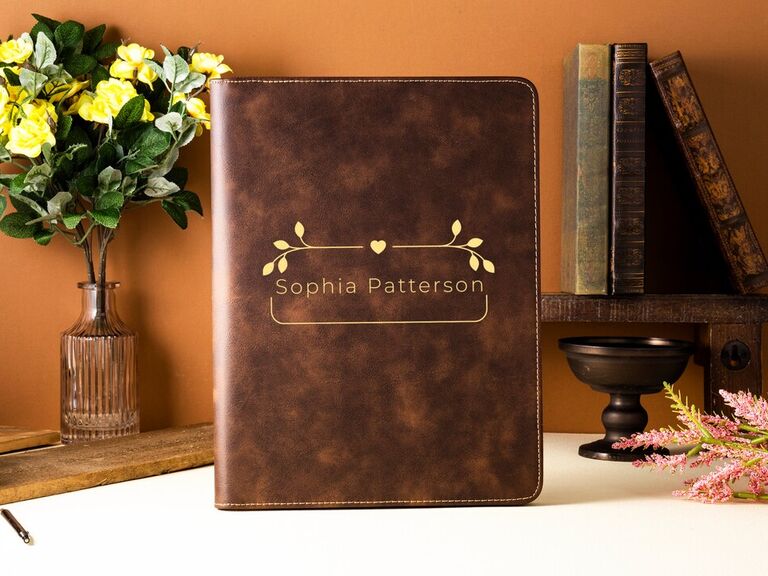 If your partner likes to jot down notes on paper, this practical portfolio case will help them keep everything organized. It's made from stylish vegan leather that can be engraved with their name and a personal message for a sweet touch. Best of all, the case is refillable, so they can swap out the notepad when it's complete. It's a useful (and stylish) seven-year anniversary present they'll be dying to show off during their next board meeting.
Daily Organization System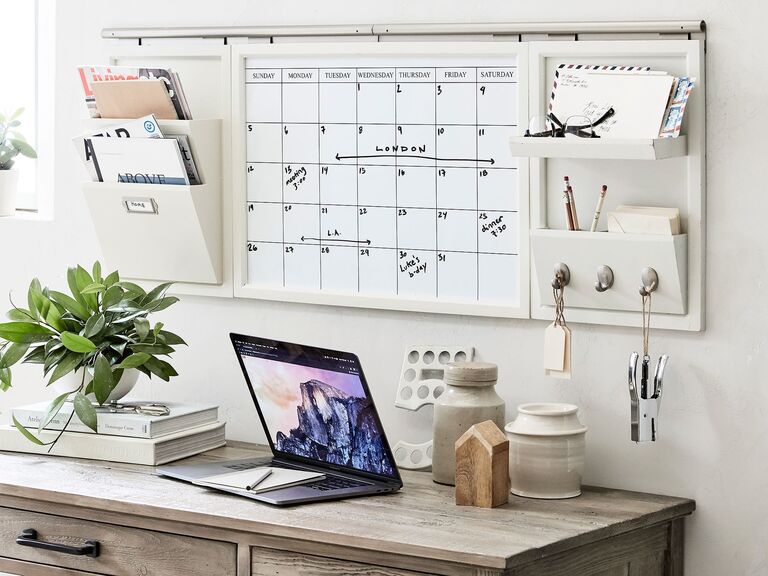 Married to someone who likes to keep everything neat and tidy? They'll love using this wall-mounted organization system to store all their work essentials. It includes an office organizer, a whiteboard calendar and a letter file bin, along with pushpins and magnets for displaying notes. Choose from two colors, white and gray, to compliment their home office decor scheme.
Novelty Spiral Notebook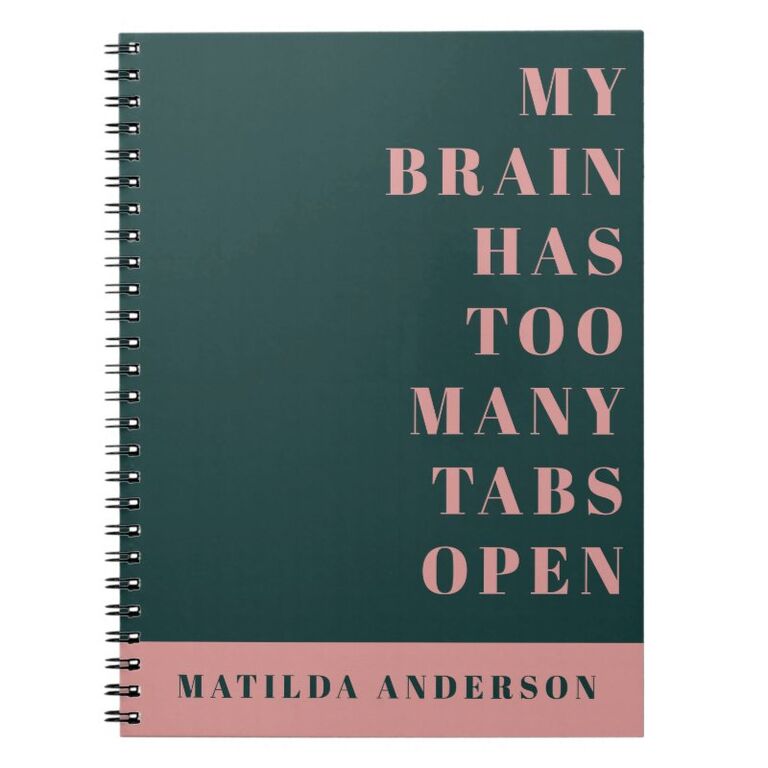 How about a funny anniversary gift to keep your spouse amused while they're away at the office? This spiral notebook is filled with 80 lined pages and features a message on the cover that reads: "My brain has too many tabs open." It's a fun and thoughtful seven-year anniversary gift that anyone who has ever tried to multitask will appreciate instantly.
Desk Accessories Set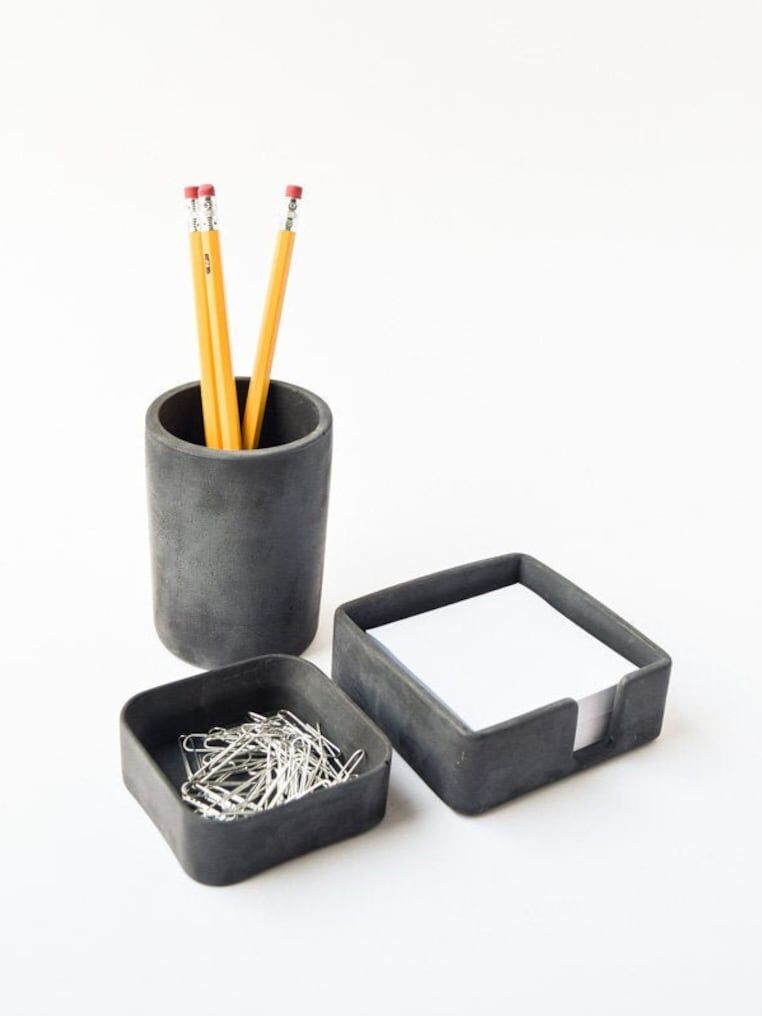 Shopping for a minimalist? Keep things simple with some sleek concrete desk accessories. This three-piece set includes a pen cup, accessory tray and sticky note holder, which will corral their office essentials so they're neat and tidy. Choose from a wide array of colors, from classic neutrals to soft pastels—there's even an option to mix and match if you can't decide on one favorite hue.
Personalized Candy Dispenser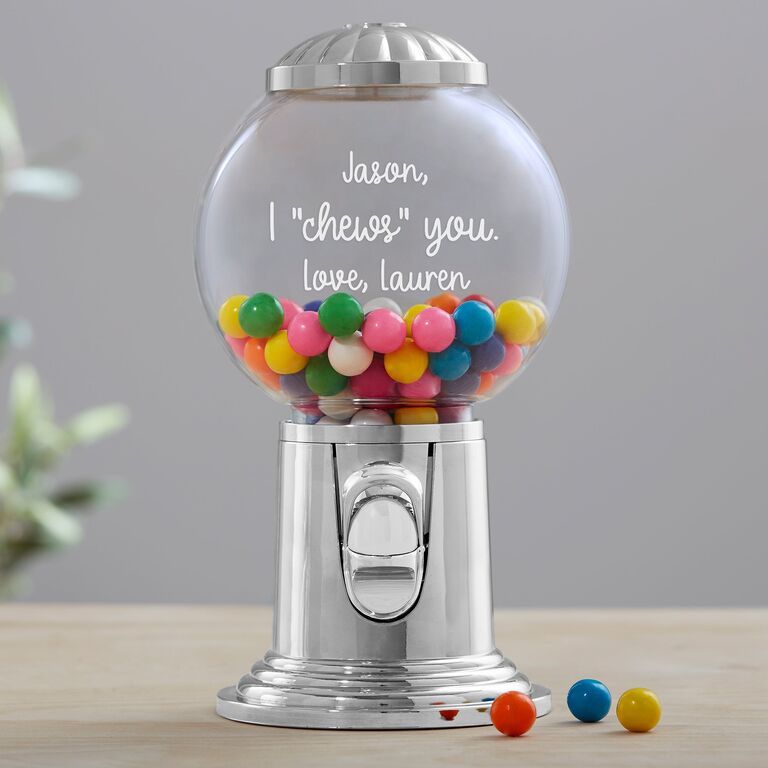 Okay, so technically a candy dispenser isn't a piece of stationery or desk equipment, but we don't think your spouse will mind too much. This retro design features a round glass globe that can be personalized with a thoughtful message and a push-button dispenser to eject sweets easily. Fill it with your partner's favorite candies for a modern seven-year anniversary gift that will get them through the 3pm slump.
Unique Seven-Year Anniversary Gifts
If the traditional and modern gift ideas don't appeal to you, there are a few other seven-year anniversary symbols to consider. The associated gemstone is onyx, which is thought to ward off negative energy, while the seventh anniversary flower is the freesia. This sweetly scented bloom symbolizes fidelity, trust and friendship, which is especially fitting for a marriage that has thrived over seven years' time. Finally, yellow and off-white are the colors that represent this particular milestone. If you'd prefer to pick a gift outside these anniversary themes, we've got you covered with some great alternative presents.
Washable Silk Pajamas
If your spouse takes loungewear very seriously, these gorgeous pajamas will become their new favorite set. They're made from elegant (but low-maintenance) silk and include a button-down top with high-rise pants. This luxe set is available in several classic colors and limited edition hues so you're sure to find a shade your partner will love. Don't forget to use the code FOR-TK20 for $20 off your first order of $100 or more.
Mini Concrete Fire Pit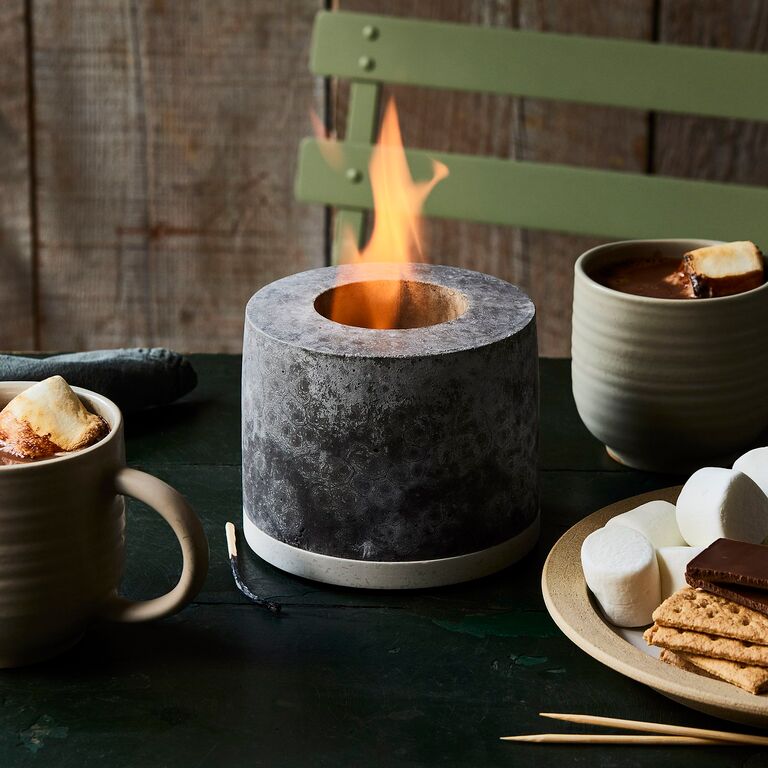 Looking for the ultimate anniversary present for your gadget-obsessed other half? We've got just the idea: A miniature fire pit they can use to make s'mores whenever they want—indoors or out. Plus, it creates the perfect backdrop for romantic reminiscing about all the good times you've shared together over the past seven years.
Black Onyx Earrings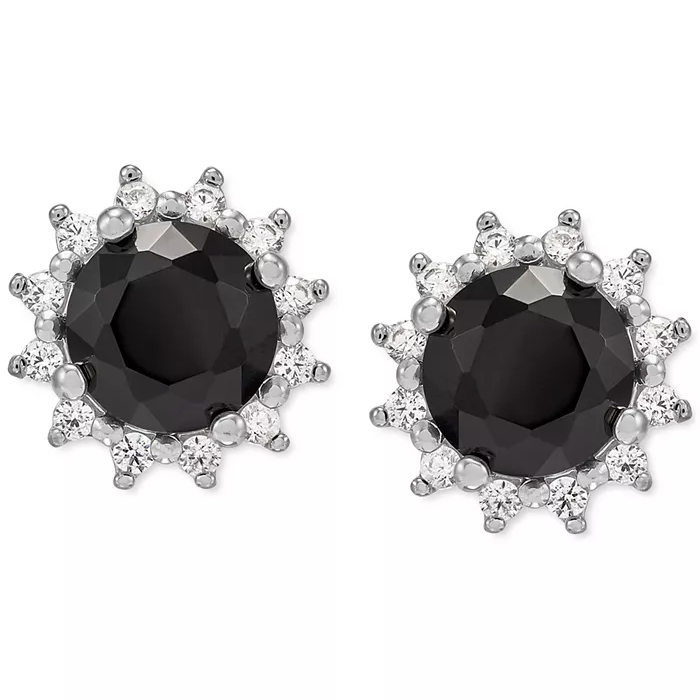 Jewelry is a great gift no matter what, but there are ways to make it extra special, like choosing the seventh anniversary gemstone. Often associated with feelings of protection and security, onyx is a fitting emblem of your rock-solid relationship. These round stud earrings combine black onyx with cubic zirconia to create dazzling accessories your spouse will never want to take off.
Whiskey-Making Kit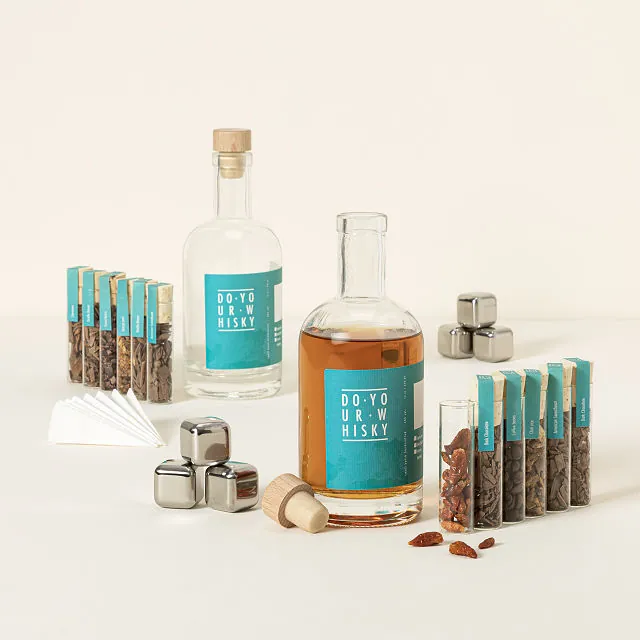 If you're shopping for a whiskey enthusiast, look no further than this creative DIY kit. It comes with a selection of flavor add-ons (including orange peel, cinnamon and coffee beans) and three different types of wood chips so they can create their very own signature blend. The only other thing you'll need to grab? A grain-based vodka to help them get started on their crafty concoction.
Date Night Subscription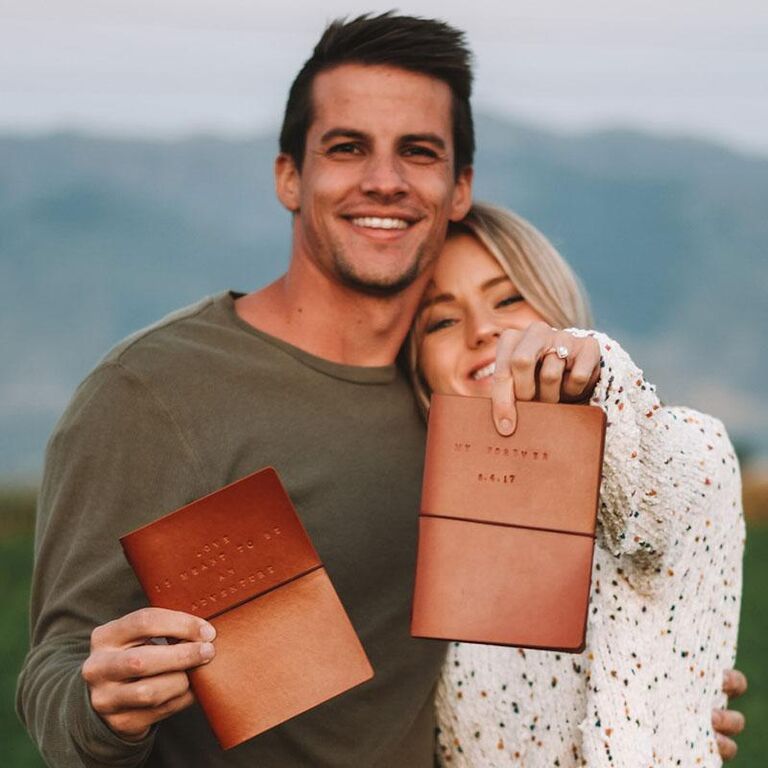 Modern life is hectic and can leave little free time for fun things like regular date nights with your spouse. That's where The Adventure Box subscription comes in. Each month, you'll receive a bunch of supplies to create a special date night experience, like making a scrapbook of your favorite moments or getting crafty with a handmade project. It's a unique seven-year wedding anniversary present that'll help you reconnect with your other half, which is arguably the best gift of all.
Monogrammed Packing Cubes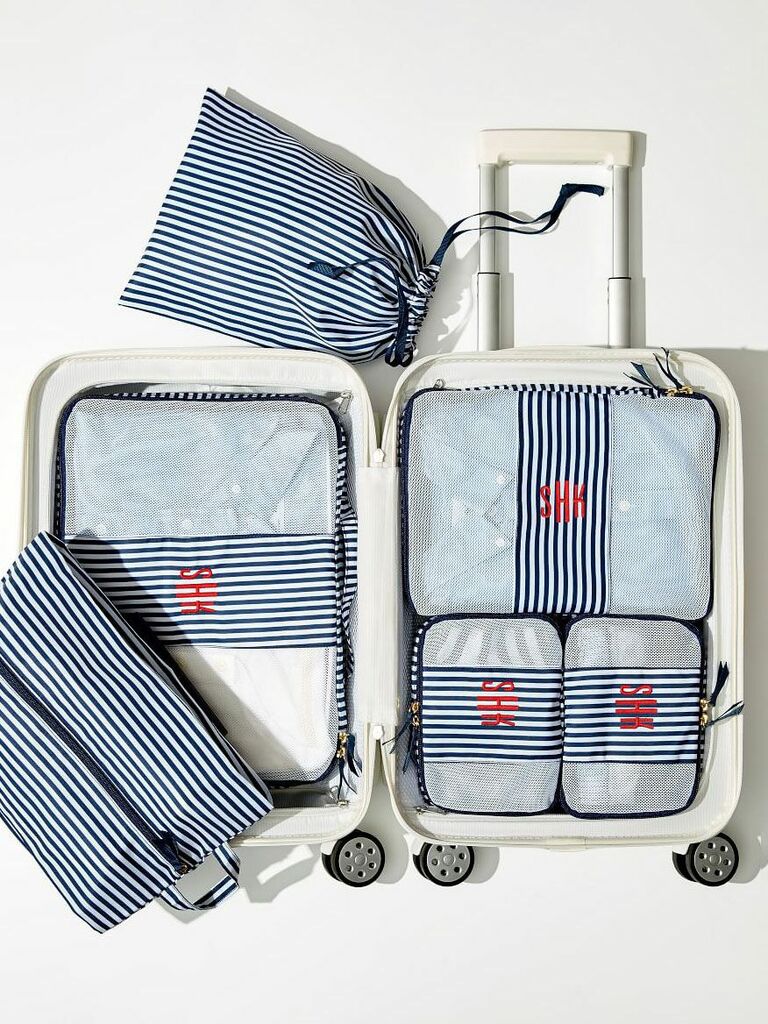 Does your partner travel frequently for work? Make their life a whole lot easier by getting them some stylish packing cubes. This chic six-piece set includes four zip-up boxes, one shoe bag and one laundry bag, helping them streamline what goes into their suitcase. If you really want to blow them away, plan an upcoming anniversary trip so they can try them out ASAP.
Cozy Cotton Bathrobe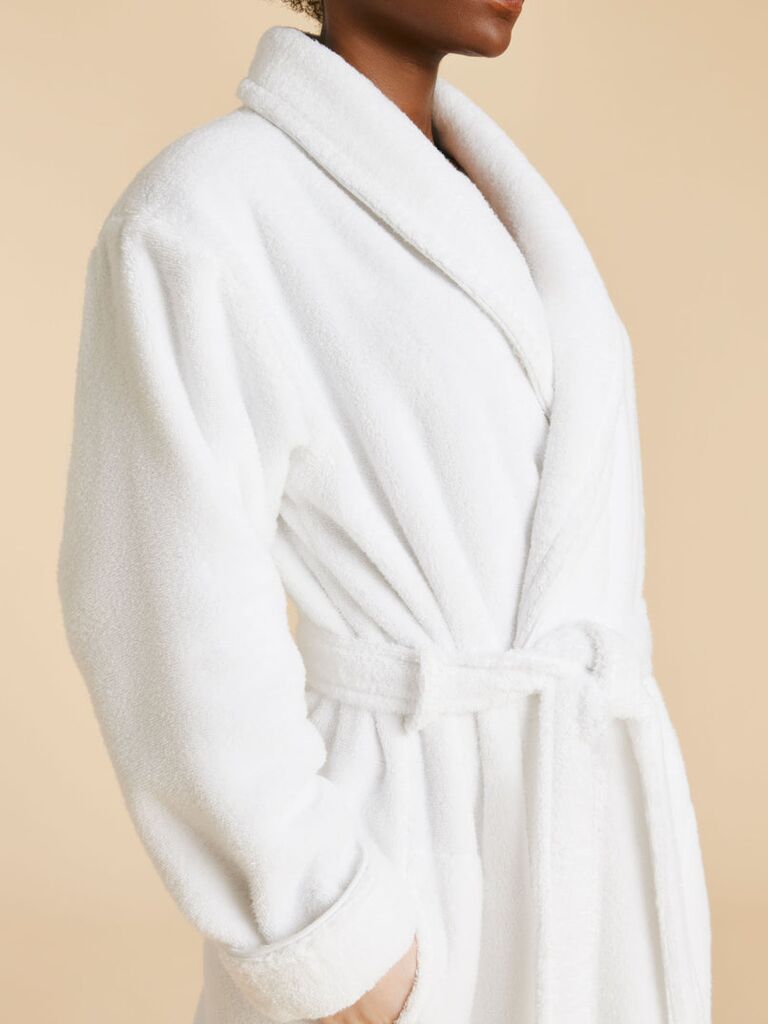 A cozy cotton bathrobe is a must-have for wrapping up after a hot shower or chilling on the couch during lazy weekend mornings. Encourage your spouse to relax and unwind with one of Brooklinen's best-selling robes. They're made from 100% Turkish cotton and come in a variety of shades, including white, one of the seven-year anniversary colors. Be warned though: Once you see how comfy your partner is in one of these, you'll be tempted to snag one for yourself too.
Custom Star Map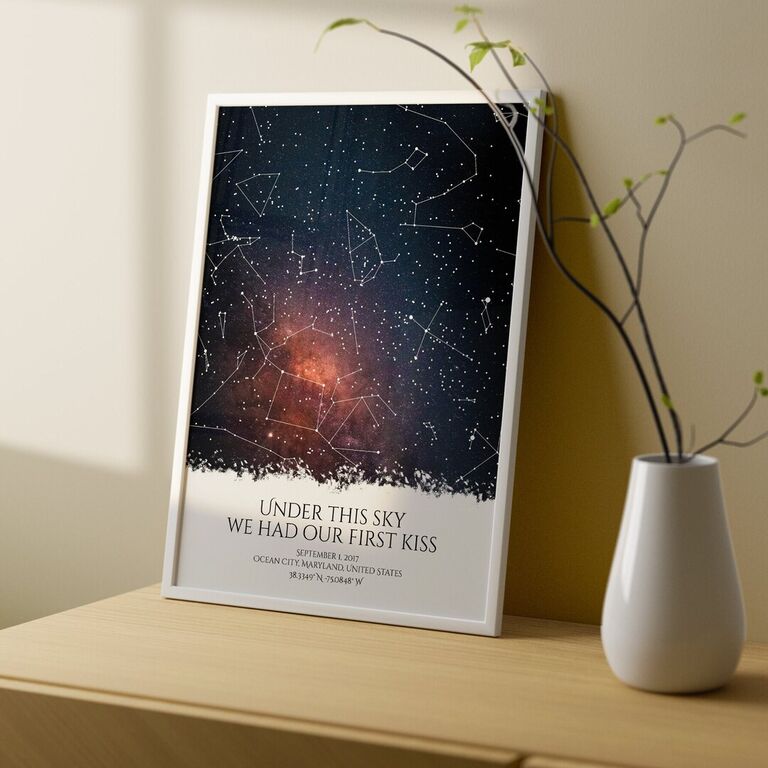 Here's a super romantic seven-year anniversary gift for him or her: A custom map of the night sky from a significant moment in your relationship. Whether you're commemorating your first kiss or when you walked down the aisle, this celestial keepsake is bound to leave your spouse starry-eyed. Choose from a range of framing options or leave it as is for a simple finish.
Fresh Floral Bouquet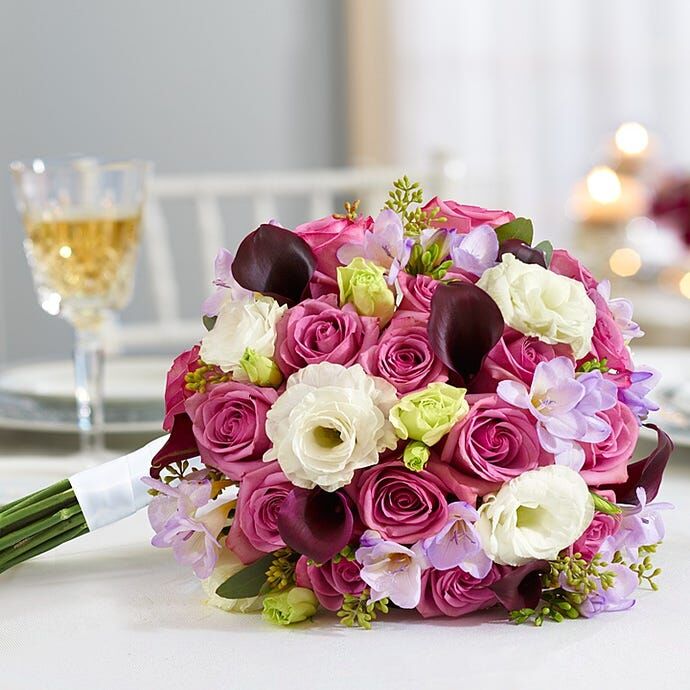 Incorporate the seventh anniversary flower—the sweetly scented freesia—into your gift with a stunning bouquet of fresh blooms. This purple-hued bunch features Calla lilies, roses, lisianthus, eucalyptus and freesias (of course), bound in a satin ribbon for a thoughtful presentation. Just a note: Orders need to be placed two weeks in advance so you'll need to factor in extra time for delivery.
Yellow Dinnerware Set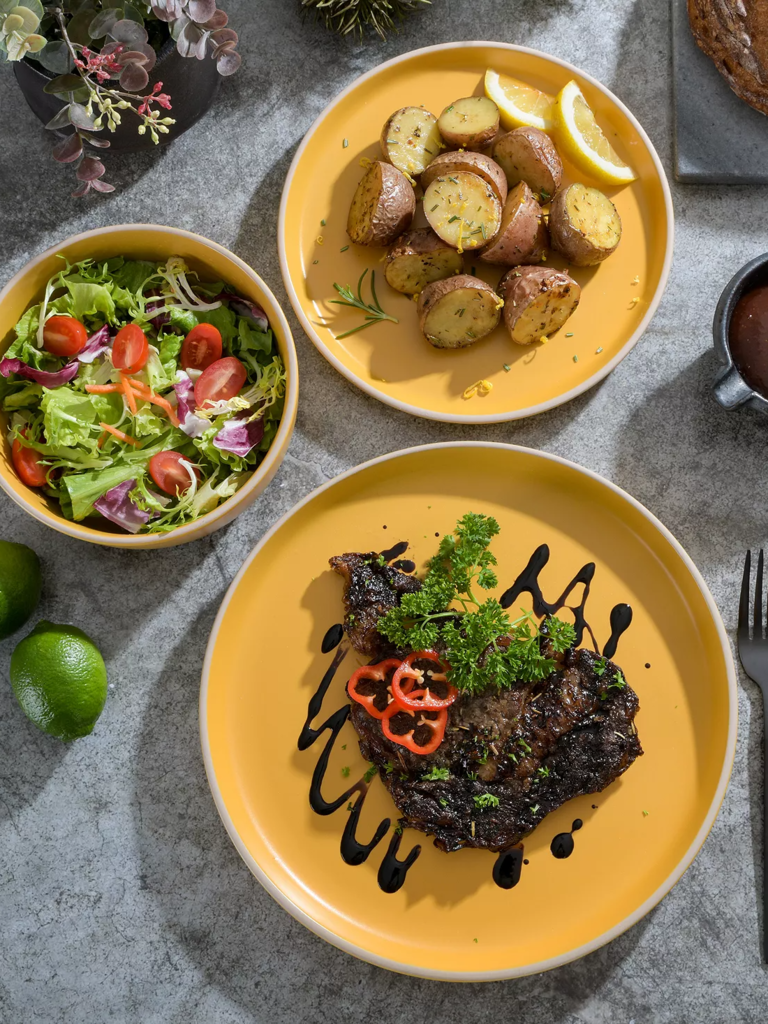 Pay tribute to the other seven-year anniversary color (yellow) with a set of new dishware. This 18-piece set includes six dinner plates, six salad plates and six bowls—all made from stoneware in a cheery sunshine shade. It's a useful (and on-theme) gift that'll add a pop of color to your kitchen table and make any home-cooked meal feel extra special