The Most Popular Wedding Bouquet Styles, Sizes & Shapes to Know Before Hiring Your Florist
Use this glossary to decide which bouquet type fits your aesthetic.
Carrying your very own wedding bouquet is a special moment to look forward to on the big day—no two wedding bouquets are ever exactly the same, which means your wedding florist will be creating something completely custom just for you. And while it's important to leave the actual design to the pro, it's helpful to know the common wedding bouquet styles, shapes and sizes so that you can best describe what you're looking for when the time comes. Below, we've outlined the most popular styles of bouquets, along with photos from real weddings to help you visualize each option.
Biedermeier Wedding Bouquet
For this type of wedding bouquet, flowers in the same variety (or different varieties, but same color) are clustered together in rings that encircle the bouquet, forming a somewhat striped effect. It works best with brightly colored flowers, like these fuchsia roses, purple calla lilies and pink ranunculus. The biedermeier bouquet is one of the less common design types, but it's an ideal option if you're looking for something undoubtedly one of a kind.
Cascade Wedding Bouquet
This bouquet style is a waterfall-like "spill" of blooms and greenery that's anchored by a handheld base (think of an upside-down teardrop shape). Cascade bouquets are oversized and can vary in length, with greenery and flowers extending either halfway down the front of your wedding dress or almost touching the floor. They're a popular option for making an entrance—case in point: Princess Diana famously carried a cascading bridal bouquet of gardenias, stephanotis, myrtle and ivy that was rumored to be more than 40 inches long.
Composite Wedding Bouquet
In order to create the illusion of an oversized bloom on a single stem, a composite bouquet is constructed using individual petals plucked from multiple flowers. The petals, which are glued or wired together, create a finished product called a "glamelia." The bouquet resembles a larger version of whichever type of flower the petals came from (for example, single rose petals were used to create this rose glamelia). It's a very artistic wedding bouquet style that's ideal if you want an arrangement your guests won't forget.
Freeform Wedding Bouquet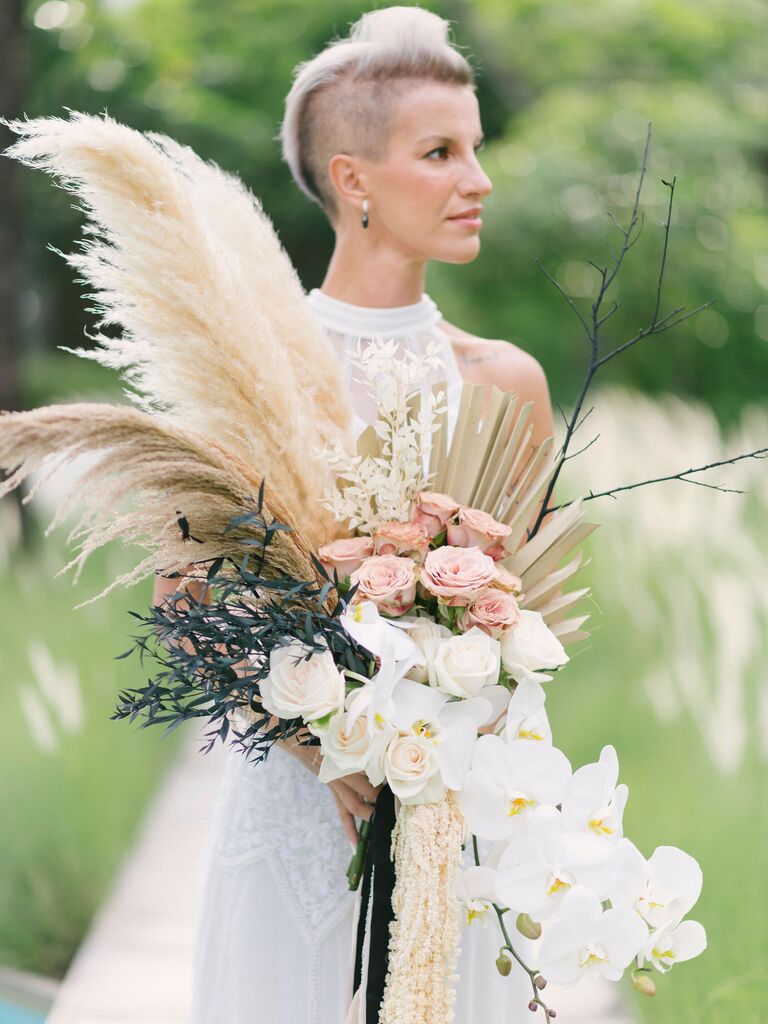 Perfect for fans of modern, contemporary floral design, a freeform bouquet is an oversized arrangement with an asymmetrical shape. These types of wedding bouquet styles frequently use unexpected elements, like dried grasses and branches, to complement the fresh flowers. This freeform bouquet is both edgy and boho, with traditional wedding flowers like phalaenopsis orchids, roses, and amaranthus paired alongside pampas grass, bleached ruscus and dried palm leaves.
Hand-Tied Wedding Bouquet
Also known as a garden wedding bouquet, the hand-tied arrangement has become one of the most popular bridal bouquet styles in recent years, and it's a go-to for couples and wedding florists who prefer natural, loose designs. This type of floral arrangement focuses on using blooms and greenery in various stem lengths to create a bouquet that's slightly asymmetrical and lush, as if the flowers were just picked from the garden.
Rather than using a wire mechanic or bouquet holder to make the arrangement, the florist will typically build the bouquet directly in their hand by layering and criss-crossing the stems. Garden roses, peonies, dahlias and ranunculus are some of the most popular blooms for hand-tied bouquets, along with greenery like eucalyptus, bay leaves and olive branches. Most arrangements are tied with twine or long ribbons that are left to hang loose.
Nosegay Wedding Bouquet
The nosegay bouquet is a small, rounded cluster of flowers that are all cut to a uniform length. Usually made with one dominant flower or color (and featuring minimal to no greenery), nosegay stems are wrapped tightly with ribbon or other fabric for a polished effect.
Pomander Wedding Bouquet
This whimsical flower arrangement resembles a bloom-covered ball suspended from a ribbon. Thanks to their handy loop at the top, pomander bouquets are easy to carry, making them a perfect option for young wedding attendants like flower girls. You can also hang them from shepherd's hooks, chair backs or pews, which is why they're a popular choice for ceremony aisle markers and other wedding decor.
Posy Wedding Bouquet
These small wedding bouquets can easily be held in one hand, which usually isn't the case for larger, heavier bouquets, like cascade and hand-tied arrangements. While the posy bouquet is similar in size to a nosegay, it's a more loosely designed bouquet with greenery and a less-rounded shape. Their smaller size makes posies a popular choice for bridesmaid bouquets. Plus, they're perfect for showing off your wedding day look, since the petite arrangement won't block your dress.
Presentation Wedding Bouquet
This wedding bouquet style is also known as an arm sheaf or pageant bouquet, inspired by how it rests on one arm (like a pageant queen) rather than being carried by hand. Presentation bouquets are typically very full arrangements, primarily designed with long-stemmed flowers like roses, calla lilies, delphinium, foxgloves and tree blossoms.
Round Wedding Bouquet
As one of the most traditional bouquet types, the round bouquet is a favorite for classic and formal wedding styles. Its rounded shape should be perfectly symmetrical when viewed from the side and above, with all of the flowers at an even height. To finish, the bouquet stems are tightly wrapped with satin or other ribbon.