24 Cascading Wedding Bouquets You'll Totally Fall For
Make a statement by carrying one of these oversized bouquets.
No matter your wedding style, cascading bouquets have a swoon-worthy effect that makes people stop and look. These decadent arrangements, typically designed with flowers and vines that spill out from the bouquet, are most often associated with royalty and glamorous themes—they're intended to make a statement. But there are so many different ways to embrace this unique bouquet shape, and we've got plenty of examples to prove it, from pastel arrangements for a spring wedding to luxe jewel tone bouquets that double down on the regal vibes. Before meeting with your florist, check out these cascading bridal bouquets from real weddings to inspire your very own design.
Cascading Bouquet FAQs
What is a cascade wedding bouquet?
This wedding bouquet shape resembles an upside-down teardrop, with a rounded bunch of flowers at the top that gradually taper down into a single point. The end result is a bouquet that "cascades" over your hands and down the front of your wedding dress like a waterfall.
You might recognize the larger-than-life bouquets as a major staple of the '80s—Princess Diana famously carried a cascading bouquet that nearly reached her ankles, spurring a wave of waterfall-inspired arrangements and one of the biggest wedding flower trends of the decade. Today, these oversized bouquets are still a go-to option if you want to make a statement or embrace a maximalist mindset for your wedding day.
What are the best flowers for a cascade wedding bouquet?
Any professional wedding florist will be able to work their magic to incorporate your favorite flowers, but there are a handful of blooms that easily lend themselves to cascading bouquets. Flowers that grow with long stems, like calla lilies, orchids, roses and tulips, are great for creating the rounded "base" of the bouquet.
Vine-like flowers, including clematis, amaranthus, sweet peas, jasmine and bougainvillea, are frequently used in cascading wedding bouquets to create the long, spindly effect toward the bottom of the arrangement. And we can't forget greenery, which is another essential component for this type of design—eucalyptus, ivy and smilax are a few popular options.
Cascading Bouquet Ideas
If you're more of a visual person, seeing real-life examples of bouquets will give you a clear vision of what you do or don't like. Get ready to bookmark these luscious waterfall-inspired designs.
Cascade wedding bouquet with clematis
Flowering vines, like clematis, are a natural fit when it comes to creating the elongated shape of a cascade bouquet. The star-shaped blooms stand out against the rest of the flowers in this arrangement, with lilacs, scabiosa and sweet peas complementing the picked-from-the-garden look.
Rose and ivy cascading wedding bouquet
You can add short ivy vines to a round wedding bouquet to break up the shape and make it slightly less formal. This sweet combination of fluffy white peonies, astilbe and pink roses was made for a spring wedding.
White floor-length bouquet
Can we hear a little commotion for this bouquet? To really wow your guests, carry an arrangement overflowing with vines and greenery that graze the ground as you walk (just watch your step!). A bouquet like this needs no other explanation.
Sunflower and rose cascade wedding bouquet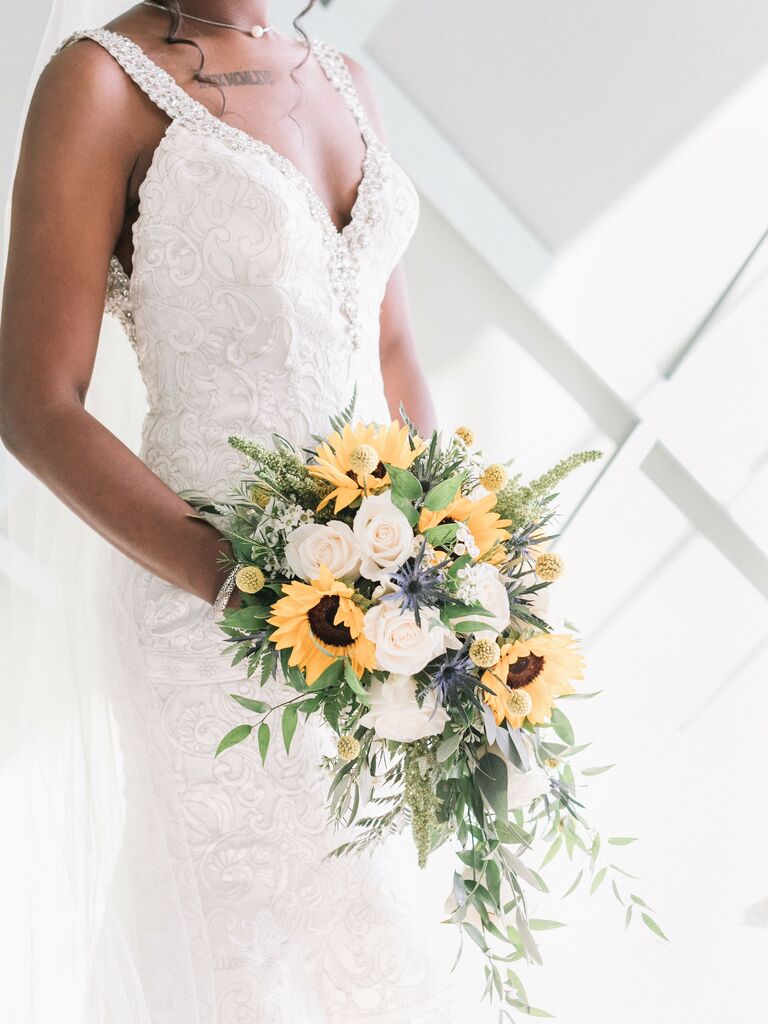 Sunflowers are a popular choice for rustic themes and summer weddings, but they look great in a cascading bouquet too. Pair them alongside other cheerful blossoms, like blue thistle and craspedia, for a farm-inspired design.
Modern cascade bouquet with orchids
This luxe bouquet is literally dripping with orchids. The white flowers, known as phalaenopsis or "moth" orchids, provide multiple blooms per stem, which adds to the waterfall effect. Understated blush roses balance out the top of the arrangement.
Cascading wildflower wedding bouquet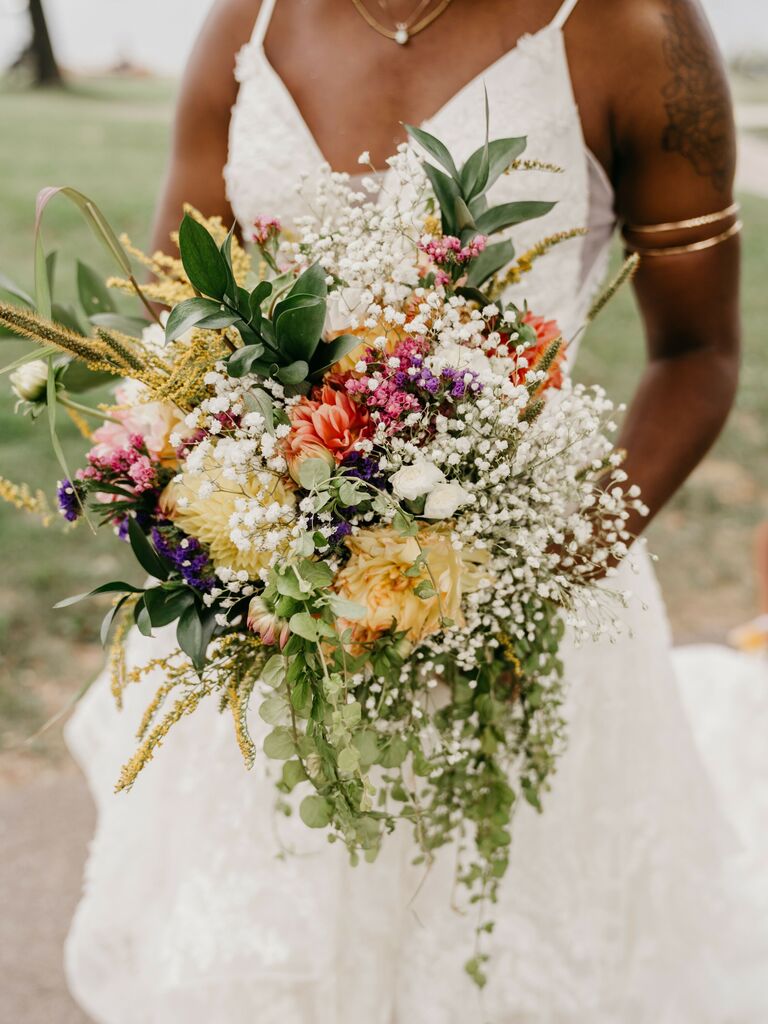 Wildflowers are ideal for creating an asymmetrical bouquet—their natural look has a perfectly imperfect finesse. Accents like goldenrod, wheat stems, hops vines and baby's breath can be clustered on one side of the bouquet to create the cascade shape.
Purple cascade wedding bouquet with ribbons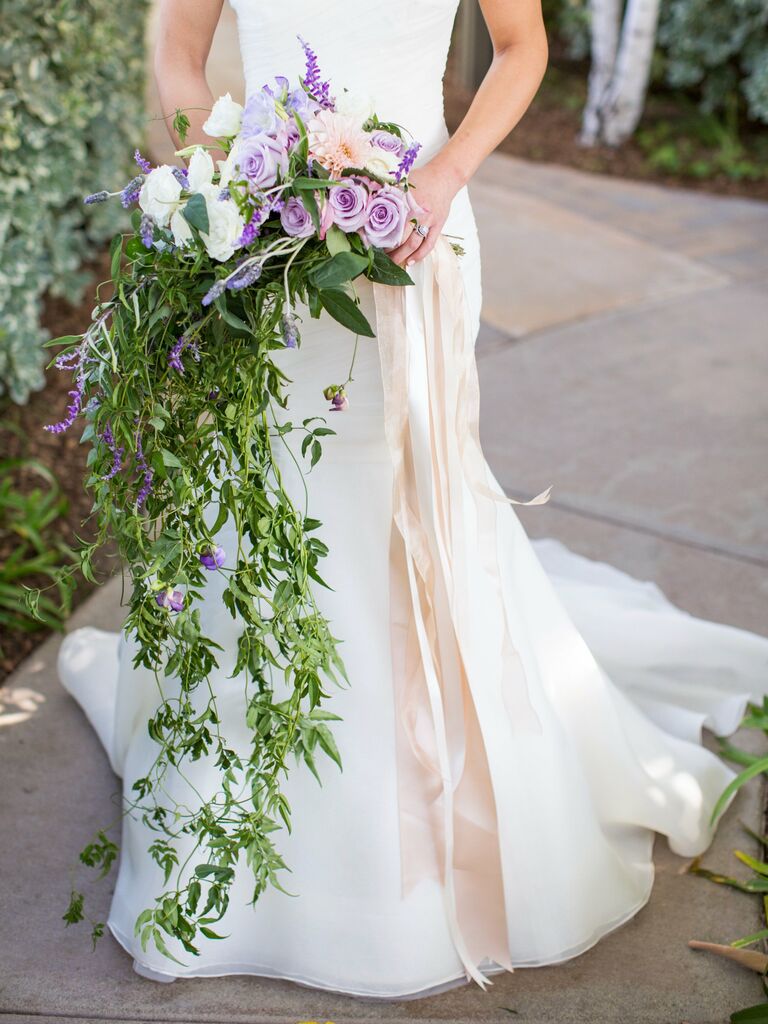 Make your bouquet stand out even more by finishing it with long ribbons that mirror the trailing vines. This pastel purple and blush bouquet looks gorgeous for a springtime garden fête.
Pink bougainvillea cascading wedding bouquet
A waterfall shape can add oomph to an otherwise monochromatic bouquet. Bright pink bougainvillea anchors one side of this oversized flower arrangement, creating a cascading effect and contrasting with the coral and yellow blooms.
Jewel tone cascade wedding bouquet
Rich jewel tones, like burgundy, amethyst and sapphire, are dramatic all on their own, but these saturated colors are even more eye-catching when you add them to a cascading bouquet. Loose ivy vines and leafy plumosa ferns add just the right amount of length to this one.
White long-stem orchid wedding bouquet
Looking for a simple bouquet idea? Carry an arrangement with only one flower variety, like this long-stem orchid bouquet. The end result is chic and timeless.
Red and orange cascading wedding bouquet
This color palette is one of our favorites for a fall wedding. Amaranthus bunches add a lush look to this bouquet of dark red dahlias, with peach and orange ribbons trailing down the stems for a whimsical finish.
Classic cascade wedding bouquet with garden roses
For formal weddings, stick to a more traditional cascading bouquet shape. This example includes gorgeous peonies, spray roses and ruscus in a distinct inverted teardrop design.
Tropical cascading bouquet
Brightly colored blooms, like the orchids, anthurium and ranunculus seen here, echo the fun, easygoing vibes of a tropical or beach wedding theme. Palm fronds were used to create the cascade shape.
Pink and purple ombré wedding bouquet
Combine two eye-catching floral design techniques into one arrangement by opting for an ombré cascading bridal bouquet. Your florist can arrange flowers in "rings" or stripes according to color, creating the gradient effect.
Small cascading wedding bouquet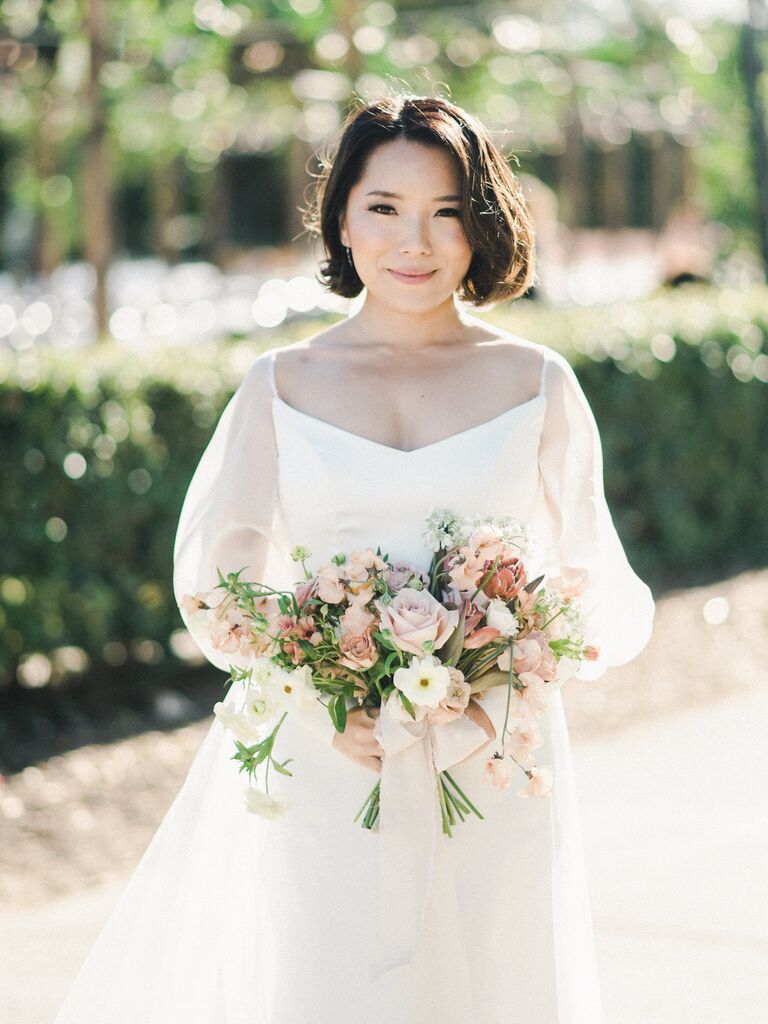 Most cascade bouquets are bigger in size, but that doesn't have to always be the case. If a smaller bouquet is more your style, use flowers with thin, floppy stems (think sweet peas and scabiosa) that will drape naturally to create a mock-cascade shape.
Summer cascade bouquet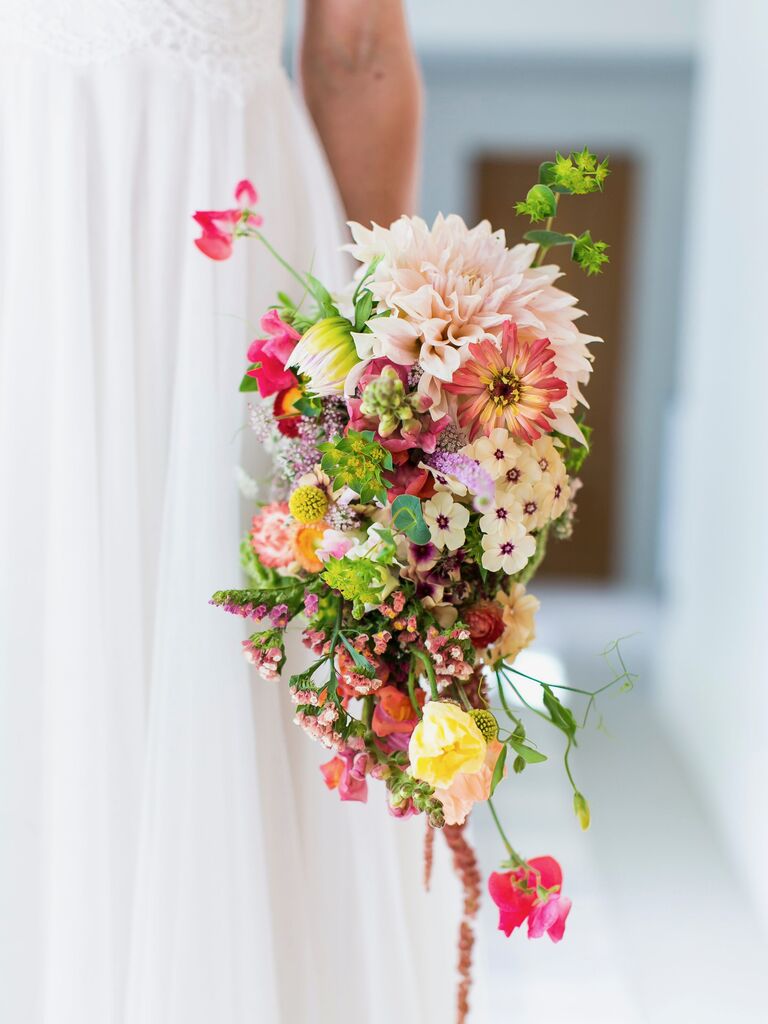 Flecked with a pink, purple, yellow and green color palette, this summery design is another example of a small cascading bridal bouquet.
Blush and ivory bouquet with vines
Blush and ivory are two of the most timeless wedding colors. But if your style leans more classic-with-a-twist, you can put an unexpected spin on this elegant palette by opting for a dramatic cascading bouquet. The oversized shape will make a statement all its own, so stick with classic flowers like ivory roses, blushing bride proteas, pieris and trailing vines to avoid going too modern.
Rose and lily cascade wedding bouquet
For a truly regal approach, carry an all-white wedding bouquet—a tradition favored by some of the most famous royals, including the Duchess of Cambridge, Princess Eugenie and Princess Diana. This example includes white roses, dendrobium orchids and lilies.
Boho wedding bouquet with cascading greenery
Channeling a boho vibe for your big day? Add earthy elements, like olive branches, amaranthus and pampas grass, to an oversized bouquet to enhance the natural, cascading shape.
Peony and orchid cascading bouquet
Two coral charm peonies act as the focal point for this colorful bouquet, accented with roses, astilbe, dendrobium orchid stems and assorted greenery.
Pale yellow rose and anemone wedding bouquet
If you don't want to fully commit to the cascading bouquet shape, this design is a lovely compromise. Finish a garden-style bouquet with a few untamed flowering vines that trail down in front and catch the eye.
Cascade wedding bouquet with eucalyptus
Leafy greenery, like this silver dollar eucalyptus, is another way to fake a waterfall bouquet without going all in. The wispy branches naturally soften the shape of the arrangement while adding movement and texture.
Pink orchid cascading bouquet
We can't decide what we like more about this bouquet: the bold contrast between the red lilies and fuchsia orchids, or the contemporary look sans greenery. Either way, a showstopper like this is guaranteed to be remembered.
Rustic cascading wedding bouquet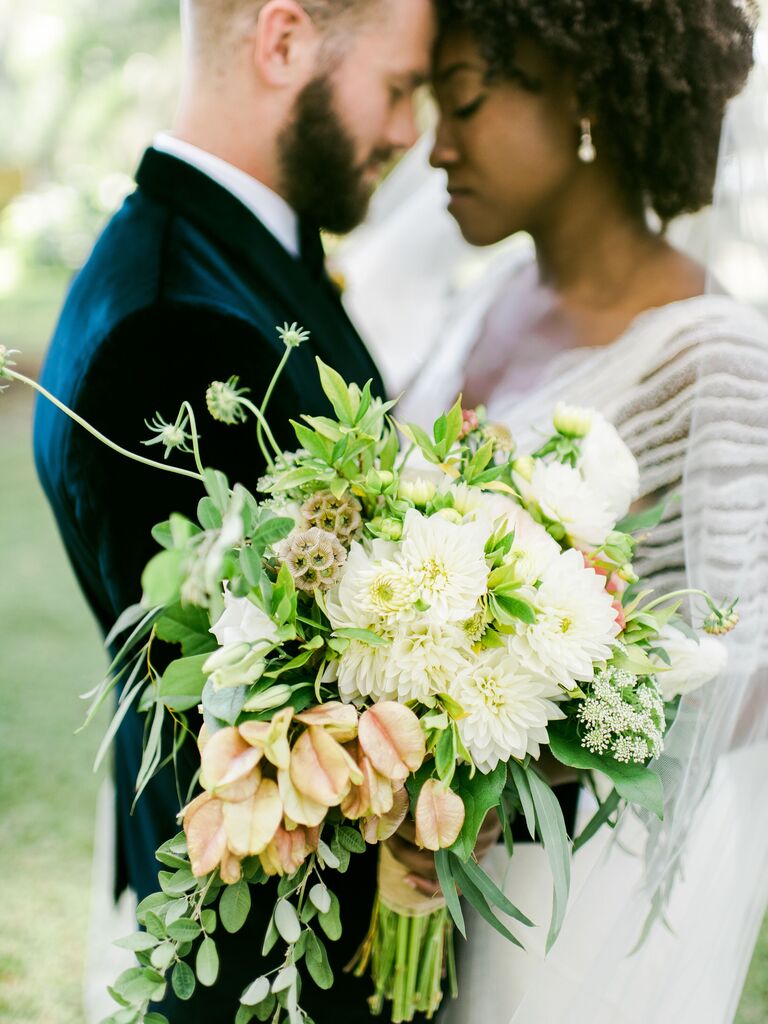 Perfect for a fall wedding or farmhouse chic theme, this bouquet features a subtle cascade shape and a neutral color palette, with white dahlias, dried scabiosa pods and a touch of bougainvillea.