21 Flower Arrangements to Add to Your Decor Checklist, From Ceremony to Reception
Bouquets and centerpieces are a good start, but here's what else you might need.
Choosing your wedding flower arrangements is one of the most important steps of wedding planning. Fresh flowers have the ability to quickly add color, drama and life to any ceremony or reception space, so we're all about utilizing them wherever and whenever you can as part of your event design. Chances are, you already know the basic wedding floral arrangements you'll need, like bouquets, centerpieces and boutonnieres, but the list doesn't end there. To make it easier, we've outlined all of the major types of flower decorations—from the ceremony to the reception and beyond—to help you determine exactly which ones are essential for your wedding day.
In this article:
Basic Wedding Flower Arrangements
Wedding bouquet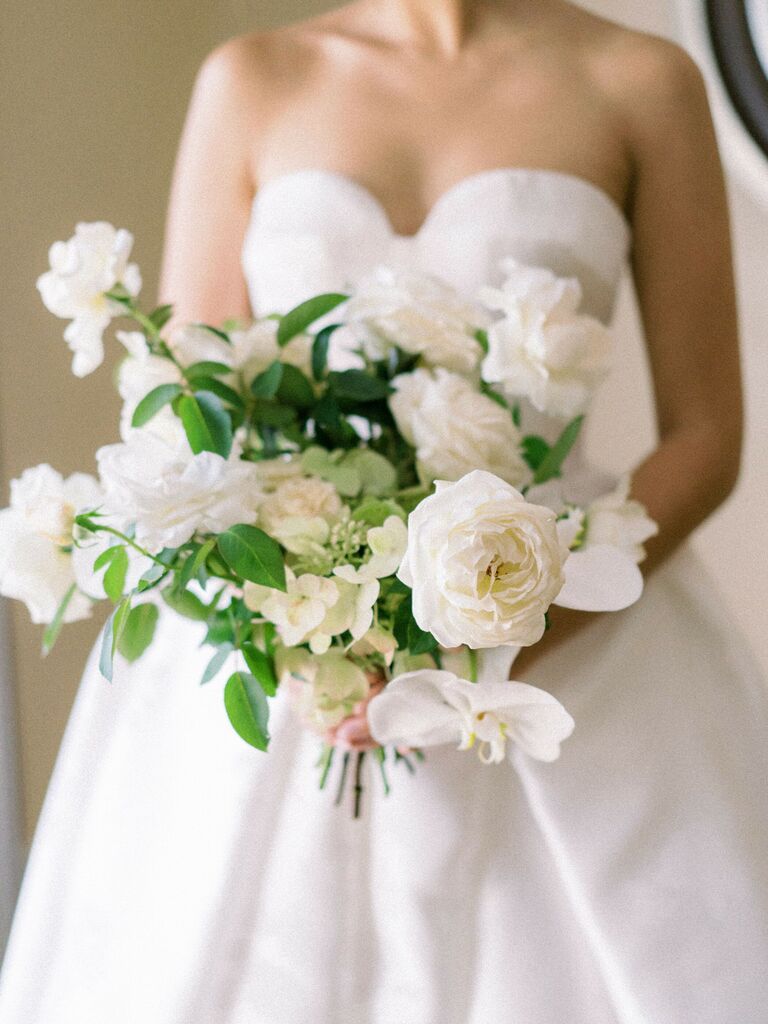 Undoubtedly one of the most well-known wedding arrangements of all time, the bridal bouquet is a bundle of flowers that is carried throughout the entire day. You'll have it with you for the ceremony processional, followed by wedding portraits, your reception entrance and ultimately the bouquet toss, if you choose to follow that tradition. There are plenty of bouquet styles, sizes and shapes to choose from, depending on the theme and formality of your wedding.
Historically, bouquets were only for brides, but the beauty of modern-day weddings is that you don't have to identify as a bride in order to carry one—and both partners can have their own bouquets if desired.
Bridesmaid bouquet
Bridesmaid bouquets tend to be smaller versions of the main wedding bouquet, often incorporating some of the same flower varieties, color palette and general design style. Each bridesmaid should have her own bouquet, including the maid or matron of honor.
Boutonniere
A single bloom (or cluster of several small buds) that is attached to the left lapel of a tuxedo or suit jacket. Boutonnieres are traditionally worn by grooms and male wedding party members, including groomsmen, ushers and close family members, such as the couple's fathers. Calla lilies, ranunculus, spray roses and baby's breath are commonly used for boutonnieres.
Corsage
Worn on the wrist like a bracelet, the corsage is a single bloom or small cluster of blooms that has been arranged with ribbon, elastic, tulle or a metal cuff. Aside from high school proms, corsages are typically worn by mothers and grandmothers at weddings, although they've also become a trendy alternative to bridesmaid bouquets. Sturdier flowers, like orchids, roses and carnations, are popular choices for corsages.
Flower crown
Popularized by Coachella and boho brides, flower crowns are a trendy floral wedding hair accessory if you love a whimsical, laid-back aesthetic. They're also commonly worn by flower girls—and if you're including a pet in your wedding, we can't resist dressing them up with a floral collar.
Find your kind of venue
From barns to ballrooms, discover reception venues that feel like you.
Wedding Ceremony Flower Arrangements
Aisle marker
A small arrangement of flowers or greenery placed along the ceremony aisle at the end of each chair row or pew.
Aisle runner
While fabric is most often used for aisle runners, you can opt to use fresh flower petals scattered along the aisle instead, either down the center or along the sides. If you want to create a highly dramatic effect, arrange the flowers in an ombré or swirled pattern for the length of the aisle.
Ceremonial flowers
Depending on your culture, you may need special flowers to use as part of your wedding ceremony. Some examples include the exchanging of floral garlands (jai mala) during Hindu weddings or wearing leis for a Hawaiian wedding ceremony.
Chuppah
The chuppah is a square wedding canopy decorated with branches, greenery or flowers. It's an integral part of the traditional Jewish wedding ceremony and is draped with a cloth on the top, usually a tallit (prayer shawl) or other fabric chosen by the couple.
Flower arch
A popular wedding decor backdrop for Christian and secular ceremonies. The wedding arch is typically made from wood or plastic in a curved shape and decorated with flowers, greenery and other botanical accents. It frames the front of the altar where you'll exchange your vows.
Wedding Reception Flower Arrangements
Wedding centerpiece
As the main decor item for your wedding reception tables, the centerpieces should directly reflect your wedding theme, color palette and formality. You can choose from high or low centerpieces, or alternate the two throughout your tables for added visual interest. Your wedding florist will help you choose arrangements that work best for your budget and theme, but you can start by getting familiar with the different types of wedding centerpieces:
Breakaway: A few arrangements, usually varying in height and flower varieties, that are grouped together to make one centerpiece. The vessels can be clustered at the center of round tables, or arranged in a line down the middle of long rectangular banquet tables.
Candelabra: A floral centerpiece that uses a candelabra in place of a traditional vase. Greenery, crystal strands and taper candles are often used to embellish the arrangement.
Fish bowl: A low, petite centerpiece style with flowers clustered in a glass bowl. They're also popular for showcasing floating candles and non-floral details.
Garden: Garden-style centerpieces feature an abstract collection of wildflowers or loosely arranged blooms, leaving the arrangement airy and less dense than other designs. Lisianthus, ranunculus, daisies, tulips and eucalyptus are well suited to this arrangement style.
Pedestal: A centerpiece displayed in a vessel that resembles a trophy or pedestal. Flowers tend to cascade over the sides for a dramatic look.
Round: Similar to the round wedding bouquet, flowers are arranged in a mounded circular shape or rounded vessel. Peonies, garden roses and hydrangeas are all ideal picks for this classic wedding centerpiece type.
Trumpet: These arrangements are wider at the top and narrower at the base (just like the namesake instrument), balancing the shape of the vase containing them.
Bar decor
The main purpose of your wedding cocktail bar is to serve drinks to your guests, but it's also another opportunity to personalize your wedding decor with flowers or greenery accents.
Dessert table
Adorn your dessert table with a few small flower arrangements or bud vases with single blossoms. Alternatively, you can dress up the table with a garland draped across the front.
Escort card or seating chart display
Incorporate flowers as part of your actual wedding escort card designs, or add flowers and greenery to your seating chart or other signage listing the guests' table assignments.
Floral curtain
A wedding backdrop made from flowers, greenery or individual petals that have been threaded onto string. Floral curtains and garlands are traditionally used for Indian haldi ceremonies and to decorate the mandap. Carnations, marigolds, orchids and roses are some of the best blooms for this floral design technique.
Floral swag
A tiny cluster of flowers and greenery, typically arranged into a crescent shape. Swags can be used to decorate wedding signs, entryways, altars, chairs and more.
Floral tie-back
These petite arrangements are attached to ribbon or string and used to secure curtains or other drapery. They're frequently used for ceremony backdrops and to decorate the poles of a reception tent.
Garland
A strand-like arrangement of greenery and flowers. Garlands have endless uses for your wedding day—they can be draped on the backs of chairs, wrapped around a banister, placed down the center of long banquet tables or suspended from chandeliers above the dance floor to create a magical effect.
Wedding cake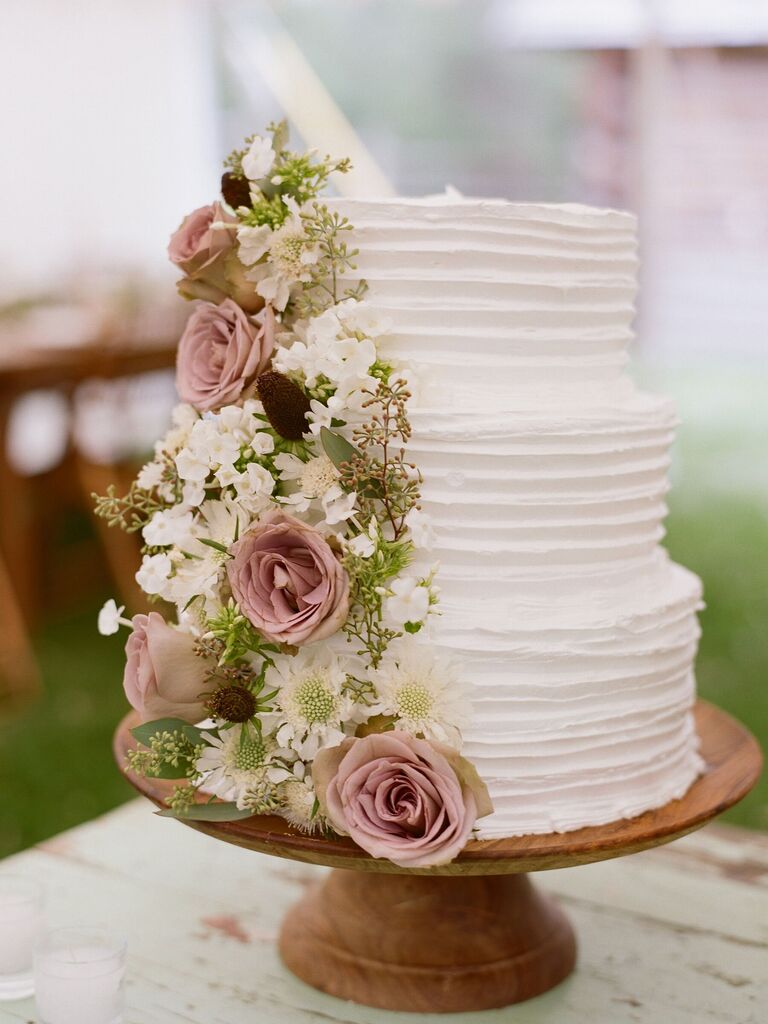 If you want to decorate your wedding cake with flowers, coordinate with both your floral design studio and cake baker ahead of time—your florist will need to order extra flowers that match the rest of your arrangements. You'll either be responsible for picking up the flowers and delivering them to your cake baker a few days before the wedding, or the florist will bring them to your venue on the big day and the cake will be decorated when it's delivered.
Welcome table
Encourage people to sign your wedding guest book and leave their well-wishes by decorating your welcome table with flowers and other personal touches, like photos from your relationship. The welcome table is also where you should collect cards and gifts.
Wreath
Wedding wreaths are rings of flowers and other decorative materials (like greenery and dried grasses) that can function as centerpieces, chair decor and more.