48 Bridesmaid Bouquet Ideas for Any Season, Style & Budget
Here's all the floral inspiration you need.
Your team of bridesmaids is by your side for the majority of the wedding day, so it's only natural to take their attire and accessories—including their bouquets—into great consideration. These bridesmaid bouquet ideas will help inspire your final decision, whether you're looking for simple arrangements or one-of-a-kind bouquets that will make a statement. From a logistical standpoint, there are a few important details to think through while working with your wedding florist (find one on The Knot Marketplace) and designing the bridesmaids' bouquets, but we've got you covered. Read our essential tips below, followed by our favorite bridesmaid bouquet ideas for all different styles.
In this article:
How to Pick a Bridesmaid Bouquet
Ready to meet with your wedding florist? It helps to come prepared with some basic bridesmaid bouquet knowledge—and a list of potential questions— for the consultation.
How many flowers should be in a bridesmaid bouquet?
A bridesmaid bouquet is roughly half the size of the main bouquet or slightly smaller. On average, the bridesmaid bouquet might include five to 10 focal flowers (depending on the type of bloom), with smaller, complimentary flowers and greenery to complete the arrangement. Examples of focal flowers include roses, peonies, hydrangeas, dahlias or ranunculus.
What is the average price for a bridesmaid bouquet?
The cost of wedding flowers depends heavily on a few factors, but on average, you can expect to spend between $50 and $100 for a bridesmaid bouquet. Your wedding season, wedding location and the types of flowers included in the bouquet will all impact the final cost.
Is the maid of honor bouquet different from the bridesmaids' bouquets?
The maid of honor's bouquet shouldn't outshine the main bridal bouquet, but it can differ slightly from the rest of the bridesmaids' bouquets if you want. Consider including a few extra focal flowers in the maid of honor's bouquet or making the arrangement a little bigger so that it stands out. It's a nice way to complement the maid of honor's outfit if she's dressed differently than the bridesmaids.
Simple Bridesmaid Bouquet Ideas
Planning to keep your wedding flowers simple and uncomplicated? These simple bridesmaid bouquet ideas won't overpower the rest of the decor.
1. Baby's Breath Bouquet
Baby's breath has come a long way from the rustic wedding aesthetic that it's so often associated with. This simple flower looks best when arranged in a big bundle—the end result is ethereal and dreamy.
2. Silver Dollar Eucalyptus Bouquet
This leafy greenery is most often used to accent fresh flowers, but the soft green color is stunning all on its own. Long branches will show off the round leaves and give the bouquet plenty of movement.
3. White Bridesmaid Bouquet
Stick to one color for the most simplistic bridesmaid bouquets. Mix a handful of flowers in the same hue, such as these roses, dahlias and ranunculus, to achieve texture and variety.
4. Simple Tulip Bouquet
Fit for a chic springtime wedding, this tulip bouquet is elegant and timeless. We love how the white color pops against the bridesmaid's black dress.
5. Blush Rose Bouquet
Roses are classic for a reason. Not only are they considered one of the most romantic flowers, they're a beautiful bouquet choice for nearly any wedding theme. This posy of blush roses doesn't need much else.
6. Mixed Greenery Bouquet
Greenery can be great for building out your bridesmaid bouquets, but you don't want to go overboard with foliage when trying to keep the designs simple. Pair a few stems of greenery with four to five flowers for a perfectly sized arrangement.
7. English Lavender Bouquet
Dried lavender is a favorite for summer weddings and rustic themes (and it smells amazing). Finish off the bouquet with a bow that matches your color palette.
8. Ruscus Bouquet
Israeli ruscus is more structured than other popular types of greenery, such as eucalyptus, bay leaves and ivy. The architectural leaves are simple but interesting, and you can jazz up the bouquet with long ribbons.
Small Bridesmaid Bouquet Ideas
Small wedding bouquets are easy to carry and tend to be more affordable than larger arrangements. The same goes for bridesmaid bouquets, including these petite posies.
9. Small Pink Bouquet
If you prefer unobtrusive bridesmaid bouquets, choose flowers that match the color of their dresses. These blush peonies and roses are a perfect example.
10. Mixed Wildflower Bouquets
Petite bundles of wildflowers make lovely bridesmaid bouquets for a summer wedding. Have each bridesmaid carry a different type of flower, such as campanula, cosmos or chamomile.
11. Monstera Leaf Bouquet
A single monstera leaf brings the wow factor to this small bridesmaid bouquet, with yellow, purple and blue blooms adding a pop of color to the greenery.
12. White Posy Bouquet
When pairing several flower varieties together, keep the palette to just one or two colors. This green and white posy featured stock, spray roses, peonies, astilbe and Italian ruscus.
13. Red Dahlia Bouquet
You only need a few of these crimson red dahlias to make an impact. The bouquet looks elegant against a sequined gown for a fall or winter wedding.
14. Small Glam Bouquets
Rounded bouquets of white roses are a luxe choice for a glamorous wedding. Wrap the stems with white satin ribbon to add formality.
15. Ranunculus Bouquet
The round, compact shape of these flowers makes them perfect for small bridesmaid bouquets. Pair one or two colors together for a sweet arrangement—you won't need much else to complete the design.
16. Succulent Bouquet
Add an unexpected detail to a small bouquet by incorporating a succulent or two among the flowers.
17. Spray Rose Bouquet
Spray roses are smaller in scale compared to tea roses and garden roses, which makes them ideal for downsizing your bridesmaid bouquets. This dainty arrangement is also a lovely option for junior bridesmaids and flower girls.
18. Small Peony Bouquet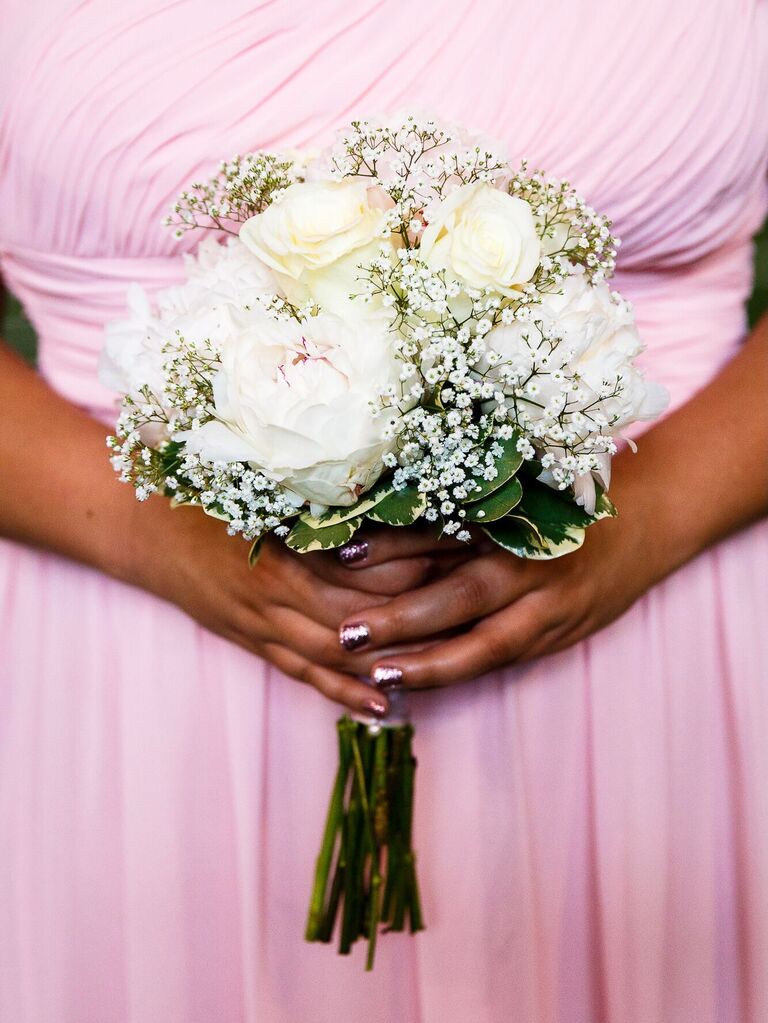 Accentuated by a few roses and sprigs of baby's breath, white peonies are the main character of this petite bouquet.
Single Flower Bridesmaid Bouquet Ideas
A single stem can be just as impactful as a bouquet full of flowers. You'll love these ideas if you're in search of something slightly different for your bridesmaids.
19. Coral Charm Peony Bouquet
A bright coral peony will immediately stand out, especially when paired against an emerald green bridesmaid dress. Since peonies tend to be on the costlier side of wedding flowers, you can maximize your budget with a single bloom for each 'maid.
20. King Protea Bouquet
These unique flowers, which are native to South Africa, are a favorite for beach weddings and boho themes. Their spiky "petals" have a beautiful ombre pink color that you can accent with optional fresh greenery.
21. Calla Lily Bouquet
Even though this bouquet includes more than one calla lily, they blend together to create an edgy, monochromatic design.
22. Cafe Au Lait Dahlia Bouquet
Can you believe the size of this stunning bloom? Cafe au lait dahlias can sometimes grow to the size of a dinner plate, which only amplifies their beauty. The flowers are named for their creamy blush and ivory tones.
23. French Lavender Bouquet
We love this small and simple bouquet of French lavender (it's wispier and larger than English lavender) if you're having a rustic summertime wedding.
24. Multicolor Dahlia Bouquet
This trio of dahlias looks like a watercolor painting. The blush and orange varieties would match a summer color palette, or you could include dark red for a fall wedding.
Unique Bridesmaid Bouquet Ideas
When a simple design won't do, these unique bridesmaid bouquet ideas will grab your attention.
25. Boho Bouquet with Dried Palms
Transform a basic bouquet into a boho chic design by adding dried palm leaves or pampas grass. The warm color palette of orange, yellow and burgundy adds to the earthy vibe of the design.
26. Lantern Bridesmaid Bouquet
Hello, fairytale wedding. This unexpected bouquet idea is fit for an ultra-romantic theme or garden venue.
27. Hanging Bridesmaid Bouquet
You've heard of a statement bag—now meet the statement bridesmaid bouquet. Suspend the flowers from a loop of ribbon to carry them like a purse.
28. Ornamental Kale Bouquet
If you're getting married at a pastoral venue, a farm-to-table style bouquet will help tie the theme together. Use elements like ornamental kale, edible flowers (try nasturtiums or marigolds) and herbs for an organic vibe.
29. Rainbow Bouquets
Love the idea of including lots of bright colors in your wedding palette? Have each bridesmaid carry a bouquet that coordinates with a different color of the rainbow.
30. Chamomile Bouquet
Embrace the sunshine of summer weddings with cheerful yellow bridesmaid bouquets. This one has a whimsical assortment of chamomile, craspedia, rosemary and lemon leaves.
31. Dried Floral Bouquet
Wispy elements like sea oats, bunny tails and bleached greenery add interesting texture to a small bouquet. This neutral color palette is pretty for any season.
32. Tropical Bouquets
Whether you're getting married on a tropical island or simply wish you were, these unique bridesmaid bouquets will have your guests talking. Use architectural flowers, such as anthurium, ginger torch and birds of paradise.
33. Hoop Bridesmaid Bouquet
A hoop-shaped arrangement is easier to hold than a traditional bridesmaid bouquet, making it a good choice for younger attendants.
More Bridesmaid Bouquet Ideas
Need even more inspo? From classic designs to boho chic blooms, we're loving these standout bridesmaid bouquets.
34. Fuchsia Bouquet
Flowers are one of the easiest ways to incorporate Viva Magenta, the Pantone Color of the Year, into your wedding decor. Case in point: these gorgeous roses.
35. Blue Thistle Bouquet
There aren't a lot of flowers that are naturally blue, but spiky blue thistle is one of our favorites. It adds a whole lot of personality to an otherwise traditional bouquet.
36. Blush and Greenery Bouquets
Your bridesmaid bouquets don't need to be identical. Here's an example of how they can vary in shape and size while remaining cohesive.
37. Cascading Bouquet
For a truly garden-inspired look, add long vines to the bouquets. Ivy vines and flowering vines like clematis or jasmine are some of the best options for cascading bouquet shapes.
38. Pastel Bouquets
Pastel color palettes are quintessential for spring weddings. If you're getting married between March and June, use some of the season's prettiest flowers, such as peonies, tulips, lilacs and sweet peas.
39. Moody Bouquet
Prefer colors that are slightly more muted? A bridesmaid bouquet with sage green, mauve and burgundy elements is moody and autumnal.
40. Colorful Bouquet
Echo the joy of your wedding day with brightly colored flowers, like the ranunculus, hydrangeas, muscari and anemones featured in this design.
41. Hellebore Bouquet
If you ask us, hellebores are some of the most underrated wedding flowers. These star-shaped flowers bloom during late winter and early spring, and you can find them in a range of beautiful tones.
42. Red and Burgundy Bouquets
It's hard to imagine a color palette more romantic than blush, red and burgundy. Finish the bridesmaid bouquets with long ribbons that will blow in the breeze.
43. Anemone Bouquet
Anemones bloom in white, purple, red and pink varieties. This blue and white anemone bouquet is lovely for a spring wedding.
44. Winter Bridesmaid Bouquets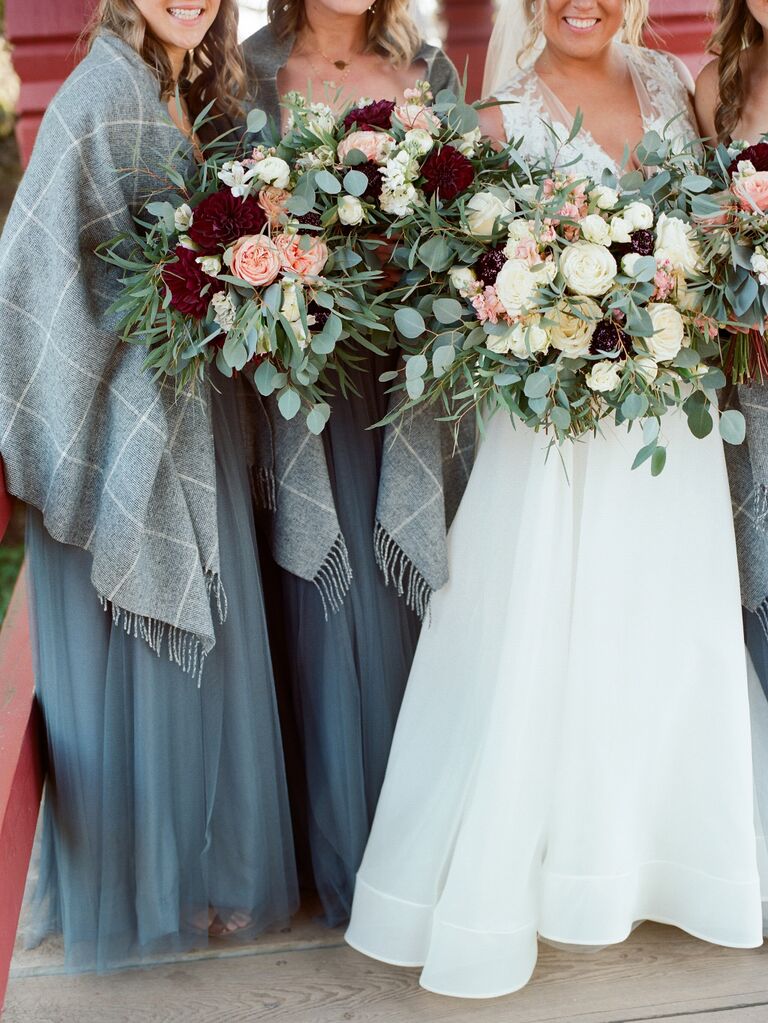 Deep red dahlias and leafy eucalyptus are a winning combination for winter weddings. (Surprising your bridesmaids with cozy matching shawls is optional but encouraged!)
45. Pink and Green Bouquet
Roses, hydrangea and pittosporum are always classic. The bright pink color adds a fun, energetic element to the traditional arrangement.
46. Elegant White Bouquets
Inspired by an English garden, these hand-tied bouquets are oh-so romantic, especially with the addition of trailing vines and ribbons.
47. Blush Peony Bouquet
It's hard to beat this decadent combination of pale pink peonies and Juliet garden roses. Since the flowers are so pretty on their own, you won't need to add greenery or other accents.
48. Fall Bridesmaid Bouquets
Looking for alternatives to eucalyptus? Ferns are another option we love. Paired with fuchsia and burgundy flowers, these fern-filled bouquets are ready for a fall wedding.