33 Country Wedding Hairstyles That Have Some Serious Charm
We're obsessed, y'all.
There's something so romantic about the country: The sprawling fields, the electric sunsets, the charming architecture. Such beautiful scenery needs wedding glam to match it, and we're here to help. We rounded up 33 country wedding hairstyles for every kind of length and style. Whether you have short hair and want something more edgy or have longer hair and are dreaming of a boho braid, we have you covered. Scroll through our list of ideas to get inspired and bring your favorites to your wedding hairstylist to see which one will work best.
Ready to get inspired? See our favorite country wedding hairstyles, below.
Country Wedding Hairstyles for Long Hair
If you've got a longer mane, the options for your day-of 'do are endless. Check out our favorite country wedding hairstyles for long hair, below.
Loose Chignon
A classic chignon might feel a bit too stiff for your country wedding, so loosen it up. Leave out two pieces in the front and pull on the sides of the twist for a more relaxed, rustic look.
Chic Slick Updo
If you prefer a slicked-back updo, add in a chic center part to make it feel like the right mixture of elegant and trendy—just like your rustic wedding.
Ponytail With Braid Crown
Add some southern charm to a simple low ponytail with a braid crown.
Soft Chignon With Veil
You'll be the belle of the ball with this country wedding hairstyle. Ask your hairstylist for a chignon and then add an airy veil right on top of the twist.
Braided Half-Up
Transition a glamorous wedding hairstyle into a country wedding hairstyle by adding a simple braid detail. Ask your hairdresser to pull on the edges of the braid for a loose, rustic vibe.
Sparkly Barrette Detail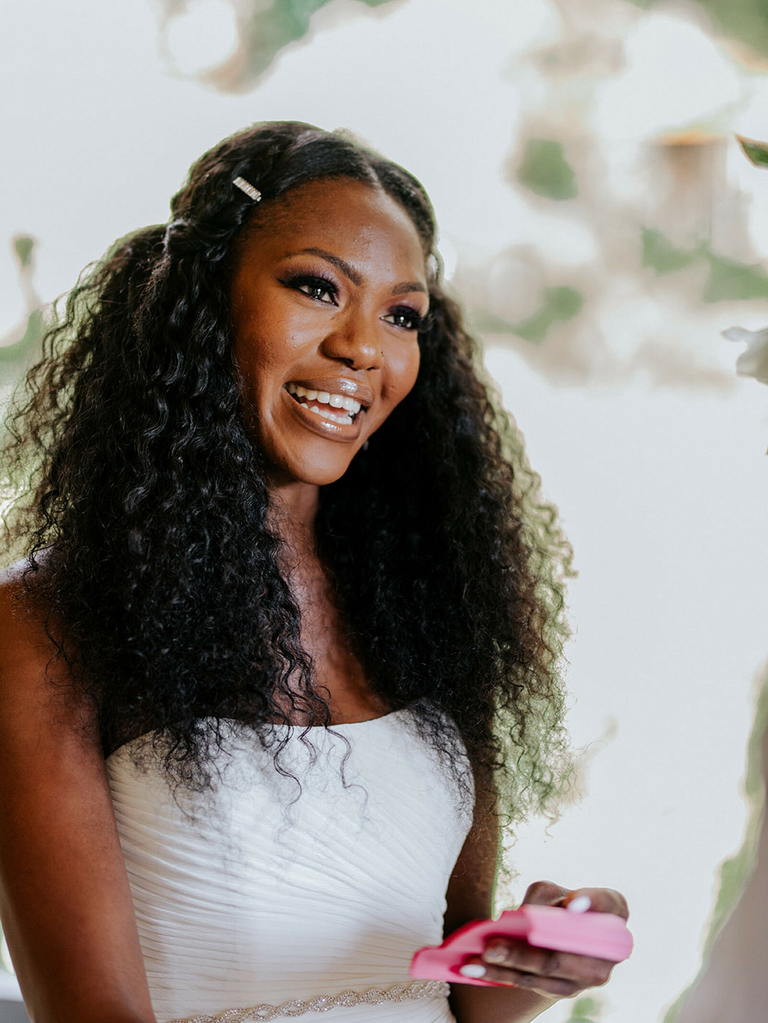 Looking for a simple country wedding hairstyle? Rock your natural hair texture and then add two small, sparkly barrettes to each side of your head.
Sparkly Headband
If you're dreaming of a wedding hairdo that strikes the perfect balance between country and chic, this is it. Wear long, loose waves and top them with a glittery headband for an extra touch of sparkle.
Decorative Flower Vine
If you're hosting a country wedding that leans more boho, try this pretty hairstyle. Add a colorful flower vine into soft curls.
Center-Parted Waves
Forget the idea that country wedding hairdos have to be stuff. Wear loose waves with a trendy center part for a stunning day-of 'do.
Low, Loose Ponytail
Is there anything more classic than a low ponytail? Wear yours low and loose for an effortlessly gorgeous country wedding hairstyle.
Fishtail Braid
It's no secret braids are a favorite when it comes to country wedding hairstyles: They're the perfect mix of pretty and egy. Make yours feel more rustic by creating a fishtail braid and pulling on the sides for added texture.
Country Wedding Hairstyles for Medium Hair
If your hair falls somewhere around your shoulders, you still have many day-of 'do options. Keep scrolling to see the best country wedding hairstyles for medium hair.
Old-School Curls
If you love a vintage look, consider this country wedding hairstyle. Style your hair in old-Hollywood curls and ass a sparkly hair piece on the side.
Sparkly Side Pin
For something a little more relaxed, try this pretty hairdo. Add loose waves to your hair, tuck one side behind your ear and pin it down with a delicate pin.
Smooth Updo
You can still achieve an Insta-worthy chignon with medium-length hair. Smooth your hair back and twist it up towards the top of your head—then secure it with some pins.
Natural Curls With Flower Crown
Looking for a natural wedding hairstyle for your country nuptials? Sport your pretty texture and then simply place a delicate flower crown on top.
Straight & Sleek
While curls are a popular choice for rustic weddings, you can wear a sleek and straight style too. Just add some extra hairspray for hold and hair oil for shine.
Colorful Flower Barrette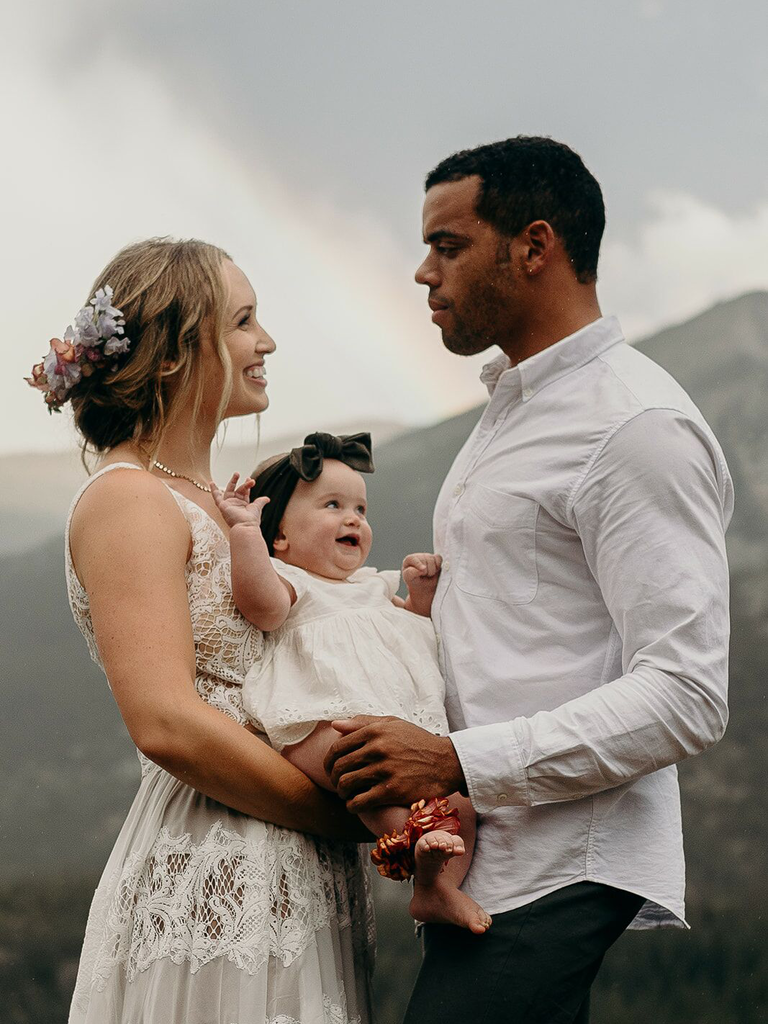 Make your loose updo feel even more country by adding a barrette full of colorful flowers. It's a small touch that'll make a big difference.
Low, Loose Updo
A loose wedding updo captures the effortless beauty of the countryside. Add some sparkle to yours by wrapping a jewelry vine around ypr updo and adding a pretty veil.
Updo With Bangs
Another way to make a wedding updo feel more casual? Leave your bangs out.
Braid Crown
Lean fully into the rustic aesthetic with a beautiful braid crown. Not only is it gorgeous, it's also practical: It'll keep your hair up and away from your face.
Twisted Bun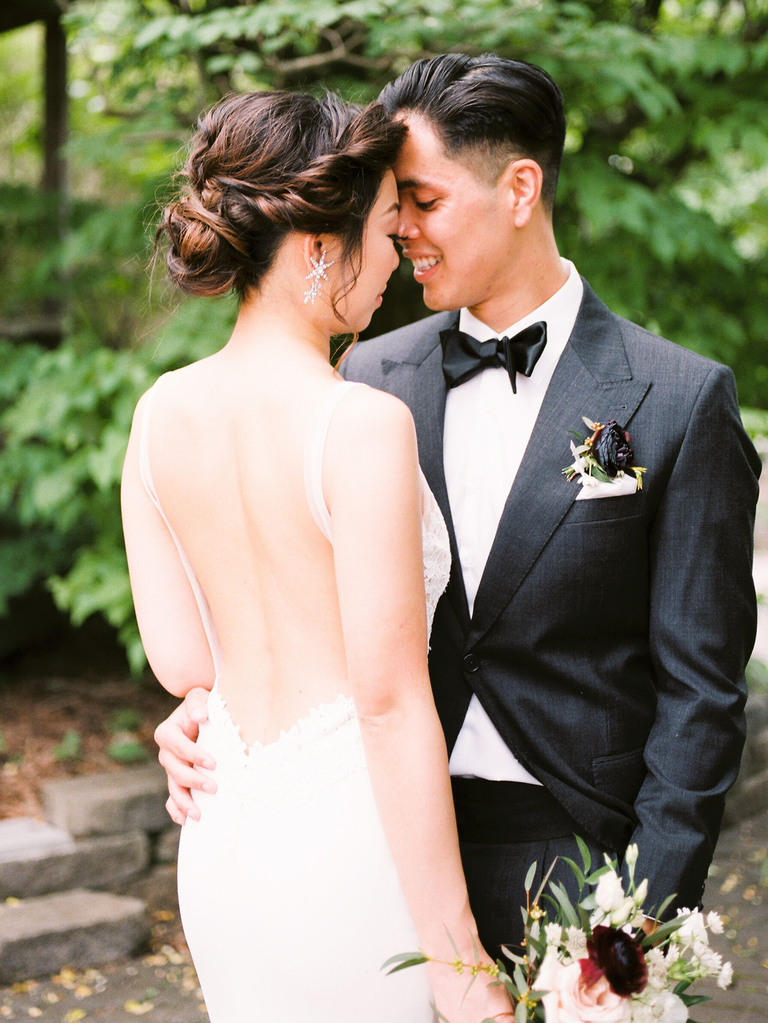 If you want to do something other than braids, consider twisting your hair back for a unique way to add texture.
Effortless Half-Up
If an elaborate updo just isn't your style, consider this low-maintenance style instead. Loosely pin the sides of your hair and add some hairspray to keep it in place.
Pastel Flower Crown
A pretty pastel flower crown practically screams country wedding. Wear yours atop loose curls for an extra-dreamy hairstyle.
Country Wedding Hairstyles for Short Hair
Got a cropped 'do? Here are 10 country wedding hairstyles for short hair you'll love.
Dramatic Topknot
Make a statement with this playful country wedding hairstyle. Gather all of your hair on top of your head and secure with an elastic. Pull out pieces around your face to frame your face.
Braided Updo
You can still wear a wedding updo with short hair. Braid the back of your head up and let the top of your hair flow freely. Add a few flowers for a pretty touch of color.
Loose Waves
We love this country wedding hairstyle because it's so simple. Part your hair to the side, add loose s-shaped waves, and you're done.
Long, Dramatic Veil
Contrast your shorter hair length with a long, dramatic veil. It'll be a dramatic reveal when you take it off at the reception.
Side Undercut
Show off your personality with a side undercut. Buzz the sides of your hair and leave the top long for a dramatic effect.
Side-Swept Bangs
For an ultra-romantic country wedding hairstyle, sweep your bangs over to the side.
Sleek, Low Bun
Obsessed with Hailey Bieber's wedding hair? So are we. Get the look by parting your hair down the center and pull your back back into a bun. Secure with an elastic, and you're good to go.
Braided Half-Up Hairstyle
Braid the top part of your hair back for a rustic vibe. Add colorful flowers for a fun pop of color.
Half-Up With Wildflowers
Pin half of your hair up and then weave wildflowers through it for a country wedding hairstyle that also feels a little boho.
Floral Headband
Elevate simple curls with a pretty floral headband.