21 Amazing Drip Cakes You Have to See
Meet the newest cake craze.
Warning: Delicious looking cakes ahead. When we say delicious, we mean mouthwatering flavors with delightful drizzle designs that will send you into a full-on tizzy.
First came the naked cake, then the nearly-naked translucent cake and then we were talking about overloaded cakes. The newest trend? Dressing up your tiers with a simple drizzle of flavor. The drip design lends a bit of whimsy to a wedding cake, while it doesn't take away from any pretty embellishments like intricate fondant details or fresh blooms. For couples looking to add a unique spin onto their modern celebration, this is the cake design for you. Here are 21 different flavor and design ideas to get your sweet tooth ready for a some serious cake tasting appointments.
1. Metallic Gold Drip Design With Fondant Peaches
Cake by Lael Cakes
2. Caramel Drizzle With Chocolate Cake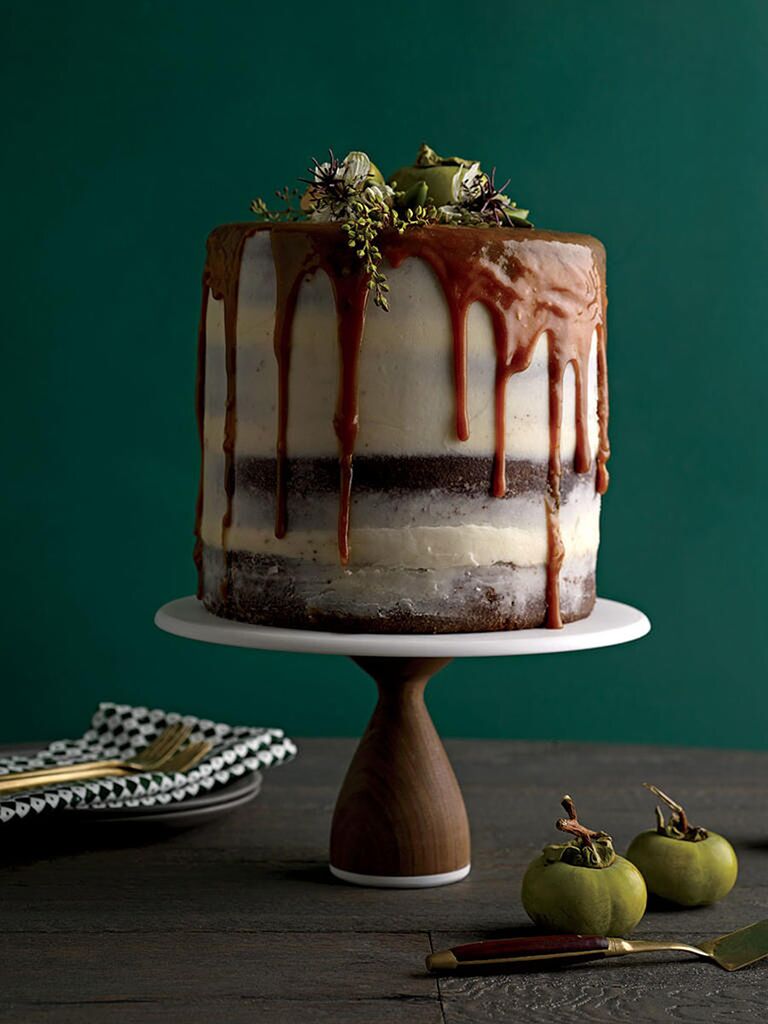 From: A Same-Sex Wedding With Stylish Swagger
3. Small Wedding Cake With Gourmet Cupcakes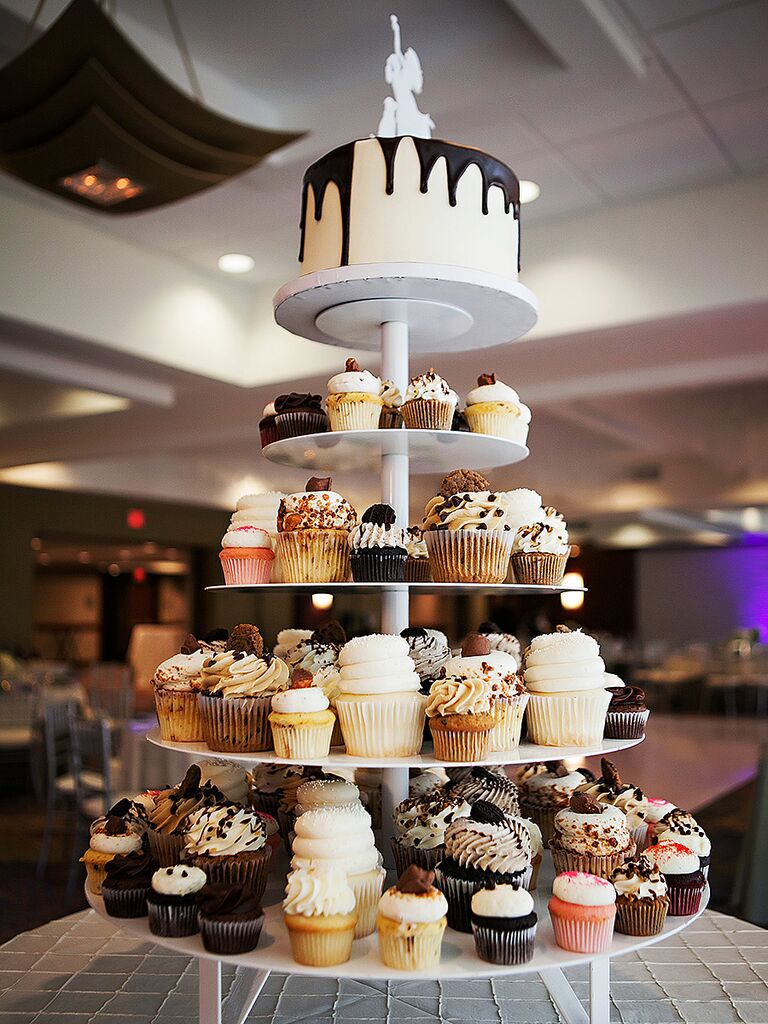 From: A White, Mint and Lavender Wedding at the Westin Tampa Bay in Tampa, Florida
4. All-Chocolate Groom's Cake With Feather Topper
From: An Eclectic Fall Wedding at the Witte Museum in San Antonio, Texas
5. Nearly Naked Vanilla Cake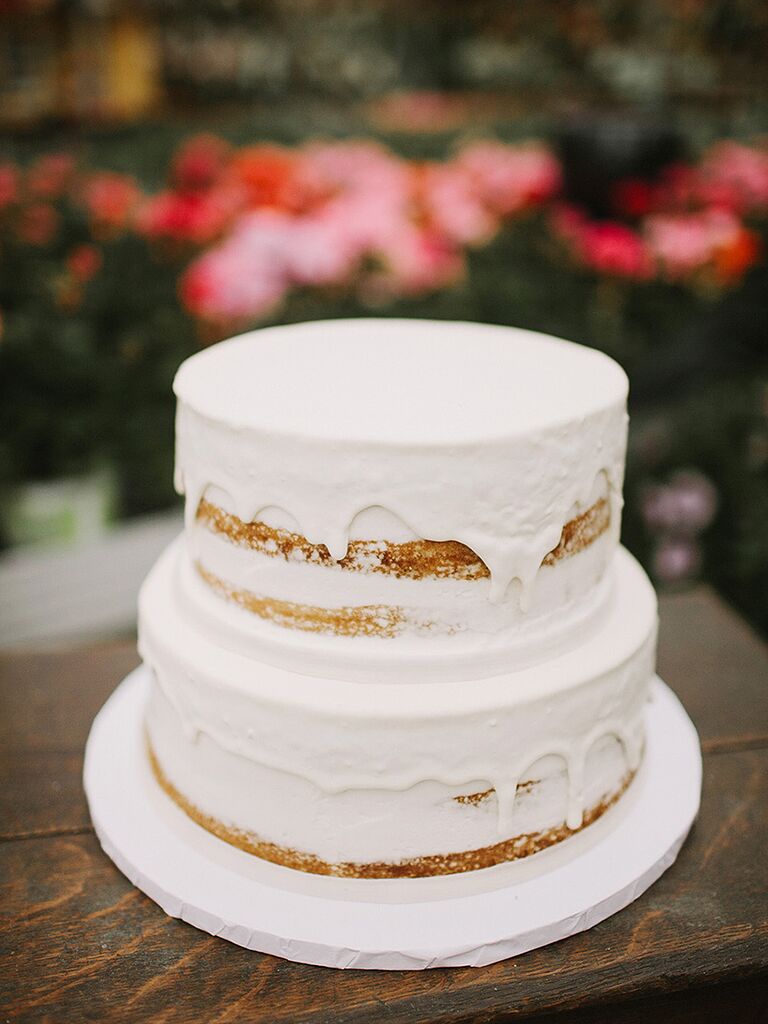 From: An Elegant, Rustic Wedding at Snow Avenue Greenhouse in Lowell, Michigan
6. Dark Chocolate Mint Cake With Ganache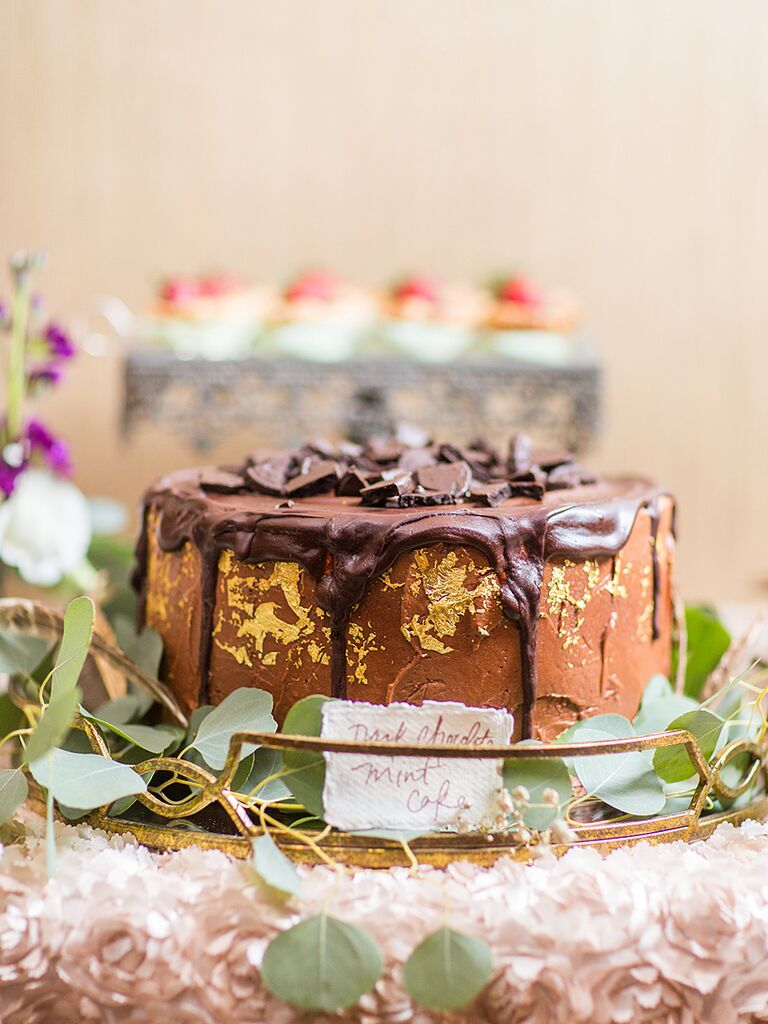 From: A Chic, Vintage Wedding at One Ocean Resort and Spa in Atlantic Beach, Florida
7. Chocolate Peanut Butter Wedding Cake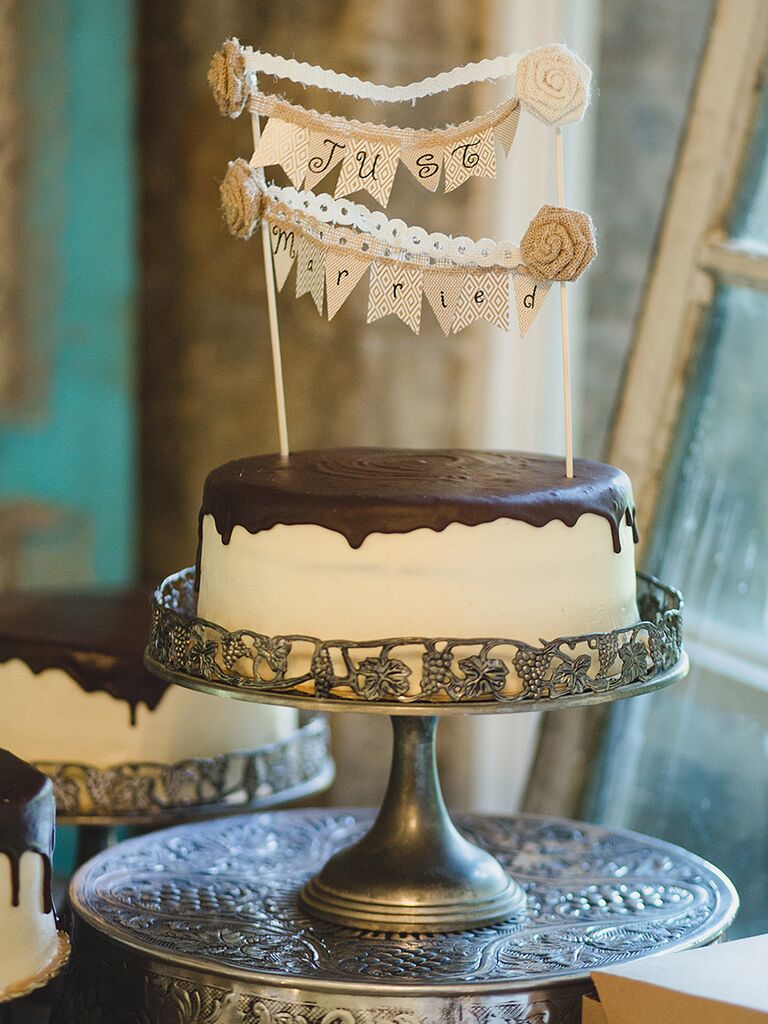 From: A Spring-Inspired Wedding at Gassaway Mansion in Greenville, South Carolina
8. Rustic Cake With Gold Fondant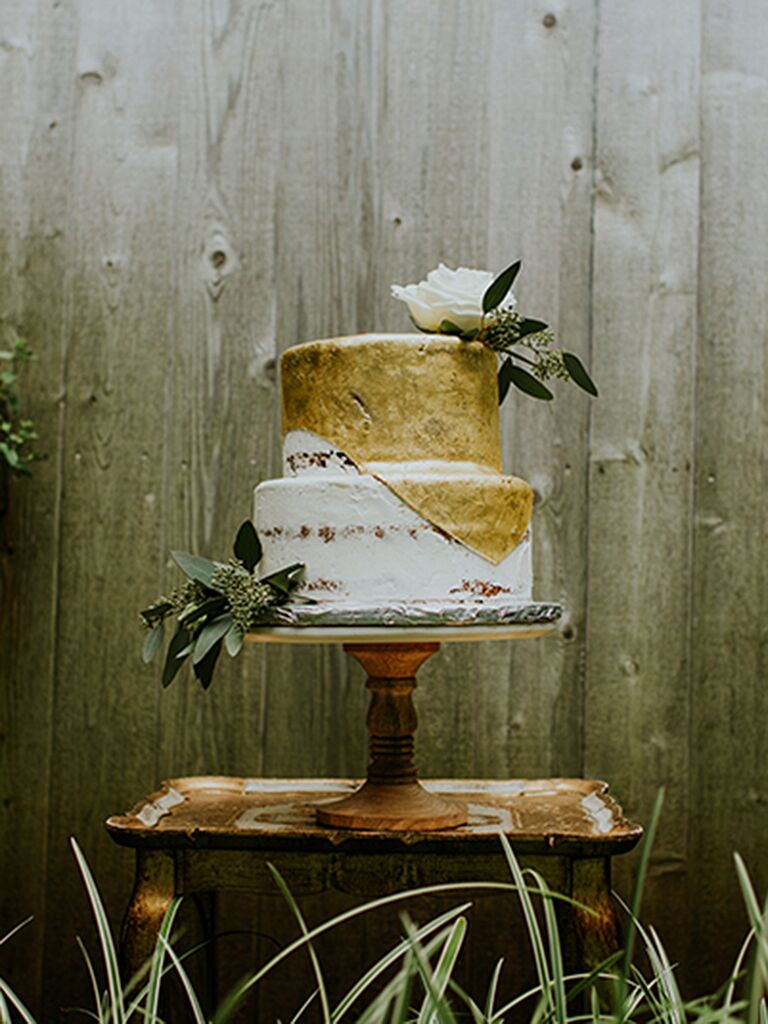 From: An Elegant Jewish Wedding at Crossing Vineyards and Winery in Washington Crossing, Pennsylvania
9. Strawberry-Filled Naked Cake With Chocolate Ganache Drizzle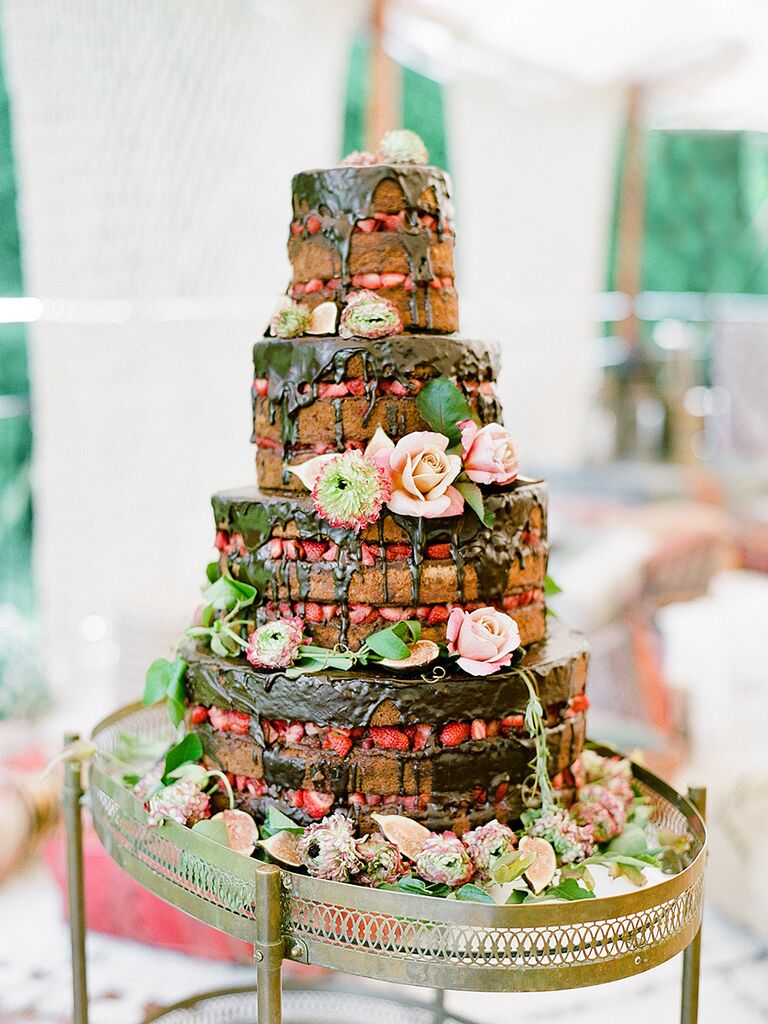 From: An Elegant, Bohemian Wedding at a Private Residence in Greenwich, CT
10. Chocolate and Vanilla Naked Cake With Caramel Sauce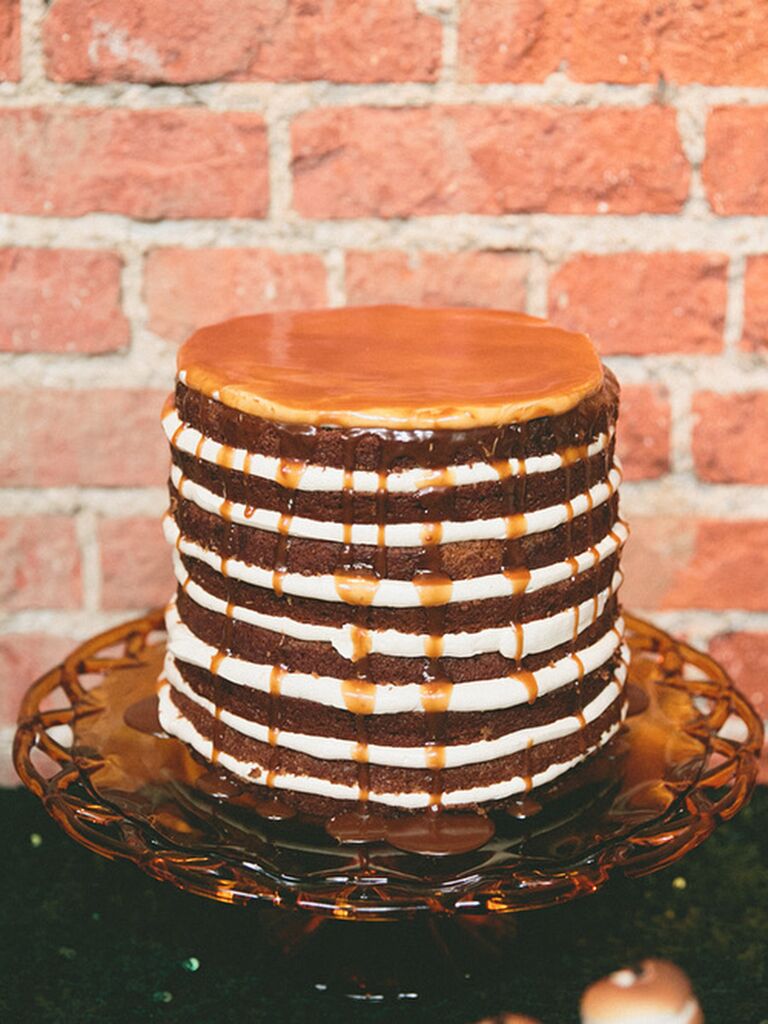 From: A Natural, Botanical Garden-Inspired Wedding at Millwick in Los Angeles, California
11. Chocolate Groom's Cake With Strawberries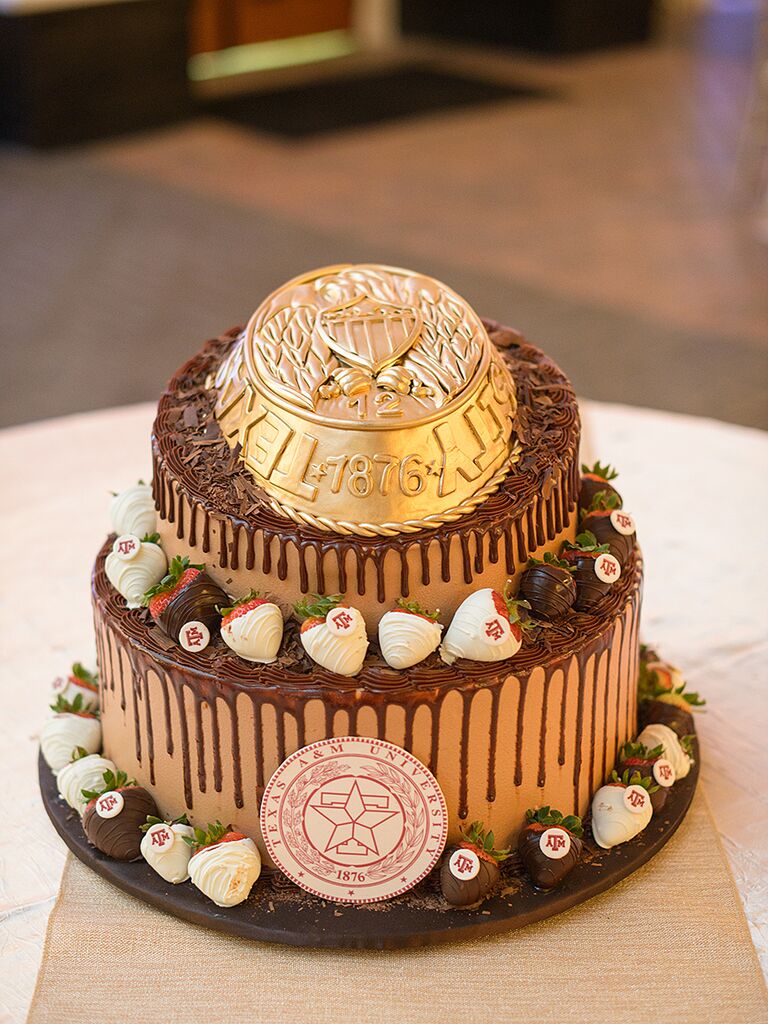 From: A Country Chic Wedding at Southfork Ranch in Parker, Texas
12. Tiered Bundt Cakes With Fresh Flowers
From: A Bohemian Barn Wedding at Rodale Institute in Kutztown, Pennsylvania
13. Chocolate-Drizzled Groom's Cake With Strawberries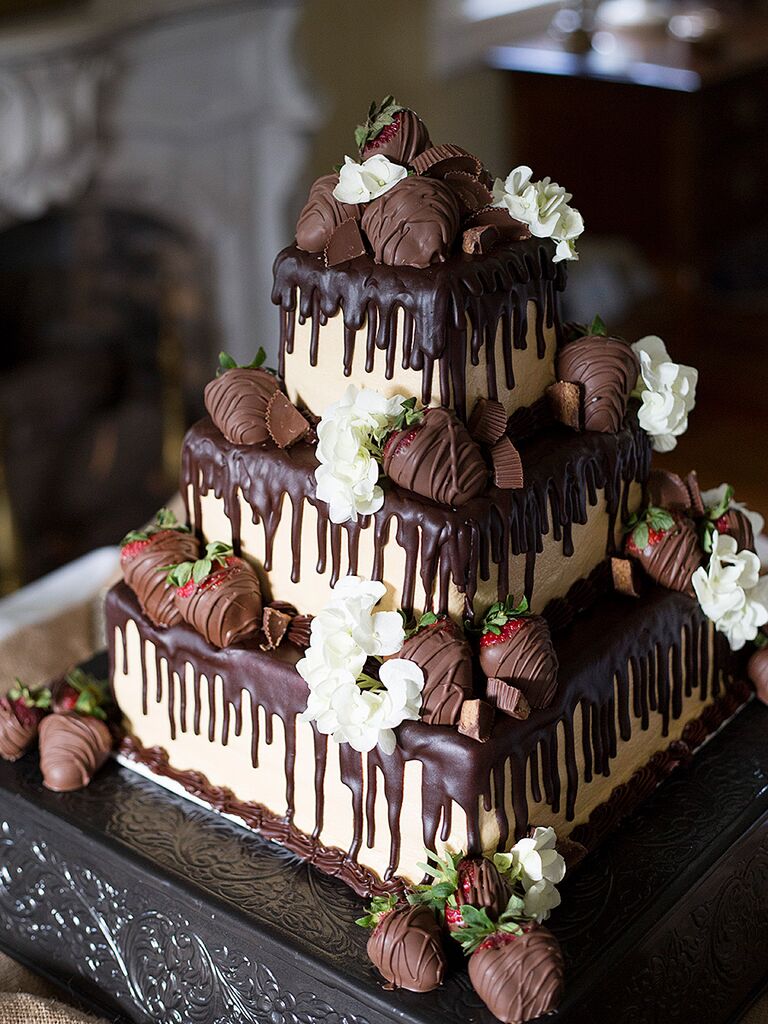 From: A Neutral, Pink and Navy Wedding at Antebellum Winston Place in Valley Head, Alabama
14. Naked Carrot Cake With Drizzled Caramel Sauce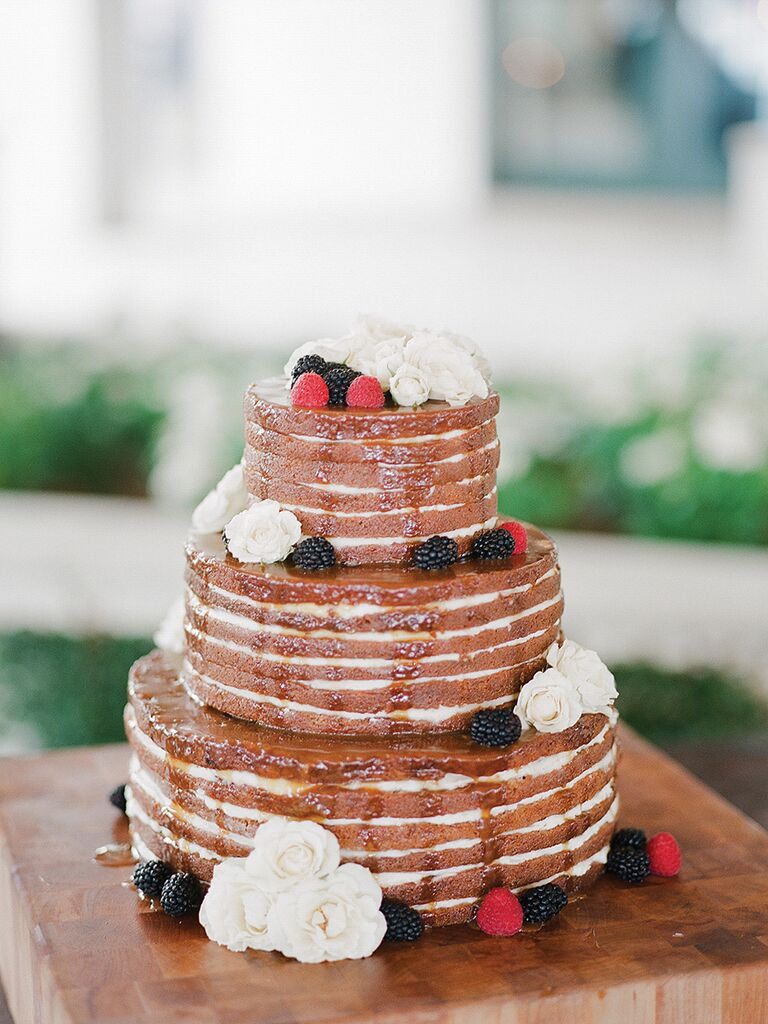 From: A Rustic, Elegant Wedding at The Cloister at Sea Island in Sea Island, Georgia
15. Whimsical Wedding Cake With Gold Butterflies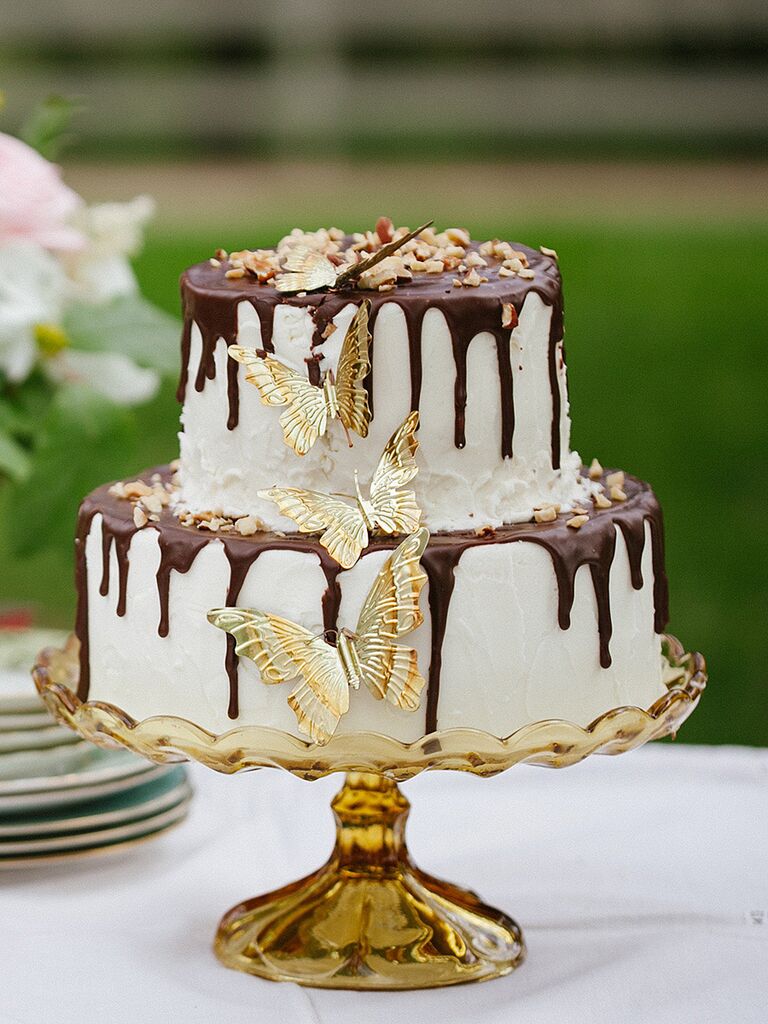 From: A Shabby-Chic Wedding in Nashville, TN
16. Naked Chocolate and Vanilla Cake With Caramel Drips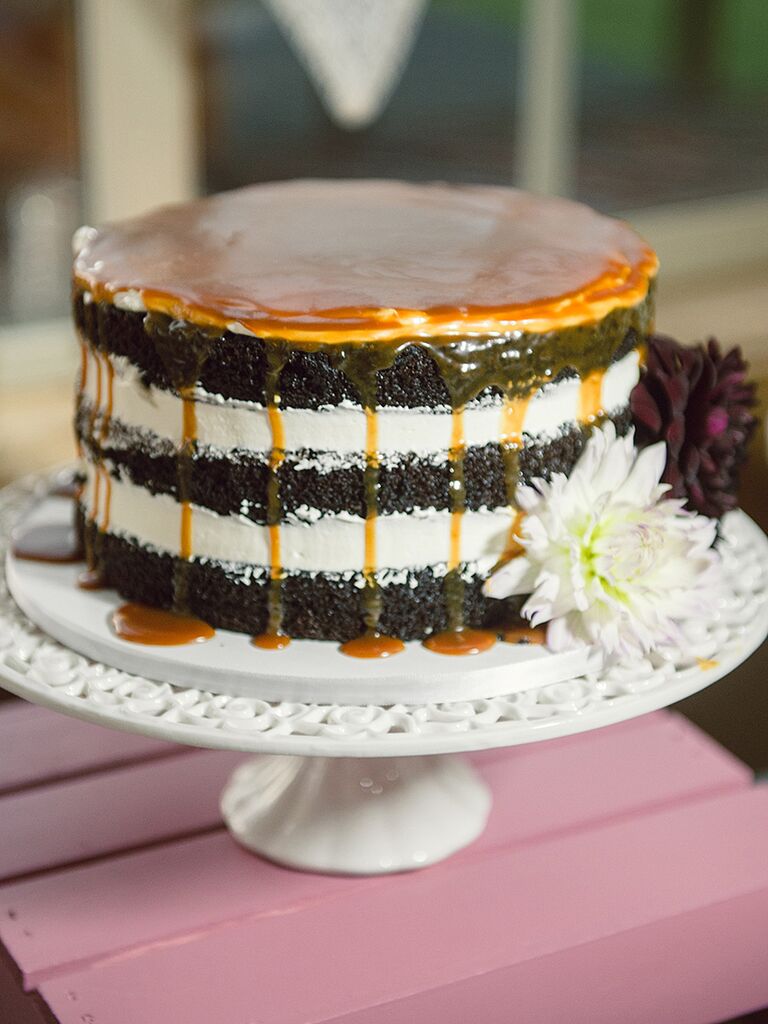 From: 10 Naked Cakes You Have to See
17. Small Wedding Cake With Flower Decorations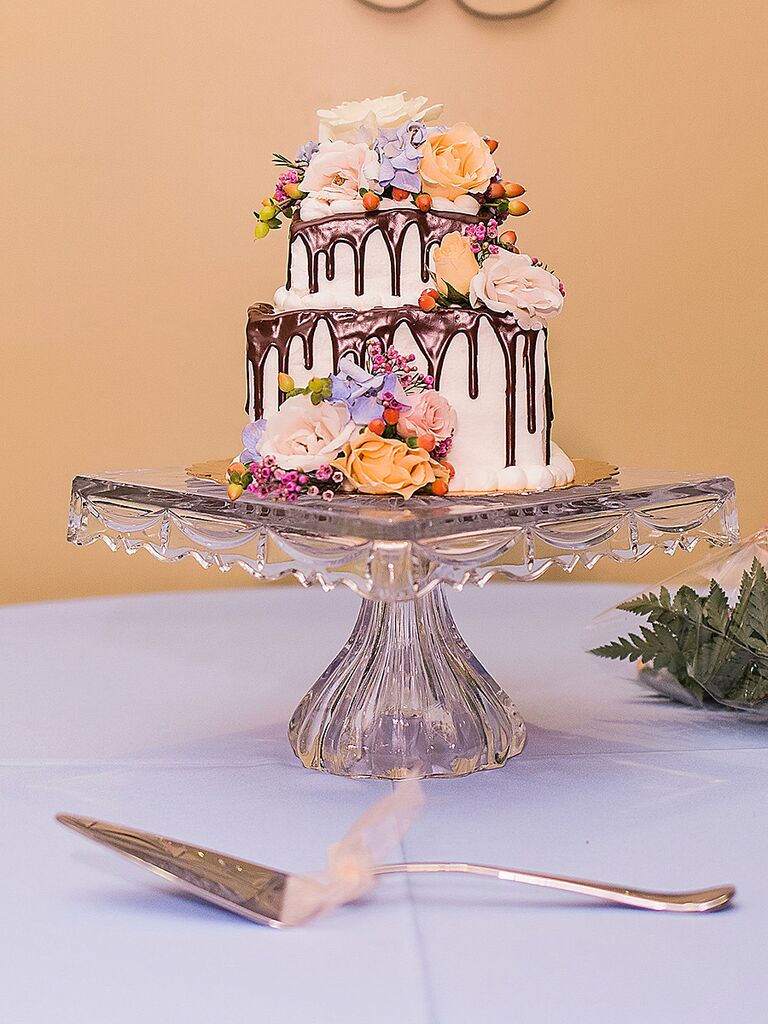 From: A Lush, Outdoor Wedding at Venue at the Grove in Phoenix, Arizona
18. Nearly Naked Caramel Apple Cake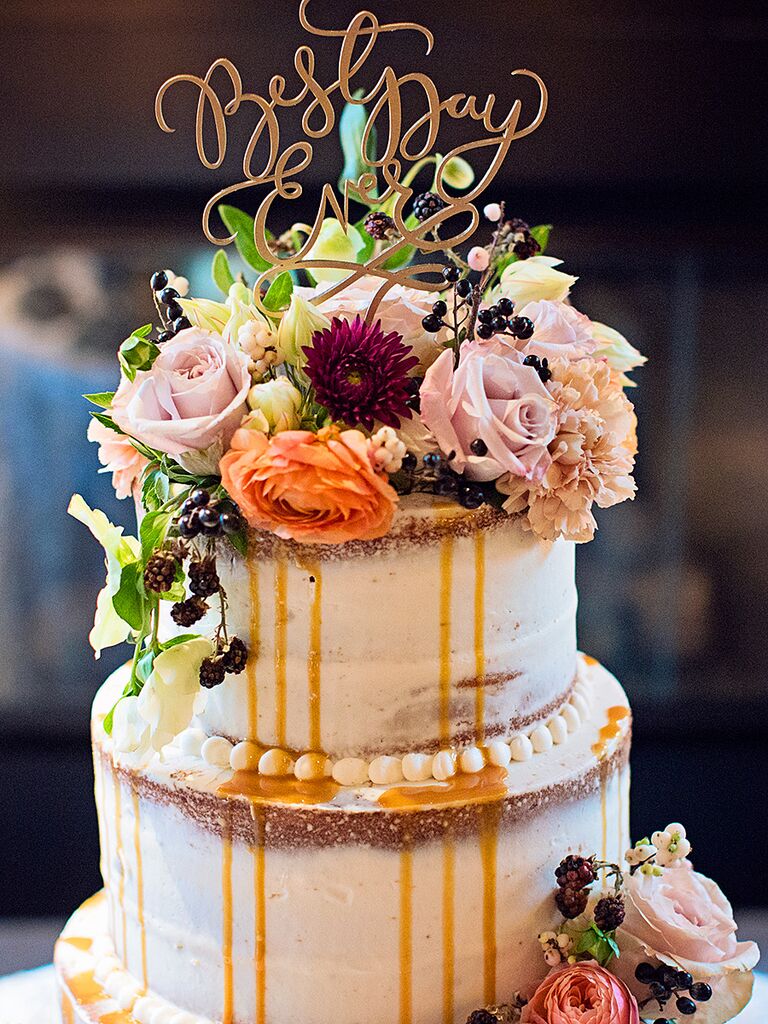 From: A Vintage, Glam Wedding at the Peninsula Room in Traverse City, Michigan
19. Chocolate Groom's Cake With Strawberries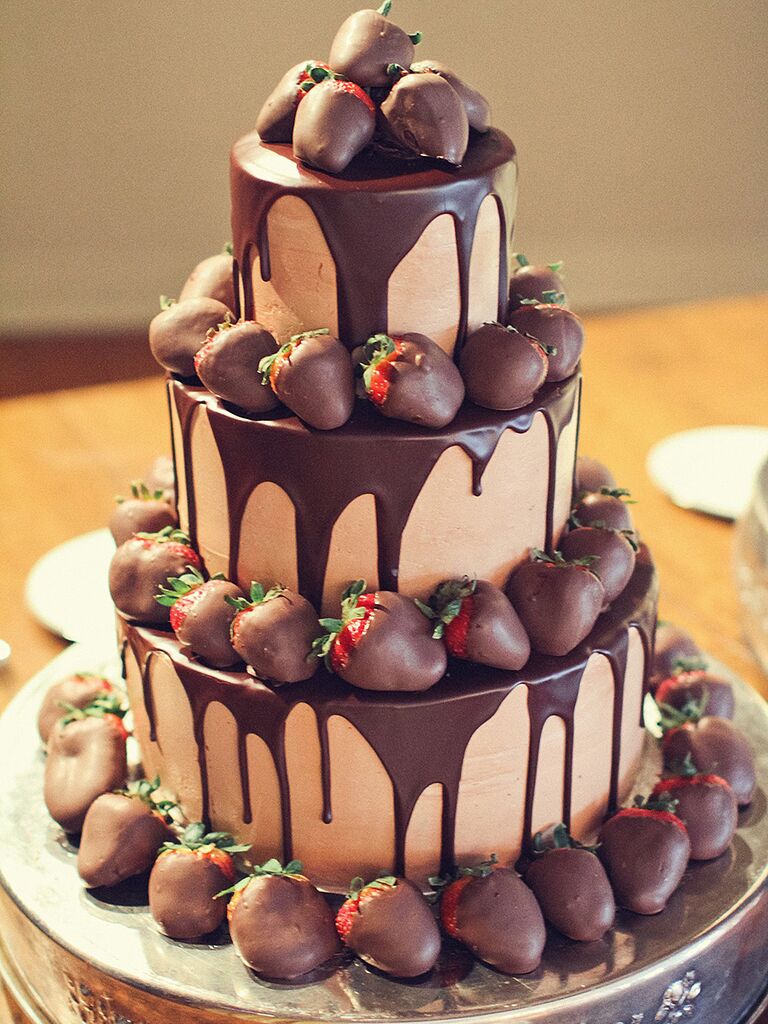 From: An Elegant, Romantic Wedding in Austin, TX
20. Simple Cake With a Chocolate Drizzle Design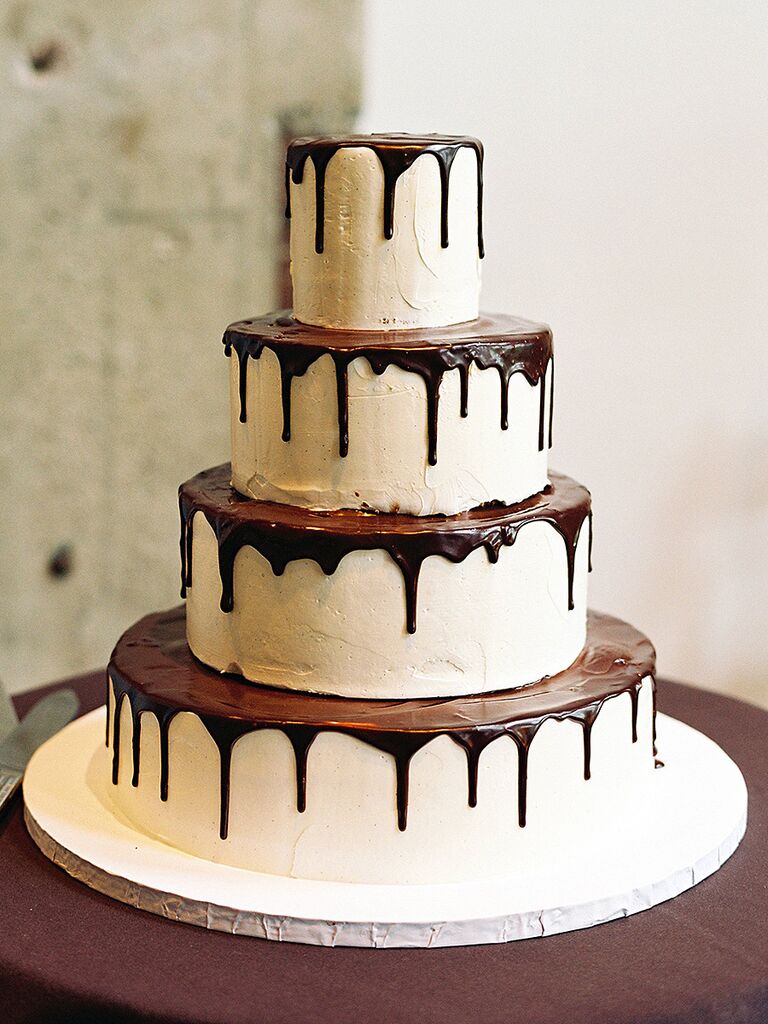 From: A Rustic, Earthy Wedding in Brooklyn, NY
21. Graham Cracker and Toasted Marshmallow Cake With Ganache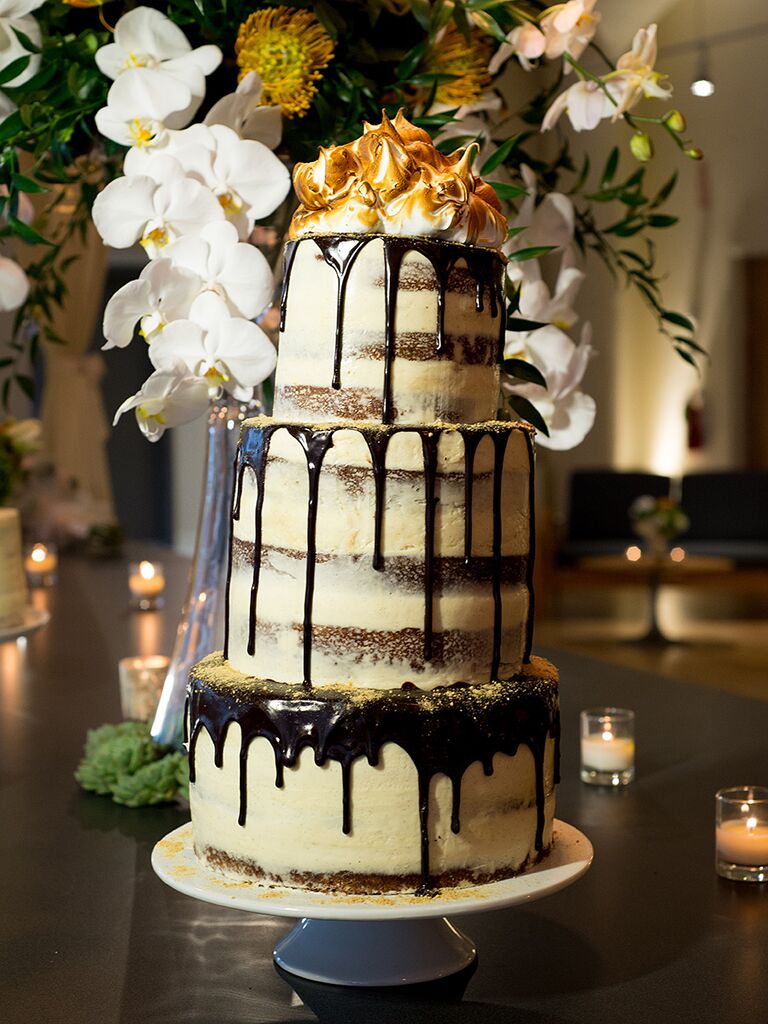 From: A Modern, Spring Wedding at Greenhouse Loft in Chicago, Illinois