Having Wedding Cake Fatigue? Try These Bundt Cakes Instead.
No ifs, ands or bundts about it.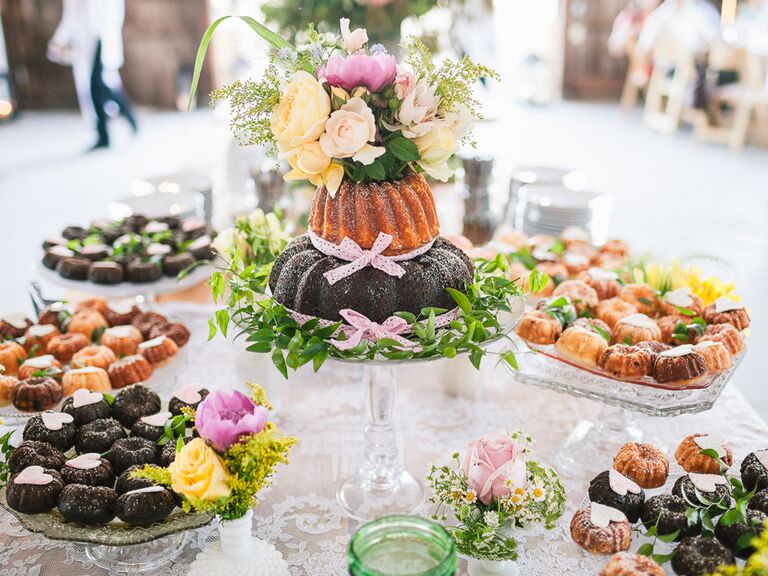 Still Music: Wedding Photography
Wedding bundt cakes definitely don't get as much love as they should. Traditional white wedding cakes (yes, even maybe-not-so-traditional ones with amazing sugar flowers and ombre icing) are typically everyone's first choice when planning their wedding dessert. Which is exactly why we've put together this roundup of bundt cakes for you to peruse. They need a little attention, too! Why do we love them so much, you ask? Because they're super versatile. You can either serve them at your reception or give them as wedding favors. (Because who doesn't want to leave a wedding with their own little slice of sugary heaven?) You can also personalize them much more than wedding cakes, where guests must eat the flavor of cake you've already chosen. Some couples simply pick three bundt cake flavors and let guests choose the ones that they want. So that great aunt who craves coconut icing instead of buttercream? Totally doable. If you're even the slightest bit over the typical wedding cake, why not consider a bundt instead? Here's a little inspiration to get you started!
Iced Bundt Cake with Tea Rose Details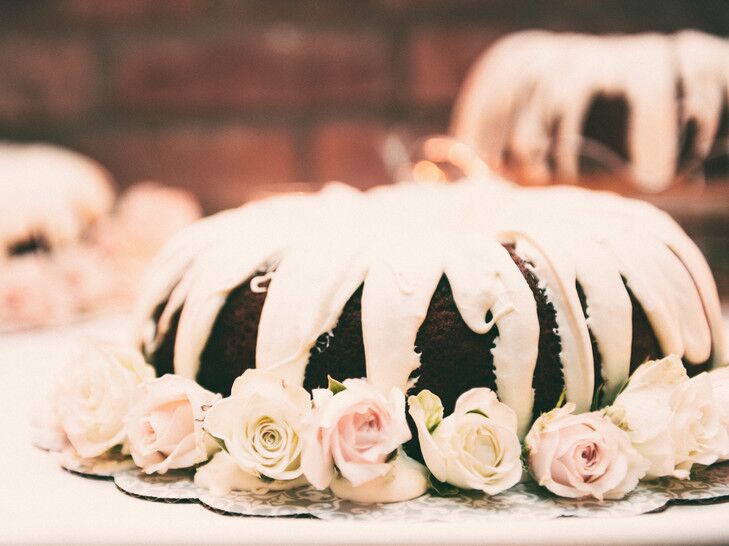 Veronica and David asked ten local Texas bakers to make ten homemade bundt cakes for their wedding reception. "They were simple and delicious!" says Veronica.
From the album: A Classic Wedding at Event 1013 in Plano, Texas
Assorted Flavor Bundt Cakes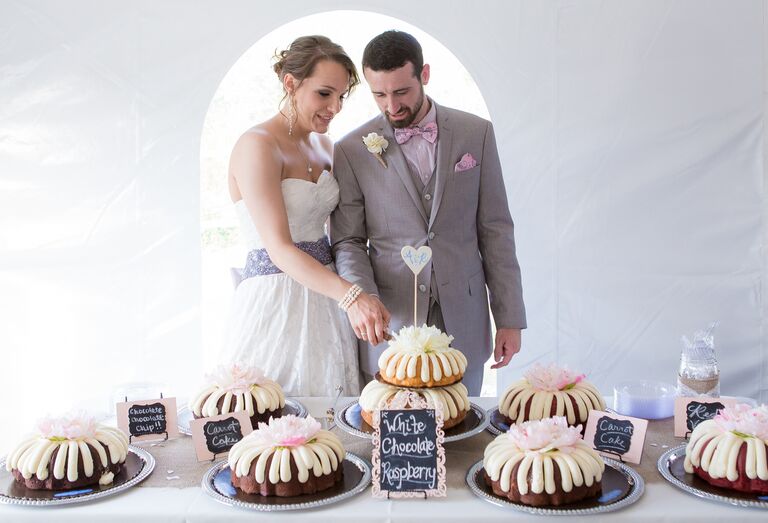 At their wedding ceremony, Ashley and Robby served bundt cakes in assorted flavors like chocolate, red velvet, chocolate chip and white chocolate raspberry. In keeping with tradition (sort of) the couple cut a two tier wedding bundt cake together.
From the album: A Casual Wedding at Chandler's Gardens in Celina, Texas
Bundt Cake with White Rose Accents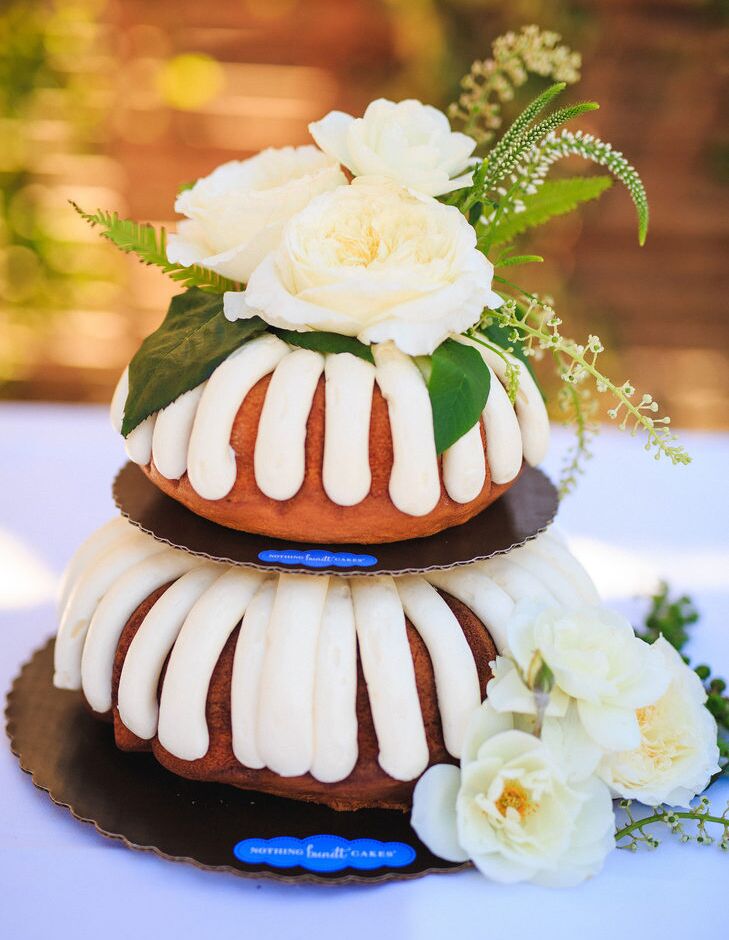 Amanda and Brad wanted to incorporate their venue's natural greenery into their wedding day (they got married at a lush golf resort). The floral accents on their wedding bundt cake match the rich foliage!
From the album: A Natural, Elegant Wedding at Temecula Creek Inn in Temecula, California
Personal Wedding Bundt Cake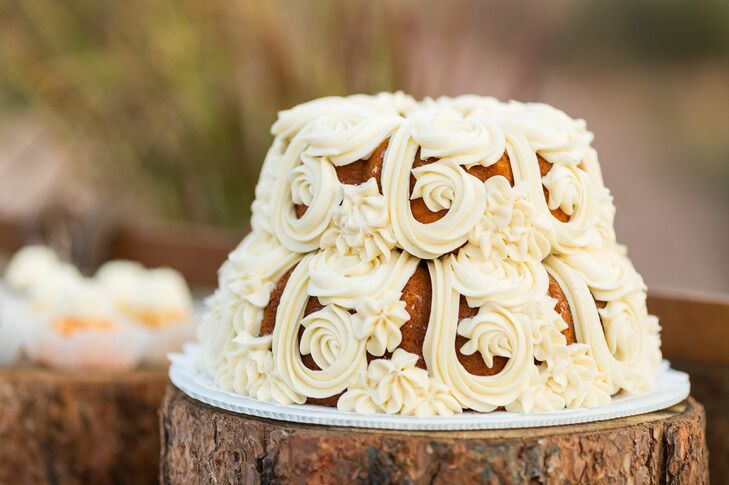 Aurielle and Dave served mini cherry, lemon blueberry, snicker doodle and double chocolate bundt cakes to their guests after the main course. Then they shared this two-tier wedding cake amongst themselves!
From the album: A Rustic Navy and Ivory Wedding at Willow Ridge Manor in Morrison, Colorado
Green Tea Bundt Cake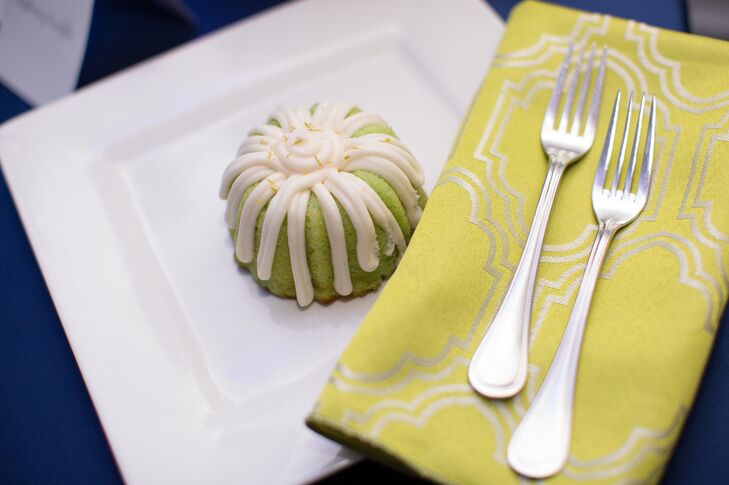 Blair and James nixed the idea of having a wedding cake altogether and shared a small green tea bundt cake together. Guests were served cookies and milk after dinner.
From the album: A Modern, Colorful Mountain Wedding at Lions Square Lodge in Vail, Colorado
Miniature Bundt Cakes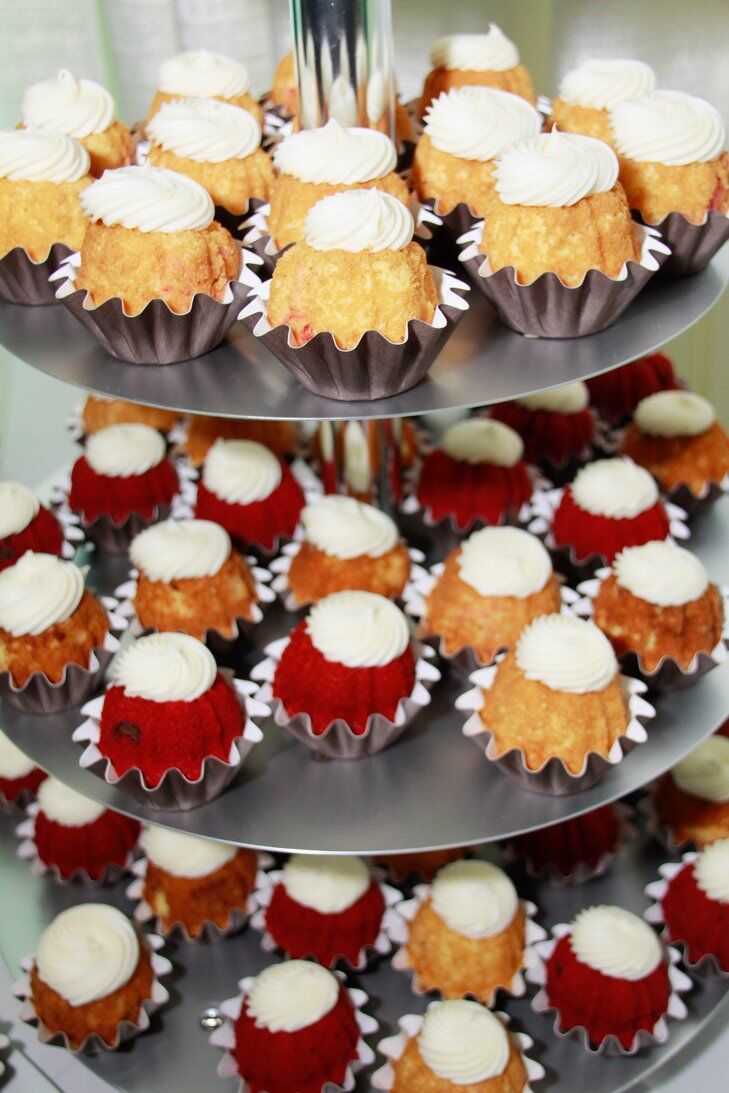 Guests picked their own miniature bundt cakes at Ruth and David's wedding. They came in gourmet flavors like red velvet, pecan praline and white chocolate raspberry.
From the album: A Springs Preserve Wedding in Las Vegas, Nevada
Icicle Iced Bundt Cake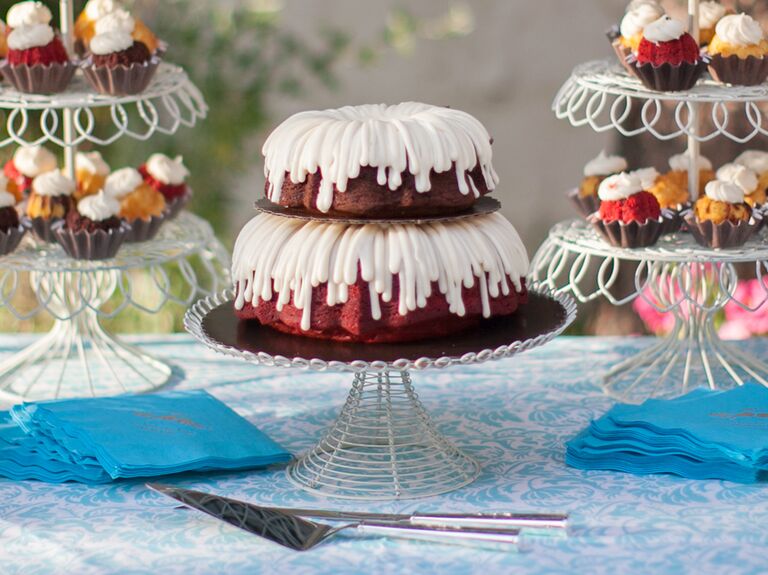 Shaun had the final say on the type of wedding cake he and Alison served at their wedding. The two tier confections from Nothing Bundt Cakes are his favorites!
From the album: A Classic DIY Wedding at The Margarita at Pine Creek in Colorado Springs, Colorado