Our Favorite One-of-a-Kind Destination Wedding Details
These creative ideas—and the pros behind them—used local culture and scenery in amazing ways that take destination wedding décor to a whole new level.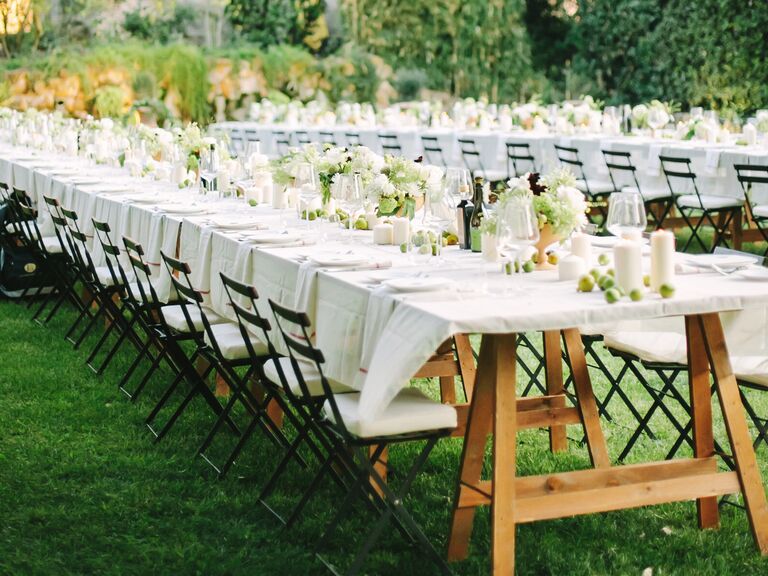 An Infinity Pool Ceremony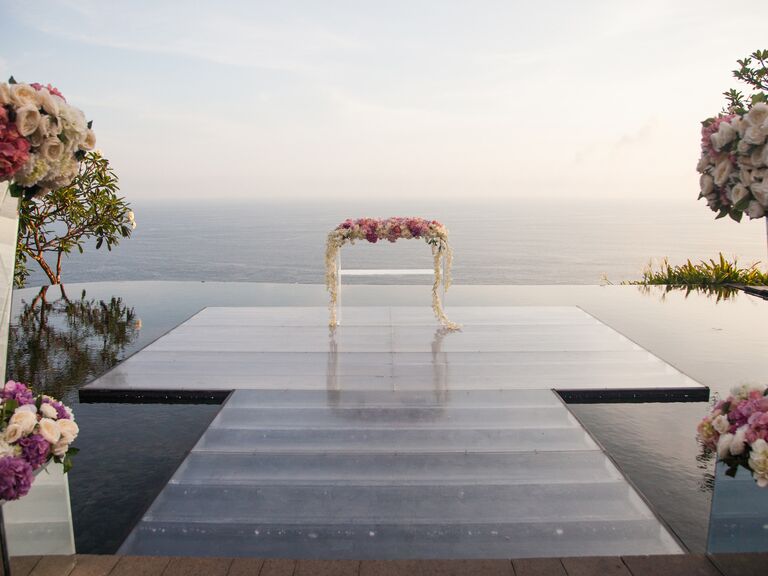 This idea from wedding planner and founder of Hong Kong–based The Wedding Company Michele Li is as close as it gets to a wedding miracle. To give the seamless illusion that the couple was gliding on water, a clear platform was placed on top of this insanely gorgeous oceanfront infinity pool at the Bulgari Resort in Bali, Indonesia. With that endless view of sky and sea, it's hands down one of the most romantic ceremony spots we've ever seen.
A Dance Floor Above the Rainforest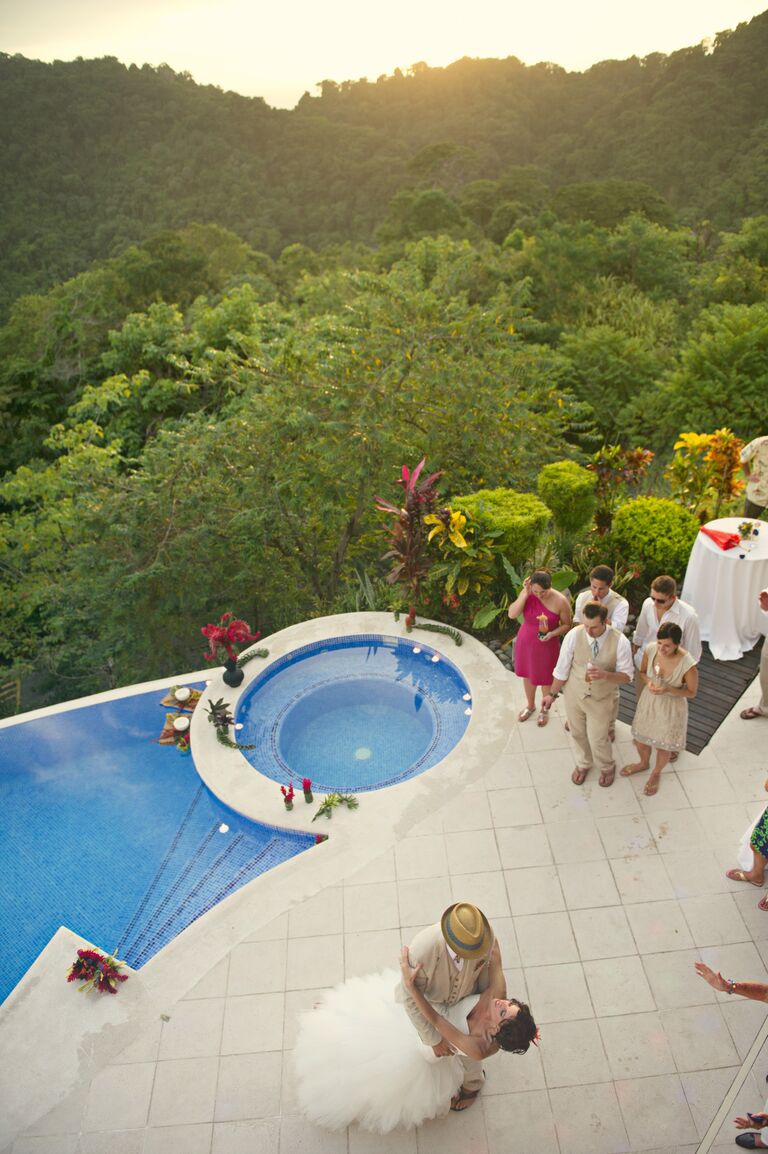 Who needs décor when the scenery is this stellar? "When you choose a location with scenic views, you can allow nature to be the biggest design element," says destination wedding planner and founder of A Jubilee Event Candice Coppola, who scouted this stunning vacation villa for a Costa Rican affair. "The outdoor veranda space that overlooks Herradura Bay was the natural spot to have the dance floor," Coppola says. The result was an unforgettable first dance with an epic view in a super-private setting.
A Locale-Inspired Drink Station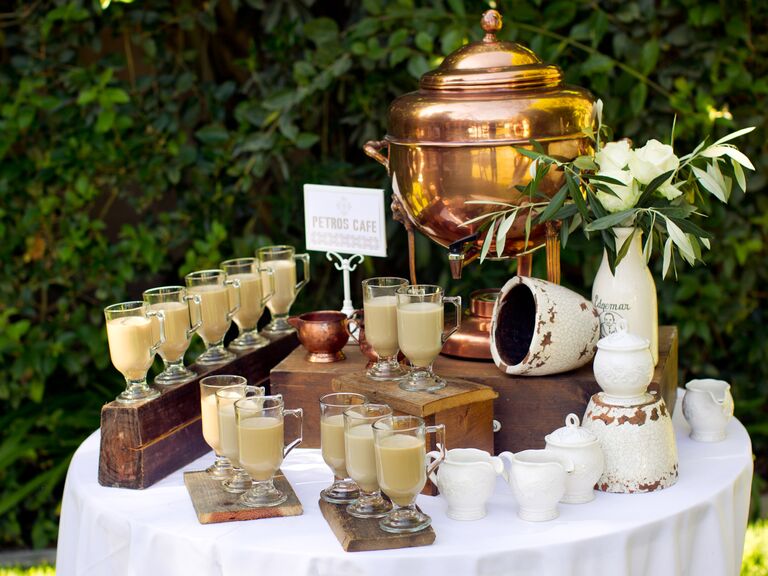 One of the best parts of jet-setting to a far-off place for a destination wedding? The cuisine, and a menu filled with locally sourced food and drinks. This Greek coffee station, catered by Petros and designed by wedding planner Vanessa Van Wieren and her team at Alchemy Fine Events, brought together two cultures—Greek flavors with the effortless style of Santa Barbara, California, wine country.
A Driftwood Cake Stand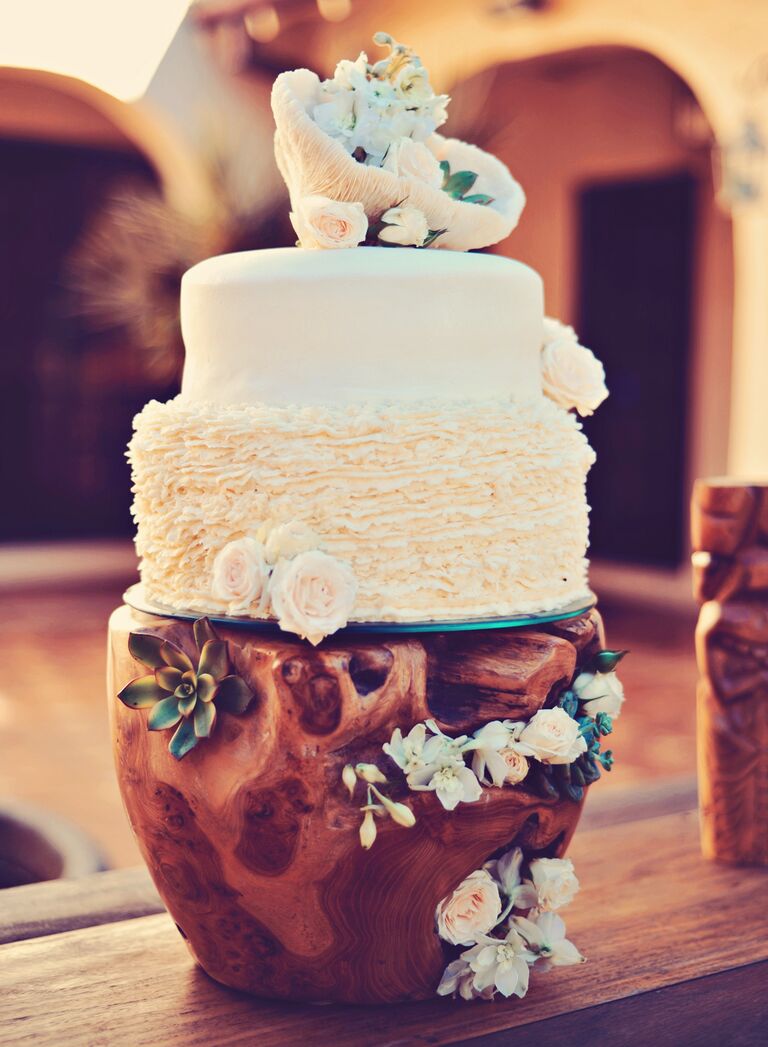 Driftwood makes for a fun detail at any beach wedding, but this one-of-a-kind use for it puts a fresh spin on things. Wedding planners Lena Sebag and Jane Park-Gonzales of Belle Destination Weddings & Events in Maui, Hawaii, swapped out the standard cake stand for this nontraditional one that blends right into the day's beachy décor. We love that the simple cake and cake stand is a nod to the island locale and makes use of the landscape in a unique way, which is why it tops our list of favorite ideas.
A Dramatic Vaulted Reception Venue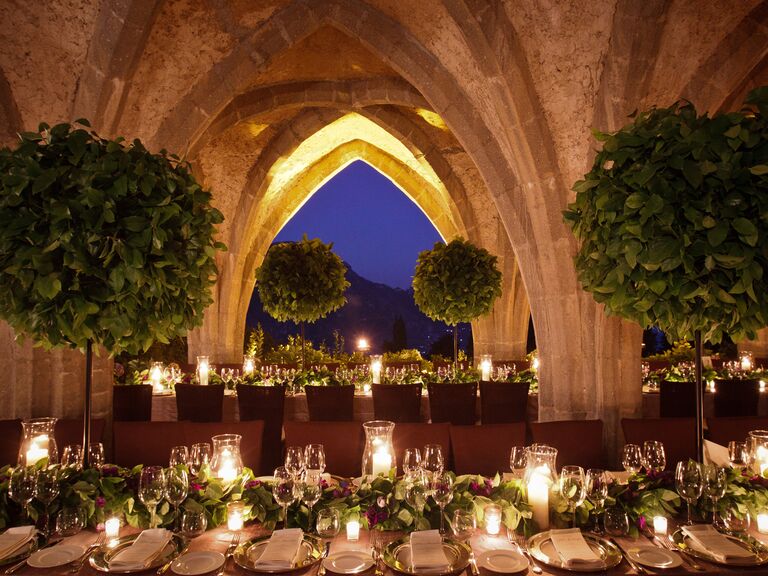 A lot of destination venues might have a room with a view, but at this reception on the Amalfi Coast in Italy, the room was the view! At Villa Cimbrone, a space that features the most amazing Gothic-style ceilings, NYC–based event designer Jung Lee planned an intimate soiree in the crypt (yes, you read that right!). To create a medieval-meets-modern reception dinner, Lee played up the height of the ceilings with tall, leafy topiaries and kept the tablescape clean with white dishes and linens and soft candlelight.
Colorful Patterned Pillow Seating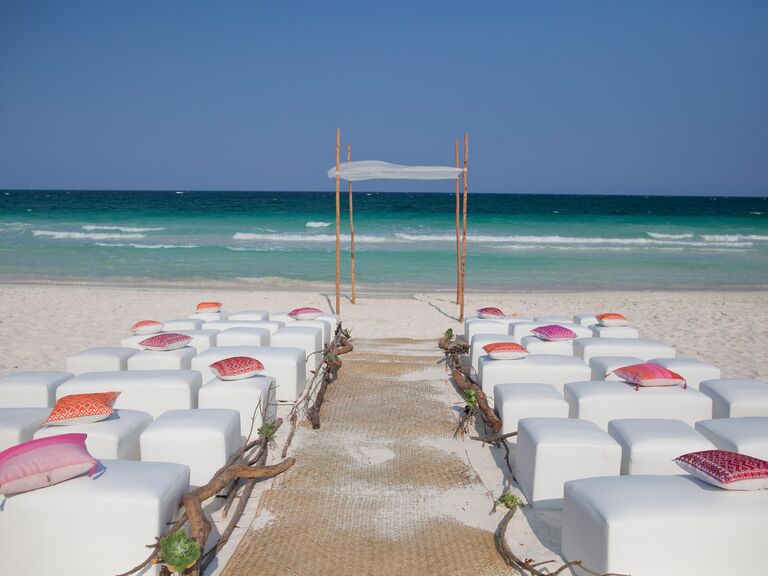 Pillows in bright fabrics added a festive touch to this clean and modern beachside ceremony at Be Tulum resort in Tulum, Mexico. Not only did they add a pop of color, but the fiesta-inspired pillows also tied in the rich culture of the locale. We love these locally inspired details in destination weddings planned by Alison Hotchkiss, founder of Alison Events. "We incorporate local accents by primarily using local vendors and doing research on the area to see what can be brought in to represent where the wedding is being held," Hotchkiss says.
Beachfront Cabana Lounges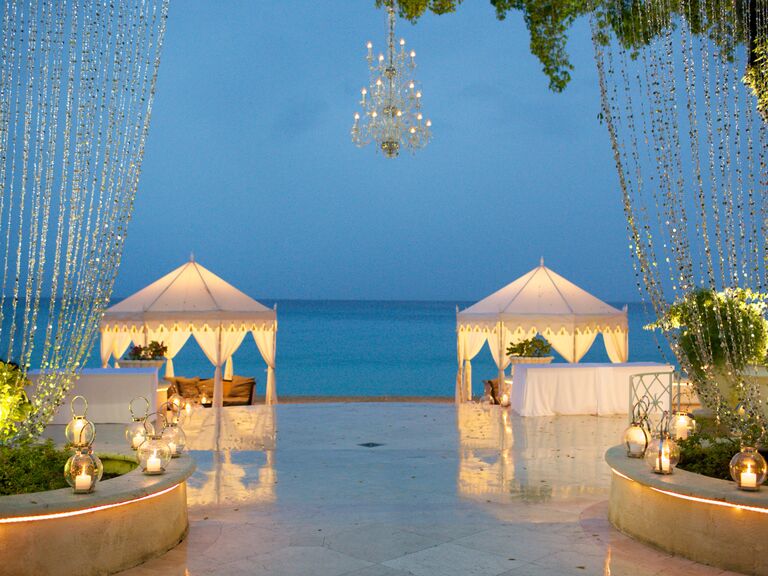 At this glam reception, held at Sandy Lane Resort in Barbados, tented cabanas brought the sophistication of an upscale lounge to the beach. "The couple wanted to achieve a sense of '20s glamour and New York City formality in a tropical location," says Christina Matteucci, executive director of David Beahm Design's destinations program. To pull it off, Matteucci created a juxtaposition of indoor pieces in an exterior format. And it worked perfectly—the sequined curtain and chandelier led guests right out into the lounge area without missing one elegant beat.
A Cozy Mountaintop Ceremony With Faux-Fur Accents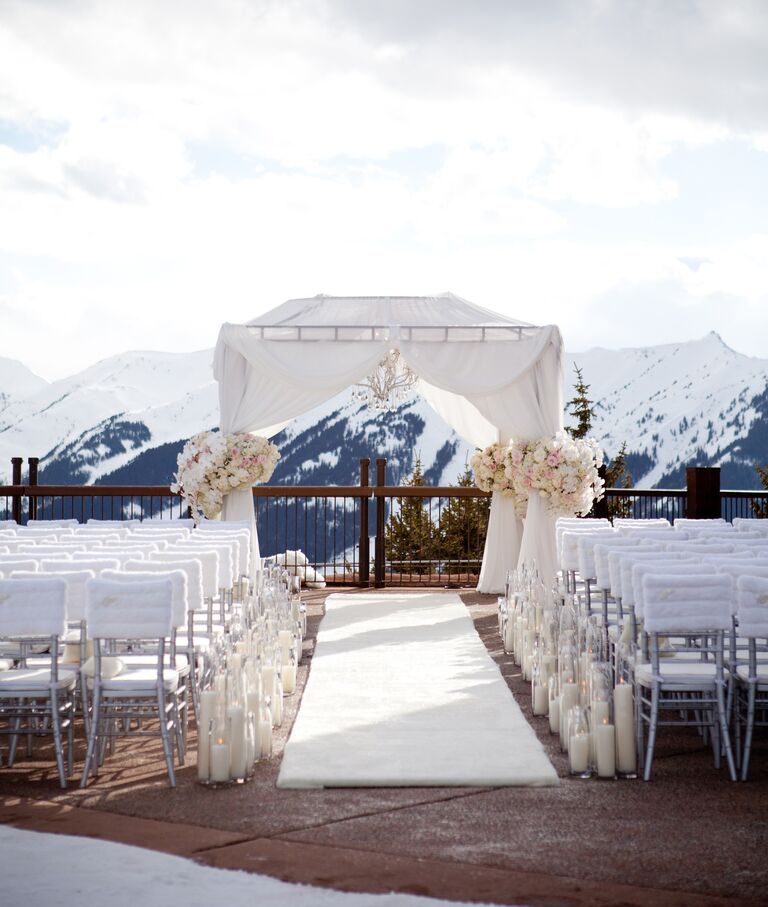 Think sandy beaches and tropical climates are the only spots that make for stunning destination weddings? Think again! We'd brave the cold in an instant to witness this ceremony on The Sundeck at The Little Nell resort in Aspen, Colorado, and gaze out on that spectacular view of the Rocky Mountains at an elevation of over 11,000 feet. Despite the wintry setting destination, event designer Lisa Vorce knew exactly how to make the ceremony warm and intimate -- by adding white faux-fur chairbacks, tons of pillar candles and even a faux-fur aisle runner. How après-ski chic!
An Alfresco Garden Reception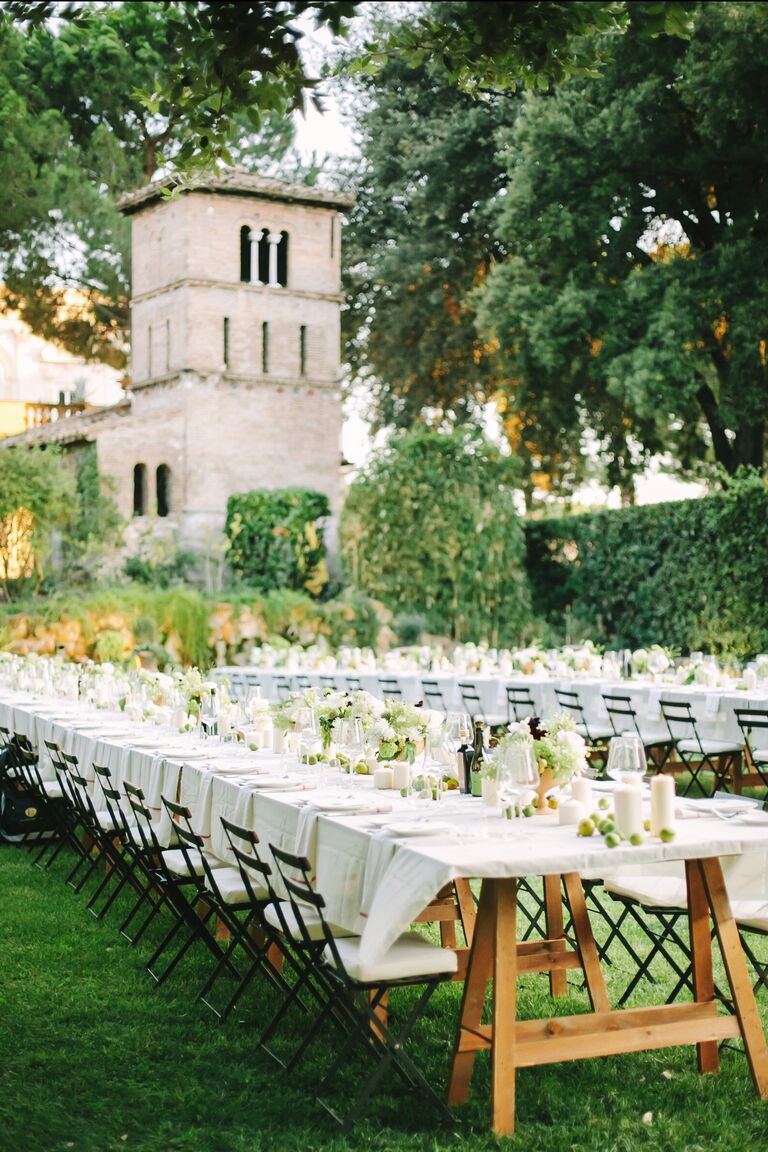 Done right, simplicity can feel over-the-top too. Case in point: this outdoor dinner setup next to a Tuscan-inspired villa with views of Rome (and the open sky) all around. You don't need much more to make a reception amazing. "The couple wanted a dinner party in Italy with their closest family and friends. Nothing was to feel over-planned," says event planner Stefanie Cove of Yifat Oren and Associates. The long wooden tables, organic centerpieces with figs (local and handpicked by Cove) and bistro chair accents complemented the setting without overwhelming it.
Mixed Beach Seating and a Modern Mandap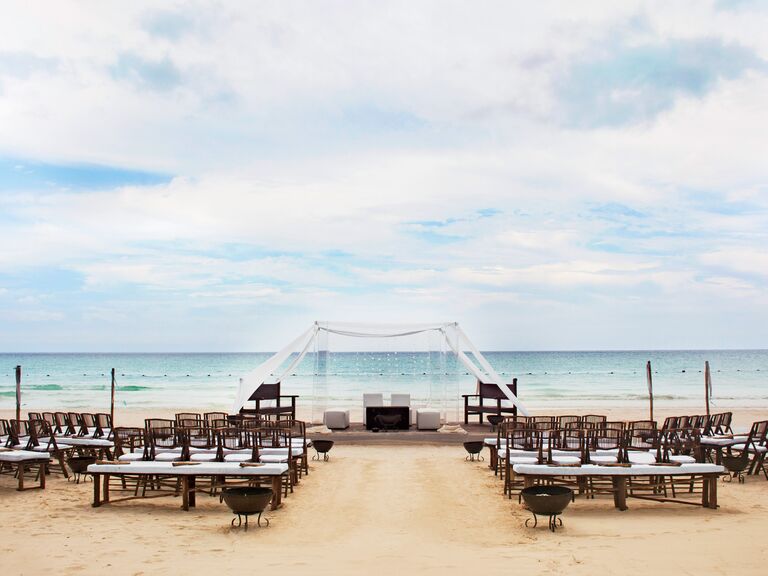 Alternating rows of chairs and benches fit right into the sandy setting at Belmond Maroma Resort and Spa in Riviera Maya, Mexico. The rich rustic wooden details created a cool contrast to the focal point, a modern twist on the traditional Indian mandap in Lucite, designed by destination wedding and event planner Michelle Rago.
A Cocktail Hour in the Middle of a Vineyard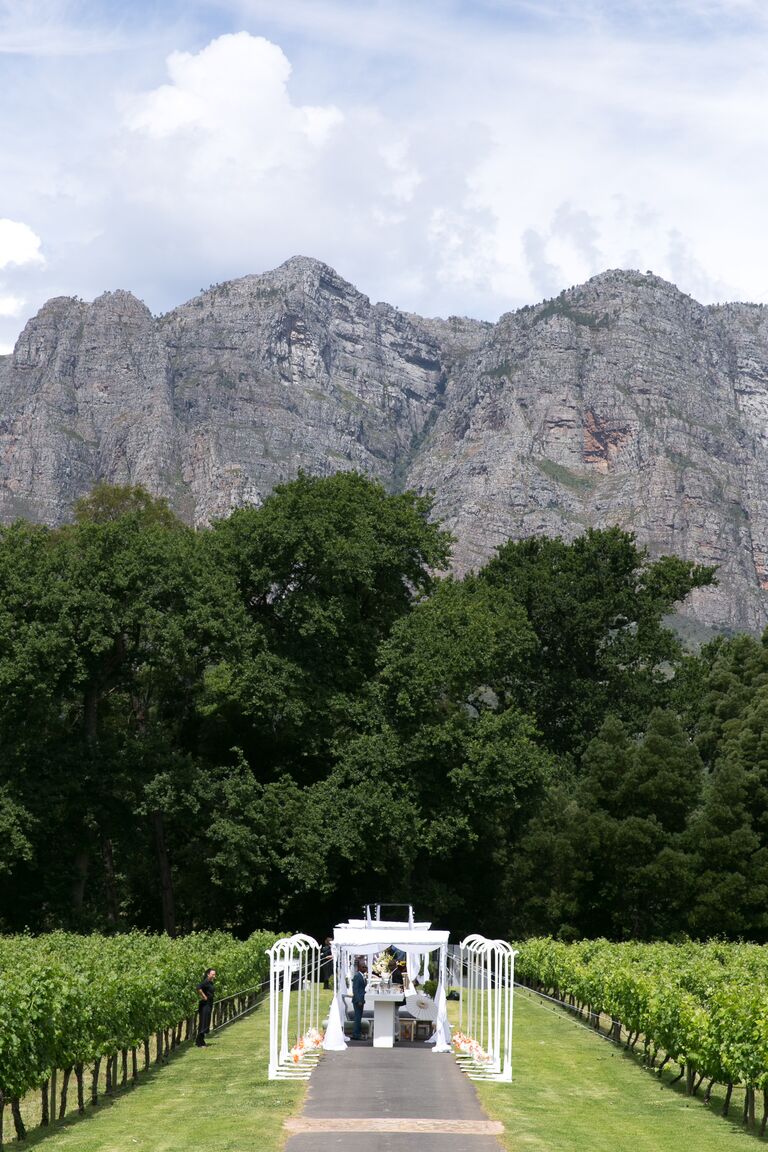 The rows and rows of grapes at a vineyard in Stellenbosch, South Africa, helped shape this unique cocktail hour thought up by South Africa¬¬–based event design company Wedding Concepts. Held beneath romantically draped tents set up along a road that ran through the middle of the vineyard (which just so happened to be set in a valley between two mountains), this breathtaking setting treated guests to great wine and even greater views.
A Poolside Reception in the Mountains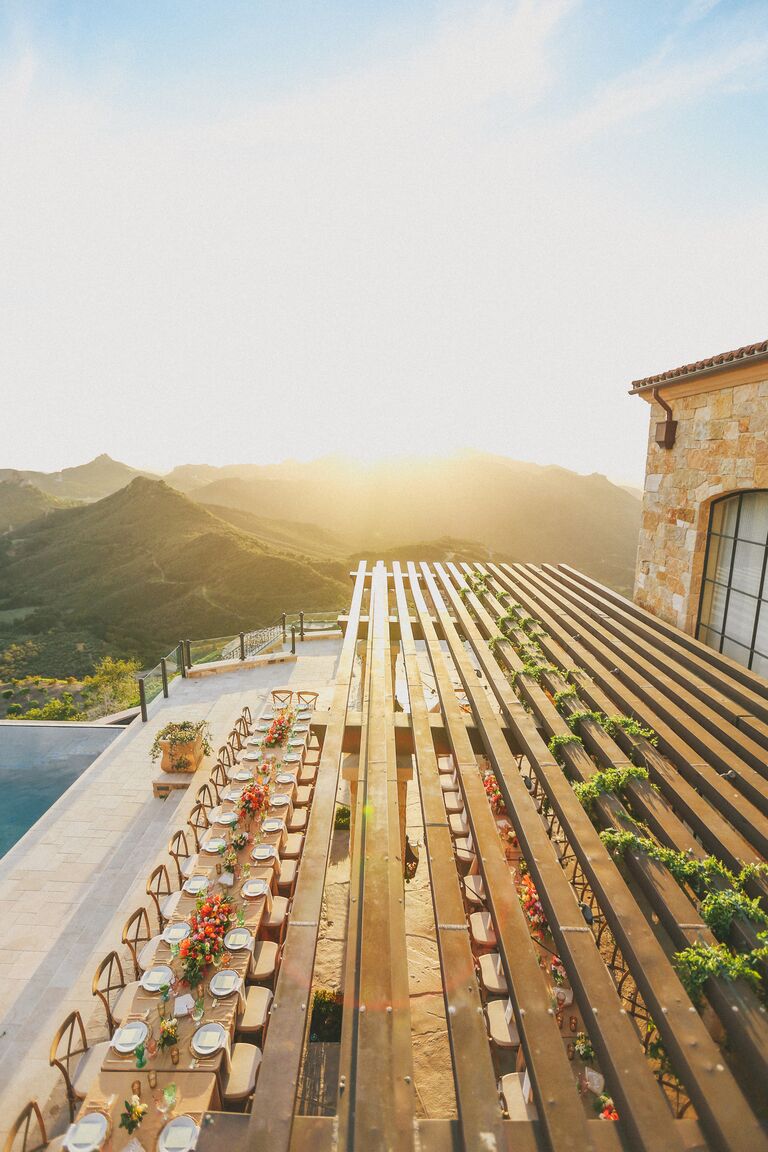 The mountains in Malibu, California, set the backdrop for this poolside affair, designed by planning duo and cofounders of Bash, Please, Paige Appel and Kelly Harris. The open-air pergola covered in vines and the farm tables adorned with bright flowers channeled the Mediterranean vibe that makes Southern California such a hot pick for destination weddings.
An Alpine Horn Serenade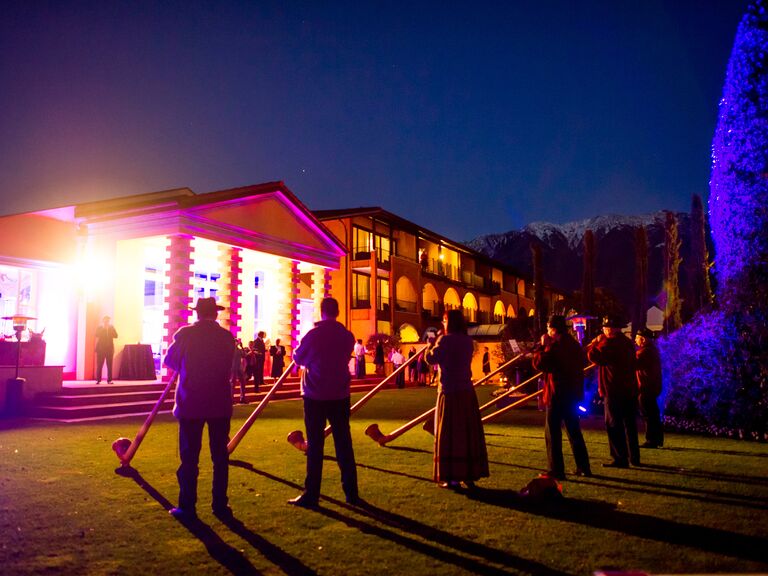 Unexpected entertainment was the perfect way to tie in a taste of the local culture for this couple that wed in Ascona, Switzerland. But this over-the-top idea isn't just for the limitless budget. "Use as much local talent as possible," says event planner Marcy Blum. "It buys goodwill, and it's less expensive than flying all your vendors in."