21 Cute Gifts to Ask, "Will You Be My Maid of Honor?"
Your bestie will love one of these MOH proposal ideas.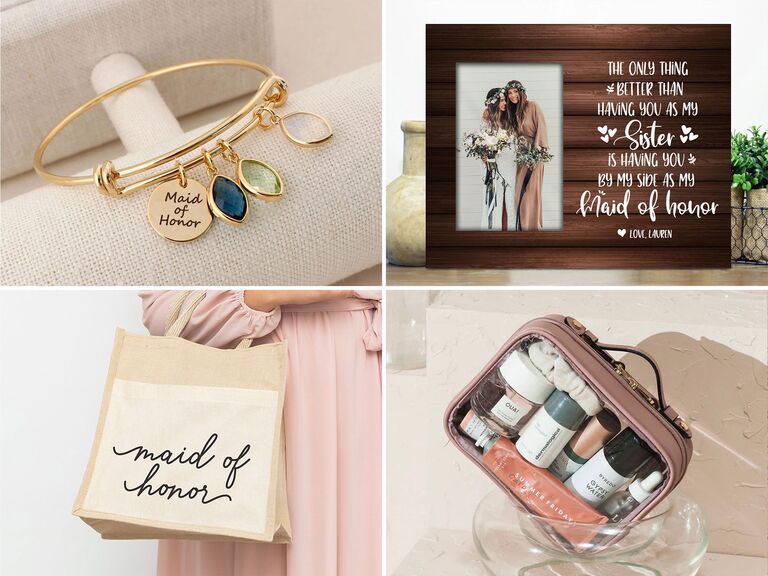 We have included third party products to help you navigate and enjoy life's biggest moments. Purchases made through links on this page may earn us a commission.
You're engaged, congratulations! Before you get into the thick of wedding planning, there are a few more proposals that need to happen. Choosing a maid or matron of honor is no easy decision. Your MOH will be your right-hand woman (or man—hello, bridesmen) leading up to the big day. Once you've decided whom you want to hold that sacred title, it's time for the maid of honor proposal—aka the moment when you ask the important question, "Will you be my MOH?"
While they're not required, maid of honor proposal gifts are rising in popularity and for good reason. Giving your bestie a few tokens of love is a sure-fire way to prove they're your first pick for this important role. In fact, according to The Knot's wedding party gifts research conducted in the summer of 2022, about one-third of couples give their "I do" crew proposal presents. That's why we've rounded up the best maid of honor gifts to give your best friend when inviting them to your wedding party. From practical ideas to sweet keepsakes, we know you'll fall in love with one of these creative ways to ask someone to be your MOH.
In this article:
The Best Maid of Honor Proposal Gift Ideas
1. Maid of Honor Tote Bag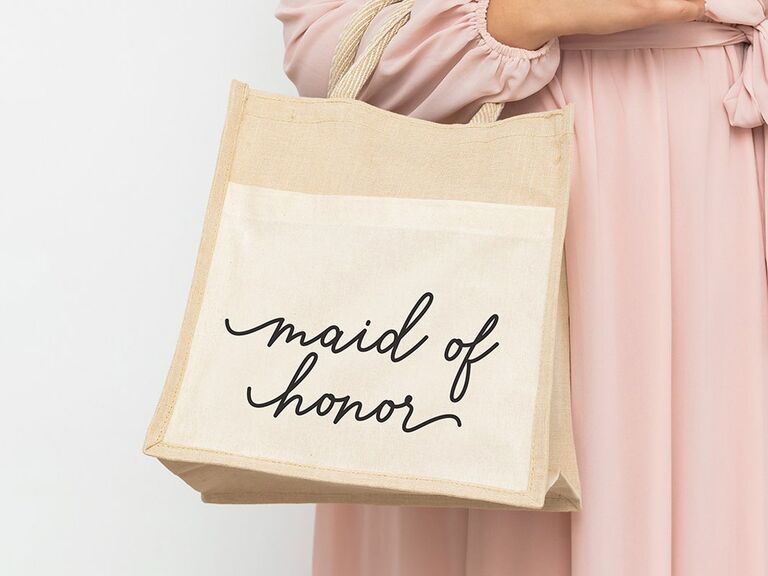 According to our study, of the couples who gave wedding party proposal gifts, two-thirds asked their loved ones with multiple presents in a cute basket, bag or something similar— like this tote! Made of natural woven jute, this reusable carryall is a stylish and practical way to ask someone to be your maid of honor. Fill it with a few of their favorite things—like candy, a bottle of bubbly, a sweet smelling candle and rejuvenating hand cream—then slip in a card and tie the straps with ribbon. They'll love using the swag as a beach bag on the bachelorette trip and a travel tote to carry their essentials to the big day getting-ready suite.
2. Maid of Honor Charm Bracelet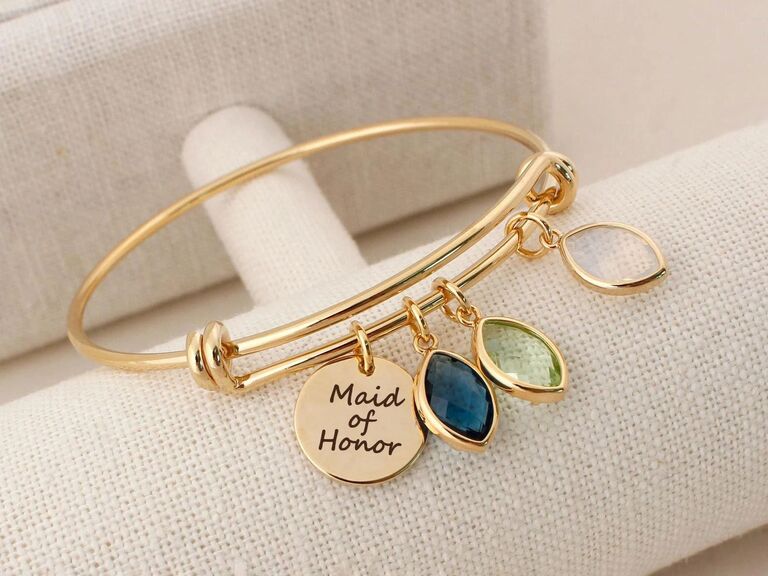 Jewelry is a popular wedding party proposal gift, especially when the accessory pops the question for you. Ask your bestie if they'll be your MOH with this dainty charm bracelet. It comes in a gold, rose gold or silver finish so you can pick the style that best suits your loved one. Or, if you're shopping for a co-maid of honor proposal, give each their own metal. You can also add a charm representing their birthstone for even more uniqueness. Best of all, it comes gift wrapped so basically all you have to do is hand it over.
3. Small Jewelry Case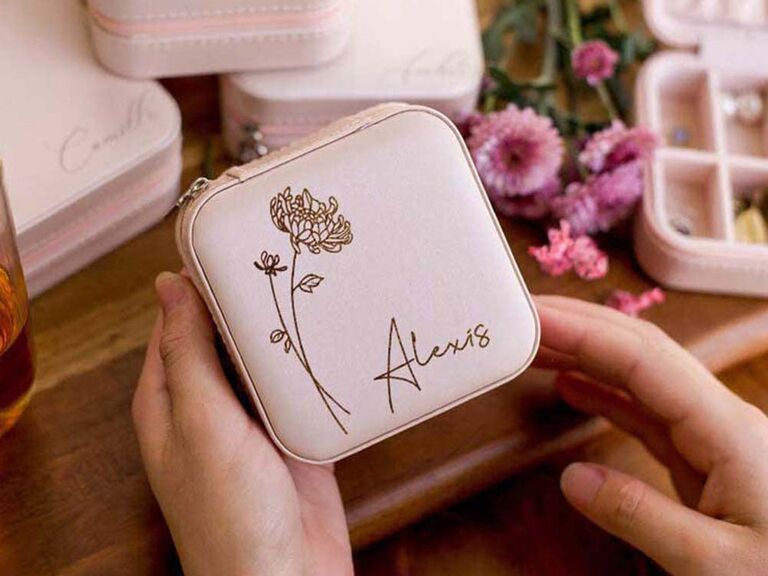 Ask your maid of honor to hold your bouquet on the big day with this leather jewelry case. It's customized with their birth flower and name so they always have a safe and personal place to store their baubles. Pro tip: Add bridesmaid jewelry to the box for extra oomph—they can wear the bling to the wedding.
4. Personalized Loungewear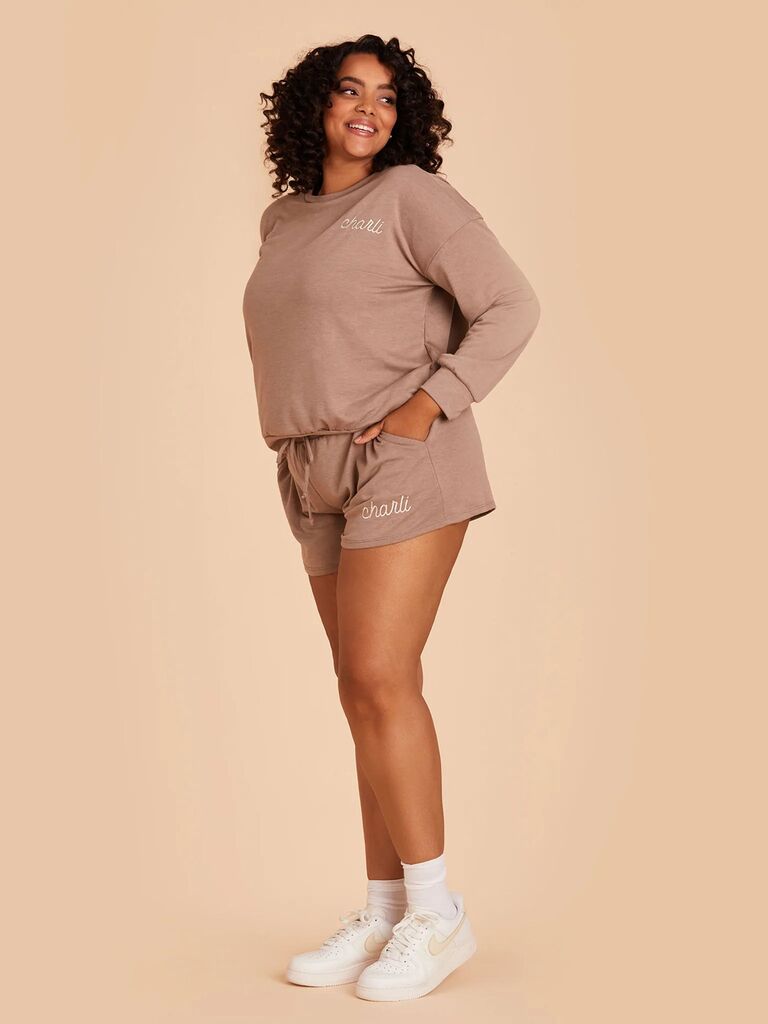 Prep your maid of honor for long evenings wedding planning with cozy loungewear as a proposal gift. You can buy them a crew neck embroidered with their name or a full set complete with matching sweat shorts or pants. This is the kind of swag they'll want to wear even when their MOH responsibilities are over. While you're at it, get yourself your own sweats set for Instagram-worthy getting-ready photos.
5. Maid of Honor Candle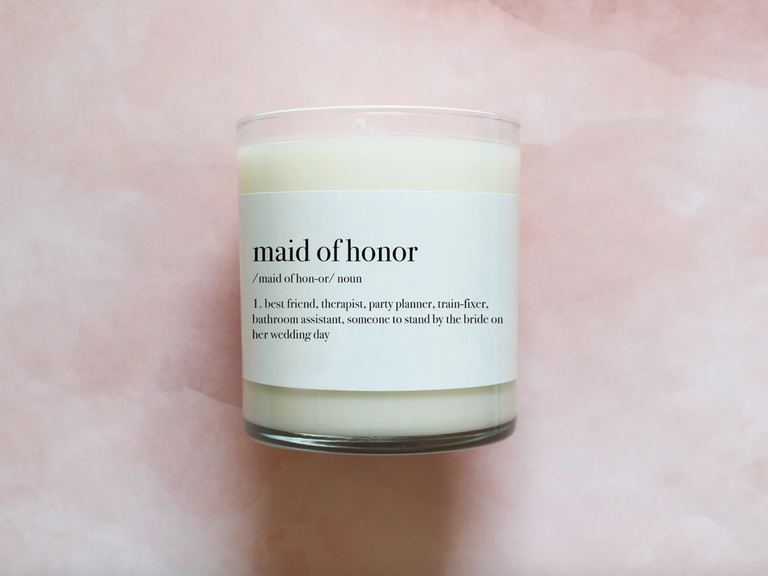 Whether you're looking for a small-but-sentimental maid of honor proposal gift or an extra-something for their swag bag, this playful idea checks all the boxes. Give your loved one this handmade candle with a sweet label that defines the title "maid of honor." It comes in a variety of scents, from French Lavender to Ocean Breeze and even Wedding Cake.
6. Etched Wine Bottle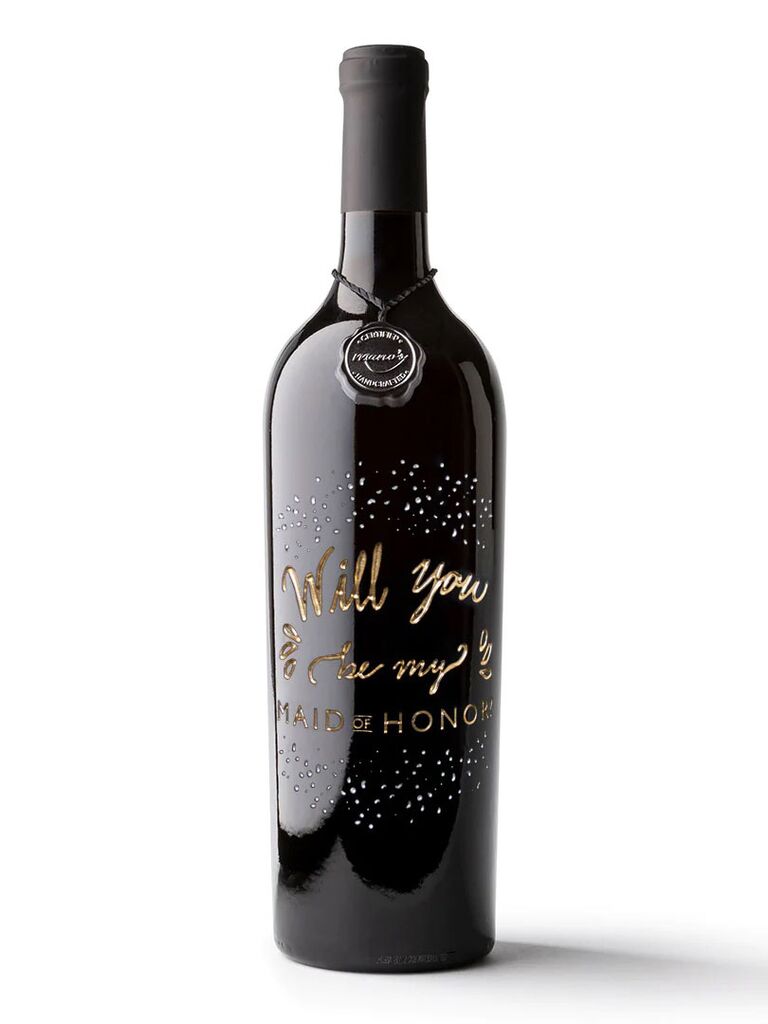 Wine or champagne is a tried-and-true wedding party gift. We especially love this bottle of California cabernet sauvignon that's engraved with the question, "Will you be my maid of honor?" It's a great proposal idea because once they say "yes," you can cheers with the vino.
7. Personalized Wine Tumbler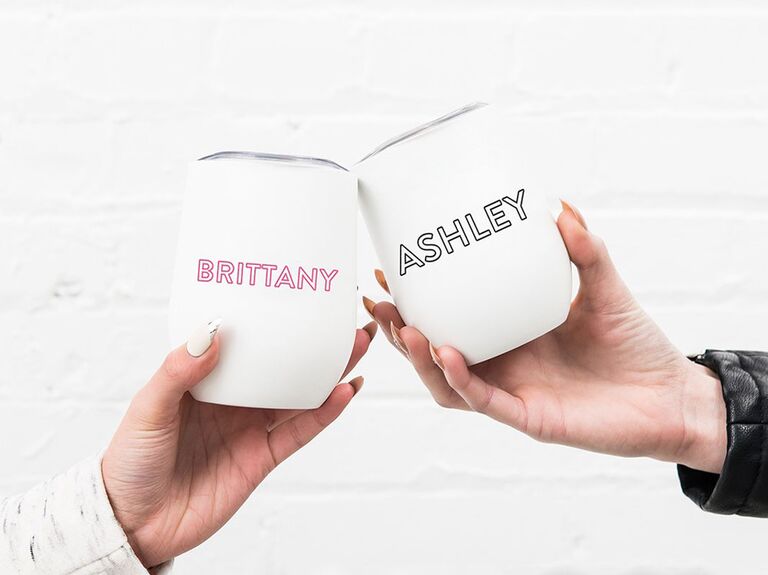 Looking for a little something extra to pair with a bottle of wine for your maid of honor's proposal gift? How about a stemless wine tumbler personalized with their name? Portable, spill-proof and stylish, this drinkware is sure to make an appearance at the bachelorette party—and every outdoor social event from now until forever.
8. Convenient Cosmetics Case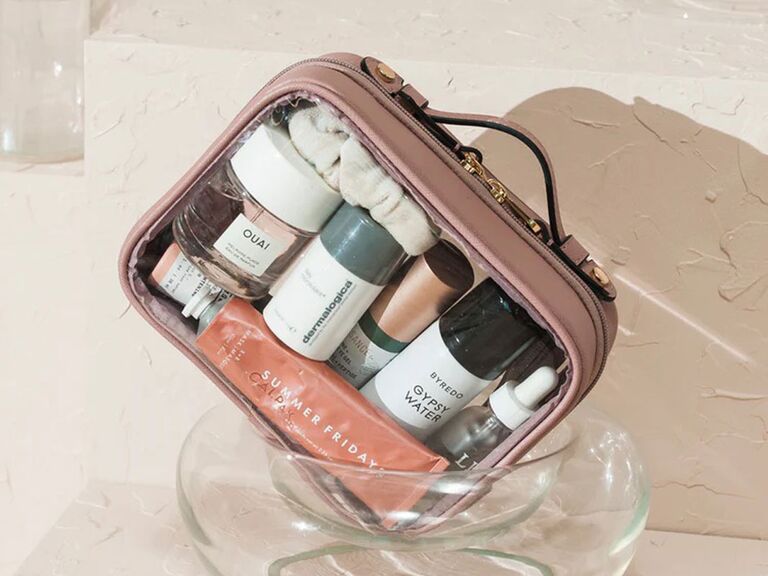 How about a cosmetics case to store their beauty essentials on the big day? The clear lining lets them see exactly what they have and what they're missing without needing to rifle through the bag. Plus, the timeless style means they'll want to use it after the event too. Feel free to pack it with some luxe bath products like refreshing face masks, soothing essential oils and hydrating body lotion so they know it's okay to take some me-time even while assisting you.
9. Self-Care Gift Box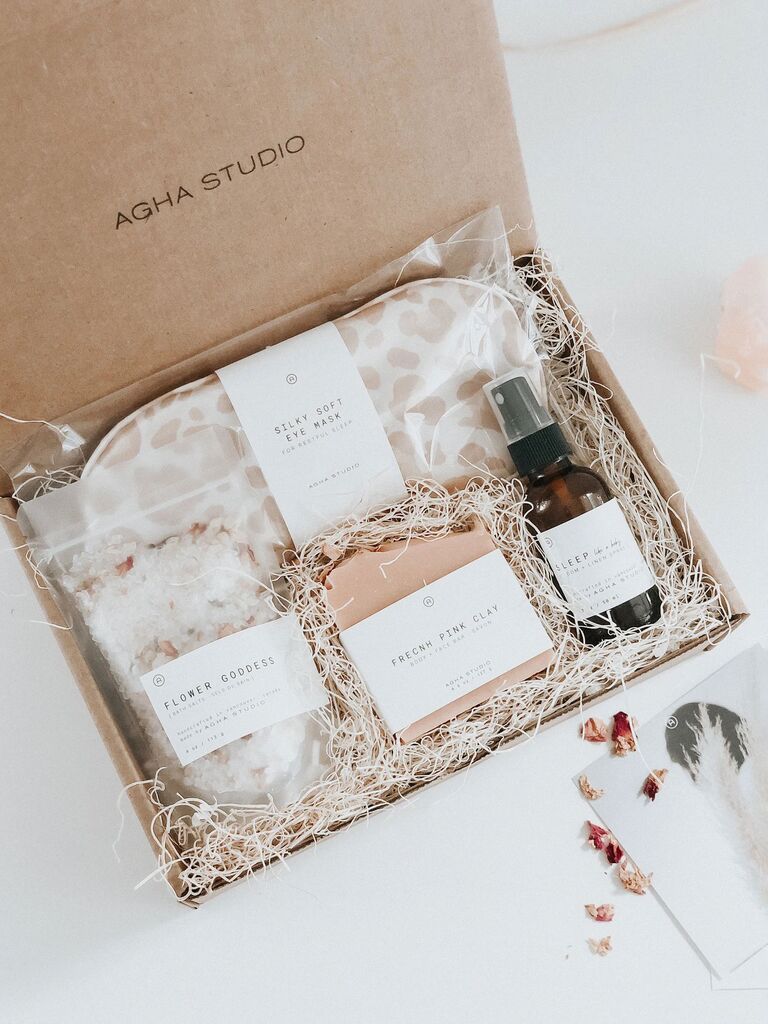 Speaking of self-care, the soonlyweds aren't the only ones who will need some R&R while wedding planning. Set your maid of honor up for success with an at-home spa kit. This gift set includes bath salts, body soap, a room and linen spray and a silky eye mask so your MOH has all essentials for a relaxing evening routine—a perfect treat after a day of running wedding errands. Just make sure to include a card to specifically pop the question: "Will you (pretty please) be my maid of honor?"
10. Heart Pendant Necklace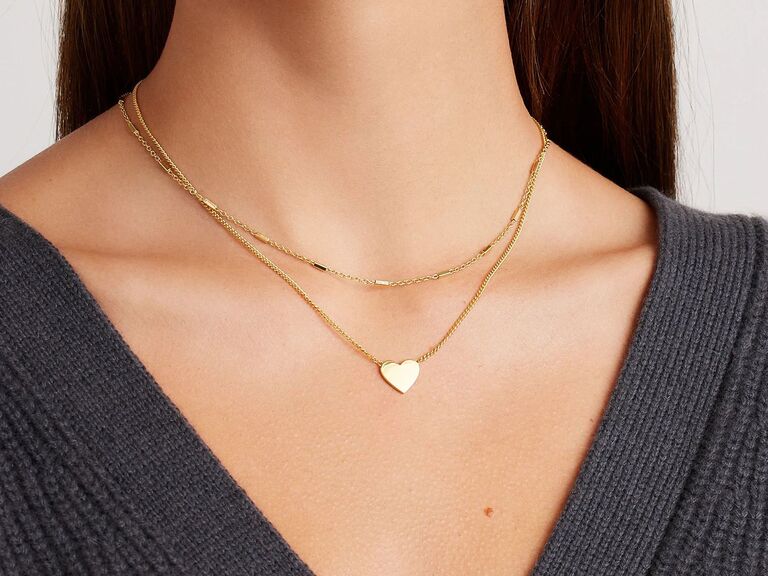 Want to splurge on your best friend's maid of honor proposal? This 18K gold-plated necklace will be their new favorite bauble. The heart pendant can be engraved with up to eight characters for extra sentiment. Think: "MOH," "BFF," their initials or their first name. We bet they'll flaunt this necklace on the big day.
11. Maid of Honor Greeting Card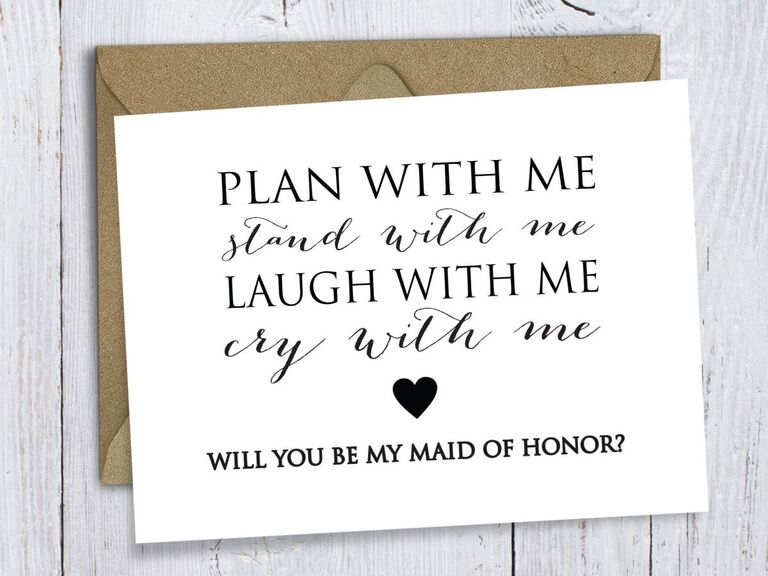 There's nothing quite as sincere as a handwritten card. Whether it's a standalone asking gift or the finishing touch to a goodie bag, this heartfelt stationery will secure their "yes." The front reads, "Plan with me, stand with me, laugh with me, cry with me, will you be my maid of honor?" Meanwhile, the inside is blank for you to craft your own message. Too sweet!
12. Personalized Water Bottle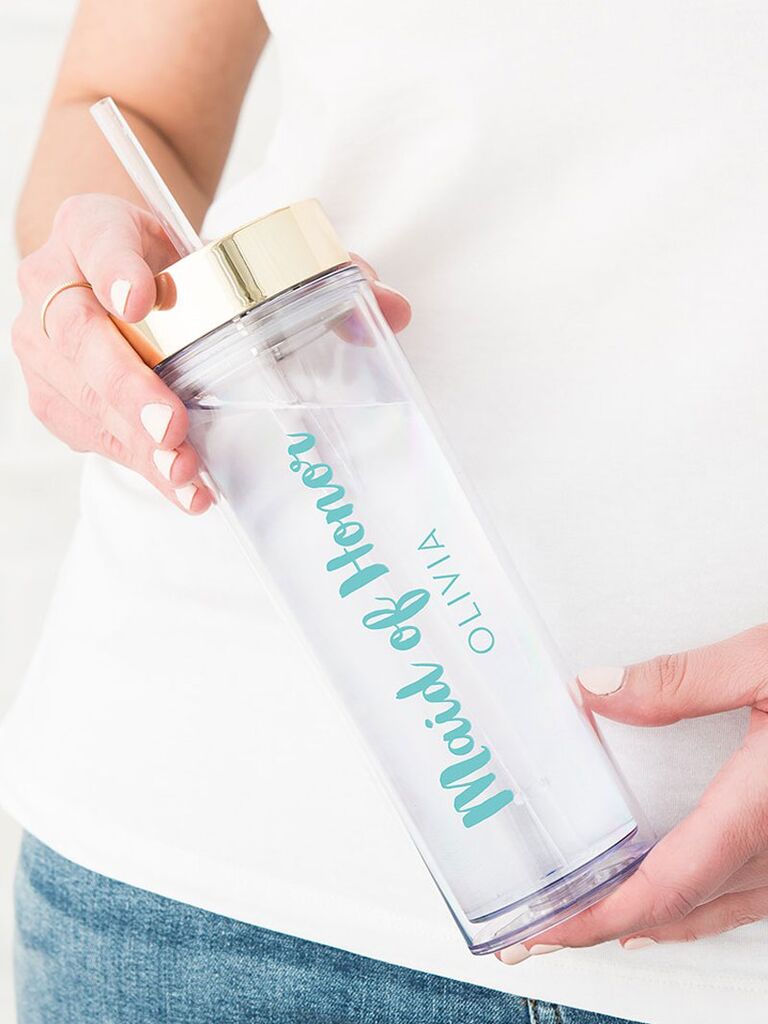 Shopping for a practical maid of honor proposal gift? A personalized water bottle will see plenty of use. They can bring it with them to the bachelorette party and the wedding weekend to stay hydrated and subtly flaunt their VIP status. Wanna go bigger? Fill the bottle with smaller gifts like a scrunchie, lip balm, jewelry or their favorite candy bar.
13. Custom Cookie Cake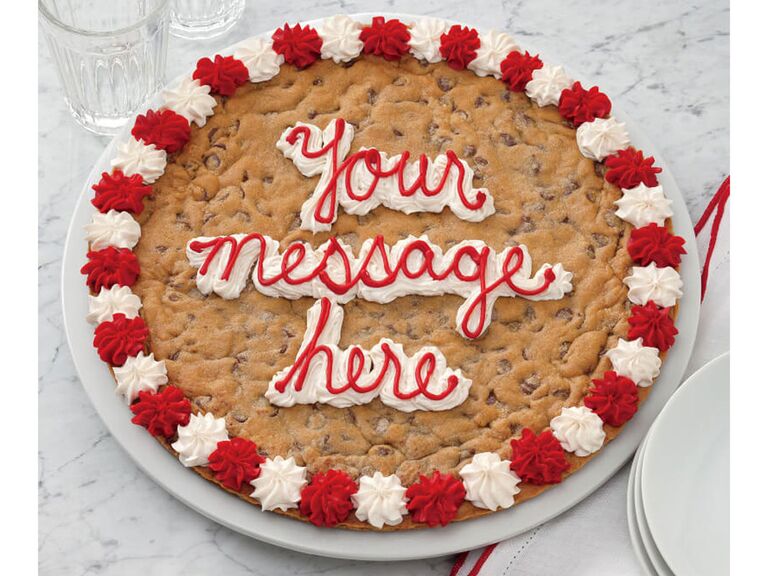 It'll be hard to say "no" to this maid of honor proposal idea. Ask your best friend to be your biggest supporter with a delicious cookie cake that reads, "Will you be my MOH?" in frosting. You can even have it shipped right to their door in case you don't live close enough to propose in person.
14. Friends Trinket Dish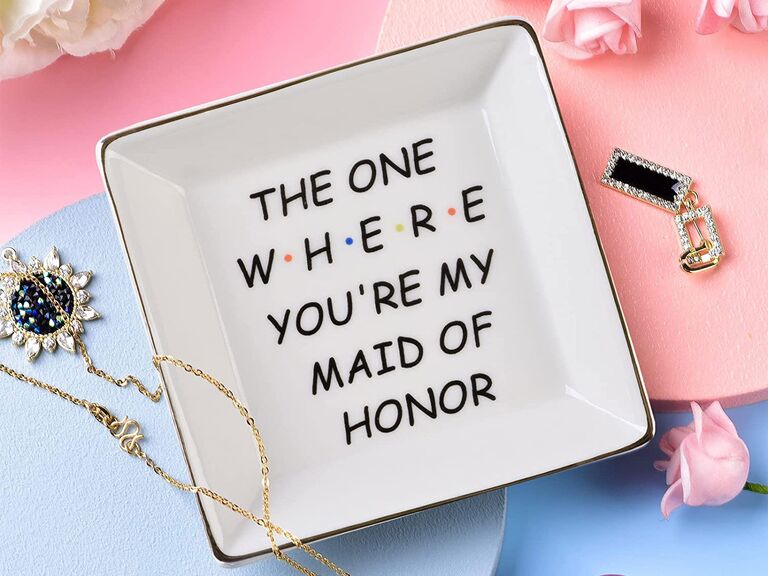 Is your friend a Friends fan? Then this is exactly how to ask them to be your MOH. This trinket dish reads, "the one where you're my maid of honor" in the same font as the show's logo. They can use it for their own special jewels or as a place to store their keys. Either way, their answer will be, "I'll be there for you!"
15. Sister Picture Frame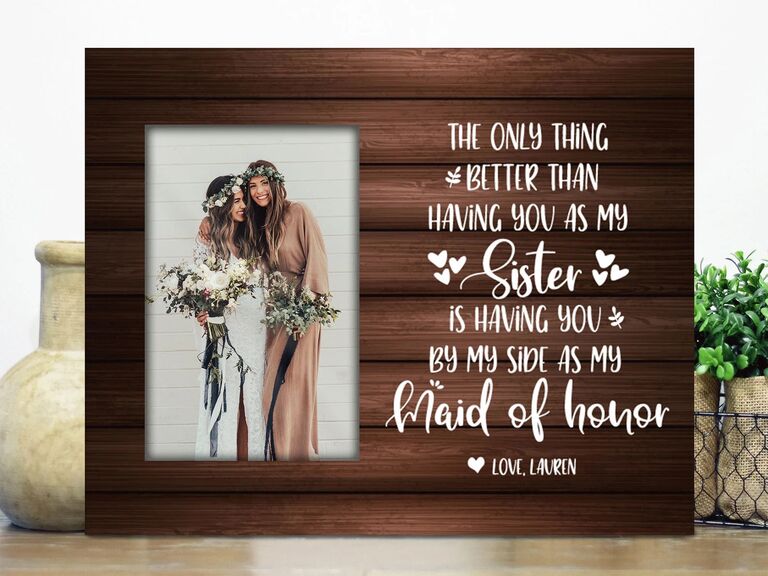 Looking for a maid of honor proposal for your sister? This picture frame is sure to pull on her heartstrings. It's painted with the phrase, "The only thing better than having you as my sister, is having you by my side as my maid of honor." Plus, it's signed off with your name. Add a nostalgic childhood photo or promise to fill it in a few months with a snapshot of the two of you from the wedding.
16. Illustrated Coffee Mug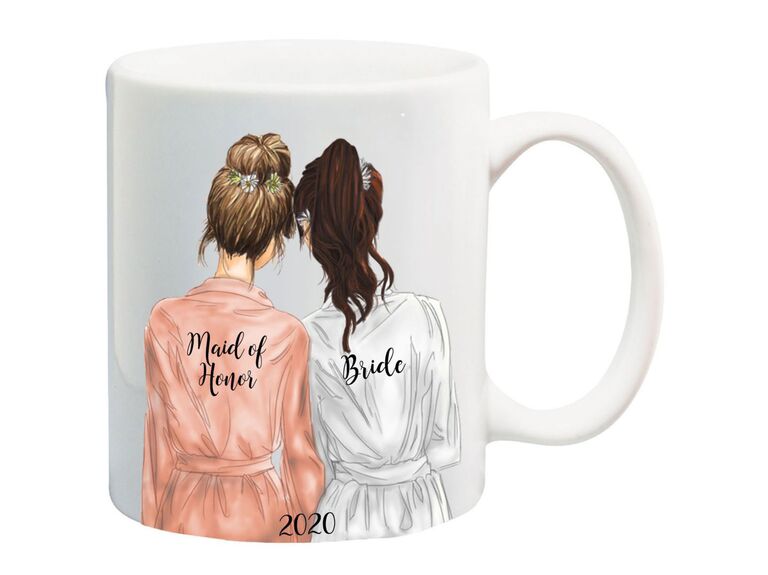 Does your bestie start every day with a cup of coffee? Then they'll love this maid of honor proposal gift idea. This mug features a custom watercolor illustration (simply choose the hair and skin colors) meant to represent the two of you in robes that flash your respective wedding titles. It also features the year you're tying the knot. We suggest popping a gift card to their favorite coffee shop inside—they'll appreciate the caffeine boost when they're checking off wedding to-dos with you.
17. Man of Honor Gift Set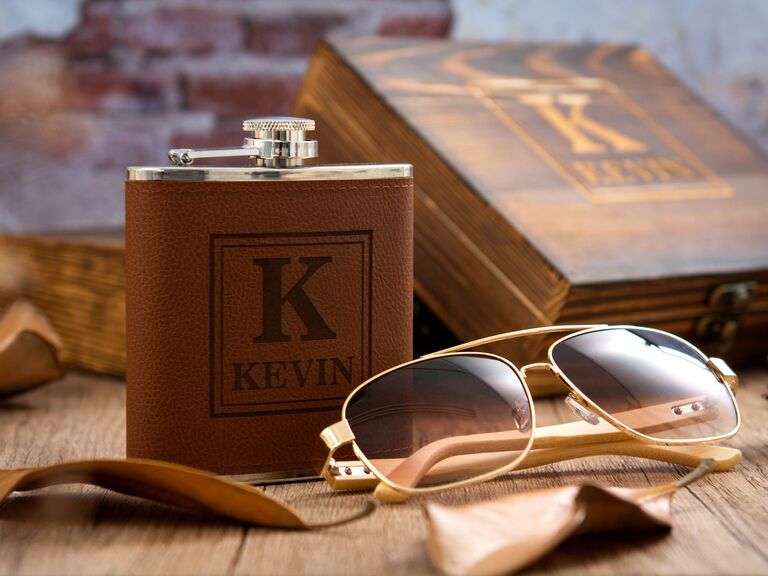 Your MOH should be the person you feel closest to—regardless of gender. If you're asking your bestie to be your man of honor, pick up this thoughtful gift set. It can come with a custom flask, sunglasses or both and be gift wrapped in a sleek wooden box. It'll make all the other guys in the wedding party jealous!
18. Bouquet of Yellow Roses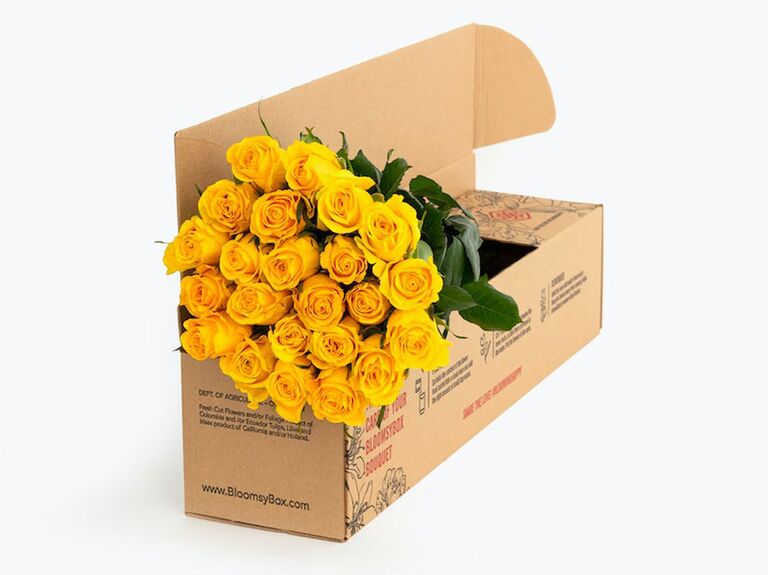 Did you know that yellow roses are a symbol of friendship? Ask someone to be your maid or matron of honor with a gorgeous bouquet of these sunny flowers. BloomsyBox will deliver them straight to their door, alongside a gift message with your big question.
19. Fluffy MOH Slippers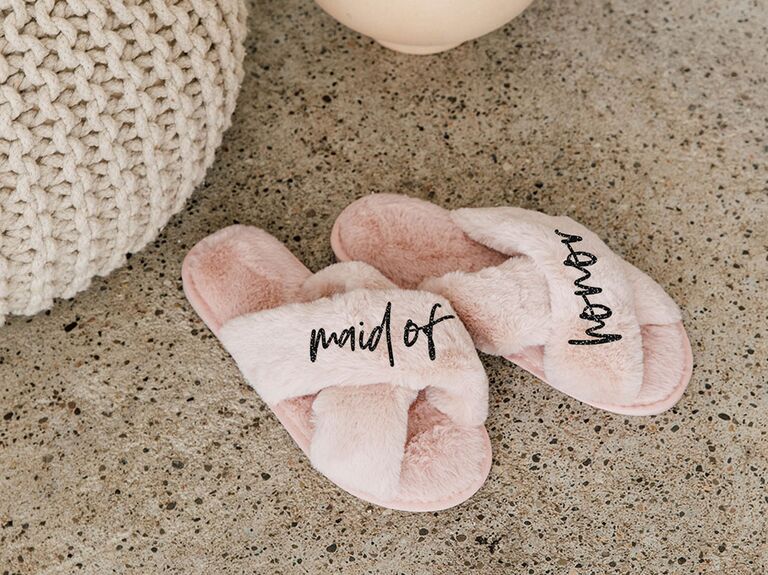 Don't let your MOH get cold feet! Give them the encouragement they need to accept the role with these plush slippers. The footwear comes in pink, black or white and features the phrase "maid of honor" in glitter printed on the cross bands. Bonus: These accessories are washable, so they'll get worn again and again—even if the champagne popping gets a little messy.
20. Maid of Honor Notebook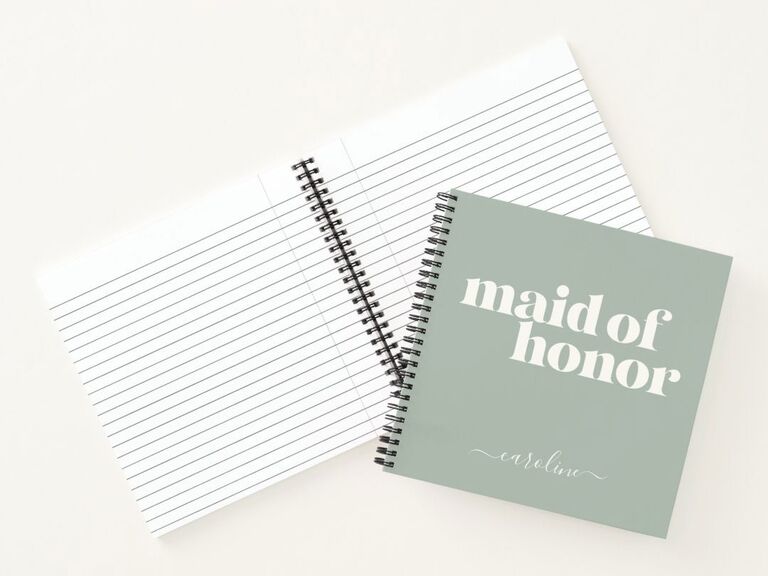 MOH is a big job—help them stay organized with a dedicated spiral notebook. You can choose the color, page style and even personalize it with their name. Best of all, you don't need to include a card, just write a note on the first page asking them to be your maid of honor. You can even pair it with a custom pen!
21. Premade Gift Box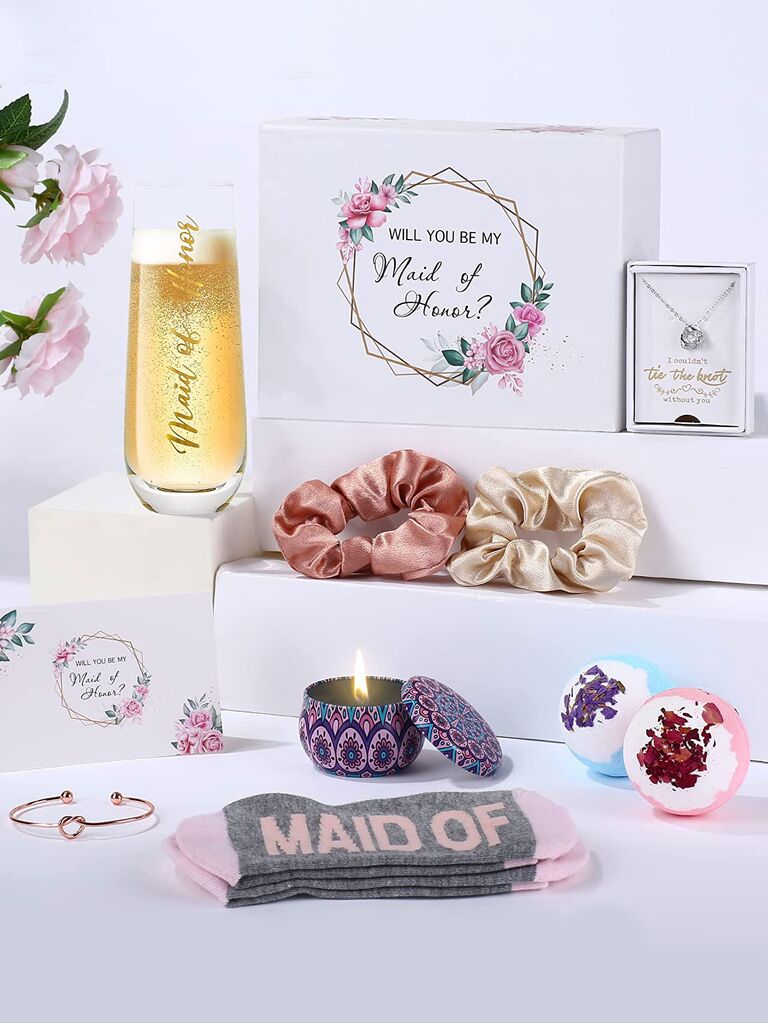 Want to save time on your maid of honor proposal? You can buy premade gift boxes so you don't have to source individual goodies on your own if you don't want to. This "will you be my maid of honor" box is stuffed with love knot jewelry, silky hair ties, bath bombs, a lavender candle, socks and a champagne flute—almost all of which is labeled with their MOH title. How cute and convenient!
Your Maid of Honor Proposal Questions, Answered