These Are the Most Popular Wedding Dates in 2017
And the winners are...
by Maggie Seaver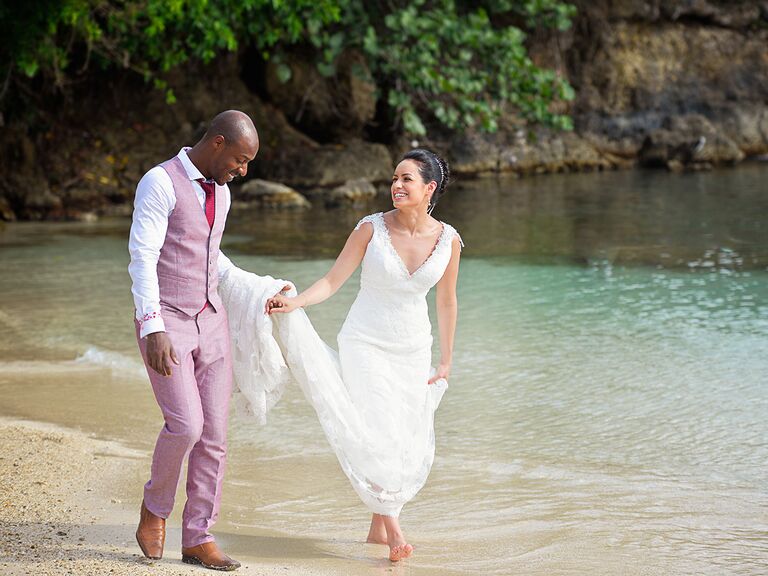 ALIXANDRA GOULD PHOTOGRAPHY
In general, Saturdays in May, June, October and September tend to be the most desirable dates to get married, which means they'll likely come with higher price tags. According to The Knot 2016 Real Weddings Study, 70 percent of all weddings took place on a Saturday, and 77 percent took place between May and October. This won't come as a shock to any guest whose warm-weather weekends were booked solid with nuptials.
It's pretty clear when wedding season is, but we went a step further to find out which exact dates in 2017 are in the highest demand by members of The Knot. Here are the top 10 most popular—and likely the most expensive—wedding dates this year:
Saturday, October 7th (26,719 weddings)

Saturday, October 14th (21,344 weddings)

Saturday, September 16th (21,085 weddings)

Saturday, September 23rd (20,506 weddings)

Saturday, May 20th (19,745 weddings)

Saturday, September 9th (19,064 weddings)

Saturday, October 21st (18,959 weddings)

Saturday, June 17th (18,843 weddings)

Saturday, September 30th (18,785 weddings)

Saturday, June 10th (18,674 weddings)
These late spring and early fall dates are popular for good reason—fewer weather issues, more vacation flexibility, flowers and foliage galore, and all-around good vibes. That said, the easiest way to guarantee a more expensive wedding is to choose a favored date during peak season. If you're in the middle of planning your 2018 or 2019 nuptials, consider avoiding the weekend of the above dates if you're hoping to save a little money.
Actually, selecting a less sought-after wedding date is a great way to stay within budget that many couples overlook. It could be a minor swap like saying "I do" on Sunday instead of Saturday over a popular wedding weekend. Or, you could wed during the shoulder season (think: mid-winter months like January, February and March) when there's less demand, so venues and other pros often offer better rates.

Read up on more potential wedding dates to avoid here.