Everything You Need to Know About Getting Married in New Hampshire
Look to The Knot for everything you need to know about getting married in New Hampshire, from local traditions and getting your marriage license to choosing the perfect venue.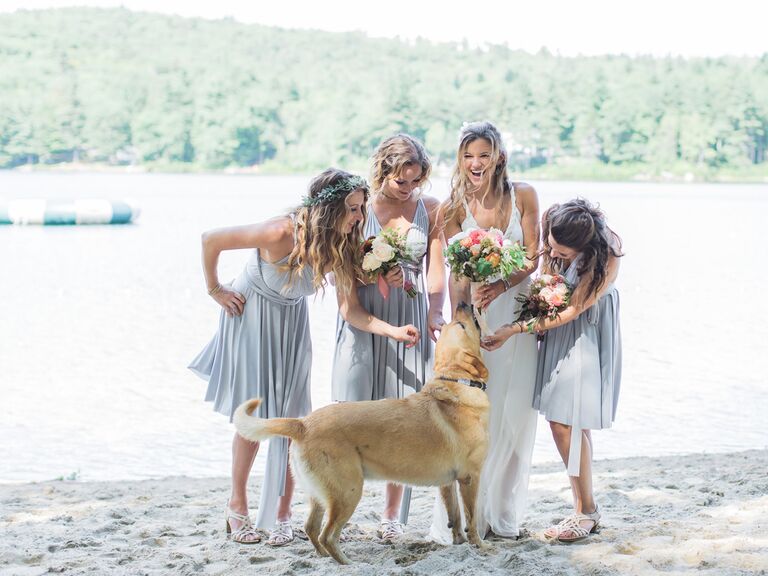 Mon Petit Studio

Ultimate Guide to Getting Married in New Hampshire
New Hampshire is a state rich with vibrant history and stunning natural beauty. From the soaring heights of Mount Washington to charming valley towns that evoke a feeling of comfortable familiarity, New Hampshire is often labeled as a state of contrasts, offering a little something for everyone. When you choose to celebrate your wedding day in this small but mighty state, you're certain to fall in love with the pleasant variety of New Hampshire wedding venues and your guests will enjoy the local charm of your desired destination.
With choices including a rocky sliver of Atlantic shore, mountaintops, lakes, national parks and artsy small towns, you can find the ideal spot for your New Hampshire wedding, no matter your preferences. As you read through this comprehensive guide to hosting your wedding in New Hampshire, you'll learn about some local lore and fabulous New England traditions that you'll be want to include in your wedding plans. Additionally, you'll learn some useful pointers for the legal processes required for obtaining your New Hampshire marriage license, changing your name and more. Plus, we give you tips on how to create fabulous experiences for your guests, exposing them to local attractions they shouldn't miss.
Top Wedding Trends in New Hampshire
With so many choices when it comes to wedding venues in New Hampshire and vendors that bring truly localized services to the table, it's difficult to pin the state's wedding trends to one style or preference. According to The Knot 2015 Real Wedding Study, many brides classify their weddings as formal or semiformal. However, the descriptors of fun, practical, down-to-earth and do-it-yourself ranked fairly high in brides' descriptions of their own celebrations, so there's certainly plenty of room to personalize and make your wedding whatever you want it to be.
New England wedding traditions are giving small, intimate weddings the comeback that they deserve, and with plenty of lovely New Hampshire venues suited to smaller parties, you'll have your pick of the crop if you choose to go this route. However, if you can't imagine celebrating without hundreds of your closest family and friends, you'll find a host of indoor and outdoor venues perfectly suited to doing just that.
New Hampshire Marriage Rates and Wedding Costs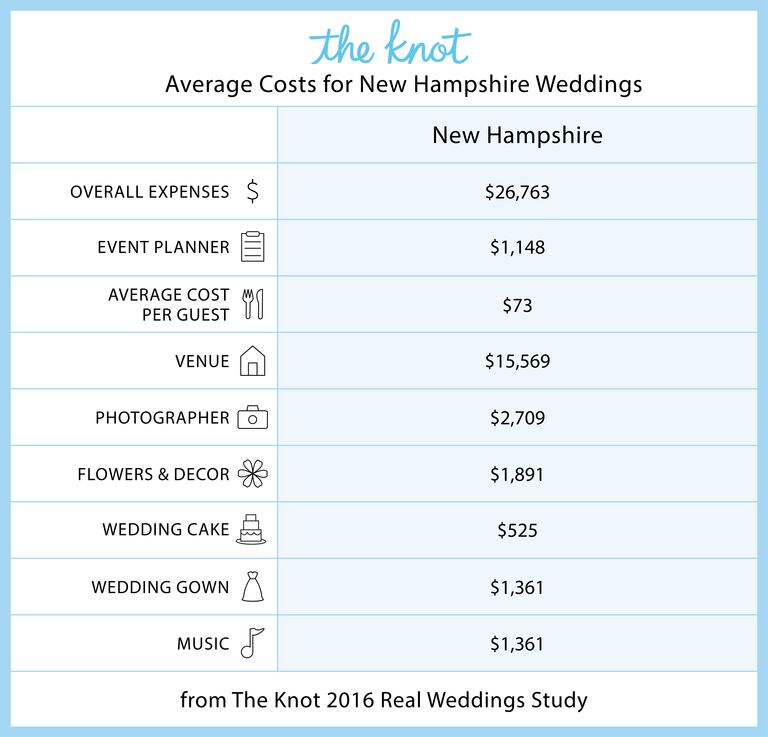 Planning your wedding in New Hampshire is certain to be tons of fun, but imagining the budget for such an event can prove quite daunting. Thankfully, by using helpful tools, such as The Knot Budgeter, and by reading about average costs for wedding goods and services, you can better prepare for affording your ceremony and reception. Take a look at some information about New Hampshire marriage rates and average costs that you can expect when you plan your wedding in The Granite State.

New Hampshire Marriage Statistics
New Hampshire has a slightly higher marriage rate than the U.S. average, with 7.1 New Hampshirites out of 1,000 tying the knot in 2014. According to The Knot 2015 Real Wedding Study, the average New Hampshire wedding costs a little less than $25,000, with a wide range of venues and ceremony sizes represented.
Budget Breakdown: New Hampshire Wedding Costs
Understanding where couples spend the most money when planning and hosting their New Hampshire weddings can help you better allocate your budget and prioritize costs. Plus, getting the inside scoop on what services cost gives you some leverage in negotiating fair prices with your vendors. Above are some average costs for weddings in New Hampshire.
Top Cities in New Hampshire to Tie the Knot
While the whole state of New Hampshire has plenty to offer you and your partner, from the beauty of national parks to the glitz of high-end venues, there are a few locales that tend to attract more weddings thanks to their easy accessibility and plentiful offerings when it comes to venues and guest entertainment. Two places in particular stand out as top New Hampshire wedding destinations:
Make It Legal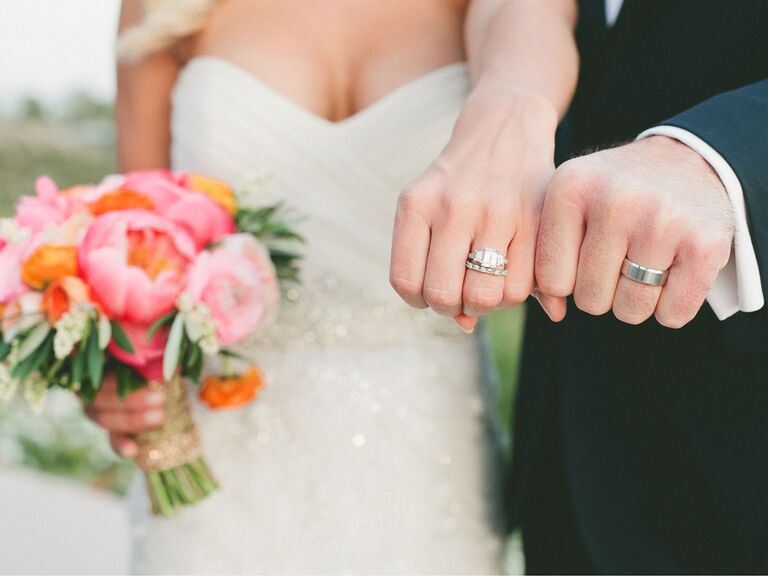 In addition to working out the logistics of your wedding's budget, you also want to solidify your understanding of the legal requirements for getting married in New Hampshire. From securing your New Hampshire marriage license to changing your name(s) and obtaining any necessary permits, here's some information to help guide you through the process.
Getting a New Hampshire Marriage License
Getting your New Hampshire marriage license is a fairly straightforward process, and both New Hampshire residents and non-residents can apply. You and your fiancé must appear before a city or town clerk, fill out an application for your license and provide the following documents:
Proof of age
Valid photo identification, such as a driver's license or passport
Certified copy of a death certificate for a deceased spouse, divorce certificate or certificate of civil annulment, if you've been married before
Your New Hampshire marriage license is valid for 90 days after your application, so take care to apply with your wedding ceremony date in mind to ensure that your timing is correct. Additionally, you need to have a qualified officiant preside over your ceremony and vows, complete the information required for your New Hampshire marriage license and return it to the town clerk. New Hampshire weddings can be performed by:
A justice of the peace commissioned in the state of New Hampshire
Any minister of the gospel who has been ordained according to the usage of his/her denomination, is in good standing with the denomination and is a resident of New Hampshire
Any non-ordained member of the clergy who is engaged in the service of the religious body to which he belongs, is a resident of New Hampshire and is licensed by the secretary of state
Any minister who resides outside of the state of New Hampshire, but has pastoral charge partly or wholly in New Hampshire, if the wedding takes place in his/her parish after being licensed by the secretary of state
An individual who does not reside in New Hampshire but is authorized to perform marriages in his/her state after being licensed by the secretary of state
Any judge, after being licensed by the secretary of state
Permits and Other Requirements for New Hampshire Wedding Venues
Depending on your New Hampshire wedding venue, you may need permits or other certification in order to proceed with your ceremony or reception. If you're getting married in an outdoor venue, such as a state or municipal park, you will likely need a permit for the space you reserve. You may also need permits or special permission for special displays, such as fireworks, if you plan to include them. Work with your New Hampshire wedding planner and your vendors to ensure that your event is compliant with any relevant state and local ordinances.
Changing Your Name in New Hampshire
After the wedding, you or your partner may wish to change your name(s) to reflect your new partnership. To do so, you can use a convenient online service like HitchSwitch or navigate the process with this simple guide to changing your name. To update your name with the New Hampshire DMV, you must present the following:
Completed name change paperwork
Your current driver's license
Your marriage certificate
You will also need to update your name information with the Social Security Administration and any relevant institutions with which you're associated, such as your workplace, the post office and your health insurance company. To obtain a new Social Security card, fill out the appropriate form online at SSA.gov and print it out. Submit it to your local Social Security office along with photo identification with your new name and a copy of your marriage certificate—your new card will arrive within a few weeks' time.
It's All About Timing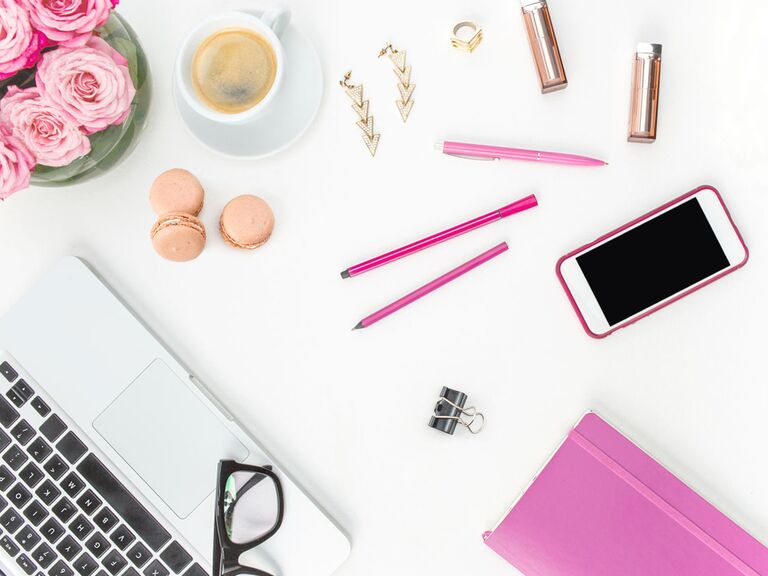 The majority of couples—43 percent—married in New Hampshire in 2015 chose to have a fall wedding to embrace the season's beauty in New England. Summer weddings followed in second, with 35 percent of couples getting married between June and August. Spring and winter weddings were less popular, with 15 percent and 6 percent, respectively, of couples choosing those seasons.
New Hampshire's Four Seasons
With the splendor of fall foliage and plenty of outdoor mountain vantage points from which to enjoy the colors of the season, it's not surprising that fall weddings are the most popular in New Hampshire. The entire state experiences all four seasons, with warm, mild summers and cold, snowy winters. Most of the state sees the majority of its rainfall during the springtime, when the weather is primary chilly and wet, which explains why spring isn't a very popular time to get married. Fall is notably enjoyable, with brisk clear days that showcase the seasonal scenery.
Outdoor venues in particular allow you to take advantage of enjoyable weather, so if you're considering a rustic barn wedding in New Hampshire or are thinking of hosting the event in any other outdoor space, aim to host a summer or fall wedding. If you're planning an indoor event, any season is agreeable for wedding planning.
New Hampshire Dates to Avoid
One of the most important details of planning your wedding is setting the date, and depending on which New Hampshire wedding venue you choose, you may need to consider local and national events before making any final decisions. Consult your New Hampshire wedding planner for any important local dates that may make travel in the area difficult or uncomfortable for your guests.
For those with budgetary restrictions in mind, you'll want to avoid planning your wedding in conflict with a major holidays or national celebrations. This helps you circumvent the inflated costs associated with travel, lodging and other services around these peak vacation seasons. For more information on these dates in 2016 to 2018, consult our guide. Additionally, there are some specific New Hampshire events and festivals that you might want to plan around that can cause traffic headaches and keep guests from booking hotel rooms:
Celebration of Lupines (Franconia, June)
New England Brewfest, (Lincoln, late June)
North Country Moose Festival (multiple locations, August)
NH Film Festival (Portsmouth, October)
Great Guest Experiences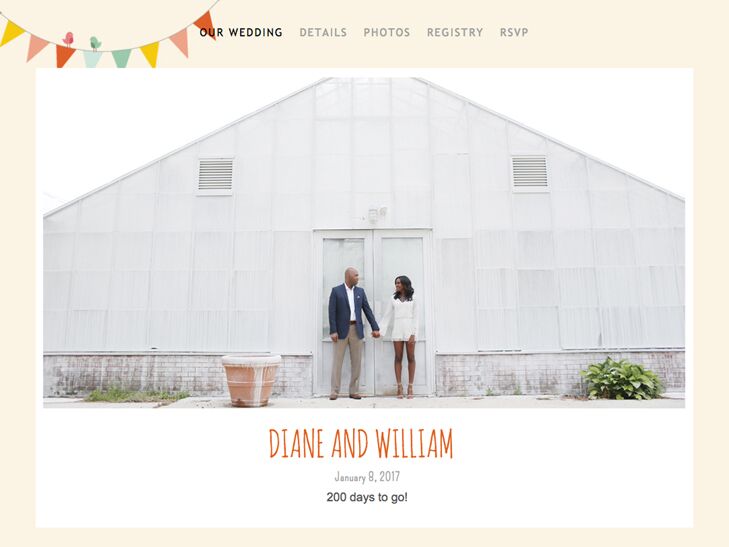 From the mountains to the shore, your guests are going to love their time in New Hampshire. With so much natural beauty, interesting wildlife and small-town living to take in, they're going to dive right into New Hampshire vacation life and might have a hard time saying goodbye. To keep your guests and family up to date on your latest wedding plans and details, set up a customized wedding website that keeps your information front and center and helps your guests plan their trips accordingly.
Finding Your Way: Travel in New Hampshire
New Hampshire is serviced by three main airports. Manchester-Boston Airport services the southern end of the state and receives the most daily air traffic. Lebanon Municipal Airport serves the northern portion of the state, while Portsmouth International Airport at Pease is a combined public and military airport that provides international flights in and out of New Hampshire.
As a stop along the long drive up the eastern seaboard, New Hampshire is very easily accessible by car from many highways, particularly to the north and south. Interstates 89, 93, and 95 go through the state and are joined by a network of state highways to put road trippers exactly where they need to go when traveling through New Hampshire to get to your venue.
Around Town: What to See and Do in New Hampshire
Whether you're out-of-town guests are outdoor lovers or history buffs, they can have the time of their lives exploring all that New Hampshire has to offer. This state can certainly be the right destination for a relaxing vacation—just ask the thousands of tourists that head to Lake Winnipesaukee when the mercury rises—especially during summertime when the warm afternoons and plenty of sunshine exude a playful vacation vibe.
Here are some of New Hampshire's top tourist attractions:
Mount Washington
Market Square, Portsmouth
Santa's Village, Jefferson
Story Land, Glen
Wright Museum of WWII, Wolfeboro
Go Local: Food and Favors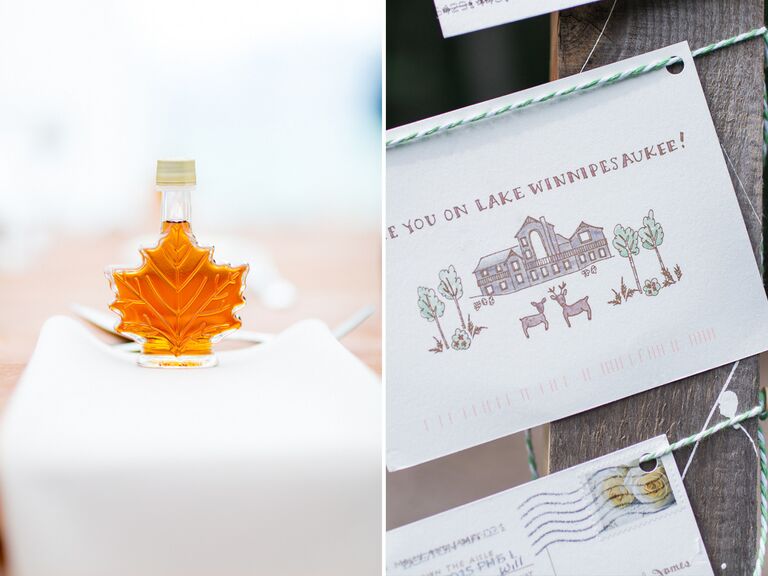 New Hampshire natives and tourists alike are in for a treat when they taste and experience the unique flavors of New England fare at your wedding. Like much of the surrounding area, favorites including seafood and farm-grown local produce are mainstays on New Hampshire menus. Including some of these treats in your catered reception meal or as fun wedding favors is a surefire way to impress your guests and make them want to come back for more.
New Hampshire Flavors: Regional Fare
There are few more quintessential summertime experiences than enjoying fresh lobster on a New England summer afternoon. Or how about fall fanfare that calls for fresh-pressed apple cider and spicy pumpkin pie? These traditions and more embody the food culture in New Hampshire and are always crowd pleasers, so it's a smart idea to work with your caterer to learn ways to incorporate local seafood and produce into your reception menu. And if you're looking for a special something to do with your sweetheart, spend a weekend before your wedding touring New Hampshire breweries to find the tastiest beer or cider to call your own and share with guests for a special reception toast.
Do Your Guests a Favor: New Hampshire-Inspired Take Home Treats
After you say "I do" but before you say "goodbye" to your far-flung friends and family, send them home with something special from your New Hampshire wedding. Choose local products or unique trinkets that bear a small symbol of your New Hampshire pride. Here are some ideas to get you started:
Locally made gourmet fortune cookies
New Hampshire–made maple syrup
Welcome bags full of essentials and stamped with a New Hampshire outline
Locally made soy candles
Custom locally made soaps or lotions
Check out The Knot Shop for other personalized favors.
New Hampshire City Guides
From winding country roads to amazing coastal views, New Hampshire is a feast for the eyes as well as the soul. With plenty of stunning New Hampshire wedding venues to choose from, your wedding can absolutely sparkle in this unique atmosphere. For some inspiration and more information about planning your wedding, including selecting a local New Hampshire wedding photographer or nailing down your preferences about where to host the reception, take a look at two of the most popular wedding cities, Manchester and Nashua, and then get in touch with local vendors through The Knot vendor marketplace.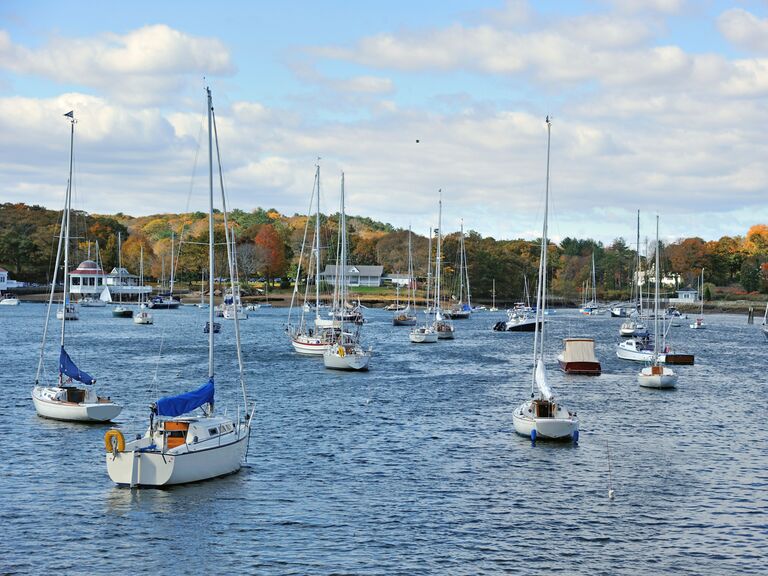 Manchester is a charming river town that sits along the Merrimack River and is the largest city in the state. Modeled by Samuel Blodget after its namesake Manchester, England, this New Hampshire city is a center for industry and city life in New England. With a comfortable cityscape and affordable living, Manchester is a popular destination for visitors, residents and businesses alike.
Featuring a vibrant arts culture and year-round sporting events, Manchester has enough activity to appeal to a variety of interests. As the home to Saint Anselm College and a unique historic downtown area, Manchester has its own cultural appeal and makes a lovely setting for celebrating your nuptials. For a traditional indoor ceremony, locals love the Atkinson Resort and Country Club, but the LaBelle Winery has plenty to offer if you're interested in something a bit more rustic like barn wedding venues in New Hampshire. To get started planning your wedding in Manchester, check out this list of local vendors, whether you're searching for New Hampshire wedding bands or the right salon for some picture-perfect makeup and hair: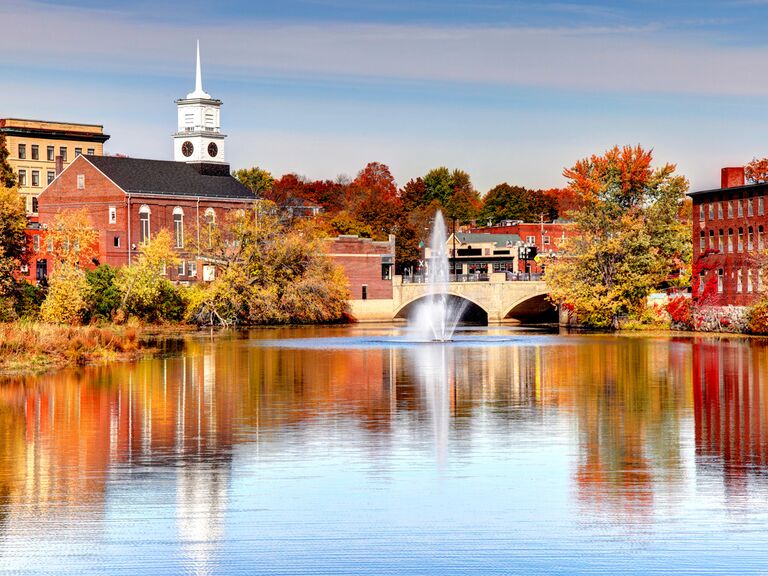 Voted "The Best Place to Live in America" twice by Money magazine, Nashua is a city located along New Hampshire's southern border. Adjacent to the city of Manchester, Nashua is a manufacturing town, turned historic after the departure of the once-vibrant textile industry. Nashua has a collection of venues ideal for hosting your event, whether it's the Nashua Country Club or the Castle in the Clouds that sets your heart aflutter. Check out these local wedding pros for inspiration in planning your southern New Hampshire wedding:
Check out more New Hampshire wedding inspiration here.
Don't forget to download The Knot Wedding Planner app—it's a must-have for on-the-go planning.
Download for iOS: Wedding Planner App by The Knot
Download for Android: The Knot Wedding Planner