My Instagram Feed Is Making Me Hate the Wedding I Planned
What to do when the FOMO hits.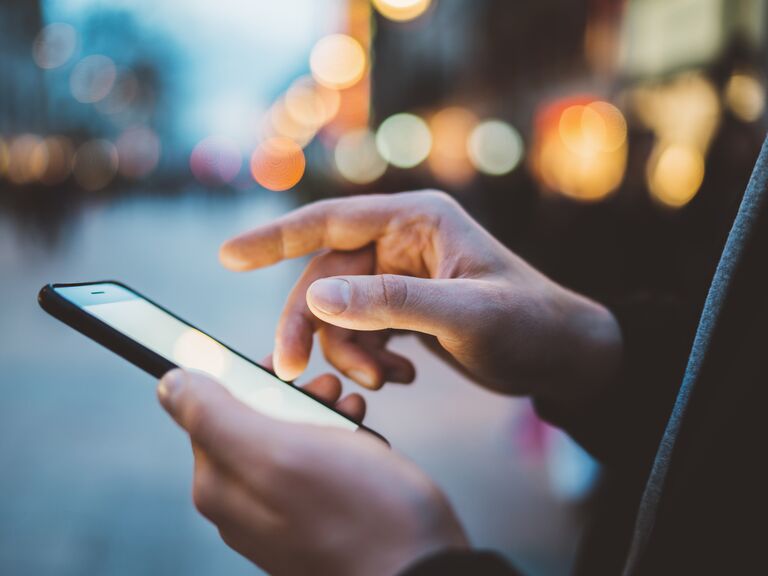 ImYanis/Shutterstock.com
Wedding planning involves many different decisions: venue, caterer, color scheme—the list goes on. So if you've finally completed all of the tasks on your wedding checklist, you may be relieved. Alternatively, you may be questioning your decisions as you scroll through Instagram, Pinterest or other apps. Turns out, the combination of social media and weddings can cause FOMO.
If you're experiencing this, take into account how all those jaw-dropping wedding pictures you're seeing are highlights: perfectly posed and staged shots taken and edited by a professional. "Wedding pictures online are selectively posted," says Nancy Mramor, PhD, a psychologist. "Just like when you pick a picture to put in a frame on a desk, you only pick the best ones for your profile." Editing on these apps can also distort reality, Mramor says. It's common practice to change pictures until they're nearly perfect, so what you're looking at can be deceiving.
If social media is making you second guess the flowers you chose or the menu you finalized, remember your wedding is going to be unique to you and your partner, says Sara Wolfram, owner of onelove photography. "It's what makes every wedding so special: the uniqueness of every couple's personalities, the seasonal weather and location." She suggests, "Don't get so fixed on a specific vision or style that you miss out on what could be unique and meaningful about your venue, your style and your story as a couple."
Of course, that's much easier said than done (especially when there's a pandemic in place and screen time has habitually increased). With more time spent indoors, you may find yourself increasingly scrolling through your phone. If you've fallen victim to the comparison trap of social media and weddings, here are best practices from experts to rid yourself of planning FOMO.
Remember: Photos and Experiences Differ
It's easy to feel like the weddings you're seeing on your feed are absolutely perfect, but keep in mind that you're not seeing the whole picture. Each snapshot has been meticulously planned and manipulated to look its very best, Wolfram says. A variety of factors including weather (a sunny day looks different than a cloudy day), time of year (fall weddings have jewel-toned foliage while spring weddings are lighter and brighter), the couples' energy (extroverted or camera-shy) and editing all contribute to the final product. "Photographers can alter reality in their editing to make a sky look more blue, bright or darker," she says. "Since every photographer edits differently, you can't expect to see the same editing from every photographer."
Mramor adds body image is a massive issue with social media and weddings as well, especially due to editing. "Physical judgement occur when you see someone looking 'perfect' online, and it gets worse the more you compare your appearance to someone else's," she says. "Everyone is posting only the best pictures of themselves, and many are photoshopped before posting. Comparing your wedding photos and honeymoons to those online is unrealistic because those photos only show a clip of the whole wedding or honeymoon and represent just the best parts."
Rather than striving to achieve the "perfect" photo, Wolfram says it's best to stay authentic—that will give you the best pictures. "While you may have a collection of images saved that you want to have re-created, remember that your photos will be unique," she says. "They may not look like what you've seen, but they could be even better."
Soley Use Social Media for Inspiration
Rather than using social media as a tool for wedding comparison, wedding planner Jove Meyer recommends leveraging it for inspiration instead. "Don't get lost in the comparison game," he says. "We all have different styles, resources and personalities. What works for others may not work for you—just do you!"
Instead, hone in on specific details, themes or elements that speak to you. "When you love a social media image, I encourage you to dissect what you love about it: the color, the style or the material?" he says. "Find what is speaking to you and take that and make it your own."
The key here is to use social media for inspiration rather than imitation, Wolfram says. "Inspiration is recognizing influence from others and turning it into something new and personal to you," she says. "Don't just copy something; use it as inspiration to create something that's really 'you.'" When done correctly, you'll wow your guests with how much your vision authentically represented you and your partner.
If you're absolutely in love with something you see online, Meyer suggests allocating your budget strategically. "Get all of your big-picture items booked and then with your remaining budget—what I call fun money—make a plan for your 'wow' moment or moments," he says. "Also, remember more is not always better—moments of 'wow' need a beat between them to have impact."
Limit Your Social Media Consumption
It may be tempting to open up Instagram or Facebook or Pinterest whenever you have a chance, but Mramor says it's important to set boundaries for yourself. "Either take days off or limit yourself to short periods of time with the goal of connecting with other people," she says. "When you have a purpose for using social media, it helps prevent too much browsing or comparing—especially during challenging times."
If you're feeling like it's all too much to handle right now, consider muting the accounts that are causing negative feelings (you can always re-follow them at a later time) or limiting the amount of screen time. Some apps provide timers to limit your consumption of their specific platform. In fact, Valorie Darling, owner of Valorie Darling Photography, reccomends avoiding wedding content once you've planned your nuptials. "Trends change, but sticking to what feels true to you as a couple and your style will always be timeless."
Finally, plan ahead. Rather than checking your phone, build out a night of couple activities or talking about your favorite upcoming wedding details over wine.
Stay True to Yourself
It may sound cheesy, but the best way to avoid any of these negative feelings is to remember who you are and what you like. Mramor says that it's best to focus on yourselves while wedding planning. "Do what's true to your taste, budget and what makes you happy. Don't worry about what others are doing," she says. "In the end, you're the only ones who have to be happy with your wedding and your photos."
Darling adds that couples should consider looking outside of social media for inspiration. Try something new and consider other things that spark your imagination. "I love drawing inspiration from a texture, culture, painting—something completely different than recreating a Pinterest image," she says. "That way true originality can bloom and wedding creatives are allowed to dream up something that will be the next trend."
Stick With What You Know
As you scroll through social media, you may see dozens of brand new ideas. But changing your plans due to self-doubt can end up costing you, as you may end up losing deposits if you decide to make a change. To battle with this self-doubt, Mramor says to trust your gut instinct. "When it comes to self-doubt, the rule of thumb is often to listen to the first impulse that calls to you and says, 'Yes, that's it!'"
Mramor says it's also important to remember that social media is a form of advertising—and it's better to trust what you've selected over an ad. "Advertising always makes things look better than they are—especially destination weddings and honeymoon locations," she says. "Remember that the items you have already chosen are ones that you've seen, tasted and tried out. If they work and you have a good feeling about them, stick with that you know."
Don't Feel Pressure to DIY Everything
As many people aren't able to go into their offices or go out with friends, they're at home with more time on their hands. In light of this change, a certain narrative about productivity has emerged—one that encourages people to make use of all this new free time. If you're feeling pressure to DIY all of your centerpieces or escort cards or invitations, we're here to tell you that you don't have to do any of it. That's what pros are here to do.
Wedding planning is stressful enough as it is (not to mention wedding planning during a pandemic). You don't need to be crafting or creating in your free time, which can lead to wedding planning burnout. Remember your wedding vendors can take care of these projects for you (and execute them extremely well). Instead, take time to reconnect with your partner and make each other feel special. Consider downloading Lasting, a proactive marriage health app filled with expert advice. Not only will it help with your wedding planning doubts, but it will also make your relationship stronger.