15 Delicious Southern Wedding Food Ideas
You won't hear a single guest complaining about fried chicken and biscuits—we promise.
No southern wedding would be complete without a few traditional regional delicacies on your reception menu. Think: fried green tomato caprese salad, homemade biscuits and shrimp and grits. And don't forget refreshments! Iced tea and lemonade stations are the perfect way to keep guests cool during warmer summer months.
If you love southern food but your wedding is taking place elsewhere, don't be afraid to bring the south to you—like this cool wedding in Brooklyn, NY that served fried chicken, catfish, mac and cheese and biscuits! No matter where your wedding location is, no one ever complains about pulled pork sliders.
1. Fried Chicken and Biscuit Sliders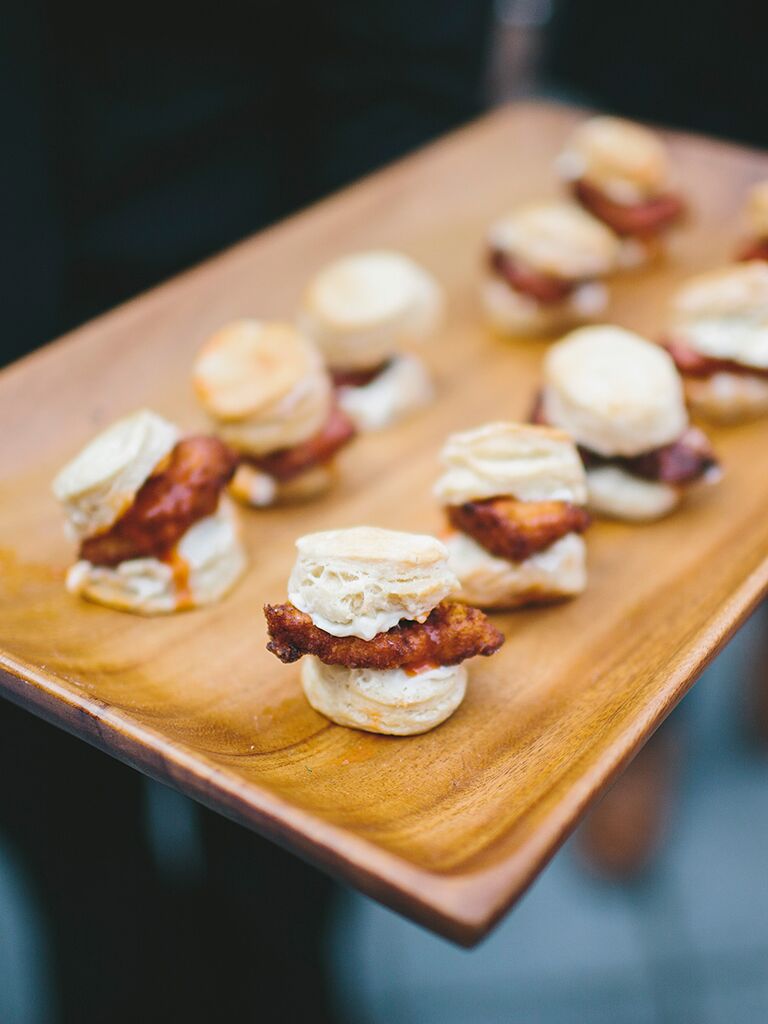 From: A Hip, Vintage Americana Wedding at TBD Brooklyn in Brooklyn, New York
2. Lemonade and Tea Cocktails With Faux Birch Straws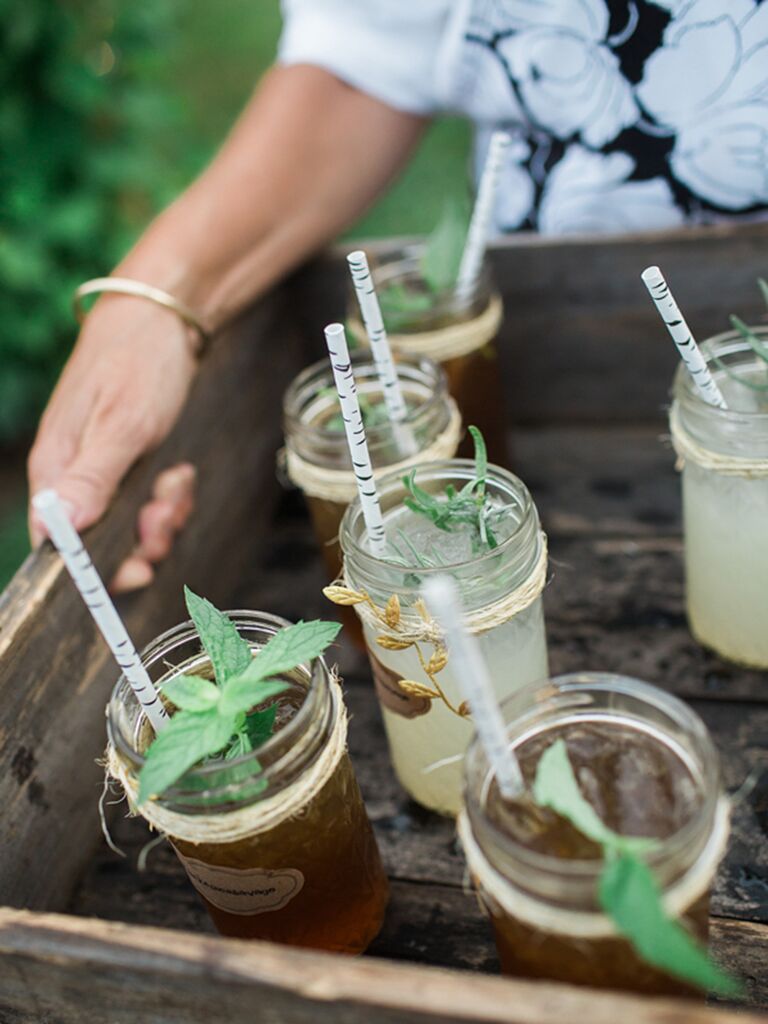 From: A Rustic, Outdoor Wedding at a Private Home in North Yarmouth, Maine
3. Chicken and Waffles Station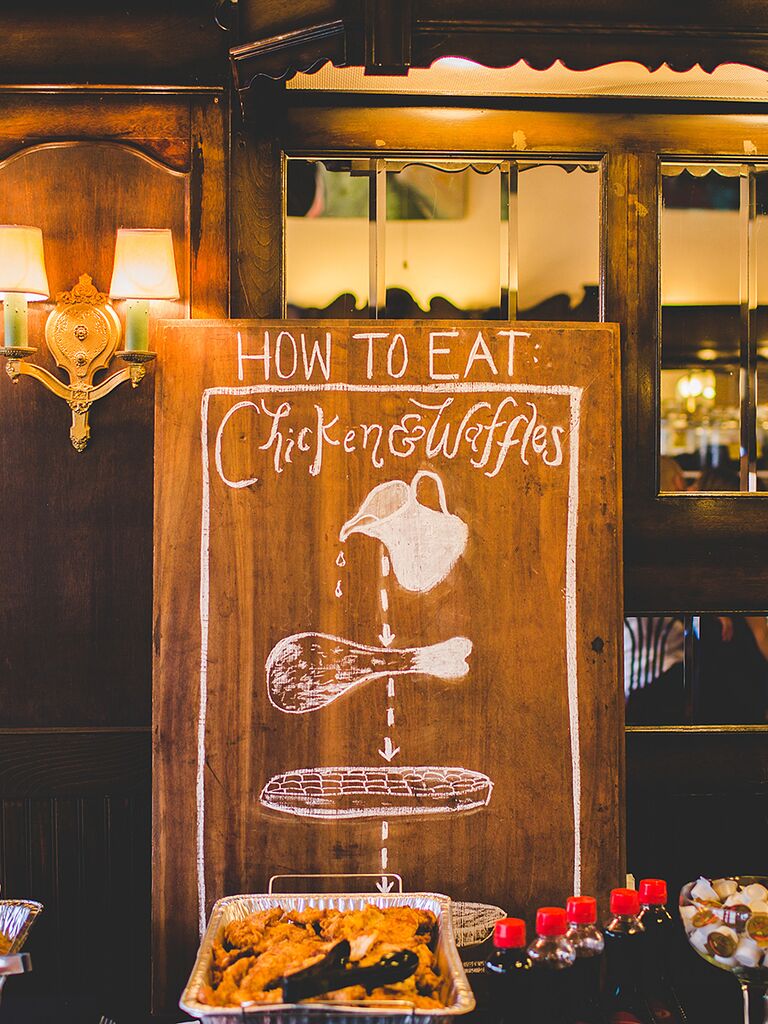 From: An Eclectic, Small-Town Wedding at Sparta Restaurant & Coffee Shop in Newark, Ohio
4. Mini Shrimp and Grits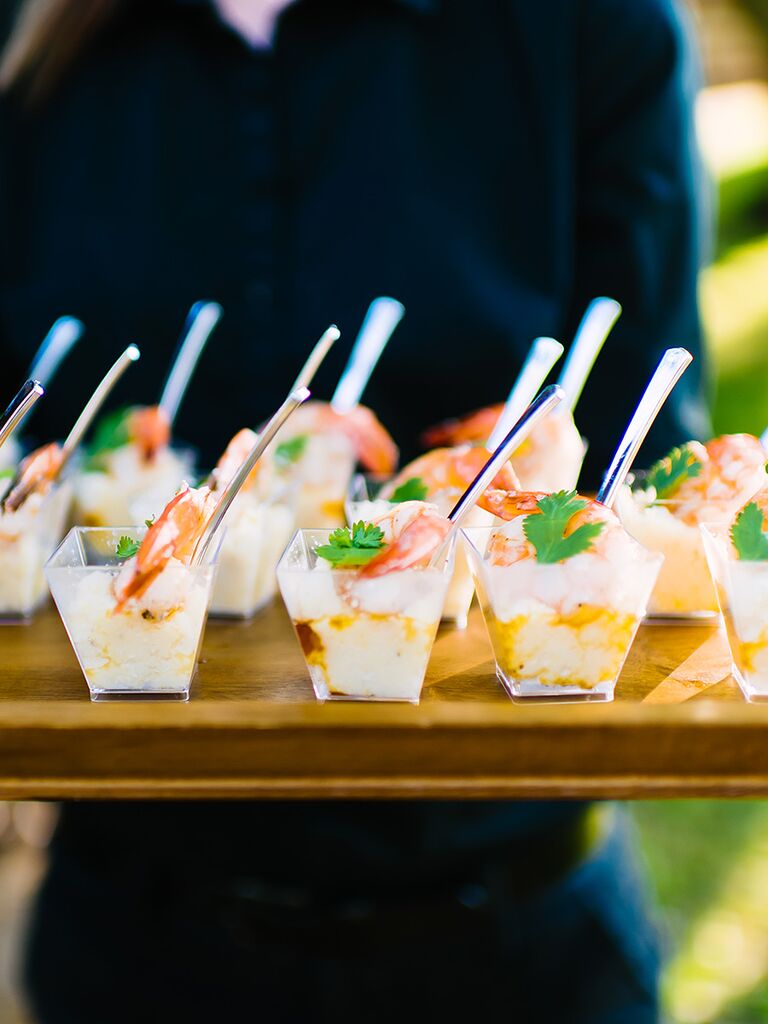 From: An Eclectic, Vintage Wedding at Pecan Springs Ranch in Austin, Texas
5. BBQ Sauce Station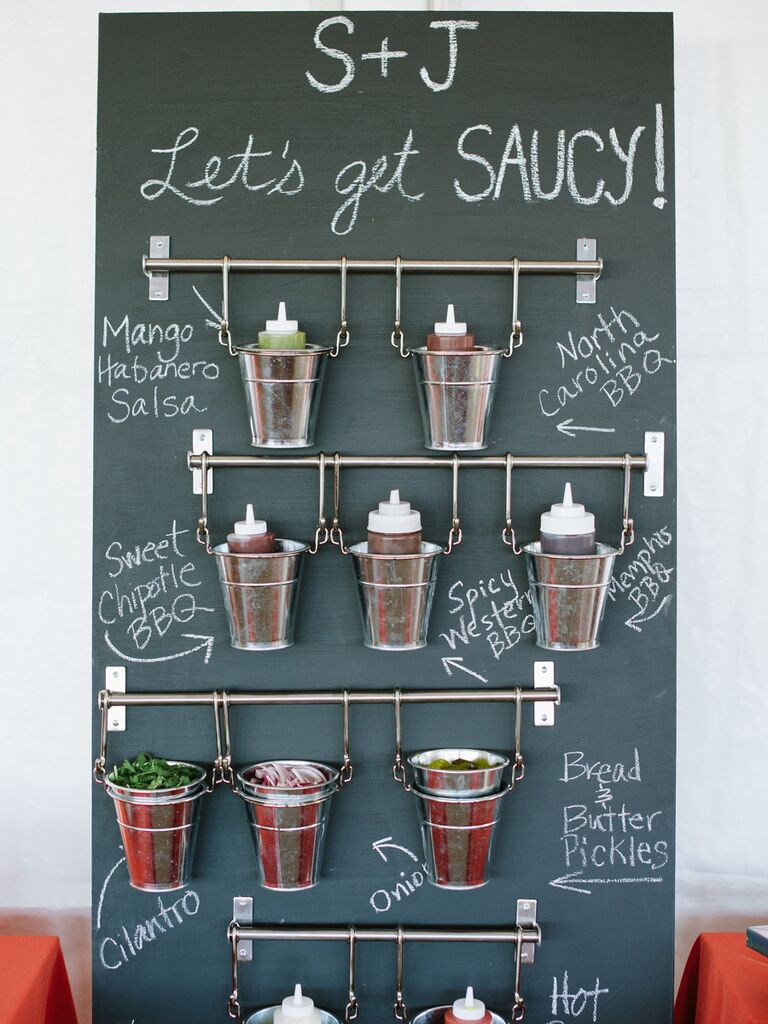 From: A Nautical Vintage Wedding in Edgewater, MD
6. Pulled Pork Sliders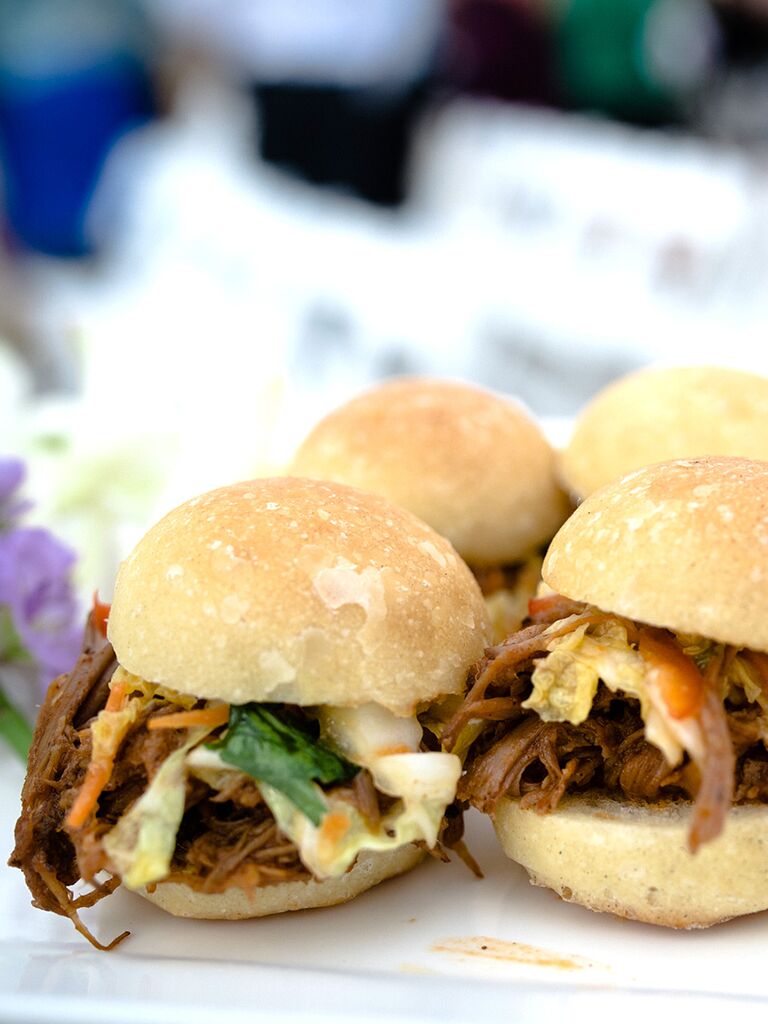 From: A Romantic Outdoor Wedding at Jacuzzi Family Vineyards in Sonoma, California
7. DIY Lemonade Station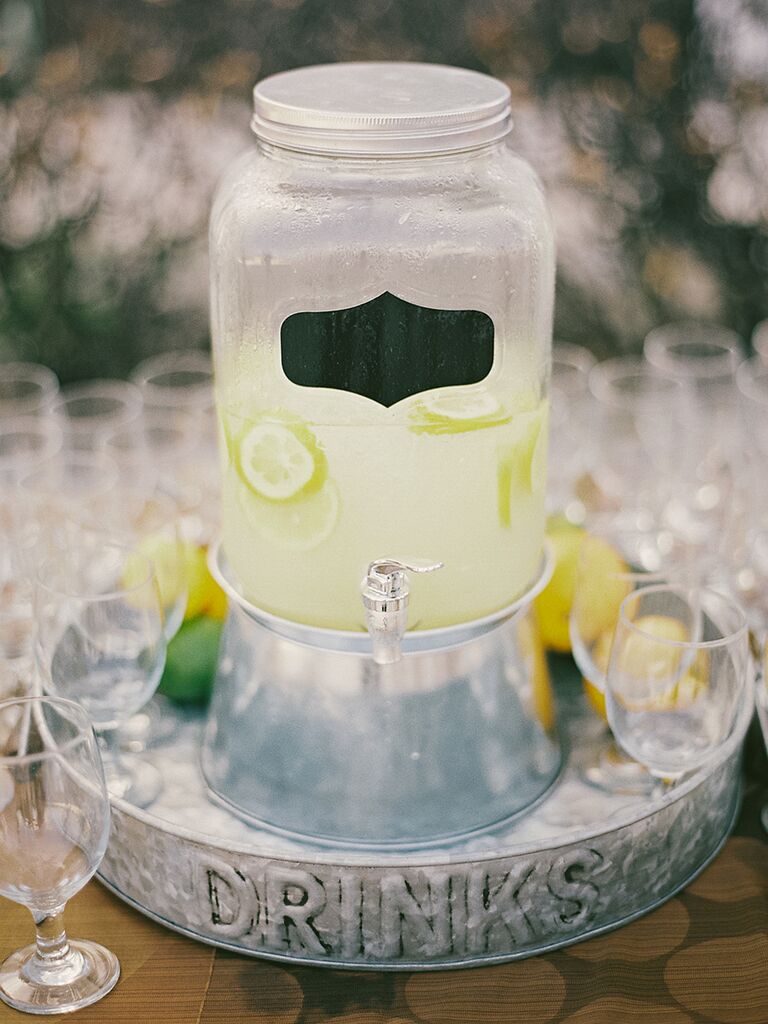 From: A Bohemian Beach Wedding at a Private Residence in Pompano Beach, Florida
8. Mac and Cheese, Mashed Potatoes, Fried Chicken and Green Bean Reception Dinner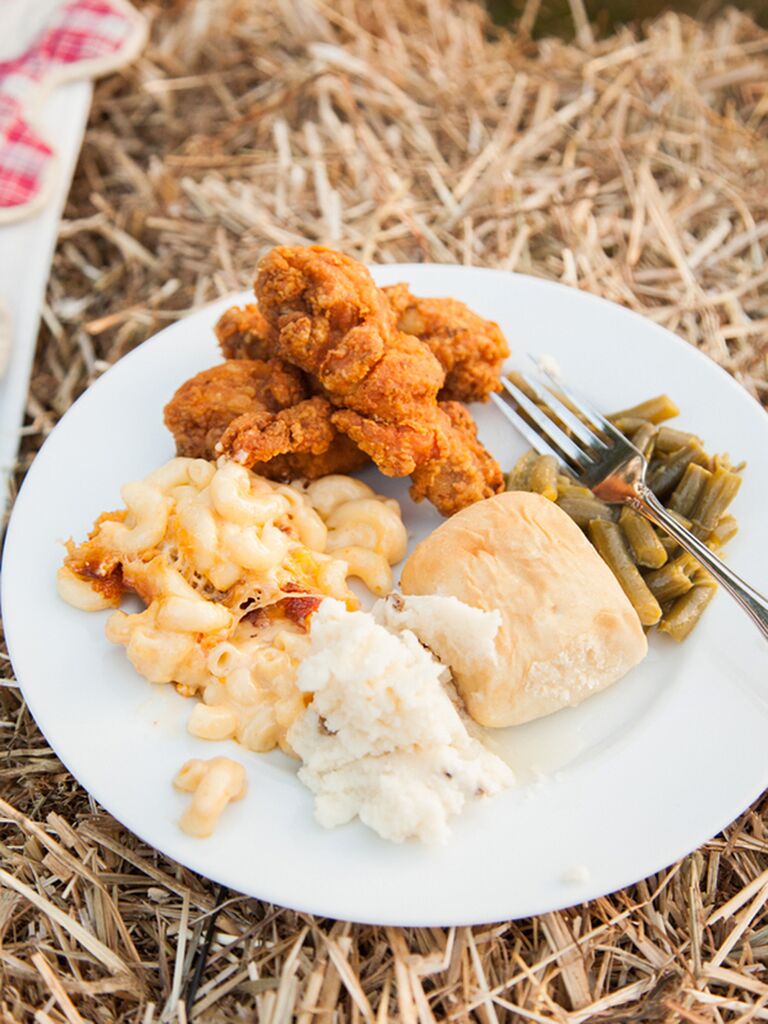 9. Family Style Fried Chicken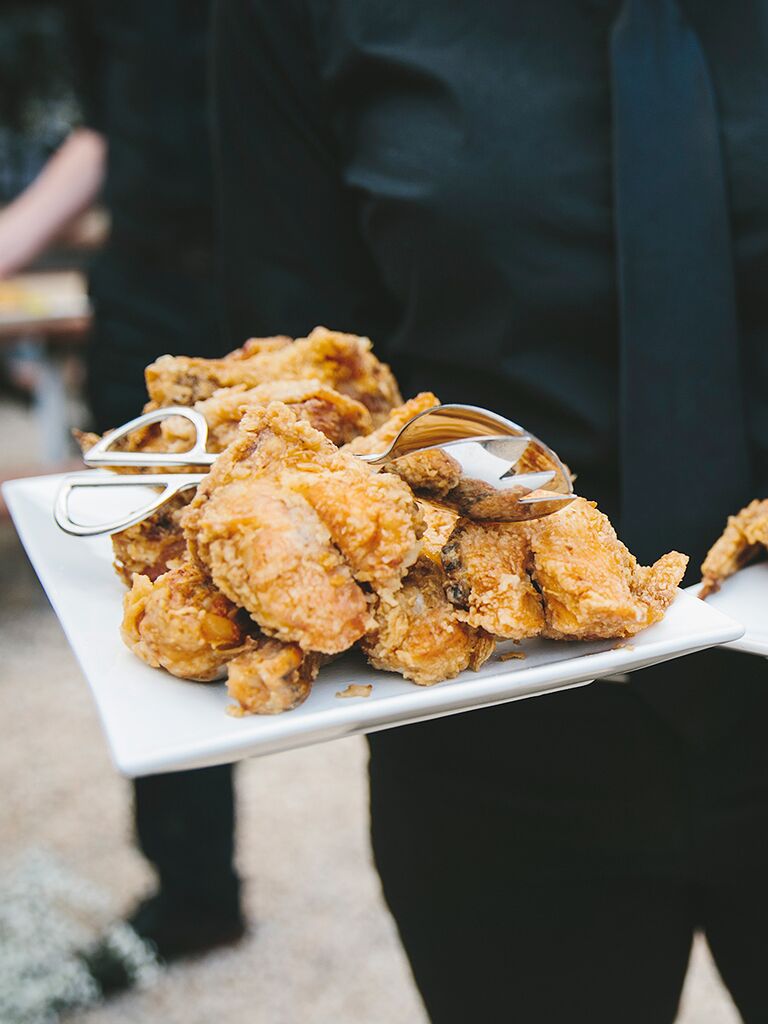 From: A Hip, Vintage Americana Wedding at TBD Brooklyn in Brooklyn, New York
10. Biscuits and Beans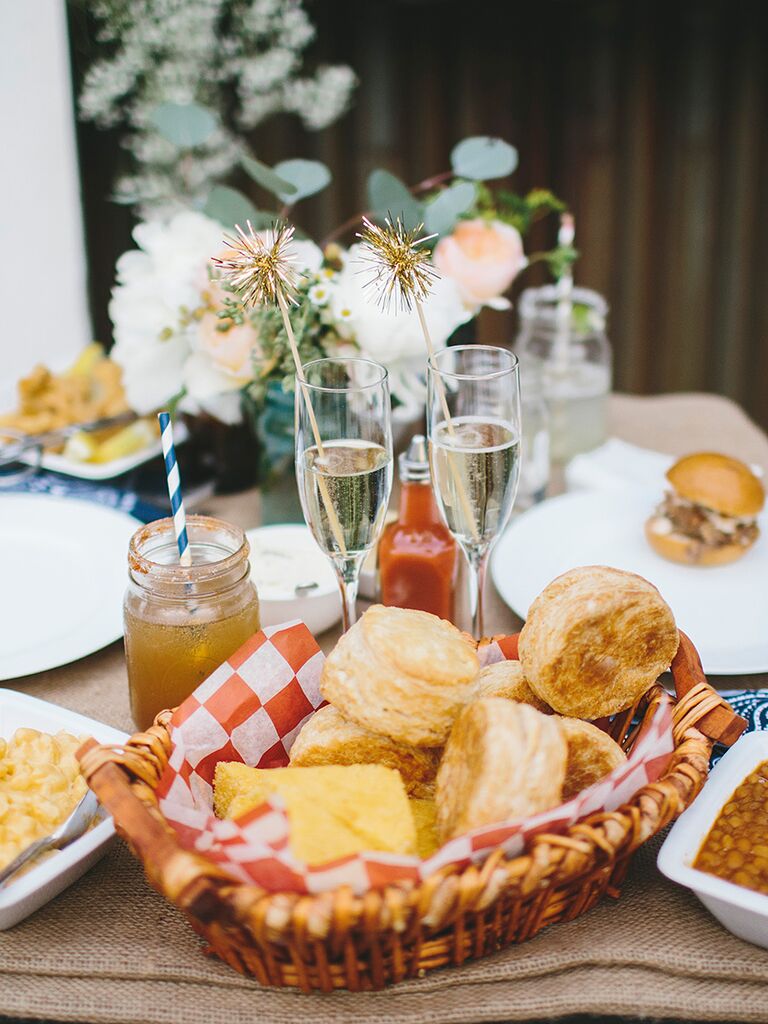 From: A Hip, Vintage Americana Wedding at TBD Brooklyn in Brooklyn, New York
11. Jarred Pies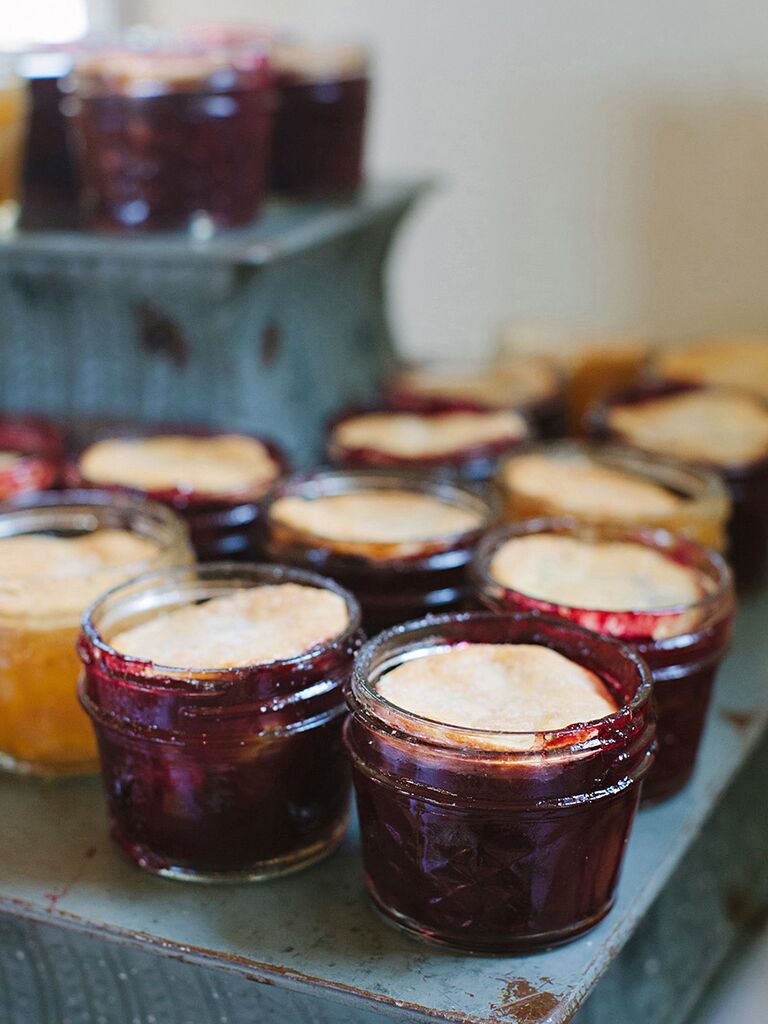 12. Pecan, Blueberry and Apple Pies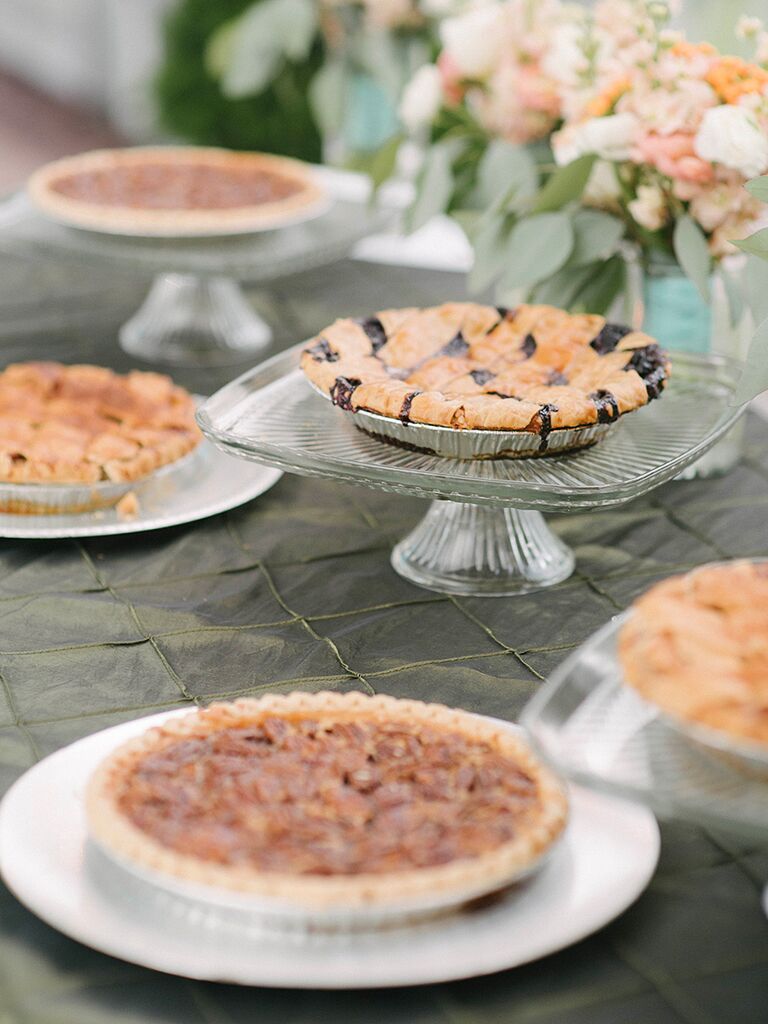 From: A Timeless Southern Wedding at the Inn at Warner Hall in Gloucester, Virginia
13. Fruit Tarts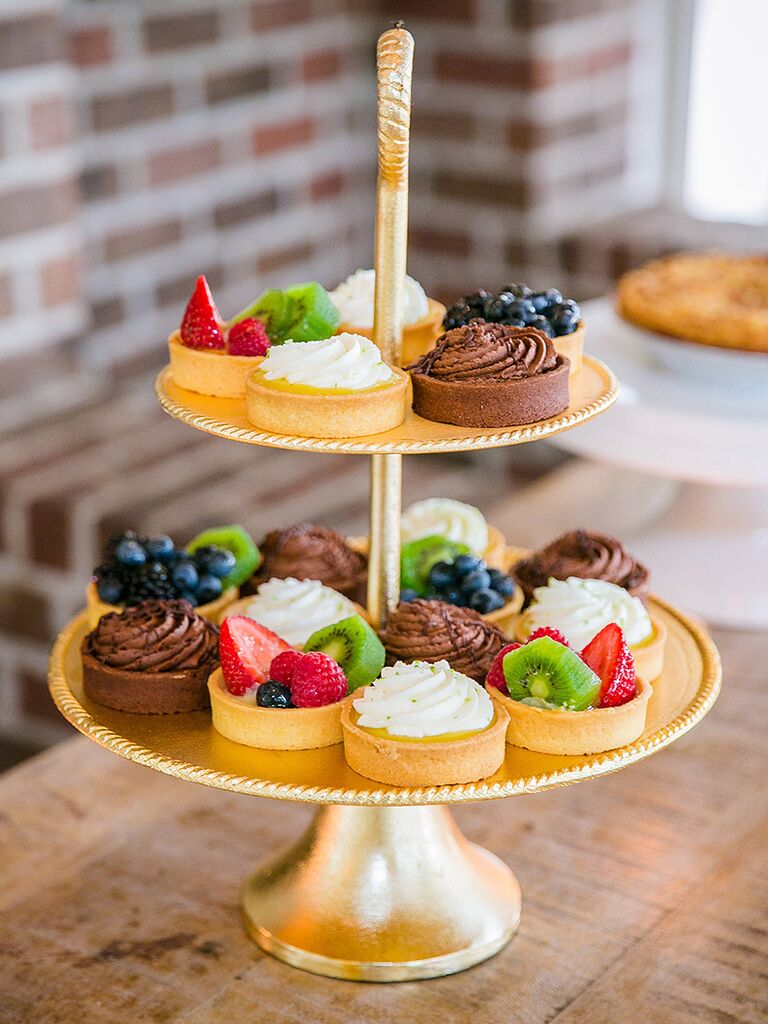 From: A Bold, Fourth of July Wedding at Creek Club at I'On in Mount Pleasant, South Carolina
14. Banana Pudding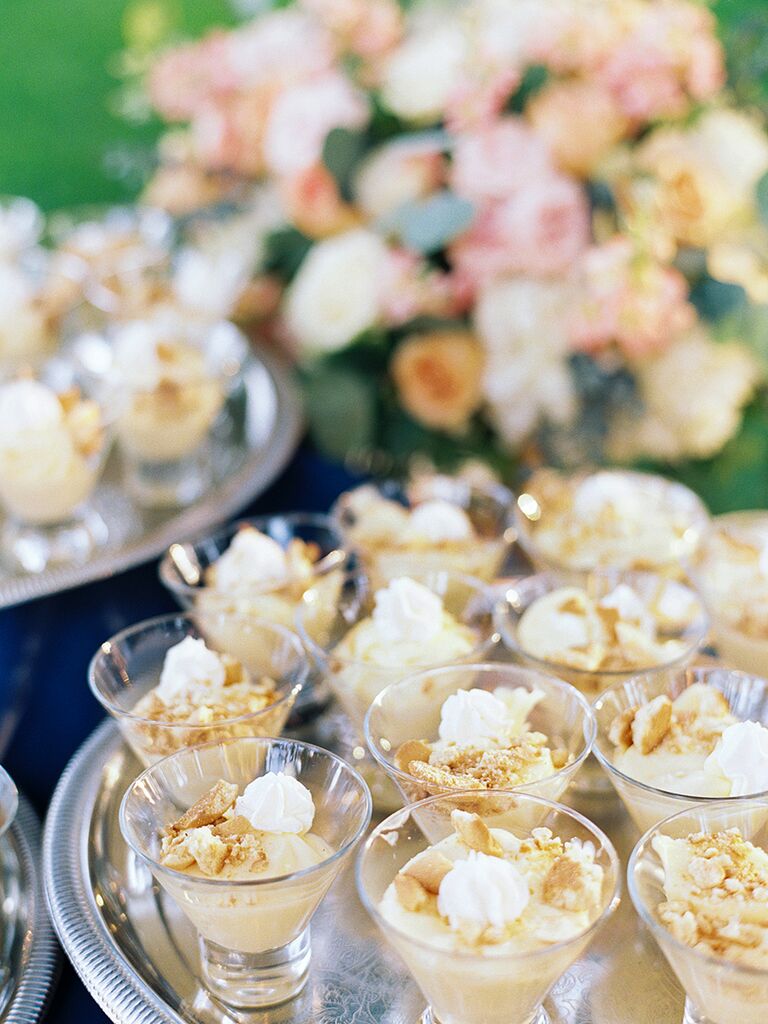 From: A Southern, Garden-Style Wedding at Southwood House and Cottages in Tallahassee, Florida
15. Mini BBQ Sauce Favors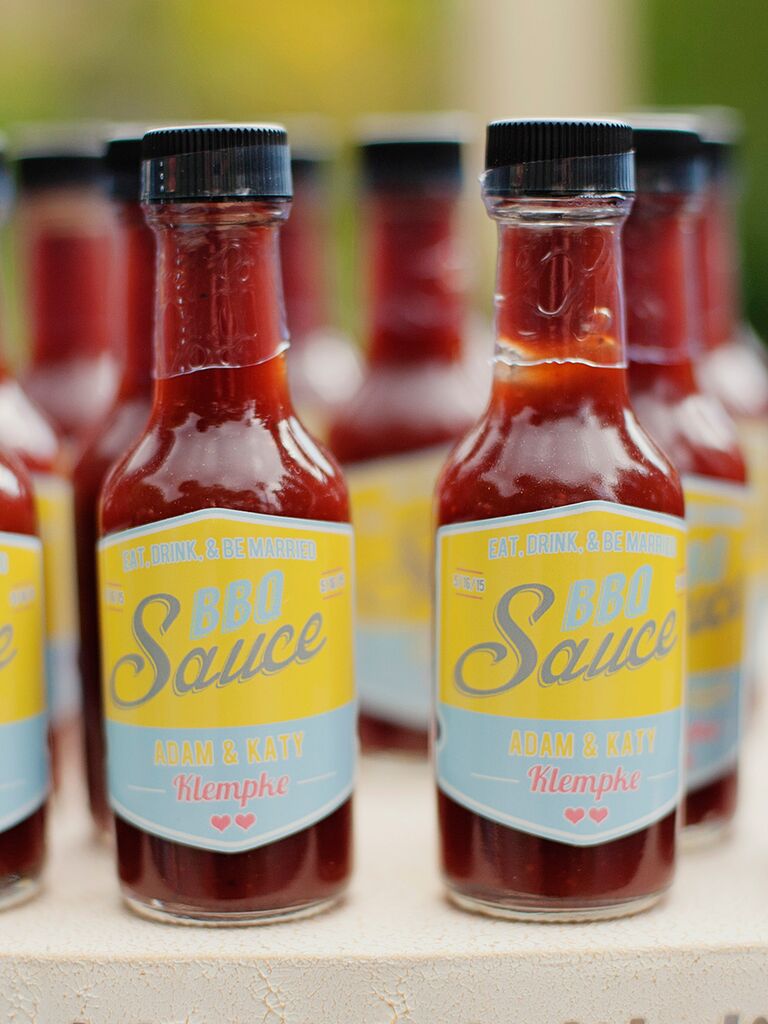 From: A Vintage, Garden-Inspired Wedding at Bissell House in South Pasadena, California