5 Ways to Stay Relaxed During the Morning of Your Wedding
Mimosas are great, but there are other ways to stay calm, cool and collected on your wedding day.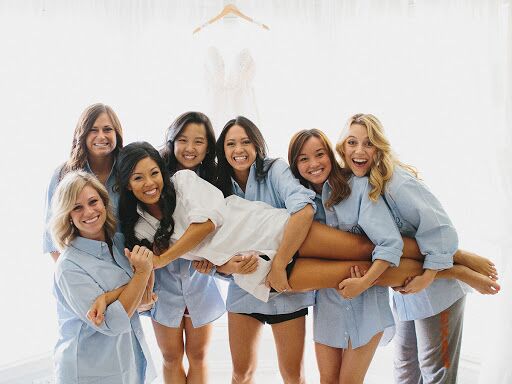 Stefano Choi Photography

Some of us spend our entire lives dreaming about our wedding day—but sadly, when the morning comes around, we've seen some brides not even able enjoy the getting-ready process because they're so stressed out about the day. Usually, the time leading up to the first look or ceremony during hair and makeup is the most nerve-racking. I worked with Melanie Kotcher, wellness coach/concierge and Pilates instructor for brides, to come up with five tips to help ensure that you're able to enjoy every moment of your wedding day (hopefully with a mimosa in hand) without feeling overly stressed out.
1. Hire a day-of coordinator.
The wedding day can be extremely chaotic, especially if the bride is the point of contact for all the vendors. Hiring a day-of coordinator to allow you to enjoy the day while they ensure your vision comes to life is an investment you won't regret.
2. Be confident by staying in the present.
According to Kotcher, brides tend to stress over the "what ifs," like "What if it starts raining?" and "What if I trip when walking down the aisle?" When we take a minute to breathe, acknowledge what's in and out of our control, and fully take in and enjoy the experience with the people we love, everything else falls into place. Remember to absorb everything that's happening and to celebrate your wedding day, and once you lock eyes with your partner, you'll realize that's the only thing that matters.
3. Keep it light and fun.
Laughter is the best medicine to get nerves out. Let loose with your bridal party and reminisce on fun memories, watch funny YouTube videos, dance, put on a great playlist and so on. There's no point stressing over things you can't change at that point, so your best bet is to just have fun and enjoy the day.
4. Breathe and/or meditate.
Meditation doesn't have to be in the form of closing your eyes, chanting and/or sitting in Lotus pose. It can be as simple as inhaling and exhaling by slowly counting to 10. Kotcher says a great time to try this out is in the hair and/or makeup chair.
5. Hydrate and don't deprive yourself when it comes to food.
Eat healthy, high-protein, energy-boosting, easily portable and non-messy foods. Snack on things like turkey roll-ups, hard boiled eggs and cashews and almonds. Avoid too much caffeine (you don't want to be jittery) and stay clear of foods that are too salty so you don't get too thirsty. You can always have a mimosa to calm your nerves, but it's also important to stay hydrated. Kotcher suggests an electrolyte powder like Ultima mixed with water.
Melanie Kotcher is a wellness coach/concierge and Pilates instructor, specializing in optimizing the time and potential of busy brides-to-be. She works with clients on creating customized lifestyle programs that cover fitness regimens, nutrition guidance, beauty recommendations, self-care strategies, date night ideas and more. Melanie provides wellness coaching in the form of support and encouragement, resources, recommendations, accountability and concierge services (if requested). Her approach is emotional, uplifting, practical, and most importantly, personal.
Brittany Lo is the founder and CEO of the New York City–based beauty services company Beautini and an ultimate beauty junkie. She's been obsessed with makeup her entire life and knew she'd end up dedicating her professional life to making women feel beautiful for the most important day of their lives.