10 Wedding Concierge Services to Hire for Your Wedding
You can hire these pros to do what for your wedding?!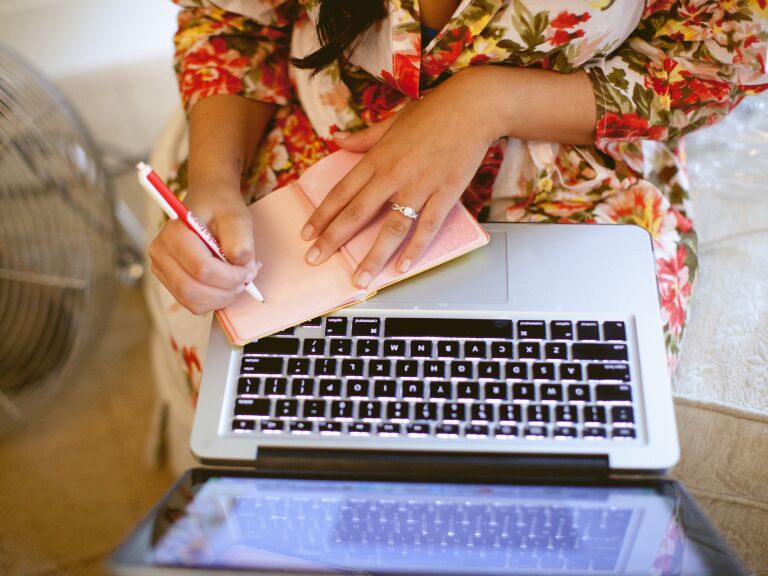 CAITLIN THOMAS PHOTOGRAPHY
We'll be the first to admit that when it comes to the wedding industry, there are few things that can surprise us anymore. That is until we heard of these out-of-the-box wedding concierge services. From live tweeting your wedding to planning your bachelorette party and even training your ring-bearing puppy, these nine pros offer one-of-a-kind services that will have you and your attendants breathing a sigh of relief. Make room for these vendors in your budget and let them do the grunt work, so you can have all the fun and focus on what's really important: your wedding day! You're welcome.

Read Next on The Knot
How to Find a Couple's Wedding Website

Read Next
How to Find a Couple's Wedding Website
Professional Attendants:
Services offered: Speech writing, bridesmaid bootcamp training for first-time attendants and a range of packages to help both the bride and the bridal party with prewedding event planning and facilitating and any to-dos, and support with day-of and prewedding activities behind the scenes or as an actual bridesmaid in the party.

Read Next on The Knot
How to Find a Couple's Wedding Website

Read Next
How to Find a Couple's Wedding Website
Business start: After being a bridesmaid a number of times, Jen Glantz noticed how many brides experienced stress, anxiety and uncertainty during planning of wedding-related events and activities. "I started to notice that there wasn't really anyone there for the bride," Glantz says. "If she had a wedding planner, they were off taking care of things like setting up the venue and working with the vendors. If the bride had bridesmaids, they were often busy getting ready themselves and the bride didn't want to overwhelm them with any pop-up tasks or unforeseen challenges." Glantz took matters into her own hands and launched Bridesmaid for Hire that's part personal assistant, part event planner and dedicated to helping with duties, so the wedding attendants, family members and brides can enjoy the wedding experience stress-free.
Favorite part of the job: "Bridesmaid for Hire is a relationship business where we have the privilege to give every single bride who works with us a very custom and personalized service," Glantz says. "We maintain relationships and build friendships with brides from the day we start working with them and are proud that those relationships last many months and years after their wedding."
Why hire: To support the bride who doesn't want to overwhelm her bridesmaids with requests and responsibilities, or to help out the bridesmaids who are feeling overwhelmed with their duties.
Rates: From $150 for speech writing and from $300 for packages
Services offered: From being a best man or groomsman at the altar to assisting behind the scenes with planning and logistics of a bachelor party or wedding, the guys behind this business offer a range of services and can also help write a best man speech, assist in collecting money from the groomsmen to pay for the bachelor party and even plan the couple's honeymoon. Bromance power!
Business start: Matt Foster and Chris Dion, two high school best friends and entrepreneurs, started the business when one of their friends, who was new to town, found himself without many guy friends to be groomsmen at his wedding and a fiancee with plenty of bridesmaids. "We thought that we could help him look like a rock star and bring together a team of guys to stand at the altar with him," Foster says. "Then we had a blast and created new friendships that are still in place today." Most of the time, Foster and Dion "work" undercover without other groomsmen, the groom's partner, or family and friends knowing who they really are. "We have to be very discreet and work weekly with our clients to develop a storyline," Foster says. Sound familiar? Check out Kevin Hart and Josh Gad in the comedy The Wedding Ringer.
Aha moment: "When I served as a best man undercover at a Chinese wedding," Foster says. "The culture prohibits the best man from being married or divorced, and our client didn't have anyone that could fit those parameters, so he reached out to us to fill his need." After a successful weekend at the rehearsal dinner, bachelor party and wedding (where Foster even gave a best man's speech), it clicked that the business had a genuine need.
Why hire: To relieve groomsmen of the need to plan the bachelor party and to help fill in gaps for the grooms who might not have a lot of guy friends.
Rates: From $499 for packages
Social Media Wedding Managers:
Services offered: Wedding social media strategy, from hashtag creation to social media coverage for the wedding day or weekend.
Business start: Samantha Roberts and Heather Hall know a thing (or many!) about the wedding industry. After all, the two previously worked at The Knot doing social media and covering fashion, respectively. They realized the need for an all-encompassing social media service after noticing the tendency of wedding guests only posting photos of themselves instead of the couple or the wedding details. "Hundreds if not thousands of eyeballs can be watching a wedding happen in real time through social media. We want to connect these social-savvy couples to wedding brands that need wedding content to post and use this influence to help with the wedding planning process," Roberts says. Consider these gals your wedding day PR team that will make your nuptials look good on (e-)paper.
Moment it clicked: "After doing social media for The Knot Dream Wedding, we had the 'aha' moment that this service could be attainable for all other couples. We decided to run with it," Roberts says.
Why hire: To showcase your wedding to a larger audience by securing features with brands and media companies, or if you're a savvy, techie couple who needs help with social strategy for the wedding and wants good-quality, well-curated social media shots. "We've also witnessed first-hand wedding guests asking professional photographers to take their photo using iPhones instead of professional cameras," Roberts says. "Instead of bothering and distracting the professional photographers, these guests can now ask us."
Rates: From $1,200 for day-of social media custom package
Services offered: Cover weddings from start to finish with live event photography on Instagram and Twitter pages with the couple's wedding hashtag.
Business start: Sophie Pyle got her start photographing high-society events as the DC editor of Guest of a Guest. Now founder of Rosé Media, a social media management company that offers services for luxury businesses, she started Tweet the Bride in 2014 when noticing the lack of quality photos on her friends' social feeds. "I have always loved looking at wedding hashtags of my friends and acquaintances and felt really bad for the brides who had less-than-stellar feeds on their wedding hashtags," Pyle says. "I launched the business to make sure that every major milestone on a wedding day could be covered with beautiful, high-quality photography."
Game changer: "When I discovered Wi-Fi memory cards, that's when I knew this could become a big thing. Now, Tweet the Bride covers photos that are almost on the same level as the professional photographer," Pyle says.
Why hire: To add a professional touch to your wedding day's social media stream and to remove the stress from having the bride or an attendant worry about posting live photos from the wedding and missing out on the big moments. Plus, you'll be able to see photos from your wedding day weeks before your photographer delivers their photos.
Rates: From $700 for a 6-hour package
Services offered: Create custom wedding hashtags that range from cheeky and clever to sweet and sentimental.
Business start: Marielle Wakim, editor of arts and culture at Los Angeles magazine, is used to writing punny magazine headlines, and she's always had a knack for coming up with top-notch wedding hashtags. And as millennial couples seek to outsource social media wedding tasks, Wakim noticed there were only services that built hashtags through an automatic generator—there wasn't one  that created custom hashtags for to-be-weds. So she created Happily Ever #Hashtagged, which boasts individualized attention and personally generated hashtags.
Game changer: It's personal. Clients submit a survey and include what they want the tone of the hashtag to be, and Wakim takes it from there. She uses the couple's names to come up with a play on words and create something clever—that's also personal to the couple. With a service like this, you don't run the risk of a generic hashtag, which makes it much easier to find photos from your day rather than having to sift through images from other weddings that have the same hashtag.
Why hire: You'll be guaranteed a punny wedding hashtag that's fun and unique, making it easier for you, your wedding party and guests to sort through photos of the day on social media.
Rates: $40 for one hashtag, $85 for 3, and $115 for 5
Party Planners:
Services offered: The bachelor and bachelorette event planning business offers services ranging from consultation calls (to help select the party destination and give advice on general direction theme of the festivities) to sample itineraries (with specific and personalized suggestions and activities for the group) and full-service planning (where all activities, transportation, accommodations and more are coordinated).
Business start: Janylle Radden was inspired when her friends starting getting engaged and planning their last hurrahs. Living and working in Miami at a lifestyle management and concierge company, she recognized the importance and all the work that went into throwing an unforgettable party. "One day I was speaking to a friend who was struggling to plan her own bachelorette party when I realized that this kind of planning doesn't come naturally to a lot of people, and they can feel overwhelmed and pressured to make it great with little to no help," Radden says. "Since I happen to love doing concierge work for people, I offered to help." Ball Before the Chain was officially unchained.
Proud moment: "Getting to participate in The Pitch [program] at SheKnows and have a platform to introduce Ball Before the Chain to the world," Radden says.
Why hire: To remove stress from bachelor and bachelorette planning and allow the participants—whether brides, grooms, maid of honors of best men—to have fun and enjoy their one-of-a-kind celebrations.
Rates: From $50 to $1,000
Services offered: Customized planning services for bachelorette and bachelor parties. You give them the destination and what kinds of things you might want to do, and they work with you from start to finish to make it happen.
Business start: Tisha Vaidya and Lauren Raouf were inspired while on a road trip when talking about their own experiences planning bachelorette getaways for their friends. After spending hours doing basic research that involved lots of phone calls and emails, they thought there was a real opportunity to consolidate all the information in one place and make a busy maid of honor's life easier by cutting out the grunt work. "We knew we had to launch it when we floated the idea to a few maids of honor and they pretty much hired us on the spot, before we even had a website—or were exactly sure what the service would look like," Vaidya and Raouf say.
Success story: "When we started getting referrals and requests from people who'd never met us, we felt confident the service would take off," say the two entrepreneurs. "Sometimes we get live updates during the weekend and from the wedding, and we love being a part of such an exciting and happy time. We get to be in the business of fun and friendship—it really doesn't get any better than that!"
Why hire: To get access to their knowledge and relationships they've built in 30-plus cities across several countries, along with a right-hand woman throughout the planning process. Negotiating with a vendor, getting customized swag, locating the best vacation house, scheduling a chef to cater dinner, booking fun group activities—they promise to keep the whole process on track and fun for everyone.
Rates: $25 per person for domestic trips and $35 per person for international travel, for up to a 3-day weekend
Wedding Writers:
Services offered: Designed for clients at every stage of the toast speech writing process, they offer a range of services from custom speeches, revisions and editing to public speaking practice sessions. And don't let the name fool you! Since every speech is written to be unique to the client, their services extend to others in the wedding like fathers of the bride, maids of honor and more.
Business start: Patricia Klieger started Best Man Speech Writer in 2013 after her only brother became a best man in a wedding and asked her for help with his speech. "Our collaboration went very well and gave me the opportunity to realize that I not only enjoyed helping others write their speeches but that it was a hidden talent of mine," Klieger says. After doing her research and discovering few speech writing business that concentrated solely on wedding speeches, she knew that she found her niche. "Given the importance of wedding speeches, especially in a world where everything makes its way online, I decided it was important to focus only on wedding-related speeches." Round of applause!
Positive reviews: "My breakthrough moment came when I began to see and hear the positive, and surprisingly excited, reactions of those who were first introduced to my company and our specific service offerings," Klieger says. "I'm also fortunate to work with clients from around the world who remind me that our services are universally needed, appreciated and, dare I say, fun."
Why hire: To make groomsmen look good when giving a speech (duh!) and to take over and handle the dirty work of writing the speech and free up time so they can focus on the other duties that come with their roles.
Rates: From $20 for a speech template to $300 for a custom speech package
Animal Attendants:
Services offered: Full-service, pet-friendly wedding planning and coordination, as well as dog training (to ensure your four-legged child will be well behaved for the big day!) and design services that can incorporate pet themed elements, from choosing a pet-friendly venue and designing invitations featuring your pooch to helping include your beloved pet in the vows and designing custom pet attire.
Business start: Celebrity pet and family lifestyle expert and animal behaviorist and founder of Pet Home Magazine Colleen Paige got the idea for The Wedding Dog when she decide to include her Chihuahua, Tinkerbelle, as a ring bearer in her wedding. With a creative background and dog training experience, Paige pulled it off easily. "Later, I realized that not everyone had the same ability to pull it off without major stress. Had Tinkerbelle not been so well trained, it could have spelled complete disaster," Paige says. After several people approached Paige to help design their weddings to include their dogs, The Wedding Dog was born. "My vision is for it to be the 'one stop shop' so to speak for all things that a couple needs to support their desire to include their furry kids in the most important day of their lives."
Breakthrough moment: "When The Wall Street Journal featured The Wedding Dog, I knew that my decision to start this was the right one," Paige says. "My success, I think, is in that this had never been done before, and being a well-known pet lifestyle expert when I launched it, really helped get the word out because I already had a big following on social media."
Why hire: If you consider your pet family and want to include them in your wedding in a major way. "I connect with couples in a way that I feel most wedding designers lack," Paige says. "Not because they don't care about animals but because they don't have the creative experience coupled with the dog behavior expertise."
Rates: From $750 for a dog training refresher, from $1,800 for 6-week training for untrained dogs, from $1,200 for design consultations and from $30,000 for full packages that include design consulting and planning, wedding coordinating, dog training, pet attire, wedding photography, catering, entertainment, venue rental, rehearsal and so on
Wedding Venue Hunters:
Looking for help with finding your dream venue? Let us assist you! Not to toot our own horn, but we have a dedicated Venue Concierge team that works with couples to help find the perfect venue based on budget, style and guest list size. They'll listen to all of your needs and then send you a link to a page of handpicked venue recommendations. They'll then set up on-site tours at the venue(s) you're most interested in and even help you read over the contract before you officially book. The best part? It's a completely free service! Read more about Venue Concierge by The Knot here.