Wedding Maven Liberty Woodman Talks Design
We caught up with wedding planner Liberty Woodman of Lady Liberty Events to get the skinny on ways to personalize your wedding, what every couple should be spending money on and her favorite kind of wedding favor.
by Lauren Kay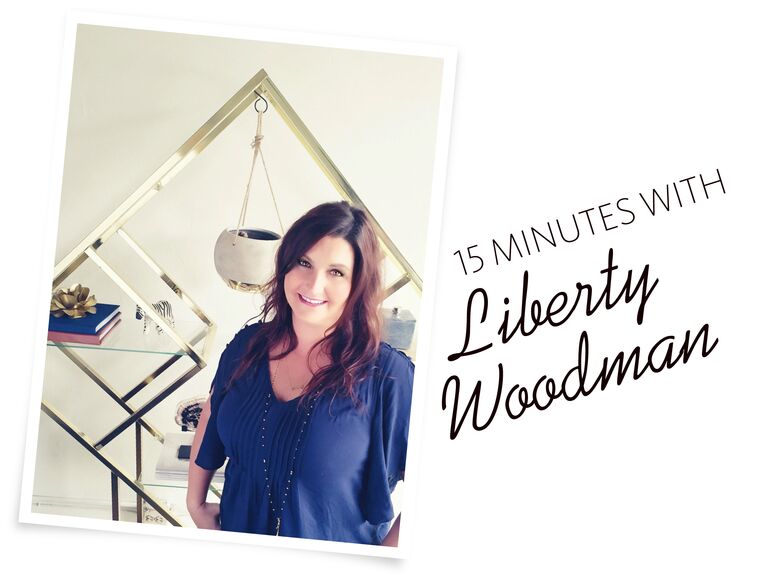 Liberty Woodman of Lady Liberty Events knows weddings. The California-based chef-turned-designer has an eye for the details and a passion for thinking outside the box. Her weddings are totally representative of the couple and have at least one wow-element that keeps guests marveling long after the last dance (exit tambourines anyone?). We sat down with Lady Liberty to get the scoop on her favorite details, the etiquette rule you should never break and the one piece of advice she gives all her couples (and we couldn't agree more).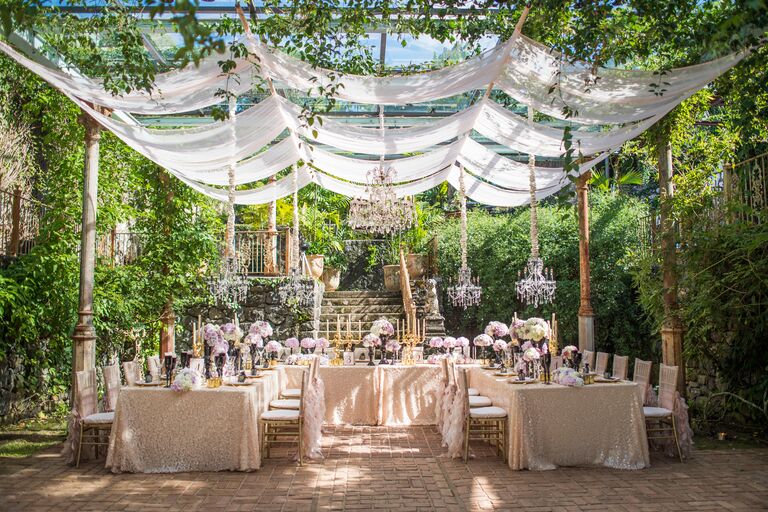 How did you get started in the business? Did you always know you'd be an event planner?
"I actually started as a private chef after completing Le Cordon Bleu in London and doing a year of training in Paris. Shortly there after I started a catering company. I realized the more events we did, I was more drawn to the tablescape and overall ambiance. I always went the extra mile to provide each client with special touches that surpassed the expectations of a chef or caterer. For me, everything is in the details and there is no such thing as a minor detail. My shift into wedding/event design and coordination was so natural. Having a significant backbone for the back of the house, I learned that I had the rare privilege of knowing how all aspects of an event are run…down to the nitty gritty. Growing up, my mother was always hosting or helping friends with their parties and she would always do the unexpected—the invitations, the décor, the entertainment. I remember I used to think she was nutty but would always help her get these parties together. It's clear now that she was always thinking out of the box and her ways definitely stuck with me because that is something I pride myself on when planning and designing weddings with my clients."
What's behind the name of your business (I'm an anglophile and dying to know)?
"Well, being that my name is Liberty (yes it's my real name!) I knew I wanted something that had my name in it that wouldn't be easy to forget. So Lady Liberty Events was born. The funny thing is we have so many clients and vendors who initially think my name is Lady. I always get a good giggle when that happens."
What detail is your favorite to plan (stationery, food, the entertainment) and why?
"I love it all! But if I had to pick one of my favorite things to plan, it would be designing custom installations, and then actually bringing them to life. Whether it be the ceremony backdrop, cocktail and reception bars, the guest book or escort card display, a stage backdrop or façade, etc... it's one of the most exciting parts of the planning process for me. When we create a custom installation, it is always something that represents both the bride and groom or the overall vibe they have decided to create. It allows for a surpassed level of creativity that results in a unique addition to their wedding that always gets guests talking."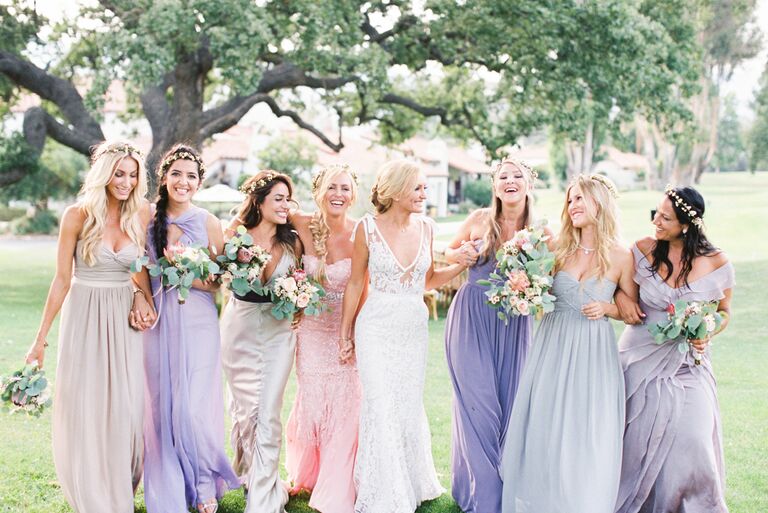 What is the one piece of advice you give couples early in the planning stage and why?
"Don't ask everyone for his or her opinion. Of course brides and grooms want to share specific details with their friends and family, but when the input isn't what you were expecting, you start to question what you truly love or are drawn to. Everyone has their own style and preferences and this is the day you get to express yours. This is your day… and while its always important to consider your guests; the bouquet that you have been dreaming of or the song that means the world to the two of you, shouldn't be swayed by what your bestie's sister thinks. Plus, its always nice for them to arrive on the big day and not know all the details they are about to take in."
Any etiquette rules you think are worth breaking?
"I strongly feel that in this day and age every couple can make their own rules and start their own traditions for their special day. I also think that its important for couples to know that parents of the bride are no longer "required" to host the wedding. Its totally acceptable for both families to host and we have been seeing a lot of brides and grooms pitching in or taking on the financial responsibility when they can."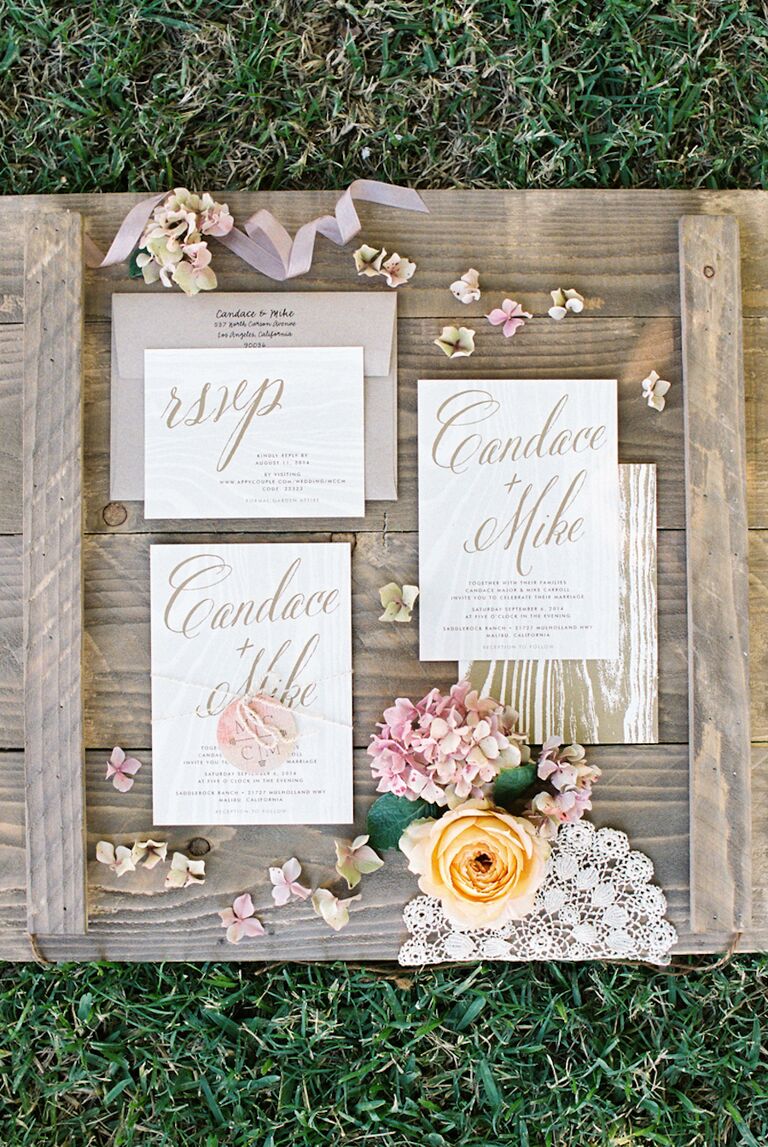 Any you believe should never be broken?
"In regards to a "rule" that should never be broken…. Always send an invitation to the guests that have let you know that they can't attend after they received their save the date! And if you have a "B" list of guests make sure to send out their invitation well before the RSVP date so that they don't know that they were on the second round of invitees!"
Band or DJ?
"Both! If you have the budget for a band, we always love working with bands that have a DJ as well. This way you get the best of both worlds… they feed off of each other giving you so many elements and options that neither can provide alone. Getting the live aspect of the singers and musicians and also getting to dance to songs that the entire band may not be able to play is always a win-win. They can take turns performing and playing all of your favorite tunes and helps keep the content more varied. The best is when a band plays along with the DJ creating a unique performance that can usually get the guests that are glued to their seats up onto the dance floor! This also helps when the band takes a break, you don't end up feeling like the whole party has to stop too."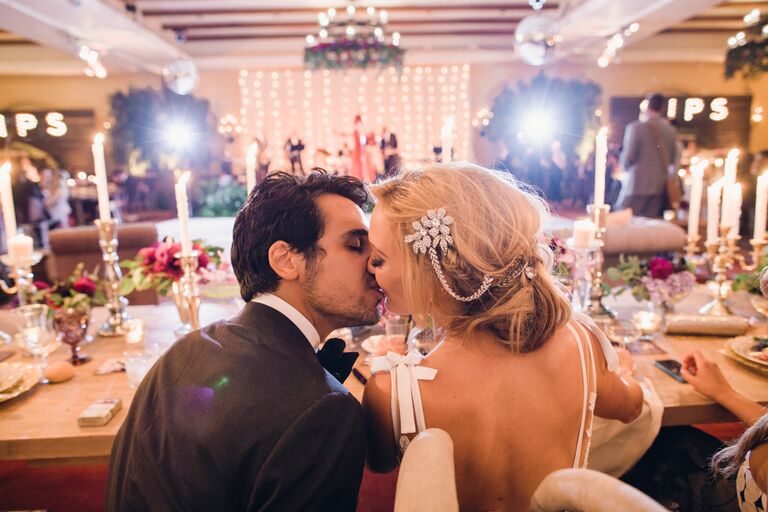 What is the one detail of a wedding reception you wish more couples focused on?
"It's a toss up between the timeline/flow of the evening and lighting! The timeline of the evening is key to keeping your guests happy and entertained. It's so important to control the flow from start to finish, otherwise people begin to depart before some of your main events have been revealed and then you start to feel rushed at the end of the night. You have to keep in mind when your guests will be hungry, thirsty, tired of sitting, ready to get their groove on, ready for a break, hungry again, etc… Considering your guests from pre ceremony to your send off is the best way to ensure a well executed day! Lighting is also KEY. Its generally the element that gets most overlooked because you don't realize that the photo you pinned and love looks like that because it has the perfect lighting. You can basically create any ambiance with lighting. If you can't splurge for the fancy chargers or table linen you had your heart set on, the right lighting can make anything look better. It's also really important to incorporate "guest lighting" providing an overall glow that makes everyone look sexy. No filters needed on those selfies when done properly!"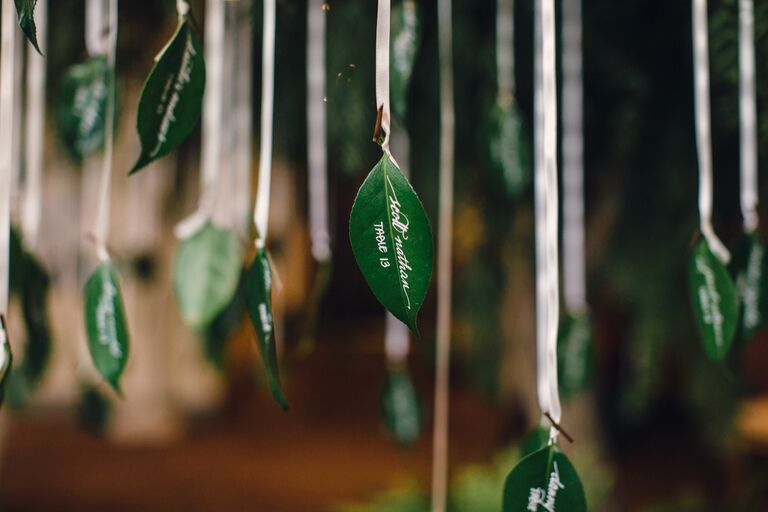 What's the best kind of wedding favor?
"There are so many options now a days. I think that people love having something that says their (the guests') name on it. Whether it be a creative escort element or place card that they are excited to display and can look back on the wonderful day of celebrations. For example; Laser cut place cards, fresh leaves or candles with their names hand calligraphied on it. I always try to incorporate something that I think people will want to hold on to and wouldn't dream of leaving it on the table--both the ladies and the gents. With that being said, photo-booth pictures or flip books provide a triple purpose; as a guest book, interactive activity, and a favor that I'm not sure will ever go out of style and are always a popular spot at the reception!"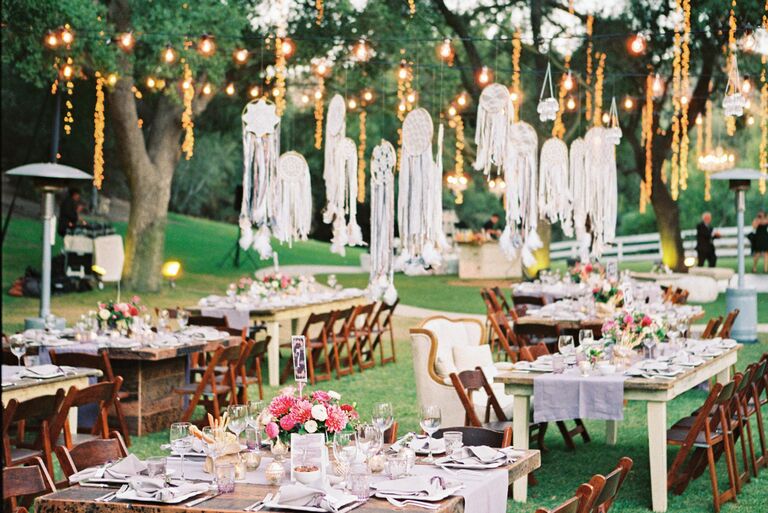 If a couple isn't into wedding cake, what would you suggest as an alternative?
"We do have couples that don't care much about cake and so we do a smaller but stellar cake display for them to cut into. However we are working with a couple that wanted something other than a cake to cut because they really just don't care for it. Finding that they both love gummy candies, in lieu of a cake, a 3ft tall 25lb gummy bear with a custom acrylic cake topper will act as their wedding cake; surrounded by an assortment of gummy candies that guests can make goodie bags from. So excited to see this one in action!"
Any favorite wedding venue or destinations to say I do?
"Destination weddings are a fantastic way to show off and share your favorite places with your guests. I feel that selecting a location is very personal to the couple and results in a weekend long celebration filled with love. Sonoma, California (wine country) has some gorgeous estates and properties that are perfect for weddings. With miles of lush vineyards acting as a stunning backdrop it's difficult not to be swept away by the surroundings. It's a perfect area for any wedding style whether you prefer rustic barns, romantic vineyards, contemporary art, to hidden wine caves. There are so many phenomenal restaurants, charming hotels, and wineries galore, providing plenty of weekend activities to keep your guests engaged. I also adore Haiku Mill in Maui, Hawaii. It's a stunning hidden plantation that is ideal for an intimate wedding. While people generally go to Hawaii with a beach wedding in mind, this place is small slice of heaven. The main area is surrounded by moss covered stone and lush foliage, making your guests feel as if they have been transported to a secret garden. If you are looking to have a romantic and dreamy celebration, this is the place."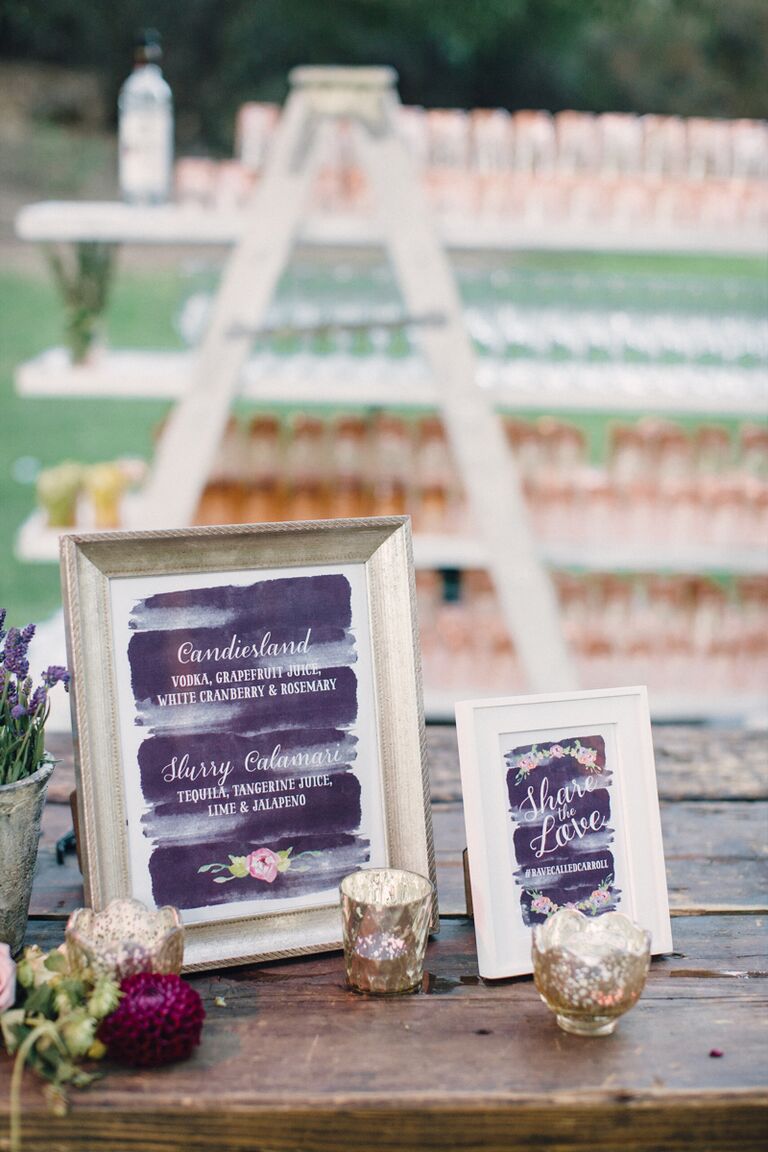 What are some ways couples can personalize their wedding?
"If you are open to breaking the mold of what you consider a "traditional" ceremony, you can start your celebration of love by truly personalizing your ceremony and vows. Appointing a very close friend or family member to officiate your wedding, who knows the two of you really well, is a perfect way to ensure a truly heartfelt (and most likely entertaining) ceremony. Keeping your guests engaged and inspired during your nuptials is a wonderful way to start the celebration. We are also big fans of specialty cocktails and having the Bride and Groom name them for both the cocktail and reception bars. This provides a personalized touch to the areas that guests visit the most through out the evening.
What are your favorite things to include in a welcome bag?
"Since welcome bags usually signify out-of-towner's, custom itineraries outlining the pre and post activities are always a helpful insert. Some of the couple's favorite treats or snacks are sure to be a big hit and much enjoyed. Mini bottles of alcohol with a mixer and/or soda, attached with a pre wedding cocktail recipe, is always well appreciated (we have even adhered mini bow ties and tulle veils to the bottles to dress them up as a bride and groom!). When it's a destination wedding and ALL the guests are receiving a welcome bag, so we love creating custom temporary tattoos for the guests. It's always a good laugh to see everyone sporting tattoos on the big day."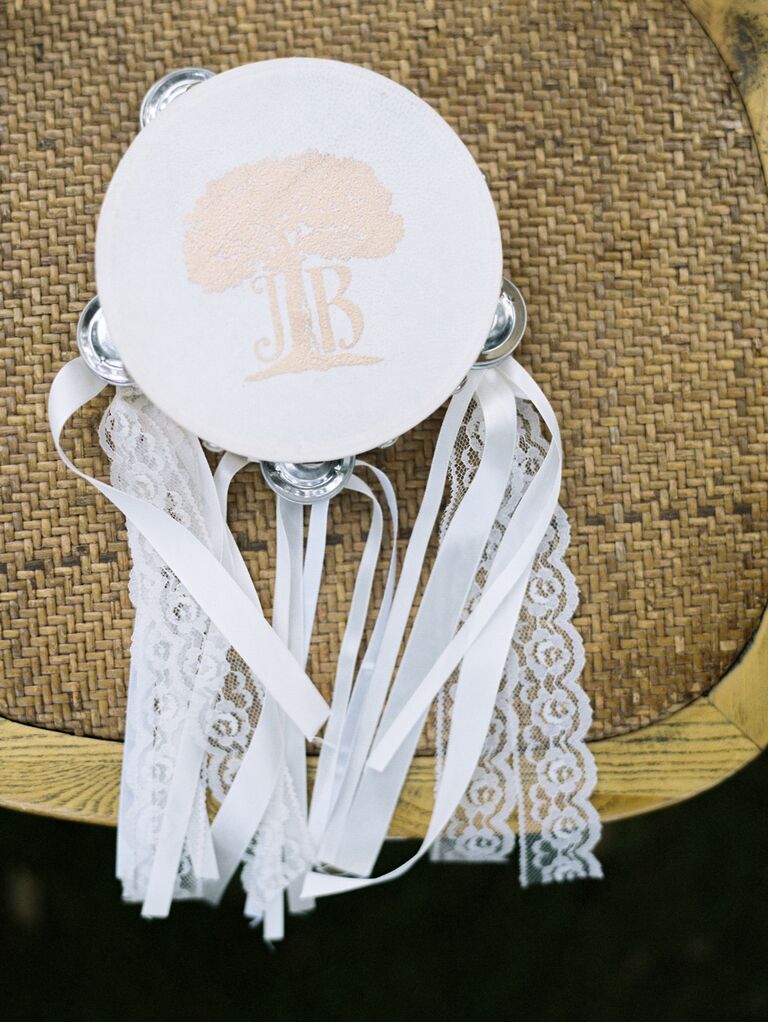 Any creative ideas for the send off?
"While sparklers will be a forever fun and sparkling exit, making some noise for the bride and groom can be very exciting. We once had tambourines, that we embossed with the couples monogram accented with lace and satin ribbons, for guests to shake as the couple exited their ceremony (would also be great for a grand exit). Everyone got so into it and played with them for the rest of the evening (and ended up as a great keepsake). For a formal end of the celebration send off, we love when the bride and groom leave with a bang… a confetti bang that is! Hidden confetti canons that blast off as all of the guests gather around the newlyweds before they depart is a sure way to close out your magical celebration!"