This Is When to Start Wedding Dress Shopping
Find your dress shopping sweet spot based on your planning timeline.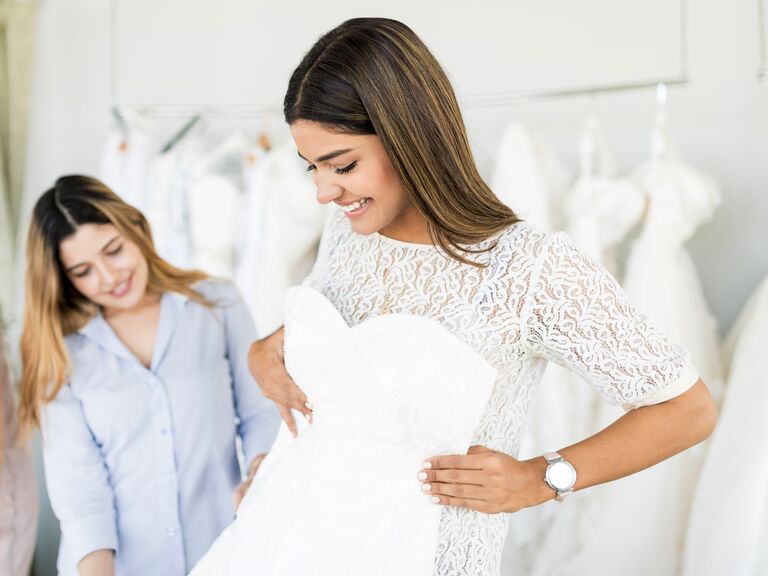 istock
How soon is too soon, and how late is too late to start shopping? Seriously, is there a right time to find your wedding dress? The truth is, when you begin wedding dress shopping depends on a few things, including your personal dress vision (glam or classic?), your engagement timeline (do you have two years to plan or four months to get cracking?), and, finally, your desire to go (if you're chomping at the bit, don't torture yourself—get started!).
Typical Wedding Dress Shopping Timeline
As a frame of reference, we typically recommend brides begin their dress hunt nine months to a year before their wedding date. (Keep in mind, our latest Real Weddings Study reports the average length of engagement to be 14 months). This is the perfect sweet spot (in our humble opinion)—kind of the Goldilocks of dress shopping timelines—for a few reasons. On the front end, it gives you plenty of room to breathe after your engagement, and then take your time looking for dress inspiration. On the back end, it allows time for multiple bridal salon visits, custom details, fittings, alterations, unforeseen fixes or even to change your mind (it happens).
Start Dress Shopping ASAP if....
You're Getting a Custom Wedding Dress
You particularly don't want to procrastinate on the shopping process if you wind up ordering a bespoke dress—a gown that's tailor-made from scratch, just for you. It can take several months for the dress to arrive and for the salon to make alterations, so it pays to give yourself time to shop at a comfortable pace and leave plenty of leeway for preparations.
You're Getting Married Really Soon
On the other hand, not everyone has the luxury of time when planning their wedding. If you're tying the knot more like three to six months after getting engaged, our advice is simply to get started as soon as you can. There may not be time to request custom lace sleeves, but there will definitely be enough time to find an existing gown, with the details you love, that only requires a few alterations to fit your gorgeous figure.
You Can Wait to Start Wedding Dress Shopping if....
Getting married in, like, two years? Feel free to wait until closer to your date (again, 9 to 12 months out) to get started. You're more than welcome to jump right in if you want to, but there are a few potential pitfalls of starting too soon. If you buy a wedding gown now, you might need to store it (which could be a pain if you chose a full skirt and have a studio apartment). You may be able to have it stored at your seamstress' or at the salon though, so ask about this possibility. Also, remember that a whole new wave of dress collections will come out next year—something to think about if you're prone to changing your mind or love a timely trend. Consider, too, what you're body is currently going through and how any changes could affect your dress choice—the last thing you want is to buy a dress too soon and spend a fortune on alterations. And one last thing, by delaying your dress shopping, you can plan to save money during the first year of your engagement then splurge a little on your dream dress when the time comes.

Head to The Knot Marketplace to find bridal salons near you.