The 15 Best Real Weddings of 2015
From mountain lodges to city rooftops, our picks for the top 15 weddings of the year included classic cars, surprise performances and customized high-tops.
With styles ranging from classic to contemporary, boho to tech, 2015 offered plenty of jaw-dropping details and stunning wedding venues. What really gave us a lasting impression was just how innovative couples can be when it comes to personalizing their wedding, like a first dance to a Turkish song or quilted fabric photo booth backdrop. As one bride told us about her big day: "Personal touches help you remember your own unique and special love." With that in mind, here are our picks for the best weddings of the year.
Best Collegiate Wedding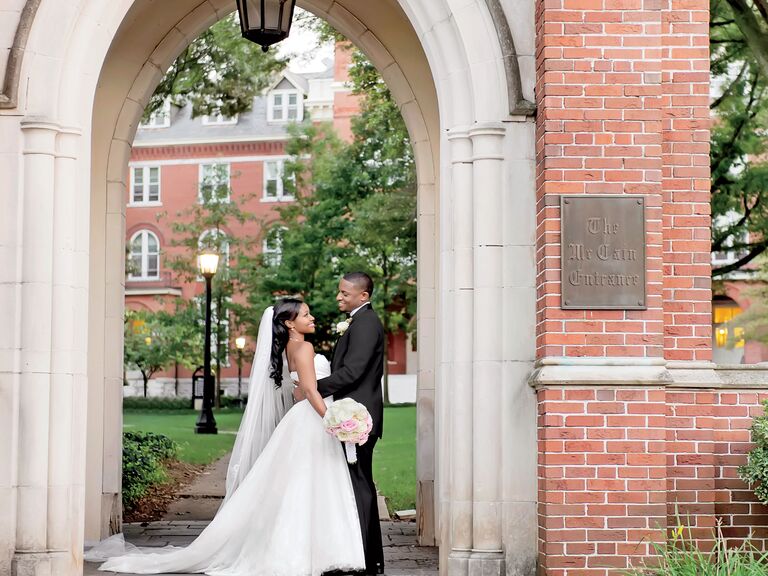 Aimee and Larry said "I do" in an antebellum-style hall of Agnes Scott College, giving the entire Southern-themed wedding a bit more charm. Using a unique double-X arrangement for the reception tables, the couple made a traditional space appear contemporary, and kept it personal with porch swings and Lowcountry cuisine, like Charlestonian she-crab soup.
From the Album: A Romantic, Glam Wedding at Agnes Scott College in Decatur, Georgia
Best Classic Wedding
The antique Rolls-Royce says it all: Alex and Brian's wedding was one classy affair. Voluminous pastel blooms and crystal chandeliers transformed Alex's parents' backyard into a dreamy wedding venue, complete with a pastry tent stocked with the couple's favorite Chicago treats. "It was so special to say 'I do' in a place that already had so many wonderful memories."
From the Album: A Classic Wedding at a Private Residence in Barrington Hills, Illinois
Best Preppy Wedding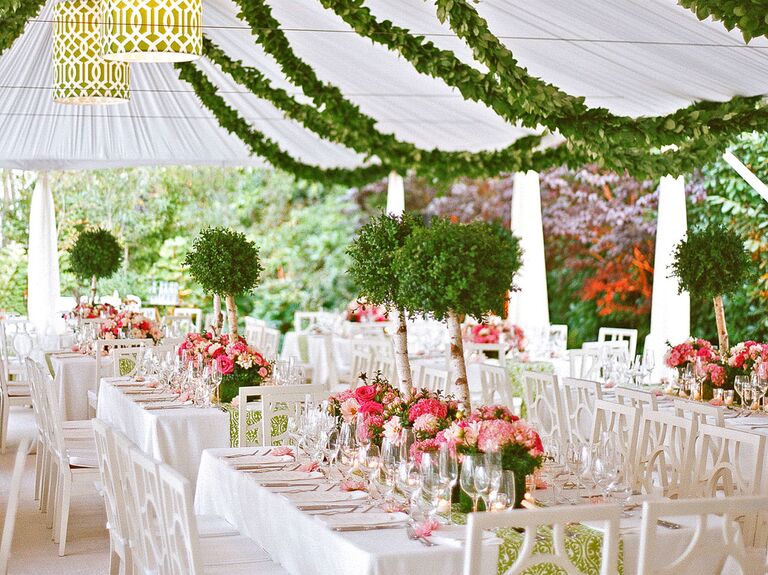 Inspired by Father of the Bride and the preppy patterns of designer Lilly Pulitzer, Alyssa and Jason threw a garden wedding at Alyssa's family's home. Hanging garlands and cheerful hues of hydrangeas set the mood, and the couple even filled the pool with rose petals and floating candles. It became one giant centerpiece once the sun set!
From the Album: A Preppy, Lilly Pulitzer-Inspired Wedding at a Private Residence in Atherton, California
Best Color Palette Wedding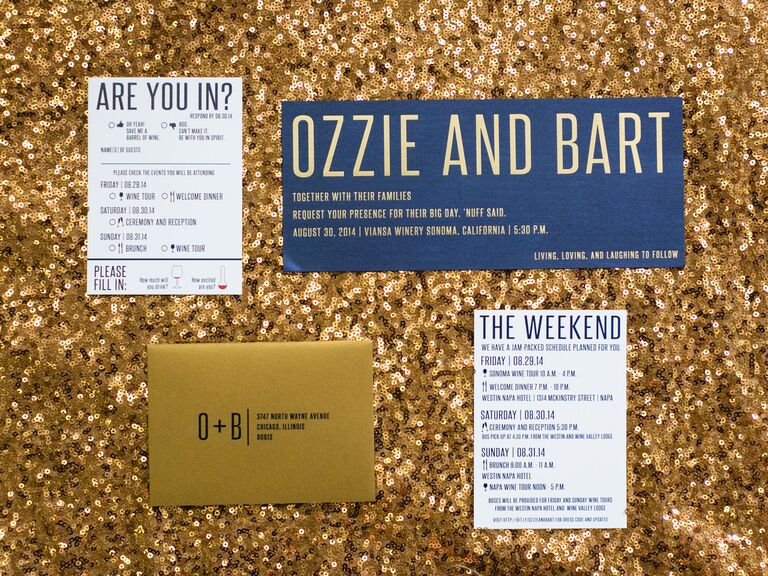 Bart and Ozzie landed on a color scheme of navy and gold because it was the perfect representation of their rustic-meets-modern style. "Bart is a to-the-point-kind of guy, and I'm all about over the top!" Ozzie says. "We had to 'manly' glam it up. It was the perfect mix of both our worlds." Contrasting gold accents with wood tables and brushstrokes of gold on the navy cake were a few ways the couple injected personality in the winery estate. Oh, and did we mention the life-size poster of Beyonce?
From the Album: A Bright, Blue and Gold Wedding at Viansa in Sonoma, California
Best Theme Wedding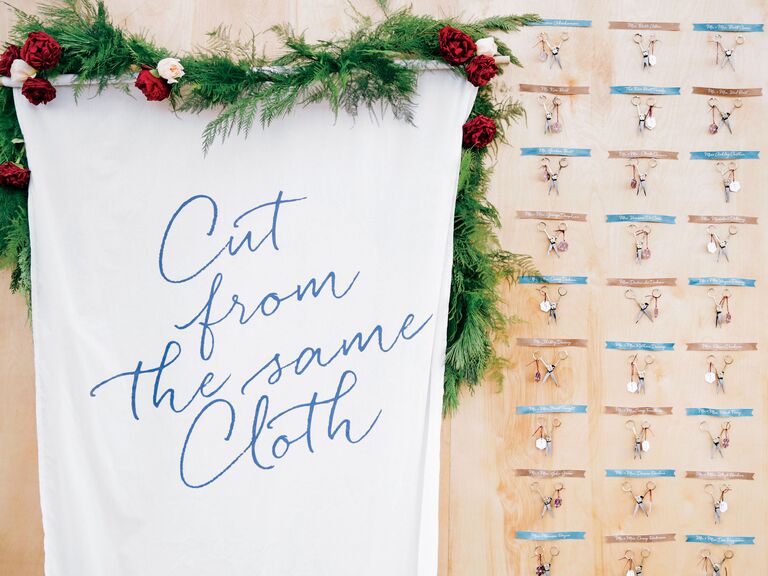 Carlie and Nate often hear from friends that they're "cut from the same cloth." Naturally, that phrase inspired their entire wedding, which included fabric motifs in bold colors. Guests found their seats via gold tailoring scissors, and a quilt made by a friend took the place of a guest book, with friends and family writing messages on it.
From the Album: A Chic, Themed Wedding at L'Auberge Del Mar in Del Mar, California
Best Formal Rustic Wedding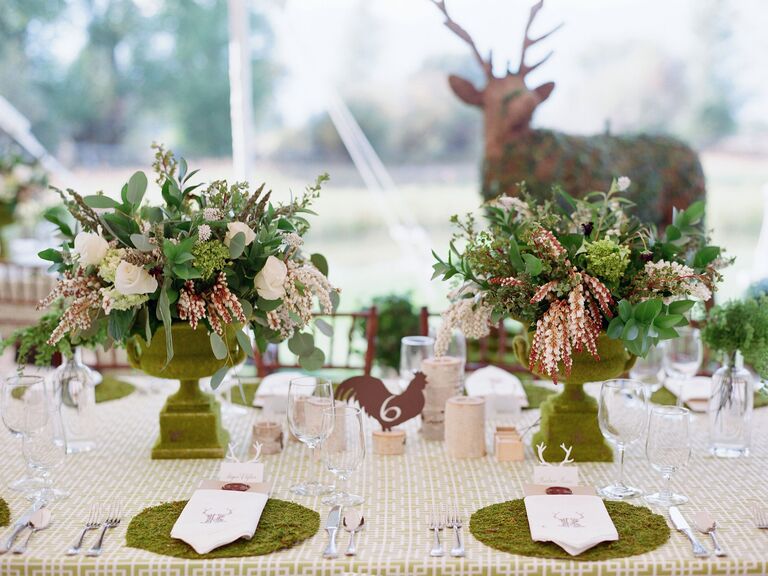 An organic color scheme of green and white, along with rustic wood details, highlighted the beauty of the western surroundings at Hallie and Zee's September wedding. The couple, who met in Jackson Hole, sought to show their guests just how amazing their piece of Wyoming is, and even strategically placed the tent on the golf course venue's 13th hole to guarantee the best vistas. "I don't think a better view of the Tetons exists," Hallie says.
From the Album: A Formal, Rustic Wedding at Jackson Hole Golf & Tennis Club in Jackson, Wyoming
Best Ranch Wedding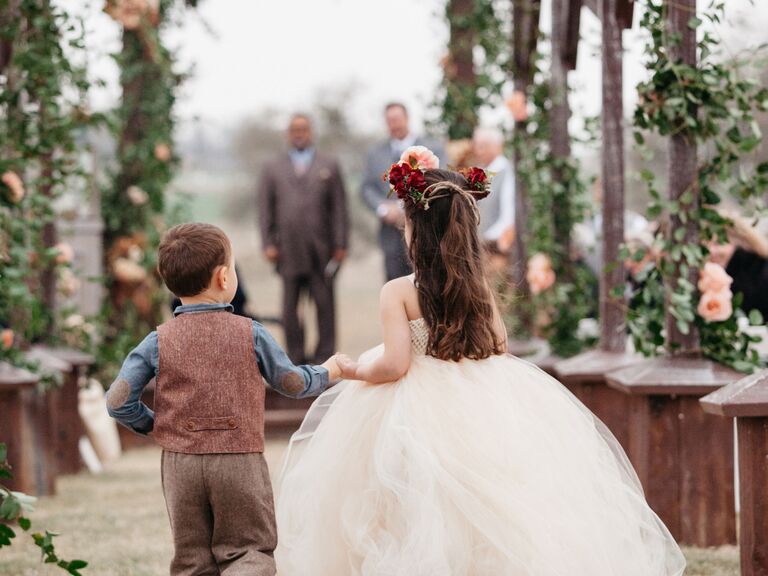 Jessica and John went all out Texas for their laid-back affair, incorporating a biscuit truck, pie station and sparkler exit into the wedding day. Pantone's color of 2015, Marsala, made an appearance in the bride's bouquet, an ode to the November date. Despite having wedding industry titans as her planning crew, Jessica insisted on DIY-ing some of the details herself!
From the Album: A Fall Wedding at Willow Creek Ranch in Clerburne, Texas
Best Party Wedding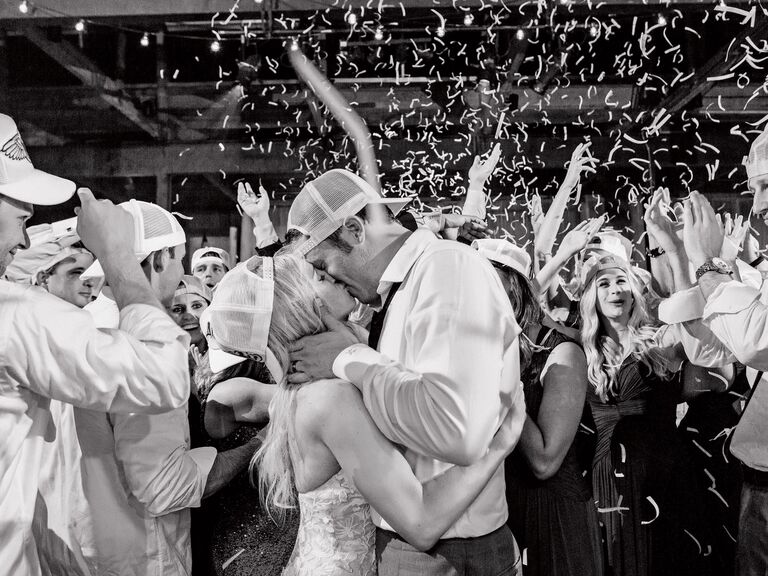 Kelly and Matthew had one goal for their wedding day: to continuously surprise and delight their guests. Mission accomplished. Custom airbrushed trucker hats, Nike sneakers for the after-party, black lights on the dance floor and famous Atlanta food truck The Varsity all made this wedding one memorable shindig. Good thing the couple stocked the goodie bags with Blowfish hangover remedies!
From the Album: An Over-The-Top Wedding at the Foundry at Puritan Mill in Atlanta, Georgia
Best Winter Wedding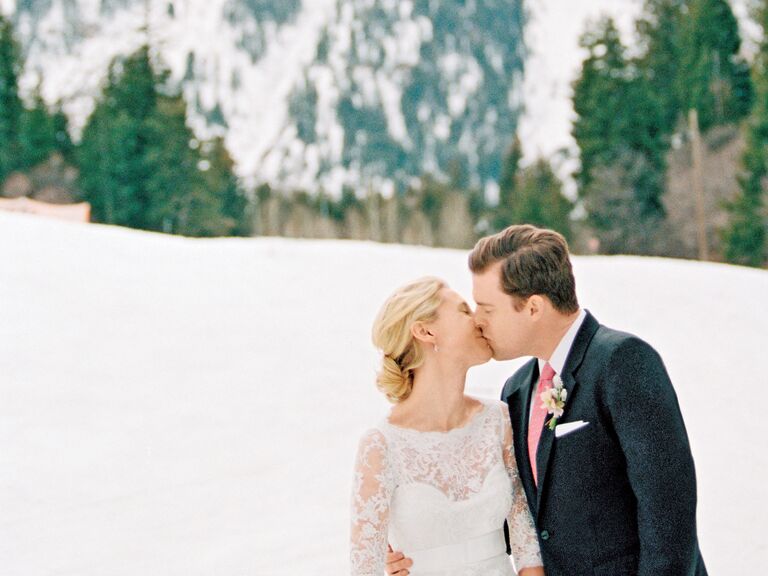 Since Andy proposed to Kristin while skiing in Utah, the couple knew a winter wedding at a ski resort would be the unique wedding they hoped to throw. The couple welcomed guests with a popcorn bar and showing of Aspen Extreme in Sundance's historic screening room, where movies are shown during the film festival. On the wedding day, wildly unkempt bunches of flowers and tall taper candles warmed the wood-paneled room of the lodge, where the couple married in front of a stone fireplace.
From the Album: A Winter Wedding at Sundance Mountain Resort in Sundance, Utah
Best Metallic Wedding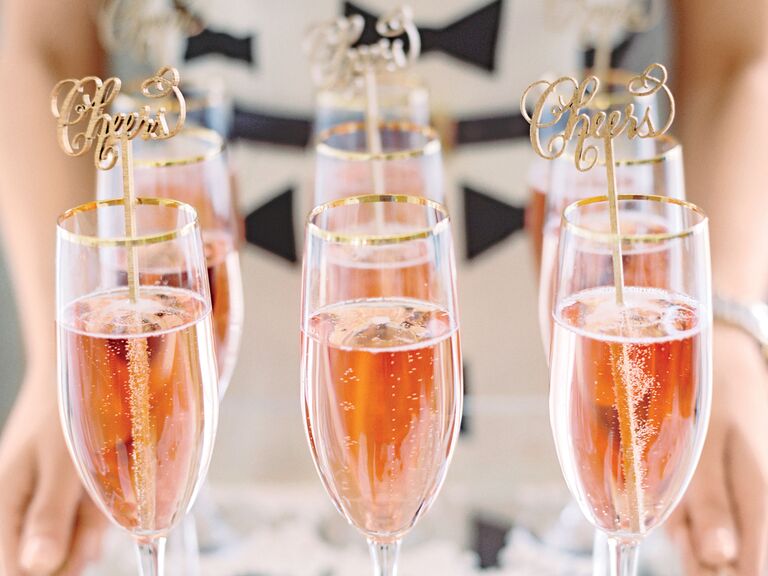 Even the cake shimmered at Lauren and Daniel's glamorous March spring wedding. Using textured linens, gold flatware, gold-rimmed chargers and white peonies, the couple made a mostly white color scheme look anything but boring. Add to that the gold "cheers" drink stirrers in pink champagne!
From the Album: A Chic Metallic Wedding at the Hay-Adams in Washington, DC
Best Cultural Wedding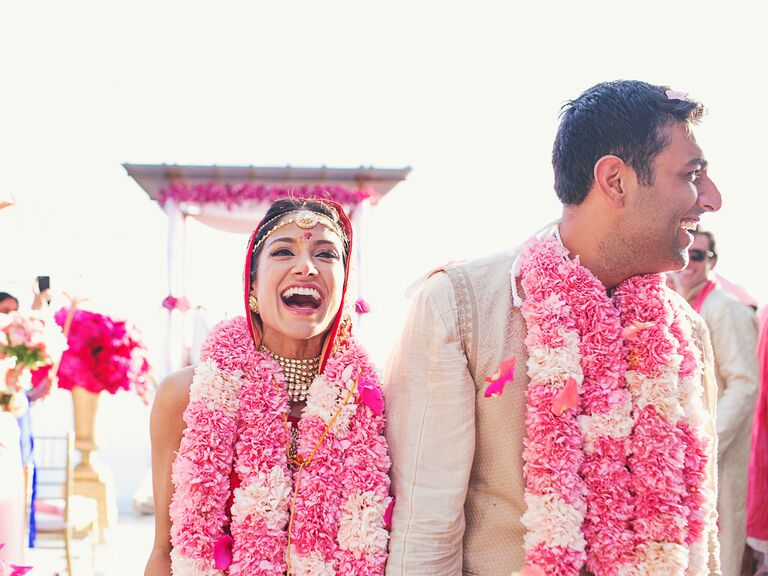 Nonstop entertainment was the theme for Melanie and Neeraj's multiday Indian wedding celebration in the Caribbean. "We wanted this to not just be a wedding but a life experience for everyone who attended," Melanie says of the countless outfit changes, fireworks and dance performances. The reception even turned into an impromptu pool party, with guests jumping into the infinity pool fully clothed in suits, gowns and saris.
From the Album: An Extravagant, Glamorous Indian Wedding at Amanyara in Turks and Caicos
Best Destination Wedding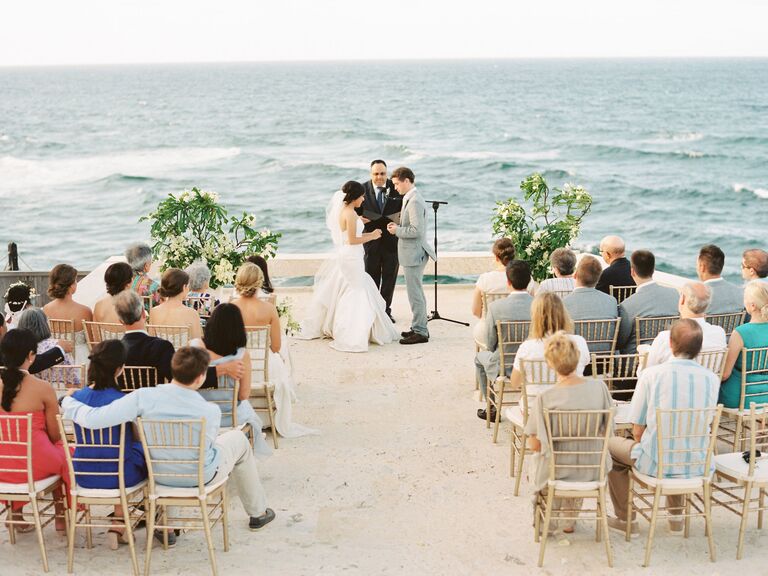 Seeking an adventure for their friends and family, Michelle and Geoff jetted to the Dominican Republic for a weekend destination wedding filled with fun activities. The weekend commenced with an elaborate welcome dinner and culminated with a bonfire on the beach, complete with fire dancers and live music. "Looking out over the ocean as our friends danced with pure joy was a surreal experience," Michelle says.
Best Tech Wedding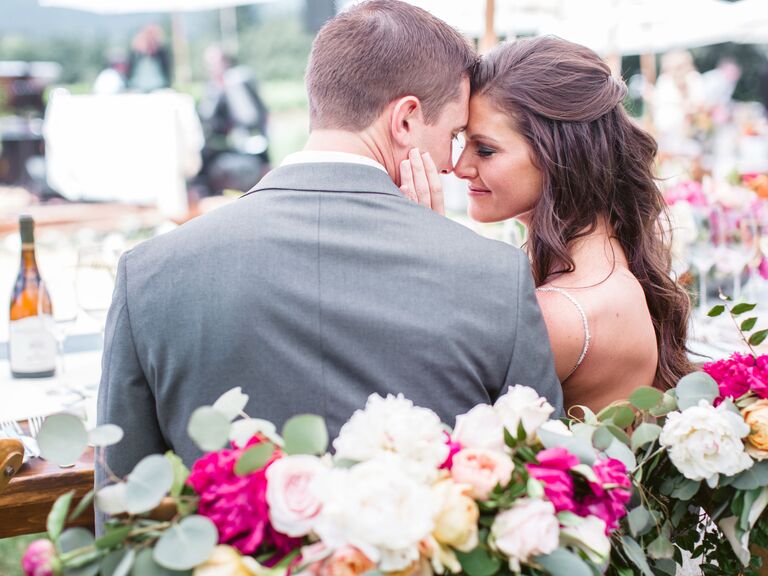 Every moment of Samantha and Taylor's wedding day was captured on video from all angles and altitudes, thanks to a high-tech drone. And that's not all: A robot bartender poured drinks, groomsmen rocked 3-D-printed cuff links, and a smartphone charging station for guests catapulted this wedding into the future. Did we mention they're The Knot Dream Wedding 2015 couple too?
Best At-Home Wedding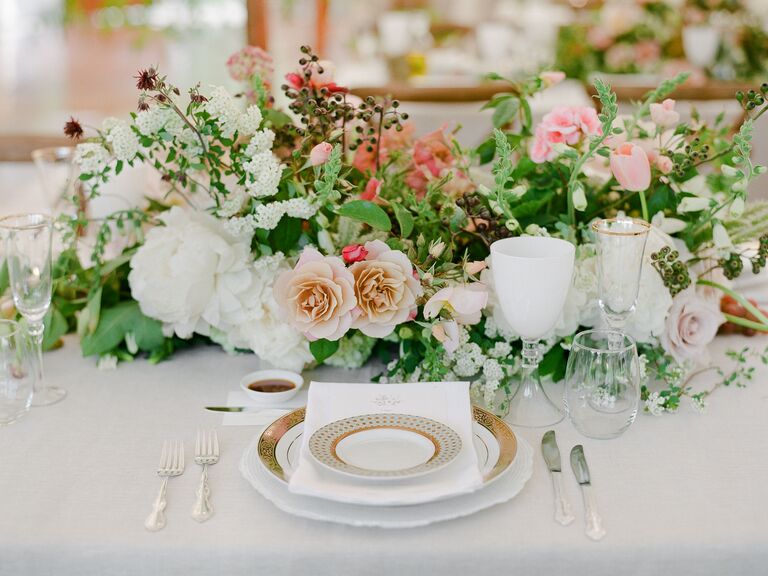 Lounges with antique sofas, Moroccan rugs, lanterns, woven ottomans and a Hookah pipe set the mood for Sarah and Paul's bohemian wedding at Sarah's family's home. Planner Xochitl Gonzalez drew inspiration from the contemporary architecture of the house as well as the couple's "Stevie-Nicks-meets-Bauhaus" vibe to transform the tented space into an earthy, Shavuot-inspired affair, with exotic splashes of North African flavor.
From the Album: An Elegant, Bohemian Wedding at a Private Residence in Greenwich, Connecticut
Best Intimate Wedding
An intimate guest list (just 26!) allowed Yoyo and Christopher to pull off some pretty cool details for their rooftop wedding overlooking St. Patrick's Cathedral in New York City. Guests gave toasts to the couple instead of gifts, and Yoyo didn't wear makeup or heels. Christopher even got to eat his favorite food: burgers. "It felt like the most luxurious, effortless, low-key dinner party we'd ever thrown," Yoyo says.
From the Album: A Stunning, Intimate Wedding at 620 Loft and Garden in New York City