Wedding Registry-Worthy Knife Sets You Need to See
Chosen by the pros at The Knot for our 2019 Registry Awards.
We have included third party products to help you navigate and enjoy life's biggest moments. Purchases made through links on this page may earn us a commission.
There's an old wive's tale that you should never buy a newlywed duo knives as a gift. We're guessing the fable stems from the idea that it could be a bad omen or sign of danger to come (or maybe that's just the true crime junkie in us talking), but honestly, we disagree. A knife set is the perfect kitchen tool to invest in when starting your lives together, so why not add them to your wedding registry? To make it a bit easier on you, we've sliced and diced our way through the competition to narrow in on our selects for the best knife sets for your home—plus the chopping blocks you can test 'em out on.
What to Look for When Buying a Knife Set
Given how important knives can be to your cooking, it's important to know what you're looking for while shopping. The best knife set may not be the one you're expecting – stainless steel may be more appealing at first, for instance, but you may find ceramic knives to be a better fit for your needs. As you peruse, be sure to keep an open mind.
The best kitchen knife set will include a chef's knife, a paring knife and a serrated knife. Options typically come in two types of materials: ceramic, which holds a sharp edge for longer than most other varieties, and stainless steel, which is more durable. Handles may be made out of wood, plastic, or metal. So long as it feels comfortable in your hand, you're probably on the right track.
In this article:
Best Knife Sets
When looking to invest in the best kitchen knife set for you, there are a few things you're going to want to consider. First, what is your cooking level? Are you cutting apples every so often or fileting a steak every night? Your answer will determine how many knives you need—and how fancy those knives should be. Need a bit more help? Read on for all the details on our picks for best knife sets of 2019.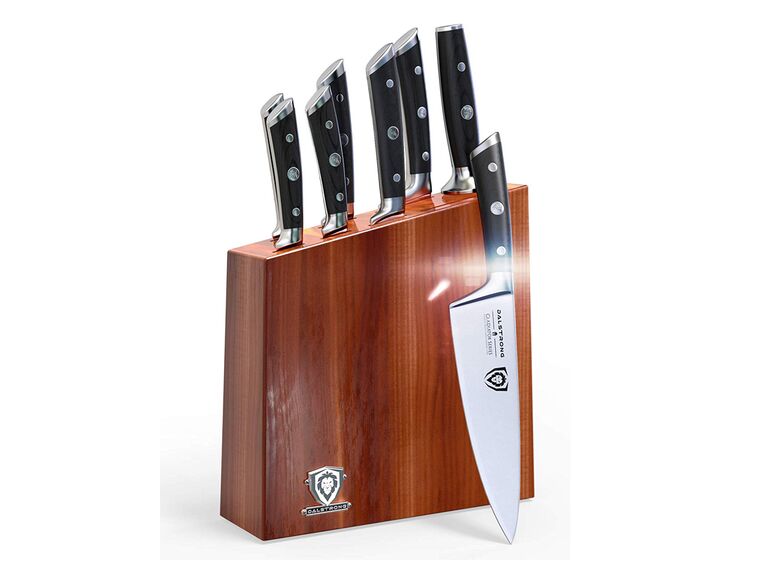 Editor's Pick: Dalstrong Gladiator Series 8-pc Knife Set, $300, Amazon.com
This Dalstrong block won our editor's pick for best knife set because it combines craftsmanship and crazy-sharp German steel blades to help you get (or gift) luxury at a reasonable price point. This set is a streamlined combination of all the kitchen essentials—a chef's knife, santoku knife (which has more of a flat blade than a chef's knife), carving/slicing knife, bread knife, utility knife, serrated knife, paring knife and honing rod (which helps to sharpen edges). Plus, they're all stored in a chic acacia wood block that will look great stove-side.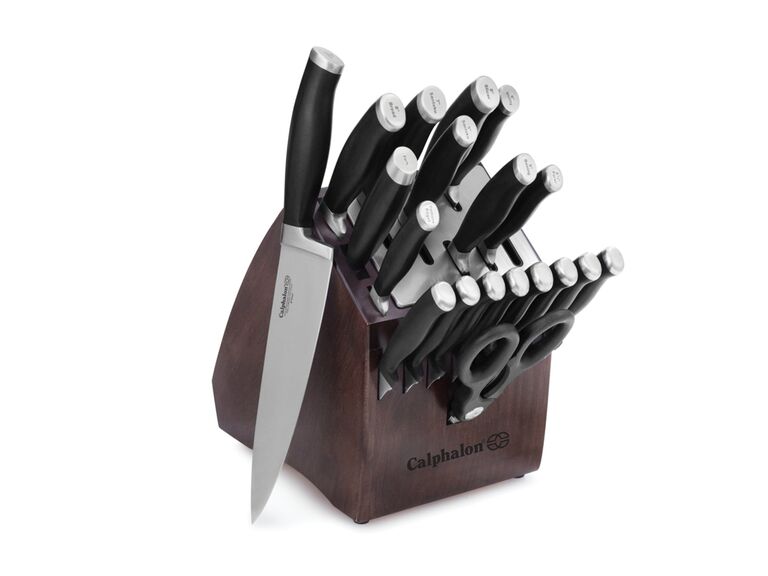 Couple's Pick: Calphalon Contemporary Self-Sharpening 18-Piece Cutlery Set, $260, BedBathAndBeyond.com
Our couples love products that do double—or even triple—duty. And their selection for a good knife set is no exception. Not only does this Calphalon block boast 18 (yes, 18!) pieces, with all the basics plus steak knives, but each individual hole in the knife block set features a built-in ceramic sharpener that will automatically sharpen your tools every time they're pulled out of the block. Genius!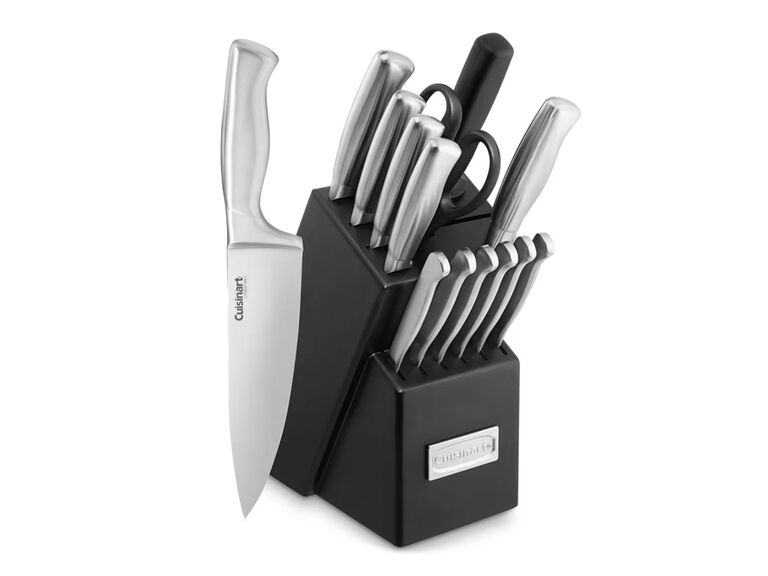 Best Stainless Steel Knife Set: Cuisinart 15-piece Stainless Steel Hollow Handle Knife Block Set, $44, Wayfair.com
Stainless steel knives are super hearty, so this next pick for best knife set wins all the points for durability. The stainless steel material stays precise, while a hollow handle makes for light, easy use. With 15 pieces, it includes all the styles you could need—a carving/slicing knife, chef's knife, paring knife, santoku knife, utility knife and steak knives. Plus scissors! All for a totally guest-friendly price of $44.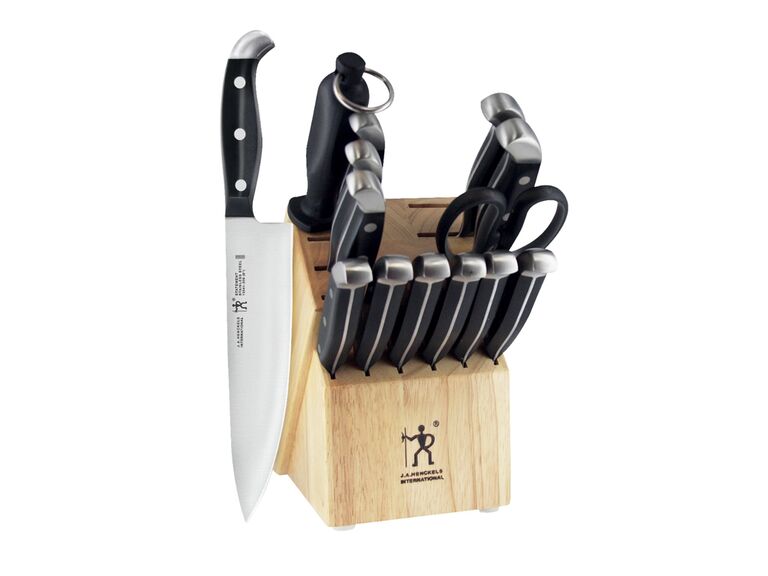 Best Basic Knife Set: J.A. Henckels Statement 15 Piece Block set, $88, Wayfair.com
For an all-around MVP knife set, you can't beat this block from J.A. Henckels. The company is well-known in the knife space for a reason—each piece is crafted with over 100 years of expertise and know-how, ensuring whichever style you invest in will be money well-spent. This traditional collection features stainless steel blades, triple-rivet handles and 15 pieces that are all dishwasher safe.
We selected this one as our choice for the best knife block set because of its blend of affordability, durability and ease of use. Keep it within reach and you'll wonder how you ever prepped meals without them. The edges are especially appealing, giving you total precision, no matter if you're dicing onions or slicing delicate sashimi.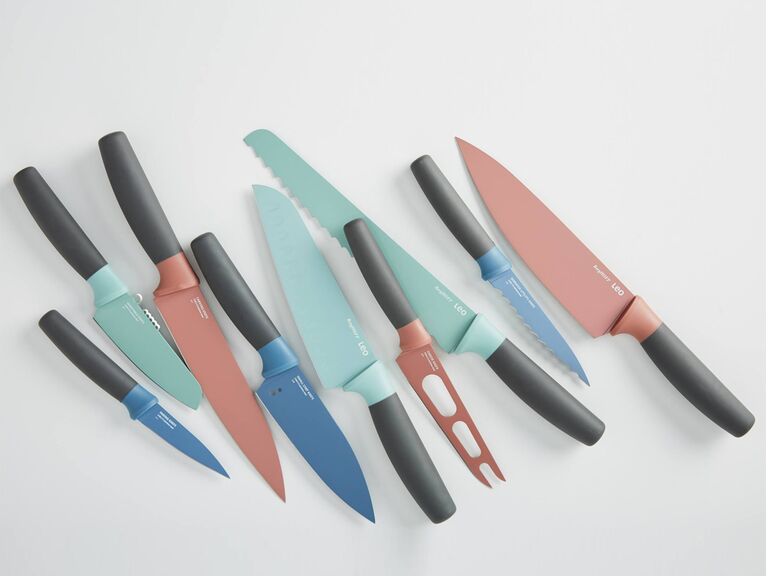 Best Colorful Knife Set: BergHOFF Knives, from $18 each, Anthropologie.com
Your knife set may not be a place you think you can pack in much personality, but one look at these colorful designs from BergHOFF and you'd know you were wrong. Their knives are a combination of a comfortable grip handle and sharp stainless steel coated in a slew of upscale colors. While you can't buy a complete set together, Anthropologie carries all the basic knife styles that will help you add to what you already own or compile a comprehensive (and colorful) set all your own.
Best Steak Knives
Can we all agree that there is literally no more frustrating experience than trying to cut a steak with a dull knife—or worse, a butter knife? Yeah, we thought so. Use your wedding registry to say goodbye to that problem once and for all by wish-listing a set of steak knives. We're helping you choose from the best steak knives out there for the set that will make your filet slice, well, like butter.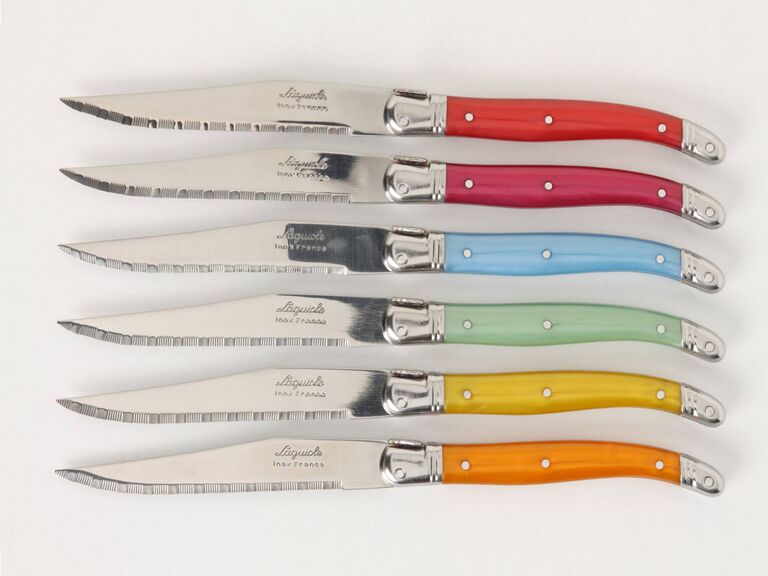 Editor's Pick: Laguiole 6-piece Steak Knife Set, $78, Anthropologie.com
Our editor's pick for best steak knives combine the pretty and the practical. Let's start with the practical, because boy are these Laguiole knives worthy. Made in the same village in France for over 150 years, they feature a serrated steel blade and PVC handle. And speaking of the handles, how cute are those? They're a fun mix of bold, bright hues, so steak night is pretty much going to be the most fun dinner you have all week.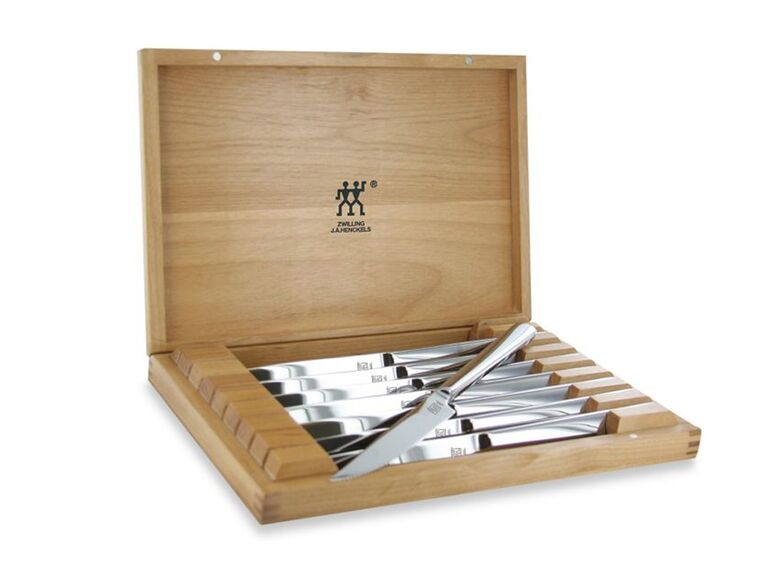 Couple's Pick: Zwilling J.A. Henckels 8-piece Stainless Steel Steak Knife Set, $80, BedBathAndBeyond.com
One way to really wow your dinner party guests? Break out your steak knives from a hardwood box as you're serving your roast. Our couple's pick for best steak knife set delivers on that wow factor, with eight premium 18/10 stainless steel knives stored within a stylish decorative box. They look beautiful and perform great, and really what more could you ask for? Not much.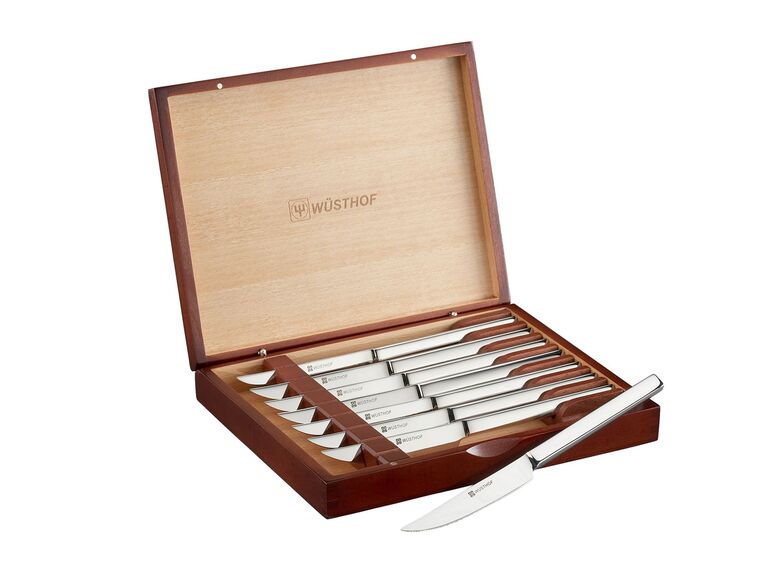 Best Stainless Steel Steak Knife Set: Wusthof Stainless Steel 6-piece Steak Knife Set, $60, William-Sonoma.com
These steak knives from legacy cutlery brand Wusthof pack in the luxury. Not only does the 18/10 stainless steel body and sharp serrated edges make for a very easy slicing experience, but thanks to their slim handle, they're easily disguised as just part of the rest of your place setting, meaning they won't mess with whatever gorgeous tablescape you've dreamed up for Thanksgiving dinner.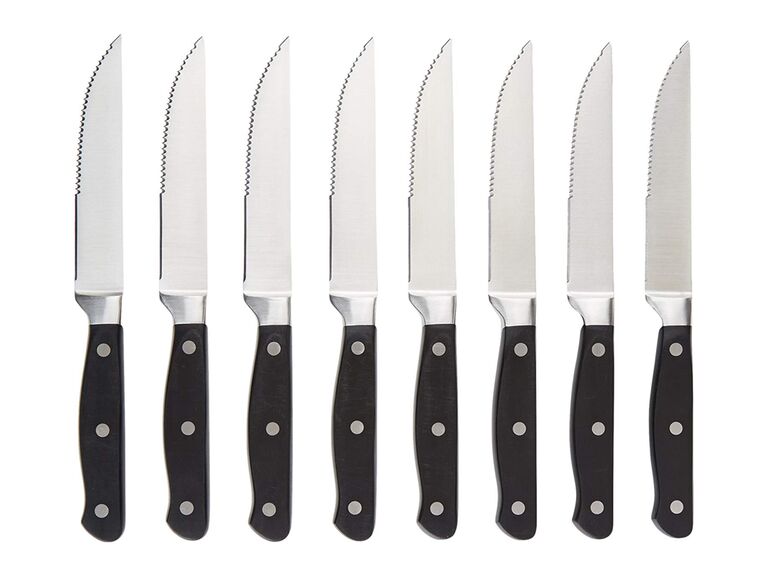 Best Budget Steak Knife Set: AmazonBasics Premium 8-piece Steak Knife Set, $14, Amazon.com
Leave it to Amazon to ace the game with stylish steak knives that come in on a serious budget. With their serrated edges and triple-rivet handles, they look like they're straight off the table at your favorite old-school steakhouse restaurant. And at just $14 for a set of 8, you can afford to wishlist enough for company around the holidays, too.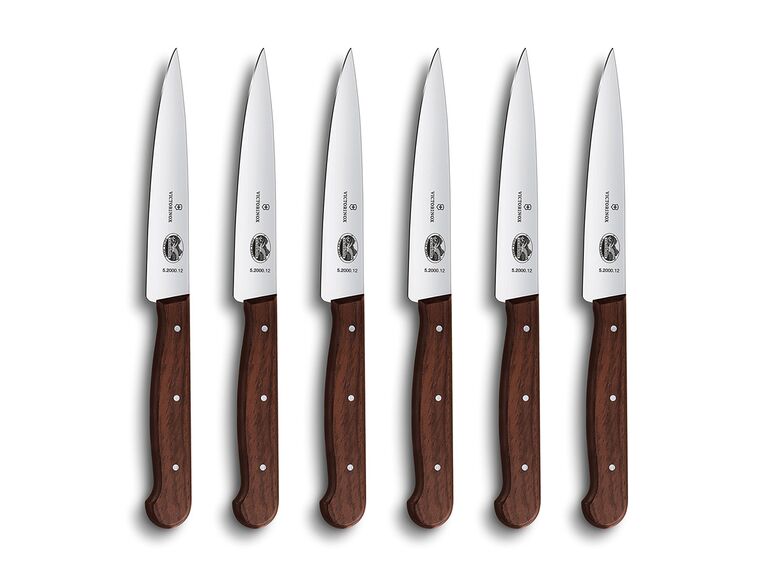 Best Wood Handled Steak Knife Set: Victorinox Swiss Army Rosewood 6-piece Steak Knife Set, $130, Amazon.com
Our last pick for the best steak knife category are so chic, you'll probably want to use them to cut up everything from steak to spaghetti. Made by Swiss brand Victorinox, each knife features a Rosewood handle and stainless steel blades that have been ice tempered to ensure they stay as sharp as they are right out of the box for years to come.
Kitchen Knives and Boards Cash Fund Ideas
One of the best things about getting married in 2019 is the ability to register for anything (and we mean anything!) you want. Here at The Knot, we want to make that as easy for you as possible, which is why we offer the ability to register for cash. It's a simple way to add the things you really want to your registry and allow your guests to contribute any amount they desire towards your goals. Into cooking? Here are some of our favorite cash fund ideas to get you going:
Editor's Pick: A cash fund for a knife skills class at Sur La Table

Want to feel more confident while meal prepping? Start a cash fund to earn money towards a knife skills class at Sur la Table. You'll hone your basic knife skills and learn all the proper ways to cut, from a mince and a dice to a julienne and a batonette. Sound like something you (and your fingers) would appreciate? Start your cash fund here.
Couple's Pick: A cash fund for an upscale steakhouse dinner
Splurge on a fancy date night out by starting a cash fun for guests to contribute to that will score you a high-end steakhouse dinner. We're talking the kind with red checkered tablecloths and an aged T-bone that would make Fred Flinstone proud. Is that your stomach growling? Start your cash fund here.