Women-Founded Companies to Support With Your Wedding
Turn your wedding into an opportunity for activism.
We have included third party products to help you navigate and enjoy life's biggest moments. Purchases made through links on this page may earn us a commission.
At The Knot, we believe your wedding isn't just a party—it's an opportunity to show who you are and what you value. One great way to do so is to be thoughtful about where you spend your money as you plan your nuptials. Whether you want to embrace businesses owned by women to support Women's Equality Day (August 26) or International Women's Day (March 8), or simply want to uplift women 365 days a year because that's important to you and your partner, these businesses are worth considering.
One of our favorite ways to support feminism throughout wedding planning is to use The Knot Cash Fund to bolster pro-women charities doing important work. Couples are also using their weddings as a form of activism by intentionally giving their business to companies whose missions they support (read: vendors who are women and other women-owned businesses). If you're hoping to spend a little more thoughtfully, we've rounded up women-founded brands to shop from as you plan your wedding. With everything from beauty collections to clothing lines to home goods, here are women-founded companies you can shop as you prepare for your nuptials.
In this article:
Pro-Women Charities to Register For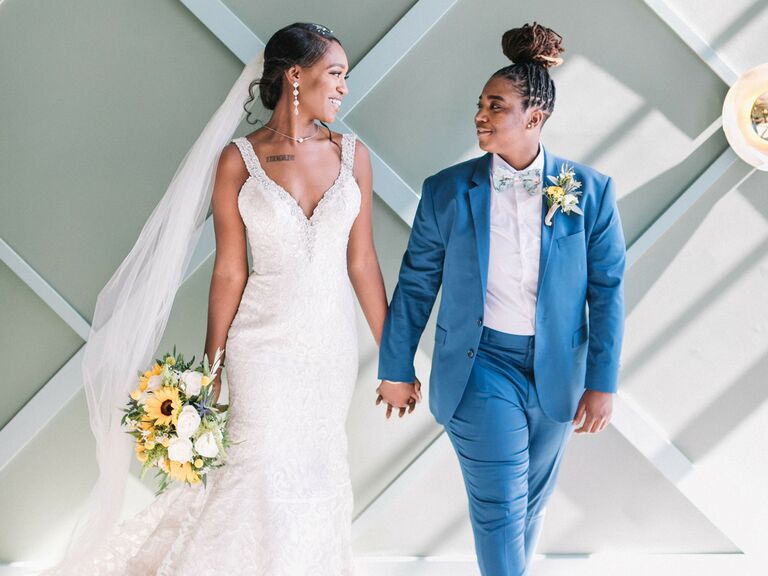 VOW: VOW is a remarkable charity campaign raising money for the Girls First Fund to end child marriage worldwide. Every year, 12 million girls are married before turning 18, cutting off their education and putting them at risk for violence and poverty. VOW funds local organizations all over the globe advocating girls' rights and standing up against child marriage at the community level.
Breast Cancer Research Foundation: The fight to end breast cancer is nonstop—and you can get involved via your registry. The Breast Cancer Research Foundation (BCRF) is committed to breast cancer research, prevention, diagnosis, treatment and survivorship, and is the largest private funder of breast cancer research. It's also the top-rated breast cancer organization in the US.
Girls Inc.: Girls Inc. has one beautiful mission: to inspire all girls to be "strong, smart and bold." Partnering with schools at the local community level, it offers long-term mentorship, a supportive environment and research-backed programs to help young girls know their worth, reach their full potential and pay it forward.
Glitz Inc.: Trans women of color are some of the most at-risk individuals in the country, and Glitz Inc. is working to change that. The organization houses and relocates people without stable housing and advocates and educates to ensure the health, wellness and inclusion of transgender people in our society.
Global Fund for Women: The Global Fund for Women was founded to support grass-roots, women's movements, and to champion human rights for every woman and girl. It finds, funds and supports women who are breaking boundaries through change and social movements.
Planned Parenthood: If accessible healthcare is important to you, consider registering for Planned Parenthood. The organization offers affordable and free healthcare to young women and girls who need it.
Step Up: Step Up encourages girls living or going to school in under-resourced communities to fulfill their full potential by empowering them to become confident, college-bound, career-focused, and ready to join the next generation of professional women.
UltraViolet: Want to see more women in office? Consider registering for UltraViolet, an organization made up of over one million people to drive "feminist cultural and political change." They're focused on improving women's quality of live and fighting for those who've been impacted by sexism.
Women for Women International: Women for Women International offers life-changing programs for the most marginalized women in countries affected by war and violence. Through Women for Women International, women are given the opportunity to learn how to manage money, take care of their bodies and use their voices for positive influence in their communities.
Women-Founded Beauty Brands
Ace Beauté: Niye Aniekan-Attang, founder and owner of Ace Beauté, noticed a lack of inclusivity in the beauty industry, so she created a brand that welcomed everyone. The gender-inclusive brand is best known for its ultra-pigmented eyeshadow palettes.
Adwoa Beauty: Julian Addo created this haircare brand to show the importance of embracing diversity within the beauty space. The best-selling products prioritize a happy and healthy scalp to help reveal your most beautiful hair.
Antipodes: Local New Zealander Elizabeth Barbalich created Antipodes after looking for more sustainable skincare solutions. Since her creation of the brand, it's become an internationally-acclaimed, celebrity favorite (used by Sam Smith, Cara Delevigne and more), that's still family-owned and -operated in New Zealand.
Billie: Georgina Gooley (co-founder of Billie) and her business partner both noticed that women were not only shamed for having body hair, but also forced to overpay for razors. So, they created one that works experly and is affordable. They've expanded their offerings from shaving essentials to body care, hair care and lip care.
Beauty Bakerie: Cashmere Nicole founded Beauty Bakerie to promote an alternative to the "bad-girl" images that young people are exposed to on social media. Sweetness is at the root of the brand—reflected in the top-rated, bakery-themed products.
Beautyblender: You've likely seen the iconic beauty blender everywhere on social media. Celebrity makeup artist Rea Ann Silva is the brains behind the product—and all of the other items the brand sells (like their popular foundation).
Beautycounter: Founder Gregg Renfrew is passionate about the growing movement to protect us from harmful chemicals that may be found in everyday beauty products. So, she created Beautycounter, an extremely clean beauty company that also fights for political regulation of the personal care industry.
Beia: Brittany Lo, esteemed wedding hairstylist and makeup artist, founded Beia to help empower women to practice self-love without any of the guilt. Her first launch? A clean, refreshing face mist that doubles as a hydrating setting mist.
Bomba Curls: Created by Lulu Cordero, an Afro-Dominicana, Bomba Curls celebrates curly hair. The products are made with organic super ingredients. They are a "green and clean" brand, meaning their products are non-toxic, biodegradable, sustainable and certified cruelty-free.
Bread Beauty Supply: CEO and founder Maeva Heim founded Bread Beauty Supply after working for several beauty companies. The brand is focused on creating items to help your natural hair shine (psst: check out their best-selling hair oil).
Briogeo: Nancy Twine founded Briogeo to create hair care for all. The cult-favorite brand offers all kinds of products that will help get your hair in tip-top shape for the wedding.
BYBI: Co-Founders Dominika Minarovic and Elsie Rutterford combined their expertise as skincare formulators and love of natural, clean beauty to create BYBI. With sustainability being a cornerstone of the brand, the brand has become one of the first carbon-neutral beauty brands and is currently implementing even greater steps to become carbon-negative by 2025.
Cocokind: Cocokind founder Priscilla Tsai started the company to help customers feel good in their own skin. Cocokind is focused on creating natural and accessible skincare products, but it also has its Impact Foundation, which gives grants to women founders. (Psst: 100 percent of profits will be donated to the foundation on March 8).
Coloured Raine: Loraine Dowdy, founder of Coloured Raine, made it her mission is to spread awareness about diversity within the beauty sphere. That's why the brand creates luxury-quality products at an affordable price made for anyone and everyone.
Covey: Supermodel and content creator, Emily DiDonato and Google Executive, Christina Uribe have launched the skincare brand Covey. The brand aims to break through the skincare clutter with its universal three-step system.
EADEM: Co-founders Alice Lin and Marie Kouadio founded EADEM to help fill the market for products specifically made for women of color. The duo has created the first-of-its-kind Smart Melanin Beauty, a technology made with melanated skin tones in mind.
Edible Beauty Australia: Anna Mitsios, founder of Edible Beauty Australia, worked as a Naturopath at a fertility clinic and became fed up woth the lack of safe, clean skin care (especially for pregnant women). She created a range of products that's so clean, you can actually eat it!
Elate Beauty: With a passion for sustainability and 20 years of experience as a makeup artist, Melodie is also the founder & CEO of sustainable cosmetics brand Elate Beauty. The brand creates innovative beauty products that encourage self-love and empower everyone to make better choices for their daily rituals.
Ethique: Brianne West is the founder, formulator and CEO of Ethique (the first-ever zero-waste beauty brand). Through their thoughtful formulas and compostable packaging, the brand has saved over 10 million bottles of plastic.
Essence Makeup: Founded in 2001 by Christina Oster-Daum, this high-quality German beauty brand is perfect for brides on a budget—or for bridesmaid gifts!
FabFitFun: This popular beauty box subscription was started by co-founders Katie Rosen Kitchens, Michael Broukhim and Daniel Broukhim. It's the perfect bridesmaid gift (or gift to yourself before your nuptials).
Gisou: It was a love of honey bees and haircare that inspired Negin Mirsalehi to start Gisou. The brand sells several different hair care products infused with mirsalehi honey—harvested sustainably from the Mirsalehi farm.
Glossier: Beauty minimalists everywhere love this Instagram-famous brand. Founded by Emily Weiss, it has all the products you need for your pre-wedding events.
Glow Recipe: Co-founders Sarah Lee and Christine Chang teamed up to create Glow Recipe, a company dedicated to producing clean, fruit-powered skincare—perfect for prepping for your wedding day.
The Honest Company: Founded by Jessica Alba, The Honest Company produces a myriad of clean, safe products. Consider their assortment of makeup and skincare products for you and your wedding party.
iNNBeauty Project: Alisa Metzger and Jennifer Allen created iNNBeauty Project to bring clean skincare solutions to Gen Z. Don't let the cute names and bright packaging fool you—these products are loaded with natural ingredients that are great for your skin. Pick up their award-winning pimple paste to soothe any stress-related breakouts.
Insert Name Here: Founders Sharon Pak and Jordyn Wynn launched INH to fill a void in the market—selling premium hair extensions and wigs at an affordable price point.
Huda Beauty: Founded by makeup artist Huda Kattan, Huda Beauty offers red carpet-worthy products. The brand is best known for its high-coverage foundation, but they offer eyeshadows, mascaras, and so much more for your pre-wedding events.
Hyper Skin: Founded by Desiree Verdejo, Hyper Skin is a skincare line dedicated to targeting hyperpigmentation and dark spots for all skin tones.
jane iredale: This clean beauty brand was founded by former casting director and Tony-nominated writer/producer, Jane Iredale. After witnessing the confidence-shattering effects of stage makeup (which caused actresses to break out, forcing them to use more irritating makeup) Iredale was inspired to create makeup that was good for the skin.
Kinship: Christian Powell and Alison Haljun created Kinship for everyone. The skincare brand uses clean, vegan ingredients, sustainable packaging and offers accessible prices.
Kopari: This Instagram-famous brand (founded by Kiana Cabell and Gigi Goldman) harnesses the power of coconut in all of its products. Pick up their all-over coconut oil or their creamy coconut milk body washes to turn your home shower into a spa.
Kosas: Calling all busy brides. Sheena Yaitanes founded Kosas in 2015 with the intention of creating clean, easy makeup. Check out their 10-second eyeshadow or their tinted face oil (it can be applied with your hands).
LATHER: Emilie Davidson Hoyt, the founder of LATHER, suffered from migraines as a child and learned early on how natural ingredients can positively affect the body and mind. The brand takes a holistic approach to skincare, focusing on natural ingredients and essential oils to provide high-quality products that care for the skin and the mind.
lilah b: Rooted in minimalism, lilah b. was started by Cheryl Yannotti Foland. Not only will it help declutter your beauty routine, but the all-white packaging is also perfect for brides-to-be.
Live Tinted: Founded in 2018 by South-Asian beauty entrepreneur Deepica Mutyala, LIVE TINTED originally launched as a digital community and beauty movement rooted in inclusive, diverse, and multicultural beauty. They launched their award-winning HueStick in 2019 and have been creating best-selling products ever since.
Madison Reed: Amy Errett founded Madison Reed with one mission in mind: To provide the best, most luxurious hair color, made with ingredients you can feel good about.
Maelove: Get high-end skincare products without the marked-up prices. Maelove, founded by Jackie Kim, is best-known for their Glow Maker Serum. Check out all of their products to create the perfect pre-wedding skincare routine.
Mented Cosmetics: KJ Miller and Amanda E. Johnson launched Mented Cosmetics because they couldn't find lipsticks to match their skin tones. They first set out to create the perfect nude for deeper skin tones and have since launched other products like nail polish, foundation and eyeshadow.
Milano Collection: Founder Judy Geisinsky launched Milano Collection Wigs in 2003 with the goal of not only designing comfortable, functional, and fashionable wigs, but with the intent to promote confidence and transform the lives of people who wear wigs - whether it's for medical, religious, or any other purpose.
Milk Makeup: Georgie Greville Jasper, co-founder and creative director at Milk Makeup, says the company was inspired by the creative energy and people in the Big Apple. Their brightly-colored products are extremely long-lasting and intended for everyone.
NakedPoppy: Hoping to make the switch to clean beauty before your nuptials? Head over to NakedPoppy, a woman-owned and -operated company, to overhaul your cosmetics case—just in time for your nuptials.
Nudestix: Going for a super natural look on your wedding day? Check out Nudestix, a cosmetics company founded by sisters Taylor and Ally Frankel and their mom, Jenny Frankel.
Olive & June: Sarah Gibson Tuttle founded Olive & June in 2013 to give women personalized attention and luxury service at an affordable price.
Ouai: Created by celebrity hairstylist Jen Atkin, Ouai's products are both stylish and high-performing.
Oui the People: Before launching Oui the People, founder Karen Young looked through shaving ads from the '50s and on to see the language used. She noticed a focus on perfection and set out to launch a brand that produced efficacious products to help people feel great in their own skin.
Pat McGrath Labs: Makeup-obsessed to-be-weds will love Pat McGrath's iconic cosmetics line. Treat yourself to a luxe matte lipstick or her runway-approved foundation.
Peach & Lily: Shop at Peach & Lily, a K-Beauty brand that's full of products curated by founder Alicia Yoon. Don't miss the Glass Skin Serum or the Acne Spot Dots—both are loved by beauty editors.
Pear Nova: Founded by Rachel James, Pear Nova creates nail lacquers inspired by innovative fashion designers. The products are vegan and "10-free," which means they don't contain harmful ingredients.
Pink Moon: Pink Moon is an inclusive wellcare and community oasis created for women. Founded by Lin Chen, the site offers everything from skincare to body care to makeup to home goods.
Sahajan: Lisa Mattan, founder and creator, of Sahajan set out on a mission: to create high-performance, clean skincare based on the Ancient Indian Science of Ayurveda. Pick up the turmeric face mask (which was inspired by an Indian pre-wedding ceremony) for your own nuptials.
Shani Darden: Shani Darden trained as an esthetician under a leading dermatologist before opening her own studio and launching her own award-winning line of skincare products. Her Retinol Reform has a cult following and is celebrity-approved.
Skin Inc: Get personalized skincare for your wedding. Founder Sabrina Tan created customized skincare that offers highly concentrated, 100 percent pure and active serums made in Japan that addresses individual skin identities and their unique needs.
Soko Glam: Charlotte Cho and David Cho created Soko Glam, an online K-Beauty retailer stocked with everything you'll ever need leading up to your wedding.
Sol de Janerio: Escape to your honeymoon early with Sol de Janerio products. Co-founded by Camila Pierotti, Heela Yang and Marc Capra, the brand captures the vivacious spirit and beauty secrets of Brazil with its luxuriously transformative and addictively-scented line for soft smooth skin.
Summer Fridays: Founders Marianna Hewitt and Lauren Ireland captured the internet's attention with their viral Jet Lag Mask and haven't stopped producing award-winning products since. They're focused on creating products that are easy to use, contain clean ingredients and are encased in Insta-worthy packaging.
Sundays: Pick up some 10-free non-toxic, vegan and cruelty-free nail polish from Sundays, founded by Amy Ling Lin.
The Mane Choice: Founded by Courtney Adeleye, The Mane Choice is known for it's top-notch hair products that are formulated with vitamins and essential nutrients.
Topicals: Claudia Teng and Olamide Olowe developed Topicals with their premed knowledge and their passion for inclusivity. They both suffered from skin conditions when they were younger and are working to develop effective products that encourage people to love the skin they're in.
True Botanicals: True Botanicals was born in 2014 following founder Hillary Peterson's thyroid cancer diagnosis. She channeled her fear and frustration with the beauty industry into research—and a passion for creating pure, potent and proven products that are good for people and the planet. Get glowing radiant skin for your wedding with this eco-friendly brand.
Undefined Beauty: After working for huge makeup companies like Sephora and CoverGirl, Dorian Morris launched Undefined Beauty. The line contains CBD-infused makeup and skincare items to help soothe your pre-wedding complexion.
Unsun Cosmetics: Katonya Breaux created Unsun Cosmetics after struggling to find a sunscreen that works for women of color. The cult-favorite, mineral-based sunscreen doesn't leave any residue or chalkiness behind.
Uoma Beauty: Sharon Chuter took her experience at big-name cosmetic companies and created her own brand. Uoma Beauty offers an impressive lineup of high-performance products and is committed to celebrating inclusivity.
Wander Beauty: This line of multi-tasking beauty products—founded by Divya Gugnani and Lindsay Ellingson—is perfect for brides-to-be who are always on the go.
We Are Fluide: Laura Kraber, co-founder of We Are Fluide, credits her NYC teenagers for inspiring her to create this gender-inclusive beauty brand. The mission of the company? To showcase and celebrate gender-expansive beauty and under-represented faces and voices, and to support young people's self-expression and creativity.
WelleCo: Founded by supermodel and entrepreneur Elle Macpherson, WelleCo is the ultimate curation of wellness supplements and essentials comprised of absorbable, plant-based nutrients aimed to nourish the whole body at a cellular level with high efficacy.
Women-Founded Clothing & Accessory Companies
437 Swimwear: With buttery-soft fabric and body-hugging cuts, to-be-weds will love wearing 437 Swimwear on their honeymoon. Founded by besties Hyla Nayeri and Adrien Bettio, this luxe swimwear line is women-owned and -operated.
Anomalie: Can't seem to find the dress of your dreams? Design it with the help of Anomalie, a made-to-order bridal brand that creates dresses to fit any size (00-30+), style and budget. Founders Leslie Voorhees and Calley Means launched the company after Leslie struggled to find her perfect wedding gown.
Baublebar: Accessorize your wedding day outfit with the help of Baublebar, a company founded by Danielle Yacobsky and Amy Jain.
Birdy Grey: Focused on providing gorgeous, budget-friendly bridesmaid dresses, Birdy Grey was founded by Grace Lee and Monica Ashauer.
Bluebella: Stock up on postwedding lingerie and nightwear at Bluebella. Founded by Emily Bendell, Bluebella is a brand focused on providing high-quality intimates at an affordable price.
Draper James: Founded by Reese Witherspoon, this adorable Southern brand just dropped a brand new wedding line. Check it out, y'all!
Fabletics: Created by Kate Hudson, Fabletics is a size-inclusive and affordable activewear line perfect for athleisure-loving brides-to-be.
Frankies Bikinis: Rock some celebrity-approved swimwear on your honeymoon. Find your perfect beach outfit at Frankies Bikinis, a brand created by Francesca Aiello. (They also just launched a clean beauty line too!)
Grace Loves Lace: Focused on shaking up the bridal gown industry, Megan Ziems created a collection of über-unique dresses in her Australian showroom.
Gorjana: Gorjana Reidel and Jason Griffin Reidel co-founded Gorjana, a gorgeous jewelry line, in 2004. Peruse their options and stock up on any wedding accessories you need.
Reformation: Calling all eco-friendly brides. Shop this line of sustainable wedding gowns, bridesmaid dresses and wedding guest outfits.
Lace & Liberty: This wedding gown company, founded by Danielle Wen, is focused on size-inclusivity in the bridal gown industry.
Lilly Pulitzer: Lilly Pulizter founded her own line of tropical-print clothing that's become a staple for preppy brides everywhere.
Lively: Michelle Cordeiro Grant founded Lively with the goal of creating comfortable products that promote self-love. Check out their line of lingerie, activewear and swimwear.
Luna Skye: Whether you're searching for wedding day jewelry or a unique engagement ring, Luna Skye (founded by Samantha Conn) has a gorgeous selection of accessories.
L*SPACE: Offering swimwear, loungewear, ready-to-wear, footwear and accessories, L*SPACE (founded by Monica Wise) is the ultimate destination for slip-on-and-go styles with impeccable fit. Hello, honeymoon.
Mejuri: This Instagram-famous jewelry line was founded by Noura Sakkija, Massoud Saakija and Majed Masad. It offers 14k gold jewelry without the usual mark-up.
MIMI The Label: Founders Katherine Newman and Haley Arias created MIMI The Label to honor the women who inspire them most. They named the brand after their grandmothers and name each piece after a strong women in their life. Shop their selection of swimwear for your honeymoon. (Psst: They also support the New York Women's Foundation and UNICEF.)
Outdoor Voices: Whether you like to hit the gym or just love rocking athleisure, Outdoor Voices has the perfect outfit for you. Founded by Tyler Haney, their comfy and cute pieces are perfect for working out or running errands.
Show Me Your Mumu: Are you a boho bride? Check out Show Me Your Mumu, a company started by Cologne Trude and Cammy Miller.
Sarah Flint: Pick up a pair of luxury shoes for your wedding (and your pre-wedding events). Sarah Flint founded her shoe company with the goal of creating the best quality shoes at the lowest price point. Choose from sandals from Capri, boots from Vigevano or pumps from Parabiago.
Savage x Fenty: Founded by Rihanna, Savage by Fenty is a line of affordable and inclusive lingerie perfect for your wedding night.
Soko: Elevate any pre-wedding event outfit with this unique and ethically-made jewelry line. Soko, founded by Ella Peinovich, employs Kenyan artisans and uses sustainably-sourced materials.
ThirdLove: Find the perfect fitting bra for your wedding day at ThirdLove, a company launched by Heidi Zak and husband David Spector with the help of bra designer Ra'el Cohen.
Tiare Hawaii: Prep for your honeymoon by shopping at Tiare, a company based in Hawaii founded by Jane Hoskins. The gorgeous garments are handmade in Bali.
Wildfang: Created with the idea that womxn should wear whatever they want, Wildfang has a selection of clothes that are perfect for weddings or any pre-wedding events. The company has also raised over $400,000 for charities that support reproductive, immigrant and women/human rights.
Woxer: Alexandra Fuente founded Woxer after discovering that many women were unhappy with their underwear. Stock up on their selection of comfortable boxers.
Zaxie: Sparkle down the aisle with Zaxie jewelry. Founded by Stefanie Taylor, this accessible jewelry line uses the highest-grade cubic zirconia to closely mimic sparkly diamonds.
Women-Founded Home & Life Companies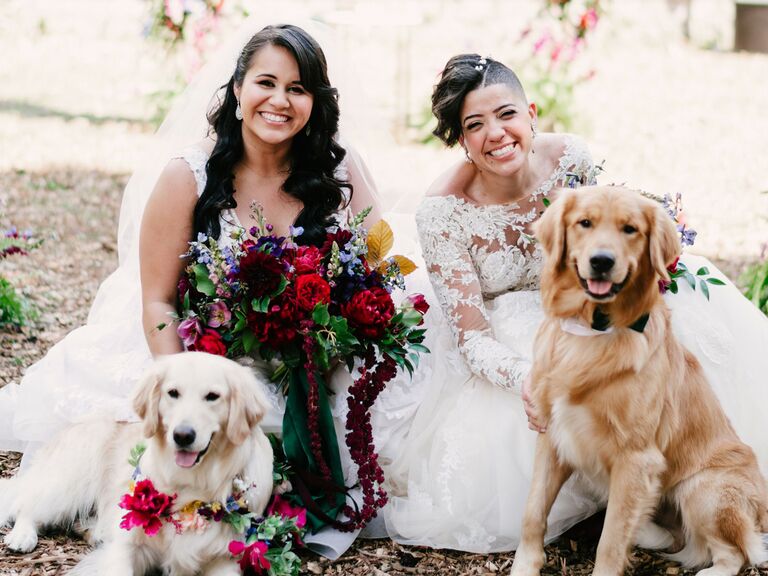 Appointed: As a lover of stationery and paper, Suann Song was looking for the perfect notebook. When she couldn't find one, she decided to found Appointed to solve the problem by creating paper goods known for their design, function and quality.
Artifact Uprising: Find the perfect way to store your wedding photos with Artifact Uprising. The company, founded by Jenna Walker, Katie Thurmes and Matt Walker, provides everything from photo books to frames.
Ban.do: Bring some extra joy into your newlywed nest by shopping at Ban.do, a store filled with adorable goodies curated by founder Jen Gotch.
B Yoga: Shop Meghan Markle's yoga mat at B Yoga, a company founded by Andrea Morris. Their mats are made of high-performing, eco-friendly rubber.
Calpak: Founded by Judy and Edward Kwon in 1989, Calpak started with the mission of making quality bags at accessible prices. While the company originally launched handbags and wallets, it now carries travel essentials like suitcases, duffel bags and travel wallets.
Estelle Colored Glass: Founder Stephanie Hall is on a mission to bring her grandmother Estelle's love of Southern hospitality to the masses with elegant hand-blown colored glassware.
Flax Sleep: This Canadian brand—founded by Anna Heyd, Oana Papuc and Vivian McCormick—offers sustainable, comfortable linen bedding at an attainable price point.
King St.: Another brand founded by Kate Hudon, King St. offers vodka that's been distilled seven times and then filtered for a smooth, fresh taste. (We're totally in love with the pretty packaging too!)
Lola: Planning a wedding is stressful enough—you don't need to stress about what's inside of your period products. Check out Lola, a reproductive care brand for women made by Jordana Kier and Alexandra Friedman.
Maeven: Give yourself some extra TLC during your wedding planning process. Maeven, founded by Bailey Rubin and Kathryn Kerrigan, is a subscription box service with goodies curated exclusively for to-be-weds.
Parachute: Use your registry tool to support Ariel Kaye's company, Parachute. Check out their line of super-soft sheets, towels, robes, rugs and more.
Repeat Roses: Jennifer Grove, founder and CEO of Repeat Roses, launched her company with a mission to cut down on waste from events. This service transforms floral decorations from events into bouquets for hospitals, nursing homes and shelters—and then composts those blooms to ensure there's no waste. To date, they've diverted nearly 200,000 pounds of waste.
Sakara Life: Sakara Life was founded by Whitney Tingle and Danielle DeBoise, who bootstrapped the company with $700 they raised at a dinner party. The health-focused company has changed the lives of hundreds of thousands of people with its holistic approach to food and innovative meal delivery program nutritionally designed to nourish the body, mind, and spirit.
Stasher: Stasher, the popular brand founded by Kat Nouri, is perfect for couples focused on sustainability. Cut out single-use plastics from your daily routine with these handy bags.
Stoney Clover Lane: Founded by sisters Kendall and Libby Glazer, Stoney Clover Lane reimagines everyday organization through their line of adorable travel accessories.
The Sill: Co-founders Eliza Blank and Gwen Blevens created The Sill to make buying indoor plants easier. Decorate your newlywed nest with some of their plants or sign up for one of their subscription boxes.
Venus Et Fleur: Created in response to low-quality and unreliable blooms, Venus Et Fleur launched their line of gorgeous flowers (including the famous Eternity Rose). The company was founded by Seema Bansal and Sunny Chadha.
Vitruvi: Founded by Sara Panton and Sean Panton, Vitruvi is the first direct-to-consumer essential oil company. Their aesthetically-pleasing diffusers are perfect for your newlywed nest.