Women-Founded Companies to Support as You Plan Your Wedding
Who run the world?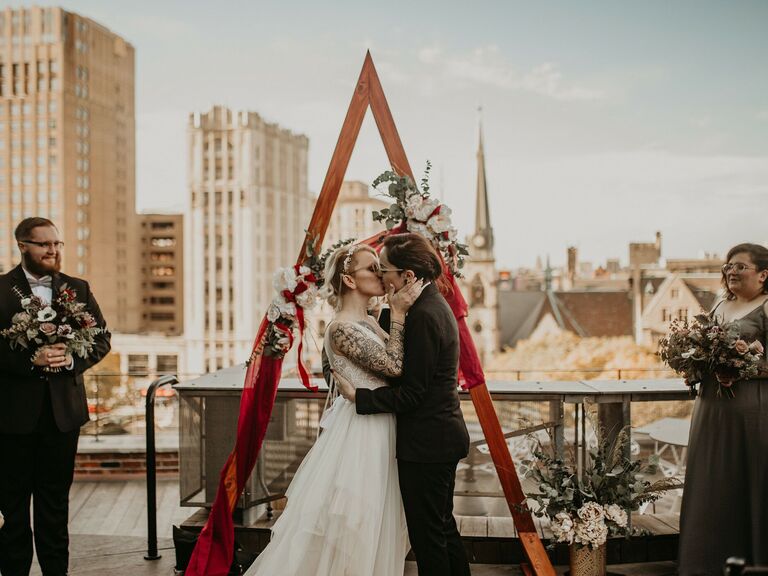 MARISSA DILLON PHOTOGRAPHY
We have included third party products to help you navigate and enjoy life's biggest moments. Purchases made through links on this page may earn us a commission.
At The Knot, we believe your wedding isn't just a party—it's an opportunity to show who you are and what you value. One great way to do that is to be thougthful about where you spend your money as you plan your wedding. If gender equality is a cause you and your partner are passionate about, embrace that throughout the wedding planning process. One of our favorite ways to support feminism is to use The Knot Cash Fund to bolster pro-women charities doing important work. But couples are also using their weddings as a form of activism by intentionally giving their business to companies whose missions they support. If you're hoping to shop a little more thoughtfully leading up to your wedding day, we've rounded up women-founded brands you'll love. With everything from beauty collections to clothing lines to home goods, here are female-founded companies you can shop as you prepare for your nuptials.
In this article:

Pro-Women Charities to Register For
VOW: VOW is a remarkable charity campaign raising money for the Girls First Fund to end child marriage worldwide. Every year, 12 million girls are married before turning 18, cutting off their education and putting them at risk for violence and poverty. VOW funds local organizations all over the globe advocating girls' rights and standing up against child marriage at the community level. You can also support VOW by registering for items off of our Most-Wanted Gifts collection. The Knot will donate one dollar for every product you add from collection, so you can feel good about the items you add to your wedding wishlist.
Breast Cancer Research Foundation: The fight to end breast cancer is nonstop—and you can get involved via your registry. The Breast Cancer Research Foundation BCRF) is committed to breast cancer research, prevention, diagnosis, treatment and survivorship, and is the largest private funder of breast cancer research. It's also the top-rated breast cancer organization in the US.
Girls Inc.: Girls Inc. has one beautiful mission: to inspire all girls to be "strong, smart and bold." Partnering with schools at the local community level, it offers long-term mentorship, a supportive environment and research-backed programs to help young girls know their worth, reach their full potential and pay it forward.  
Global Fund for Women: The Global Fund for Women was founded to support grass-roots, female movements, and champions human rights for every woman and girl. It finds, funds and supports women who are breaking boundaries through change and social movements.
Women for Women International: Women for Women International offers life-changing programs for the most marginalized women in countries affected by war and violence. Through Women for Women International, women are given the opportunity to learn how to manage money, take care of their bodies and use their voices for positive influence in their communities.
Women-Founded Beauty Brands
Cocokind: Cocokind founder Priscilla Tsai started the company to help customers feel good in their own skin. Cocokind is focused on creating natural and accessible skincare products, but it also has its Impact Foundation, which gives grants to female founders. (Psst: 100 percent of profits will be donated to the foundation on March 8).
Essence Makeup: Founded in 2001 by Christina Oster-Daum, this high-quality German beauty brand is perfect for brides on a budget—or for bridesmaid gifts!
FabFitFun: This popular beauty box subscription was started by co-founders Katie Rosen Kitchens, Michael Broukhim and Daniel Broukhim. It's the perfect bridesmaid gift (or gift to yourself before your nuptials).
Glossier: Beauty minimalists everywhere are fans of the Instagram-famous brand. Founded by Emily Weiss, it has all the products you need for your pre-wedding events.
Glow Recipe: Co-founders Sarah Lee and Christine Chang teamed up to create Glow Recipe, a company dedicated to producing clean, fruit-powered skincare—perfect for prepping for your wedding day.
The Honest Company: Founded by Jessica Alba, The Honest Company produces a myriad of clean, safe products. Consider their assortment of makeup and skincare products for you and your wedding party.
Kosas: Calling all busy brides. Sheena Yaitanes founded Kosas in 2015 with the intention of creating clean, easy makeup. Check out their 10-second eyeshadow or their tinted face oil (it can be applied with your hands).
lilah b: Rooted in minimalism, lilah b. was started by Cheryl Yannotti Foland. Not only will it help declutter your beauty routine, the all-white packaging is perfect for brides-to-be.
Live Tinted: Founded in 2018 by South-Asian beauty entrepreneur Deepica Mutyala, LIVE TINTED originally launched as a digital community and beauty movement rooted in inclusive, diverse, and multicultural beauty. They launched their award-winning HueStick in 2019 and have been creating best-selling products ever since.
Maelove: Get high-end skincare products without the marked-up prices. Maelove, founded by Jackie Kim, is best-known for their Glow Maker Serum. Check out all of their products to create the perfect pre-wedding skincare routine.
NakedPoppy: Hoping to make the switch to clean beauty before your nuptials? Head over to NakedPoppy, a woman-owned and -operated company, to overhaul your cosmetics case—just in time for your nuptials.
Nudestix: Going for a super natural look on your wedding day? Check out Nudestix, a cosmetics company founded by sisters Taylor and Ally Frankel and their mom, Jenny Frankel.
Ouai: Created by celebrty hairstylist Jen Atkin, Ouai's products are both stylish and high-performing. 

Pat McGrath Labs: Makeup-obsessed to-be-weds will love Pat McGrath's iconic cosmetics line. Treat yourself to a luxe matte lipstick or her runway-approved foundation.
Peach & Lily: Shop at Peach & Lily, a K-Beauty brand that's full of products curated by founder Alicia Yoon. Don't miss the Glass Skin Serum or the Acne Spot Dots—both are loved by beauty editors.
Skin Inc: Get personalized skincare for your wedding. Founder Sabrina Tan created customized skincare that offers highly concentrated, 100 percent pure and active serums made in Japan that addresses individual skin identities and their unique needs.
Soko Glam: Charlotte Cho and David Cho created Soko Glam, an online K-Beauty retailer stocked with everything you'll ever need leading up to your wedding.
Sol de Janerio: Escape to your honeymoon early with Sol de Janerio products. Co-founded by Camila Pierotti, Heela Yang and Marc Capra, the brand captures the vivacious spirit and beauty secrets of Brazil with its luxuriously transformative and addictively-scented line for soft smooth skin.

Sundays: Pick up some 10-free nontoxic, vegan and cruelty-free nail polish from Sundays, founded by Amy Ling Lin.

True Botanicals: True Botanicals was born in 2014 following founder Hillary Peterson's thyroid cancer diagnosis. She channeled her fear and frustration with the beauty industry into research—and a passion for creating pure, potent and proven products that are good for people and the planet. Get glowing radiant skin for your wedding with this eco-friendly brand.
Wander Beauty: This line of multi-tasking beauty products—founded by Divya Gugnani and Lindsay Ellingson—is perfect for brides-to-be who are always on the go.
WelleCo: Founded by supermodel and entrepreneur Elle Macpherson, WelleCo is the ultimate curation of wellness supplements and essentials comprised of absorbable, plant-based nutrients aimed to nourish the whole body at a cellular level with high efficacy.

Women-Founded Clothing & Accessory Companies
437 Swimwear: With buttery-soft fabric and ultra-flattering cuts, to-be-weds will love wearing 437 Swimwear on their honeymoon. Founded by besties Hyla Nayeri and and Adrien Bettio, this luxe swimwear line is female-owned and -operated.
Anomalie: Can't seem to find the dress of your dreams? Design it with the help of Anomalie, a made-to-order bridal brand that creates dresses to fit any size (00-30+), style and budget. Founders Leslie Voorhees and Calley Means launched the company after Leslie struggled to find her perfect wedding gown.

Baublebar: Accessorize your wedding day outfit with the help of Baublebar, a company founded by Danielle Yacobsky and Amy Jain.
Birdy Grey: Focused on providing gorgeous, budget-friendly bridesmaids dresses, Birdy Grey was founded by Grace Lee and Monica Ashauer.
Bluebella: Stock up on postwedding lingerie and nightwear at Bluebella. Founded by Emily Bendell, Bluebella is a brand focused on providing high-quality intimates at an affordable price.
Brideside: Co-founders Sonali Lamba and Nicole Staple started Brideside after sharing their bridesmaid dress-shopping woes. Choose from countless styles in every color imaginable.
Draper James: Founded by Reese Witherspoon, this adorable Southern brand just dropped a brand new wedding line. Check it out, y'all!
Fabletics: Created by Kate Hudson, Fabletics is a size-inclusive and affordable activewear line perfect for athleisure-loving bride-to-bes.
Frankies Bikinis: Rock some celebrity-approved swimwear on your honeymoon. Find your perfect beach outfit at Frankies Bikinis, a brand created by Francesca Aiello. (They also just launched a clean beauty line too!)
Grace Loves Lace: Focused on shaking up the bridal gown industry, Megan Ziems created a collection of über-unique dresses in her Australian showroom.
Gorjana: Gorjana Reidel and Jason Griffin Reidel co-founded Gorjana, a gorgeous jewelry line, in 2004. Peruse their options and stock up on any wedding accessories you need.
Reformation: Calling all eco-friendly brides. Shop this line of sustainable wedding gowns, bridesmaid dresses and wedding guest outfits.
Lace & Liberty: This wedding gown company, founded by Danielle Wen, is focused on size-inclusivity in the bridal gown industry.
Lilly Pulitzer: Lilly Pulizter founded her own line of tropical-print clothing that's become a staple for preppy brides everywhere.
Lively: Michelle Cordeiro Grant founded Lively with the goal of creating comfortable products that promote self love. Check out their line of lingerie, active wear and swimwear.

Luna Skye: Whether you're searching for wedding day jewelry or a unique engagement ring, Luna Skye (founded by Samantha Conn) has a gorgeous selection of accessories.

L*SPACE: Offering swimwear, loungewear, ready-to-wear, footwear and accessories, L*SPACE (founded by Monica Wise) is the ultimate destination for slip-on-and-go styles with impeccable fit. Hello, honeymoon.

Mejuri: This Instagram-famous jewelry line was founded by Noura Sakkija, Massoud Saakija and Majed Masad. It offers 14k gold jewelry without the usual mark-up.
MIMI The Label: Founders Katherine Newman and Haley Arias created MIMI The Label to honor the women who inspire them most. They named the brand after their grandmother's and name each piece after a strong women in their life. Shop their selection of swimwear for your honeymoon. (Psst: They also support the New York Women's Foundation and UNICEF.)
Outdoor Voices: Whether you like to hit the gym or just love rocking athleisure, Outdoor Voices has the perfect outfit for you. Founded by Tyler Haney, their comfy and cute pieces are perfect for working out or running errands.
Show Me Your Mumu: Are you a boho bride? Check out Show Me Your Mumu, a company started by Cologne Trude and Cammy Miller.
Sarah Flint: Pick up a pair of luxury shoes for your wedding (and your pre-wedding events). Sarah Flint founded her shoe company with the goal of creating the best quality shoes at the lowest price point. Choose from sandals from Capri, boots from Vigevano or pumps from Parabiago.
Savage x Fenty: Founded by Rihanna, Savage by Fenty is a line of affordable and inclusive lingerie perfect for your wedding night.
Soko: Elevate any pre-wedding event outfit with this unique and ethically-made jewelry line. Soko, founded by Ella Peinovich, employs Kenyan artisans and uses sustainably-sourced materials.
ThirdLove: Find the perfect fitting bra for your wedding day at ThirdLove, a company launched by Heidi Zak and husband David Spector with the help of bra designer Ra'el Cohen.
Tiare Hawaii: Prep for your honeymoon by shopping at Tiare, a company based in Hawaii founded by Jane Hoskins. The gorgeous garments are handmade in Bali.
Wildfang: Created with the idea that womxn should wear whatever they want, Wildfang has a selection of clothes that are perfect for weddings or any pre-wedding events. The company has also raised over $400,000 for charities that support reproductive, immigrant and women/human rights.
Woxer: Alexandra Fuente founded Woxer after discovering that many women were unhappy with their underwear. Stock up on their selection of comfortable boxers.
Zaxie: Sparkle down the aisle with Zaxie jewelry. Founded by Stefanie Taylor, this accessible jewelry line uses the highest-grade cubic zirconia to closely mimic sparkly diamonds.
Women-Founded Home & Life Companies
Artifact Uprising: Find the perfect way to store your wedding photos with Artifact Uprising. The company, founded by Jenna Waker, Katie Thurmes and Matt Walker, provides everything from photo books to frames.
Ban.do: Bring some extra joy into your newlywed nest by shopping at Ban.do, a store filled with adorable goodies curated by founder Jen Gotch.
B Yoga: Shop Meghan Markle's yoga mat at B Yoga, a company founded by Andrea Morris. Their mats are made of high-performing, eco-friendly rubber.

Calpak: Founded by Judy and Edward Kwon in 1989, Calapk started with the mission of making quality bags at accessible prices. While the company originally launched handbags and wallets, it now carries travel essentials like suitcases, duffel bags and travel wallets.
Flax Sleep: This Canadian brand—founded by Anna Heyd, Oana Papuc and Vivian McCormick—offers sustainable, comfortable linen bedding at an attainable price point.

Lola: Planning a wedding is stessful enough—you don't need to stress about what's inside of your period products. Check out Lola, a reproductive care brand for women made by Jordana Kier and Alexandra Friedman.

Love Stories TV: Rachel Silver set out to create the first real weddings video library ever—and so Love Stories TV was born. Check it out for inspiration or submit your own video.
Maeven: Give yourself some extra TLC during your wedding planning process. Maeven, founded by Bailey Rubin and Kathryn Kerrigan, is a subscription box service with goodies curated exclusively for to-be-weds.
Minted: Founded by Mariam Naficy and Melissa Kim, Minted uses crowdsourcing to stay on top of wedding stationery trends. Order your Save-The-Daves, invitations or thank you cards (or all three).
Parachute: Use your registry tool to support Ariel Kaye's company, Parachute. Check out their line of super-soft sheets, towels, robes, rugs and more. 
Repeat Roses: Jennifer Grove, founder and CEO of Repeat Roses, launched her company with a mission to cut down on waste from events. This service transforms floral decorations from events into bouquets for hospitals, nursing homes and shelters—and then composts those blooms to ensure there's no waste. To date, they've diverted nearly 200,000 pounds of waste.
Stasher: Stasher, the popular brand founded by Kat Nouri, is perfect for couples focused on sustainability. Cut out single-use plastics from your daily routine with these handy bags.
Stoney Clover Lane: Founded by sisters Kendall and Libby Glazer, Stoney Clover Lane reimagines everyday organization through their line of adorable travel accessories.

The Sill: Co-founders Eliza Blank and Gwen Blevens created The Sill to make buying indoor plants easier. Decorate your newlywed nest with some of thier plants or sign up for one of their subscription boxes.

Venus Et Fleur: Created in response to low-quality and unreliable blooms, Venus Et Fleur launched their line of gorgeous flowers (including the famous Eternity Rose). The company was founded by Seema Bansal and Sunny Chadha.
Vitruvi: Founded by Sara Panton and Sean Panton, Vitruvi is the first direct to consumer essential oil company. Their aesthetically-pleasing diffusers are perfect for your newlywed nest.