Get Excited (We Sure Are) The Knot Fashion Week Gala Is… Tonight!
by Jamie Miles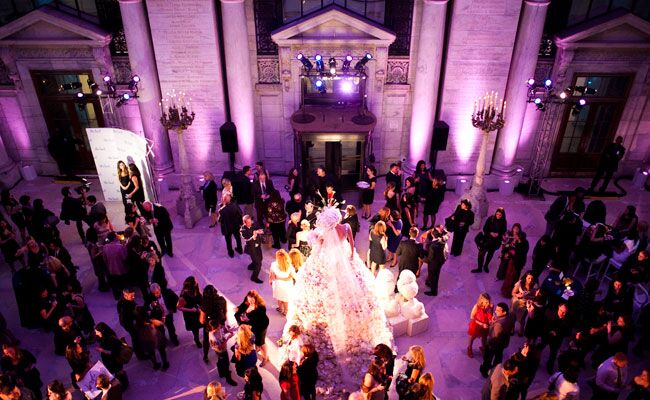 No one loves bridal fashion week more than our team at The Knot, which is why we celebrate the best of the best in the bridal industry with our annual gala every October. I mean, you can't just throw any kind of party when it's for industry experts like event planners, caterers and designers.
For those of you at home who just can't get enough of all fun bridal fashion week coverage, tune into TheKnot.com at 7:30 ET — we will be broadcasting LIVE from the red carpet of the New York Public Library. Everyone in the industry is going to be there.
Beyond the red carpet, we'll be showcasing some of our favorite wedding-inspired menu trends — including oysters shucked to order! In place of a raw bar the Oyster Girls will have buckets of oysters on ice around their hips ready to serve guests. We're also serving serious sweets from David Chang's Momofuku Milk Bar and a make-your-own ice cream float bar from Radish (one of our favorite caterers!). The three signature cocktails made with St-Germain (an Elderflower liqueur) are sure to be a hit.
And we don't mess around when it comes to entertainment. Newcomer Alexis Foxe will kick off the night with some electronic jazz and alt. pop, followed by three hot NYC groups: Honey & Vinyl, Rhythm Collective and the Hudson Project plus a surprise performance by a Beyonce-inspired band. (Did we just ruin the surprise?)
So tune in tomorrow night at 7:30 ET — we'll be partying it up with 750+ of the best-of-the-best in the wedding world. Because hey, if there's anything better than a wedding, it's a wedding gala!