This Is How The Knot Throws a Black-Tie Wedding
Get all the inspiration for your formal affair here.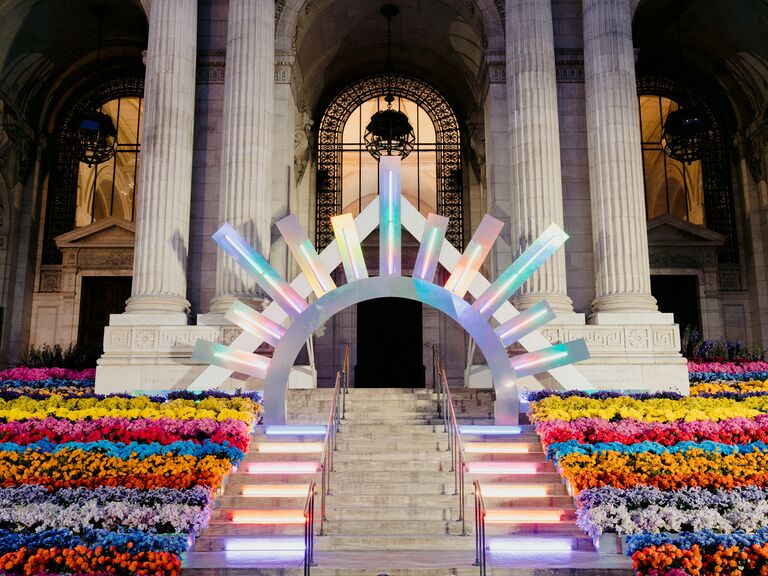 Photo by The Wedding Artists Co.; Neon by Name Glo; Lighting and Technology by Visual Comet, DJ Jacob Towe, Astera; Flowers by Mimosa Floral Design Studio; Planning by Jove Meyer Events
A black-tie wedding may conjure up images of stiffness and formality, but here at The Knot, we encourage couples to toss the rule book. Instead, plan a formal celebration that feels luxe, fresh and fun. It could include a menu of pizza, caviar (or both). Of course, if you're looking for ideas, there's no better inspiration source than The Knot Gala.
With everything from sparkling dress codes to interactive catering options, the rules were flipped and reinvented at the New York Public Library for the 10th Annual Knot Gala. Read on to see all the ways we hosted a black-tie affair—and incorporate the ideas into your own black-tie wedding.
The Theme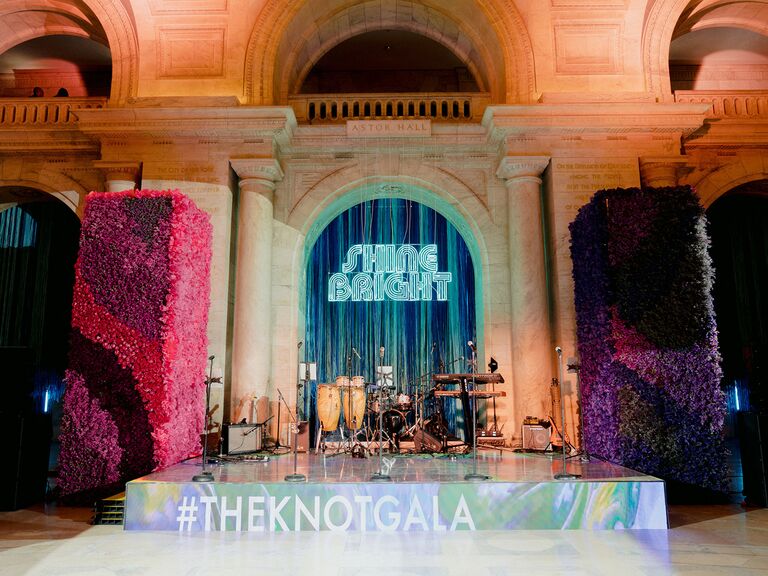 Event planner Jove Meyer chose "Shine Bright" for the 2019 gala theme. "I wanted everyone to celebrate who they are and let that shine." Rather than hosting a hyper-formal affair, Meyer, founder and creative director of Jove Meyer Events, wanted the evening to be fun and fresh. He believes all weddings (black tie and beyond) should focus on your unique love story. "Make it feel like you and look like you—it is a celebration of your love, after all," he says. "If you infuse your style, personality and love story into your wedding it will feel memorable, and your guests will love it."
The formality, he says, comes from one major detail. "To me, upscale has to do with service. Guests should have what they need and or want when they want it: food, drinks, seats or staff." Everything else—especially the theme—is totally up to you.
The Invitations
You may think hosting a formal affair limits your stationery choices, but Tricia Kim, designer of this year's invitations and owner of design studio Fourteen-Forty, says that's simply not the case. "Black tie calls for an upscale invitation that conveys the formality of the event, but that doesn't mean it has to be strictly traditional." The key is to use materials that feel luxurious—and then to add creativity.
To match the "Shine Bright" theme, Kim opted for holographic paper and clear acrylic. Her team artfully designed a stunning watercolor-effect on the invites. The vibrant creations were packaged in a luxe holographic folder to capture the event's essence, which was key. "The most important thing to remember, no matter what the formality level, is that the invites should be a reflection of the couple," she says. "The union between two people is such a momentous occasion, and it's incredibly special to have invitations that reflect the importance of the event."
Plus, it's a great way to get guests excited about your wedding day. "Invitations are the only preview your guests have of what is to come, and creating that excitement, like we did for The Knot Gala, is such a service to your guests."
The Venue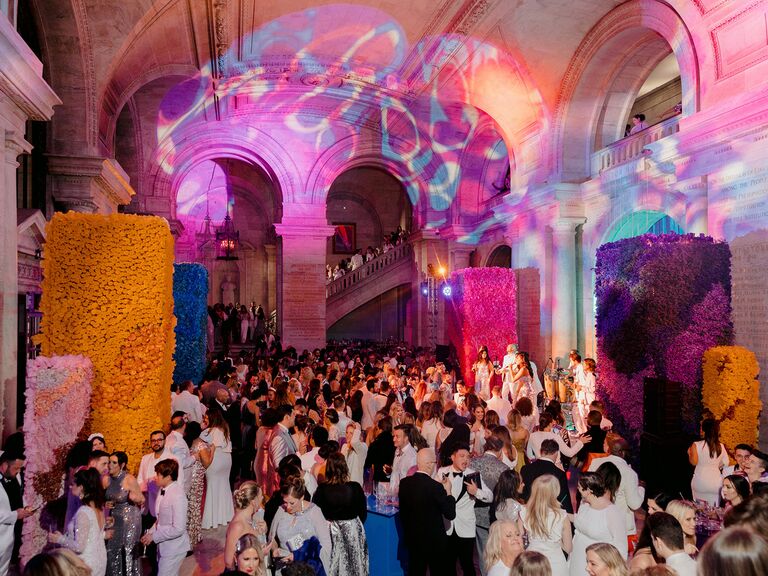 In keeping with tradition, The Knot Gala was hosted at New York City's famed New York Public Library. According to Meyer, it's the perfect space for a formal wedding (after all, it's Carrie Bradshaw-approved). "It was a no-brainer since the space is so stunning, majestic and filled with floor-to-ceiling marble," Meyer reflects. "Being that the NYPL is very tonal and light in nature, I wanted to incorporate color and really make it shine bright in a fun way—unlike ever before."
The Entrance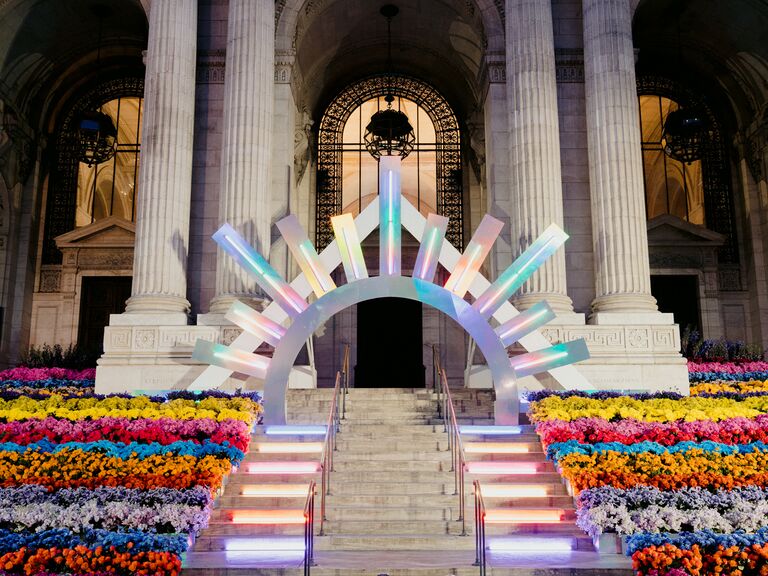 They say first impressions are everything, which is precisely why Meyer placed a show-stopping LED sun installation on the library steps. "The theme of the event is 'Shine Bright,' and what shines brighter than the sun?" he says. "The entryway sets the tone for what's inside, and the iridescent sun surrounded by fresh, color-blocked flowers really was a 'wow' moment for guests."
The stunning entrance piece proves you can still have a luxe, high-end experience while still being eco-friendly (one of our 2020 wedding trends). "We used battery-operated Astera lights that were charged by the sun before the event," he reveals.
The Lighting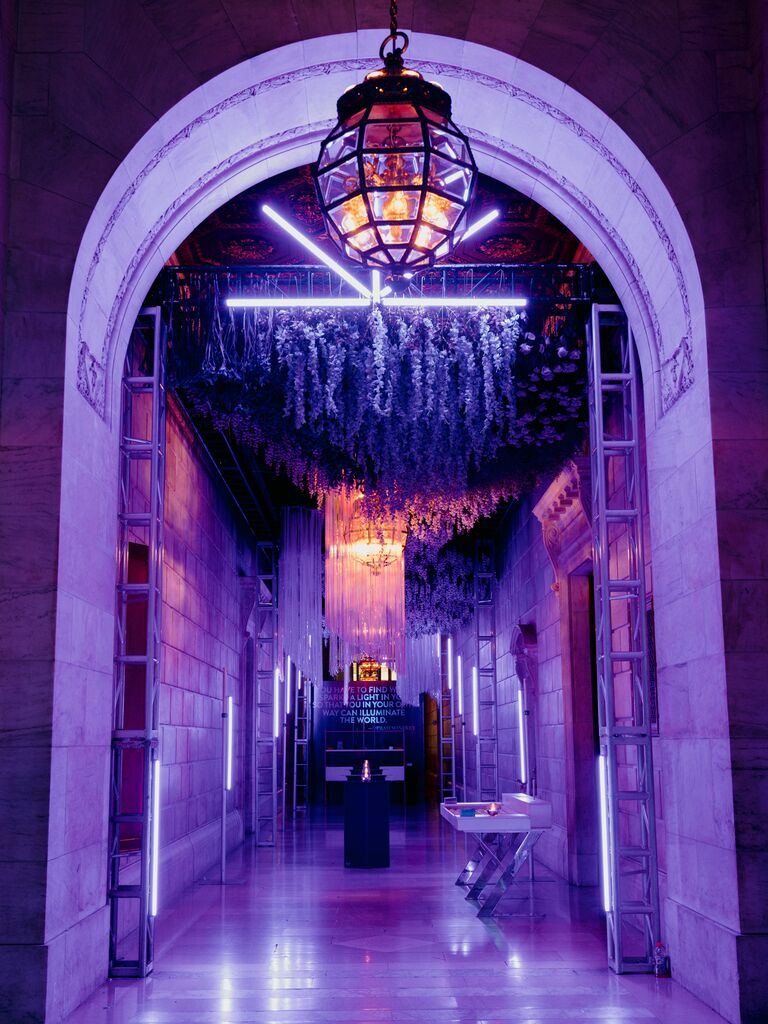 Creative lighting is another modernized twist on old-school uplighting, Meyer says. More couples are choosing to set the tone for their wedding through thoughtful lighting choices. For the gala, Meyer placed LED lights throughout the space to create a color-blocked effect—filling different hallways with pink, purple, blue and white lights. By designating a certain space a specific color, the team created a unique and memorable experience for guests.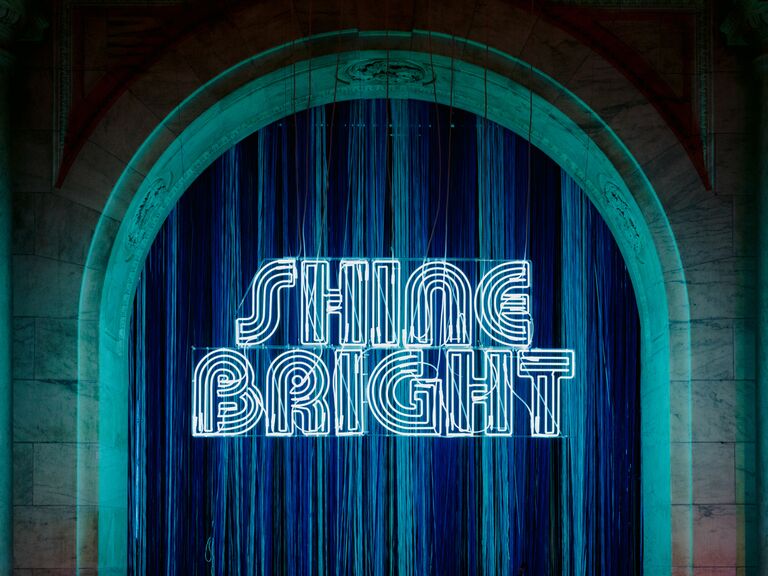 Neon signs and colorful LED lights may not seem typical décor for black-tie weddings, but Meyer says it can engage guests looking for a different experience. "The center décor item was a custom light blue neon sign, which set a fun tone for everyone," he tells The Knot. There were also LED walls that said "Shine Bright" to bring the theme to life in an unexpected way.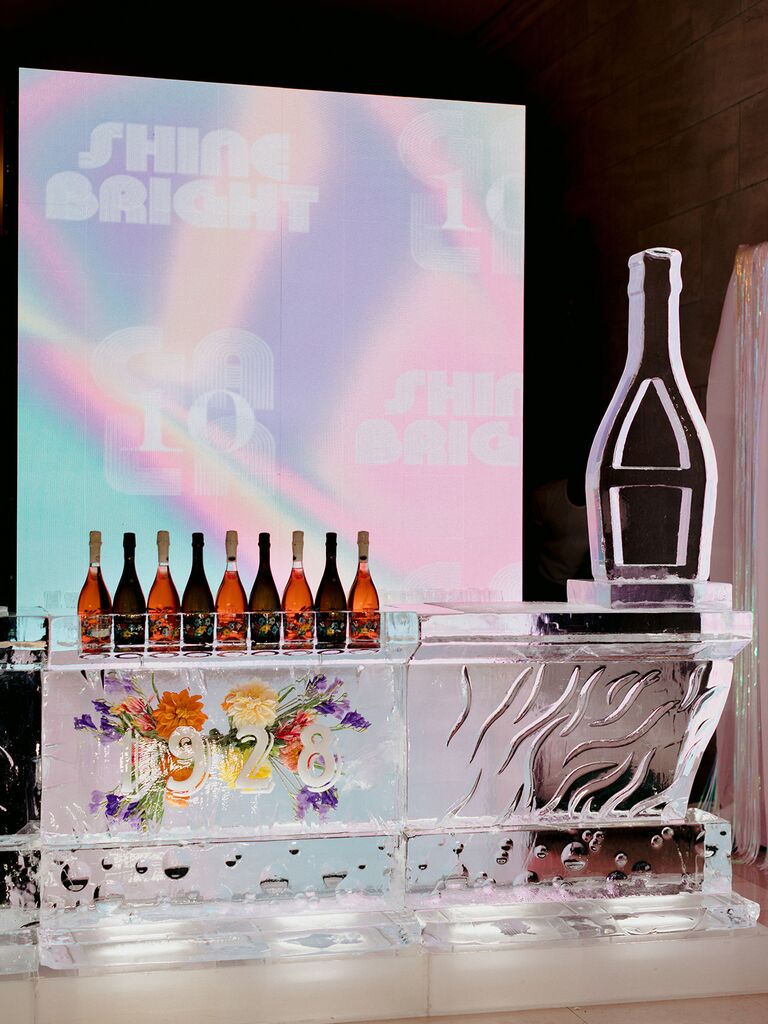 The Floral Installations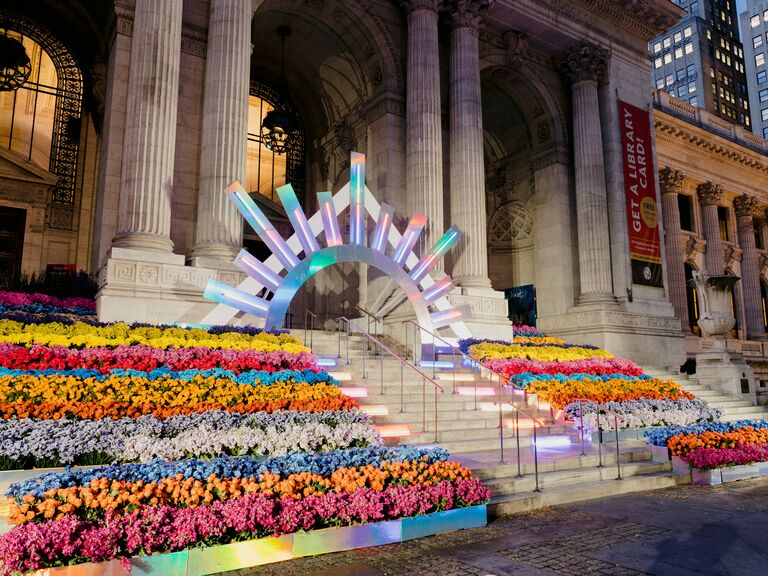 Think a black-tie wedding means you have to keep your flowers low-key? Think again. "You can make anything black-tie if you design it right," Lilli Wright, owner of Mimosa Floral Design Studio tells The Knot. Rather than opting for traditional floral designs, Wright suggests creating a statement piece instead. "Think of interesting places for the florals at your event, not just the center of the tables," she says. "Maybe have a corner exploding with flowers or an installation hanging from above. Give your guests something they can interact with and be wowed by."
For a grand entrance experience, Wright accented the LED sun installation by covering the library's staircase with "a field of flowers." In keeping with the sustainability trend, Wright used buckets instead of flower foam.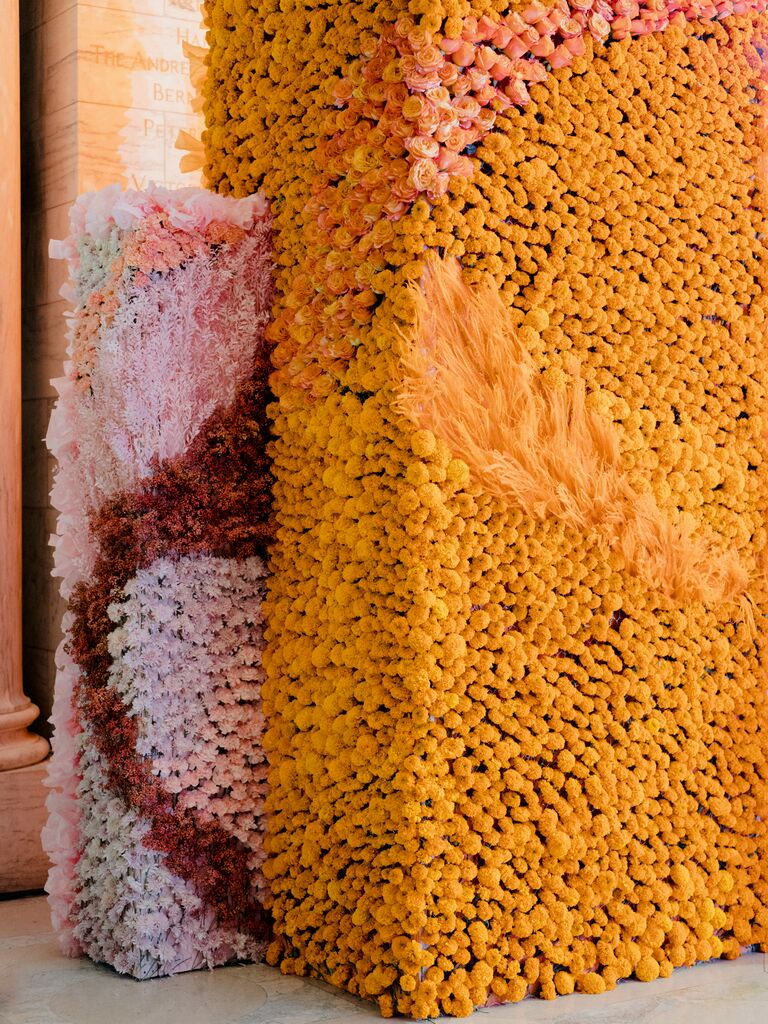 Inside the venue, Wright worked with Meyer to enhance the color-blocked effect with floor-to-ceiling flower columns. To keep the floor plan open, the team created color-coded hanging installations—one of which was made entirely from T-shirt salvaged material. Wright says her design was heavily influenced by eco-consciousness. "We really tried to be creative and use items that are able to be recycled, composted or donated post-event."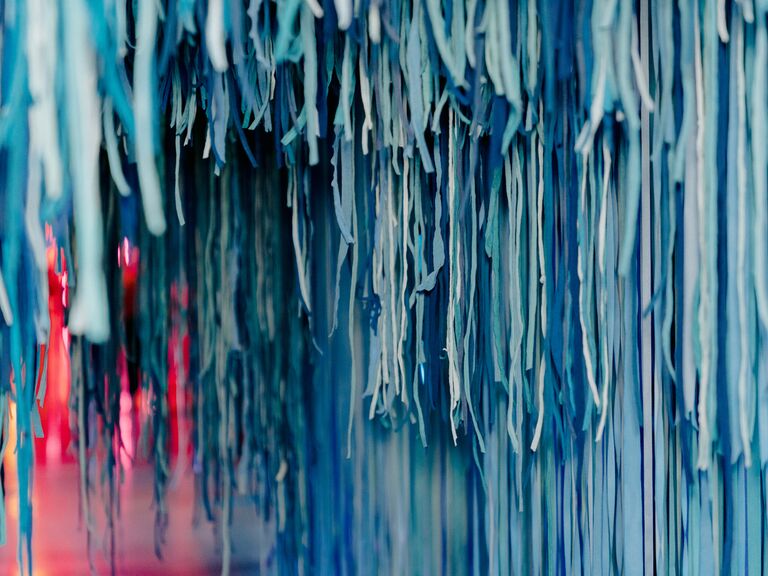 When it comes to choosing florals for your own black-tie event, Wright's advice is simple: push the boundaries of what's expected. "Go bold and never look back," she says. "Break rules—ones from others, as well as your own. It's a party, have fun."
Black-Tie Dress Codes
Typical black tie calls for tuxedos and gowns, but Meyer wanted to add a twist to that dress code. "I didn't want the gala to be black-tie in a way that was hyper-formal, uncomfortable or stuffy, so we asked guests to "Shine Bright" in silver and or white," he says. "I wanted guests to come as they preferred, wearing dresses, suits, pants, jumpers—whatever made them feel fabulous in our selected colors."
If you're looking for inspiration for your own dress code, consider your décor choices, Meyer says. "The event was an explosion of color, so I wanted everyone to wear neutral tones to allow the design features to glow."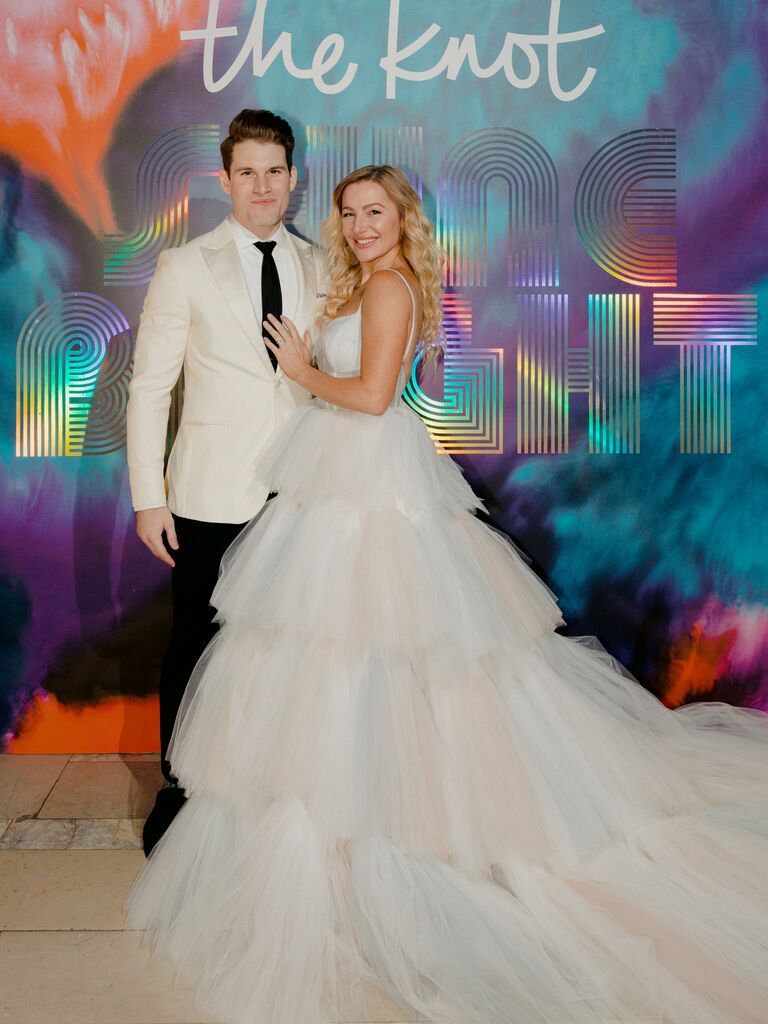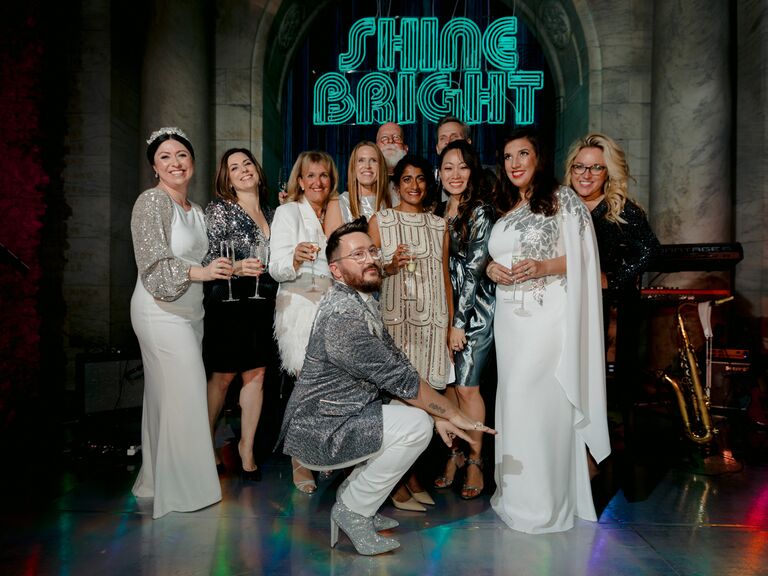 Rather than feeling restricted by a black-tie style, Meyer encourages couples to push the boundaries and do what makes them happy. "Dress code and event design are different and do not have to be the same," he says. "Your wedding can and should look and feel like you and your partner. The dress code can be fancy or casual—whatever you prefer." If your heart is completely set on an ultra-formal soiree, Meyer says you can still add in your personality through small touches like socks, pocket squares, jewelry, and hair and makeup.
The Catering
You may think a black-tie wedding requires fancy, expensive food, but Carly Katz-Hackman, head of gala catering and event specialist at Pinch Food Design, says that simply isn't true. "Black tie or not, people want to eat food that tastes good, lines their tummies for cocktails, and isn't too fussy." Rather than focusing on serving your guests luxurious foods, choose things you personally enjoy. "Serve the food you and your guests want to eat, regardless of dress code. Your menu should reflect who you are, in and out of your formal attire."
For the gala, Pinch Food Design served guests delicious comfort foods like grilled cheese sandwiches, pizza slices, and ramen cups. They also created an interactive experience for guests since that's one of our 2020 wedding trends, along with self-serviced drinks. Rather than solely relying on waiters to pass out cocktails, The Knot Gala scattered self-serve stations throughout the library so that guests were able to pour their own refills.
"Events are all about surprise and delight, and couples are definitely catching on to that," says Katz-Hackman. "For the gala, we wanted to highlight a little bit of everything that Pinch Food Design has to offer, specifically our pop-ups and interactions. Roaming pop-ups coming out of the kitchen every 20 minutes will create moments of 'wow' for attendees."
The Entertainment
Ditch the idea that you can only play classical music at your black-tie wedding (though you certainly can if you want to). Instead, focus on what you like to listen to and what your guests will enjoy. Meyer enlisted the help of The Eleven, a band that specializes in high-energy dance parties, to get gala guests moving.
He also planned a drag queen performance by Coup New York. "The entertainers were amazing," Meyer says. "The Eleven Music slayed it on stage with their talent and energy, and our drag queen performers set the tone to shine bright as you are at the gala and always."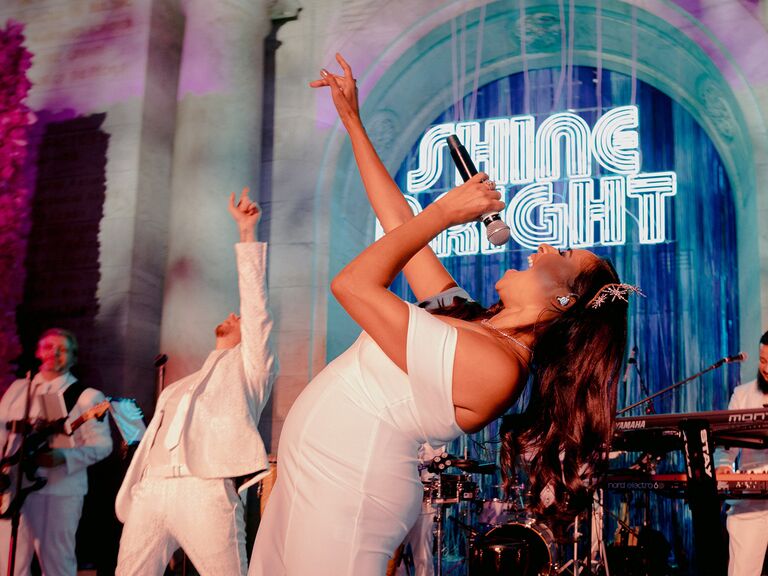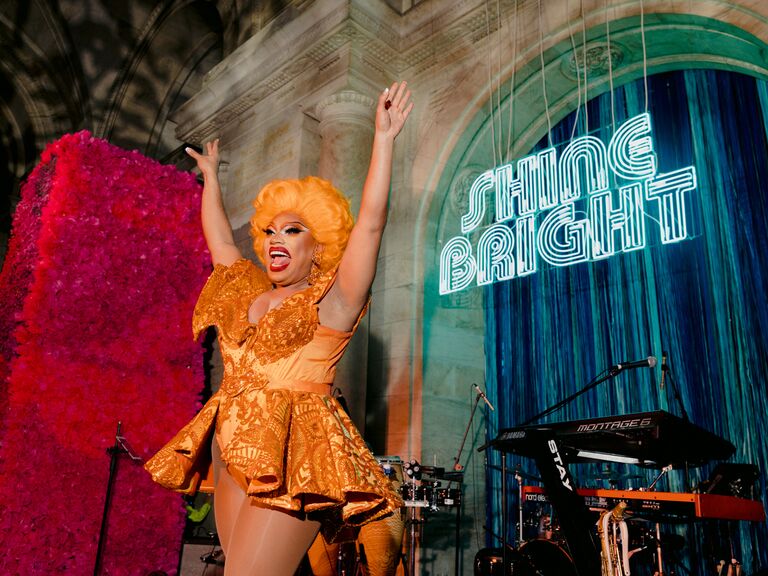 The Vendors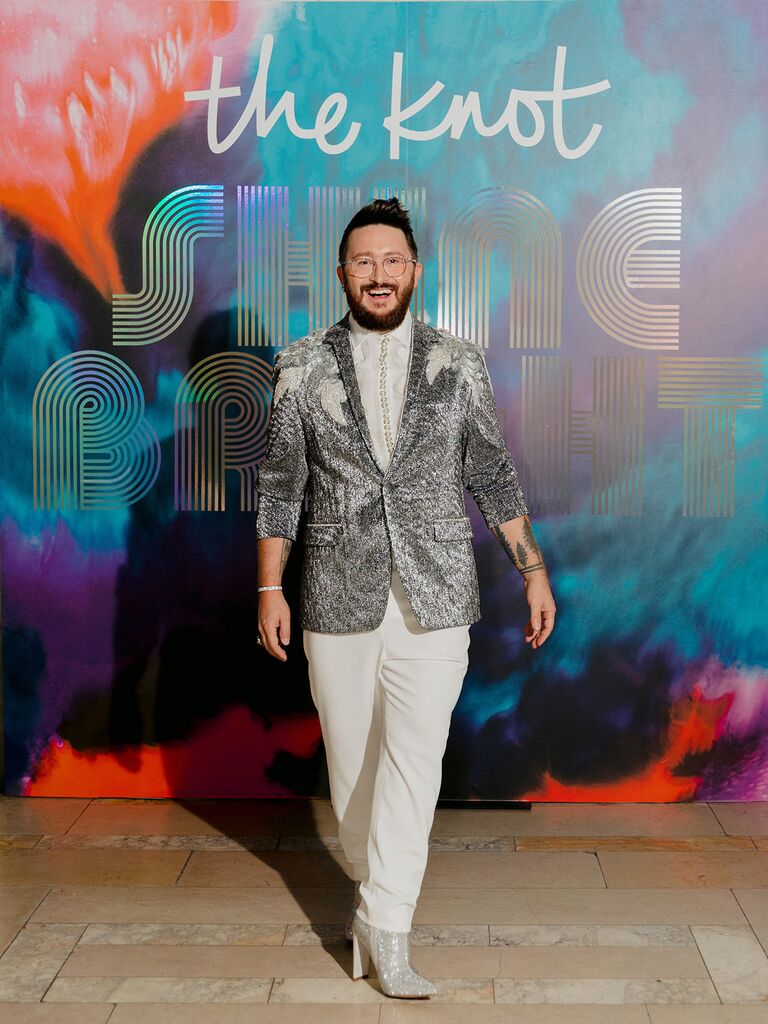 One of the best ways to personalize your wedding is to be thoughtful about who you hire for the special day, Meyer says. Rather than honing in on the most expensive vendors for your black-tie bash, Meyer suggests working with people who embody your values.
Meyer says that his collaboration with The Knot was the perfect match. "Having a proud gay man and LGBTQ+ advocate at the head of the wedding event of the year really set the tone that marriage is for everyone and that love is love," he says. "In planning The Knot Gala, I made a very intentional effort to colaborate with professionals who are people of color, women, queer or minorities in some way to shine a light on amazing hard working humans."
The Favors
Hosting a black-tie wedding doesn't mean you have to give out extra-fancy favors. Focus more on sending your guests off with a small token that they'll enjoy. The Knot gave guests mini cupcakes from Baked by Melissa to end the night on a sweet note. They were also able to take home their own deconstructed bouquets from the floral installations with the help of Garbage Goddess.
If you're hosting a black-tie wedding, think of personal favors that will resonate with your guests—whether that's a little bottle of your favorite champagne or your family's famous cookie recipe is totally up to you.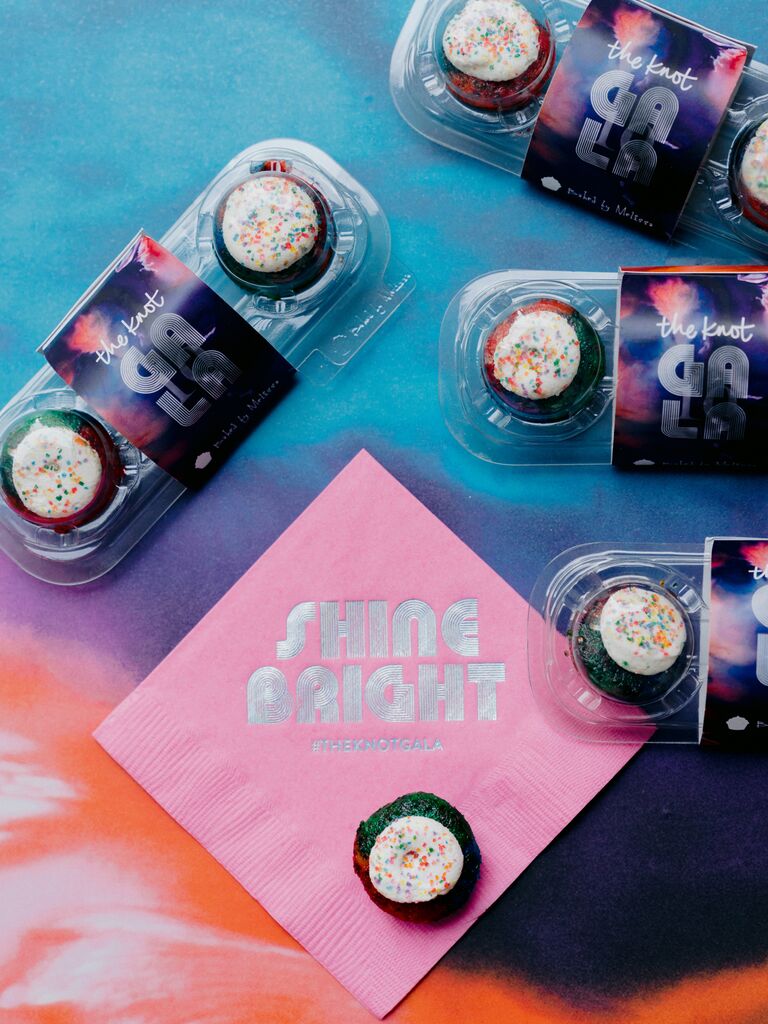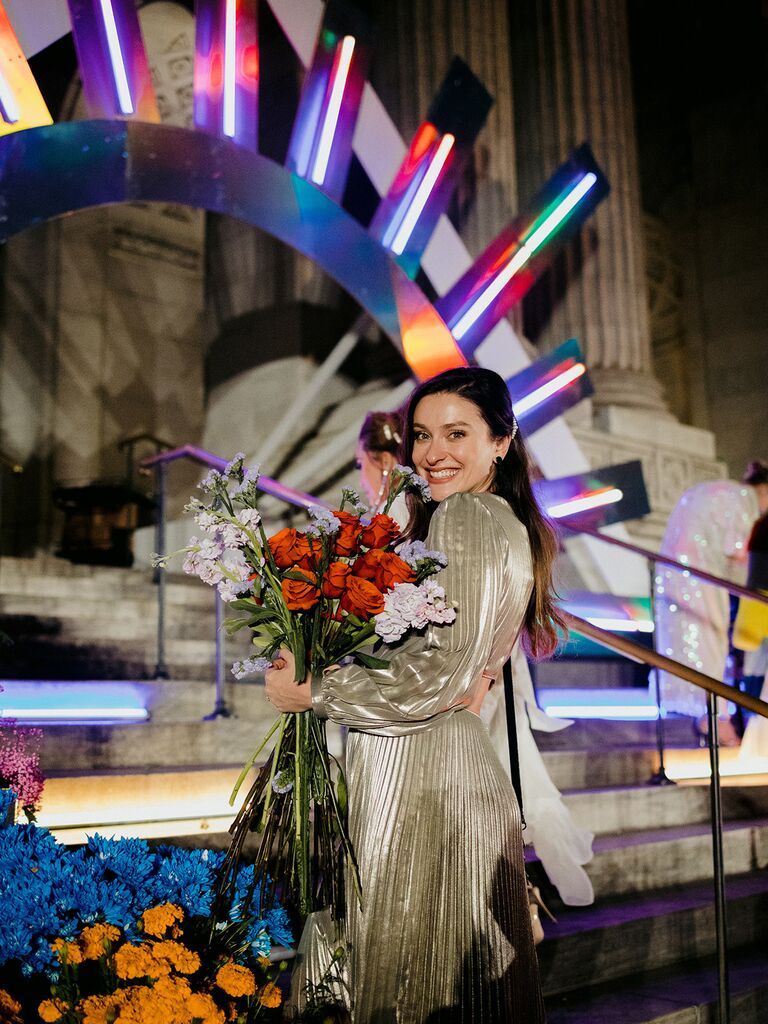 So, how do you throw a black-tie wedding? It all comes down to what you want—not what you think you should do. Expand guests' palettes by serving atypical cuisine options at your black-tie wedding or offer guests fancy creme brulée at your tented backyard wedding. Wear a sparkly blazer or strut your stuff in a ballgown at a beach ceremony. We believe there are no rules when it comes to your day; do what makes you happiest.
Vendors:
Planning and Design: Jove Meyer Events | Venue: New York Public Library | Catering: Pinch Food Design | Sweets: Nine Cakes | Florals: Mimosa Floral Design Studio | Floral Composting: Garbage Goddess | Live Band: Kerry Beach & The Eleven | Live Entertainment: Coup New York | Lighting and Technology: Visual Comet | Lighting and Technology: DJ Jacob Towe | Neon: Name Glo | LED Lights: Astera | Invitations and Branding: Fourteen-Forty | Printing: Bombshell Graphics | Photography and Videography: The Wedding Artists Co. | Photobooth: Outsnapped | Live Sketching: A.E. Kieren | Ice Bar: Okamoto Studio | Furniture: Patina | Catering Rentals: Party Rental LTD | Custom Acrylic Tables: Ruth Fischl Event Rentals | Fringe Decor: Decorative Novelty | Hashtag Signs and VOW Activation: Dogwood Blossom | Dress Donation: Lulus | Jewelry: Etoile Jewelry | Accessories: BHLDN | Liquor: Diageo | Water: La Criox | Sparkling Wine: Cavicchioli 1928 | Wine: JNSQ | Favors: Baked by Melissa | Favors: Rescue Flats | Security: GSS Security | Beauty: Beautini | Beauty: MG Hair and Makeup | Beauty: LeJeune Artistry | Beauty: Willow House Beauty | Glam Space: Refinery Hotel | Prep Space: Andaz 5th Avenue