ClassPass CEO Payal Kadakia Tells Us All About Her Wedding Planning
As busy as ClassPass founder and CEO Payal Kadakia is, she had to find time to plan a wedding after getting engaged! Get all the details here.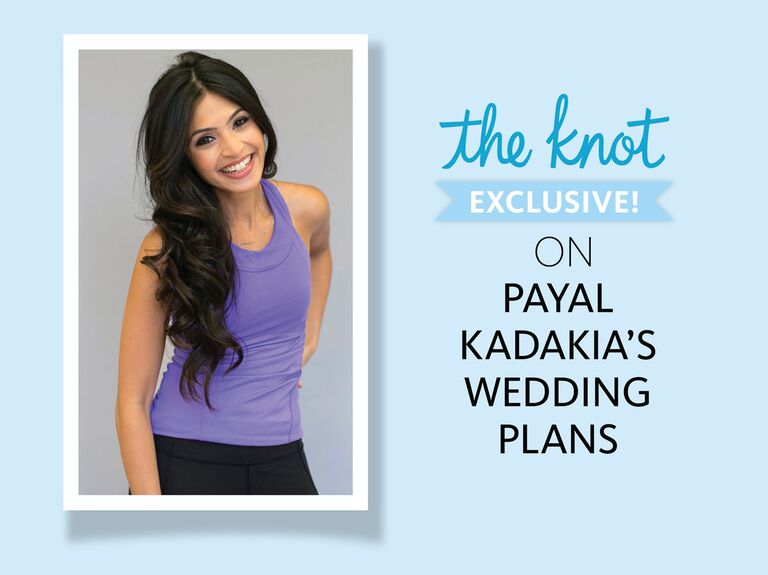 Full disclosure: The Knot has a massive girl crush on Payal Kadakia. Not only is she the founder and CEO of the uber-successful fitness membership startup ClassPass, she's also the founder and artistic director of her own dance company, The Sa Dance Company. Needless to say, Kadakia's always busy and on the go—and when you take into consideration that she's also engaged, her calendar is more jam-packed than ever. Nevertheless, Kadakia told us all about why she's not letting wedding planning take over her life, what she and her fiancé, lawyer Nick Pujji, are looking forward to the most, her favorite bridal fitness workouts and more.
Kadakia and Pujji got engaged in May of 2015... after he tricked her into thinking they were going to Greece, and actually went to Paris.
"It was really amazing, because this happened in the heat of ClassPass growing and blowing up. And I just really wanted to take a vacation with my now fiancé, because we had planned this for three months. And for some reason, I didn't think the proposal was going to happen then, but maybe sometime in the upcoming months. What was really crazy is that the only time I thought about it on the trip was when Nick got ready before me. That was the only time I was like, 'Why is he so excited?' But we were in Paris and he had previously spent some time there for school and I thought maybe he was just really excited to be there again. He proposed at a restaurant in the Peninsula Hotel with the Eiffel Tower in the background.
Then, he planned for four of our friends to come in and surprise me. That was actually one of the most awesome parts, because you get engaged and you're so happy and you're in a different place. I wasn't going to come home for a week, and obviously you share the news and call people. But it was great because the next morning someone knocked on the door and said, 'Housekeeping,' and Nick told me to open it. And there was my friend and she's like, 'I need to fluff your pillows!' During the whole trip, Nick just kept surprising me, so he didn't tell anyone where we were going each part of the trip. And for somebody whose life is so planned, it was nice to just be like, 'I'm going along with it,' and have that freedom for the week."
Kadakia's engagement ring was designed with a few personal touches.
"One of my friends, Zameer Kassam, is an amazing jeweler who likes to put stories into rings, so he and Nick designed it together. Nick basically told him how we met and the story of our journey together, and he put a lot of his personal touches in the ring. So a few things are: our birthstones and a temple on top that was designed to resemble a temple in India that's both Hindu and Sikh, because my fiancé is Sikh and I'm Hindu. There are also 15 gemstones on the side that represent the 15 months were were dating before he proposed. And there's a necklace I never take off and a bracelet he never takes off, and they were engraved into the ring too on the side as a design. It's super-personal."
It's all about the venue.
"I think the biggest thing for me and Nick was finding the right venue. So we went and saw a lot of venues because we were thinking, 'We'll know when we go to the right place because it'll have the right energy.' And every time I would go to Los Angeles (where Nick is based), I would go down to Orange County and go look at a lot of venues. Then we passed by The Resort at Pelican Hill, which is where were we're getting married. We just both walked in and said, 'We need to get married here.' "
Kadakia is excited about performing at the wedding (!).
"I would say that I'm a traditional person when it comes to my Indian roots, so I think a big part of me and Nick is our traditions and culture. A lot of what we want to do is make sure our guests understand a little bit about our culture, background and religions, and have that experience. And we also just want everyone to have a good time. We want people to have fun, because it's a beautiful venue and they'll have some free time to relax and, yes, we'll party and dance. I'll be performing, solo and with my troupe, which is something I've dreamt about my entire life. So I'm excited about that."
For them, hiring a wedding planner was a must.
"I definitely hired a planner. There was no way this wedding was going to happen without one. I hired a planner in California who's done a lot of the Indian weddings on the West Coast: Elegant Events by Nutan."
Kadakia is going to have a gorgeous wedding day look.
"I went to India and shopped for some amazing outfits and I'm wearing Sabyasachi, who is, I would say, one of the most prominent Indian wedding designers. And I'm wearing a bracelet from my great-grandmother, which I'm very excited about. Zameer is also designing a reception necklace for me. He is interviewing my mom to hear her story and kind of incorporate the story of our history together in that necklace."
Their wedding party is on the larger side.
"We're having 24 people in our wedding party—12 on each side. There are a lot of special people that have been part of our lives."
They're crossing their fingers for a timely honeymoon.
"We both have pretty intense jobs, so we're going to go based upon if we can make it happen. We're going to definitely try, but we're still figuring it out. I think we're going to do Japan and Bora Bora."
She's taken this piece of wedding planning advice seriously.
"One of my friends did this and I'm glad I did this too. They basically told me, 'If you want, wedding planning can take up a year of your life. Do you want it to?' So I really devoted time to it in January, instead of it taking up all my time, because everyone was like, 'It will fill the hours that you have if you want it to.' So I planned by condensing it a little and then knocking through things, versus taking up my mindpower for a year.

Another thing I focused on early on was not setting expectations. Nick and I each chose two or three things that really mattered to us, and everything else you just have to be able to let it go, because you want to be able to enjoy this time. I think it's been really fun bringing our families together, conversing with them in a different way because we're planning something together. I always thought of a wedding as a merger of two families, especially with Indian ones that are so big, so it's been nice to just enjoy that time. I'm using it as time for me to get closer to his family and it's awesome, versus making it seem like, 'Oh my God, I'm stressed about getting our invitations out.' "
Kadakia loves these three workouts for her bridal fitness plan.
"One, I'm going to be performing at my wedding, and dancing is the center of who I am. So I'm really glad that I'm dancing right now. Two, I've been taking lots of barre classes, not only because I enjoy it, but I'm just making sure my arms, shoulders and back look good. Three, I also love running, which is a stress reliever when I feel like I have too much to think through. It just centers me when I need it and have a hectic day. I think you have to do the things that make you feel beautiful and happy. It's more about me taking care of myself so I feel great that day. I want to feel my best so I can share that love with everyone there. And I think that's what is most important: being at a place where you can share that love with your partner, first of all, and then with everyone else who is attending. Working out shouldn't feel like an obligation. You shouldn't be working out because of what you want to look like—it's about what you want to feel like."
See photos of Kadakia's stunning engagement ring here: