You've Got to See This Seriously Vibrant DIY Wedding
From a gorgeous dyed dress to a cake in cascading bright blooms, this wedding rocked the richest of hues.
by Carrie Anton
It's not often a bride can merge her day job with her wedding planning tasks, but for Taylor Ann, being an artist has it's advantages. The creator behind TaylorAnnArt, Taylor Ann works in all mediums, including drawing, painting, sculpture, face painting, balloon twisting, ceramics and more. With such a wide range of skills, it's no surprise that she took a very DIY approach to her wedding day.
"Bold, bright colors are just part of my artistic style, and it wouldn't have been my wedding without them," she says. "When I started looking at wedding stuff I kept thinking, 'I can make that.'"
So she did—and all in a palette that plays up rich tones. Taylor Ann's theme was based on the idea of "Sunset in White Woods," which worked beautifully with her rustic outdoor venue. "I thought of a sunset, focusing on the navy blue sky, purple and maroons then accenting with the red orange and yellow of the sun."
Armed with with bottles of spray paint and airbrush dyes, there was no stopping this bride on a mission to add exaggerated colors. Here are a few of our favorite photos from her wedding day.
A Dress to Dye For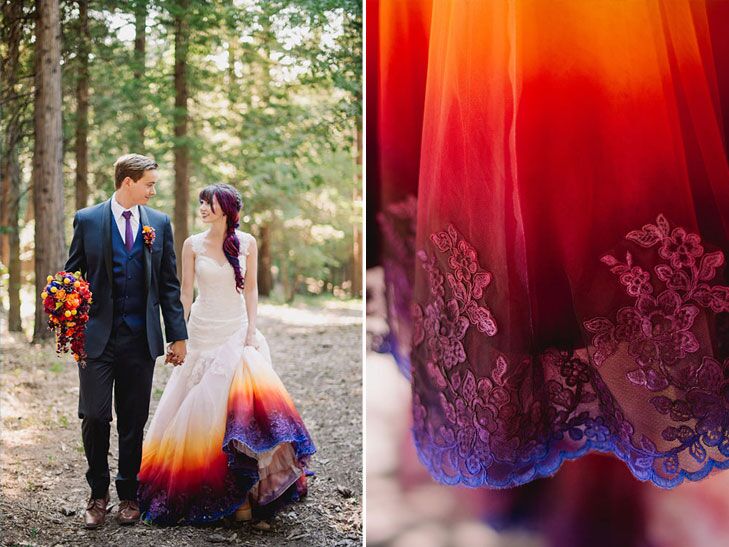 Purchased in all white from a discount store in a size seven times too large, alterations alone didn't turn this gown into a custom look. Having never dyed a dress before, Taylor Ann took her chances with her wedding day dress to create the colorful look she envisioned. While a number of attempts using "safe" non-permanent dyes led to pastel hues instead of bold, vibrant color, Taylor Ann threw caution to the wind and grabbed her airbrush.

"I mixed up some paint with a fabric setting solution and started on the tip spraying a rim blue," she recalls. "Slowly I started on one side going up the dress, navy blue into purple then magenta followed by maroon, red, orange, yellow—and then a bit of panic. The dress was so layered you could barely see the colors. I thought I had ruined my dress." With nothing else to lose, the bride kept at it, adding colors to the under layers and then the inside before finally achieving what she set out to do.
Bold Bridal Braids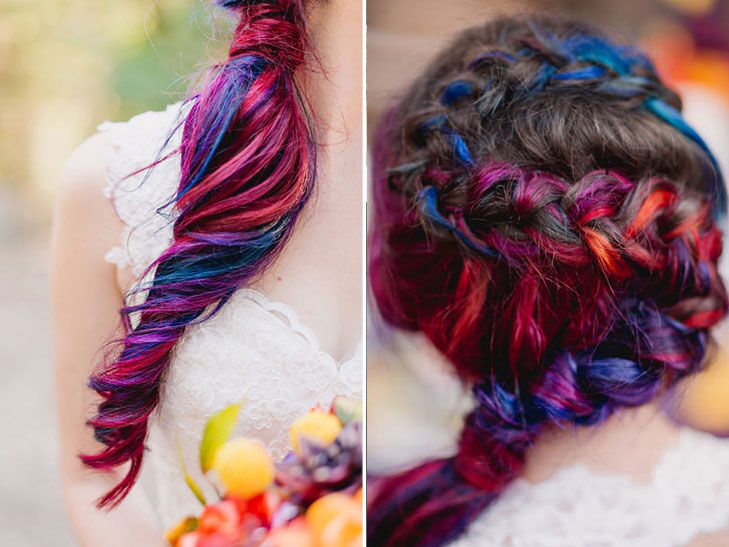 Having bleached and dyed the under layers of her hair herself for three years, she's not new to highly hued tresses. "I always keep the colors very saturated as I had for my wedding day, while keeping my natural color on top," says Taylor Ann, who added extensions for the event dyed to match her hair.

Bright Bouquet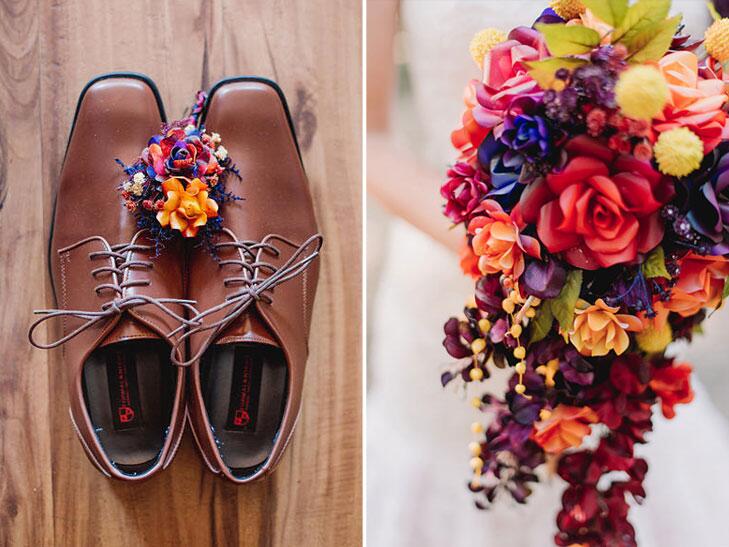 Taylor Ann created her bouquet from faux flowers with the help of the groom and other friends and family cutting, curling, dipping and dying. The handle? A giant pencil for a touch of whimsy.

Multicolored Ceremony Aisle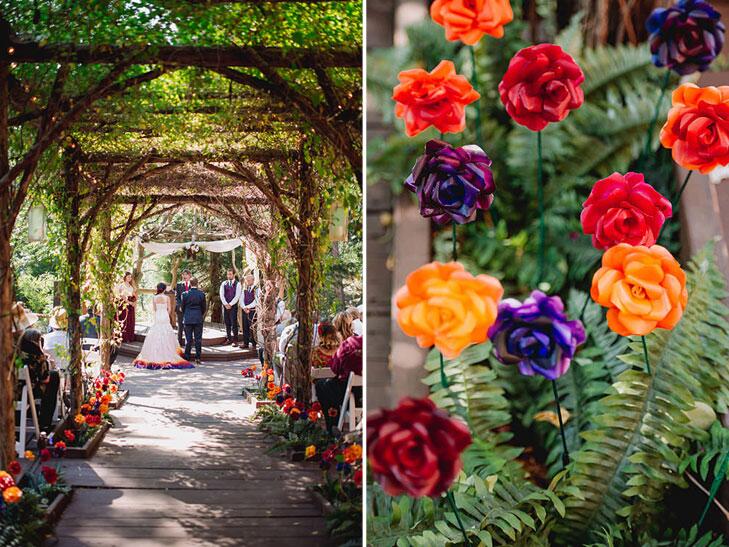 Handcrafted paper flowers lined the ceremony aisle. Used in the reception decor as well, Taylor Ann and her wedding team made more than 300 bold blooms.

Vivid Seating Chart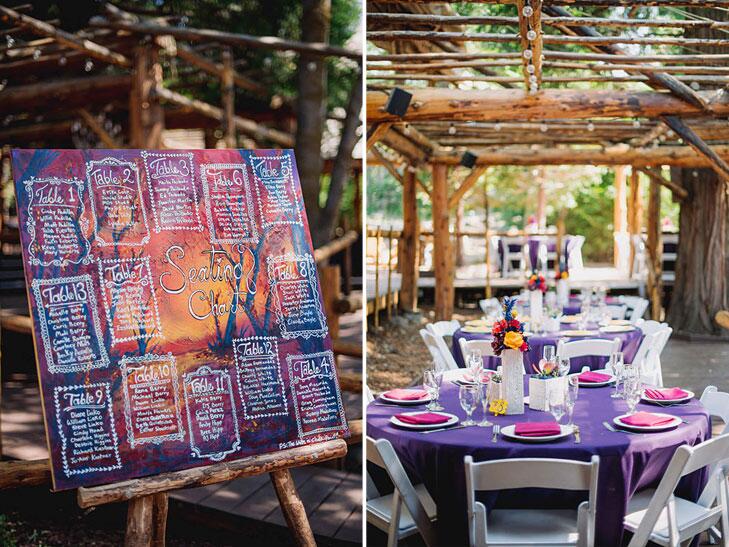 Mapped out on a mural the bride painted in her wedding colors, guests could find their table while admiring a work of art.

Cascading Cake and Fun Games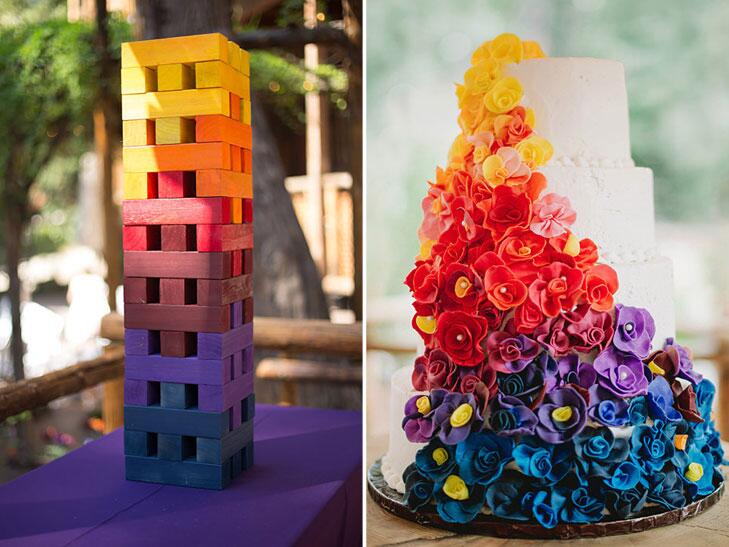 With an ombre effect atop a traditional white-tiered cake, frosted flowers added lovely pops of color similar to the effect of Taylor Ann's gown. And no detail escaped her spray paint— not even the vibrant Jenga game guests could play during cocktail hour.