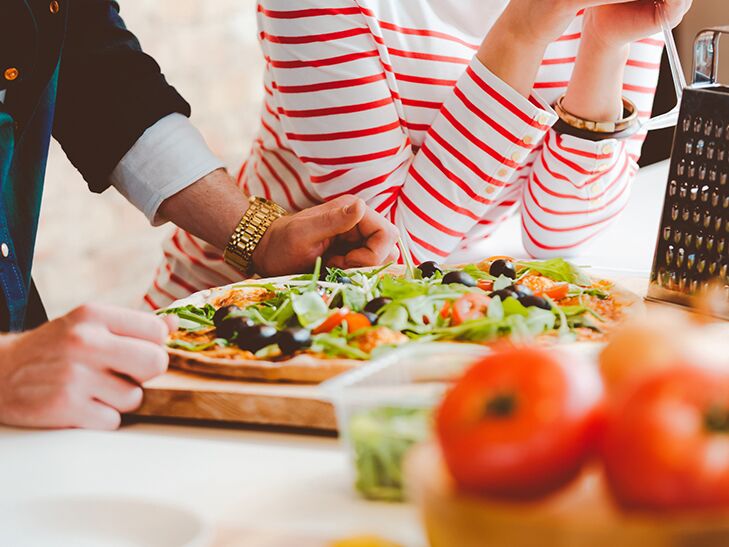 It's no secret that cooking at home is often healthier for you than dining out or consuming most of your daily calories from packaged foods. What might come as a surprise, though, is that doing so with your partner has its own distinct set of benefits. Not only is cooking itself sexy (one-fifth of respondents in a survey said being a good cook is their number one turn-on), it can also reduce stress levels and build self-esteem. And when you cook with your spouse, those dividends are even greater. But if you still need convincing, read on for more reasons why cooking together can make sparks fly—plus delicious recipes and the All-Clad cookware to register for that'll help you make each one. Bon appétit!


It builds in bonding time.
Repeat after us: Couch time is not quality time. Sure, it's fun to share a bowl of popcorn and a couple of beers while watching Stranger Things, but it doesn't really foster a deep connection. To do that, you need an activity that allows you to collaborate and interact. That's why preparing food together is such a win-win. You and your partner both need to be fully present during the task at hand, and creating something together will give you a shared sense of satisfaction.
Make This: Paul Kahan's Lamb Stew
Use This: All-Clad d5 stainless dutch oven, $385

It heightens health and happiness.
The saying "you are what you eat" holds some merit; science backs up the notion that the better you eat, the happier you are. In a study, researchers found that for each extra serving of fruits and vegetables consumed, participants reported feeling happier and more satisfied with life. And that sense of well-being has a domino effect that carries over to your relationship, because happier people make for happier relationships. 
Make This: Marc Vetri's Eggplant Caponata
Use This: All-Clad d5 stainless 12" fry pan, $205

It improves communication.
Unless you're both professional chefs, chances are one of you is more comfortable in the kitchen. If it's you, use this to your advantage: When your partner dices the carrots instead of julienning them, patiently demonstrate the correct way it's done. Showing off your culinary skills will give you a boost of confidence and a chance to fine-tune those all-important communication skills—a key factor in whether your relationship thrives or dies, according to researchers. Plus, just the act of cooking requires you to talk, from deciding what dish you're going to make to divvying up the prep work.

Make This: Gavin Kaysen's Harissa Roasted Cauliflower
Use This: All-Clad d5 stainless saute pan, $310

It gets you in the mood.
Cooking is fun, and the more fun you're having together, the more flirtatious and playful your banter will be. And when you're heating things up in the kitchen, it just might carry over to the bedroom: Sharing household tasks, like cooking, has been shown to lead to more frequent—and better—sex. Though the verdict is still out on whether aphrodisiac foods truly exist, why not give one a whirl? Spicy foods, for example, have long been thought to stimulate sex drive. But no matter what dish you whip up, the results of doing it together remain the same: a spiced-up relationship, chili peppers or no.
Make This: Nina Compton's Curried Goat With Sweet Potato Gnocchi
Use This: All-Clad stainless 8-quart stock pot, $345
This article is sponsored by All-Clad. Read more about the recipes, tips and kitchen essentials you'll need for married life, including All-Clad's durable, high-quality cookware.