21 Beautiful Daisy Wedding Bouquets You Can Show Your Florist
Add these wildflowers to your bouquet to make your day even more special.
Are you looking for the perfect wedding bouquet for your big day? There are so many ways you can design a daisy wedding bouquet to match the theme, color scheme and season of your wedding. Chances are, you've probably heard of daisies before as they are pretty popular. You've also likely seen them when out and about. However, you may not know too many of the specifics which is why we're here to help. We've chatted with several professional wedding florists about these beautiful wildflowers and have compiled a lot of information about them and how they can be incorporated into wedding bouquets to make the process easier.
In this story:
Different Types of Daisies
Several different types of daisies can be incorporated into a wedding bouquet. Wedding flower expert Alison Fleck, Founder of Bloom Culture says that the top varieties she sees used regularly by florists are "gerbera daisies, pompon daisies (technically chrysanthemums), chamomile/feverfew (micro or mini daisies), coneflower and marguerite daisies."
Daisy Colors
Daisies come in a variety of colors and are each known to symbolize different things. According to Fleck, "the five most popular colors for daisies are white (purity), yellow (happiness), pink (adoration), orange (joy) and red (love).
How Much Do Daisies Cost?
Daisies are relatively inexpensive flowers. Wedding and event florist Lily Garland Coleman of Flowers By Lily Garland explains that "their price will range slightly from florist to florist and also by region (as shipping costs vary)."
When Are Daisies In-Season?
Curious about when daisies are in-season? Expert florist Jessica Gill of Luna Rose Florist told us that daisies are in season starting during the early and middle parts of the summer. However, Coleman adds that "most florists have access to daisy poms year-round. And, they are a very durable and long-lasting flower."
Tips on Adding Daisies to Your Bouquet
When trying to find the perfect flowers for your wedding bouquets, you should consider which flowers best complement each other, how long they last and any best practices that should be followed to keep them as healthy as possible before using them and handling them on your special day.
Use Daisies as a Filler Flower
Gill shares that "daisies are ideal as 'filler flowers'. A filler flower is used alongside larger, focal blooms such as roses or peonies to add texture and fullness to a bouquet. They work particularly well if you're going for a wildflower look with your wedding flowers."
Condition Daisies Before Use in Bouquets
Gill also explains that since daisies are cut flowers, they should be conditioned for a minimum of 24 hours before using them so they can last as long as possible. You can visit The Knot Marketplace to search for a florist to make you the daisy wedding bouquet of your dreams. Simply enter your location into the search feature to find recommended local florists.
What Flowers Go With Daisies in a Bouquet?
Gill shares that "flowers which have a wild and whimsical look often look great with daisies. These include scented stocks, snapdragons, ammi, lisianthus and cornflowers." Coleman adds that "we personally like to use them for rustic or fall bouquets."
Daisy Wedding Bouquet Ideas
If you want daisies to be part of your special day and wedding bouquets, continue reading for 21 daisy wedding bouquets ideas you can show your florist.
Small Daisy Bouquet With Roses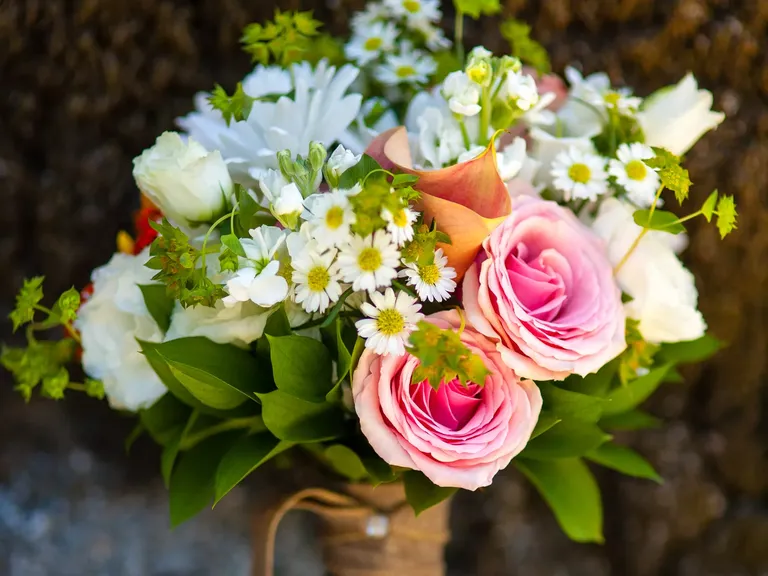 If you're looking for a bouquet for your rustic wedding, consider a bouquet of mini white daisies along with white and pink roses. Add some greenery along the bouquet's perimeter for an extra rural touch.
Fall Daisy Wedding Bouquet With Chrysanthemums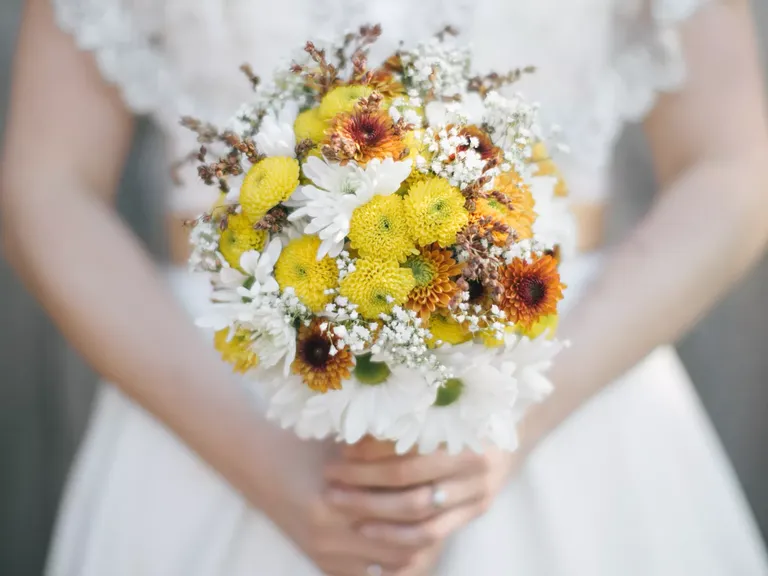 For a fall wedding, opt for a bouquet composed primarily of white daisies with yellow and orange chrysanthemums as the focal point. We love this bouquet's warm and vibrant tones – we think you will, too.
Whimsical Orange Gerbera Daisy Bridesmaid Wedding Bouquet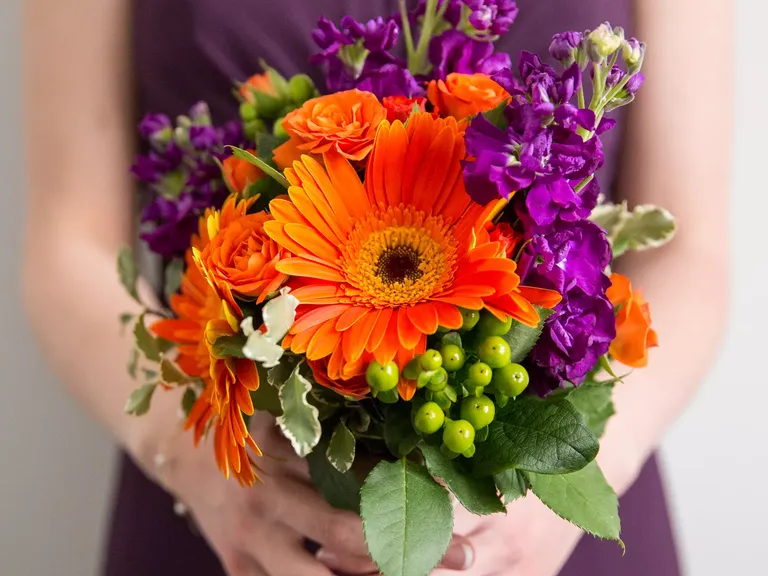 If you want your bridesmaid bouquet to really pop, go for a bouquet with bold colors. This whimsical bouquet composed of large orange gerbera daisies is sure to be seen as your besties make their way down the aisle. Plus, Fleck notes that orange daisies are known to symbolize joy – and we want you to have a lot of that on your big day.
Winter White Daisy Wedding Bouquet With Winter White Roses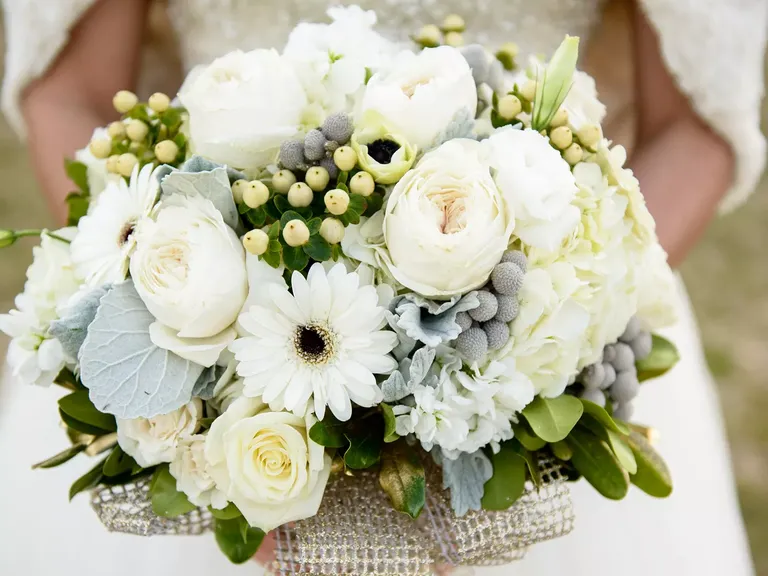 If your wedding will have a winter white color scheme, consider keeping things consistent with a bouquet of winter white daisies and roses. Although this is a simple bouquet, it will elevate your look (especially if your dress or suit is also winter white).
Red Gerbera Daisy Wedding Bouquet With Roses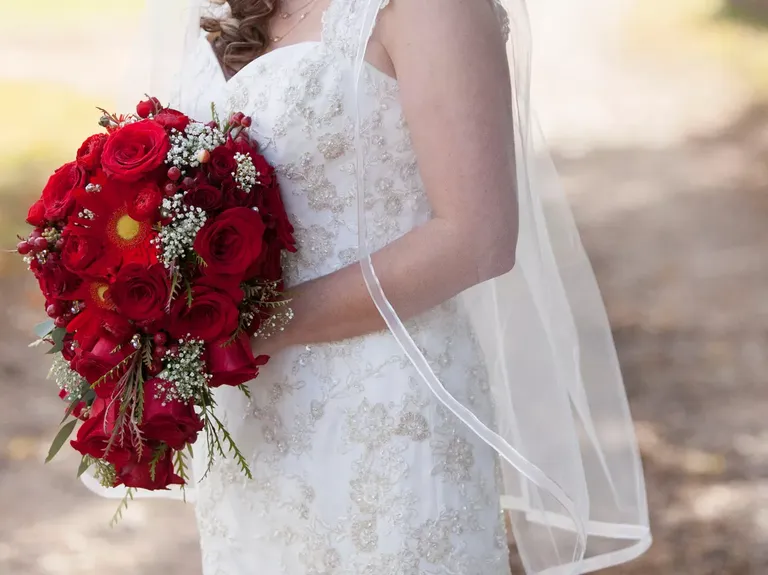 Your wedding day is a day filled with love and your wedding bouquet can be, too. Combine red gerbera daisies and red roses to create a vintage bouquet that's picture-perfect – and, will stand out when held against your white dress or suit.
Hot Pink Daisy Wedding Bouquet With Roses
Make a bright entrance down the aisle when you carry a bouquet of hot pink daisies and roses. This vibrant bouquet works well, especially for weddings with a pink color palette. Adding in a couple of stems of baby's breath is optional – we think this bouquet looks hot either way.
Purple Bouquet with Daisies, Carnations and Sea Holly
If you're planning a colorful wedding, consider having a colorful wedding bouquet, too. This textured purple bouquet featuring purple daisies, carnations and sea holly is stunning and will make you feel like royalty while you hold it down the aisle.
Red and Orange Rustic Gerbera Daisy, Calla Lily and Rose Bouquet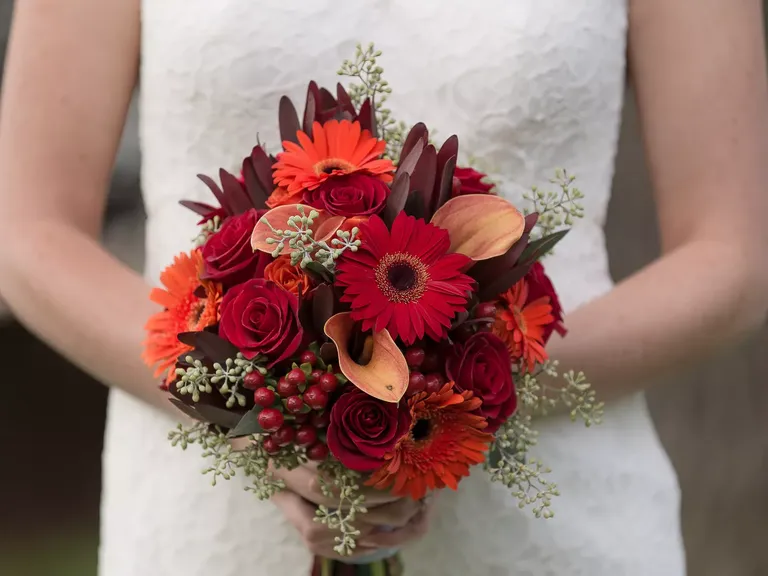 Looking for a bouquet for your rustic wedding? A red and orange bouquet with gerbera daisies, calla lilies and roses may just be what you seek. Whether your wedding is at a lakefront or a barn, this textured bouquet will add to any outdoor wedding.
White and Green Natural Daisy and Baby's Breath Bouquet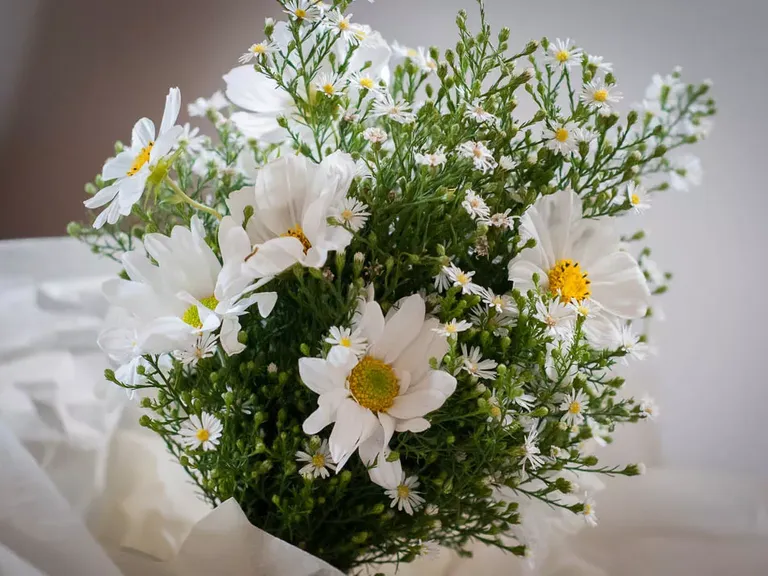 Pair white daisies and baby's breath together to create a simple bouquet. Plus, its white and green color scheme will match a country wedding. Add a photo of a loved one or a sentimental accessory for a personal touch to your baby's breath and daisy bouquet.
Small Pink Daisy and Peony Bridal Bouquet
If you want a small and simple bouquet to hold while walking down the aisle, a tiny round bouquet with small pink daisies and peonies will get the job done and do so beautifully. We personally love the addition of the greenery around the pink daisy wedding bouquet's perimeter as it creates a more rustic-looking bouquet, especially if your wedding is an outdoor one.
A White Bouquet Featuring Daisies, Orchids and Dusty Miller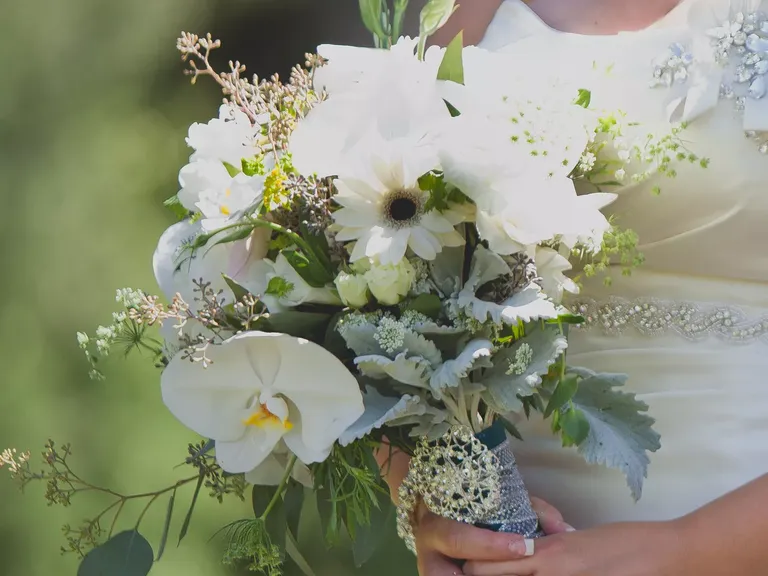 Perfect for a rustic mountain wedding, this white daisy bouquet is accented with orchids and dusty miller. For an easier grip, tie the stems with some decorative lace.
Chic Large Bouquet With Pink Gerbera Daisies, White Hydrangeas and Yellow and Orange Peonies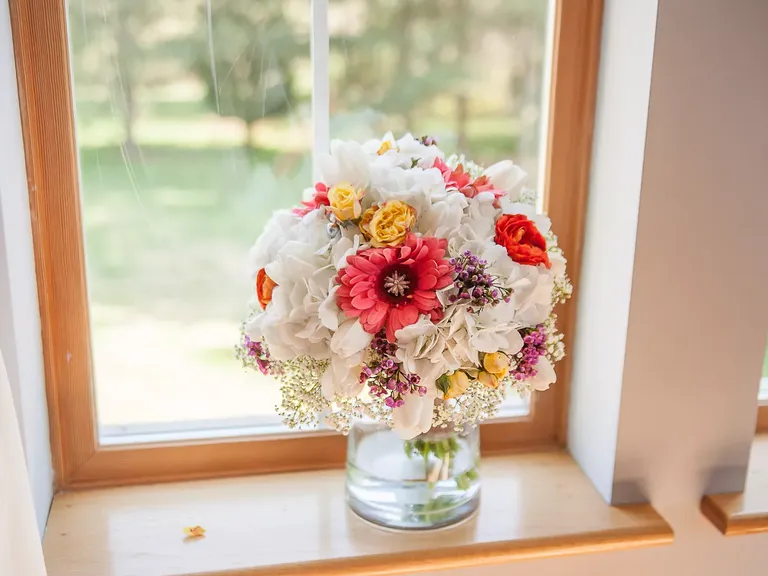 If you're looking for bouquet inspiration for your chic wedding, bookmark this one. This colorful bouquet combines pink gerbera daisies, white hydrangeas and yellow and orange peonies creating a vibrant and modern arrangement. You can add some baby's breath to the sides for a more textured look or leave it out for a more rounded look – the choice is yours.
Loose Wildflower Bouquet With Daisies and Roses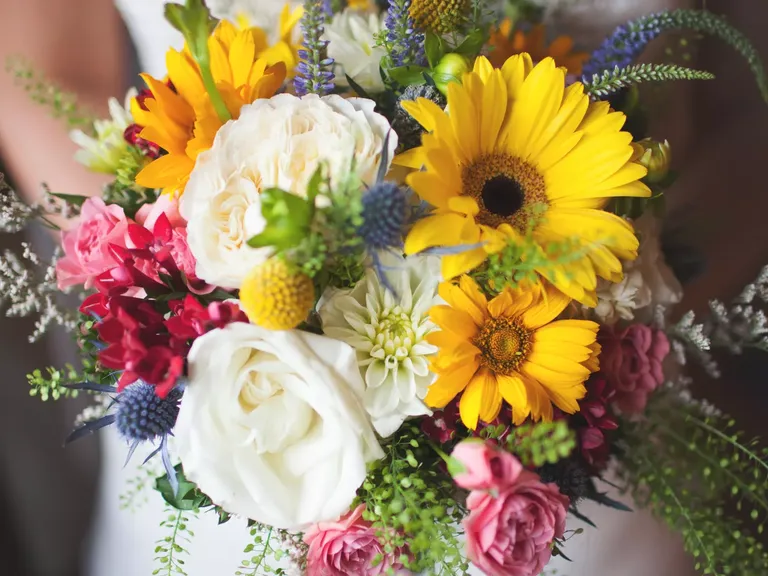 This loose wildflower bouquet of daisies and garden roses is accented with loose thistles and greenery for a more casual and relaxed look. We recommend wrapping the bouquet with a piece of decorative fabric so it is easier to hold.
Colorful Bouquet With Daisies, Ranunculus and Roses
If you're looking for an eye-catching bouquet for your special day, you can't go wrong with a colorful bouquet. This round bouquet of yellow daisies, pink peonies, orange ranunculus and pink, orange and purple roses will stand out and look beautiful against your white wedding dress.
Red Gerbera Daisy Bridesmaid Bouquet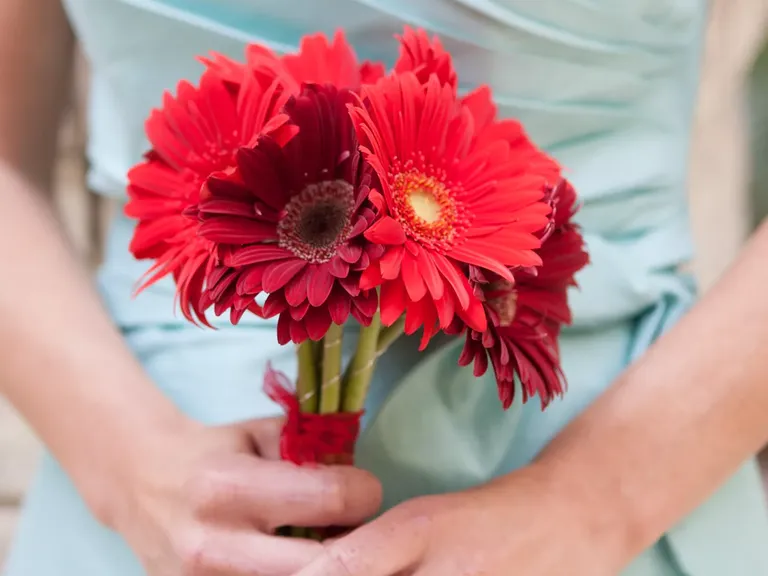 Create a classic bridesmaid bouquet made entirely of red gerbera daisies. Although this bouquet may be small, the red stands out, especially when held against a lighter dress.
Wildflower Bouquet With Mini Daisies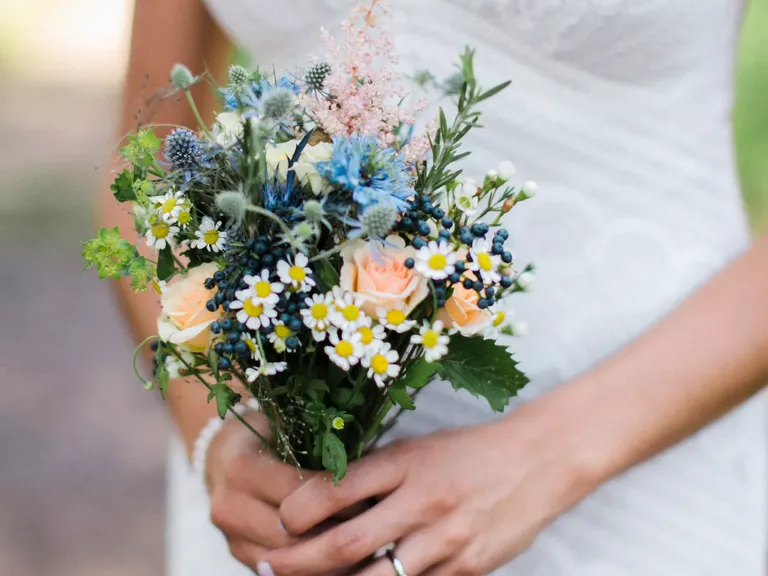 A combination of wildflowers including mini daisies creates a beautiful bouquet for a rustic wedding. Although you can tie the stems if you'd prefer, we personally like the natural look of the loose stems when held all together, as seen in this wild daisy wedding bouquet.
Pink and Peach Bouquet With Daisies and Peonies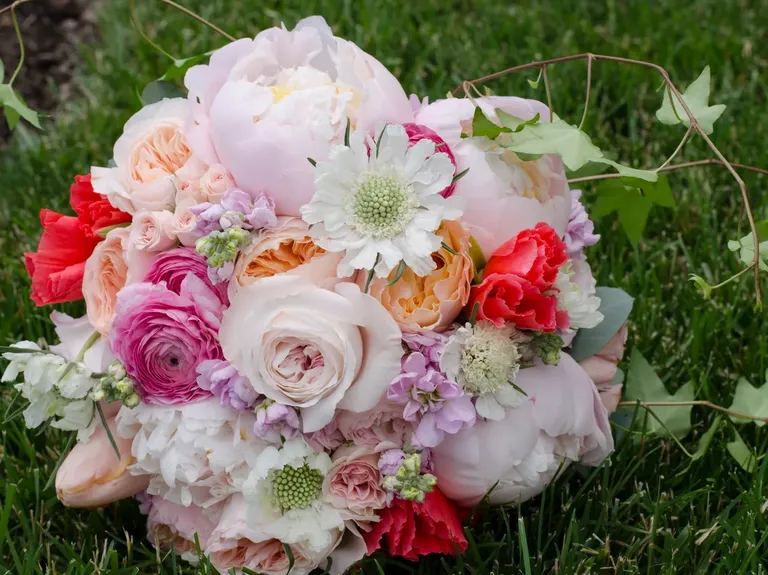 This pastel bouquet of white daisies, peach garden roses, peach and white peonies and pink and purple ranunculuses is a great choice for a spring wedding. If you're looking for an eclectic bouquet, save this one to your bouquet inspiration photo album for when you meet with a florist.
Burnt Orange and Green Bouquet with Daisies and Zinnias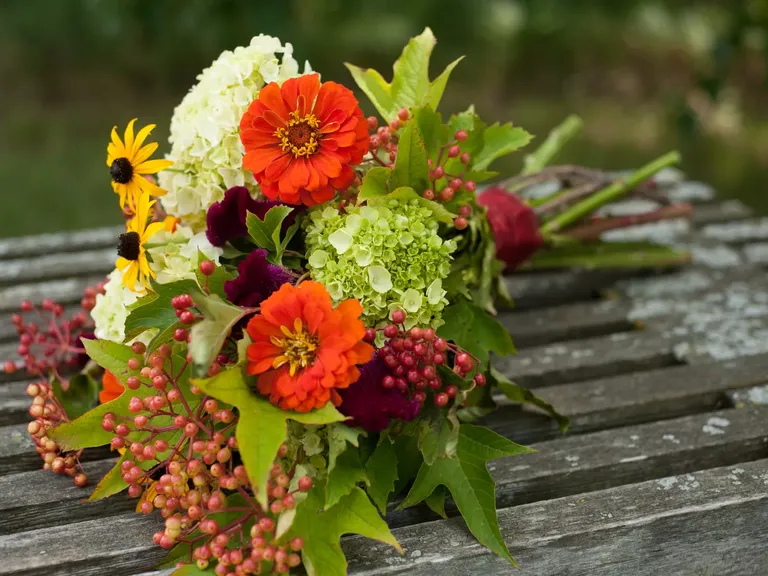 If you haven't yet considered a burnt orange and green bouquet for your wedding, now is the time. Although this may not be what first comes to mind when you think of a wedding bouquet, the combination of daisies and zinnias is stunning. We especially recommend this bouquet for outdoor celebrations.
Ivory Daisy, Fiddlehead Fern and Rose Bridesmaid Bouquet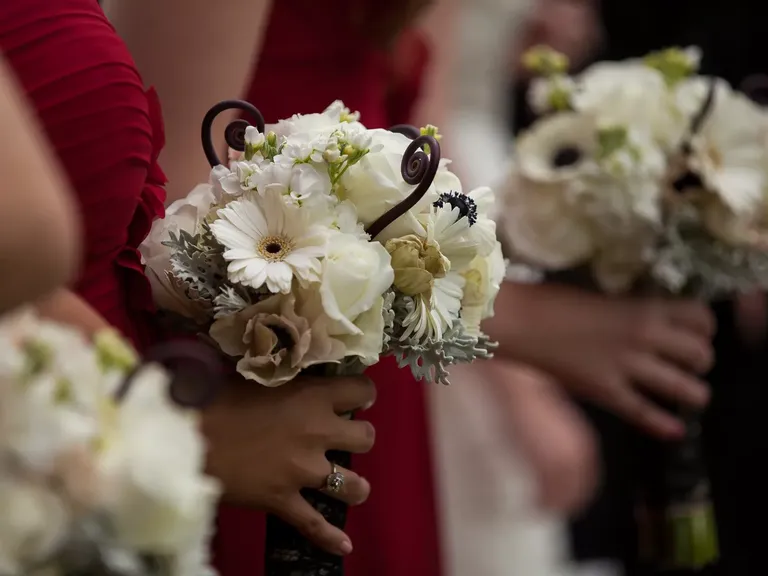 If your wedding's color scheme consists of red, white and black, this ivory bridesmaid bouquet filled with gerbera daisies, fiddlehead ferns, roses and dusty rose will make a great addition to your special day. Whether or not you want to accent the bouquets with some black decorative pieces is optional and up to you. .
Bright Daisy and Garden Rose Bouquet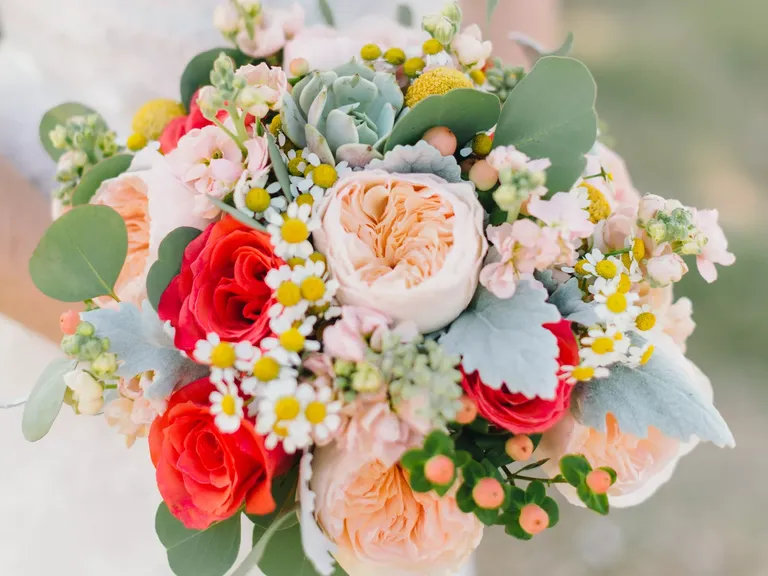 Looking for a vintage bouquet for your vintage wedding? If so, this vibrant bouquet of brightly colored garden roses and mini daisies is a wonderful choice. We love the contrast between the size of the daisies and the garden roses as it gives the bouquet a more playful look.
Cascading Bouquet With White Daisies and Peach Dahlias
If you want your daisy wedding bouquet to make a statement on your big day, a cascading one will do just that. This peach-hued bouquet featuring daisies and dahlias is perfect for a spring or summer wedding.