17 Timeless Baby's Breath Wedding Bouquets for Your Special Day
A filler flower no more. Style an all-white bouquet with the ethereal white blooms.
There are not many flower options that complement every wedding style, but baby's breath flowers seem to do just that. Seriously, they can work anywhere and with anything. The effortless white budding flowers add whimsical wonder to every bouquet. Whether you're opting to use baby's breath as a filler flower or you've been dreaming of a bouquet complete with just the graceful white buds, we've rounded up 17 baby's breath wedding bouquet ideas to inspire your own wedding design. After all, the minimal flower symbolizes everlasting love, making it the perfect flower to incorporate in your special day.
In this article:
What Is a Bunch of Baby's Breath?
Baby's breath is also referred to as Gypsophila and is a flower in the Carnation family. As couples embrace the less-is-more trend, the compact white flowers have become increasingly popular for wedding bouquets. Because of their muted color palette and affordable price point, baby's breath has become the perfect flower for just about any wedding style.
How Much Is a Bunch of Baby's Breath
If you're looking for an inexpensive wedding flower, you're in luck. Baby's breath can be an affordable option for your wedding bouquet. "The price of baby's breath, like all flowers, is dependent largely on supply and demand. When demand is low, baby's breath is a very economical flower to use." shared wedding expert Aelson Cacique, Founder and Creative Director of Fleurs du Mois, Inc.
How Many Stems of Baby's Breath Are Needed for a Bouquet?
A little goes a long way with baby's breath, which is why it is an affordable option. Typically, a full-sized wedding bouquet is made up of around five baby's breath stems, whereas other flowers tend to need eight stems for a similar sized bouquet.
Do Baby's Breath Flowers Smell?
Well, we don't call them baby's breath for no reason… Though some have complained that the flower has a musty odor, we've been told the flower's scent is muted and isn't usually overpowering.
How Long Will a Baby's Breath Bouquet Last?
Baby's breath bouquets are long lasting and typically survive for 8-10 days. We encourage couples to make the most use out of their flowers by reusing them for wedding weekend festivities, like a rehearsal dinner or morning-after brunch.
Florists' Tips on Adding Baby's Breath Flowers to Your Bouquet
Deciding on your wedding flowers is one of our favorite parts of the wedding planning process. While we know it would be more fun to browse beautiful bouquets all day long, it's important to do your research before deciding on your blooms of choice.
To make the planning process that much easier, we've collected the best tips and tricks from expert florists on incorporating a bunch of baby's breath in your bouquet. Find an flower expert in your very own area on The Knot Marketplace.
Seasonality of Baby's Breath Flowers
"Baby's breath can be sourced all year round. It can look great in summer weddings against a green landscape and it's equally at home creating a frosty masterpiece for winter weddings." shared floral design expert Clare Wilder, Founder of Clementine Moon.
Find your kind of venue
From barns to ballrooms, discover reception venues that feel like you.
Aelson Cacique, Founder and Creative Director of Fleurs du Mois, Inc agrees. "Baby's breath is generally available year-round, but we tend to see it used more often in the summer months or as an accent in winter arrangements."
What Flowers Should Baby's Breath Pair With in a Wedding Bouquet?
"Baby's breath has a reputation as an affordable filler flower, so it's often seen in grocery store arrangements with a few roses added. But we feel it looks best all on its own. The bigger the arrangement, the better. When we pair it with other flowers, baby's breath takes a back seat and is used mostly as an accent flower, and not the featured flower." says Aelson Cacique, Founder and Creative Director of Fleurs du Mois, Inc. "That said, it's all about proportion. If baby's breath is being used as a feature flower amongst others, try to use smaller flowers like spray roses instead of standard roses."
Baby's Breath Bouquet Ideas
While baby's breath flowers pair well in just about any bouquet combination, you'll want to have some sort of vision in mind as you continue your wedding planning. Read on for the best baby's breath bouquet ideas, all from real weddings. Save these for inspiration for your big day and if you find one or two that you love, bring them along and share them with your florist.
1. Baby's Breath Bridesmaids Bouquets
This white on white combination features dainty baby's breath bridesmaids bouquets. If you're looking for a neutral wedding color palette, we love these elegant, petite bouquets.
2. Vibrant Wedding Bouquet With Baby's Breath, Roses and Hydrangeas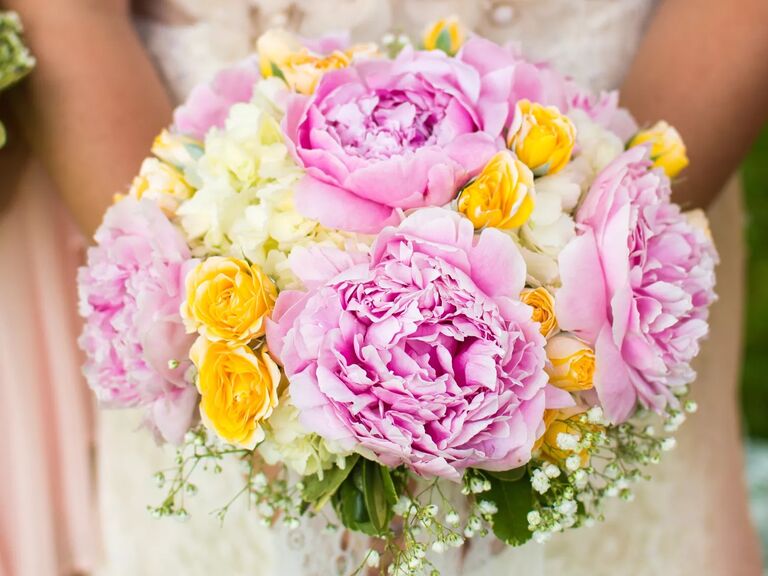 Add a touch (or, more than a touch) of color to your wedding bouquet with vibrant hues of pink and yellow. This brilliant baby's breath wedding bouquet colorfully combines pink peonies, white hydrangeas, yellow roses and, of course, baby's breath.
3. Petite Baby's Breath Bridesmaids Bouquet
Perfect for a pastel springtime wedding, the simplicity of complete baby's breath bouquets offer complete elegance. Not only is it an affordable wedding flower option, but it allows the bridal bouquet to shine!
4. Magical Baby's Breath Bouquet With Dahlias
We're simply in love with this romantic, cool-toned baby's breath bouquet. Something about the combination of purple dahlias, red roses, baby's breath and blue wax flowers, feels 'berry' chic.
5. Whimsical Baby's Breath Bouquet for a Garden Party Wedding
Planning a garden party wedding? We've got you covered with the perfect wedding bouquet inspiration. This wedding flower arrangement features roses, lisianthus, baby's breath, astilbes and dusty miller. If you're looking for a touch of whimsy, look no further.
6. Baby's Breath Bouquet with Fern
While we're usually swooning over cascading wedding bouquets, there's something to be said for simple, minimal floral arrangements. The baby's breath dainty white flowers paired with the strong, stiff leaves of a fern is our definition of balance.
7. Vibrant Baby's Breath Bouquet with Wildflowers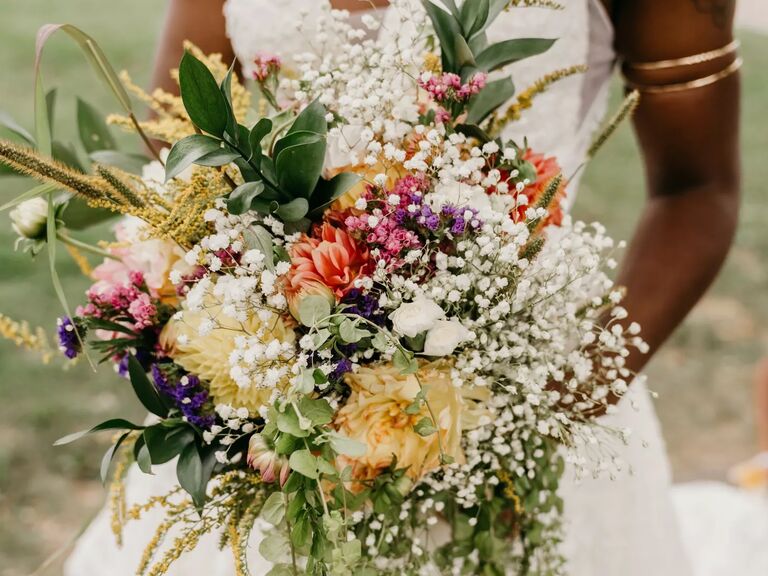 We're swooning over this wildflower wedding bouquet. While this baby's breath floral arrangement features a variety of wildflowers, the baby's breath is what makes it pop. The dainty white flowers compliment the muted yellows, purples and stiff greenery in every good way possible.
8. Cascading Bouquet with Roses, Dusty Miller and Baby's Breath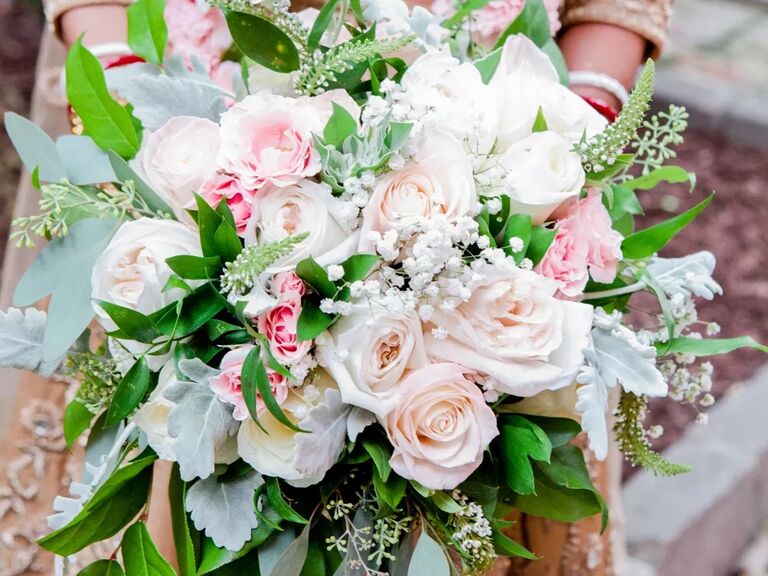 This vibrant, pink bouquet is one we'll have a hard time forgetting. With endless greenery, vibrant hues of blush and pink, and dainty baby's breath, we're certain this combination will be the talk of the dance floor.
9. Glamorous Baby's Breath Bouquet with Peonies
An all white wedding bouquet is anything but boring. The combination of white orchids, white peonies and a baby's breath bunch makes for a timeless and elegant wedding arrangement.
10. Hydrangea Wedding Bouquet with Baby's Breath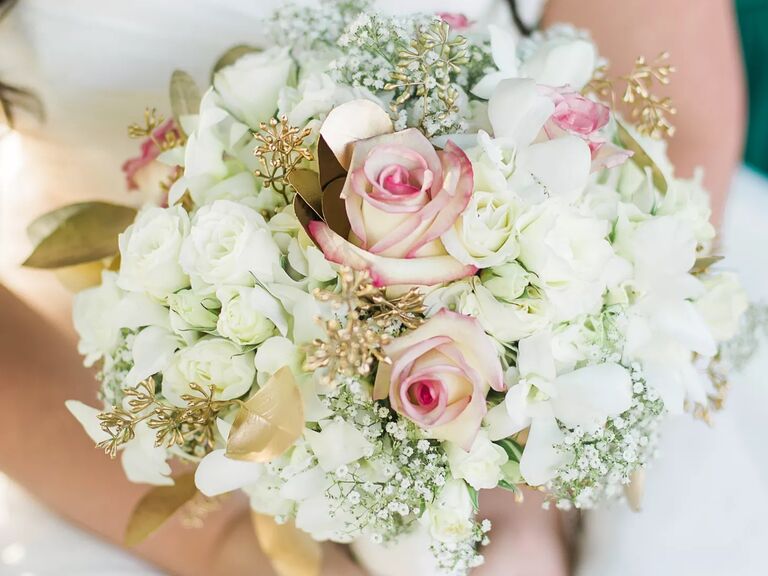 We're all for an earthy bouquet, especially a unique one. This natural baby's breath arrangement featured white hydrangeas, pink-tipped roses, gold leaves and baby's breath.
11. Colorful Sunflower Bouquet With Baby's Breath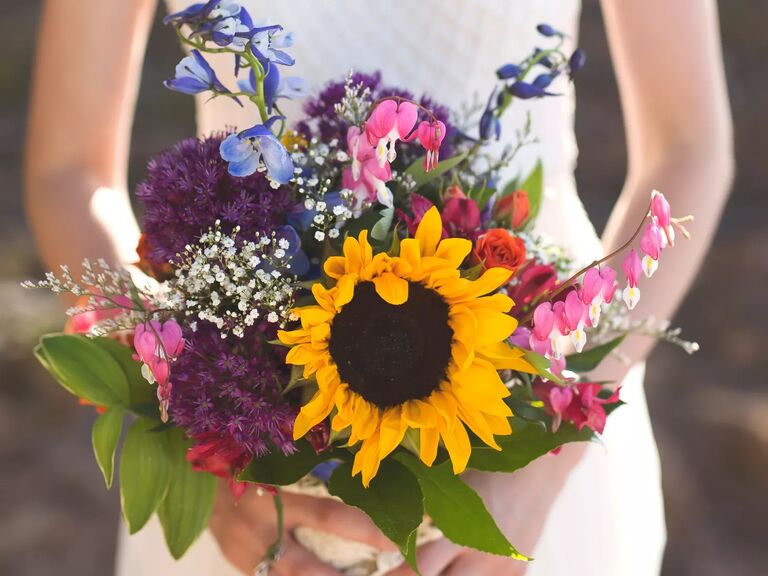 The iconic yellow sunflower is one of our favorite ways to make a statement in a wedding bouquet. The combination of purple and pink wildflowers, a few rose stems and baby's breath made for a beautiful rustic bridal bouquet.
12. Bridesmaids in Monochromatic Dresses With All-White Baby's Breath Bouquets
Modern couples, this look is for you. We love this minimalist, monochrome look where the bridal party rocked white dresses accented by simple baby's breath bouquets.
13. Baby's Breath Bouquets With Silver Dollar Eucalyptus
Looking for a simple, understated approach to baby's breath? A few sprigs of silver dollar eucalyptus helped frame these otherwise baby's breath-centric bridesmaid bouquets for romantic wedding in Virginia.
14. Baby's Breath Pomander for Flower Girl
Flower girls can get in on the baby's breath action too. This flower girl carried a baby's breath pomander as an alternative to a traditional bouquet.
15. Modern Baby's Breath Bridesmaid Bouquets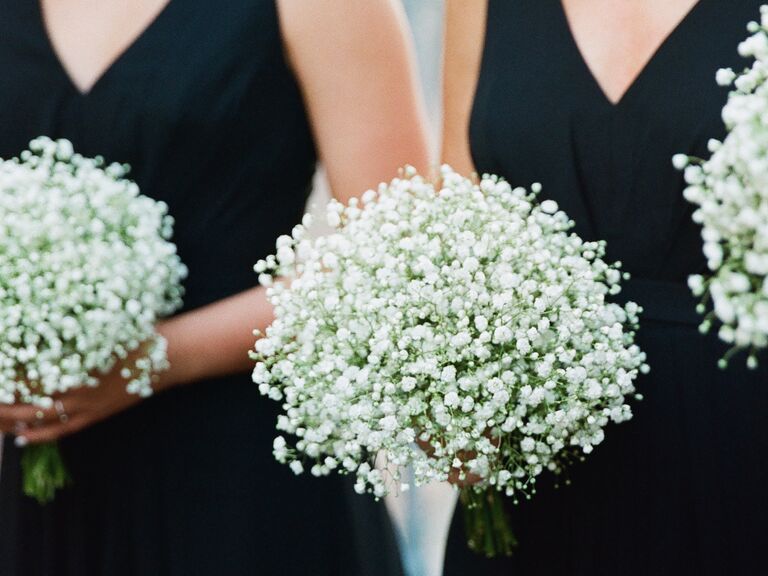 Since baby's breath is white, it's a great option if you're planning a chic wedding with a simple black-and-white color palette. These bridesmaids rocked black dresses and finished their looks with baby's breath bouquets.
16. Petite Rustic Baby's Breath Bouquet With Twine
Beyond the flowers you choose, the finishing touches for your bouquet (such as twine wrapped around the bouquet) are a great place to reinforce your overall aesthetic. This bouquet feels subtly rustic while still being chic, thanks in part to its twine wrap.
17. Tropical Wedding Bouquet With Baby's Breath
Although baby's breath is most commonly seen at rustic weddings, it works great at tropical nuptials as well. Large leaves and vibrant roses brought a distinctly beachy vibe to this arrangement.