QUIZ: What's Your Wedding Financial Personality Type?
Psst: The answer will help you budget for your big day like a pro.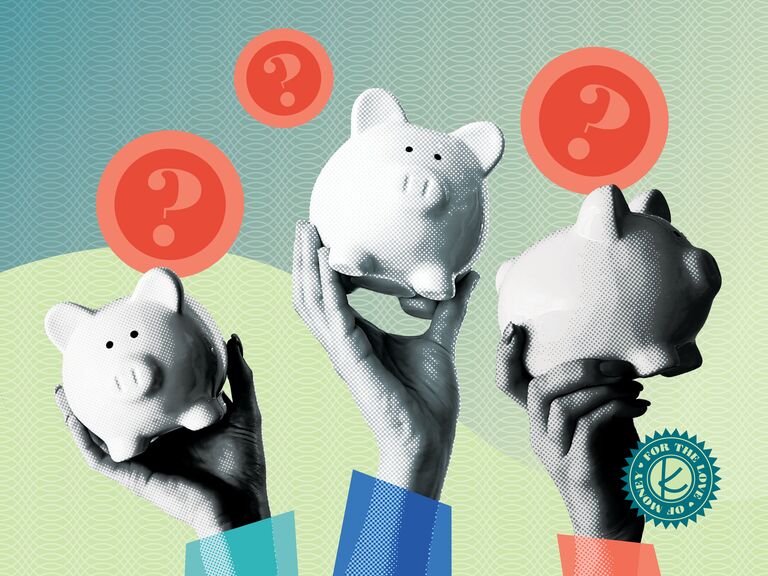 Sarah Evans / The Knot
At first, tackling your wedding budget may seem like a major headache. Weddings can be expensive, after all, and allocating funds may not be the easiest planning task. And with so many great wedding trends and ideas out there, abiding by your budget may feel downright impossible. Plus, we know that making financial decisions—wedding related or not—isn't always easy. In fact, according to The Knot Financial Survey 2022, we found that 43% of couples determine who manages daily finances based on who has more knowledge (or who feels more capable). If you're doubting your ability to successfully manage a wedding budget, you aren't alone—but it doesn't have to be as difficult as it may seem.
Knowing your financial personality type is key for keeping your spending on track (and saving your sanity). After all, having a clear understanding of your personal spending habits and nuances will make managing finances a total breeze. To help you learn more about your monetary tendencies, we've put together this easy financial personality quiz. Answer a few short questions below to learn more about your wedding financial personality type, then read on to discover our top tips to help you manage money like a total pro.
You just found out your dream venue costs significantly more than what you intended to spend. What would you do?
A. Find a different one within your price range.
B. Ask a family member to chip in on costs so you can still book it.
C. Get it anyway—it's your dream, after all!
D. Try to negotiate a custom package deal.
E. Dip into the buffer fund you already set aside for moments like this.
When making major purchases, wedding-related or not, you tend to:
A. Overthink and talk yourself out of it.
B. Almost always buy it, especially if it's a luxury or brand-name item.
C. Do it right away with little-to-no consideration.
D. Weigh the pros and cons, and search for a more affordable option before committing.
E. Consult your savings first to make sure you can comfortably afford it.
Sticking to your wedding budget feels:
A. Like the best way to stay organized and maintain control over your money.
B. Really restrictive, particularly for big expenses (like flowers or attire).
C. …what budget?
D. Like a challenge you're excited to tackle.
E. Easy, because money doesn't stress you out.
When it comes to spending money, you consider yourself to be:
A. Super conservative.
B. Generous, especially for high-value items.
C. Very generous.
D. Savvy.
E. Strategic and calculated.
Before making wedding purchases, you generally:
A. Search for the most affordable option.
B. Splurge on fancy items, like ones that'll look great on the 'gram.
C. Do what your heart tells you. It's your wedding!
D. Consult the budget first to make sure your spending is on track.
E. Reference your budget, but spend comfortably knowing you have buffer funds set aside.
Get your results:
The Five Main Financial Personality Types
Once you've taken our financial personality quiz, consult your result below to learn more about your type, along with personalized tips to manage your wedding budget. Then, we recommend setting aside time with your partner to discuss your personality types, your future financial goals, and any money concerns on your mind. Investing in financial conversations together is crucial for long-term trust and happiness in your marriage.
If you answered mostly As: Savers
Managing money may stress you out, and you definitely don't want to go into debt for your wedding. We get it! Your money-conscious mindset is a fantastic (and rare) trait to have, but don't be afraid to splurge on a few nice items every once in a while. Your wedding only comes once, and you deserve to enjoy it and treat yourself to special expenses, like a yummy late-night snack bar or those special shoes you've been eyeing for months. When creating your wedding budget, carve out some extra "splurge" funds so you have a buffer zone for special purchases. Knowing you've intentionally prepared for those investments will help eliminate money stress later on.
If you answered mostly Bs: Big Spender
Big spenders usually have an affinity for the finer things in life (think: luxury items, designer fashion, high-end tech). You want the best of the best for your big day, and we don't blame you for that! Despite this, consider a few ways you can adjust your wedding vision to stay within budget. While you certainly can splurge on special items, try cutting back in other areas, like choosing a more affordable drink package or nixing pricey favors, to honor your spending limits. Maintain the perspective that your wedding is only one day, and you still have a lifetime of special moments ahead.
If you answered mostly Cs: Laid-Back Spender
Laid-back spenders tend to buy things without much thought, which can sometimes lead to overspending or unhealthy money habits. Not to worry—we have plenty of tools to keep your wedding spending on track. Start by using the Budgeter feature on our app and website to organize funds and stick with your budget. Then, register for cash funds with The Knot Registry to help cover additional newlywed expenses like your honeymoon or that bathroom reno you've been meaning to start. Consider implementing other smart spending hacks too, like using credit card points toward high-value purchases or trimming down your guest list, to cut down on extra costs.
If you answered mostly Ds: Shopper
Shoppers get a thrill from making purchases, and you probably always want an online shopping package en route to your house. (It's like a present to you, from you.) On the flip side, you love a good deal and are always down to go bargain hunting. Lean into that trait while planning your wedding. Your savvy spending nature will help you make smart purchases without veering too far from your budget. Understand the balance between buying wedding things you need and buying things just to have them. This spending principle will help you crush your wedding budget goals.
If you answered mostly Es: Investor
You're conscious of your money, and you like to make it work for you. Not only do you already have a detailed wedding budget, you've likely set aside buffer funds to account for unexpected overages, and you're probably using credit card points to pay for future events, like your honeymoon or anniversary party. Money management is basically your forte, so you've already got wedding spending on lock. Continue to approach wedding finances by following your head and your heart—as important as it is to stick to your money rulebook, don't get so caught up in the nitty-gritty of budgeting and tracking that you forget to enjoy the entire planning process!
Please note: The Knot and the materials and information it contains are not intended to, and do not constitute, financial or tax advice and should not be used as such. You should always consult with your financial and tax advisors about your specific circumstances.