What Is Friluftsliv, and Why It's Going to be Big in 2021
Introducing the new hygge.
LIGHT AS GOLD
We have included third party products to help you navigate and enjoy life's biggest moments. Purchases made through links on this page may earn us a commission.
You've likely heard of hygge (the Danish concept of creating a cozy, warm mood), and perhaps even seen couples plan stunning hygge-inspired nuptials. But there's a new Scandanvian trend on the rise, and we predict it's going to be popular among to-be-weds this year. It's called friluftsliv, and it's the Norwegian concept of getting outside and connecting with nature. Fitting, as many couples are opting to exchange vows outdoors in light of coronavirus.
"As many continue to experience social distancing restrictions, more couples are hosting outdoor wedding celebrations than ever—a trend that perfectly lends itself to the rise of friluftsliv, which is all about connecting with nature and making the most of the outdoors," explains Dayana Isom Johnson, Etsy's trend expert. If you're hoping to embrace this Norwegian concept on your wedding day, we're here to help. We tapped experts from all over the world to help explain what friluftsliv really is—plus how to incorporate it into your own nuptials.
Friluftsliv Meaning
In contrast to hygge (which is centered around coziness and comfort), friluftsliv involves getting outside and experiencing nature. "It can be a walk in the forest, a hike up a mountain or a fishing trip," explains Ann Kristin Nissen, wedding planner and manager at Brudepikenes in Norway. "If it's a long walk, we bring packed lunches, find a place by a lake or mountain and sit down to enjoy the food in nature." Another idea is to host a bonfire fish fry or serve warm drinks as the sun sets.
"For a more sophisticated friluftsliv, you can stay in a cabin (many Norwegians have their own private cabin or cottage), a hotel or van," Nissen adds. If you book a hotel, look for ones in the middle of nature where you can partake in friluftsliv activities like hiking or biking. If there's bad weather, Nissen says you should still go outside (even in the rain). "Friluftsliv is for people who love the tranquility nature gives them."
Friluftsliv Pronunciation
If you'd like to incorporate friluftsliv into your wedding, you'll need to communicate that with your vendors. As such, it's important to understand how to pronounce this trend. The proper pronunciation is "free-loofts-liv."
Why Frilusftsliv Will be Big With 2021 Weddings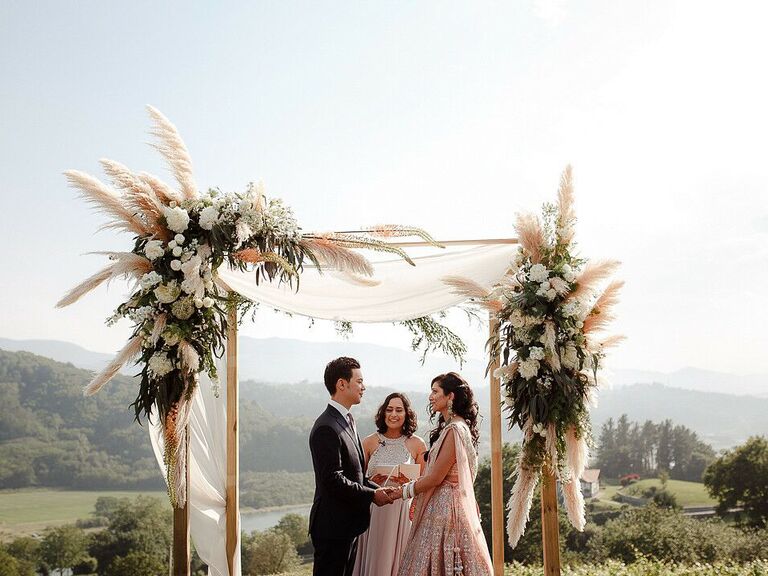 "Friluftsliv is not for everyone, but the COVID-19 situation has made us think [differently]," Nissen says. The Norwegian concept is going to be a popular wedding trend this year largely due to the global pandemic. After all, the CDC has stated that being outdoors is a much safer way to see people you haven't been quarantined with.
As such, more couples are opting to exchange vows outdoors—both for their own piece of mind and for their guests'. "It has been said that fresh air decreases the spread of the virus, which will allow your guests to relax more during your celebration," explains Desireé Dent, owner of Dejanae Events in Chicago. "Also, social distancing becomes easier since you have a broader space to use for ceremony, cocktails and the reception." (Of course, there are still risks involved in any gathering, so we encourage couples to prioritize safety measures like mask wearing and social distancing.)
But it's not only COVID-related anxiety that friluftsliv weddings can soothe. Being in nature has a restorative effect on our mental and physical health, according to the American Psychological Association. Plus, the rise of the coronavirus has caused a surge in popularity for smaller, more intimate ceremonies like minomonies and elopements (given that there's lower risk in a smaller group). And with smaller guest lists comes simpler, more personalized ceremonies.
"Instead of spending a lot of money on a big party, [couples] want a more down-to-earth celebration with just the two of them or with close friends and family," Nissen says. "It's very genuine and intimate."
Reimagining your original wedding plans can be complicated and overwhelming, which is where hosting a friluftsliv wedding comes in handy. "The natural beauty of an outdoor wedding has the potential to save you money in the decor department," says Kiara Hancock, owner of K.Hancock Events in Washington. "Nature is inherently beautiful, and sometimes it's best not to compete with that by adding a whole lot of extra stuff."
Picture saying "I do" underneath glittering stars or as the sun sets into a burst of color. How about on top of a mountain as the snow falls or on a beach as waves crash around you? Considering all the time we've all spent indoors, getting married in nature is a welcome change in scenery that will lift your spirits (and your guests').
The stunning scenery will also provide you with gorgeous wedding photos, which is important to many couples in this digital age. Who doesn't want to share their beautiful photos on Instagram (especially considering how much time we're spending scrolling through social media)? "Natural light is the best kind of light when it comes to pictures on your wedding day, and you're going to get plenty of it with an outdoor wedding," Hancock says. "Take advantage of it by holding a spot in your timeline to take those gorgeous golden hour pictures." Plus, a friluftsliv wedding offers safe and exciting guest entertainment, like hiking, biking, boating, picnicking and more.
How to Incorporate Friluftsliv Into Your Wedding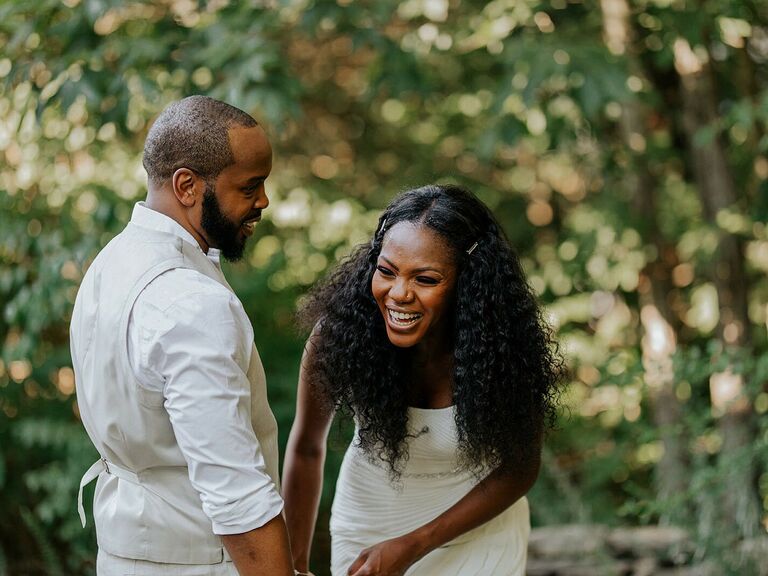 Given how expansive the great outdoors is, the possibilities for planning a friluftsliv wedding are endless. Nissen says in her 18 years of planning weddings, she's helped couples from all over the world exchange vows in nature. Sometimes couples have to walk miles to get to the perfect spot (Nissen says they often wear winter boots to hike there and change into their outfits later) or they find idyllic spots closeby.
Whatever you and your partner decide on, Nissen says it's important to make the event special. "Friluftsliv is a simple way of living, so if you want to incorporate this into a wedding, you should bring some glam into it," she says. "Maybe glamping, visiting a treetop cottage, or enjoying champagne and cake out in nature." Pro tip: If you want to go to a remote location (a mountain top, for example), you'll likely need to walk a good amount to get there. Plus, it might be difficult to bring extra equipment, like a tent, if it starts to rain. Plan ahead to ensure you can still add a little sparkle to your day.
Consider the Climate
When it comes to outdoor weddings, the most important thing you can do is fall in love with your Plan B, says Fallon Carter, owner of Fallon Carter Events in New York. Weather is unpredictable, and exchanging vows outside makes you vulnerable to experiencing rain, wind or snow. But Nissen says friluftsliv is about enjoying everything nature has to offer—even the rain!
Hancock says most couples focus on rain when it comes to weather, but another factor you'll want to consider is heat (especially if you're getting married in the summer). "It will be no fun for you and your guests if you have a ceremony and reception in the blazing hot sun," she says. "Sun happens, but you can mitigate things a bit by making sure to avoid the major parts of your day being during the hottest times of day."
Another concern to consider is critters. "In planning for your outdoor wedding, it's important to think about things like bees, mosquitoes and other buggy friends," Hancock suggests. "If you foresee any issues, give your guests a heads up—especially if they're allergic to bees—and plan to use things like citronella or natural bug repellents to help diminish any impact." Jove Meyer, owner and creative director of Jove Meyer Events in New York, recommends giving bug spray to your guests in your wedding welcome bags or upon their arrival for good measure.
Prioritize Guest Comfort
Once you've developed a game plan, you'll need to give your guests direction. "Set their expectations so they know what to wear and what to bring," Carter says. Let them know if it's going to be sunny and hot during the ceremony or chilly after the sun goes down. If you're providing things to keep them comfortable (fans or blankets), include that information on your wedding website so they can take that into account. Carter says it's best to be as honest as possible with your guests so they're comfortable. If it's going to be cold, tell them to bring their coats. Nobody wants to shiver through your ceremony.
Guest comfort should be your number one priority if you're planning a friluftsliv wedding. "On a sunny day, offer guests sunscreen, parasols and umbrellas or shaded, tented areas," Dent says. "If it's a chilly day, have blankets and warm drinks nearby for guests to enjoy if needed." She also recommends adding in creative lighting elements if you're planning on celebrating after the sun goes down. That way, your guests will be able to safely move around the space.
Another less glamorous detail you'll need to consider is the bathroom situation. "Restrooms—especially the kind guests would expect at a wedding—are rarely outside," Meyer says. Speak with both your wedding planner and your venue to confirm the availble amenities. If you need to bring in your own restroom trailers, ensure you budget for that.
If you're exchanging vows somewhere extremely secluded, ensure your guests are aware of transportation options and accessibility. Give them as much information as possible so there are no surprises on the actual wedding day.
Give your guests information about how to dress too. Carter recommends putting together a Pinterest board or photo collage your guests can look at to get ideas. Don't be afraid to get creative with it. "You can say something like: 'It's a classy, grassy affair: Wear wedges instead of heels,'" she says. "We're all trying to work within a pandemic right now. All you're doing is asking your guests to meet you where we all need to meet to make this possible."
Work With a Pro
"Outdoor weddings are magical but very complicated to execute," says Jennifer Price, owner of Event Shoppe Chicago. "The first thing any couple should do is get a wedding planner." The requirements for planning an outdoor wedding—specifically a friluftsliv wedding—are far different from a typical indoors wedding. You'll need to consider restrictions around sound, alcohol, guest count, electricity, accessibility and more.
That's why Nissen suggests working with a local pro. "Get in touch with someone who knows the area well," she says. "We can suggest specific areas and the time of year that's most suitable for your wishes, like seeing the Northern lights." They'll take care of the need-to-know logistics, and they'll remember small, meaningful details too. For example, Nissen says her company provides adventurous couples with sparkling wine and local Norwegian cake in their backpacks. Plus, local planners are highly connected and can put you in touch with other talented vendors in the area.
Don't Forget About Your Vendors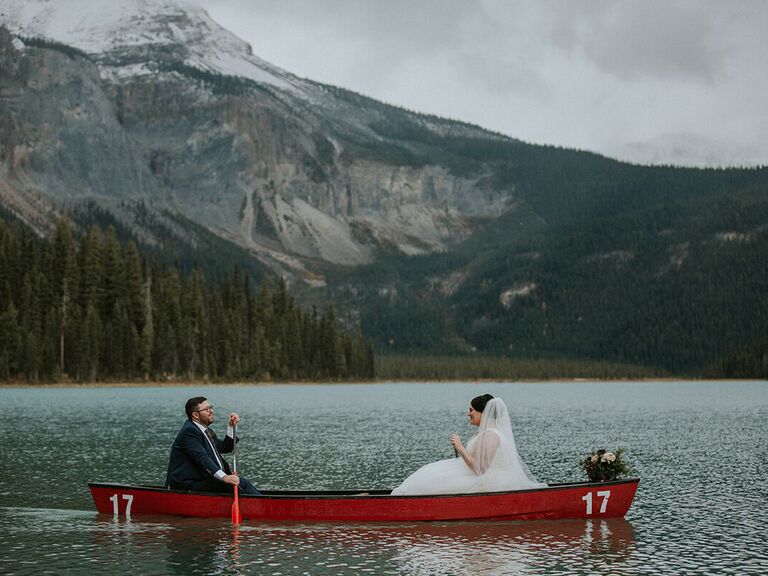 As with your guests, your vendors' comfort should also be a top priority. If you're exchanging vows in nature, they'll likely need to bring in most of the set up themselves. Work with your planner to coordinate the load-in and load-out so that your vendors can get to the location on time and assemble their equipment.
If you're working with a caterer, take extra time to consider their needs. "The caterers will need to build out a kitchen to prepare and cook everything," Meyer says. "They'll also need space to store rentals and bus dirty dishes." As you walk through the space, ensure there's enough room for your catering company to prepare, cook and clean.
Another major factor to consider is electricity. "This is the one thing that couples never think about when it comes to planning an outdoor event," Price says. "Electrical is so necessary for your event's success." That's because it's crucial for providing lighting, heating (or cooling), sound (hello, dancefloor) and more. If the venue doesn't have any power, you'll need to bring in your own generators. Talk through all of this before selecting your venue, as it could result in unexpected expenses.
Be Respectful of Your Surroundings
Friluftsliv is all about enjoying and connecting with nature. As such, it's extremely important to be mindful of the space you're using for your wedding day. Firstly, Carter says it's essential to identify any legal constraints that might be in place. Many outdoor spaces require permits for events, so look into that immediately. "You think you're going to go to a park and it's going to be great, but then the police come," she says. "Even in the back of your house, there are still permits you have to go through."
Then, look into other restrictions that might be in place. Many outdoor venues have sound ordinances, which aim to eliminate sound pollution through enforced curfews. "Understand that your music travels far outdoors because there are no barriers to break it," Carter says. It's common for outside wedding venues to have a sound curfew around 10 p.m., so take that into account as you plan your day. Psst: Price recommends writing a nice note to nearby neighbors explaining why there may be noise on your wedding day.
Another factor to consider is alcohol restrictions. Some venues (especially vineyards) don't allow hard liquor on the site. However, sometimes you can bring in a signature cocktail for an extra fee. Ask the venue about their alcohol policies before singing anything so you're fully aware of what you're getting into.
Finally, it's crucial to be respectful of your surroundings. Friluftsliv is all about honoring nature, so it's imperative you be mindful about your wedding's footprint. Speak with local pros to get advice on how to leave the space as undisturbed as possible. Skip any decorations that might threaten an explosion or fire and consider something less risky, like light-up wands or bubbles. Make it clear to your guests that littering won't be tolerated nor will any other form of disrespect towards the environment.
"You can show respect for Mother Nature at your outdoor wedding by ensuring there are plenty of trash (and recycling!) receptacles around the event space, and hiring a professional bussing team to make sure all trash and debris gets properly deposited," says Danielle Lelani, owner and founder of Lelani Events in Newport Beach. Another idea is to plan a group clean-up for the morning after your nuptials to ensure you leave space how you found it. Finally, source your flowers from local farmers and donate them after the fact. "You'll not only be doing good for the environment, but spreading joy to someone else," Lelani says.
Personalize the Event as Much as Possible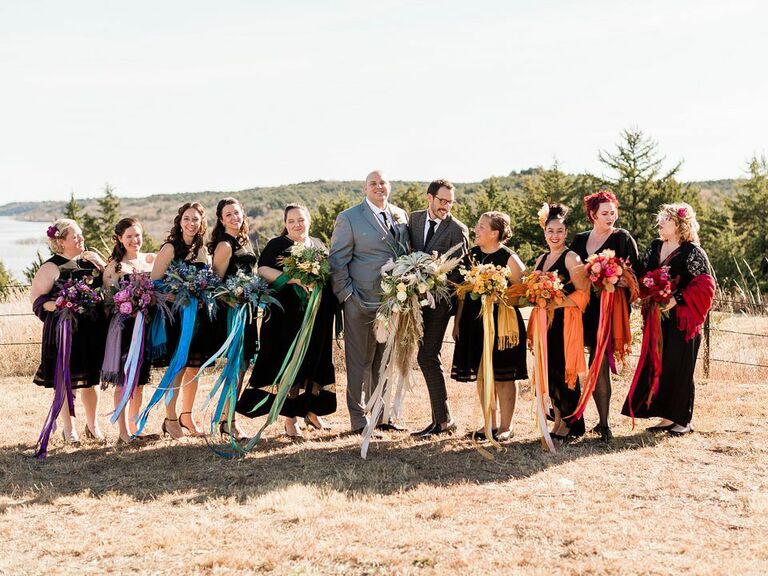 Leaning into the friluftsliv wedding trend is a creative way to personalize your wedding, as it will create a memorable experience for you and your guests. Take it one step further by incorporating other details that speak to your relationship. "The best wedding is one that's filled with your favorite things," Meyer says. "The more you pour your style, personality and love story into your day, the more fun it will be for you and those you love." Select a location that has special meaning to you both, base the dinner menu off of your go-to date night spot or incorporate details from your time together (decor based off your favorite television series, for example). All of these thoughtful details alongside the serene energy from your friluftsliv event will make your wedding absolutely magical. And let's be honest: we could all use a little magic this year.