8 Frozen Treats to Beat the Heat at Your Summer Wedding
To keep your guests chill when the mercury rises, serve up these cool hot-weather desserts.
by Carrie Anton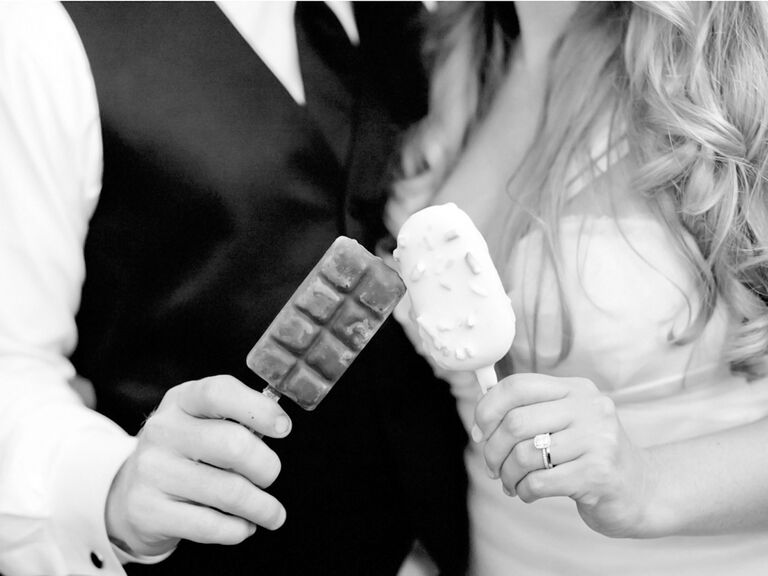 A summer wedding can mean sunny skies overhead and warm breezes during an outdoor ceremony. However, it can also mean hot and sticky guests when Mother Nature really cranks up the heat—so treat everyone to something cold and sweet at your reception. We've rounded up all kinds of frozen refreshments that are just right for keeping you and your guests from getting too hot.
1. Ice Cream Floats
Add scoops of ice cream to fun soda flavors for swelter-reducing sippers.
2. Popsicles
This childhood favorite combines cool flavors in gourmet popsicles to help guests chill out.

3. Macaron Ice Cream Sandwiches

Elevate your wedding palette with bright colors by serving sweet macaron ice cream sandwiches.

4. Frozen Yogurt Cake

Have your cake and eat it too with a confection combining healthy frozen yogurt with something you can still slice and serve.

5. Champagne Push-Up Popsicles
Put down the glasses and push up these champagne popsicles for a refreshing toast.

6. Milkshakes

Spiked with liquor or left purely sweet, make milkshakes your signature drink.

7. Sorbet

When ice cream just won't do for a formal affair, present pretty plates of sorbet to cool off and impress your guests.

8. Ice Cream Truck

Have an ice cream truck roll up to the party and let guests pick their frozen favorites.