Here Are the Most Popular Wedding Dates in 2018
Raise your hand if you're getting married on one of these hot dates.
by Maggie Seaver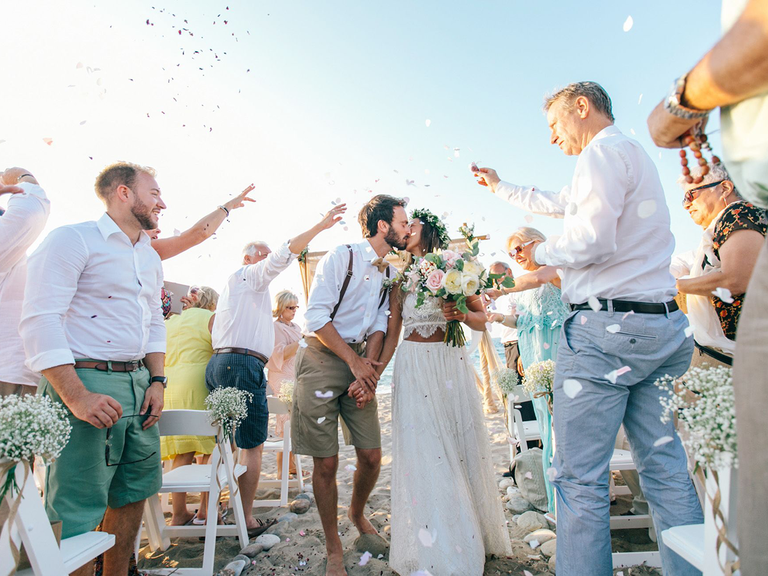 HANNAMONIKA WEDDING PHOTOGRAPHY
With a brand-new year comes a new list of top wedding dates. Last year proved to be a big year for fall weddings, with October 7 as the most popular date and September and October in the lead as the busiest wedding months. And 2018 is shaping up to be another year filled with glorious autumn nuptials, but with a late-summer twist.
It turns out the lazy, hazy days of summer aren't just ideal for beach bumming and driving with the top down—they're also prime time for saying "I do." Of our members on The Knot who've registered with a 2018 wedding date—which is more than 1.4 million couples—August 18, 2018 is the number-one most popular wedding day this year. Guests, clear your August schedules for garden parties, beach bashes, vineyard vows and sunny rooftop soirees.
See the 10 most popular wedding dates in 2018 below—is yours on the list?
1. August 18, 2018
2. October 20, 2018
3. October 6, 2018
4. September 22, 2018
5. September 15, 2018
6. October 13, 2018
7. June 23, 2018
8. May 19, 2018
9. June 16, 2018
10. June 2, 2018
Congrats to all the couples getting married this year! Start wedding planning off right by taking our Style Quiz to define your wedding vision and get matched with the best local pros.